Mediterranean Lentil Salad
This post and its photos may contain affiliate links. As an Amazon associate I earn from qualifying purchases. If you make a purchase through these links, I may receive a small commission at no extra cost to you!
This nutritious Mediterranean Lentil Salad is the perfect quick and easy (and protein-packed!) dinner for busy families! Make weeknight dinner easy and healthy with this delicious lentil salad recipe!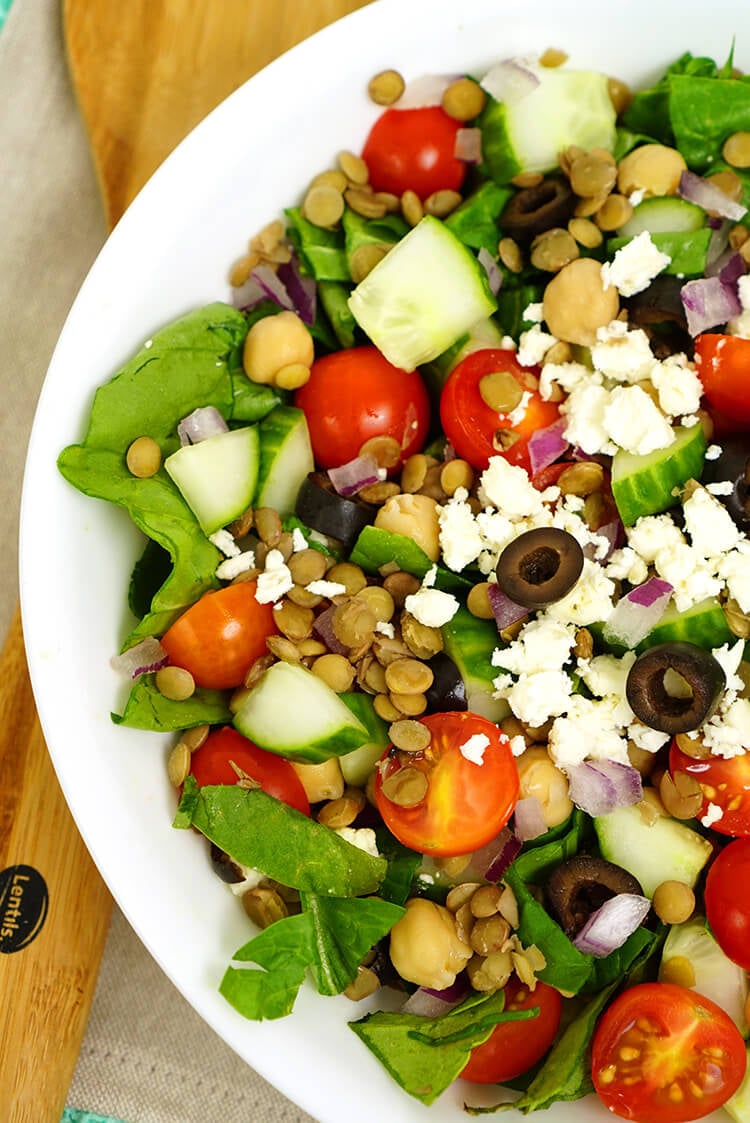 Weeknights can get extra busy around our house, but serving my family a healthy dinner is always one of my top priorities. We try to eat dinner together as a family every night, and this Mediterranean lentil salad is one of my favorites to make for them because it's quick, easy, and full of protein to keep my family feeling full and energized longer. Lentils are one of my favorite ways to quickly add protein to our meals because they're so easy to make – just rinse, simmer, and serve!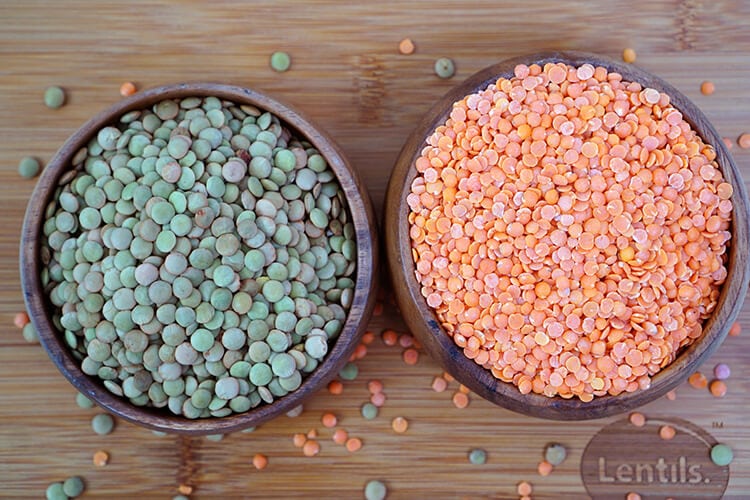 Lentils come in two different varieties, whole green lentils (which can actually range in color from green to greenish tan) and split red lentils (which can also be orange in color). Aside from their traditional use in soups and curries, I love to use whole green lentils as a meat alternative (like in these delicious lentil tostadas!), and I make a super yummy red lentil hummus with roasted red peppers. Lentils are one of my favorite ways to quickly and easily add protein to a dish – each 1/2 cup serving boasts 12 grams of protein! Not only are lentils full of protein, they're also high in iron, folate, zinc, and fiber – split red lentils have 4 grams of fiber per serving, and whole green lentils have a whopping 9 grams of fiber per serving!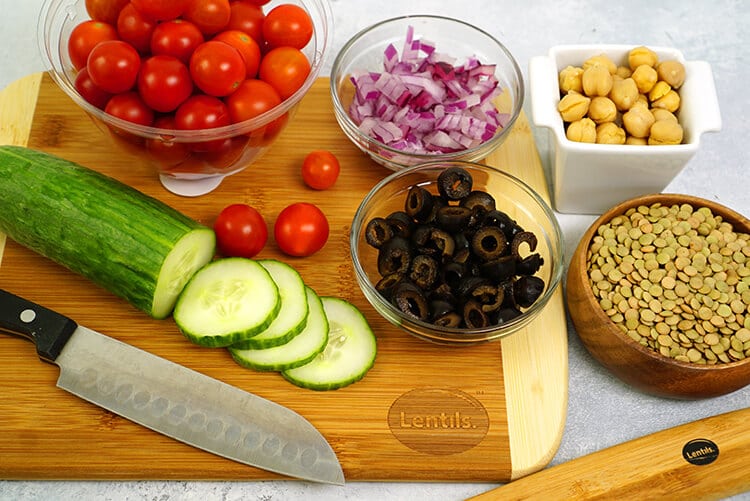 Quick & Easy Mediterranean Lentil Salad:
For this salad, I used:
Spinach
Whole Green Lentils
Cucumber
Cherry Tomatoes
Sliced Olives
Red Onion
Chickpeas
Herb Feta Cheese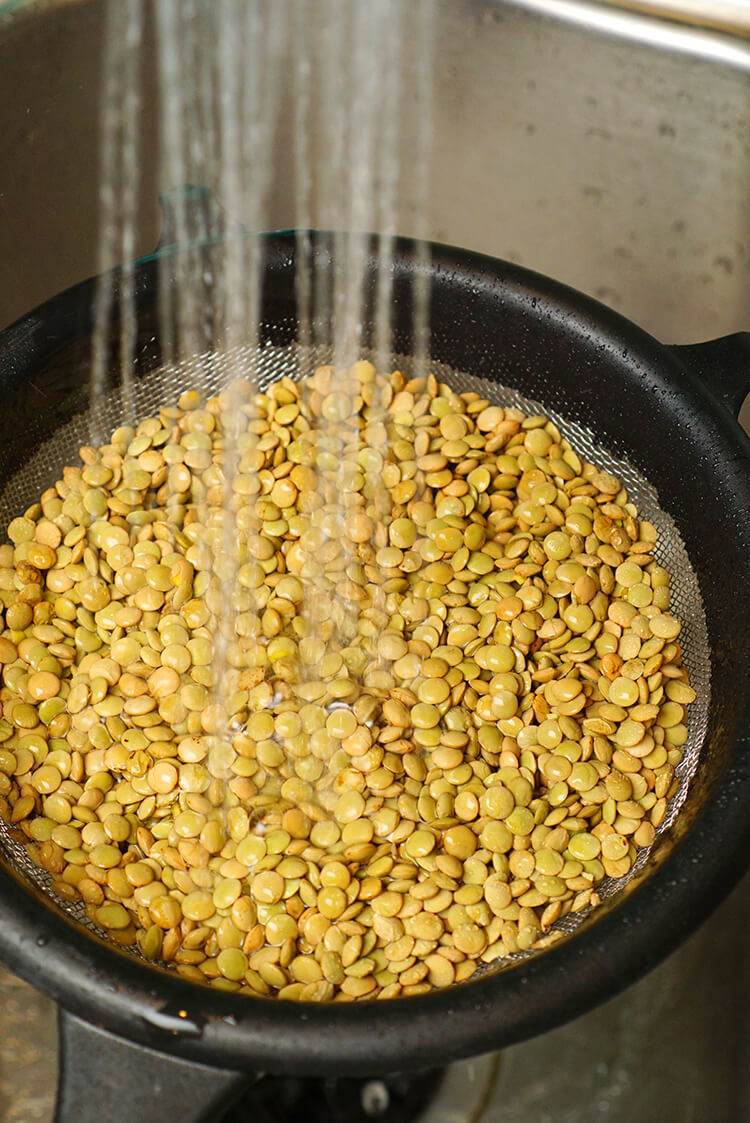 Start by giving the lentils a quick rinse under water to remove any dust or debris. In a large saucepan, add one cup of lentils and three cups of water or low sodium chicken stock (Note: Do NOT add salt to the water or the lentils may become tough! Season lentils with salt after cooking.) – make sure you use a large enough pan because the lentils will double or triple in size during cooking! On the stovetop, bring to a boil, then cover tightly and simmer until the lentils are tender (about 15-20 minutes). Easy peasy!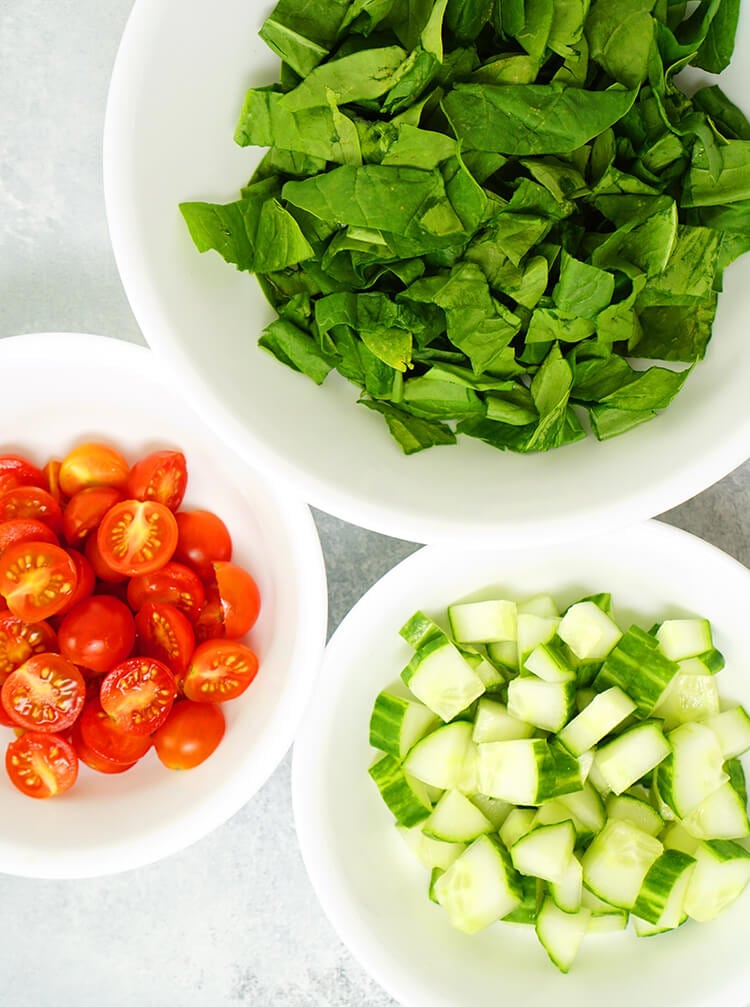 While the lentils are simmering, prepare all of the ingredients for the salad. This salad starts with a base of chopped spinach, halved cherry tomatoes, and quartered cucumbers. SO fresh and tasty!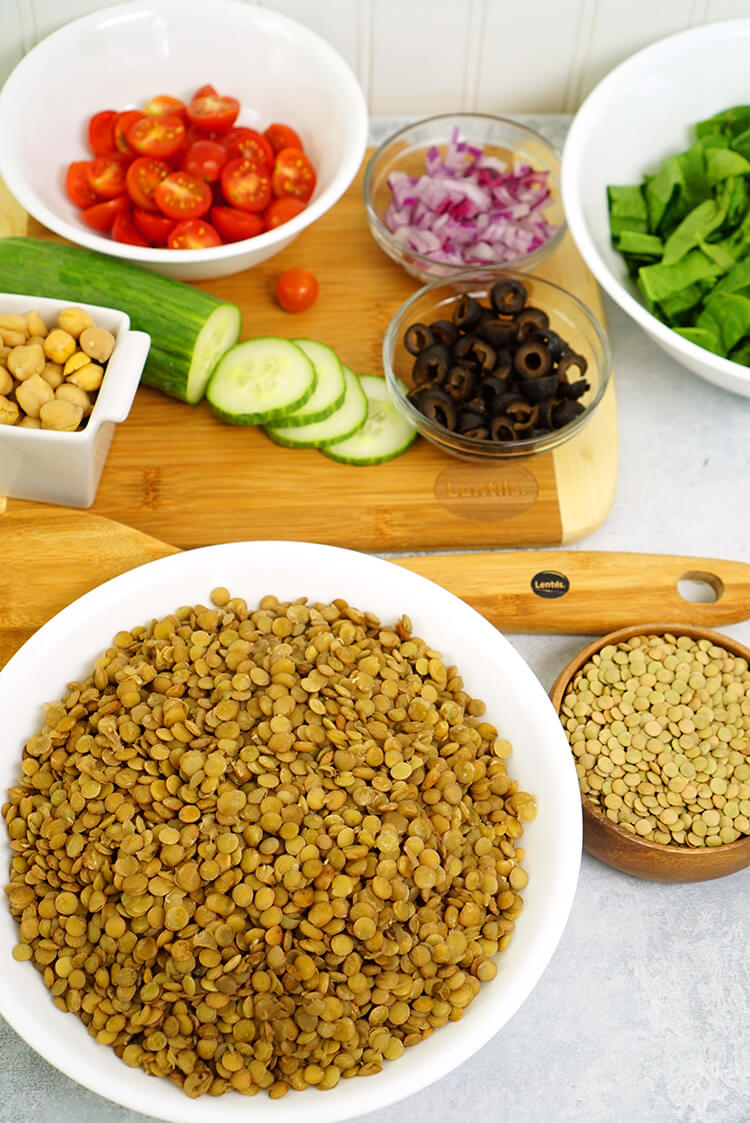 Once the lentils have cooked, allow them to cool for just a few minutes before mixing your salad ingredients. You can see in this photo how much larger the cooked lentils are compared to the dry lentils!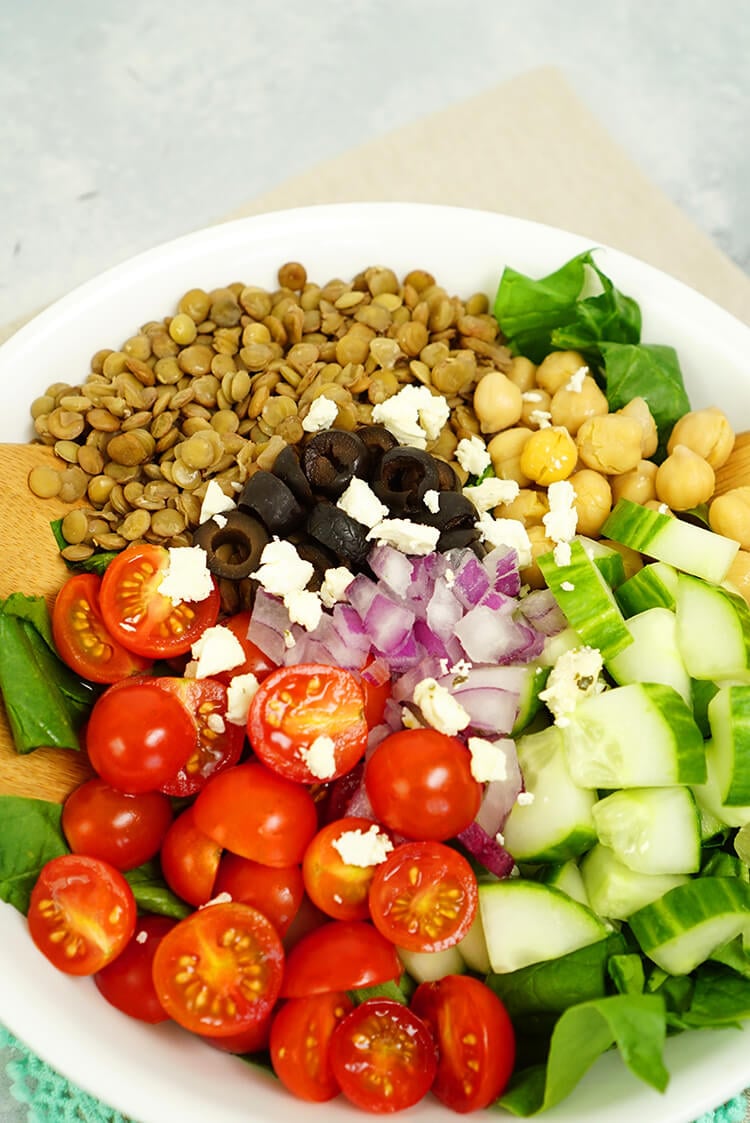 Quick, simple, and absolutely delicious!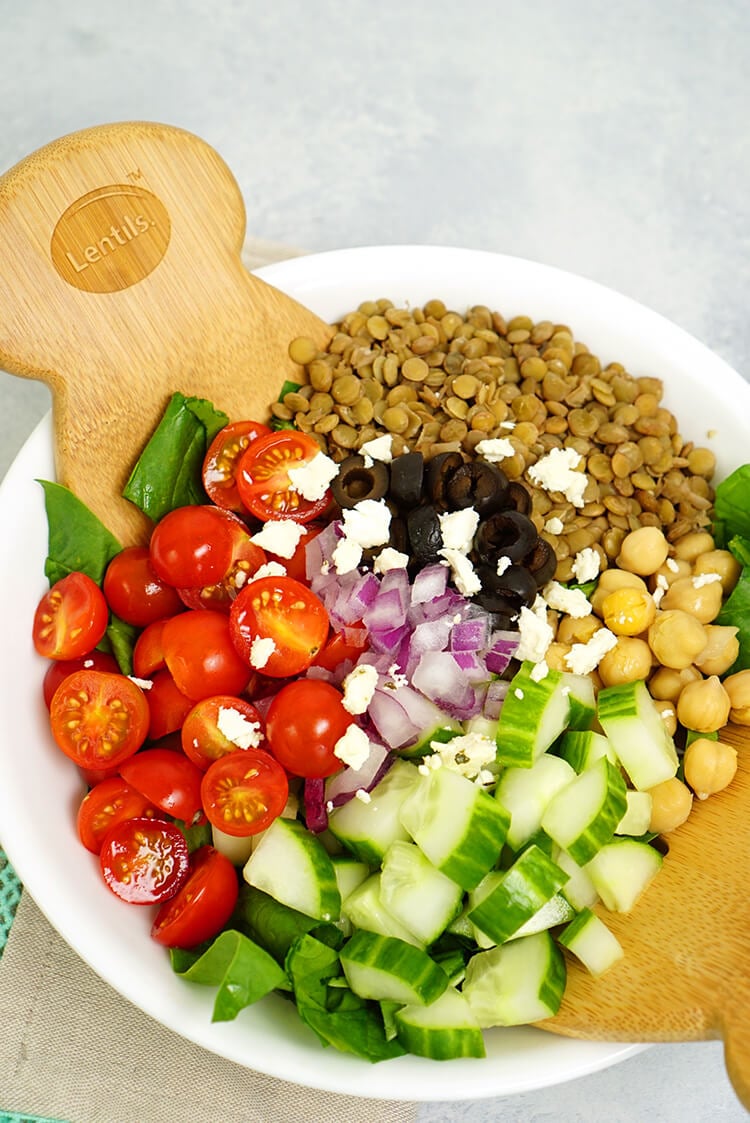 Toss the salad, and top with a crumble of feta cheese and a drizzle of your favorite Greek dressing.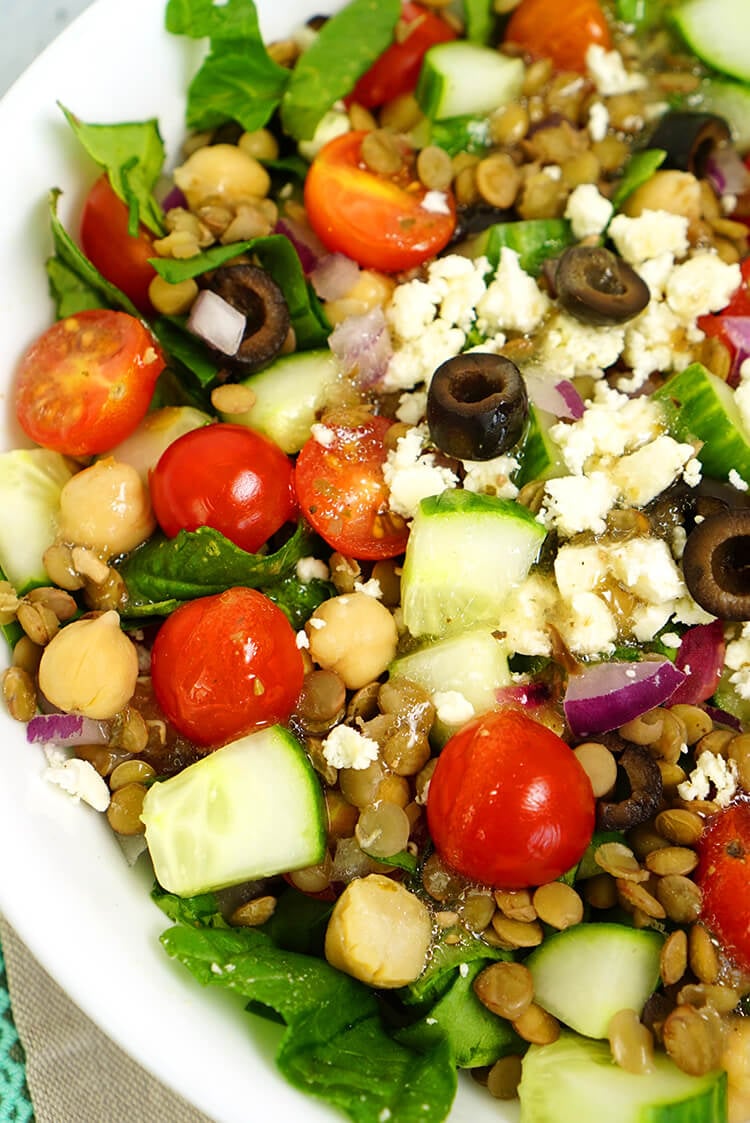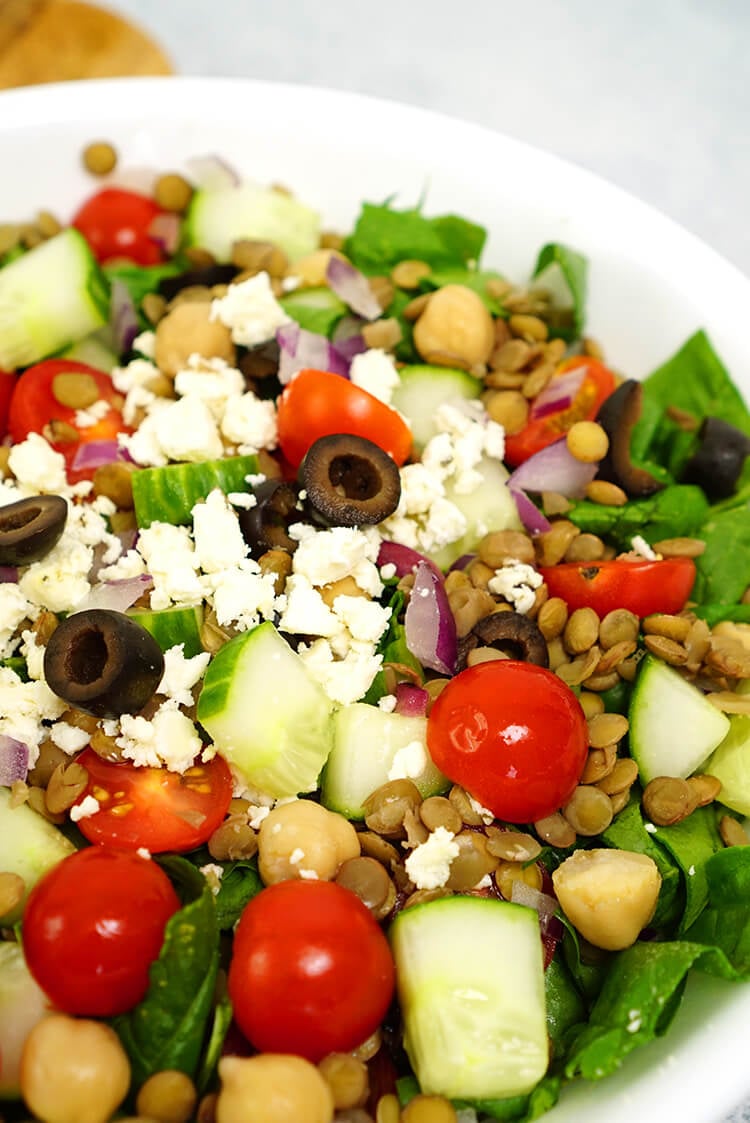 This Mediterranean lentil salad is loaded with protein from the lentils (12 grams), chickpeas (5 grams), and feta cheese (4-15 grams depending on your serving size!), and it's packed with vitamins and minerals. A truly nutritious family dinner that you can be proud to serve your family – plus, it takes hardly any time to make!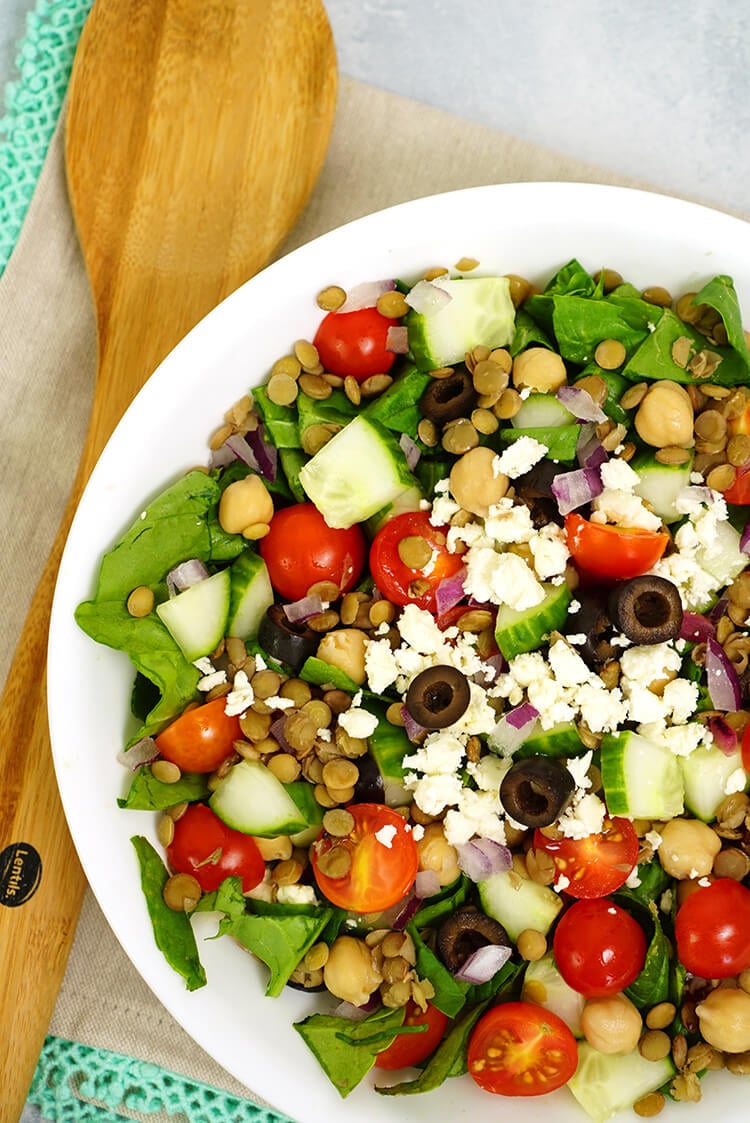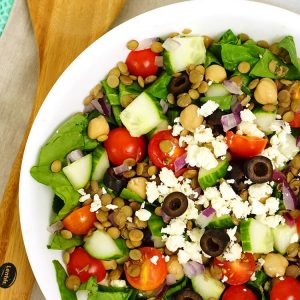 What You'll Need:
4

cups

Spinach,

chopped

1

cup

Whole Green Lentils

3

cups

Low-Sodium Chicken Broth (or water)

2

cups

Cherry Tomatoes,

halved

2

cups

Cucumber,

chopped

1

cup

Chickpeas

1/2

cup

Red Onion,

chopped

1/2

cup

Black Olives,

sliced

1/2

cup

Herb Feta Cheese

Greek Dressing, to taste
Instructions:
Cook lentils in chicken stock or water. Bring to a boil, cover, and simmer for 15-20 minutes until tender. Remove from heat and cool for a few moments.

Prepare all the vegetables and salad ingredients while lentils are cooking.

Toss all salad ingredients together and serve with a drizzle of your favorite Greek dressing.
For even more delicious lentil recipes and inspiration, be sure to follow Canadian Lentils on Facebook, Twitter, Pinterest, YouTube, and Instagram.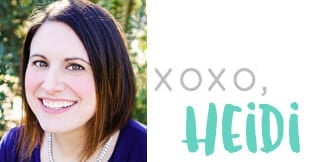 If you like this Mediterranean Lentil Salad Recipe, Don't Forget to Pin It!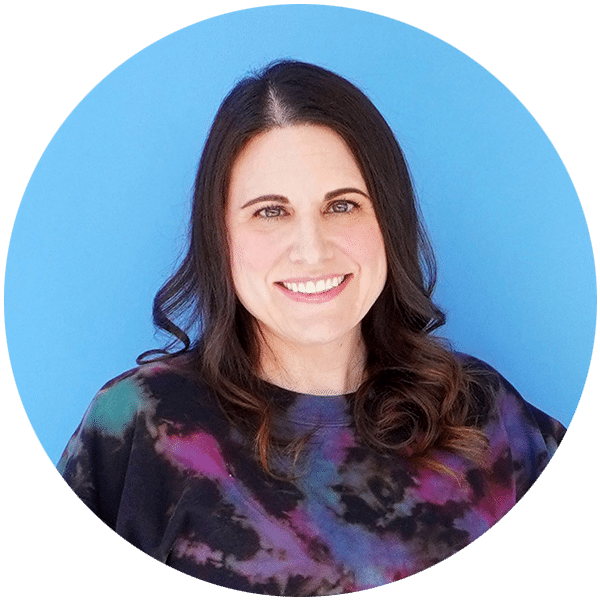 Heidi Kundin has captivated the hearts of millions with her colorful and inspiring approach to crafting, celebrations, and family fun. With over 15 years of experience, Heidi's website has become a must-visit destination for those seeking quick and easy creative ideas and last-minute solutions. Her warm personality shines through her posts, inviting readers to join her on a creative journey that's fun, rewarding, and achievable.