Evanora's Emerald Necklace: Inspired by Oz the Great & Powerful
This post and its photos may contain affiliate links. As an Amazon associate I earn from qualifying purchases. If you make a purchase through these links, I may receive a small commission at no extra cost to you!
This post may contain affiliate links. I will receive a small commission from these sales at no additional cost to you!
From the moment that I first saw the trailer for Disney's Oz the Great & Powerful, I was hooked. The preview promised to take me on a visually stunning adventure to the Land of Oz as it told the story of deceitful carnival magician Oscar Diggs and how he transformed his life to become the great wizard. I watched the previews so many times that when I finally got my hands on a copy of the film a few weeks ago, I couldn't wait to watch it!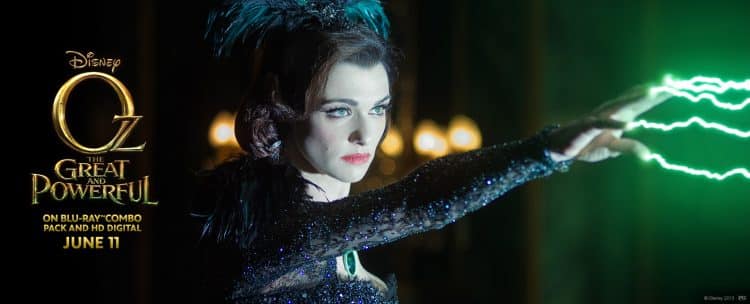 The film didn't disappoint in its incredible scenery – the visuals are even more intense and breathtaking than I imagined they would be! I truly felt like I was exploring the Land of Oz alongside the movie characters. Oh, and speaking of the characters, you should see the gorgeous costumes that these lucky actors got to wear! The details are incredibly intricate with so much visual interest, but the piece that caught my attention right away was Evanora's emerald necklace (or is it an amulet?). I was so enamored with the piece that I was inspired to create my own version of her necklace…and the best part is that it only took me five minutes (not including drying time)!
Check Out These Related Craft Ideas:
Evanora's Emerald Necklace
I decided to do a little bit of experimenting along the way, so I created two slightly different versions of the necklace – one using a glass cabochon to finish the necklace and one using Mod Podge Dimensional Magic to finish it. The only difference in the process is at the final step, so just choose which finish you prefer best, and use the appropriate method.
You Will Need:
For the final step, you have two options. To finish the pendant with Dimensional Magic, carefully fill up the remainder of the tray with a thick layer of the product, and allow it to dry overnight. It will be cloudy when you first apply it, but it dries crystal clear and glossy.
Alternatively, for a more convex pendant, top the glitter with a very thin layer of Dimensional Magic and finish by placing the glass cabochon on top.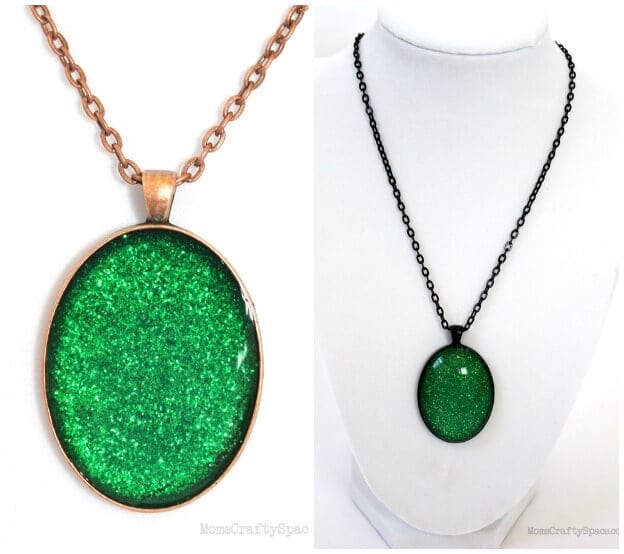 Which one is your favorite?
Check Out These Other Craft Ideas!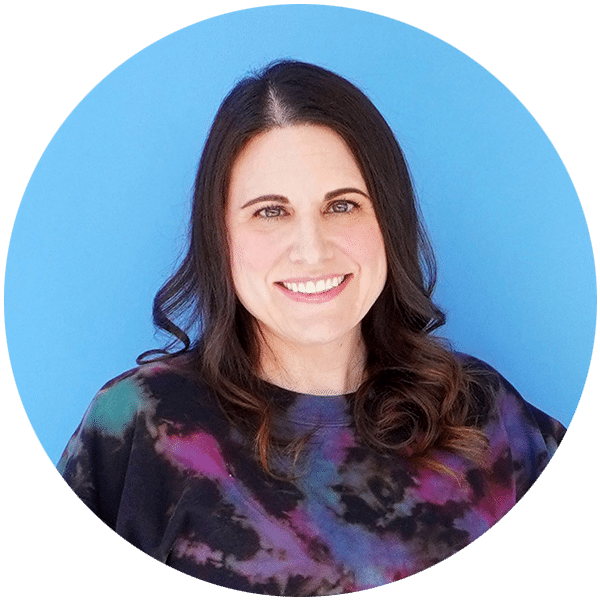 Heidi Kundin has captivated the hearts of millions with her colorful and inspiring approach to crafting, celebrations, and family fun. With over 15 years of experience, Heidi's website has become a must-visit destination for those seeking quick and easy creative ideas and last-minute solutions. Her warm personality shines through her posts, inviting readers to join her on a creative journey that's fun, rewarding, and achievable.