Easy Rock Candy Recipe & Tutorial
This post and its photos may contain affiliate links. As an Amazon associate I earn from qualifying purchases. If you make a purchase through these links, I may receive a small commission at no extra cost to you!
Learn how to make rock candy at home with this easy rock candy recipe and tutorial! A delicious and fun science experiment for kids that combines science and sweets! Kids love this yummy activity!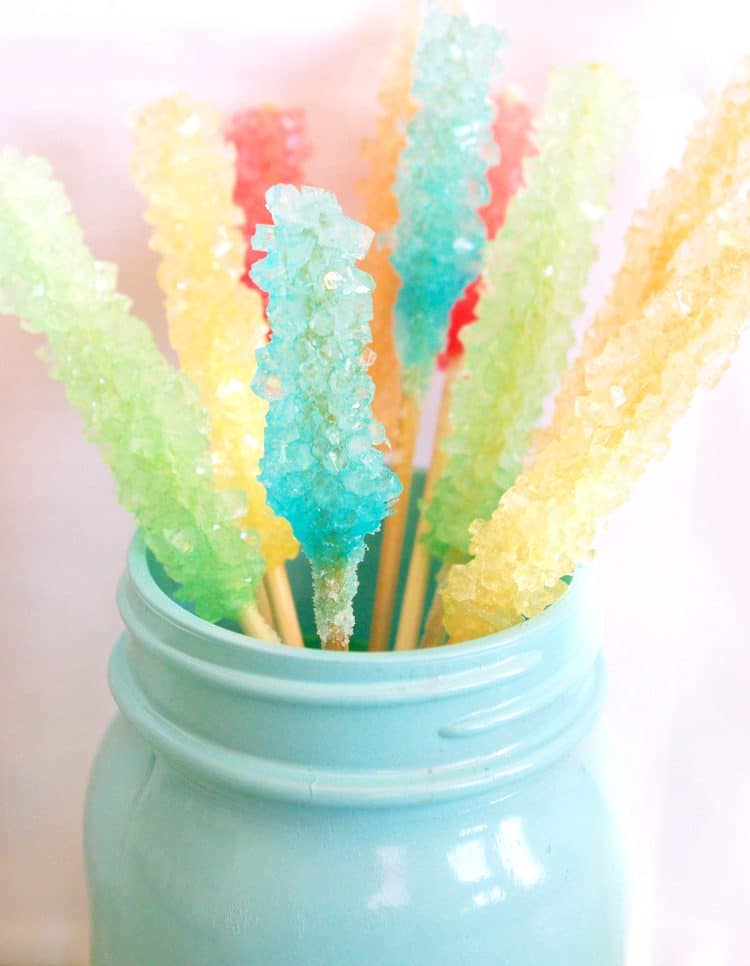 This post may contain affiliate links. I will receive a small commission from these sales at no additional cost to you!
Rock Candy Recipe and Tutorial
Learn how to make your own rock candy! Making rock candy is a clever way to combine an educational STEAM science lesson with a delicious sugary treat at the end. All it takes to make rock candy are a few simple ingredients, some basic kitchen tools, a whole lot of sugar, and a little bit of patience!
This rock candy recipe is one that your whole family will enjoy making together! It's so much fun and SO cool to watch the sugar crystals grow!
---
How to Make Rock Candy
Rock candy is one of the easiest homemade candies to make, but it does take a bit of time. Depending upon the temperature and humidity of your climate, it can take anywhere from 5-10 days for the crystals to fully form.
Create a science notebook and have the kids record the changes in their rock candy crystals throughout the course of the week – it's great fun to watch the crystals form and grow! Let the rock candy experiment begin!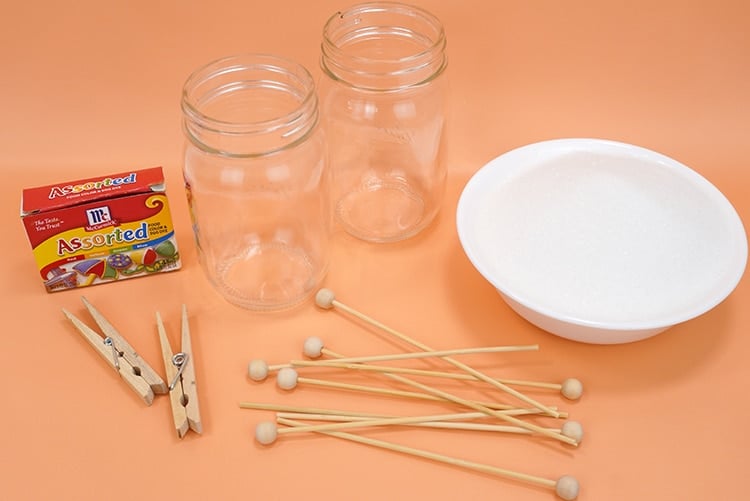 Supplies Needed to Make Rock Candy:
Note: I recommend using at least a 3-Quart Saucepan for this recipe since the mixture will expand while boiling!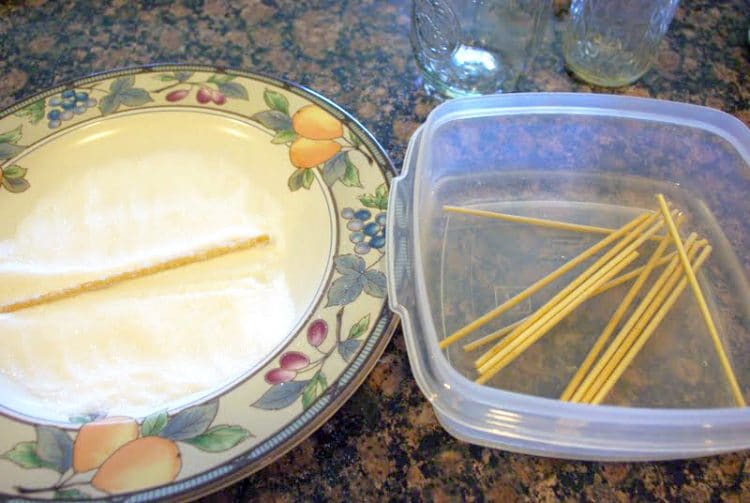 Rock Candy Making Tutorial:
To begin, prep the candy sticks. Soak the sticks in water and roll them in a coating of granulated white sugar to "seed" the rock candy crystals (give them a starting point to grow from). Allow the sugared sticks to dry completely (for at least 30 minutes).
If desired, use a fine-mist spray bottle to lightly mist the sticks with a second light coat of water, then roll them in a second coat of sugar, and allow to dry completely again. The better job you do of seeding the sticks, the larger and more quickly your sugar crystals will grow!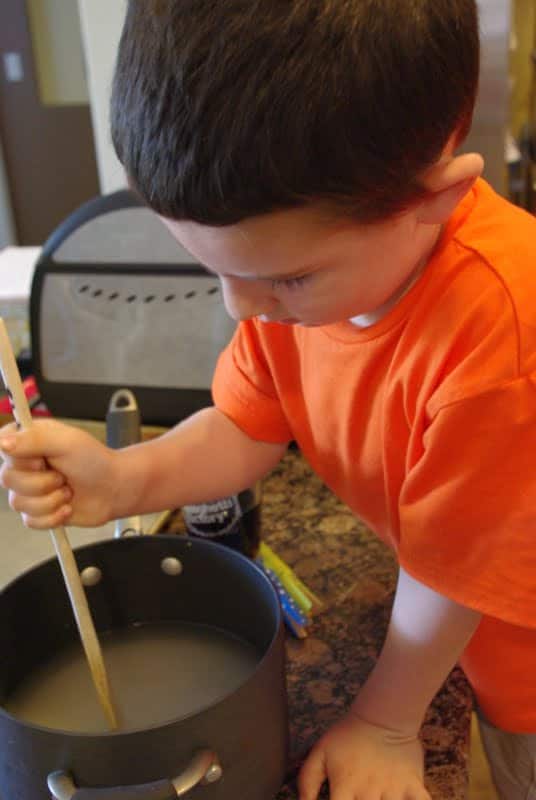 When making a batch of rock candy, the typical sugar-to-water ratio is 2 cups of granulated white sugar for every 1 cup of water, but since the overall goal is to reach a point in which the sugar solution is completely saturated, you may need more sugar than 2:1 ratio. I found that 3 cups of sugar per cup of water worked the best for creating our saturated solution.
Combine the sugar with warm water. I let my kids stir the sugar into the water until they reach a point where they can no longer dissolve any more of it. They should be able to dissolve about 1/2 to 2/3 of the sugar in the recipe, and the rest will be dissolved in the next step.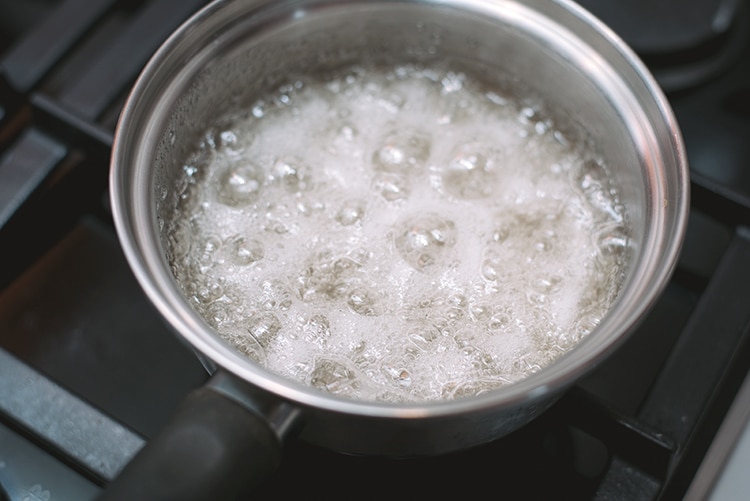 Have an adult place the saucepan on the stove and bring the sugar and water to a boil over medium-high heat. Keep the mixture at a low rolling boil and continue to add sugar one cup at a time until you can no longer dissolve any more of it. (If you're using a candy thermometer, you'll want the temperature to reach around 250 degrees F.) Congratulations, you now have a fully saturated solution!
Turn off the heat and allow the mixture to cool for 20-30 minutes.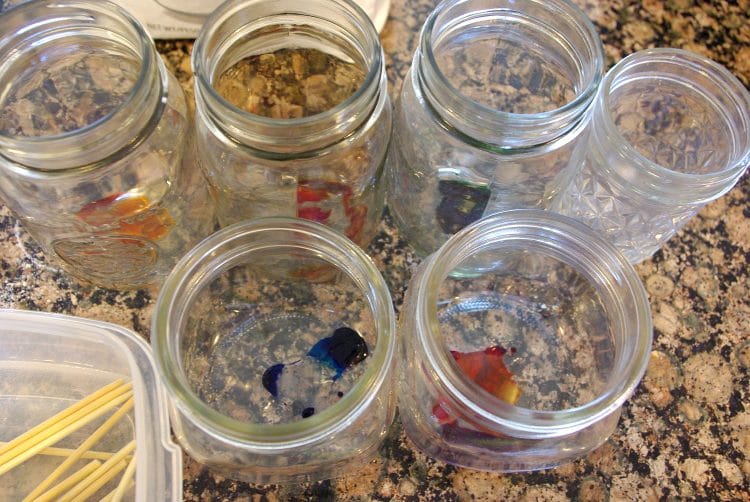 Carefully pour the sugar solution into the glass jars until it is about 1″ below the top of the jar (always use EXTREME caution when pouring hot liquids!). If you'd like to add a few drops of food coloring or candy flavoring, now is the time to do so. You can use different flavors for each of the different colors or make them all single-color/single-flavor if desired.
We added our favorite colors of food coloring to the jars before adding the sugar syrup, but we opted to forego the different candy flavorings since my kids like the great taste of the natural sugar.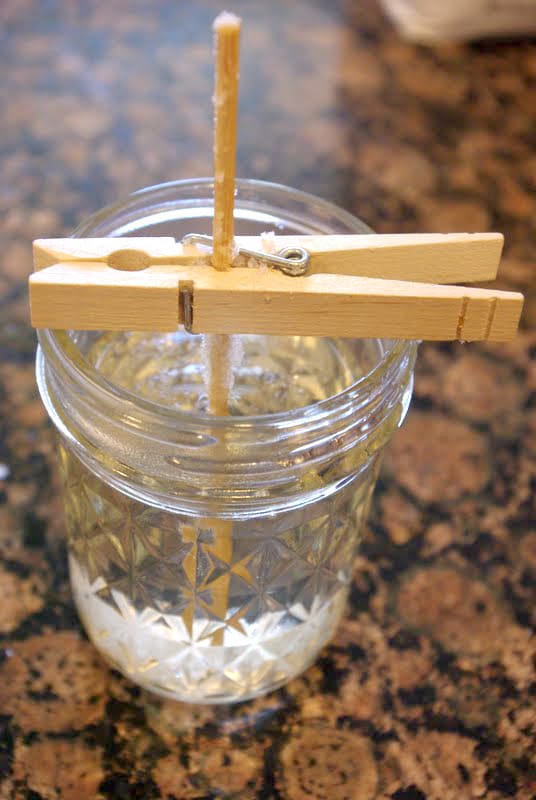 Slowly insert the sugared wooden sticks into the solution. You can use a clothespin as shown to keep your sticks in place. Most wide mouth jars will allow for 2 sticks to be placed in each, but be sure that the sticks are not touching the sides and/or bottom of the glass or each other! You need to leave room for the new rock crystals to grow!
Note: Make sure that your sugared sticks are completely dry! If they are too wet when you put them into the hot sugar solution, all of the seed crystals will fall off, and the rock candy crystals will not grow as easily.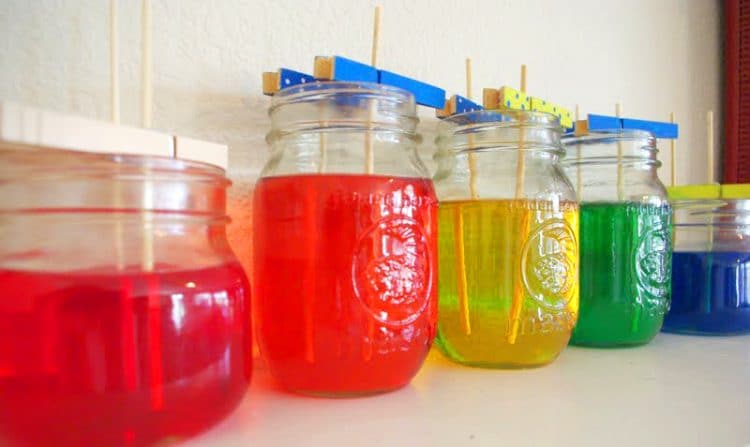 Allow the sugar solution to cool to room temperature, and then place the jars in a warm, sunny location where they won't be disturbed. If desired, you may cover the tops of the jars with a coffee filter to keep any dust out.
Now, wait…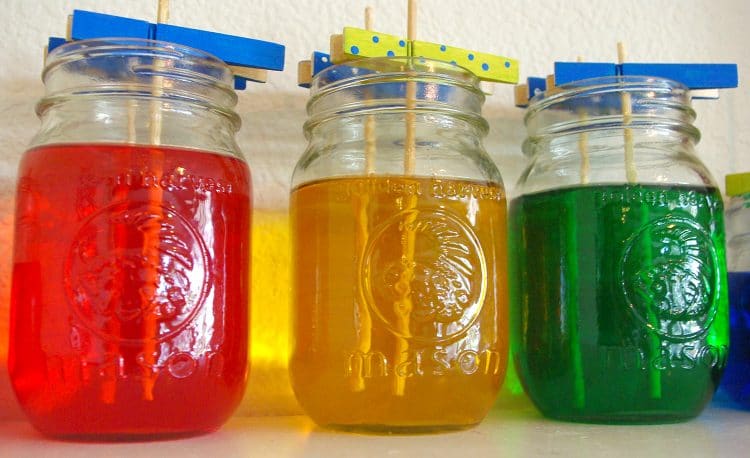 …and wait…and wait…and wait (still with me?)…and wait some more…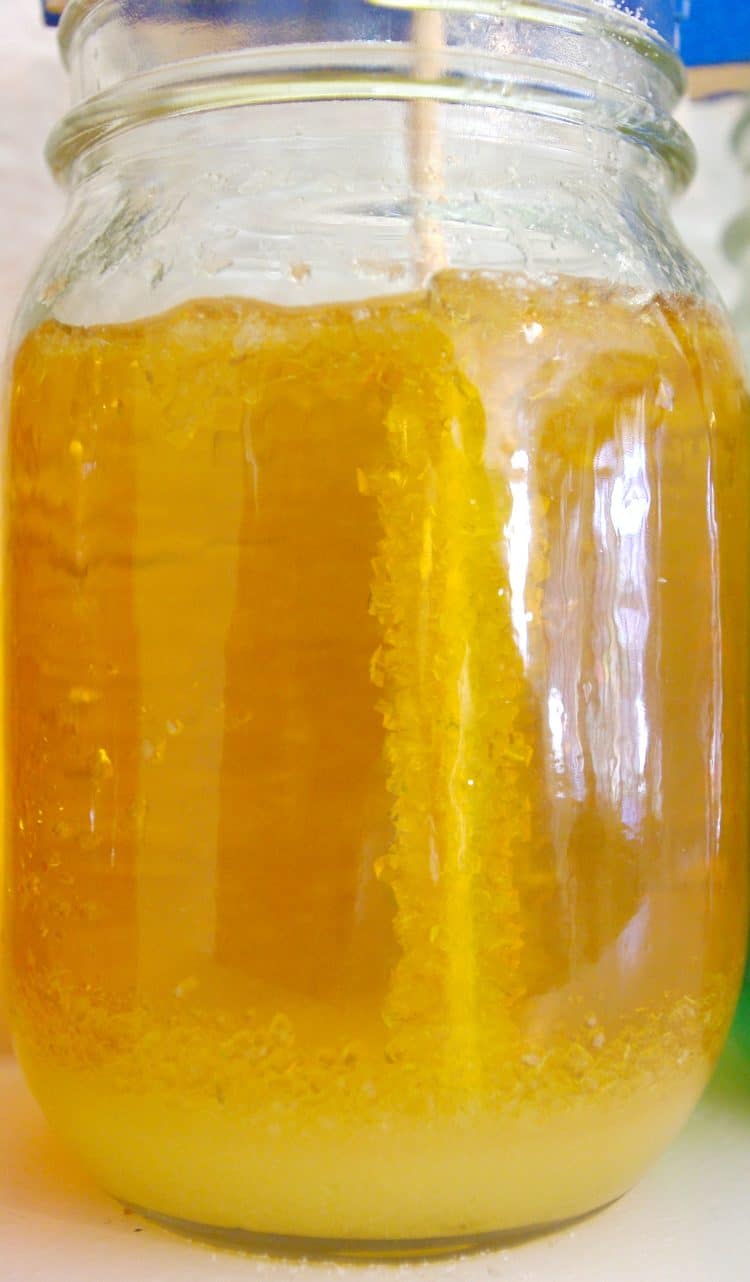 After about a week of watching the crystal growth, you will have yourself a batch of sparkling sugar rock candy! It's completely normal for there to be a thick layer of sugar crystals at the bottom of the jar as well as a thinner layer on top of the liquid.
When the crystals have stopped growing, simply remove the sticks from the jar (you may need to wiggle them around a bit to break free of any other crystals that have grown within the jar) and enjoy!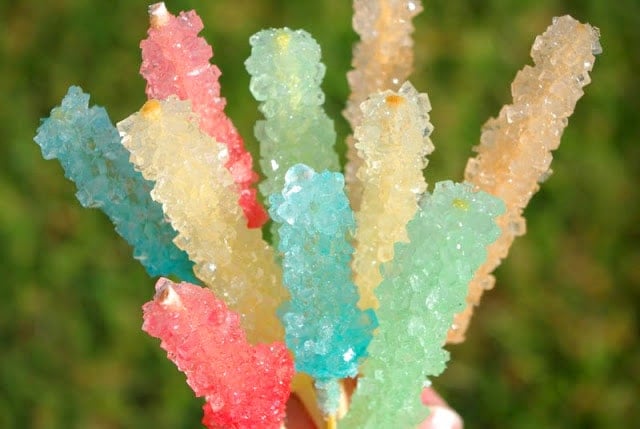 YUM! So pretty, SO tasty, and totally worth the wait! These rock candies would make a great gift idea – especially when added to a coffee or tea gift basket!
---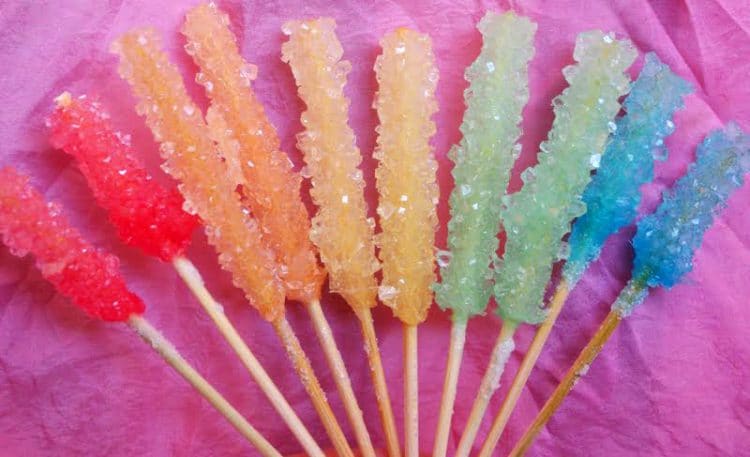 Rock Candy FAQs
Why Did My Rock Candy Fail?
The top reasons that rock candy fails are because there wasn't enough sugar in the solution OR there wasn't enough sugar seeding on the sticks so the crystals didn't have anything to grow on. Temperature can also effect the size and formation of the candy crystals, so make sure that you are bringing the solution to a full rolling boil during the cooking process. Dont' forget that this IS science, and even if you follow all of the directions, sometimes experiments fail based upon environment factors like humidity, sunlight, and ambient temperature. It's always worth it to attempt the experiment again, and hopefully you'll have better luck next time!
Can I Use a Popsicle Stick or String for Rock Candy?
Wooden skewers, wood sticks, and popsicle sticks are the best options for making rock candy because they are sturdy and take the seeding process well. Cotton string may also be used, however, you will need to weigh down the end of the string which may result in the weight becoming embedded inside the rock candy crystals. Lollipop sticks may also be used, but are not recommended since they are prone to becoming soggy after soaking in the solution for too long.
What's the Best Way to Clean Jars After Making Rock Candy?
The sugar crystals attach themselves rather solidly to the glass jars, so cleaning them can be kind of a pain if you're not familiar with the best methods. I've found that the easiest way to clean them is to first soak the jars in hot water to dissolve the bulk of the excess sugar crystals. Next, use a butter knife to chip away at any remaining crystals, OR, add a bit more water to the jar (to cover the sugar crystals) and microwave it in 30 second increments until all the remaining sugar has melted and can be poured down the drain.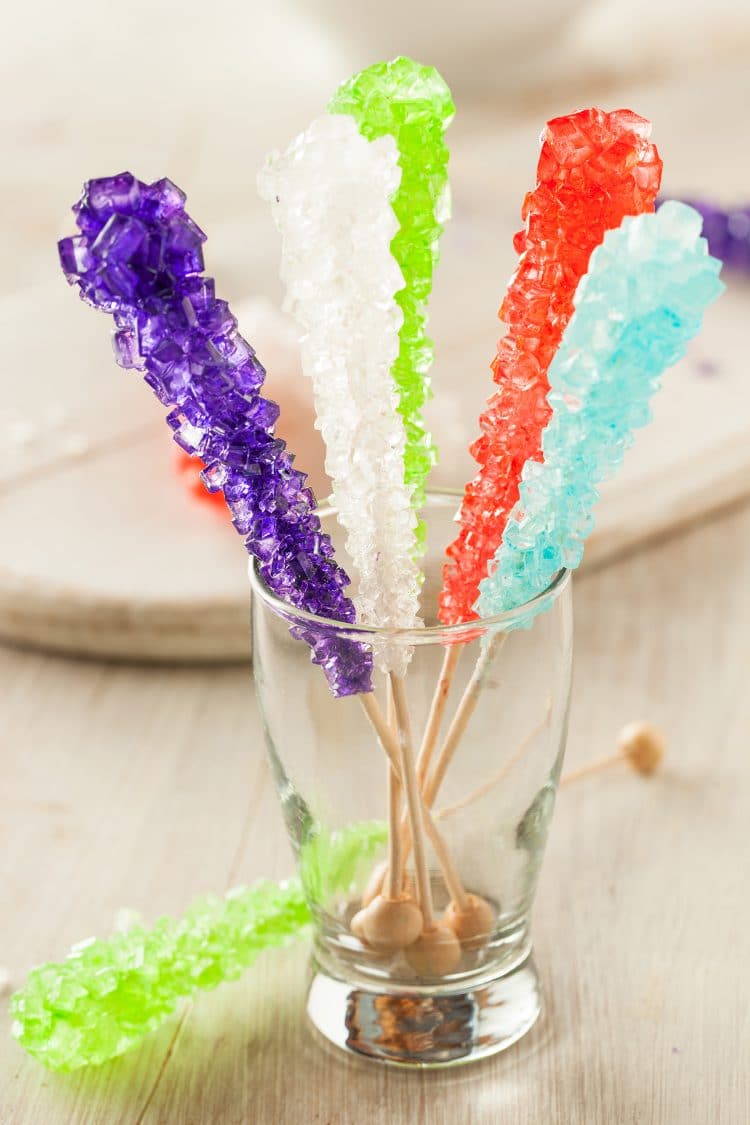 Can You Add TOO Much Sugar to Rock Candy?
Nope! Don't worry about adding too much sugar to your sugar solution! If there is extra sugar in the liquid once the solution becomes fully saturated, it will simply settle at the bottom of the pot. Try to avoid pouring too much of the excess sugar into the jars, though, or you may end up with a very thick layer of rock candy crystals at the bottom of the jar!
What's the Best Way to Store Rock Candy?
Store the rock candy in an air tight container for up to one year.
Can I use Powdered Sugar to make rock candy?
No, powdered sugar will not work well to create rock candy. Regular granulated white sugar works best for making homemade rock candy.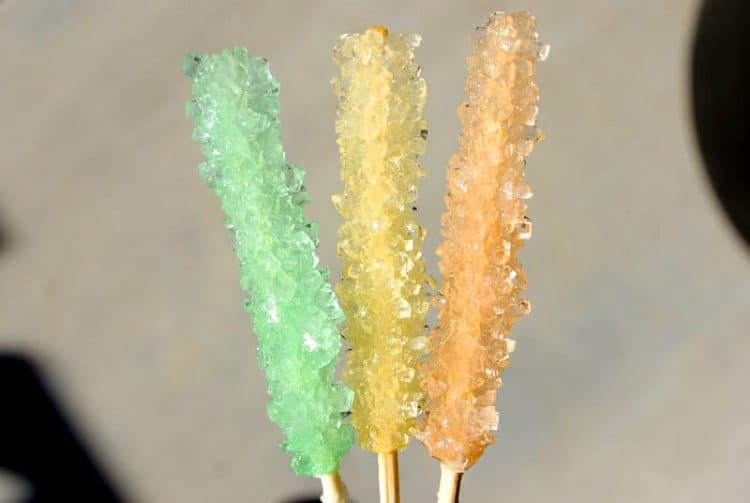 Homemade Rock Candy
Learn how to make rock candy at home with this easy rock candy recipe and tutorial! A delicious and fun science experiment for kids that combines science and sweets!
Print
Pin
Rate
Yields:
12
Rock Candy Sticks
What You'll Need:
12

6-inch

Wooden Skewers

12+

cups

Granulated Sugar

4

cups

Warm Water

Food Coloring,

if desired

1

dram

Candy Flavoring,

if desired

6

Quart-Sized

Mason Jars

12

Clothespins
Instructions:
Soak sticks briefly in water and roll in sugar to coat. Allow to dry completely.

Add warm water to a large saucepan. Stir in 8 cups of sugar until no more will dissolve.

Place the saucepan on the stove, and bring to a low boil over medium heat. Add remaining sugar and any additional sugar as needed until you reach a fully saturated solution and no more sugar will dissolve. If you're using a candy thermometer, you'll want the temperature to reach around 250 degrees F. Allow to cool for 20-30 minutes.

Carefully pour the mixture into the mason jars and add food coloring and/or candy flavoring as desired.

Add two sugared sticks to each jar, making sure that the sticks don't touch the jar or each other. Use clothespins to hold the sticks in place as needed.

Place the jars in a warm and undisturbed location. Wait for 5-10 days until crystals are fully formed. Remove the sticks from the jar and enjoy.
Nutrition
Serving:
1
stick
|
Calories:
70
kcal
Any additional questions? Leave them in the comments for us!
These rock candy sticks are a super fun STEM activity for kids of all ages, and everyone will enjoy the tasty treat that this fun science experiment creates!

Check Out These Other Fun Ideas!
Don't Forget to Pin This Rock Candy Recipe for Later!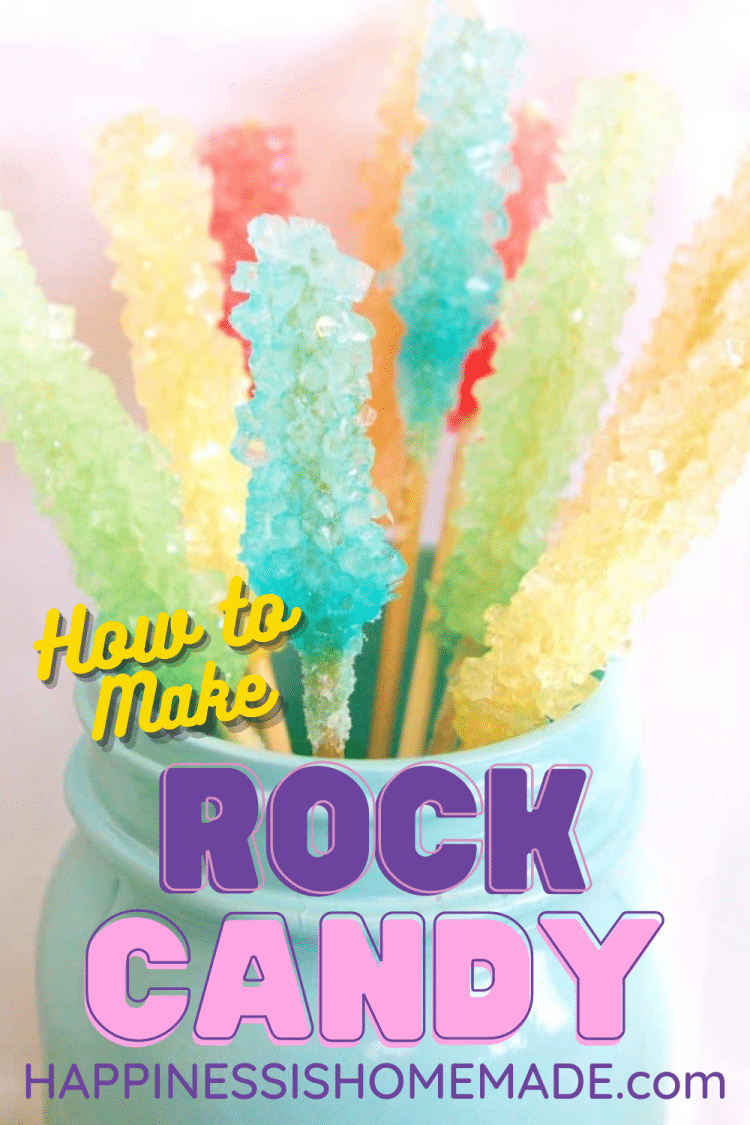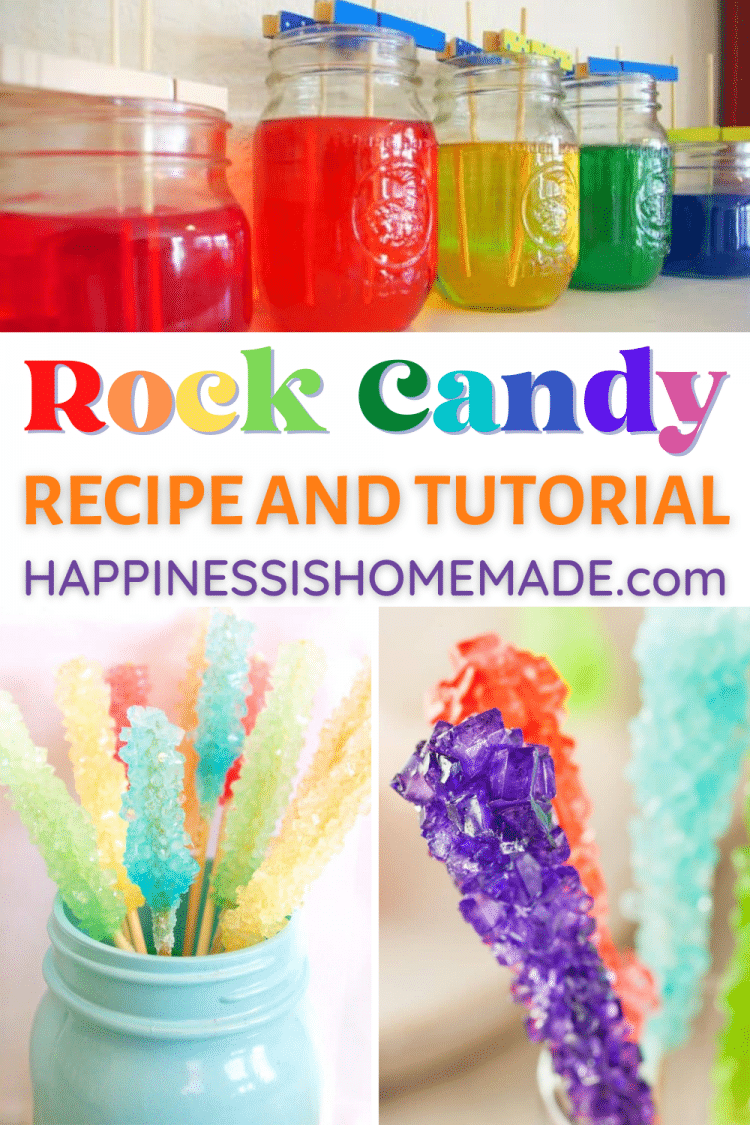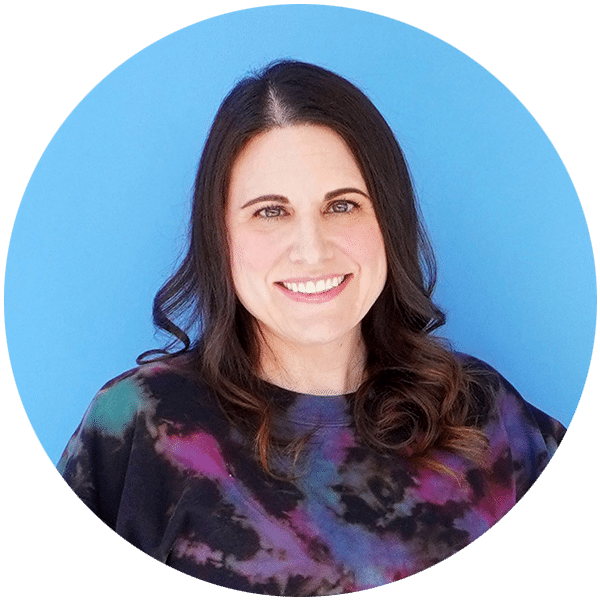 Heidi Kundin has captivated the hearts of millions with her colorful and inspiring approach to crafting, celebrations, and family fun. With over 15 years of experience, Heidi's website has become a must-visit destination for those seeking quick and easy creative ideas and last-minute solutions. Her warm personality shines through her posts, inviting readers to join her on a creative journey that's fun, rewarding, and achievable.