Valentine Games – Roll and Cover
This post and its photos may contain affiliate links. As an Amazon associate I earn from qualifying purchases. If you make a purchase through these links, I may receive a small commission at no extra cost to you!
Looking for a fun and easy Valentine's Day game for your classroom, family, church, or playgroup? This Roll & Cover Valentine Game is fun for kids of all ages! Use our free printable valentines game and race to be the first to cover all of the dice with candy hearts!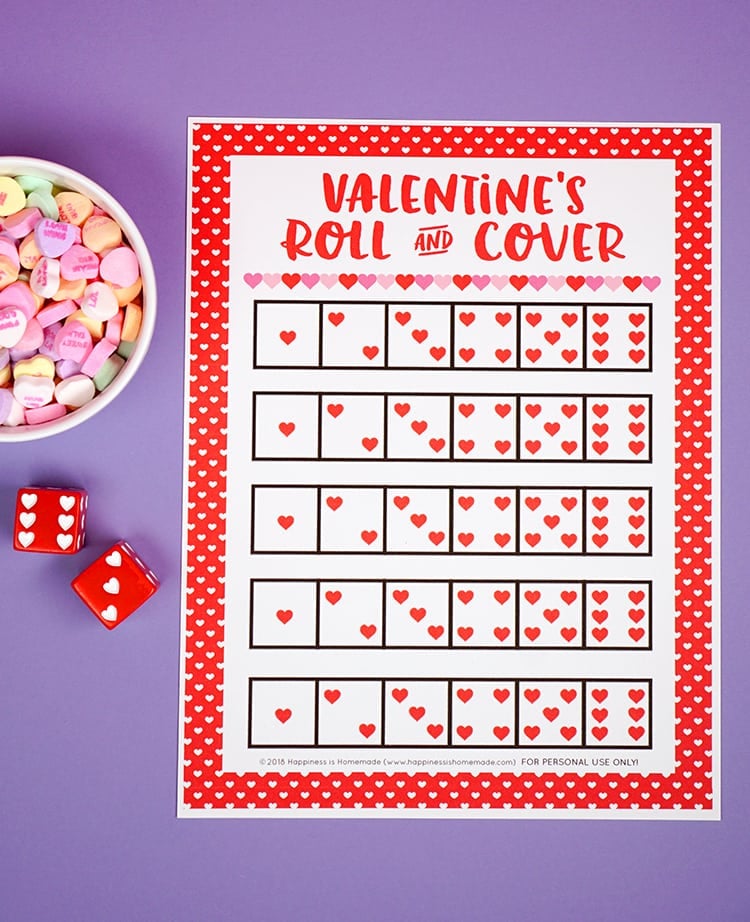 This post may contain affiliate links. I will receive a small commission from these sales at no additional cost to you!
Roll and Cover is one of my favorite Valentine games to play with a large group of people! It can be played with all different ages and skill levels, and the only supplies that you need are our free printable Valentine's Roll and Cover game sheet and some candy hearts! Or, if you'd prefer to keep things sugar-free, you could also use paper hearts or small heart erasers instead of candy. This Roll & Cover Valentine Game can be played in a circle by taking turns rolling the dice or you can give each player their own die/dice and have everyone compete head-to-head at the same time in a race to fill their cards. Whichever way you choose to play it, it's a TON of fun!
You May Also Like These Valentine's Day Ideas:
Printable Valentine Game: Roll & Cover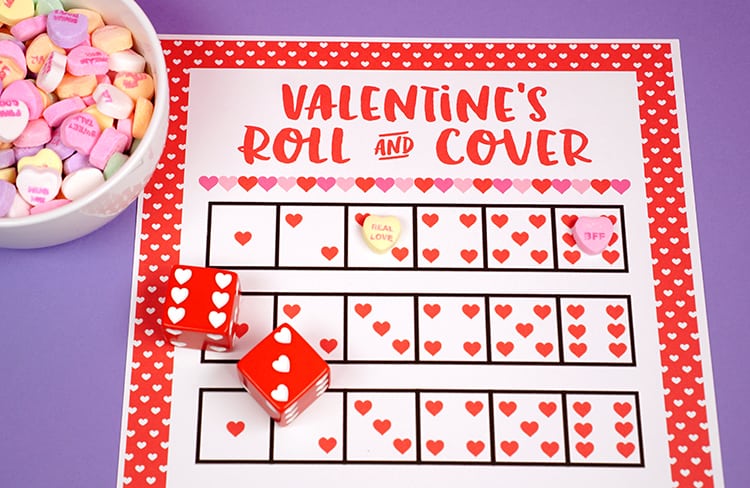 What You'll Need:
1 or 2 dice per person (see note below)
Printable Valentine Game Sheet (below)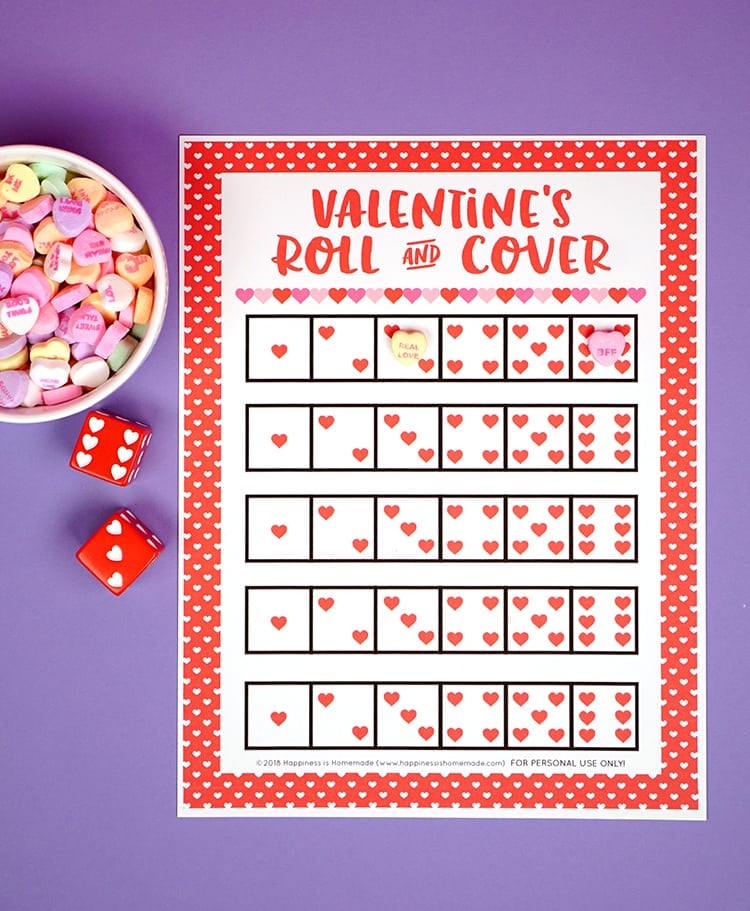 You can opt to use either one or two dice to play the game – one die will make the game take longer, two dice will make it faster. Roll the dice and cover the corresponding number(s) on the game card with a candy heart.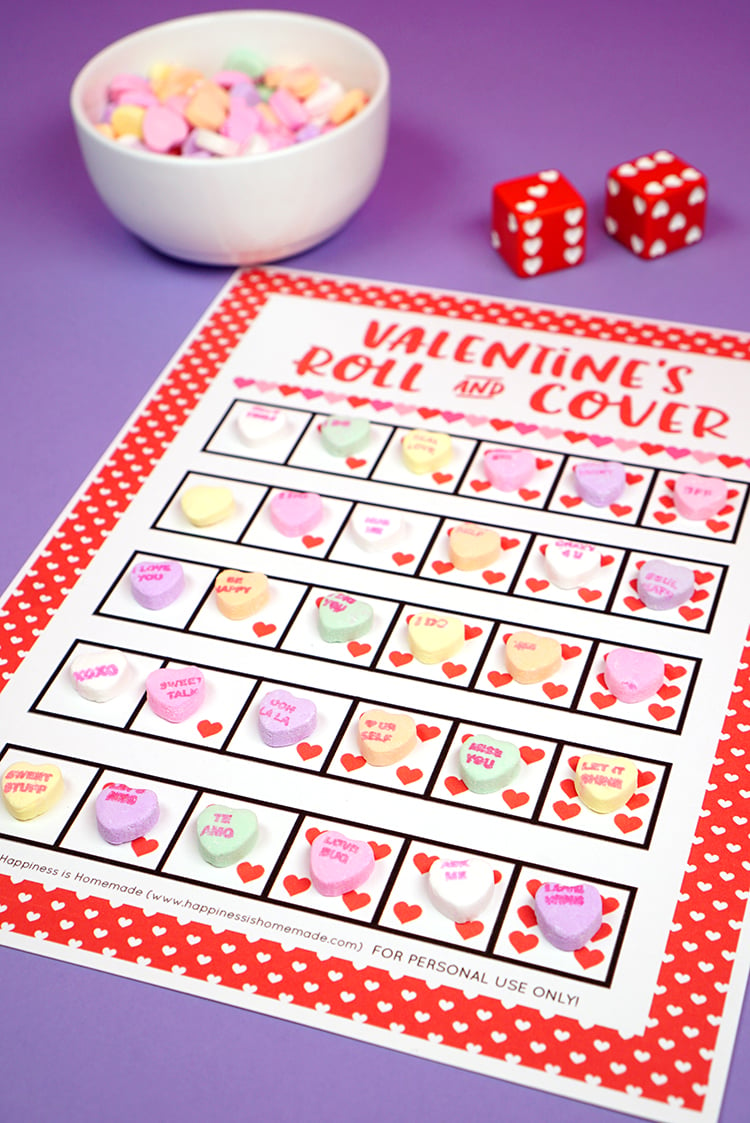 Whoever covers all of their spaces first is the winner!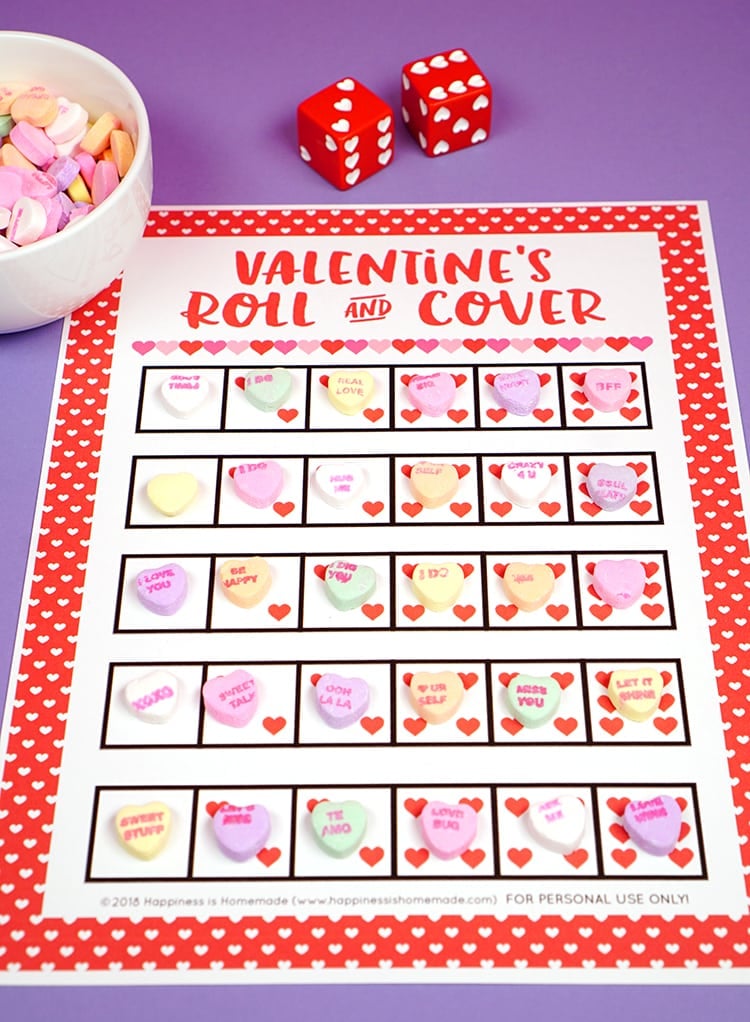 I like to give out small novelty prizes for the top three winners, and everyone else gets the candy hearts (or erasers) consolation prize – something for everyone!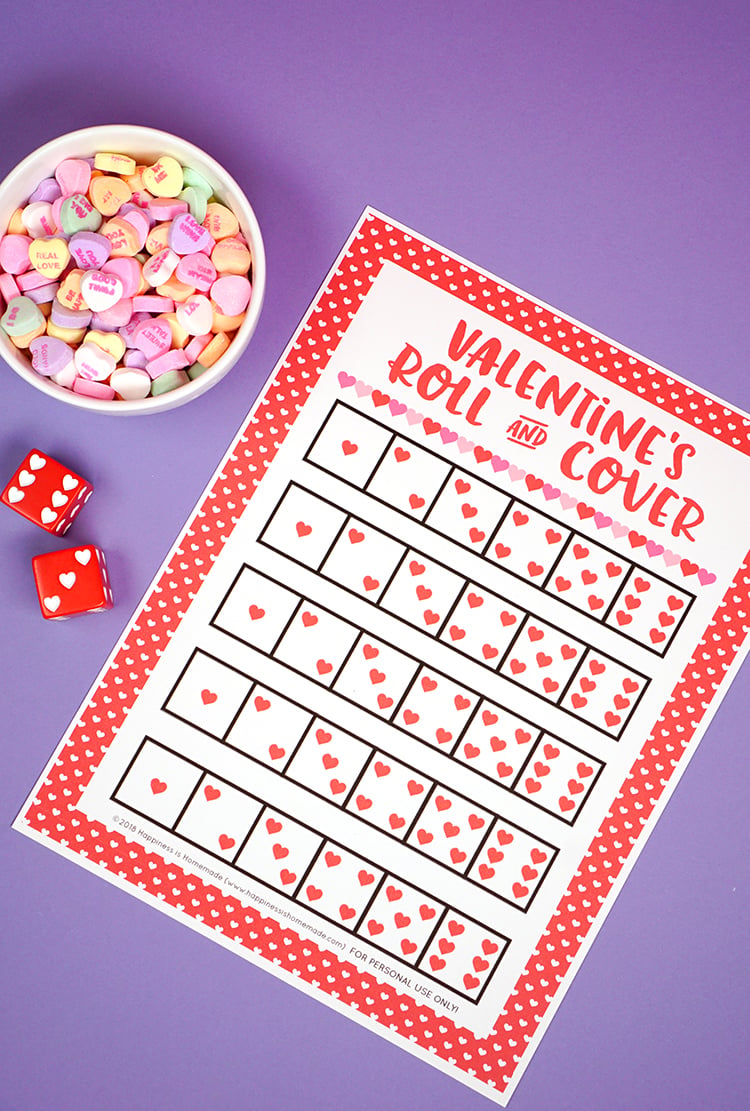 If you want to conserve time and paper, you can also print out the game card and cut out each individual strip – there are five game strips per sheet.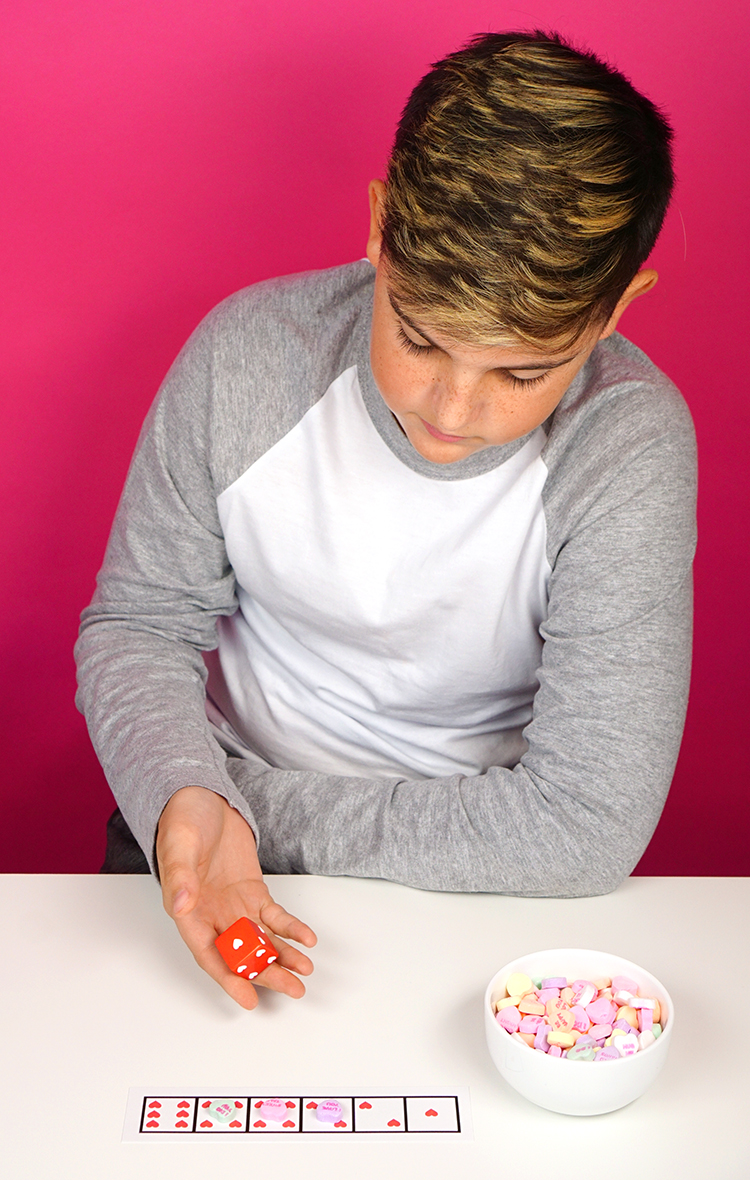 Use the single strip instead of the larger sheet for faster gameplay!
---
To get the VALENTINE'S ROLL & COVER GAME, enter your name and email address into the form below and click the "Get It Now!" button!
Can't find the download form? Having issues with the file? Check out our Digital Downloads FAQ page for answers to the most common troubleshooting questions!
Please note that during times of heavy website traffic, download forms may take a little longer to load than the rest of the page. Please allow up to 1-2 minutes for everything to load completely.
---
WANT MORE VALENTINE'S DAY GAMES & ACTIVITIES? GRAB OUR MEGA BUNDLE ON SALE NOW!

Check Out These Other Valentine's Day Ideas!
Pin this Valentine's Day Game for Later!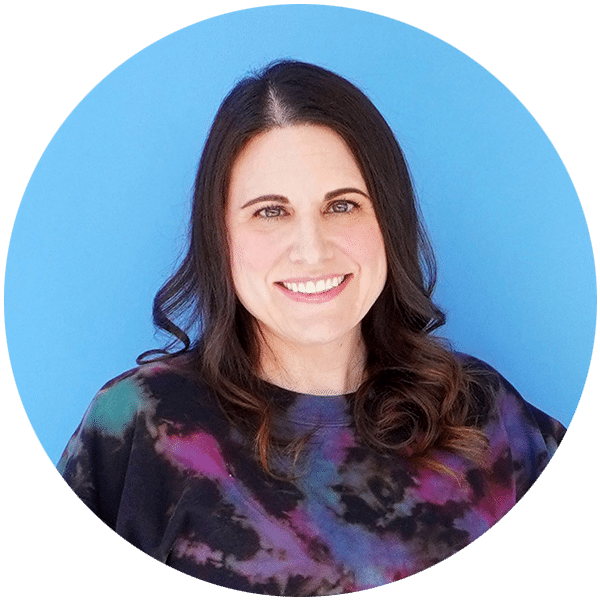 Heidi Kundin has captivated the hearts of millions with her colorful and inspiring approach to crafting, celebrations, and family fun. With over 15 years of experience, Heidi's website has become a must-visit destination for those seeking quick and easy creative ideas and last-minute solutions. Her warm personality shines through her posts, inviting readers to join her on a creative journey that's fun, rewarding, and achievable.