Valentine's Day Mad Libs Printable
This post and its photos may contain affiliate links. As an Amazon associate I earn from qualifying purchases. If you make a purchase through these links, I may receive a small commission at no extra cost to you!
Bring on the fun and hilarity with this FREE printable Valentine's Day Mad Libs! It's a terrific game to play in the classroom, for homeschool, at a Valentine's Day party, or even family game night. You'll hear lots of giggles as each person reads their silly Valentine story out loud!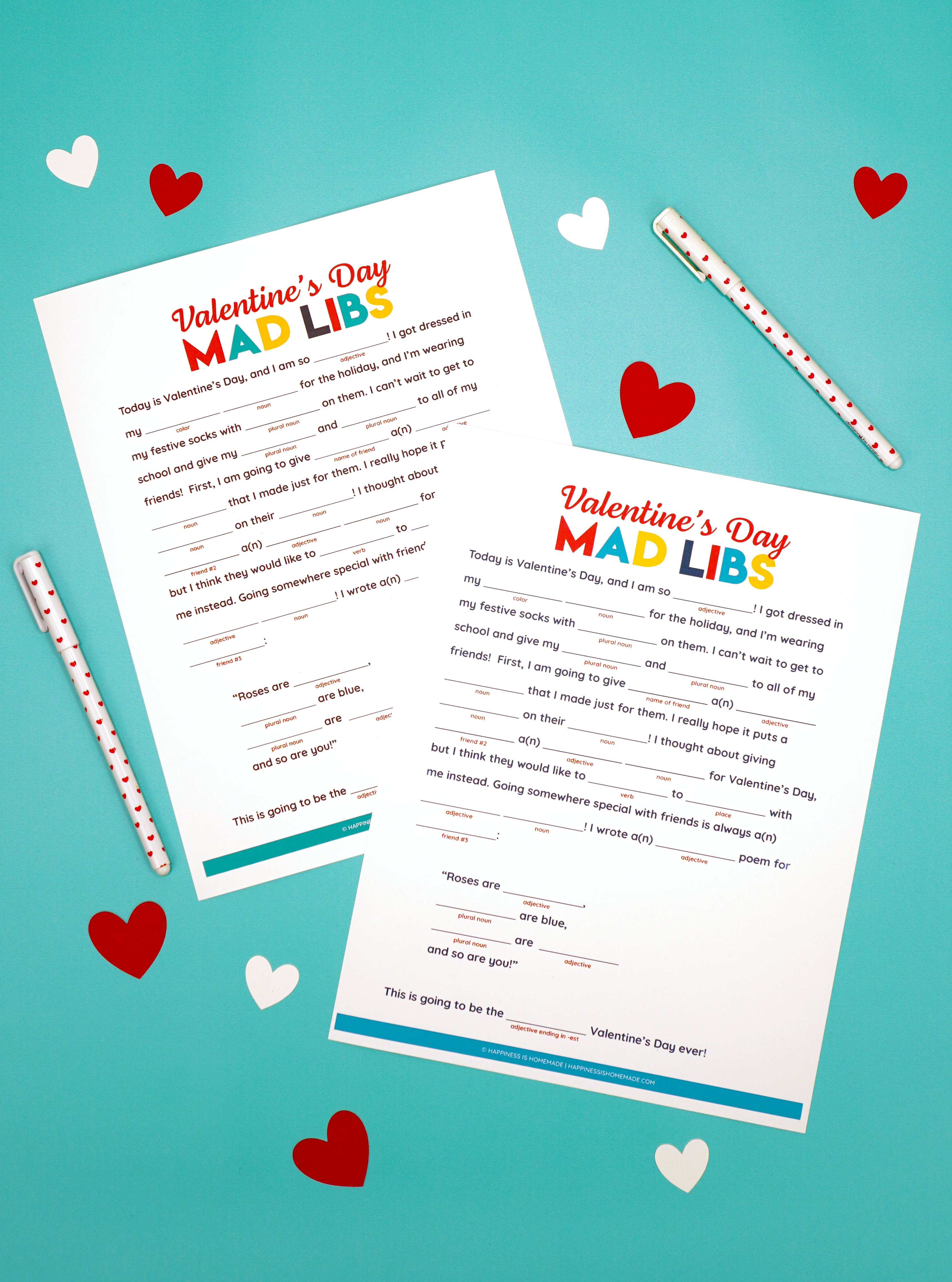 Valentine's Day Mad Libs Printable
I've been posting Mad Libs for every season and holiday because they're just so darn fun! Mad Libs are great for kids and grown-ups of all ages, whether you're in a small group or a large one.
This Valentine's Day Mad Libs is the perfect activity for kicking off the day, perhaps with a sweet breakfast of heart-shaped pancakes and some fun story-telling, or a simple game to play at your Valentine's Day party.
Looking for more Valentine's Day fun? Check out these printable games and activities!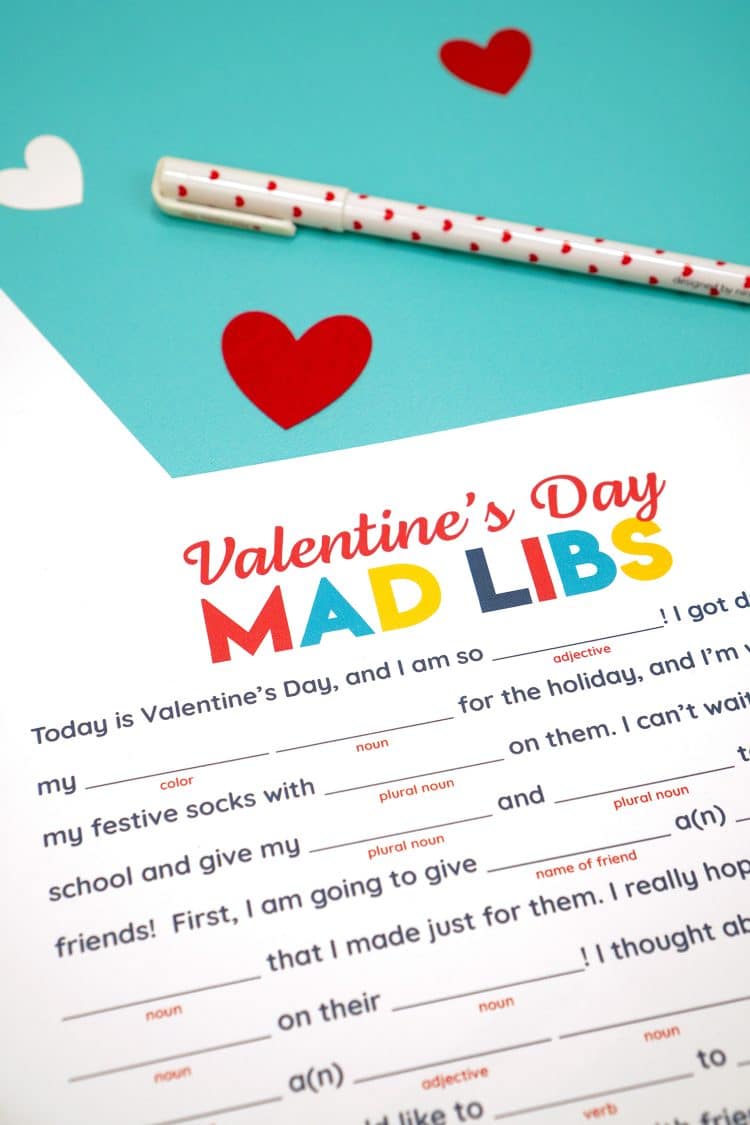 What parent or teacher doesn't love a fun, engaging way to introduce language concepts without hearing any complaints from the kids? Discuss nouns, plural nouns, adjectives, and verbs as you choose the words to add to your fill-in-the-blank story. It's a great review for older kids and an easy way to introduce the parts of speech to younger children!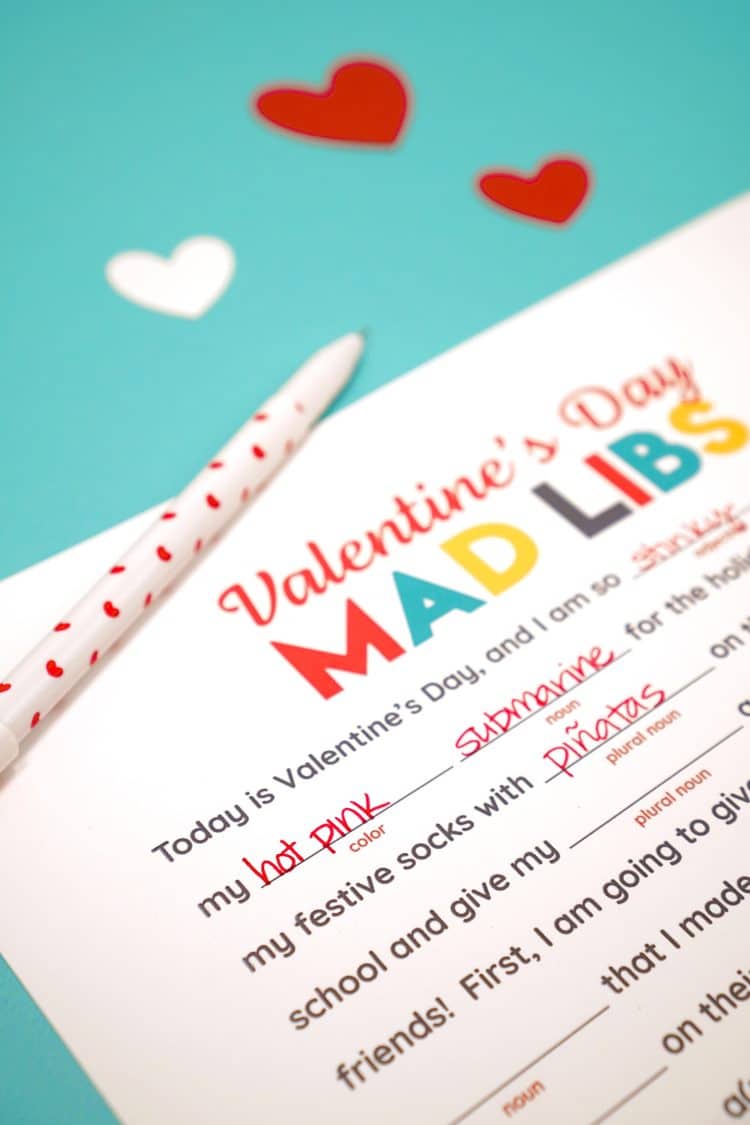 Of course, it's the most fun when you think of the best, silliest, most off-the-wall words on your own, but if your kids are a little unsure and would like some help, random word generators can help spark ideas! You can find generators for random nouns, verbs, and adjectives! It's a great way to change things up when you're stumped for ideas.
It's easy to spend an hour or more concocting crazy stories with different combinations of words. Hearing the kids' laughter as they spin silly tales about the gifts they'll give to their friends on Valentine's Day is sure to melt your heart.
Valentine's Day Mad Libs For Kids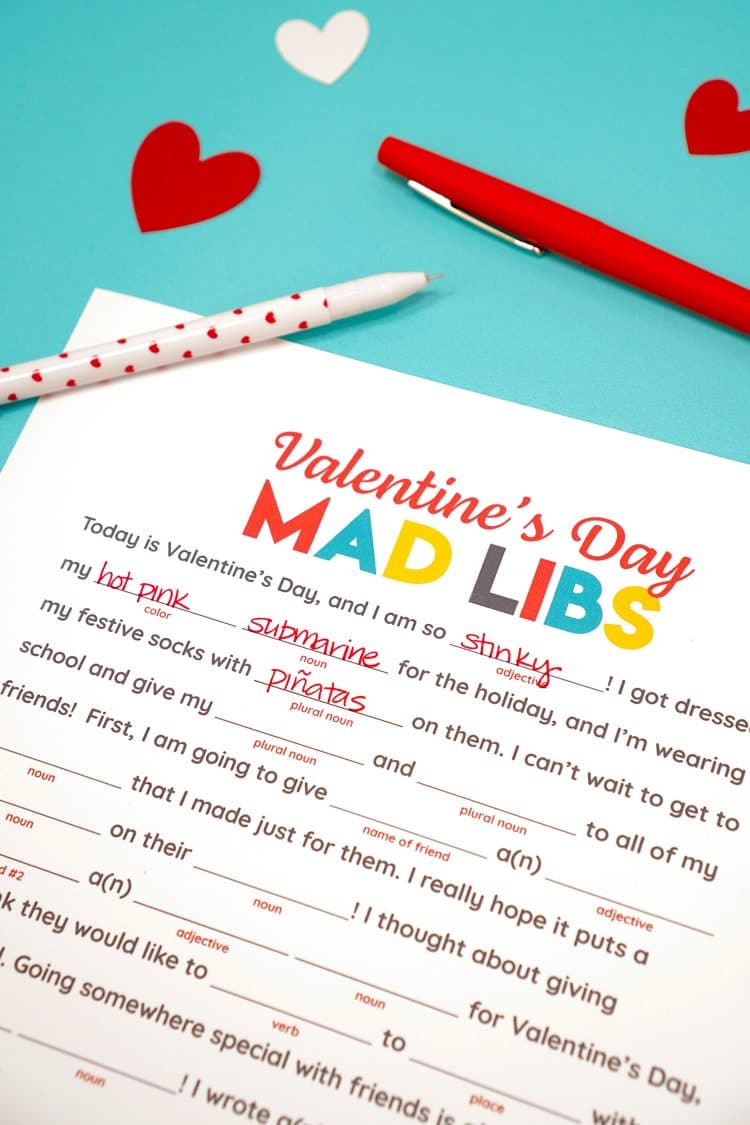 What are Mad Libs?
If you've never played Mad Libs before, you're going to love it! It's a fill-in-the-blank game where you fill in words to a story that's already partly written. Each blank tells you what part of speech to fill in, such as a noun, adjective, verb, color, etc.
Try not to read the story as you fill in the blanks, though. You don't want the answers to be sensible; it's way more fun if they're crazy!
You can do this by having one person scan the list of words, calling out the parts of speech so the other players can come up with their words. Then, give everyone a handout to add their words to the blanks. Begin reading the stories, and let the laughter begin!
---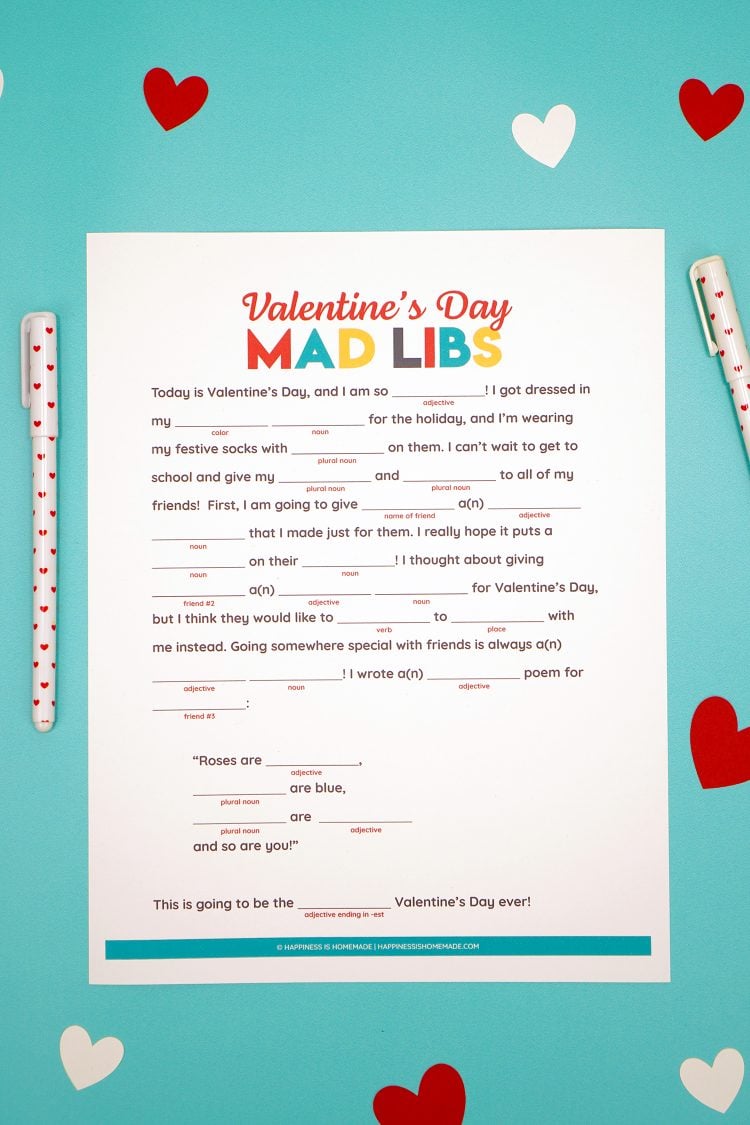 To get the Valentine's Day Mad Libs, enter your name and email address into the form below and click the "Get It Now!" button!
---

Check Out These Other Valentine's Day Printables!
Pin This Valentine's Day Mad Libs for Later: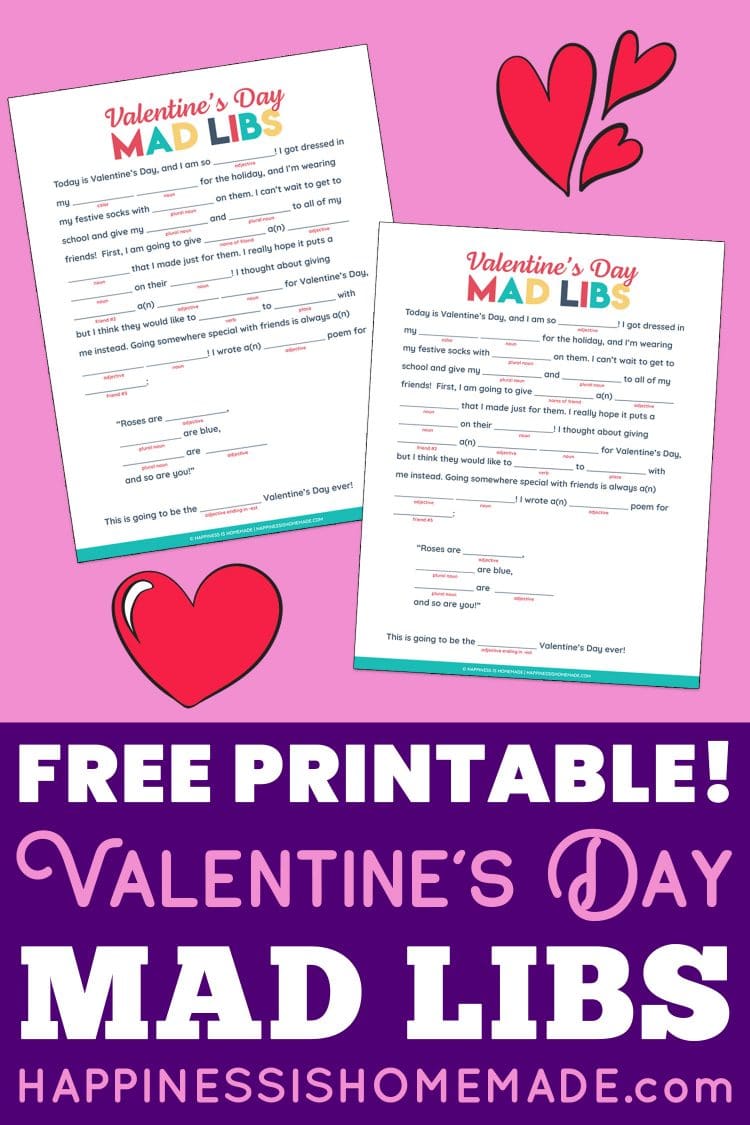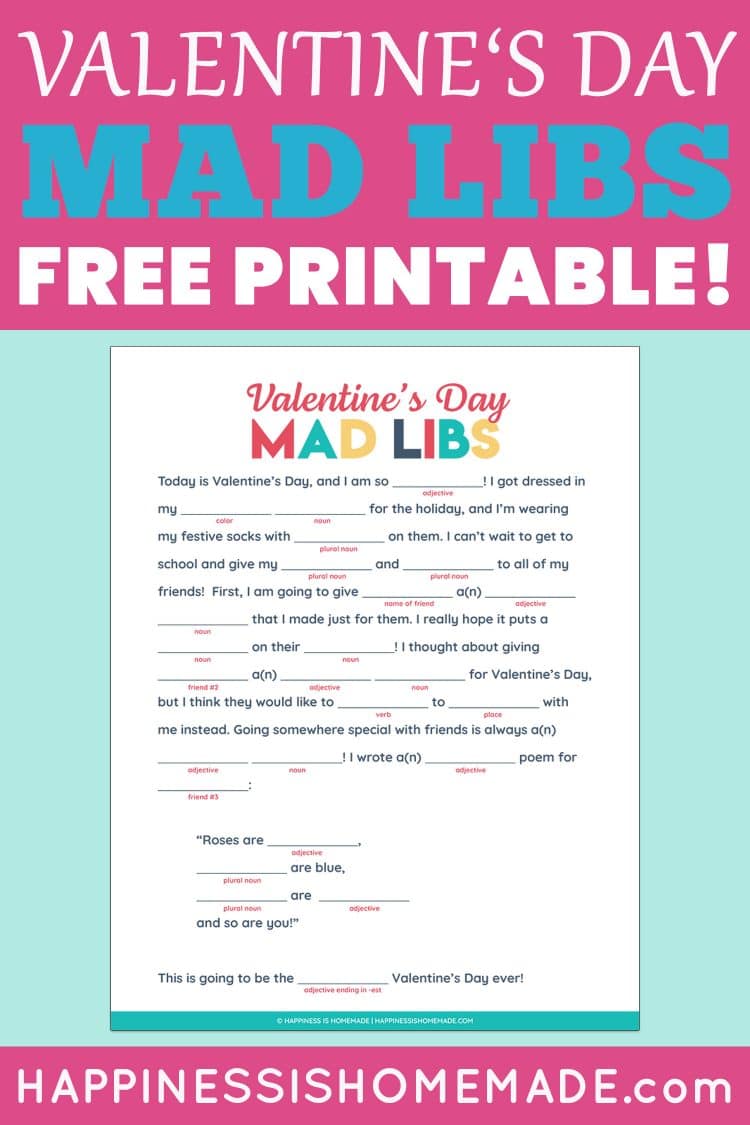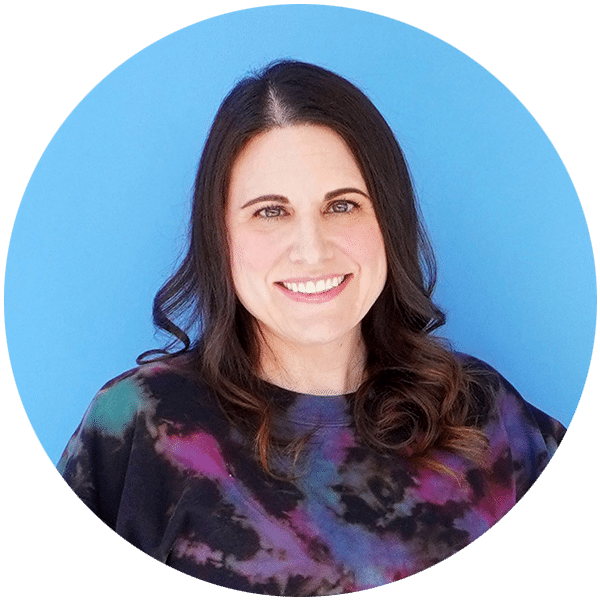 Heidi Kundin has captivated the hearts of millions with her colorful and inspiring approach to crafting, celebrations, and family fun. With over 15 years of experience, Heidi's website has become a must-visit destination for those seeking quick and easy creative ideas and last-minute solutions. Her warm personality shines through her posts, inviting readers to join her on a creative journey that's fun, rewarding, and achievable.