Walking Rainbow STEM Activity + Printables
This post and its photos may contain affiliate links. As an Amazon associate I earn from qualifying purchases. If you make a purchase through these links, I may receive a small commission at no extra cost to you!
Walking Rainbow STEM Activity for Kids: a simple science experiment that includes colorful science lessons for kids of all ages! Plus, get 15+ Bonus FREE printable STEM activities and worksheets!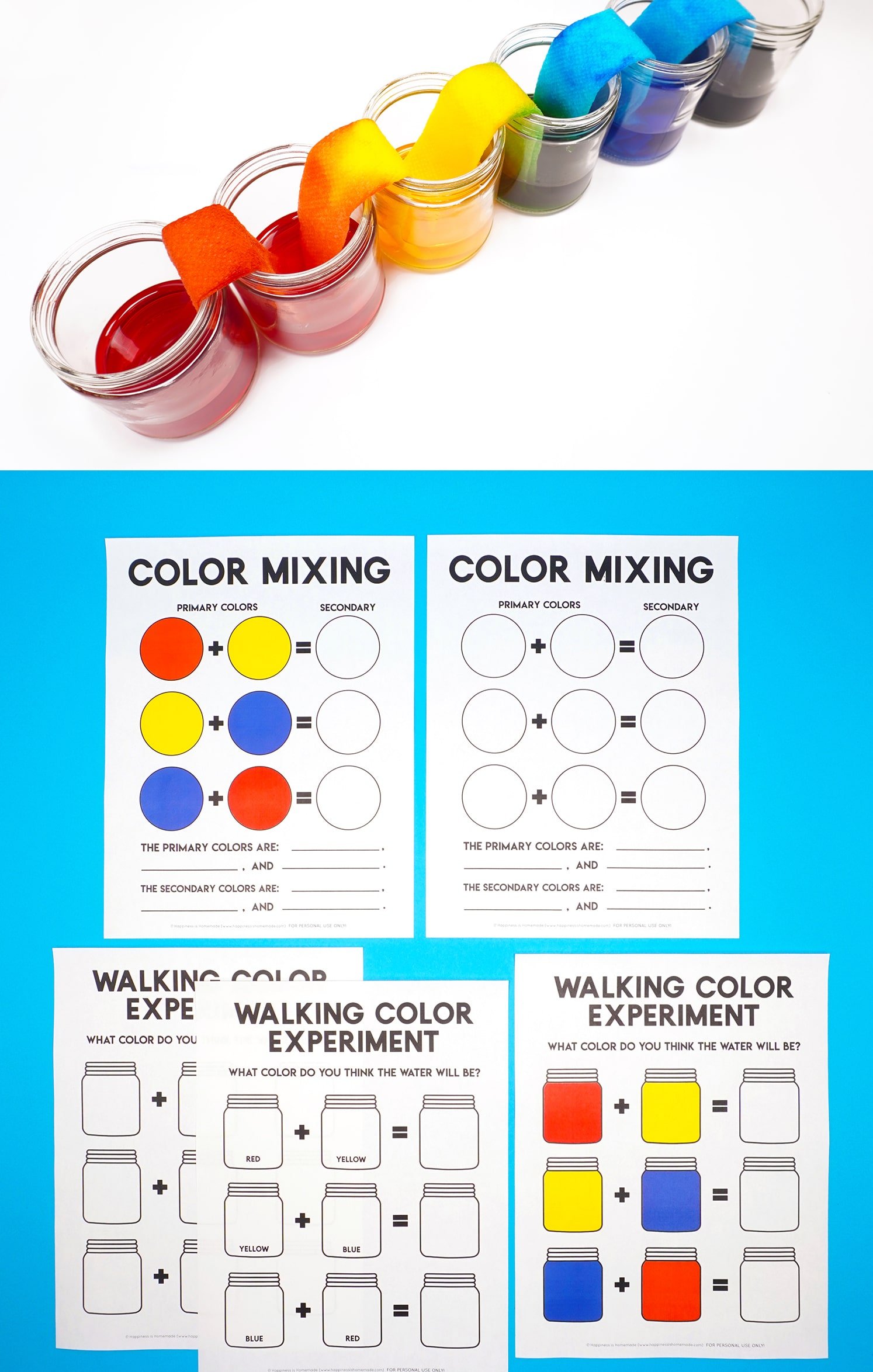 This post may contain affiliate links. I will receive a small commission from these sales at no additional cost to you!
It's Back-to-School time (even if that may look a little different this year!), so my Totally Free Printables friends and I decided to bring you an awesome and, of course, Totally Free collection of printable STEAM (Science, Technology, Engineering, Arts, and Math) and STEM activities to kick off the school year!
This collection includes a variety of STEM activities, games, lessons, coloring pages, artwork, and more! We created a fun set of color mixing and color wheel printables to go along with one of our favorite kid's science experiments – the walking rainbow!
---
Be sure to scroll all the way to the bottom of this post for 15 more Totally Free STEM printables that I know you're going to love!
Walking Rainbow STEAM Activity
The Walking Rainbow activity can be adapted to fit a wide variety of different age groups of students from preschool aged children through upper elementary and middle school grades. For older students, we suggest delving into learning how the cellulose fibers of the paper towels use a capillary action along with the properties of adhesion and cohesion to move the water and color from one jar to another – you can learn more about the process here!
For the purpose of our Walking Rainbow STEAM activity and corresponding printables, we are going to focus on the color mixing properties, a lesson that's suitable for all ages, but geared best towards younger children.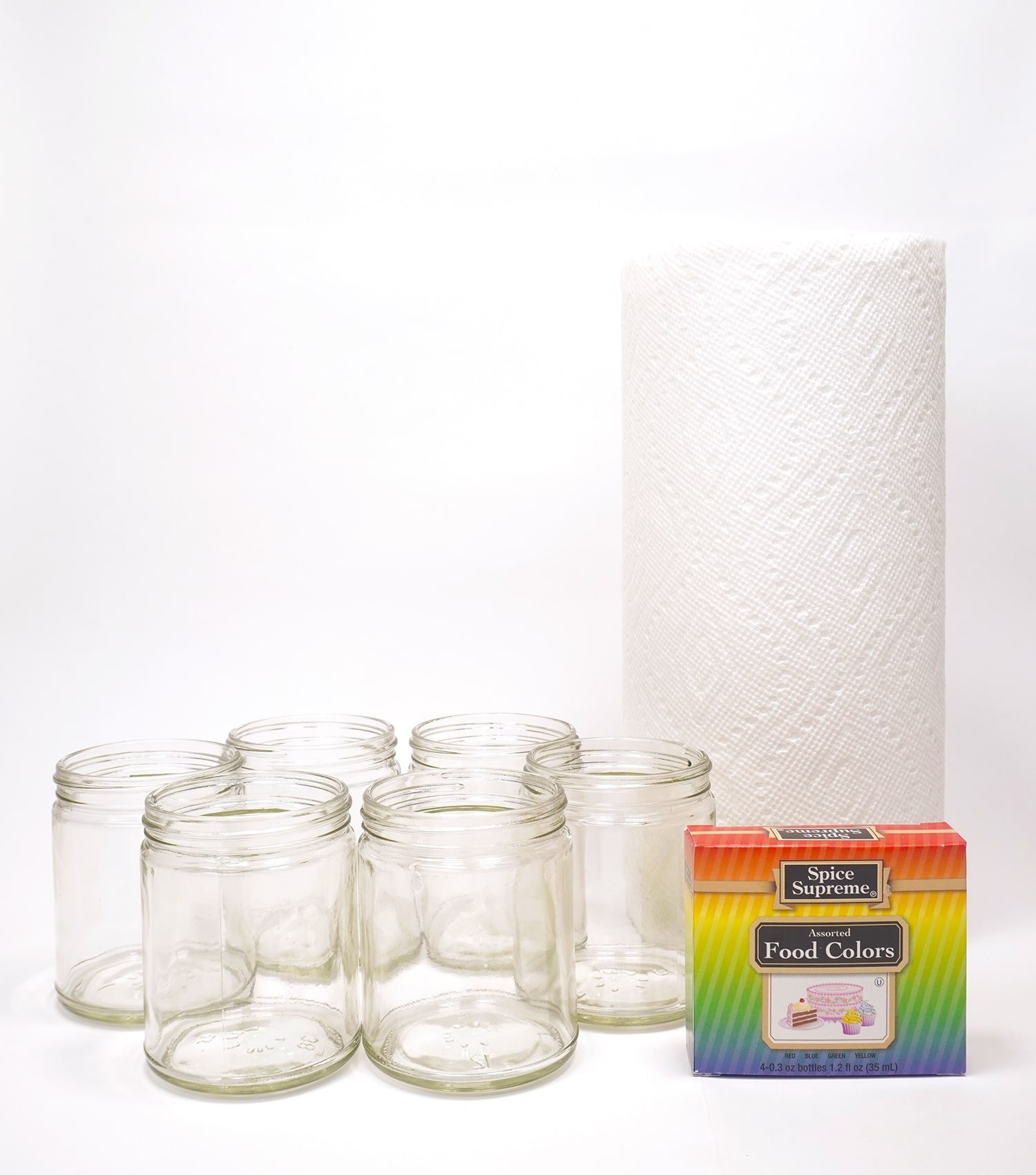 Supplies Needed for Walking Rainbow Experiment:
(6) Small Glass Cups or Jars – roughly the same size/shape. (We used these 9 oz glass jars, but mason jars are also a great option!)
(6) Half-sheets of Paper Towels
Liquid Food Coloring in Red, Blue, and Yellow
Color Mixing & Color Wheel Printables (available below)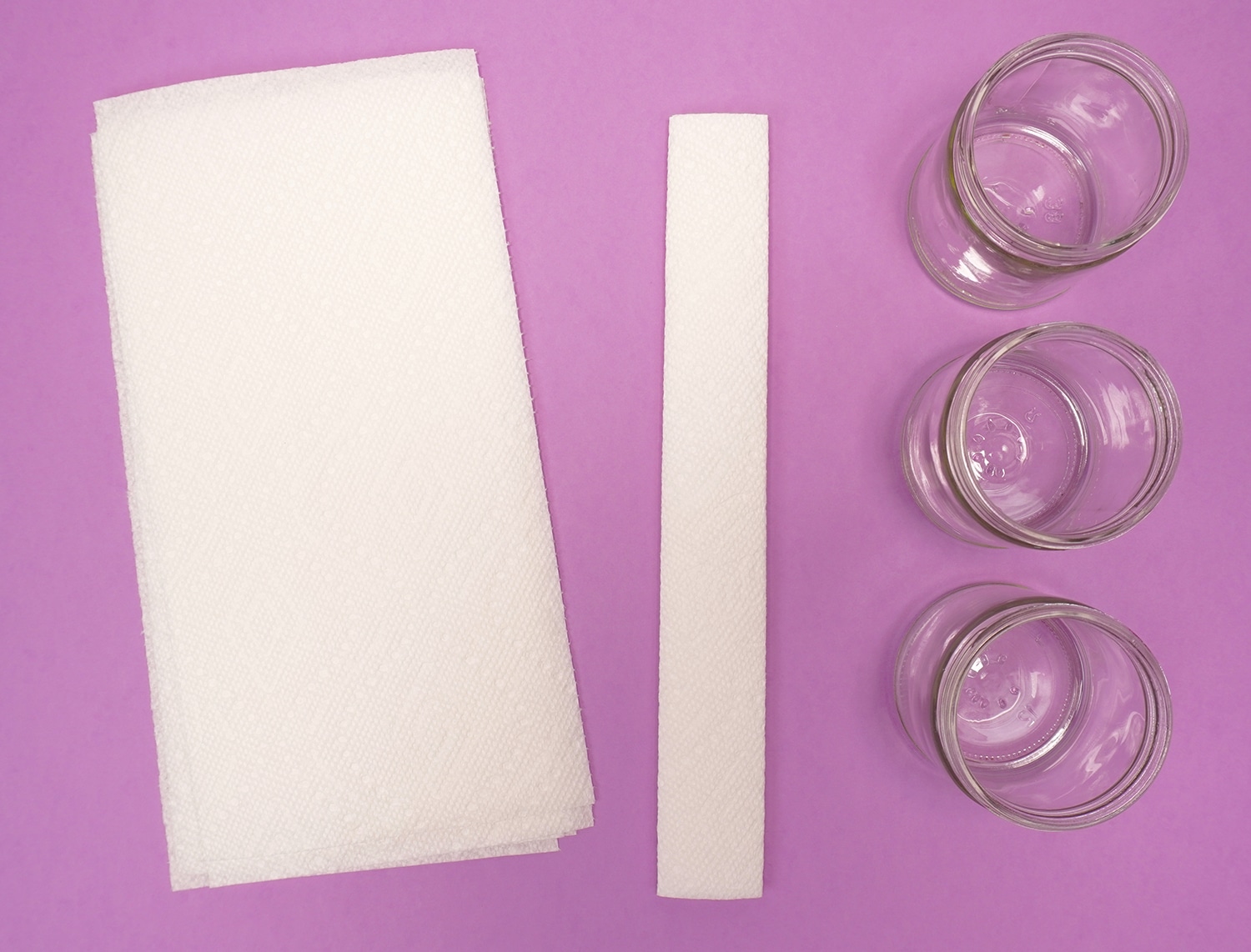 Fold each paper towel into quarters. Press along the seams with your fingers so that it will keep its shape.
Measure the length of the paper towel between two of your jars. You want your paper towels to stick up just a bit above the top of the jars (as shown in the photo above), so if your paper towels are too long, trim the ends to fit.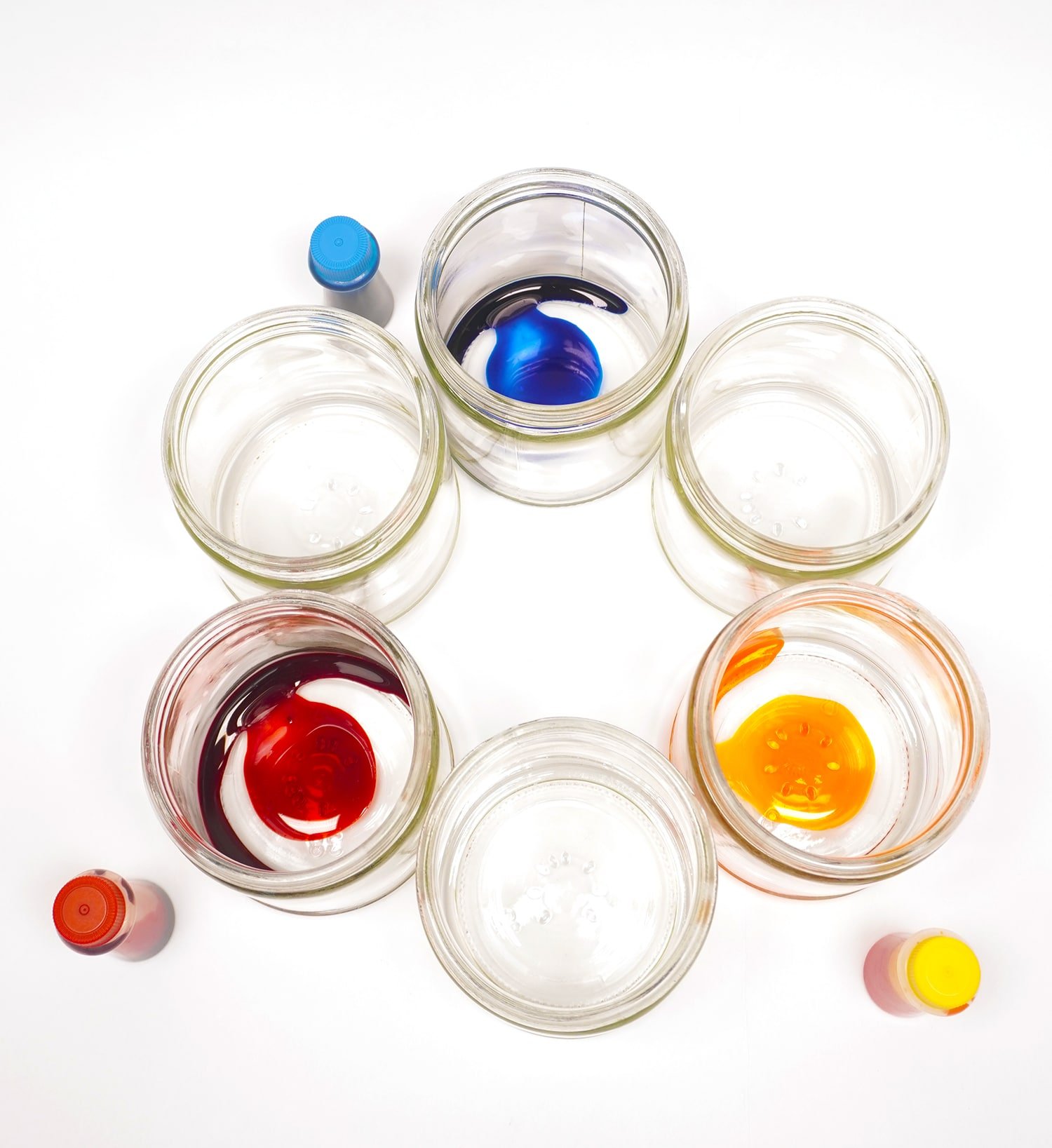 Arrange the jars into a circle, and add 10-15 drops of red, yellow, and blue food coloring to three of the jars as shown.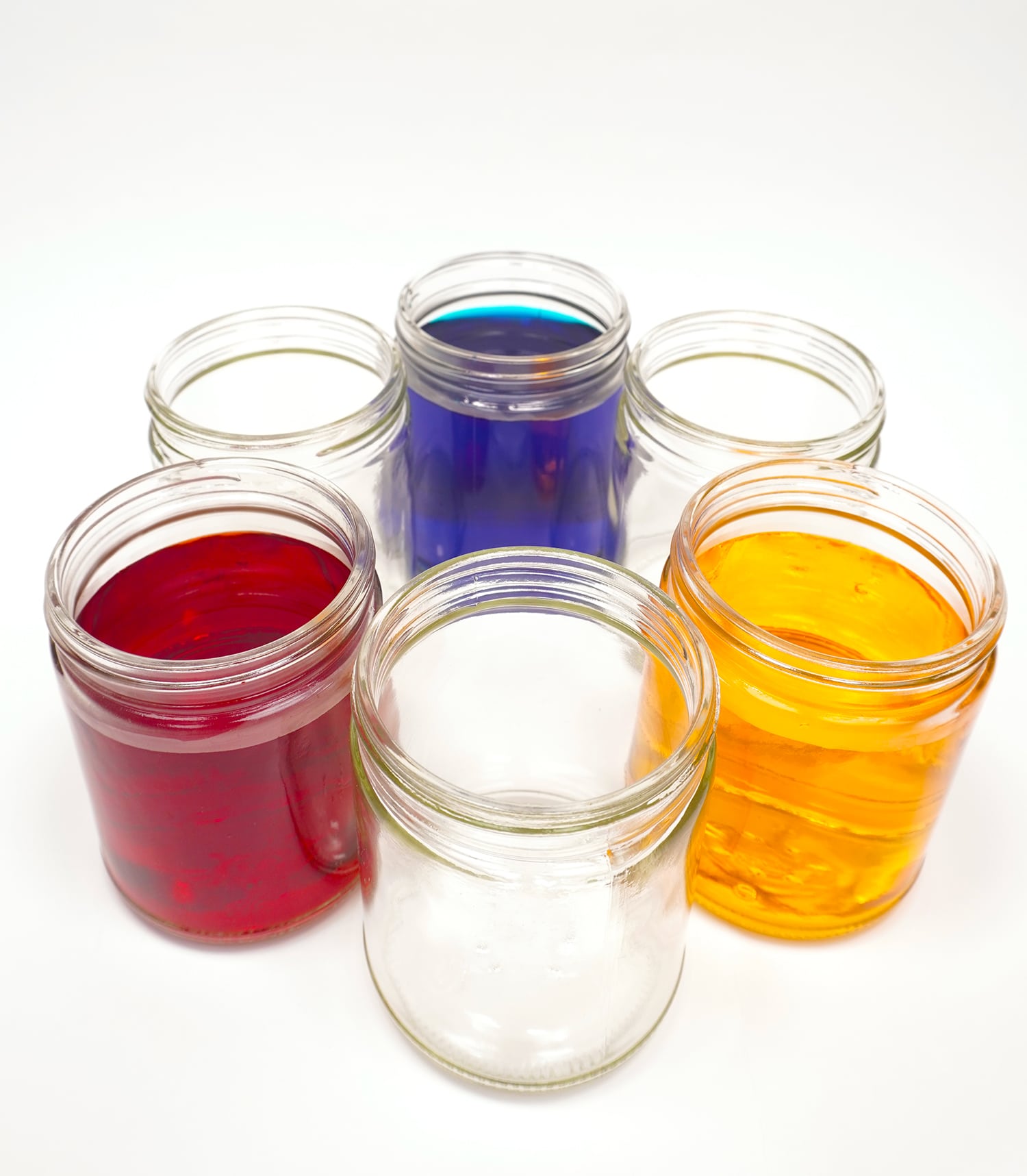 Add water to the food color jars, filling them up nearly to the top. Leave the other three jars empty.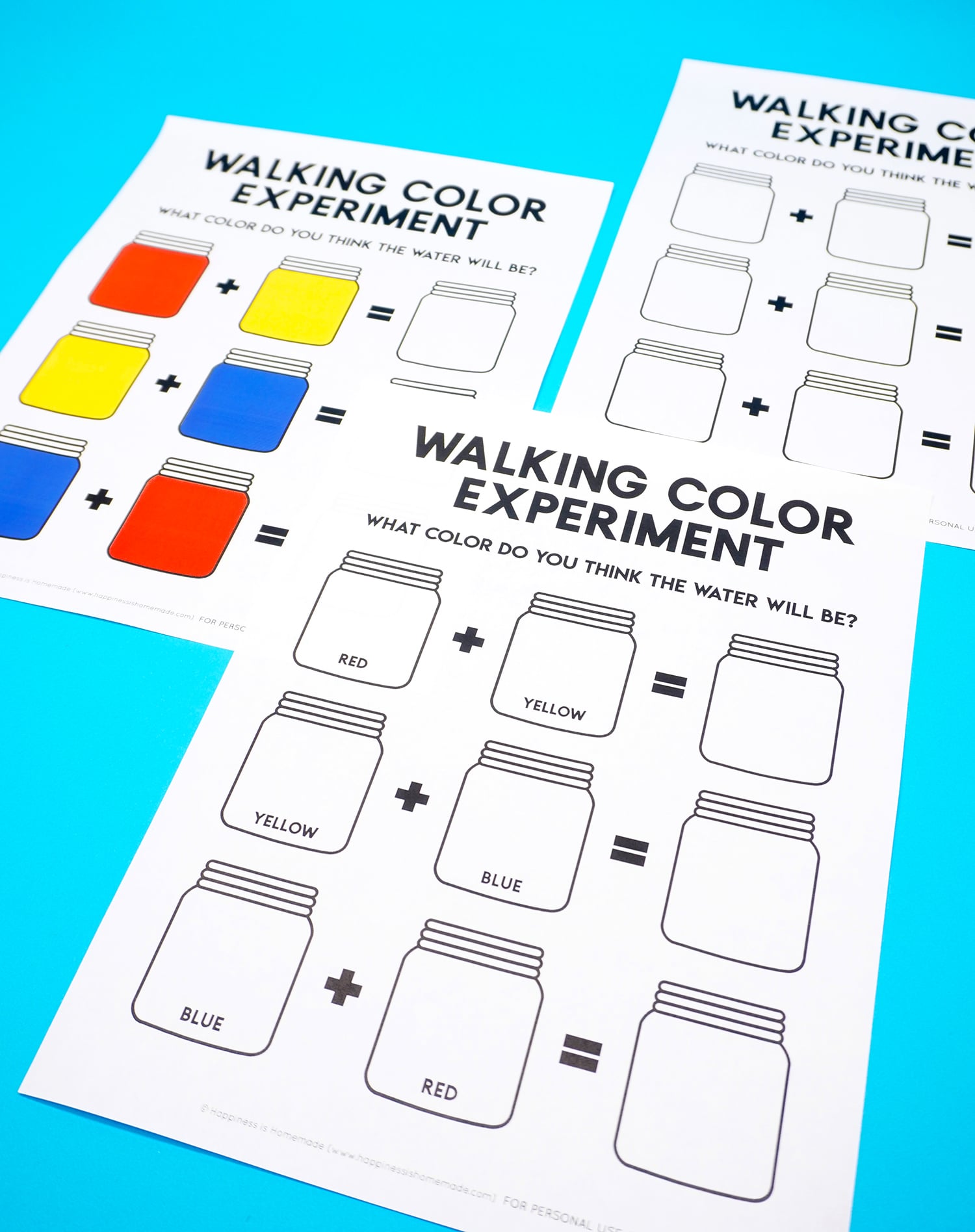 Next, allow the kids to hypothesize and predict what color they think the water in the empty jars will become.
Note: This printable is available in three different designs – colored, labeled, and unlabeled jars. Use whichever printable is most appropriate for your group.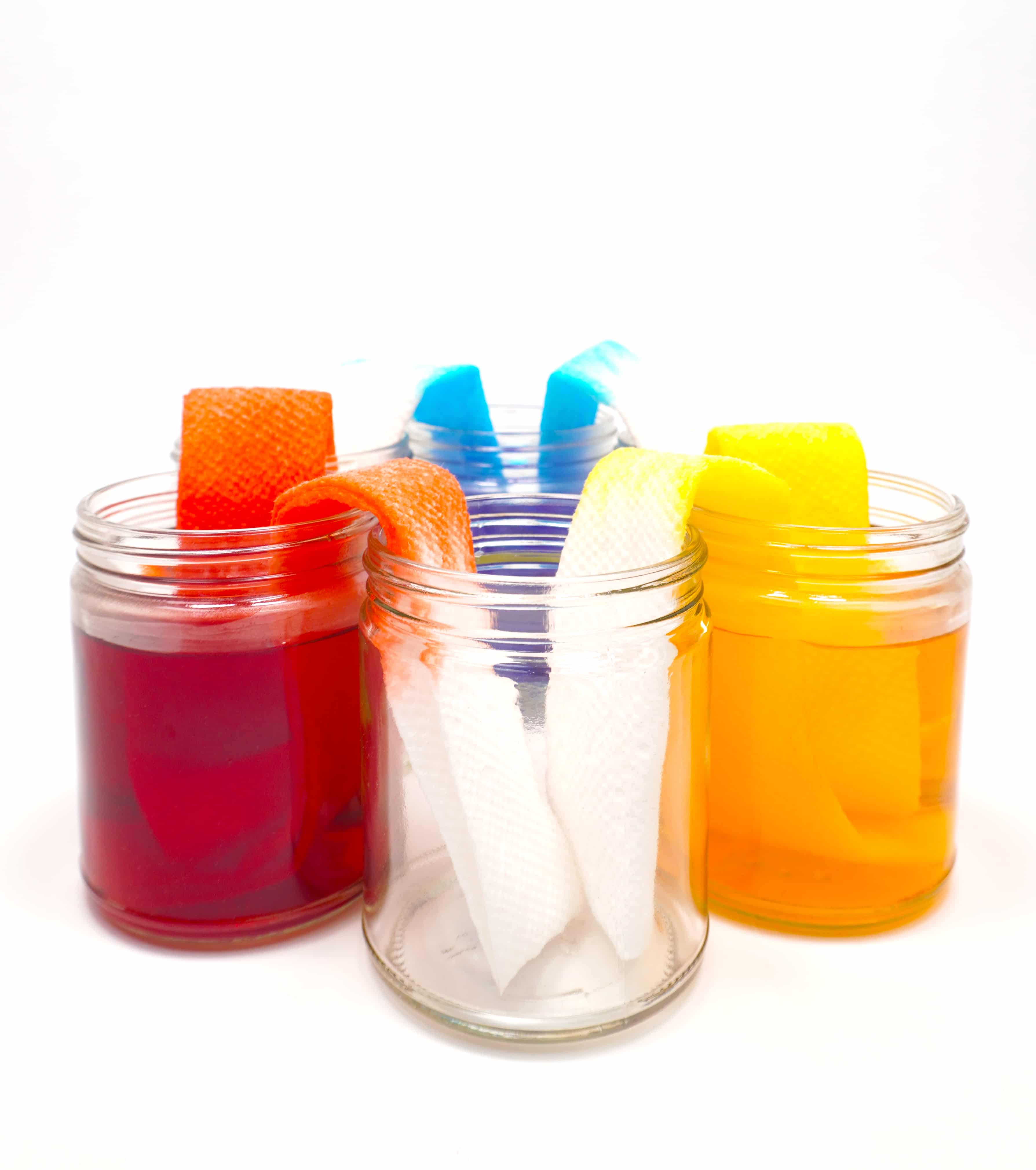 Place the folded paper towels into the jars as shown.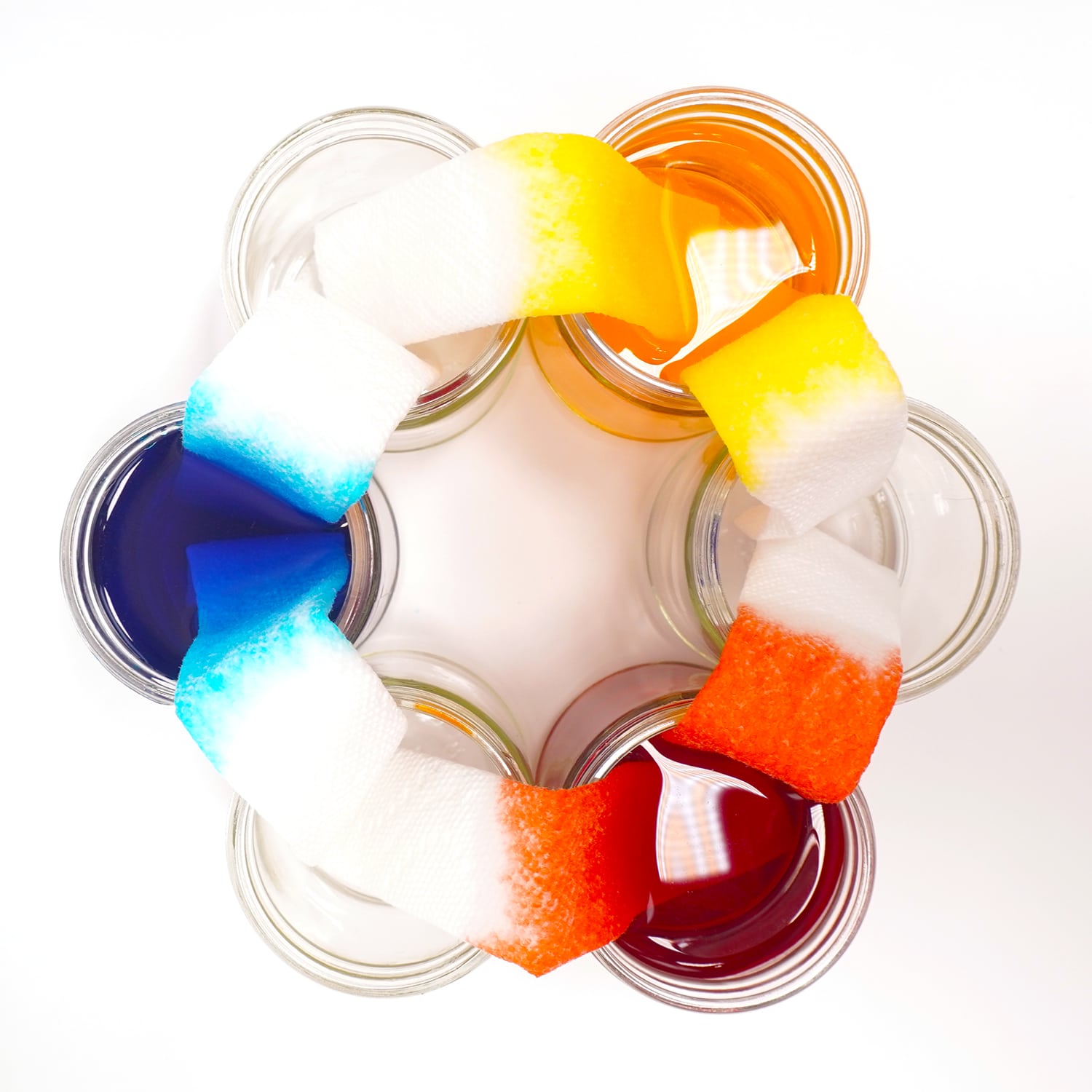 It won't take long before the cellulose fibers in the towels start transferring the water! Watch the water "walk" up the paper towel and back down into the empty jar!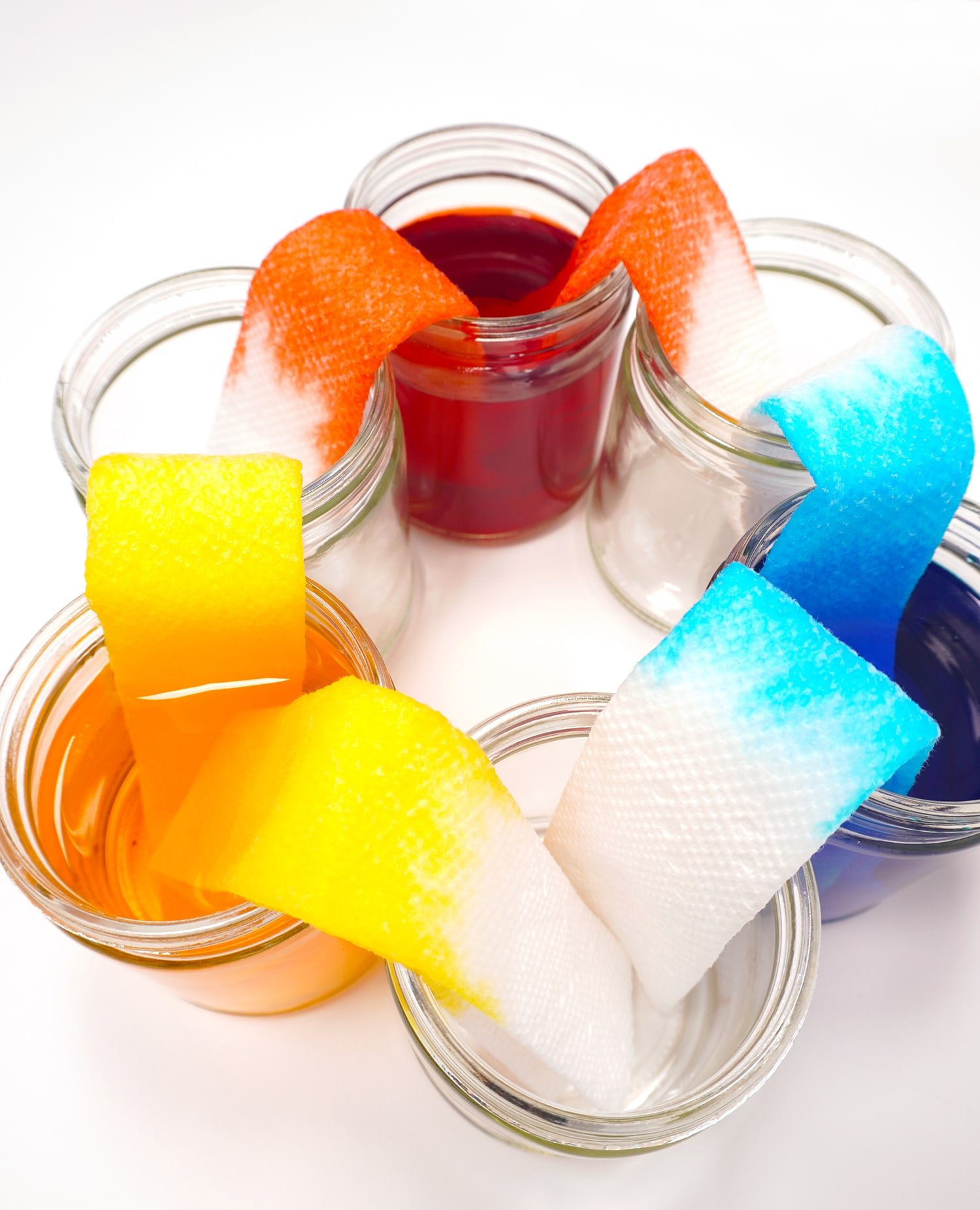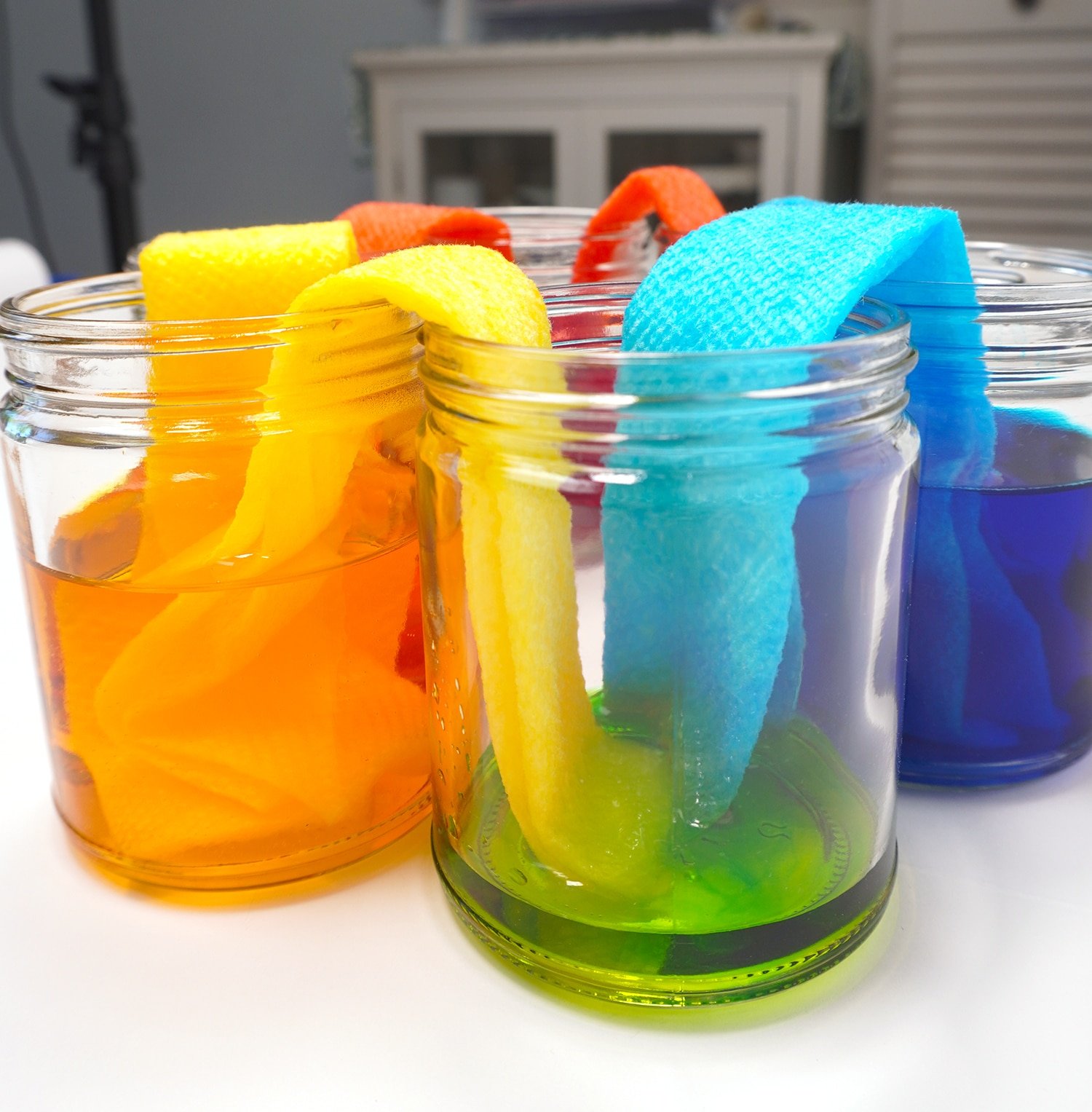 After a short while, the empty jars will begin to fill up with a mixture of the two adjacent colored waters, creating a new shade of the rainbow.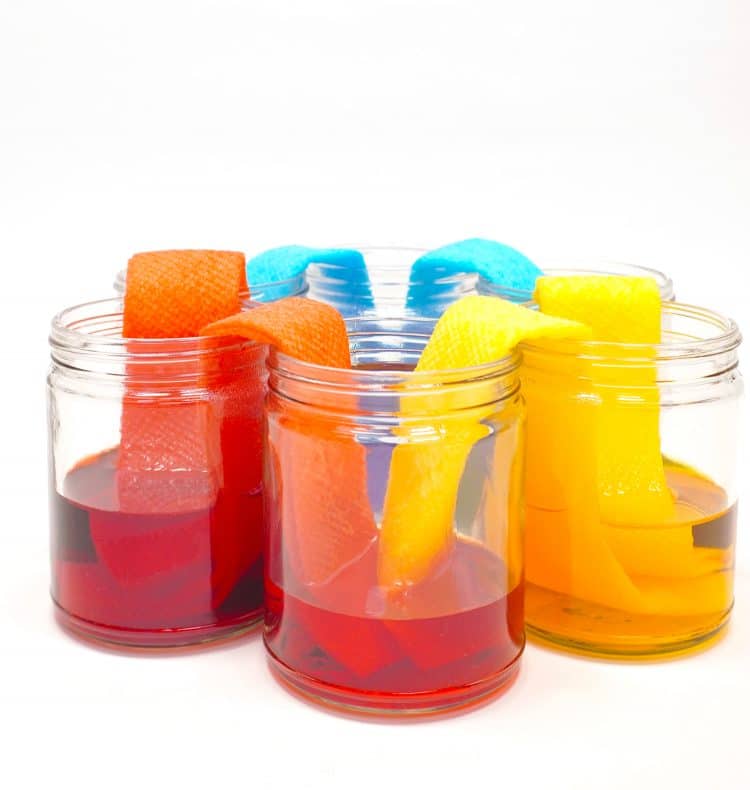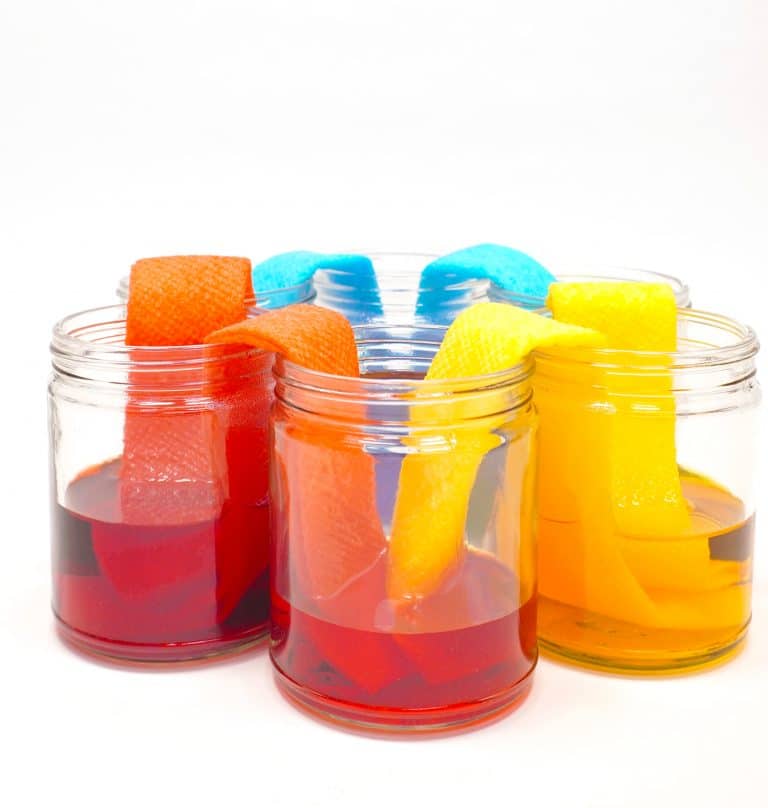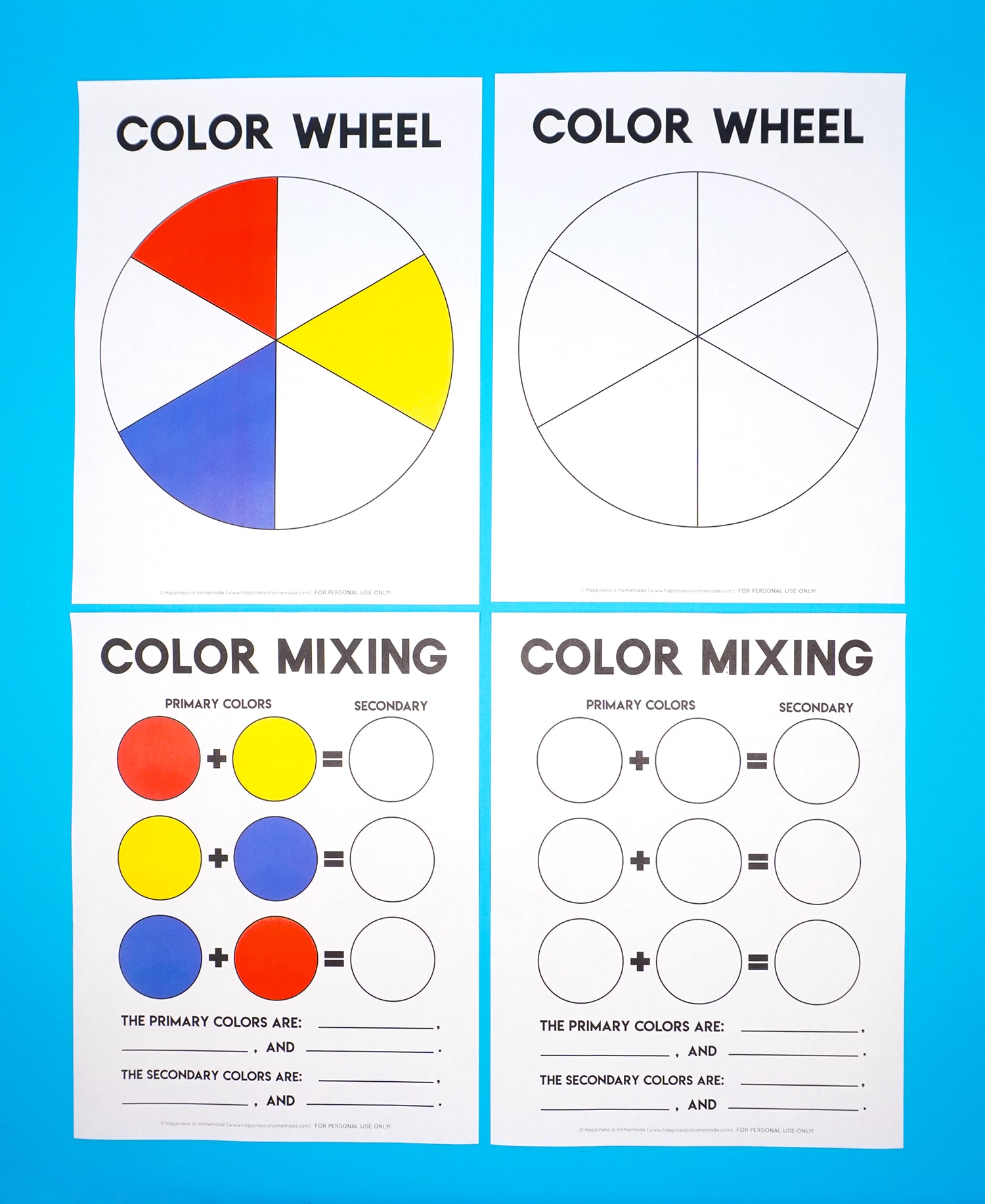 Use this observation time to complete the printable color mixing chart and color wheel activities!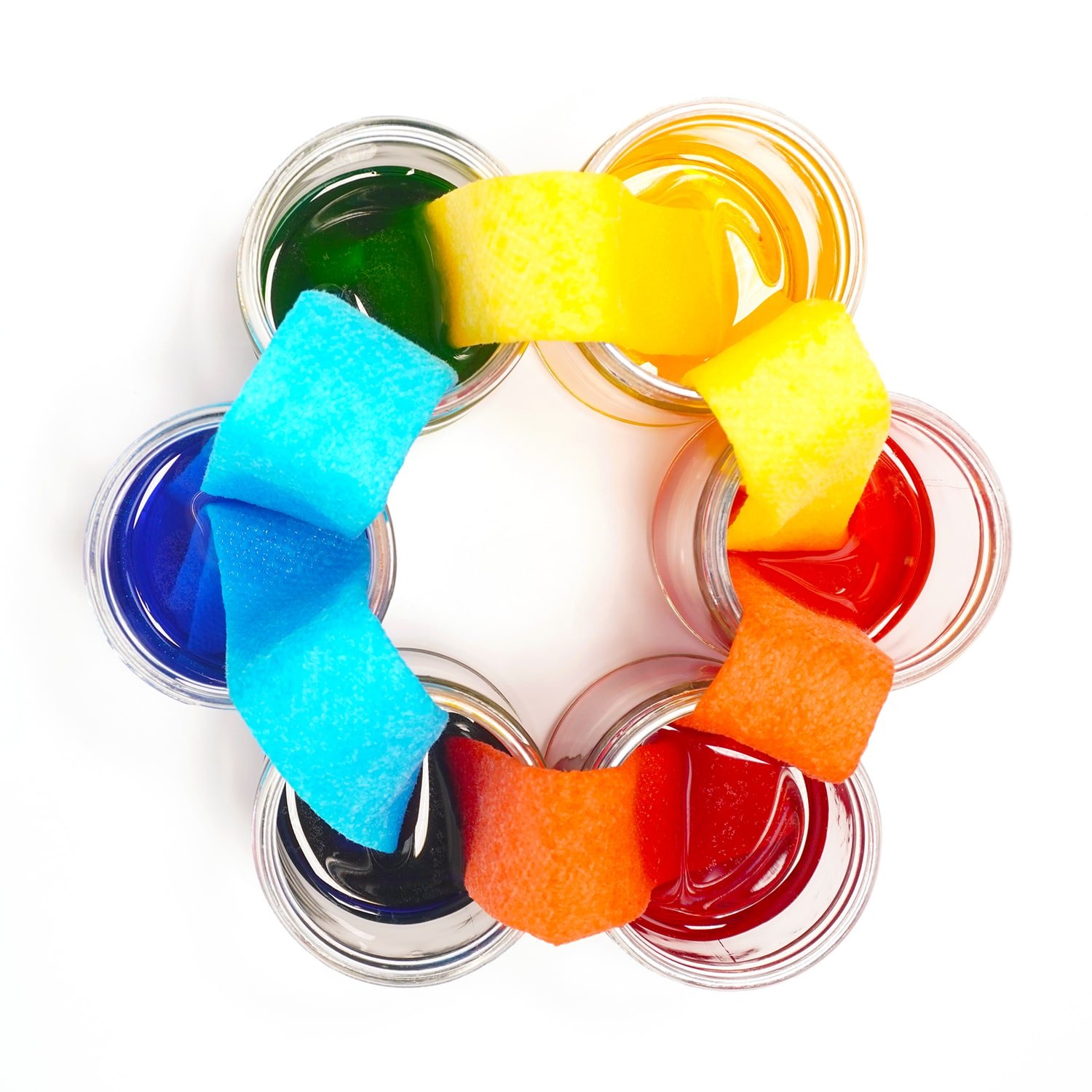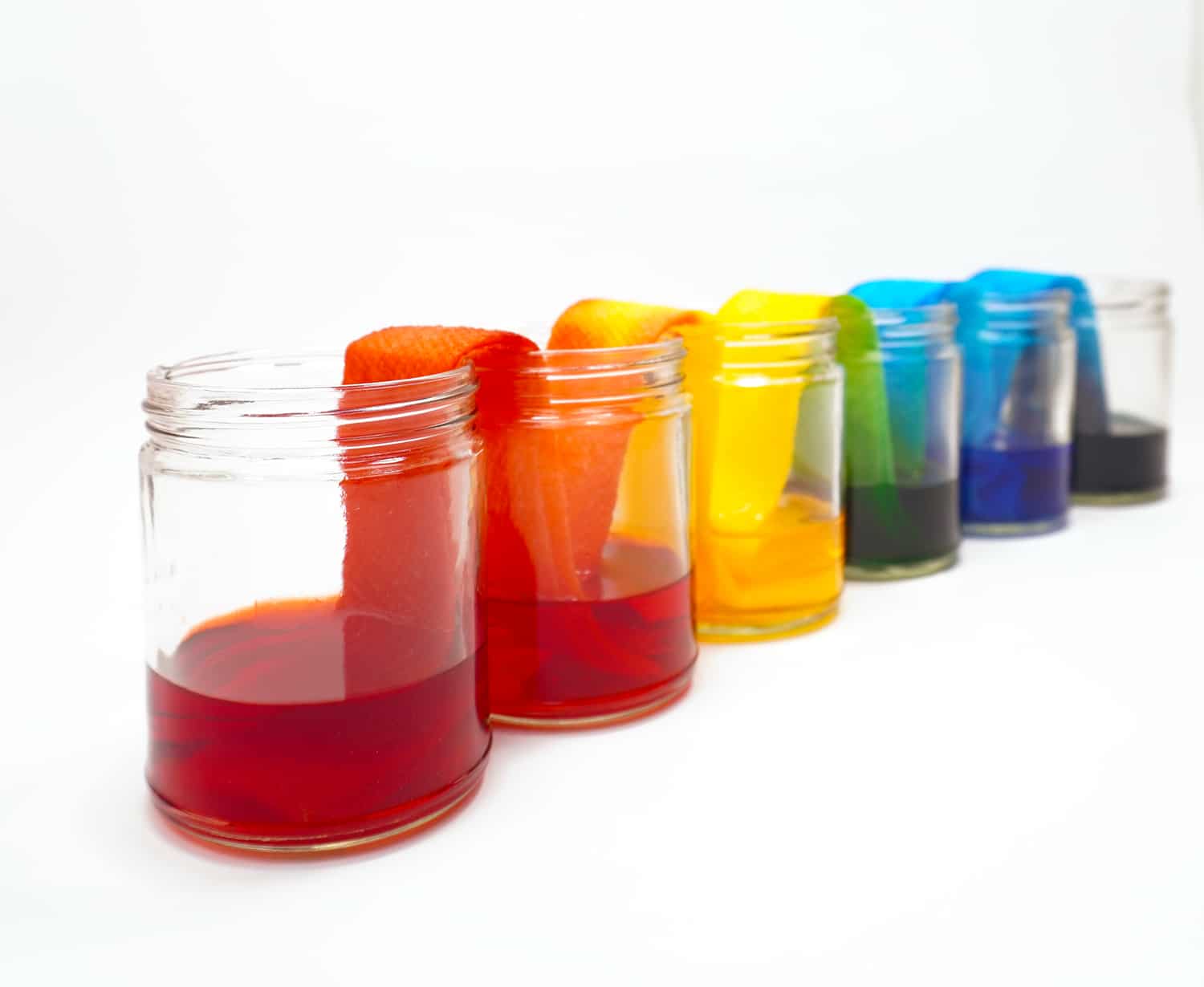 When the experiment is complete, all of the jars will have approximately the same amount of water in them, and you will start to see the secondary colors traveling upwards on the paper towels. (Note: This can take anywhere from 30 minutes to overnight depending on the brand of paper towels that were used.)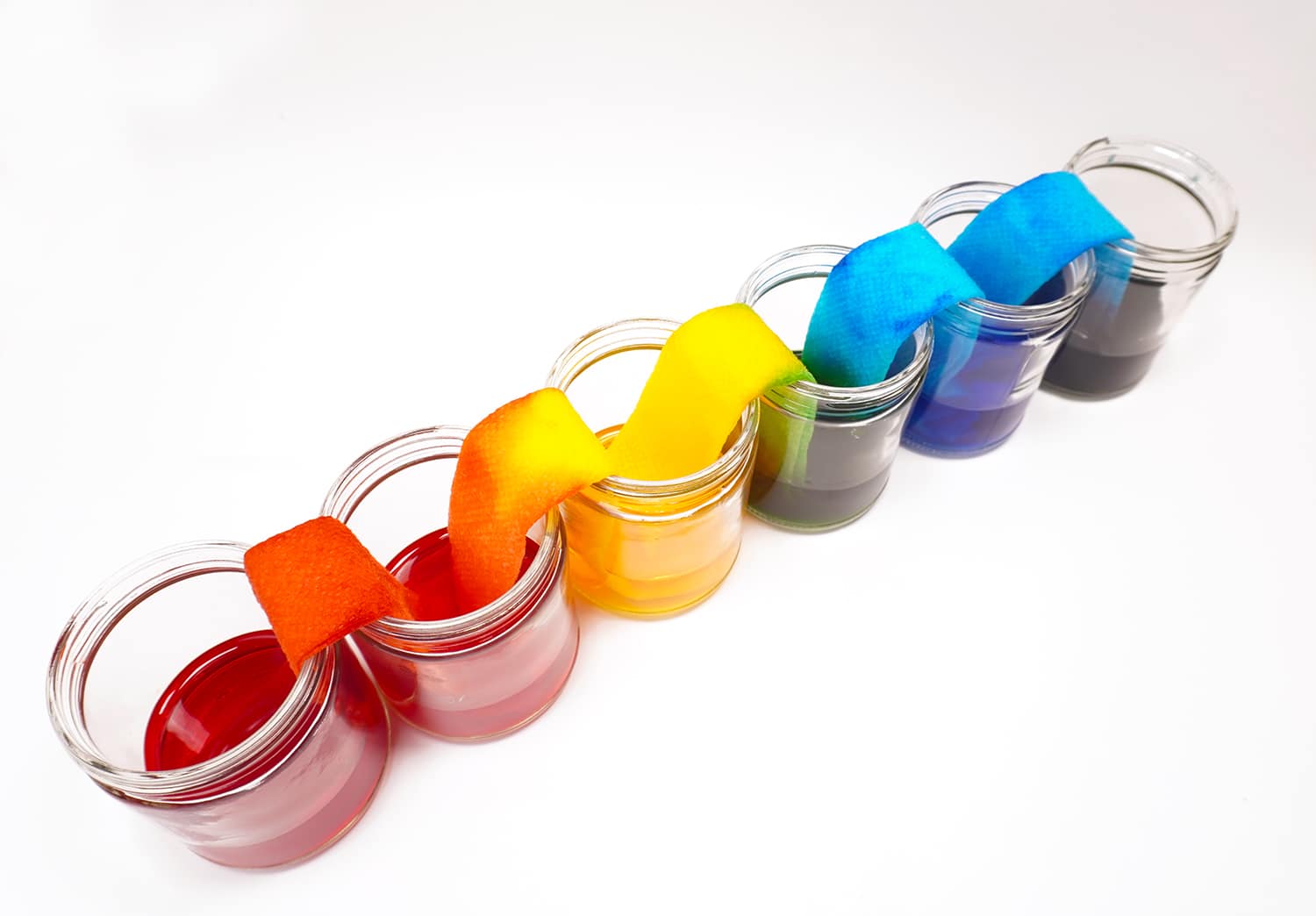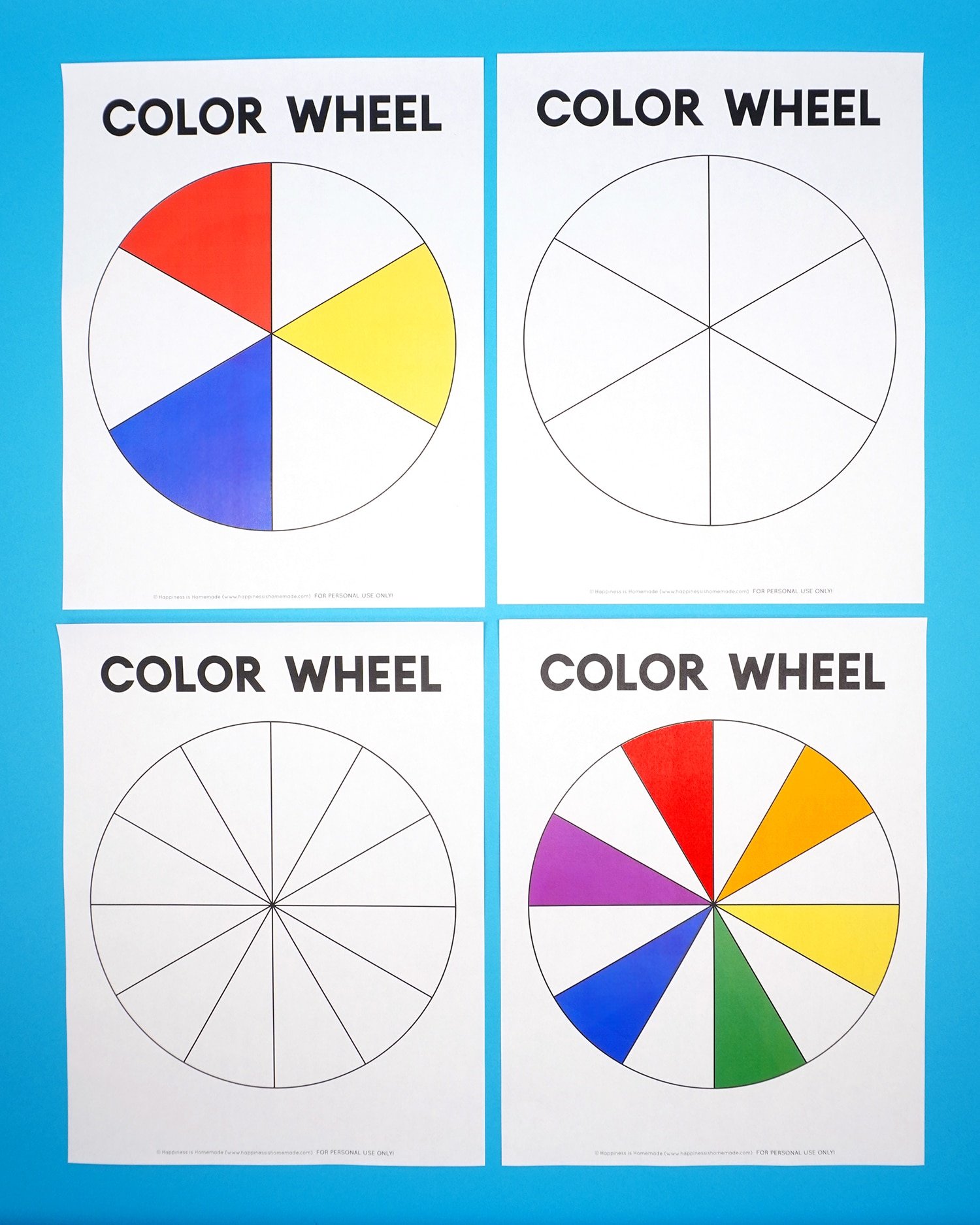 If desired, you can take the color mixing wheel one step further by mixing the primary and secondary colors to create a more detailed color wheel. Use a paintbrush to mix the colors on white paper or our printable color wheel (like watercolors) and observe the six new tertiary colors created.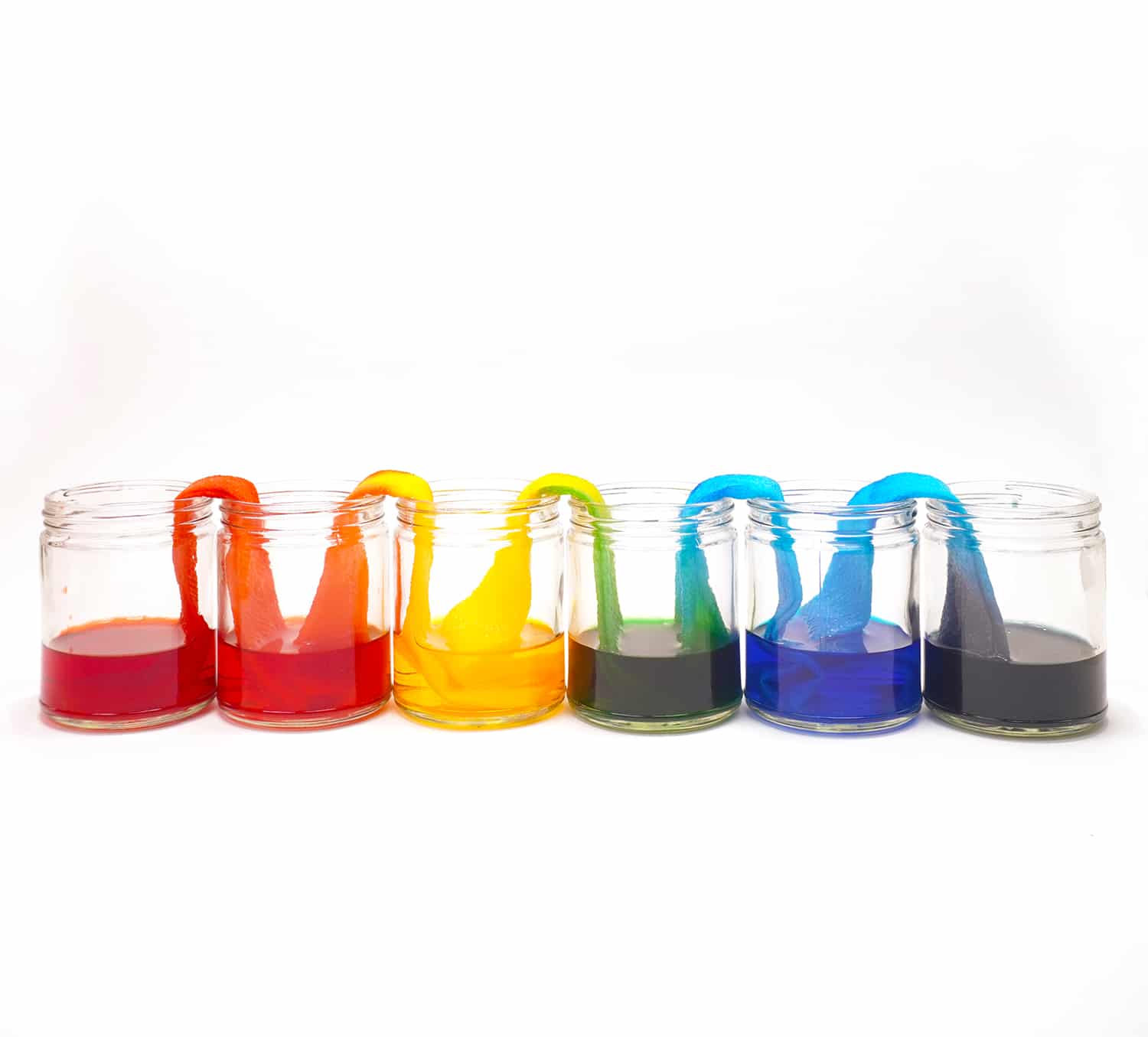 This Walking Rainbow (aka "Walking Color") STEAM activity is SO much fun for all ages! Everyone loves watching the color magic happen, and older children will also enjoy learning about the plant-like properties of the paper towels that allow this experiment to be possible. It's fun for the whole family!
---
Download The Walking Rainbow STEM Activity Printables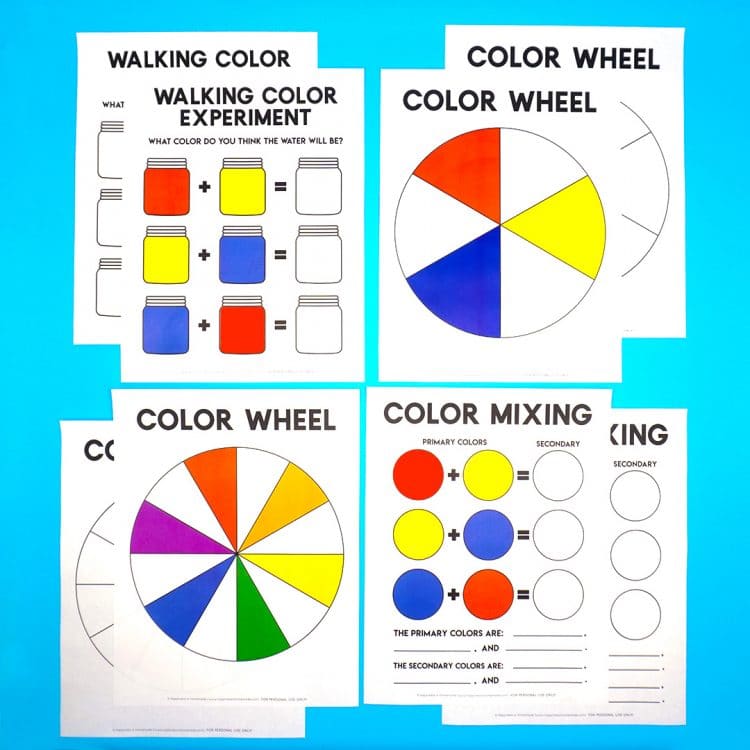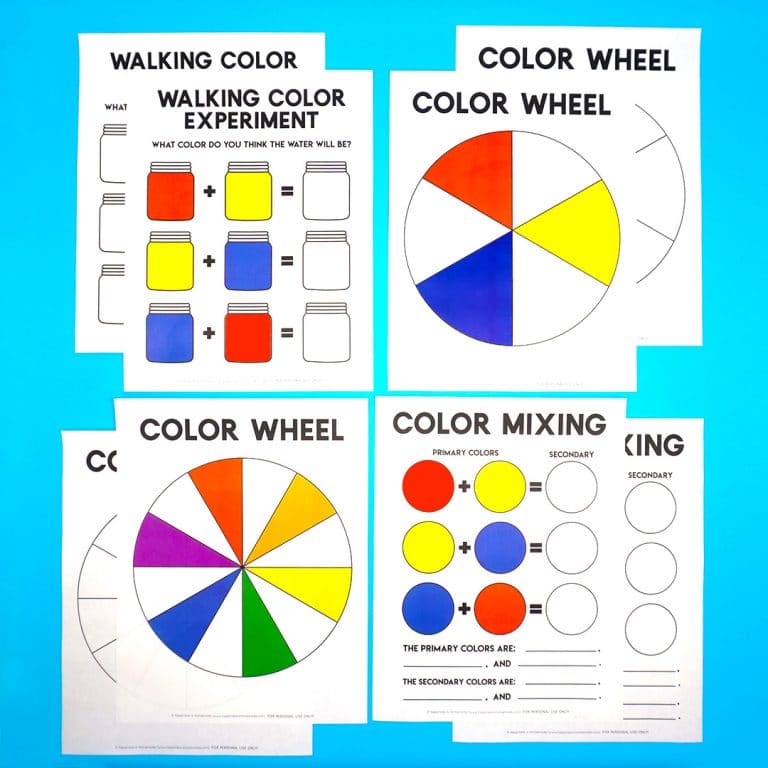 To get the The Walking Rainbow STEM Activity Printables, enter your name and email address into the form below and click the "Get It Now!" button!
File is for Personal Use Only! Read our full license terms here.
---
15 More STEM Printables
If you like my The Walking Rainbow STEM Activity Printables, you're going to LOVE these STEM printables files from my Totally Free friends!
Click on the links below to be taken to the download page for each individual file:
Which one of these STEM printables is your favorite? Which will you download first? They're all SO good!

Don't Forget to Pin These STEM Printables for Later!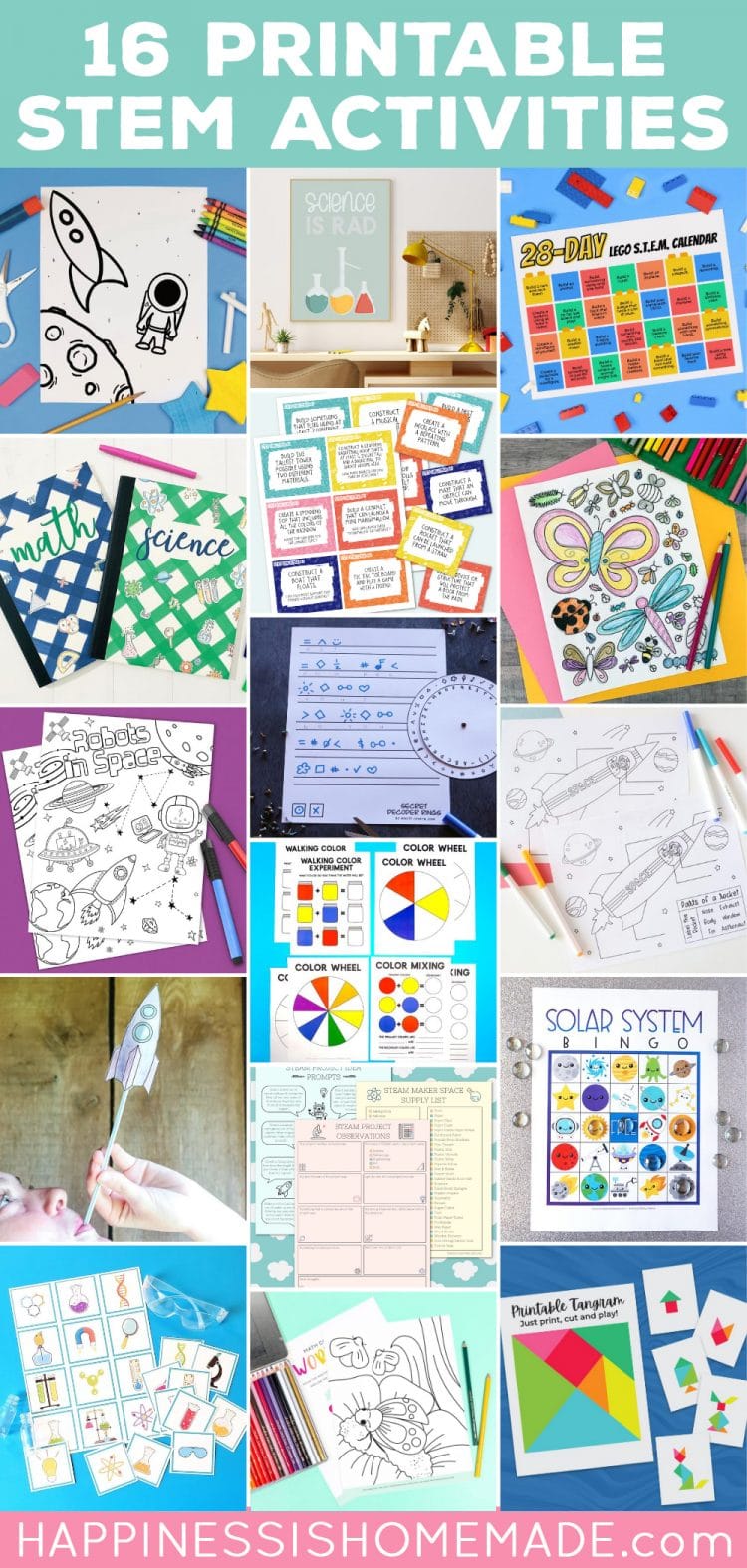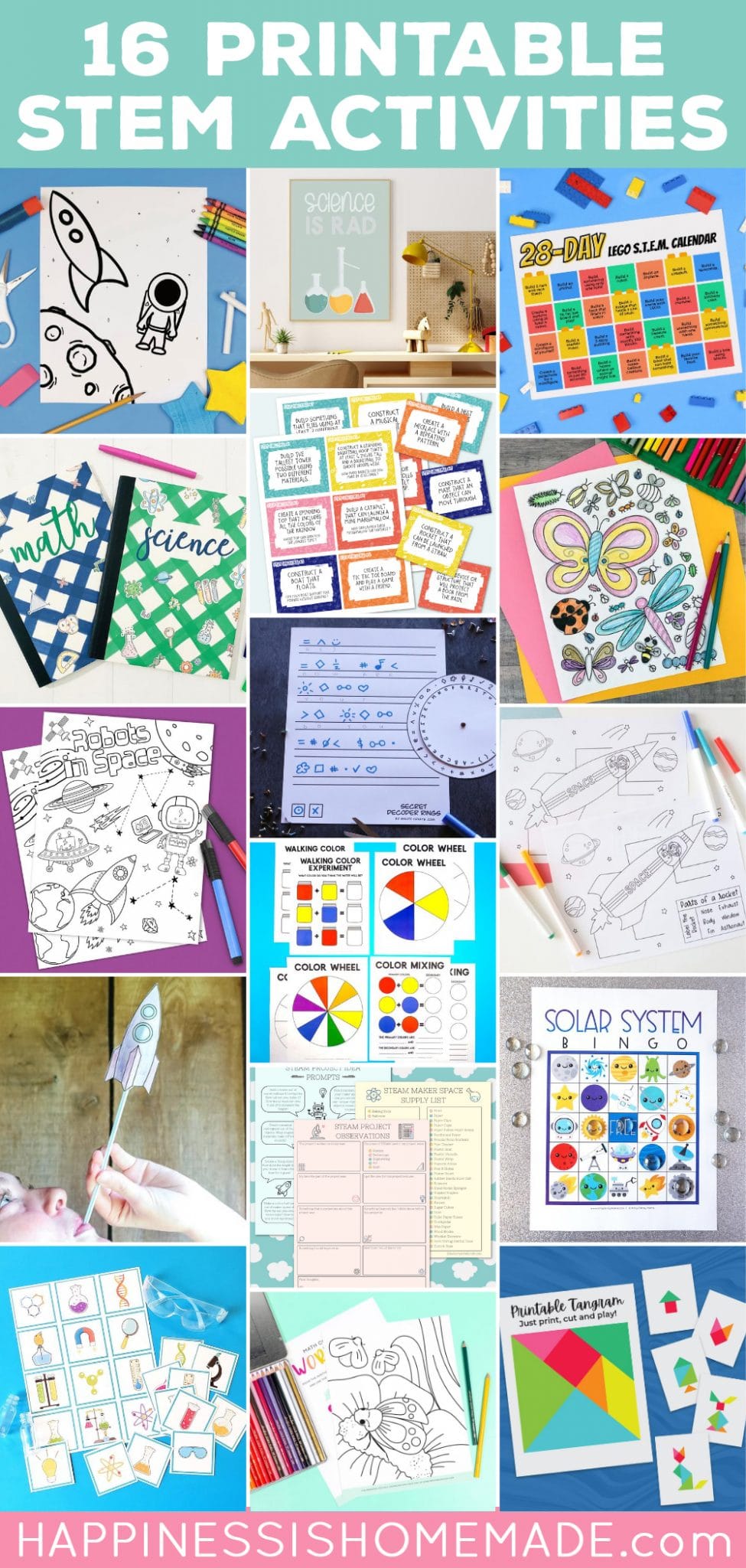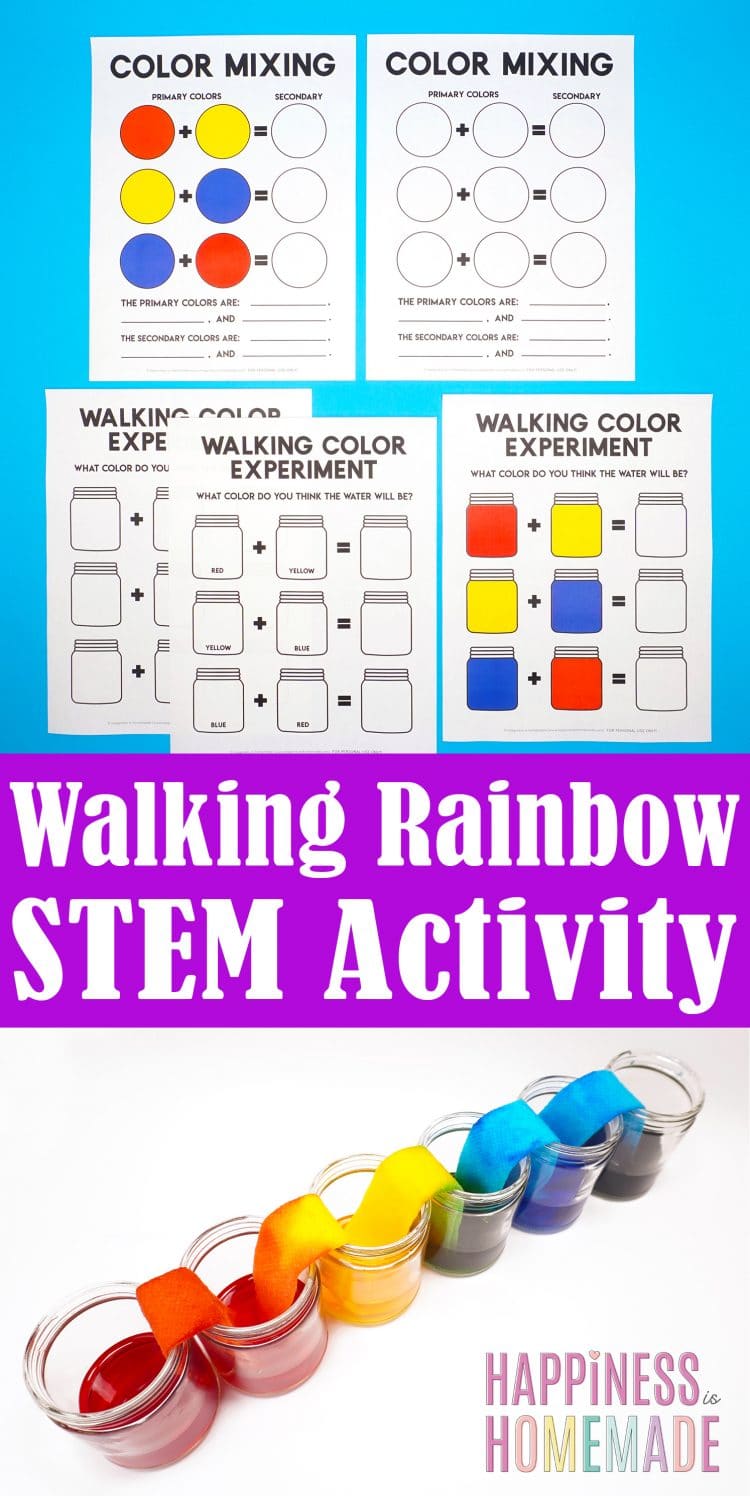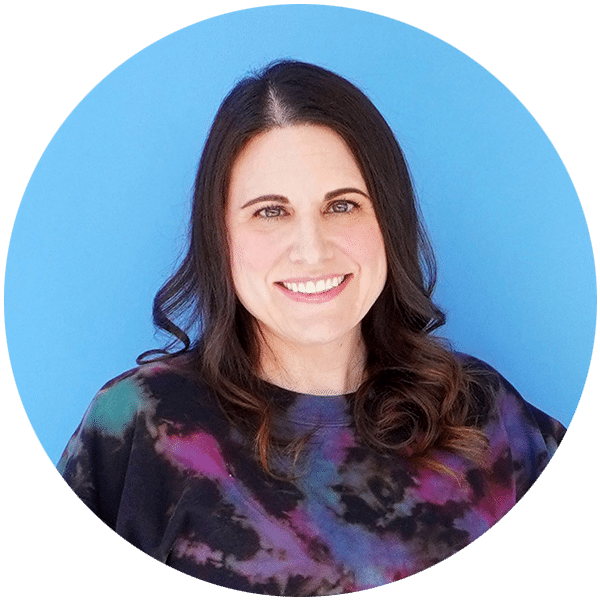 Heidi Kundin has captivated the hearts of millions with her colorful and inspiring approach to crafting, celebrations, and family fun. With over 15 years of experience, Heidi's website has become a must-visit destination for those seeking quick and easy creative ideas and last-minute solutions. Her warm personality shines through her posts, inviting readers to join her on a creative journey that's fun, rewarding, and achievable.