Free Homeschool Printables
This post and its photos may contain affiliate links. As an Amazon associate I earn from qualifying purchases. If you make a purchase through these links, I may receive a small commission at no extra cost to you!
Free Homeschool Printables to help you get organized and teach your children from home! Homeschool planners, lessons, games, record-keeping, and more!
This post may contain affiliate links. I will receive a small commission from these sales at no additional cost to you!
Do you need some resources to get organized or some fun and educational activities for the kids? Are you homeschooling for the first time? This list of homeschool printables is for you!
This collection of homeschool printables include SO many awesome things to help you get organized and to make learning more fun for your kids!
Homeschool Printables for Parents and Kids
From homeschool planners to schedules for kids to unit studies and activity bundles, you're sure to find something in this list that will make your homeschooling year a little easier. Many of the activities for kids can be laminated, which is particularly helpful if you're homeschooling several kids at once, or if you know you'll want to use the same resource next year for a younger sibling.
---
Resources from Happiness is Homemade
First Day of School Signs: If you love taking first day of school pictures, use these first day of school printables to help record those memories. We have options for homeschooling, distance learning, independent study, and more! We even have matching Last Day of School Printables for you, too!
Behavior Chart: This color-coded chart is perfect for parents, particularly if your kids have already been in public or private school before and are used to this system. Younger kids get really excited when they stay on the "good" colors for the day!
Summer Reading List: Whether you plan to homeschool year-round or you just don't want your kids to experience the summer slide, this summer reading list will encourage kids to branch out of their usual genres to read a wide variety of books. Our Reading Reward Chart is a great incentive to encourage reluctant readers.
Printable Reading Bundle: This printable reading bundle contains a reading log for tracking your reading time, a book report form, and four colorful bookmarks to print out!
Aladdin Preschool Printables Pack: perfect for younger students in preschool or kindergarten, this Aladdin printables pack is a ton of fun for kids! Finish off the day by watching your favorite version of the Aladdin movie!
Back to School Alphabet Game: The first day of homeschool just got a little more fun with this alphabet game! Offer a little prize when the sheet is completed—school supplies would make wonderful prizes. If you like this game, you'll enjoy our Back to School Word Search as well.
---
Homeschool Planning Sheets for Parents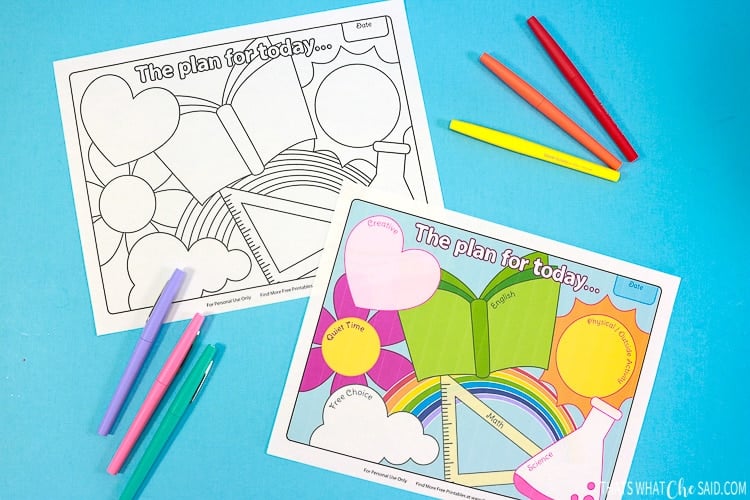 Homeschool Planner from That's What Che Said: This visual planner is a really cute way to plan out your homeschool day. Laminate it to use it again and again!
Homeschool Weekly Planner from School Time Snippets: Here's a homeschool planner for the entire week. You could also laminate this, but I recommend printing one for each week instead so that you can keep it for your records.
Homeschool Planner Bundle from Living Life and Learning: This bundle of planner printables includes a monthly calendar, three different weekly schedules, weekly lesson plans, a daily schedule, a curriculum plan, a unit study plan, and more. You have everything you need to plan your year!
---
Homeschool Schedules for Kids
Homeschool Schedule from Somewhat Simple: Kids can be a little more independent while homeschooling if their schedule is laid out for them. This makes it clear what your kids should be doing during each segment of the day, and after those things are done, they can have free time.
Daily Visual Schedule from Natural Beach Living: Little kids benefit significantly from schedules and routines. A visual schedule is a terrific way to help them take charge of their day and know what to expect.
Track Your Homeschool Year from Rock Your Homeschool: Many states require that homeschool parents school their children a certain number of days per year (usually 180). This tracker makes it easy for kids to record as the school days go by.
---
More Homeschool Printables
Pandemic Journal from The Chaos and the Clutter: 2020 has been an interesting and challenging year for kids across the globe. Have your children keep a pandemic journal to record how they're feeling and how they see things during this historic time.
Measurement Activities Using Standard Units from Gift of Curiosity: These printables are perfect for kids who know their numbers and are ready to start measuring. Kids will learn to measure in both inches and centimeters.
Star Wars Cutting Practice for Early Learners from Simple Everyday Mom: Help your toddler, preschooler, or kindergartener work on fine motor skills. Kids usually begin using scissors as preschoolers, but it takes lots of practice, which these can help with.
Ocean Unit Study from Natural Beach Living: Late spring or summer is the perfect time to do an ocean unit study. This pack of printables includes lots of goodies, such as the oceanic zones, tracing, mazes, and fun facts about marine animals.
Multiplication Chart from Artsy-Fartsy Mama: Work on those multiplication tables anytime you'd like with this handy-dandy multiplication chart.
Tracing Worksheets from Mama Teaches: Sharpen tracing skills for preschool or kindergarten with some cute and easy tracing worksheets. Working on hand strength and hand-eye coordination before kindergarten is really helpful when kids begin writing.
Animal Research Printable from Natural Beach Living: Does your kiddo love studying animals? This printable encourages them to dive deeper into researching their favorite animals, but in a totally fun way. It's also an excellent activity to go along with the Zoey and Sassafras series.
Book Report Form from Artsy-Fartsy Mama: Use this book report form as you work through your summer reading list or your homeschool reading list for the year. This is perfect for kids in younger grades. In addition to the usual book report details, it asks kids to draw their favorite part of the story.
Sight Word Coloring Sheets from April Golightly: These cute worksheets help kids learn their sight words. Unicorns, patriotic sheets, candy, rainbows, rockets, pencils, and more are included.
Sight Word Board Game from Brain Power Boy: Learn sight words using an exciting board game! Bring out your LEGO mini-figures to use as game pieces, too.
Preschool Activity Binder from Active Littles: This all-in-one binder will give your preschooler the basics of early learning. Learn about the weather, the seasons, life cycles, months of the year, shapes, alphabet, numbers, colors, and more!
Human Body Printables from Gift of Curiosity: Kids can learn about their bodies in a kid-friendly, developmentally appropriate way with these printable activities, including Body Parts Bingo, I Spy, 3-Part Cards, Games, Play Dough Mats, and more.
Math Grid Game from Best Toys 4 Toddlers: This math grid game comes with a list of recommended math manipulatives, which can really make math fun and exciting. Things like pom poms, beans, buttons, and more make terrific manipulatives!
Times Table Spinners from The Craft Train: Use these times table spinners to practice and reinforce multiplication. Making math fun greatly increases the memorization of math facts.
Printable Clock Face from Artsy-Fartsy Mama: Visual learners who are learning to tell time will benefit significantly from this printable clock. You can either insert the face into a clock that you have at home (or in the classroom), or make one for each child and use brads to allow for moveable clock hands.
Weather Tracking Printables from Happy and Blessed Home: These weather tracking printables encourage kids to be more observant of the weather. Checking the weather can be an easy and fun part of your circle time, morning basket, etc.
You May Also Like:
My Top 10 Homeschool Essentials
25 Fun Printable Games for Kids
Mandala Coloring Pages for Adults & Kids
Pin These Homeschool Printables For Later!
---
Free Homeschool Printables
Pin this list of homeschool printables to use year after year!