Back to School Alphabet Game Printable
This post and its photos may contain affiliate links. As an Amazon associate I earn from qualifying purchases. If you make a purchase through these links, I may receive a small commission at no extra cost to you!
This fun printable Back to School Alphabet Game is a great First Day of School activity for your classroom! Use this Back to School game as a morning brain booster or as an icebreaker game for groups of new students!
Printable Back to School Game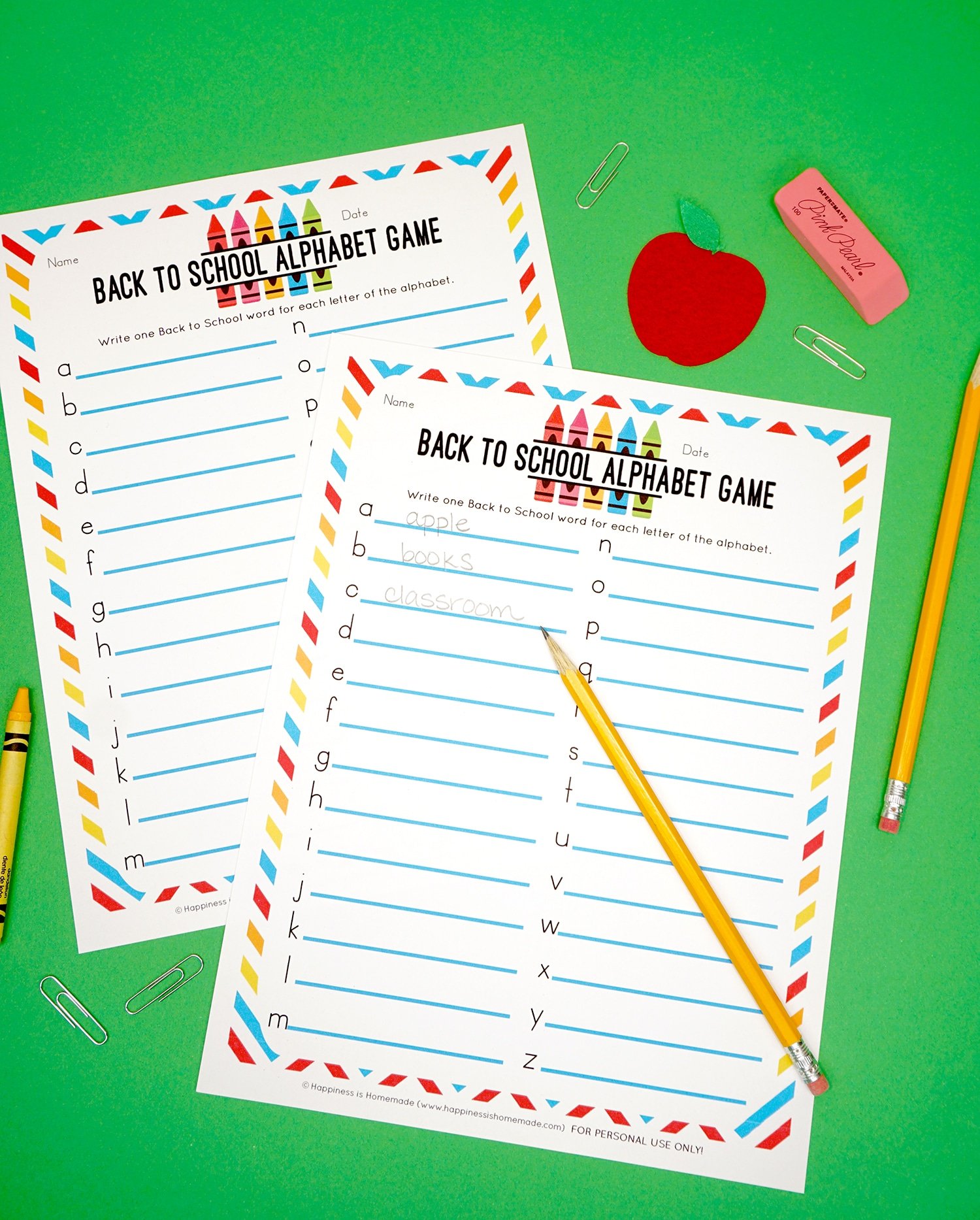 This post may contain affiliate links. I will receive a small commission from these sales at no additional cost to you!
This printable Back to School alphabet game is a classic favorite that can be played in several different ways. It can be played as an individual back to school game or as a group activity, and it's perfect for groups of all sizes (from 1-200+!) and all ages. All you'll need is a pen/pencil and the printable game sheet.
How to Play the Individual Alphabet Game:
Give each student a printable game sheet. Have them fill in each line of the alphabet with a corresponding school-related word. Students may play this game individually while also competing against one another to see who can fill in their game sheet the quickest.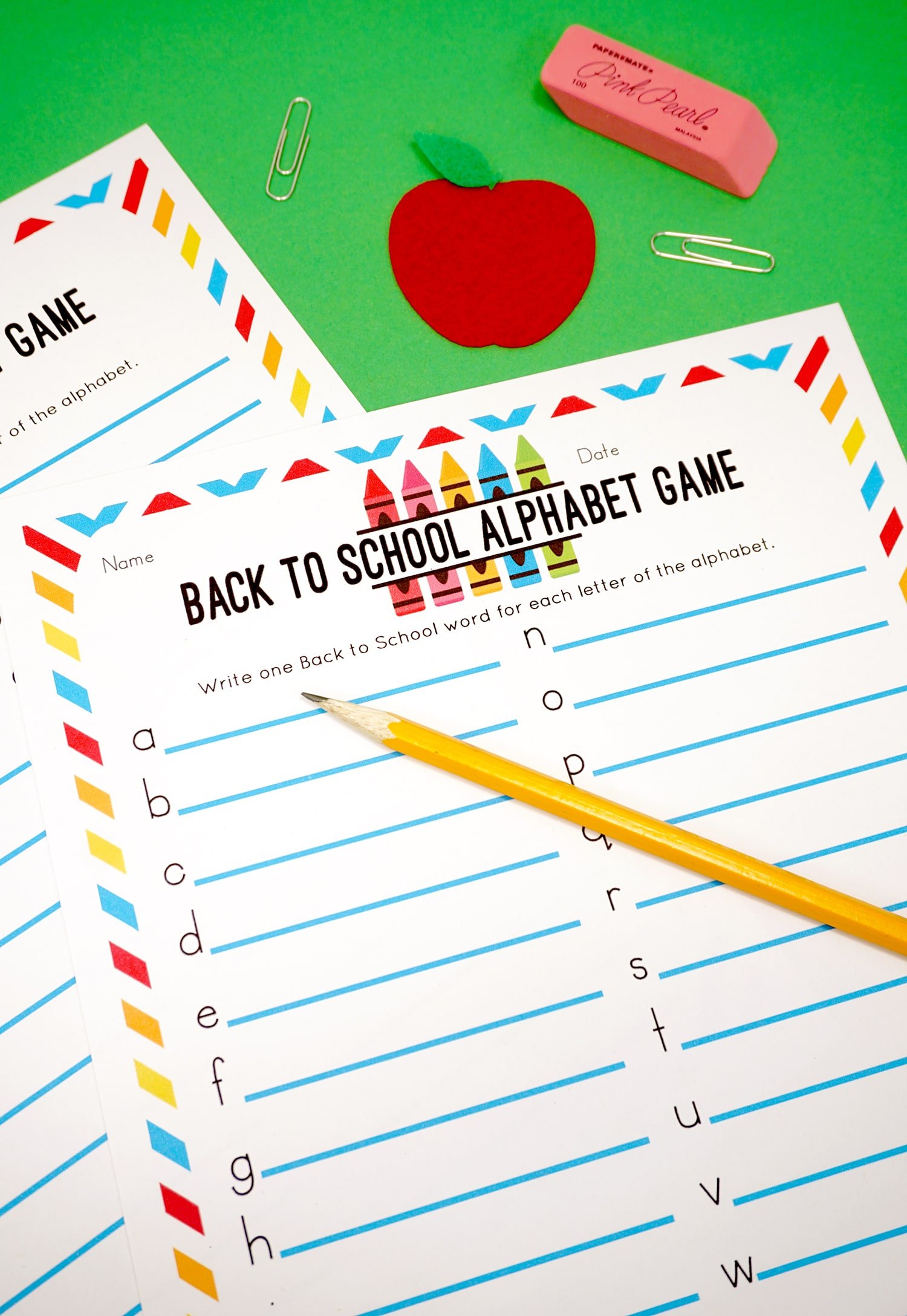 The Back to School Alphabet Game makes a fantastic icebreaker game in the classroom, and it's perfect to play on the first day of school!
How to Play the Back to School Icebreaker Game:
Give each student a printable game sheet and have them collect answers from other students in the room. Each student may only fill in ONE answer on another student's game sheet (2 answers if you have a smaller group). Ramp up the level of competition by awarding a prize to the first student (or first 2-3 students) who gets all of the letters filled in first – you'll be amazed at how quickly everyone starts working together for the win!
Some Fun Prizes for the Classroom: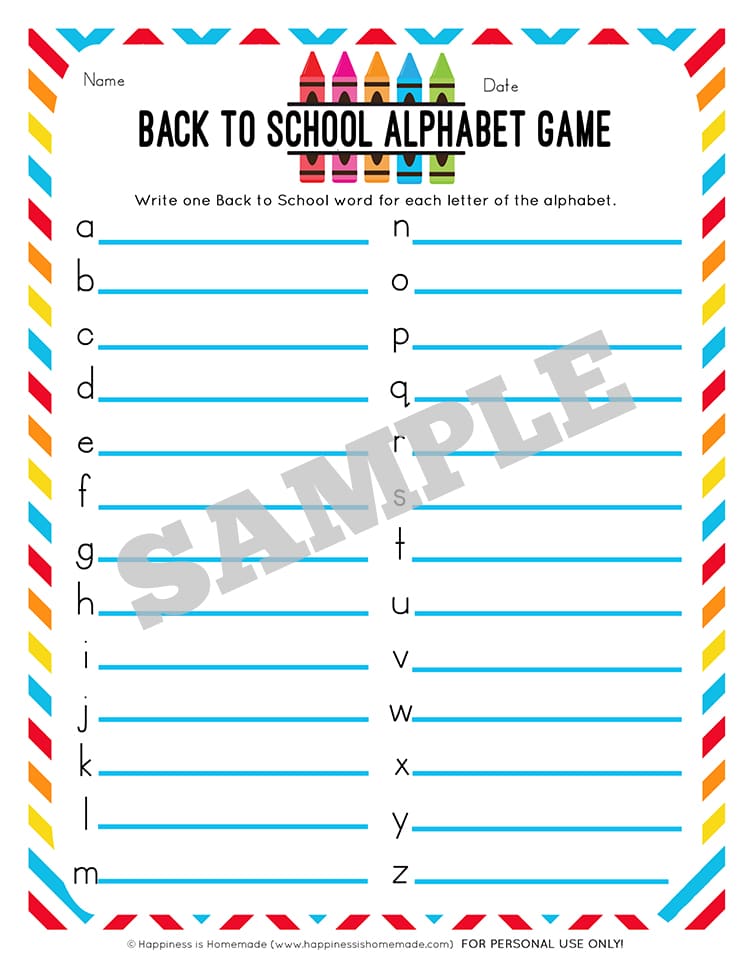 Enter your name and email below for instant access to the printable game!
WANT MORE BACK TO SCHOOL GAMES & ACTIVITIES? GRAB OUR MEGA BUNDLE ON SALE NOW!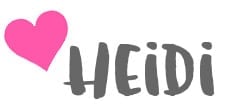 You May Also Like: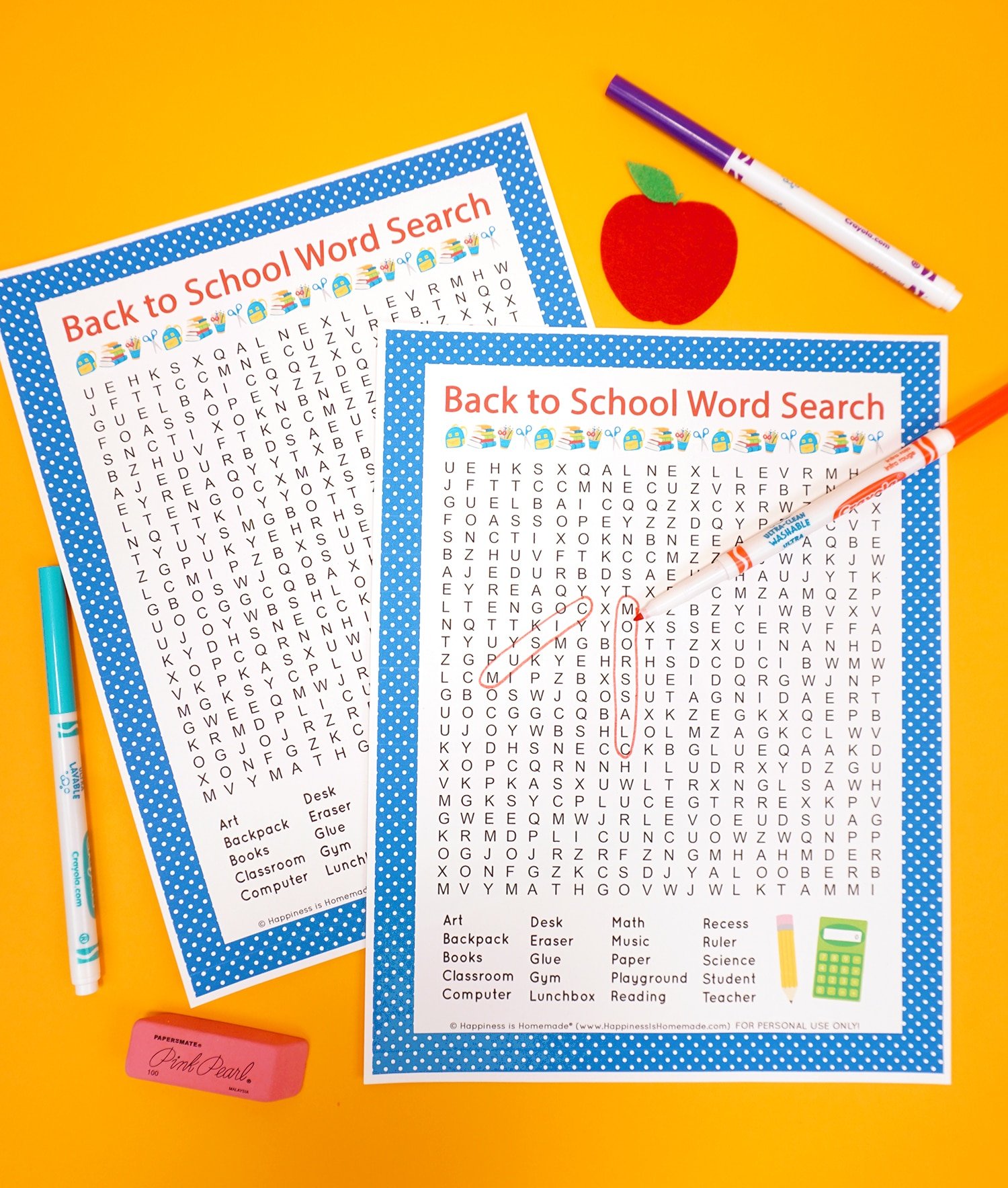 Back to School Printable Word Search
Pin this Printable Alphabet Game for Later!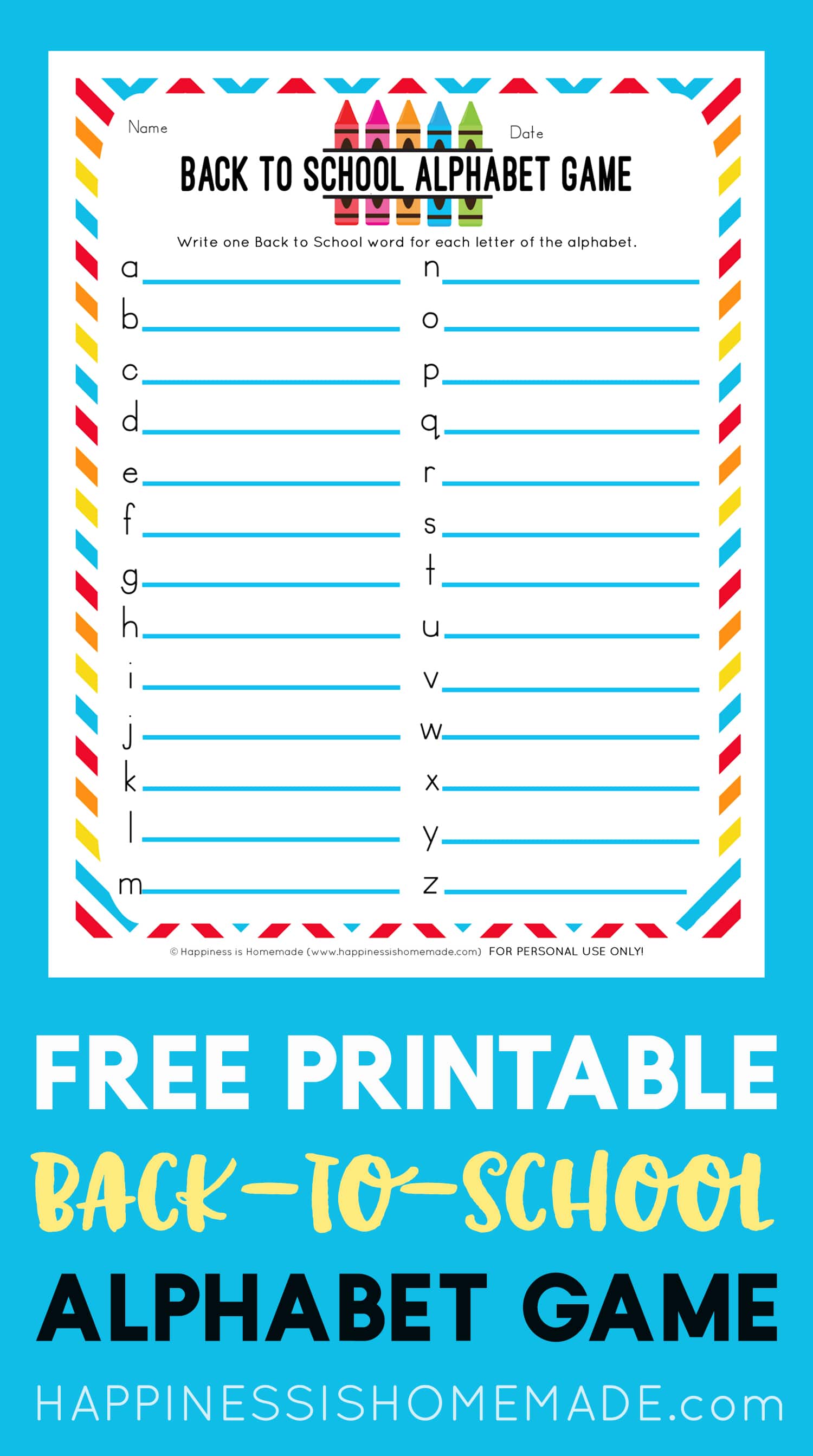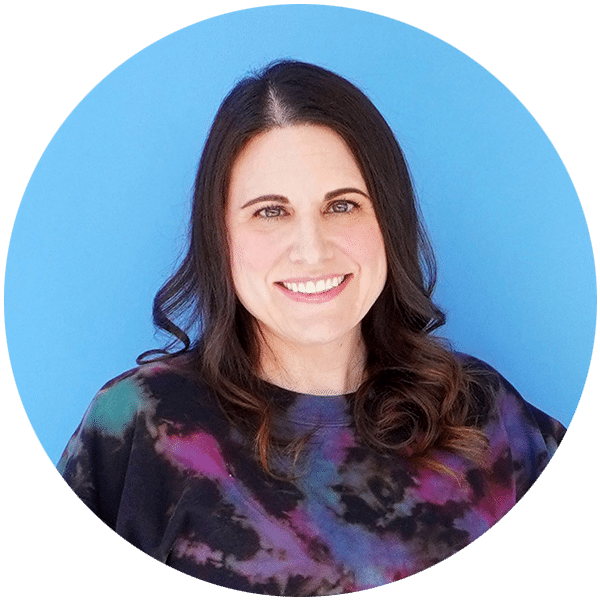 Heidi Kundin has captivated the hearts of millions with her colorful and inspiring approach to crafting, celebrations, and family fun. With over 15 years of experience, Heidi's website has become a must-visit destination for those seeking quick and easy creative ideas and last-minute solutions. Her warm personality shines through her posts, inviting readers to join her on a creative journey that's fun, rewarding, and achievable.