15 Road Trip Essentials + Printable
This post and its photos may contain affiliate links. As an Amazon associate I earn from qualifying purchases. If you make a purchase through these links, I may receive a small commission at no extra cost to you!
15 must have items for your next road trip – don't leave home without everything on this list! Free printable checklist to make sure you don't forget anything!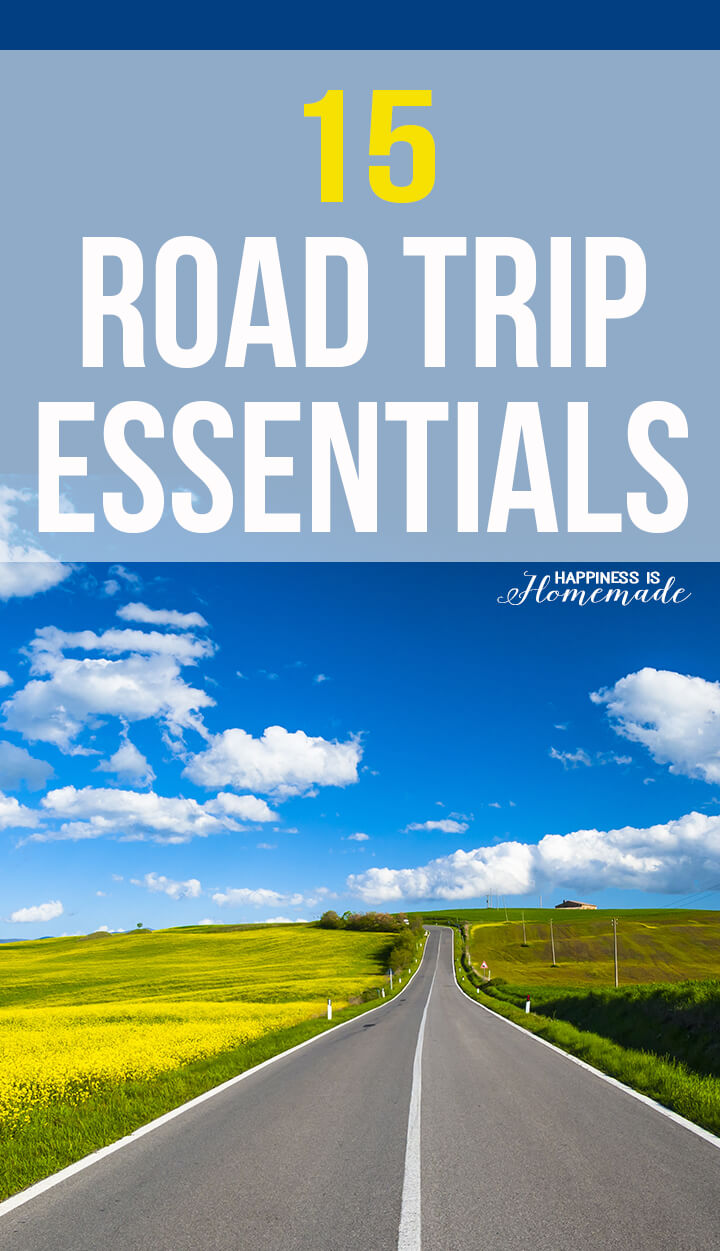 I'm headed out to the Napa Valley next week for the Feed Your Soul Retreat, an exciting girls' getaway with some of my besties, and I am beyond excited. We're starting out our trip at the gorgeous Calistoga Spa Hot Springs where we will relax in their luxurious geothermal mineral pools and enjoy a massage at their tranquil spa. I seriously can't wait!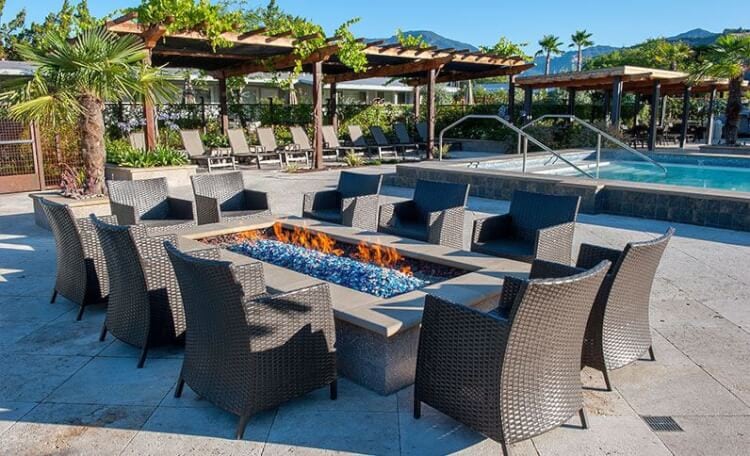 We'll be taking in the countryside on the Napa Valley Wine Train and flying high in a hot air balloon with Napa Valley Aloft before heading on to the Silverado Resort & Spa for the remainder of the trip. It's going to be AMAZING!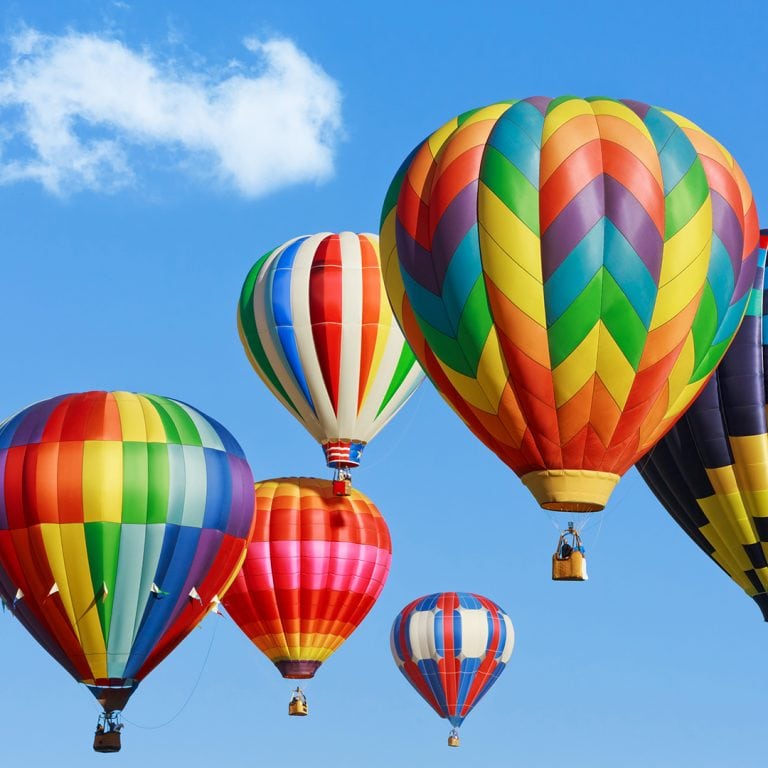 But first, we have to get there, and that means a road trip! No matter how long or short your road trip may be, there are some essential items that you absolutely must bring with you. I created a handy dandy printable checklist so that I don't forget anything, and I thought that you might find it helpful, too! You can download and print it for FREE at the bottom of this post!
My Top 15 Must Have Road Trip Essentials: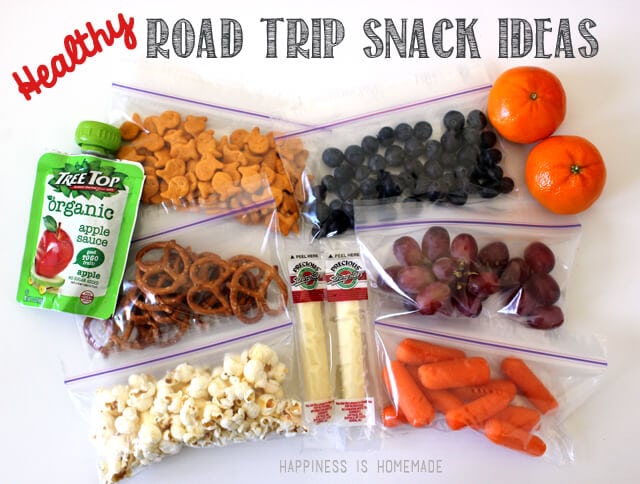 Snacks & Water – snack sized plastic baggies hold the perfect portion size, and packing your own snacks means that you can opt for healthier versions of your favorites. Fresh fruit and veggies like carrots, grapes, oranges, and apple slices travel well, and dried fruit is also a great option. Popcorn, dry cereal, crackers, and string cheese are also family favorites.
Plastic Zipper Bags & Trash Bags – a messy car or hotel room is a stressful way to travel, so make sure to pack trash bags since hotel trash cans are often much smaller than what you are used to. Trash bags can also be used to store dirty laundry. Gallon sized bags are great for packing up wet clothing and swimsuits (just remember to take them out of the bag as soon as you get home!), leaky toiletry bottles and for any motion sickness issues that might arise. Trust me, pack the bags, and you'll be surprised by how many ways you will find to use them!
Medicine, Bandaids, etc. – we inevitably end up needing lots of band aids and medicine on our trips, so I make sure to pack a small amount of anything that we might possibly need. Headache medicine, cold pills, tummy relief, anti-nausea medicine…and so on. Lots of large bottles of medication take up a lot of room in a suitcase, so I divide our medicine into a labeled pill case that is stored in an adult's suitcase during the trip. Like the Boy Scouts say, be prepared! You never know what situation might arise, and medication can often be costly and hard to locate when you're traveling.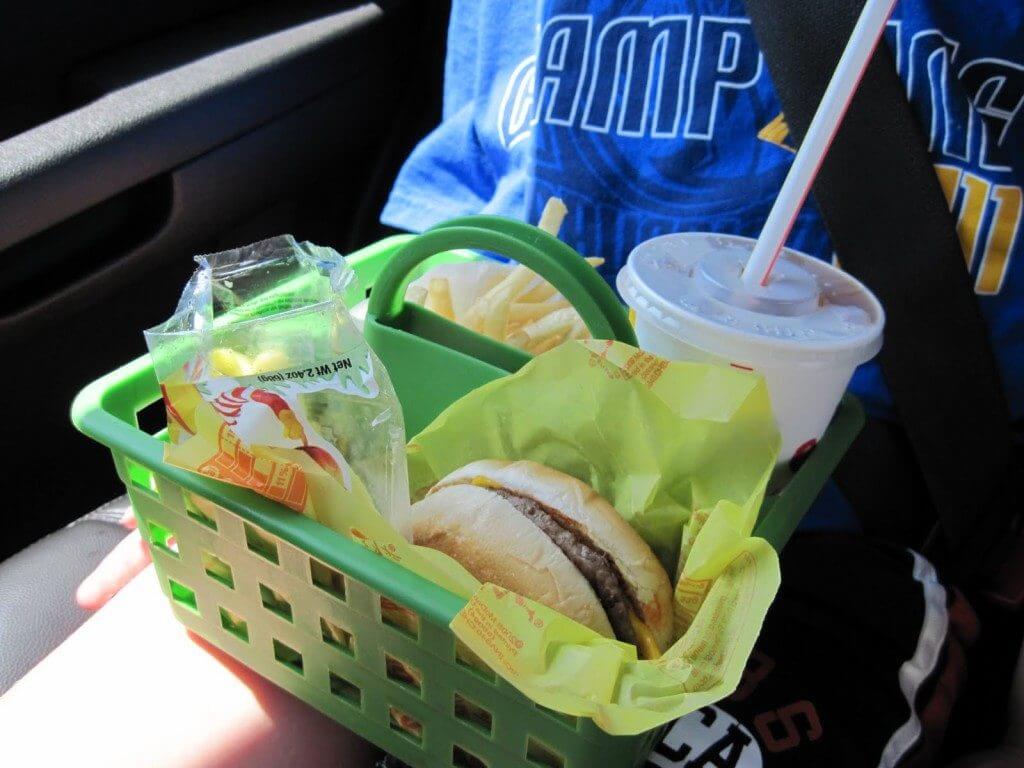 Travel Shower Caddy – we picked up a few travel shower caddies from the dollar store a few years ago, and I can't believe how many uses we have found for them on road trips! They work great for meals on the go, and they are also the perfect size for holding a few books, notebooks, pens or markers. Of course, they're also great for transporting your toiletries back and forth from the shower, and they are great for toting sunblock, sunglasses and a couple of magazines down to the pool!
Batteries & Chargers – this one is pretty self explanatory!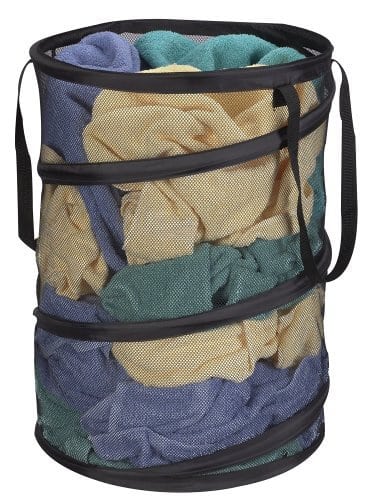 Pop-Up Hamper – pop-up hampers fold completely flat for easy traveling, but once you're at your destination they provide a convenient place for everyone to toss their dirty laundry. Now you can simplify things and avoid all of those "Mommmm, did I already wear this? Is it clean or dirty?" questions. You can carry all the dirty laundry home right in the hamper or fold it flat and toss the laundry in one of those trash bags that you brought along.
Baby Wipes – great for wiping up dirty hands and messes when there's no running water handy.
Sunblock – a necessity any time, not just on road trips!
Bug Spray – again, always a good thing to have on hand!
Nail clippers & Tweezers – Even if you have a pair of nail clippers and tweezers in your suitcase, keep an extra set in the car as well. We always keep them in our center console, and we have used them on EVERY road trip we've ever taken!
Entertainment – load up your devices with your favorite tunes and stock up on new and favorite movies to help pass the time. It always goes more quickly when you're having fun!
Emergency Roadside Equipment – be sure that you have jumper cables and an emergency roadside kit at all times.
Towels – can be used as a picnic blanket or a seat cover (great for hot days!), and they will always come in handy if you need to clean up a spill or mess.
Pen & Paper – you can keep these in the travel shower caddy!
Cash & Coins – keep cash and coins available for toll roads, bridges, and that gas station in the middle of nowhere that only accepts cash.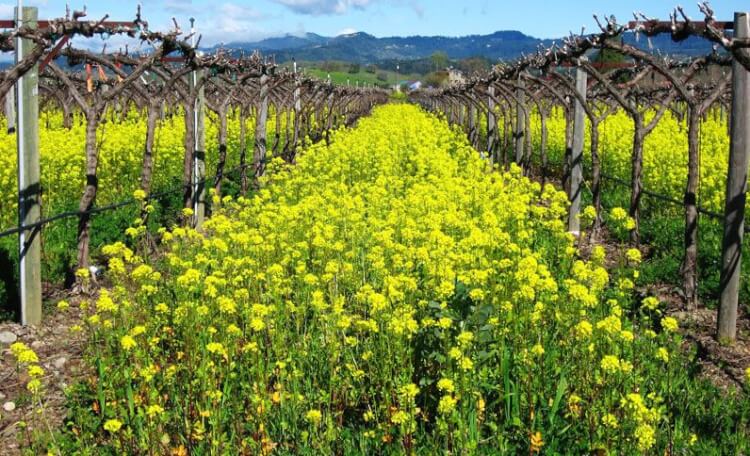 While we're in Napa Valley we're also planning on visiting the Oxbow Public Market, Meadowood, and Long Meadow Ranch as well as dining at Gott's Roadside Grille, Auberge du Soleil, and Heritage Eats. There's going to be some seriously incredible farm-to-table food happening on this trip, and I'm SO excited about it! If you've ever visited Napa or are familiar with the area, I'd love to hear what other places you think we shouldn't miss. Let me know in the comments below!
---
To get the Road Trip Essentials Packing List, enter your name and email address into the form below and click the "Get It Now!" button!
---

Check Out These Other Travel Ideas!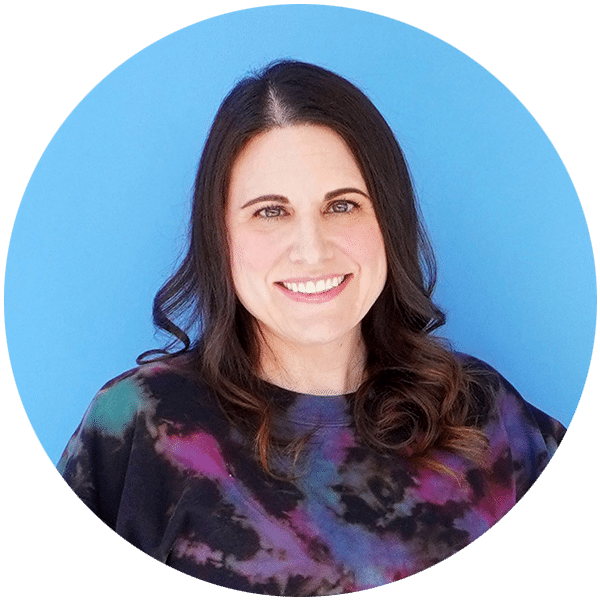 Heidi Kundin has captivated the hearts of millions with her colorful and inspiring approach to crafting, celebrations, and family fun. With over 15 years of experience, Heidi's website has become a must-visit destination for those seeking quick and easy creative ideas and last-minute solutions. Her warm personality shines through her posts, inviting readers to join her on a creative journey that's fun, rewarding, and achievable.