20+ Genius Camping Hacks for Easy Outdoor Living
This post and its photos may contain affiliate links. As an Amazon associate I earn from qualifying purchases. If you make a purchase through these links, I may receive a small commission at no extra cost to you!
Get ready for camping fun this summer with these awesome camping hacks! We've got camping hacks to make roughing it a little more convenient, as well as some camping food hacks so you can eat gourmet while hanging outdoors!
The weather is warming up and it's time for camping season! We love hitting the great outdoors, pitching a tent, and enjoying some quality time outside in nature. But as peaceful and simple as camping can be, it still requires quite a bit of work to make it happen!
These camping hacks will make it much easier to pack up and go! Enjoy a weekend away or make it a longer vacation with these clever camping hacks. Once you use them, you'll wonder how you ever lived without them!
---
Totally Genius Camping Hacks
Get ready to have your mind blown with these amazing camping hacks. They're simple enough to execute and will make your time camping that much more enjoyable! Enjoy the easy summertime living with these genius camping hacks.
Get organized with this printable Camping Packing List from Take Them Outside. These printable camping checklists are adorable and will help you get organized for the big (or little) camping trip!
Create a Matchbox and Lighting Container with this simple tutorial from Craftaholics Anonymous. This DIY project ensures you'll always be able to light a match when you need it.
Pick up this Floating Wine Cork Keychain to save your keys if you end up boating or kayaking during your camp out. This makes it so your keys stay afloat and don't get lost forever in the lake or ocean!
Duct tape is super handy while you're camping and has many uses. You can wrap it around your water bottle like this example from In Pursuit of Questions to make it super convenient to access. You'll never have to go looking for it when you need it in a pinch!
You can pack a snack AND use it to make a fire because Doritos chips double as kindling! (This can also work with corn chips or Fritos.) A smart and delicious camp hack from Happy Money Saver!
Save time and towels by washing your dishes and then letting them air dry with a Mesh Laundry Bag. Hang your bag from a tree and head out to your next adventure. Your dishes will be dried by the sun as you play.
Set up a Hand Washing Station at your campsite to make it easy for everyone to clean up without trekking to the restroom each time. You can purchase water buckets or use an empty laundry detergent bottle—pure genius!
Put together some simple Camping Activity Bags for younger kids so they can stay entertained while you're setting up camp or cooking dinner. They may be content just finding sticks around the campsite too, but it's always nice to be prepared. Be sure to check out our free printable Camping Scavenger Hunt game also!
Bring a few packs of Baby Wipes. They're perfect to wipe down dirt throughout the day. Adventures of Mel also has a tutorial for making your own body wipes—perfect if you want to go a more natural route!
Print out this Road Trip License Plate Game as a great RV or tent camping activity. You can walk around the campsite and see how many different states you can find!
---
Clever Camping Food Hacks
Camp food doesn't mean you have to dine on hot dogs and canned beans all week! You can eat great, even while living outdoors. Check out these camp food recipes and camping food hacks to make being the camp cook a breeze!
One of the best ways to make easy meals while camping is to utilize make ahead camp meals. Beyond the Tent has 25 ideas that you can prep in advance and then cook at camp.
Keep your ice from melting and food from getting soggy by setting up an ice box for food storage. The Boat Galley uses this trick to keep her food cold for months!
Create an Outdoor Camp Kitchen using these instructions from Echoes of Laughter. Having a place to put everything makes cooking so much easier! You can also purchase an outdoor cook station to help you get set up.
You want to flavor your camp food, but don't want to pack your whole spice rack, right? Take this camping tip from Say Yum and store spices in a convenient pill organizer so you can take them with you in a much more packable size.
Use a cleaned out ketchup bottle or one of these containers to make cooking a pancake breakfast easy, even at camp! Two Healthy Kitchens shows how to prep the batter in advance, keep it chilled, and then just squeeze and grill. What a simple and delicious camp breakfast!
Foil packets are such a great way to enjoy a gourmet meal at camp. These Lemon Chicken Foil Packets from Cupcakes and Kale Chips look amazing and so simple! This would make a great camp dinner.
Make your own campfire popcorn to enjoy around the fire. The recipe from Juggling Act Mama has three variations to choose from. The s'mores variety looks so good!
Want to make eggs in the morning but worried about the eggs cracking on the way to camp? Enter this easy camping food hack, eggs in a water bottle. Fit Foodie Finds cracks her eggs in advance and then stores them in a water bottle for an easy and delicious camp breakfast.
Having good coffee while camping is a must! You can make your own Coffee Brewing Bags in advance, so you have hot, fresh coffee each morning of camp. See how Make the Best of Everything whipped these up!
Still unsure about this whole camping thing? Grab my Funny Camping SVG File to show how you really feel about living the camp life! The bug bites are temporary, but the memories will last forever. I promise!
Enjoy making those family memories while camping with these simple camping hacks! I'd love to know your favorite camping hacks, too. Leave them in the comments and I can update this list with your mind-blowing hacks for all the campers!
Happy camping!
---
---
You May Also Like:
Free Printable Camping Scavenger Hunt Game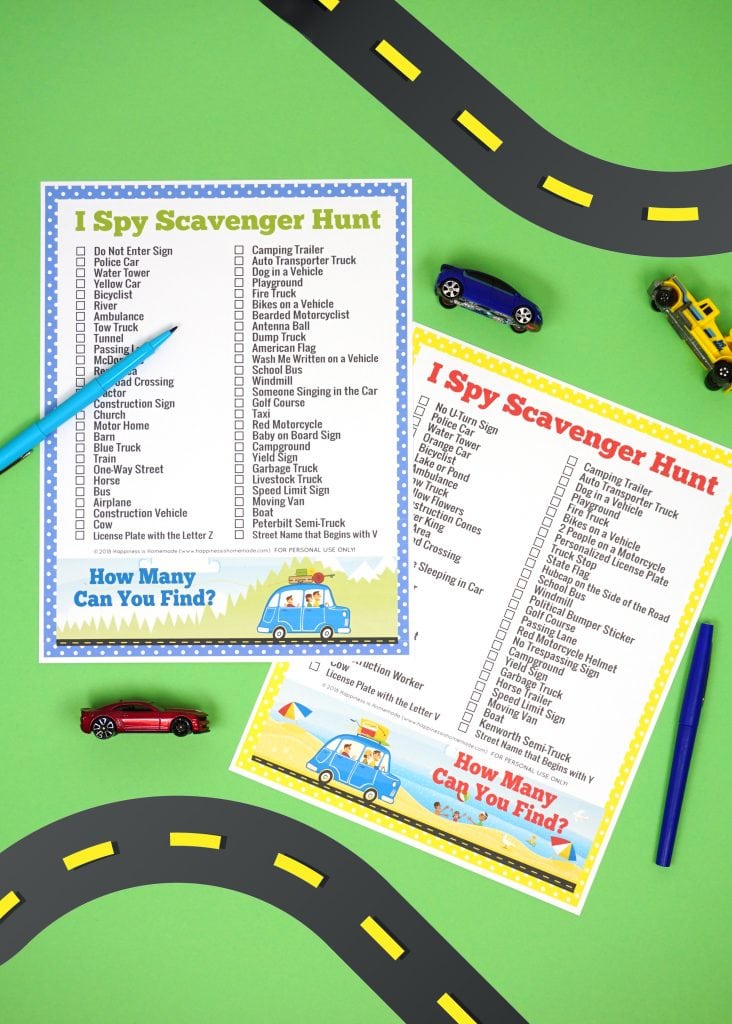 Road Trip I Spy Scavenger Hunt Printable Game
Pin These Camping Hacks For Later