This is a sponsored post written by me on behalf of DeMet's FLIPZ®. All opinions are 100% mine.
Sweet & Salty S'mores Snack Mix is the perfect treat for your next road trip! Get the yummy recipe + a fun printable License Plate Game Coloring Map to keep the whole family entertained!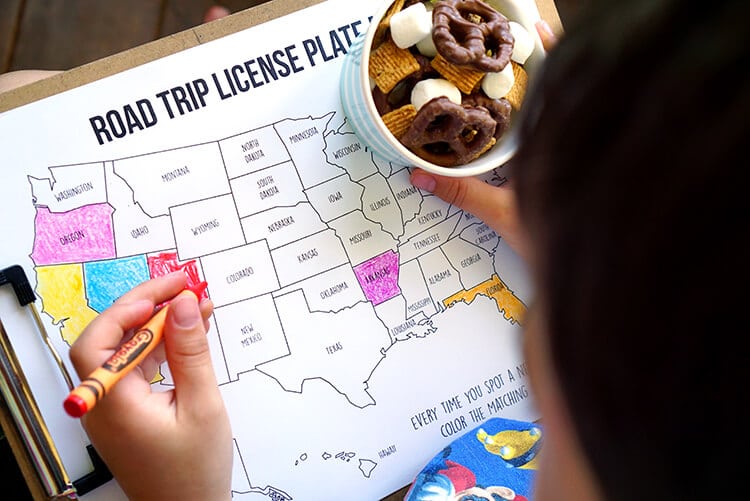 We are smack dab in the middle of summer break, and though summer break means lots of family fun and adventure, it also means lots of hours in the car. Road trips, visits to theme parks, weekends at the beach or in the mountains – all of that fun is frequently accompanied by endless hours on the road. To keep the kids entertained, we play a lot of classic road trip games, and the license plate game is one of our favorites. This year, I decided to change things up a little bit, and instead of simply calling out the names of states as we see new license plates, I created a United States coloring map to keep track of which states we've seen. Just color in the matching state every time you see a new license plate!
The road trip coloring map was a huge hit with my family, but they were even more excited about the Sweet & Salty S'mores Snack Mix that I whipped up for our trip!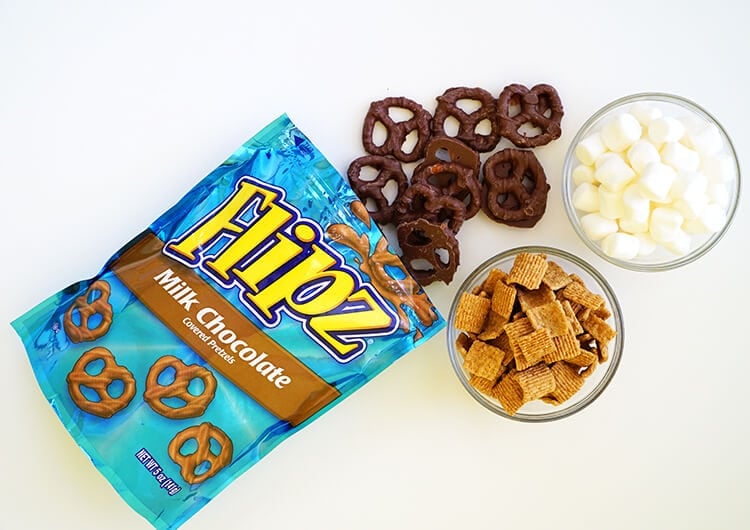 What You'll Need to Make S'mores Snack Mix:
FLIPZ® Milk Chocolate Covered Pretzels (you can also use Dark Chocolate or mix and match!)
Graham Cereal
Mini Marshmallows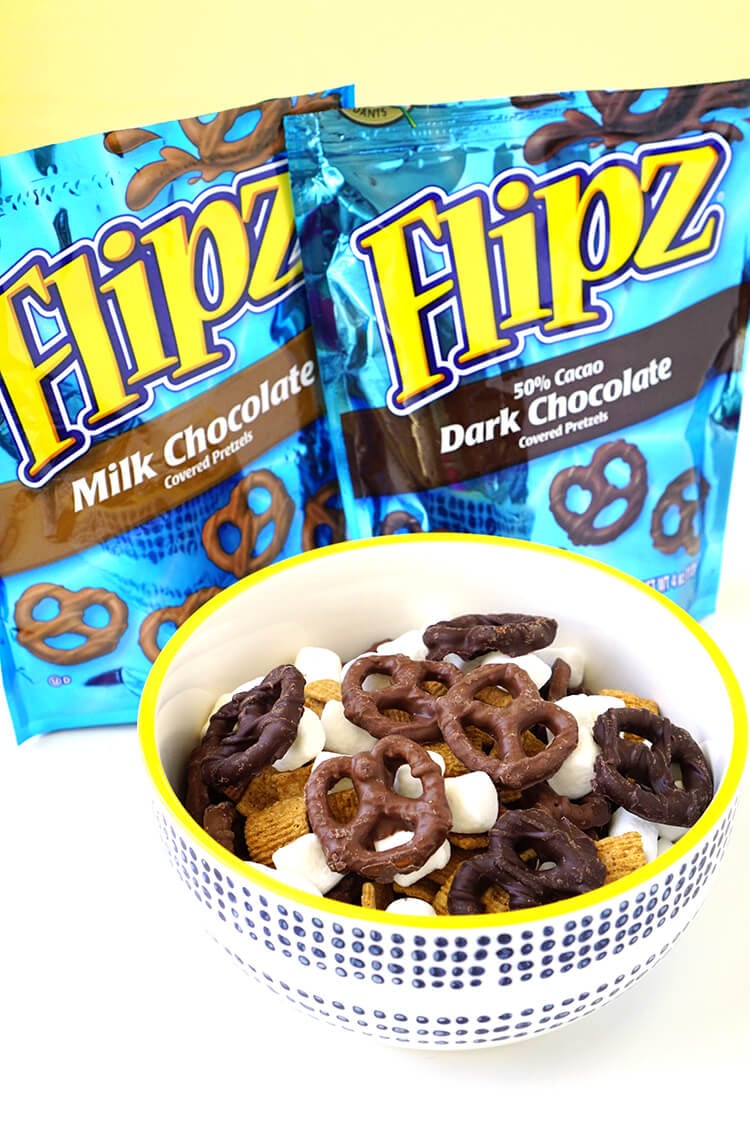 In a medium sized bowl, mix together all of the ingredients. I like to use the entire package of FLIPZ® with 1/2 cup each of the graham cereal and marshmallows. Give it a quick stir, and then pour the snack mix right back into the FLIPZ® package! The resealable package is perfect for storing your snack mix on the go!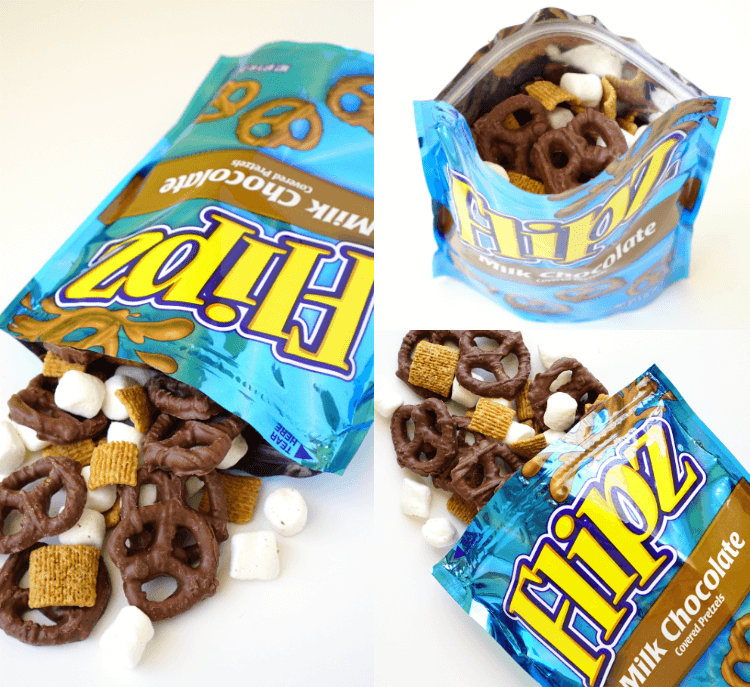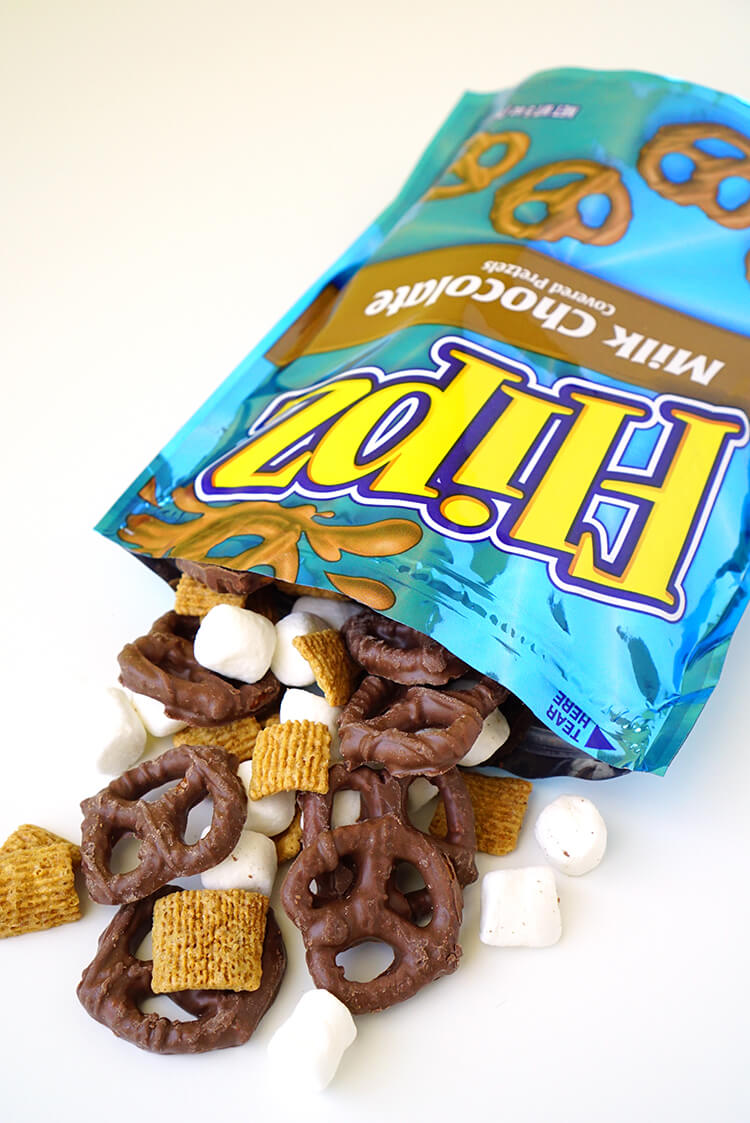 The FLIPZ® Milk Chocolate Covered Pretzels are a delightful combination of  salty and sweet, and the graham cereal and marshmallows make this snack mix taste just like your favorite s'mores recipe (without the sticky gooey mess!)! SO good!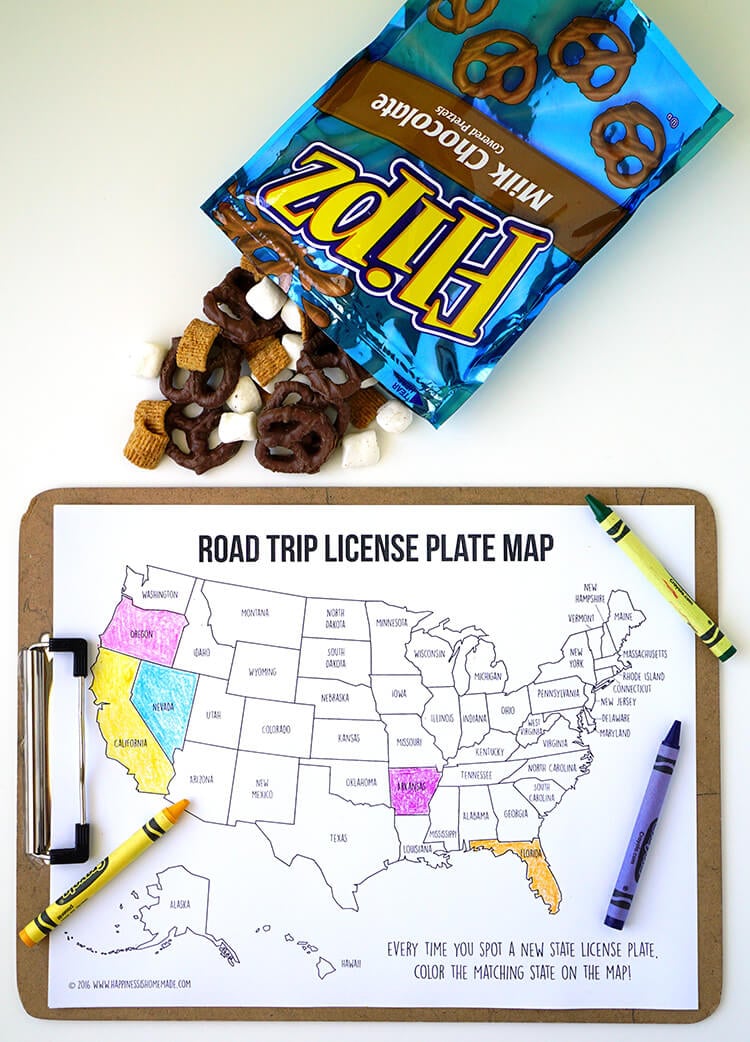 There's no question that the s'mores snack mix was the highlight of our road trip, but this coloring map wasn't far behind! It adds a whole new level of fun and excitement to the classic license plate game, and it's a great way for kids to learn or brush up on their geography skills. One of our school requirements this year is to learn the location of all 50 states, so this was a fantastic way to start working on those skills!
It's seriously awesome to be able to easily see where all of those different state license plates came from and to see how far they have traveled! For long multi-state road trips, you can also use the map to trace your route as you drive along.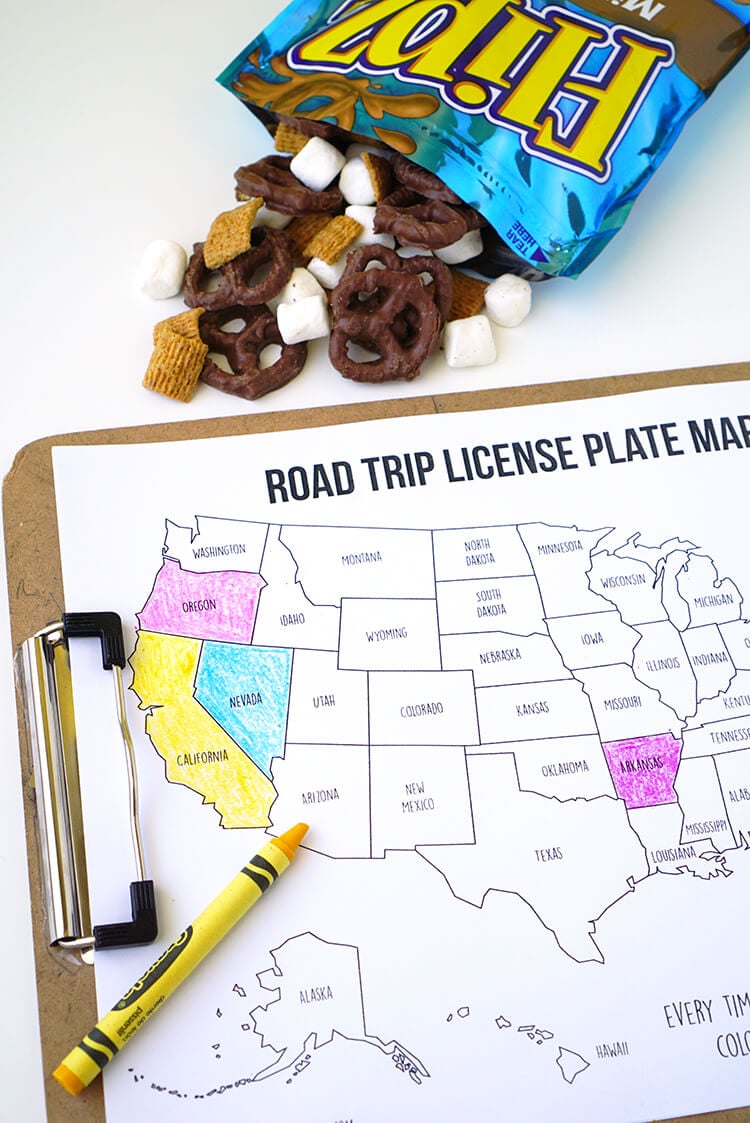 Super fun license plate game coloring map + yummy s'mores snack mix = the best road trip EVER!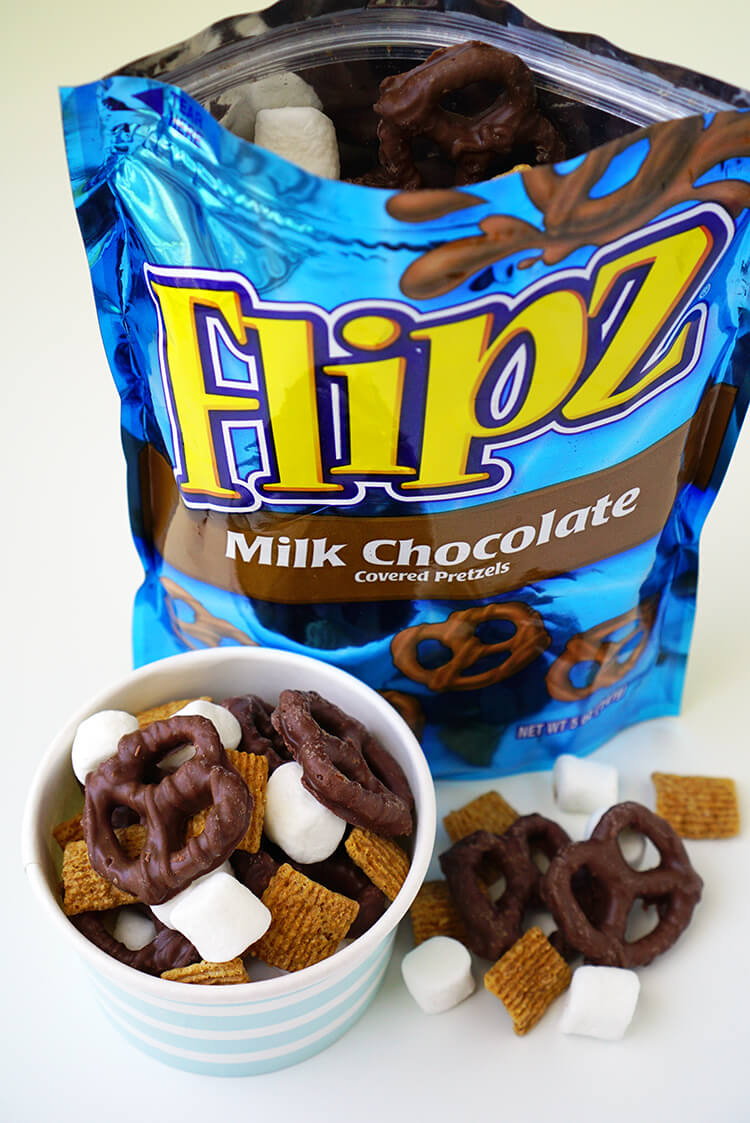 When you're on the go, these little cups are a great way to serve your s'mores snack mix. Each bag of FLIPZ® holds 5-6 servings, so it's easy to grab a small stack of serving cups and the bag of s'mores mix, and hit the road!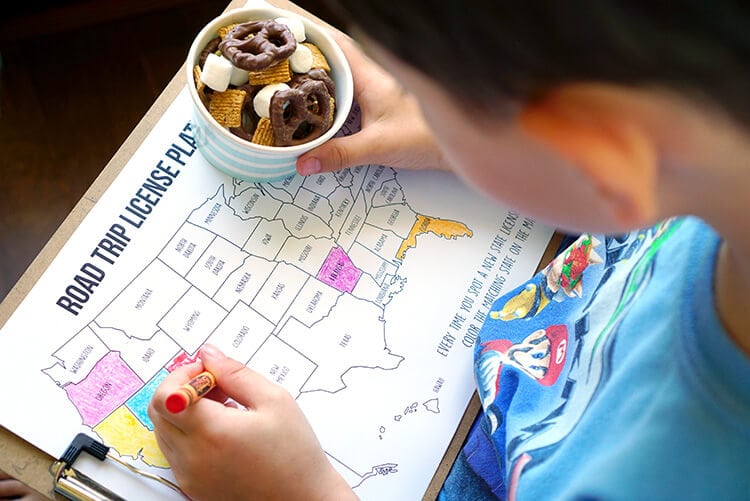 (a clipboard for each child also comes in handy, and it makes a perfect travel lap desk!)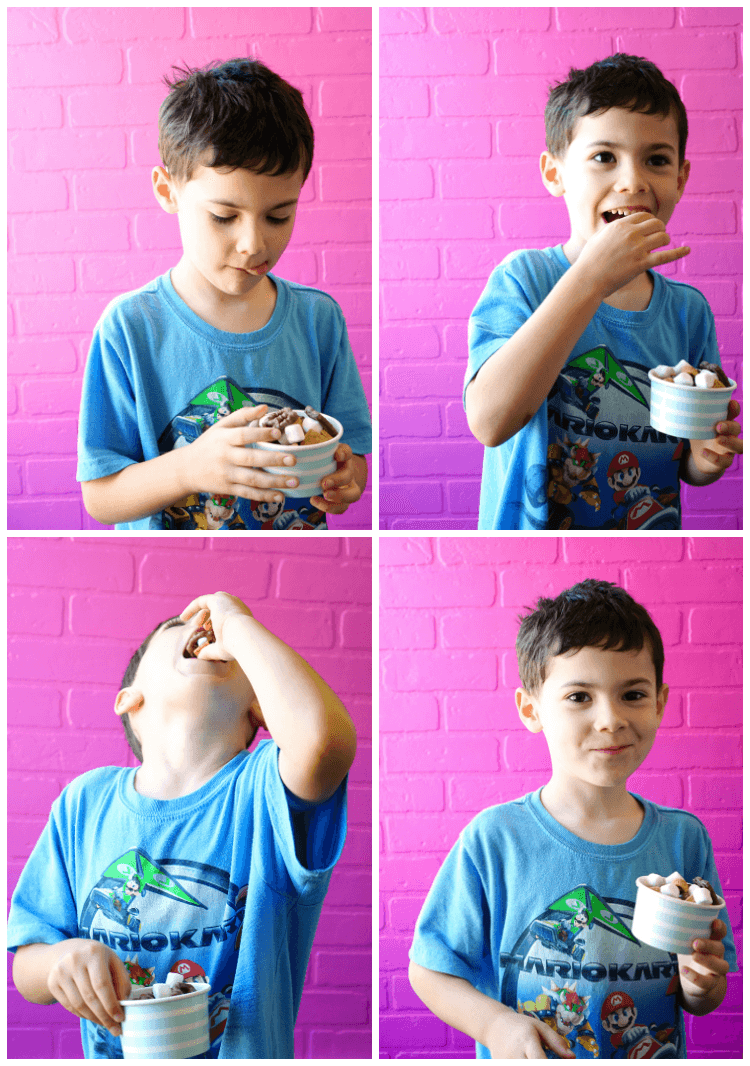 Seriously, who knew that snack mix and a map could make a road trip SO much fun!?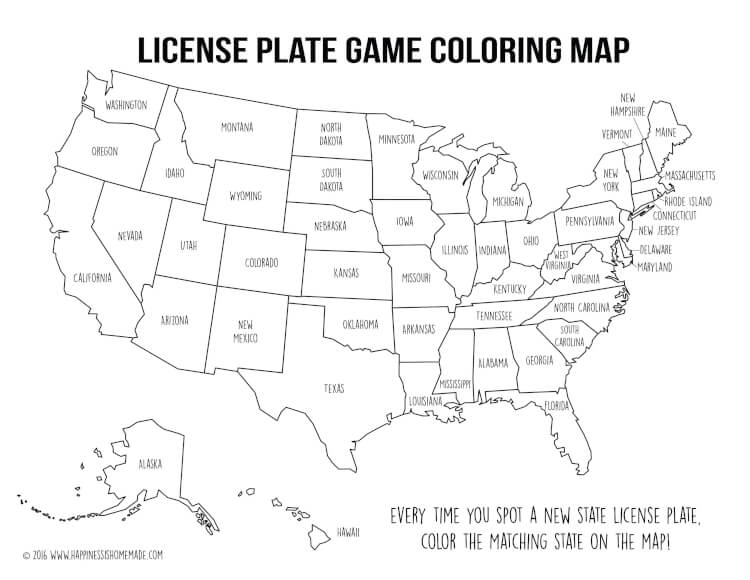 For even more road trip fun, visit the FLIPZ® Road Trip Website, follow the FLIPZ® Instagram Page, and join the FLIPZ® Community on Facebook. Be sure to enter the #ROADTRIPFLIPZ Instagram contest and showcase your summer road trip with FLIPZ® for your chance to win!
Like this post? Don't forget to Pin It!