Candy Cornucopia Thanksgiving Craft
This post and its photos may contain affiliate links. As an Amazon associate I earn from qualifying purchases. If you make a purchase through these links, I may receive a small commission at no extra cost to you!
Cute Candy Cornucopias are a yummy Thanksgiving table decoration! A quick and easy Thanksgiving craft that's fun for all ages!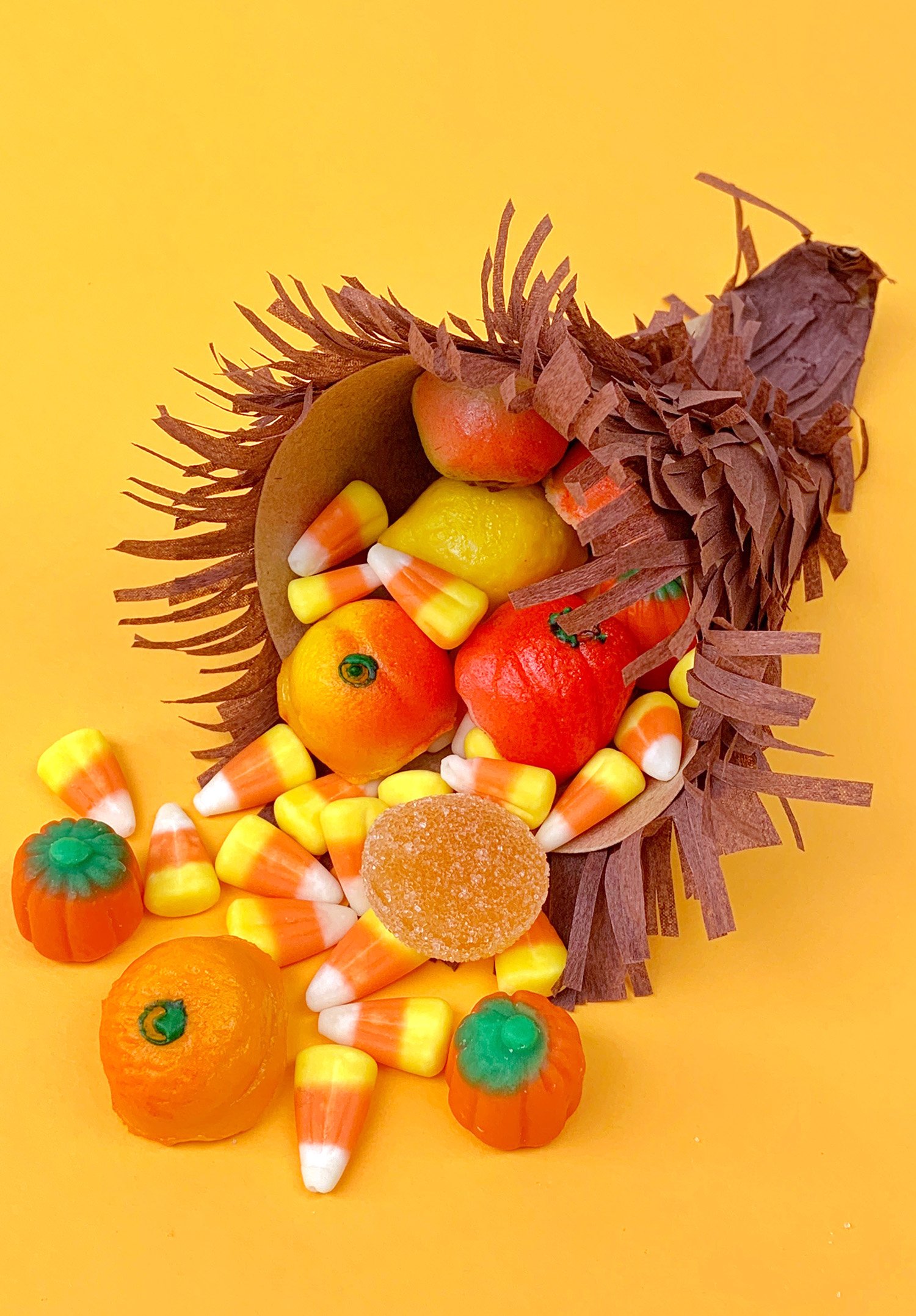 A cornucopia, also known as The Horn of Plenty, is a traditional symbol of the fall harvest and is closely associated with Thanksgiving. The horn-shaped baskets are a symbol of abundance and nourishment and are often depicted as overflowing with newly harvested fruits and vegetables. Our candy cornucopias puts a sweet twist on the classic horn and are filled to overflowing with candy pumpkins, fruit jellies, candy corn, and marzipan fruits!
Thanksgiving Craft: Candy Cornucopia
What You'll Need to Make a Candy Cornucopia: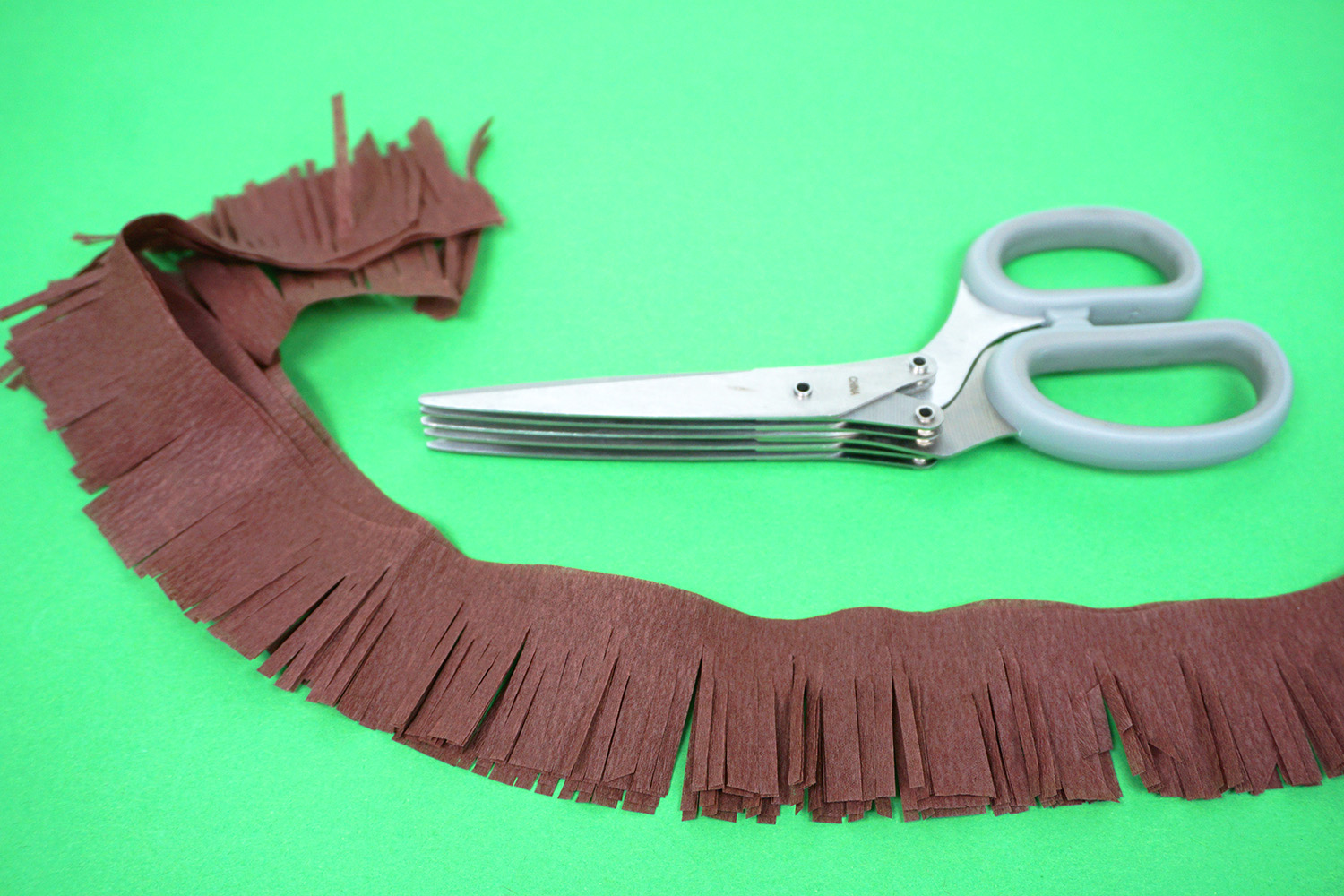 Start by using the fringe scissors to create a fringed length of crepe paper – you'll need about 7′ for each cornucopia.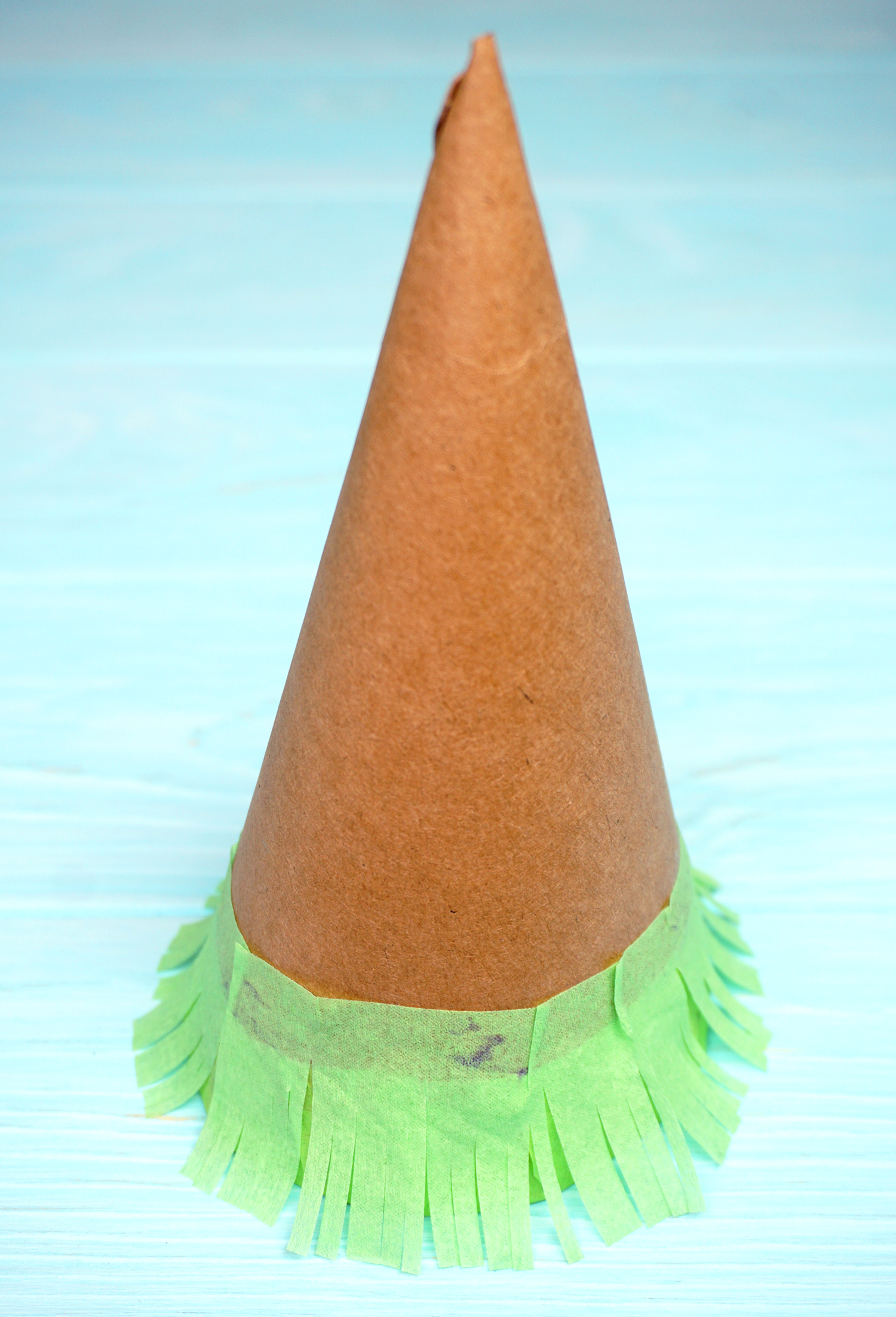 Starting at the base of the cone, use the glue stick to attach the fringed tissue to the cone, overlapping each layer slightly. (Just pretend that this green crepe paper is brown, mmmkay?)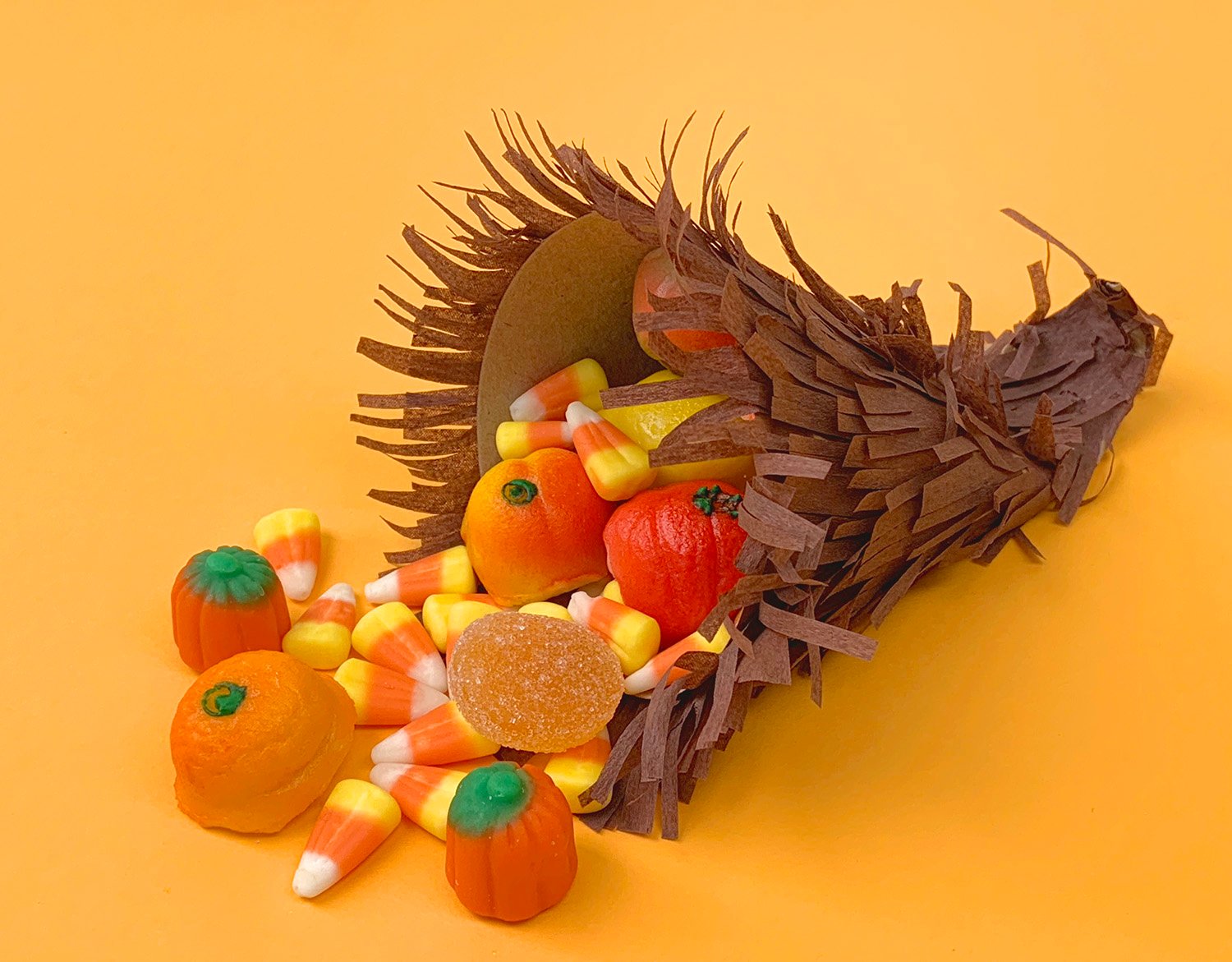 When your entire cone is covered in crepe paper, allow the glue to dry completely before rolling the tip of the cone up. Tip: Use a marker to help you roll the tip to create a tighter and more nicely shaped roll! Simply roll the tip of the cone around the marker, hold, and release!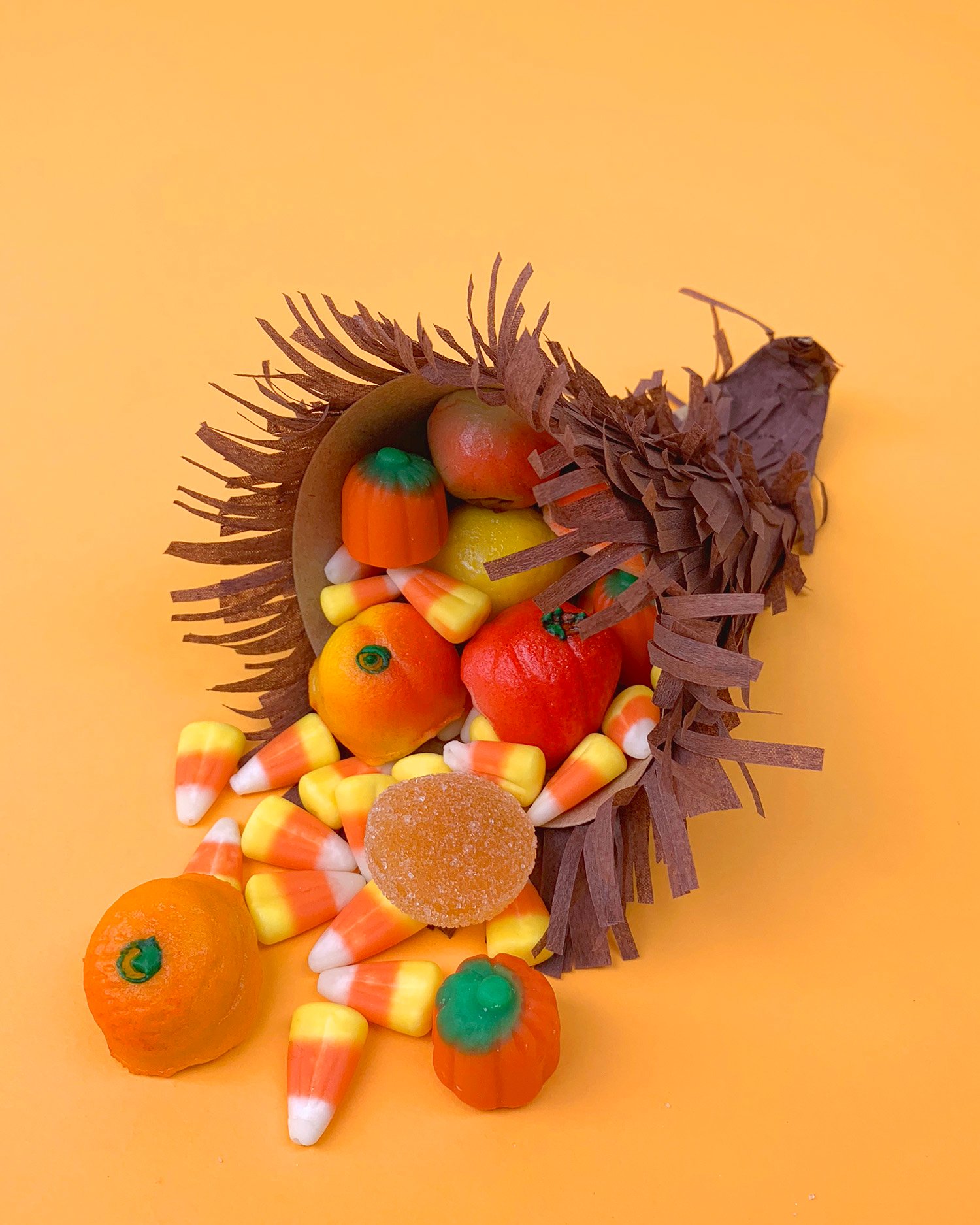 Fill the paper cornucopia with all of your favorite harvest candies, and place on the center of your Thanksgiving table for a sweet holiday centerpiece! It's perfect for the kids table, but I'm sure that the adults would love it, too!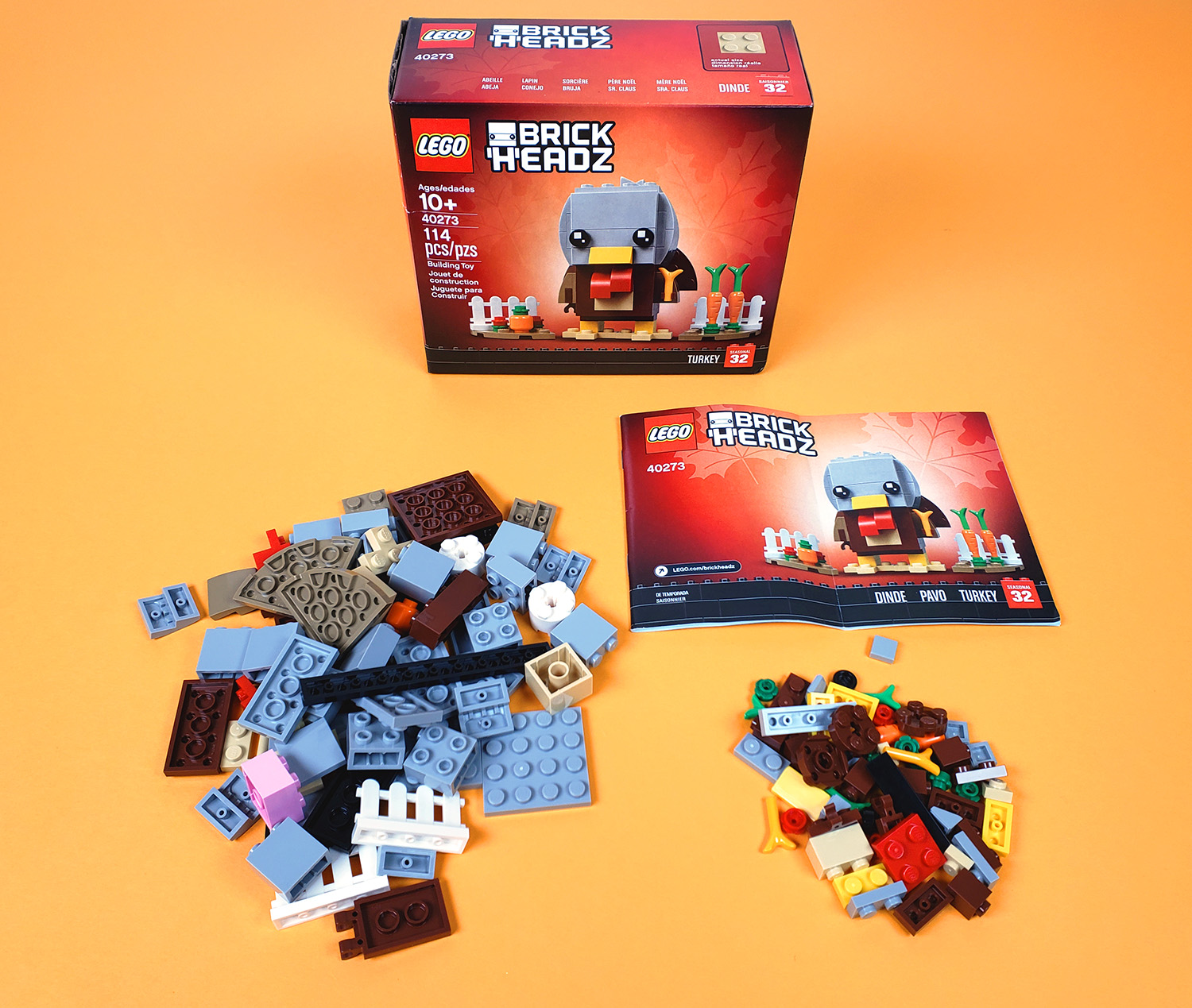 If you're looking for even more fun around the holiday table, check out this awesome new Thanksgiving Turkey LEGO BrickHeadz! This 114-piece set is a great way to pass the time around the kids table while they're waiting for dinner to finish cooking!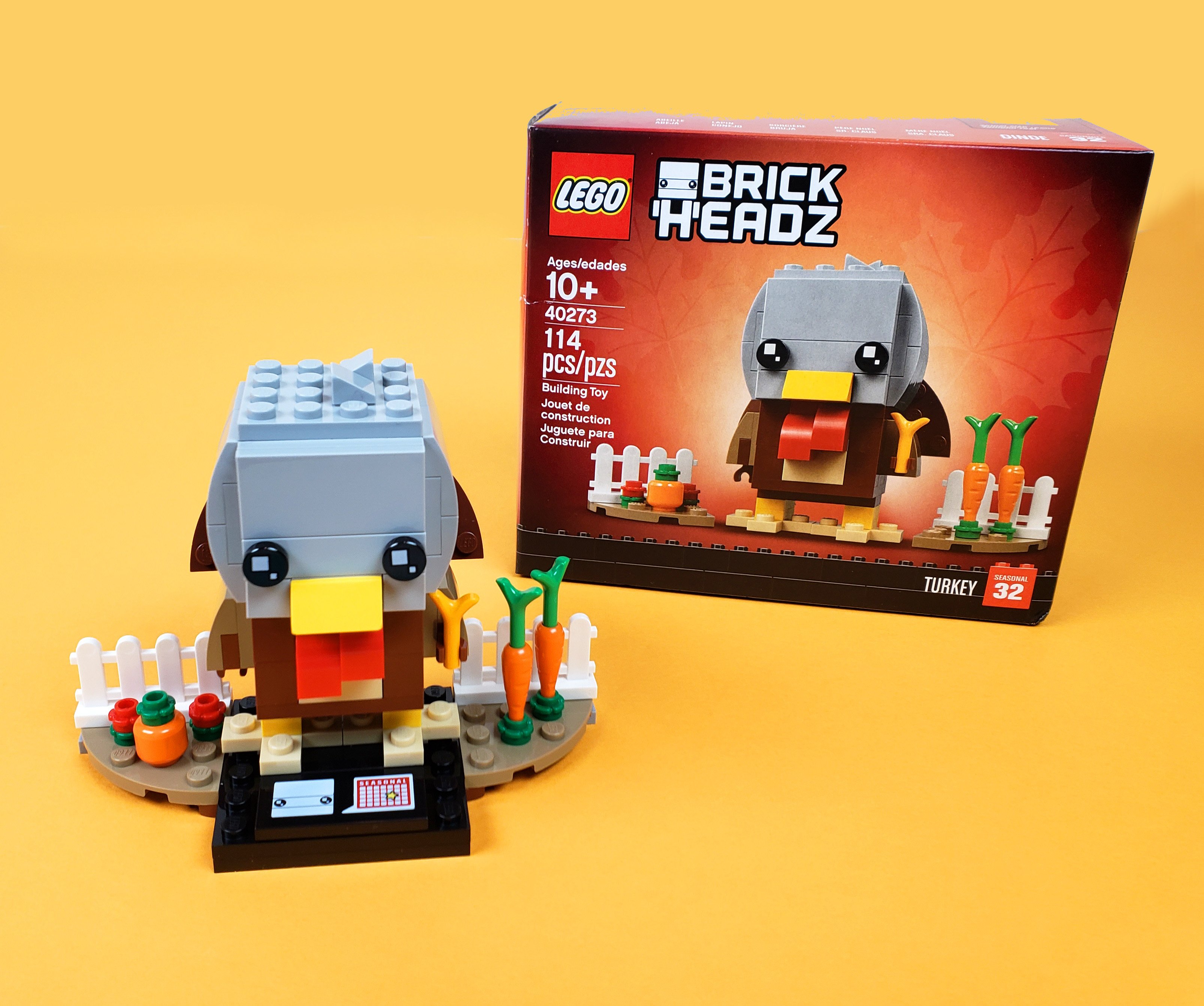 My boys had a blast putting this LEGO BrickHeadz set together, and they gave it a highly enthusiastic two thumbs up! Definitely a winner around the holiday table!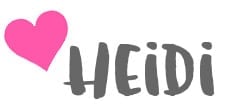 You May Also Like: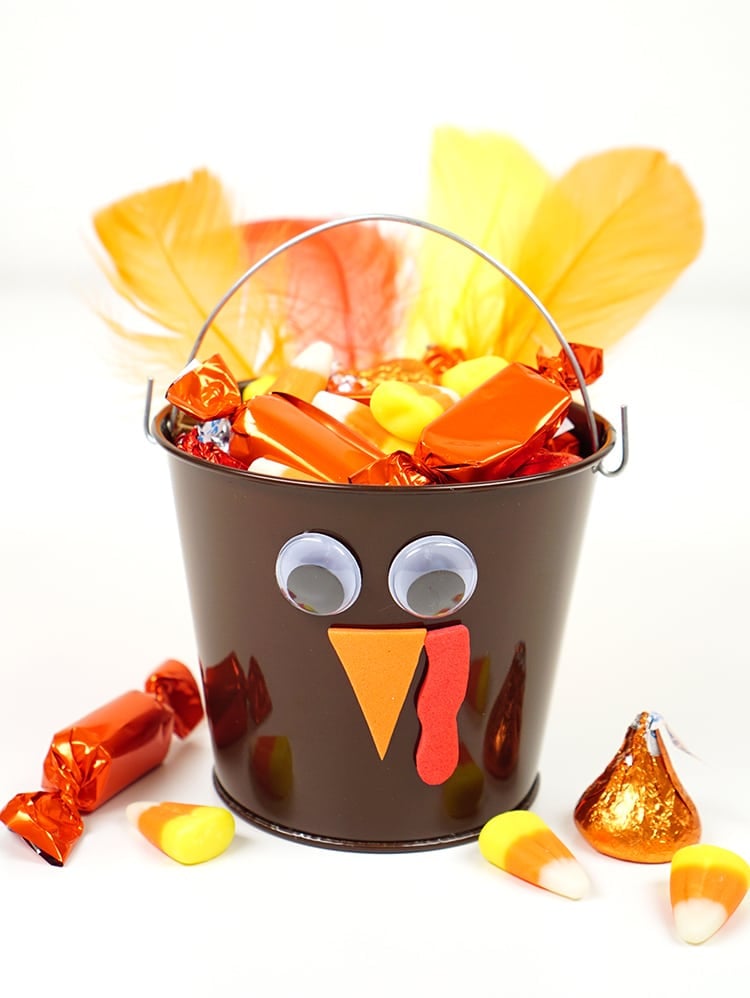 Thanksgiving Kids Craft: Turkey Treat Buckets
Thanksgiving Kids Craft: Turkey Windsocks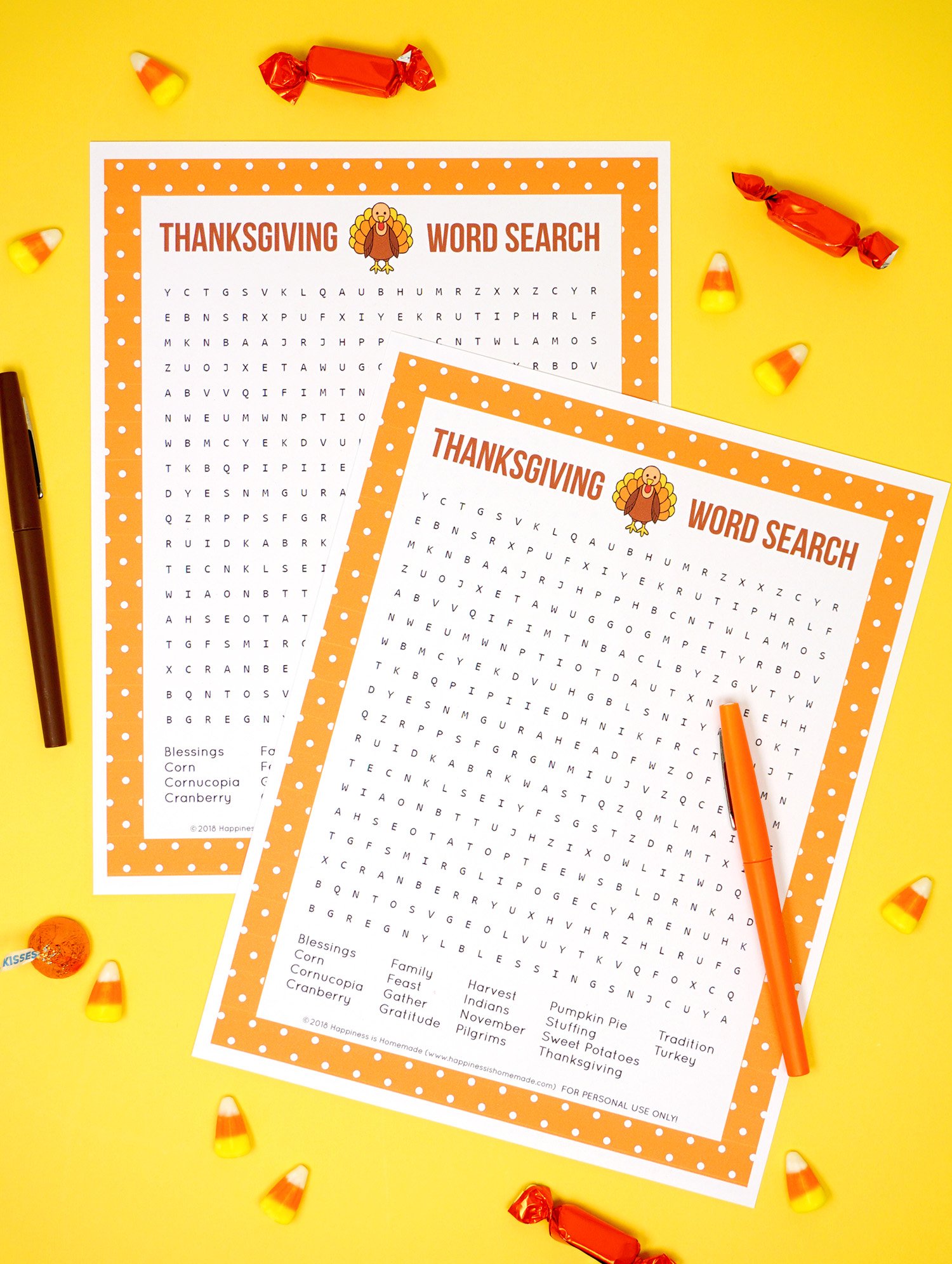 Thanksgiving Word Search Printable
Pin this Candy Cornucopia for Later!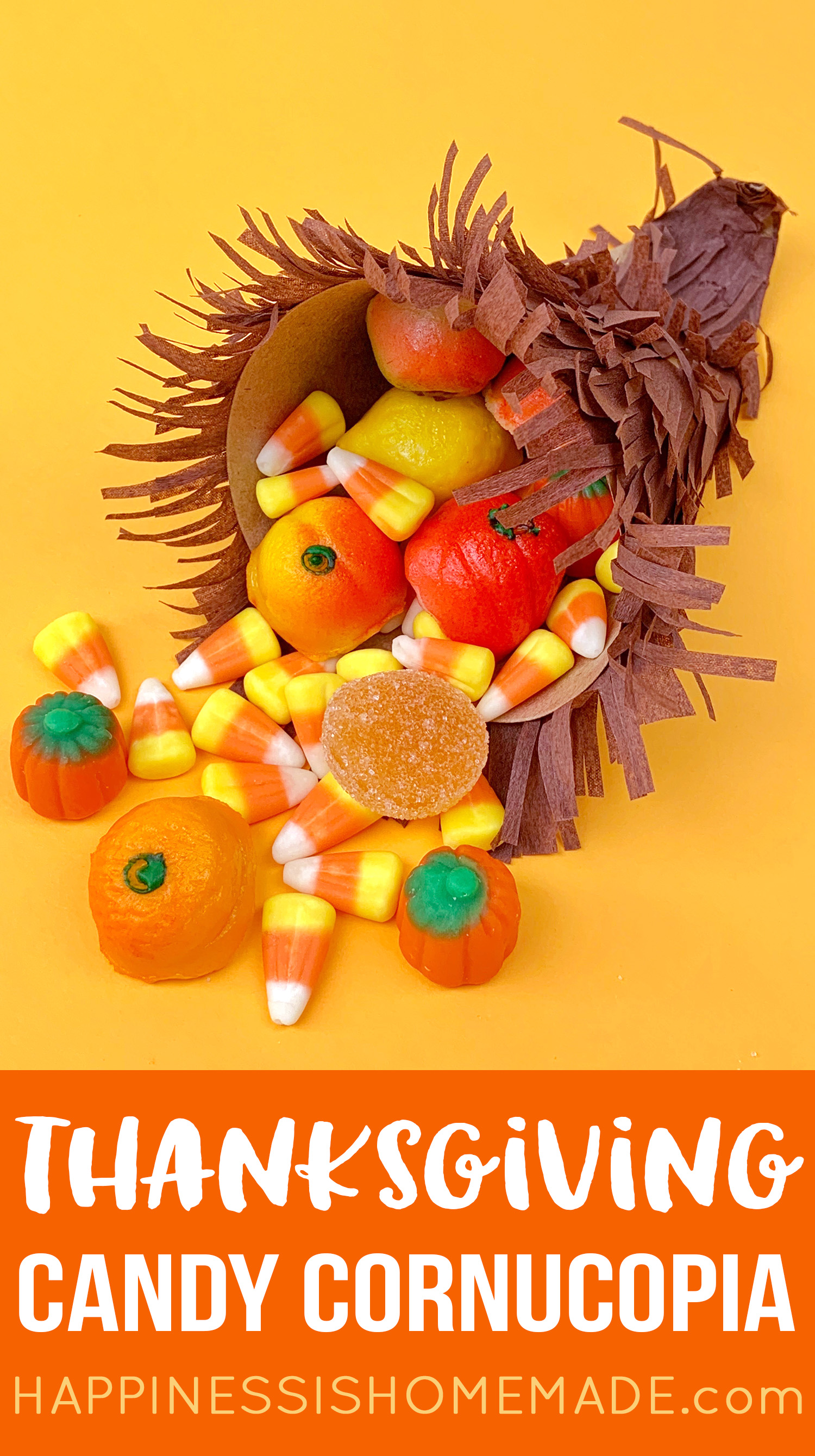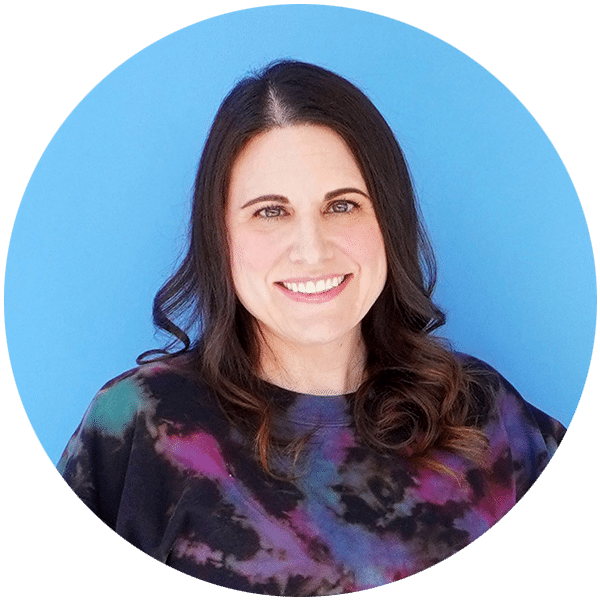 Heidi Kundin has captivated the hearts of millions with her colorful and inspiring approach to crafting, celebrations, and family fun. With over 15 years of experience, Heidi's website has become a must-visit destination for those seeking quick and easy creative ideas and last-minute solutions. Her warm personality shines through her posts, inviting readers to join her on a creative journey that's fun, rewarding, and achievable.