Printable Christmas Wish List for Kids & Adults
This post and its photos may contain affiliate links. As an Amazon associate I earn from qualifying purchases. If you make a purchase through these links, I may receive a small commission at no extra cost to you!
Want to get organized for Christmas? This FREE Printable Christmas Wish List is perfect for kids and adults! List your favorites, what you're into, things you want, things you need, clothes you'll wear, and books you'll read! Use the quick and easy printable Christmas list to track holiday wishes for each member of your family to take the guesswork out of holiday gift-giving!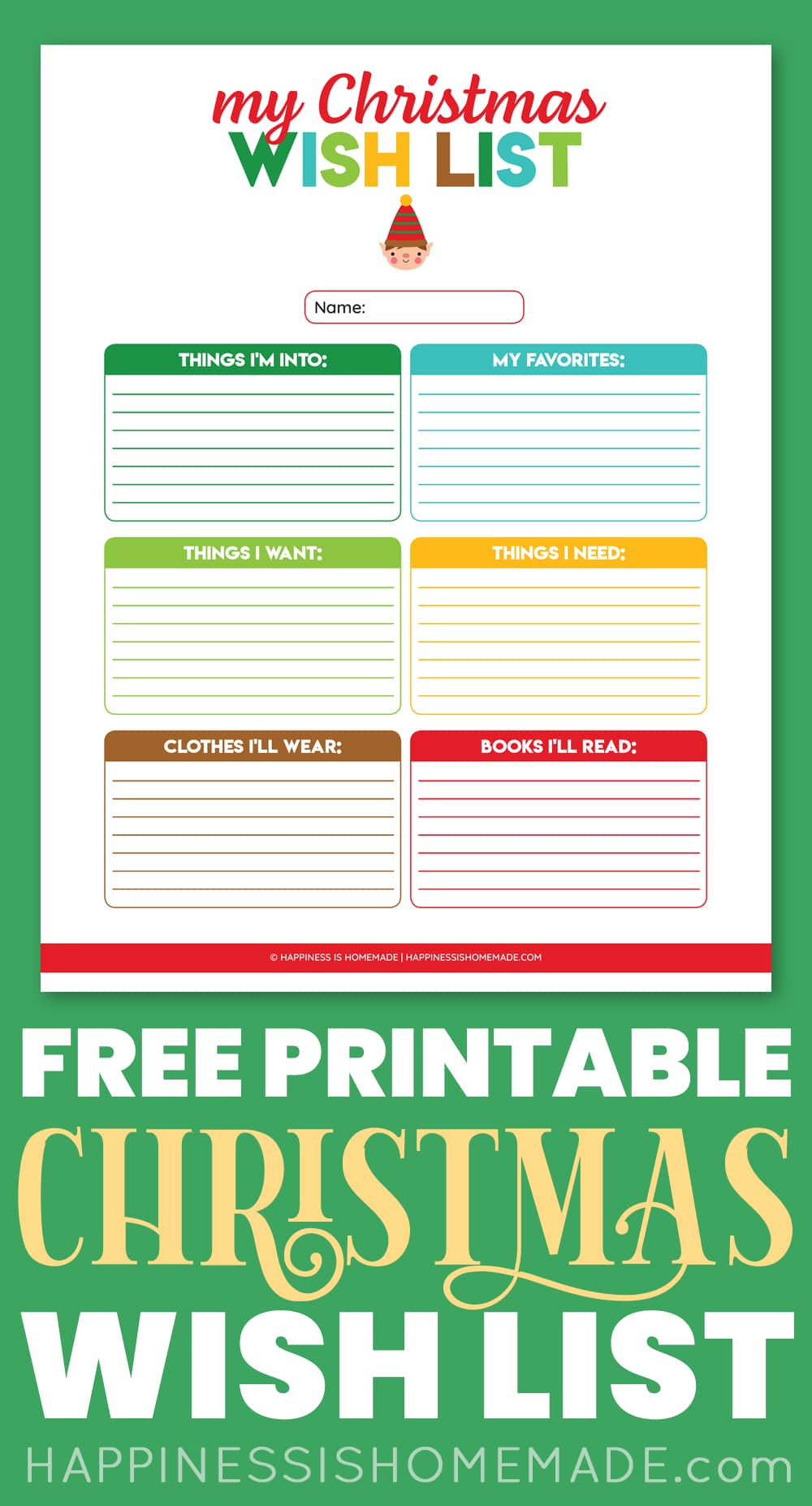 This post may contain affiliate links. I will receive a small commission from these sales at no additional cost to you!
Free Christmas Wish List Printable
Christmas will be here before you know it, so it's time to start writing down those Christmas wish lists! Have you ever found yourself scratching your head over what to get for some people on your Christmas list? Finding great gifts can be a challenge, particularly for the kids and adults who seem to have everything already.
We're making things super easy for you this year with a free Christmas wish list printable that includes different sections for everyone to list their favorites along with things they want, things they need, clothes they'll wear, and books they'll read!
What Are the Benefits of Using a Wish List?
Though some people aren't fans of making wish lists for fear that it may appear as though you're demanding specific gifts, the majority of people find wish lists to be incredibly helpful. With a wish list, you know you're getting your gift recipient recipient an item that they will truly enjoy, and you can know that your hard earned money is going towards something that they will actually use and appreciate. A wish list can also help you shop for deals all season long instead of making full-priced decisions at the last minute.
If you like this printable wish list, you'll definitely want to check out our other Free Christmas Printables including our Free Printable Letters to Santa (two different versions!) and this super cute printable Santa Christmas Countdown Calendar!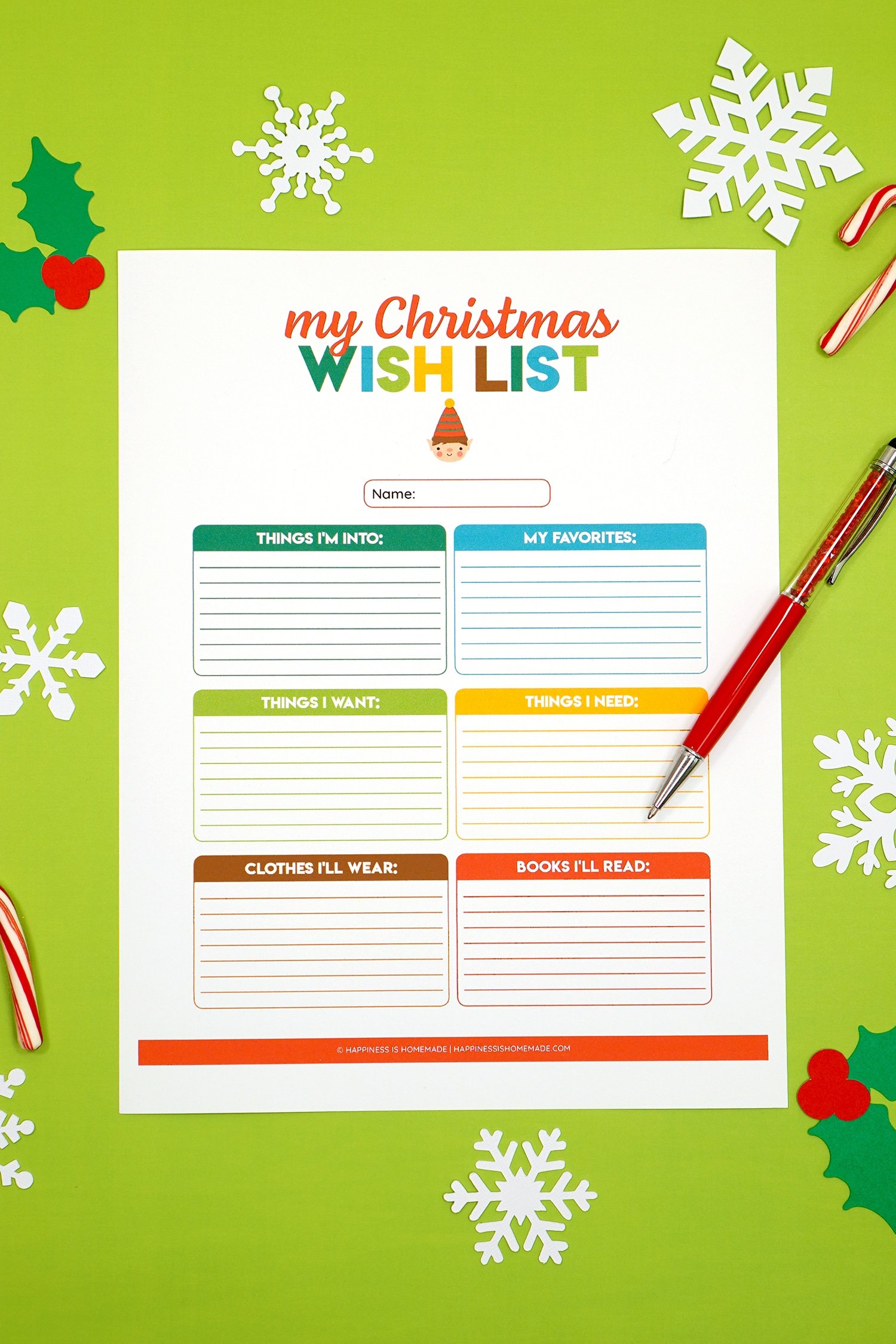 Have you heard of the "Want, Need, Wear, & Read" holiday gift giving method? Many families have opted to give their children gifts from four main categories each year at Christmas – something they want, something they need, something to wear, and something to read. We designed this wish list printable to work hand-in-hand with the "Want, Need, Wear, & Read" style, but it works great for EVERYONE regardless of your gift giving methods!
Using these categories can be a great way to spark inspiration and come up with ideas that you may not have thought about otherwise. Plus, categorizing your Christmas wishes is always SUPER helpful for the gift-giver, too! Of course, any gift is appreciated, but when people ask you for gift ideas for your kids, having a list to refer to makes it much easier to keep track of which suggestions you made to whom.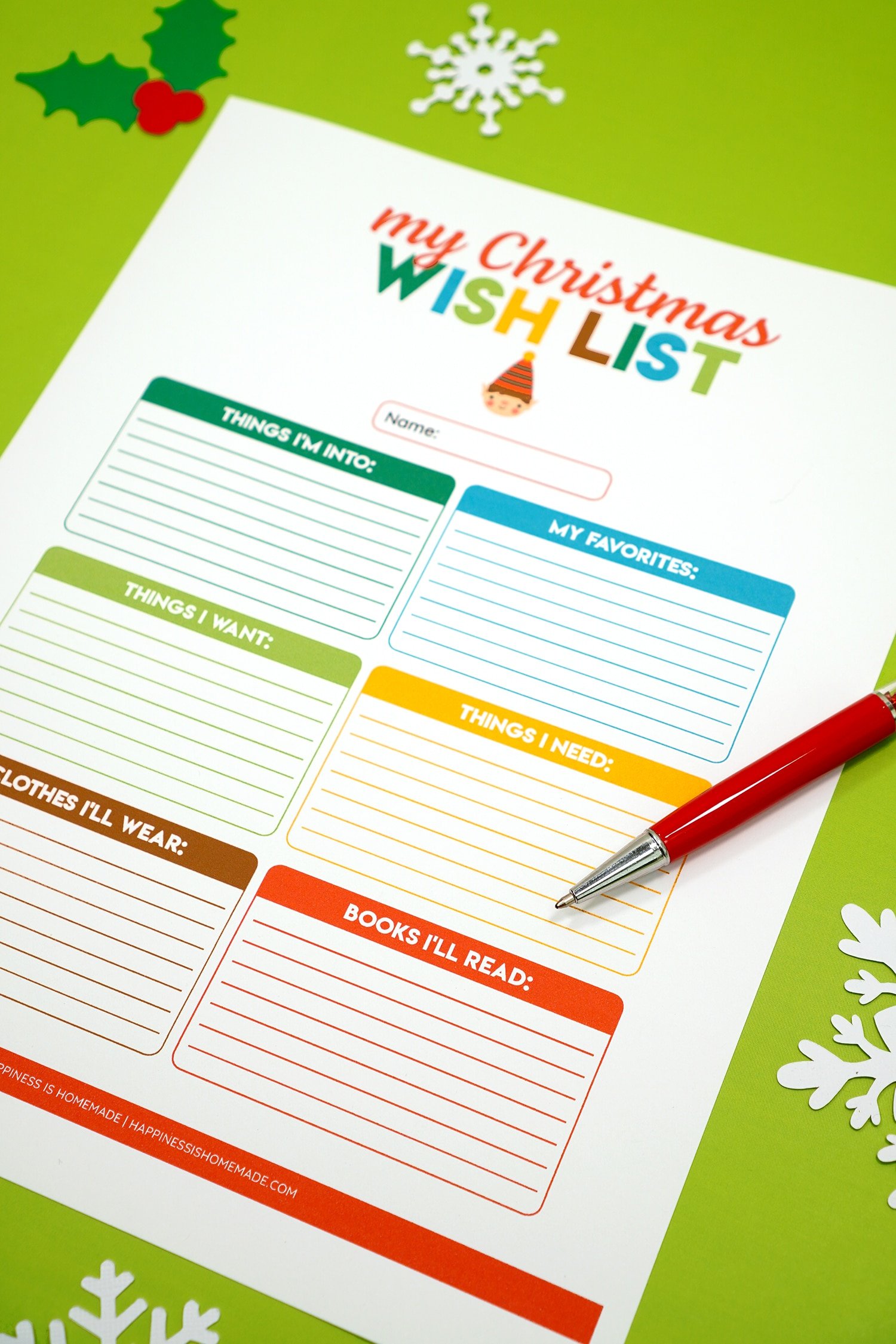 Children (and adults!) who have a difficult time coming up with wish list ideas may find it easier with this divided list format. Our list is broken down into the following sections:
Things I'm Into
My Favorites
Things I Want
Things I Need
Clothes I'll Wear (Don't forget to include sizes!)
Books I'll Read
If you'd like to avoid an overload of toys, you may want to suggest that your children consider listing some experiences they'd like to have under the "Things I Want" section. Some great ideas for experience gifts include zoo or museum tickets, movie passes, theme park tickets, waterpark passes, cooking or art classes, dance lessons, jump park passes, rope climbing, and more. Experience gifts can be made even more special when your child gets to spend the day with grandparents, friends, or extended family that they don't get to see very often!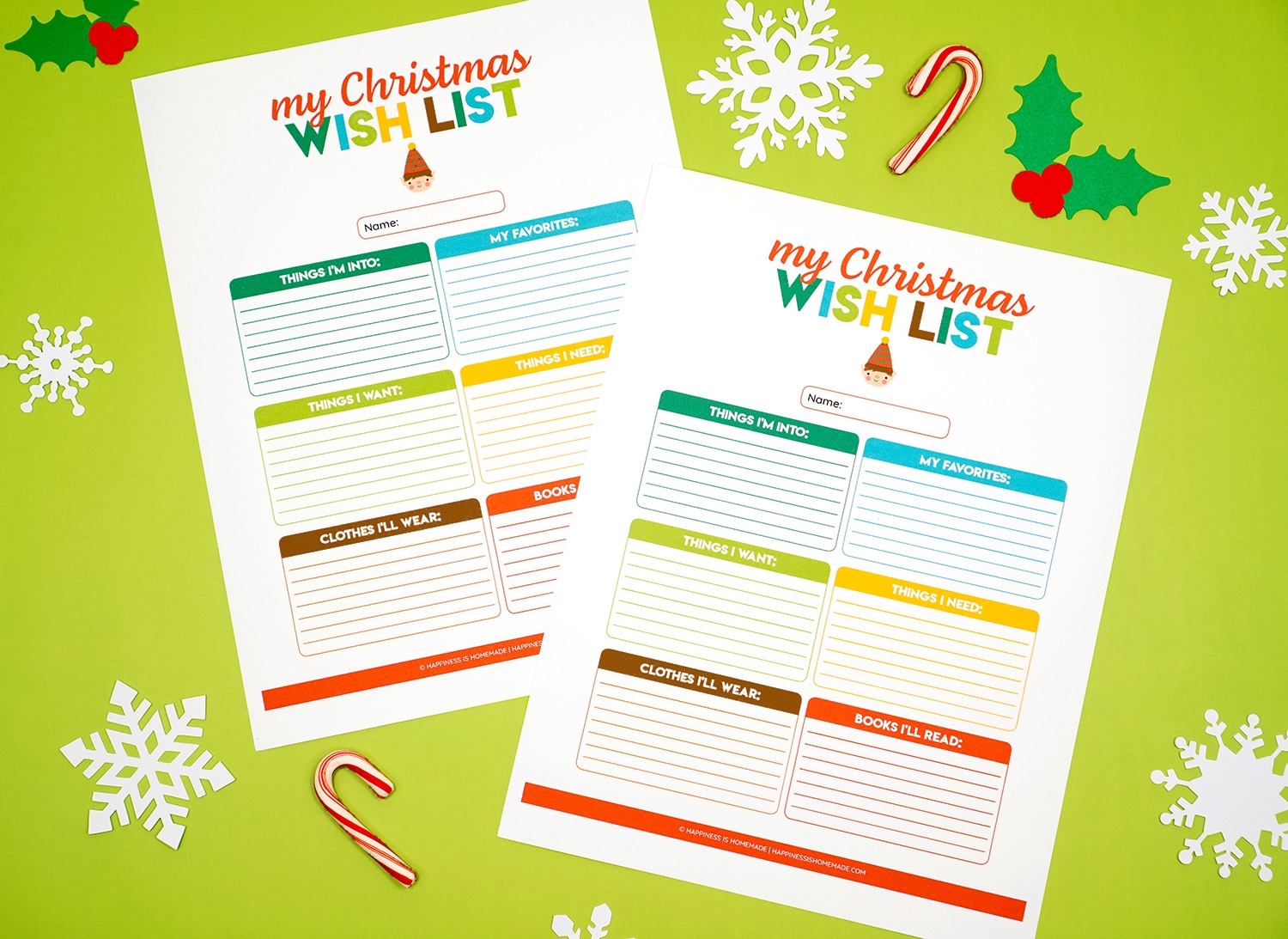 Our family likes to make a fun evening out of composing our Christmas wish lists – we'll make some hot cocoa, sit by the fire, and browse all of the holiday sales catalogs (or online holiday gift guides!) together. We chat about our most hoped for Christmas wishes and laugh at all of the silly items we run across. We also like to use our Christmas Gift Planner and Gifts to Make Checklist (part of our Ultimate Christmas Planner Bundle!) to jot down our favorite finds and make plans for the gifts that we want to give to all of our family and friends. It's always a good time!
---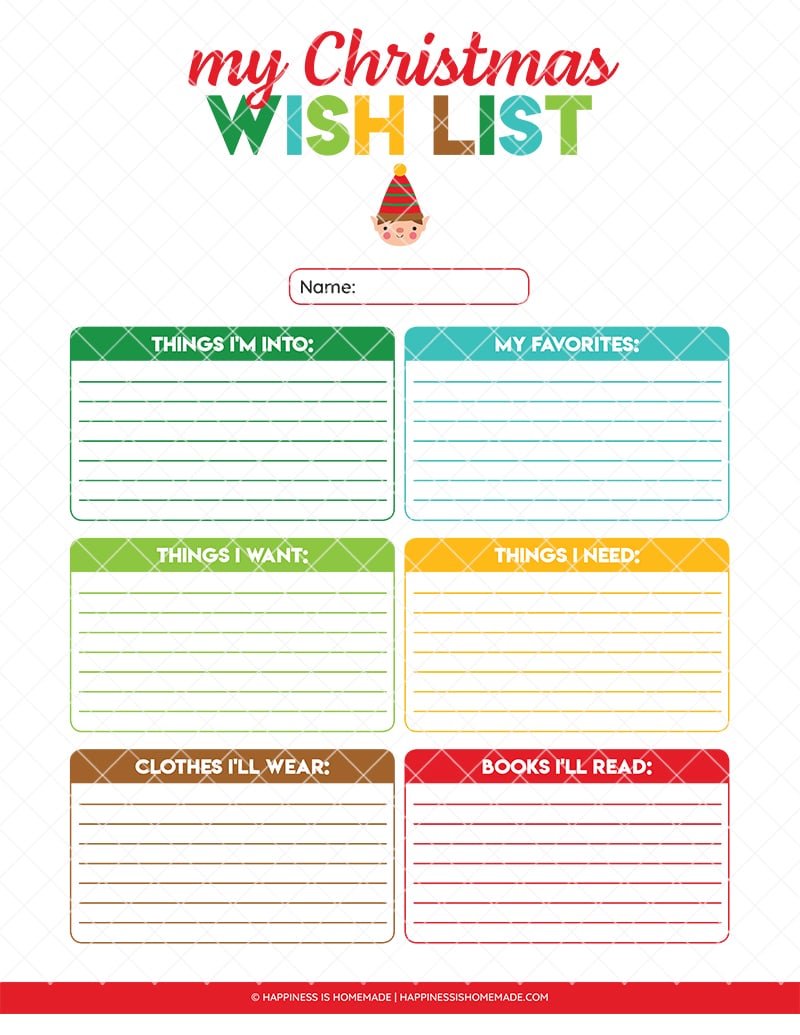 To get the Printable Christmas Wish List, enter your name and email into the form below and click the "Get It Now!" button.
---
Want to have the most organized and stress-free Christmas holiday EVER? Get our Ultimate Christmas Planner Bundle – on sale now!
---
What's at the top of your Christmas wish list this year?

Check out these other Christmas printables!
Don't Forget to Pin This Printable Christmas Wish List for Later!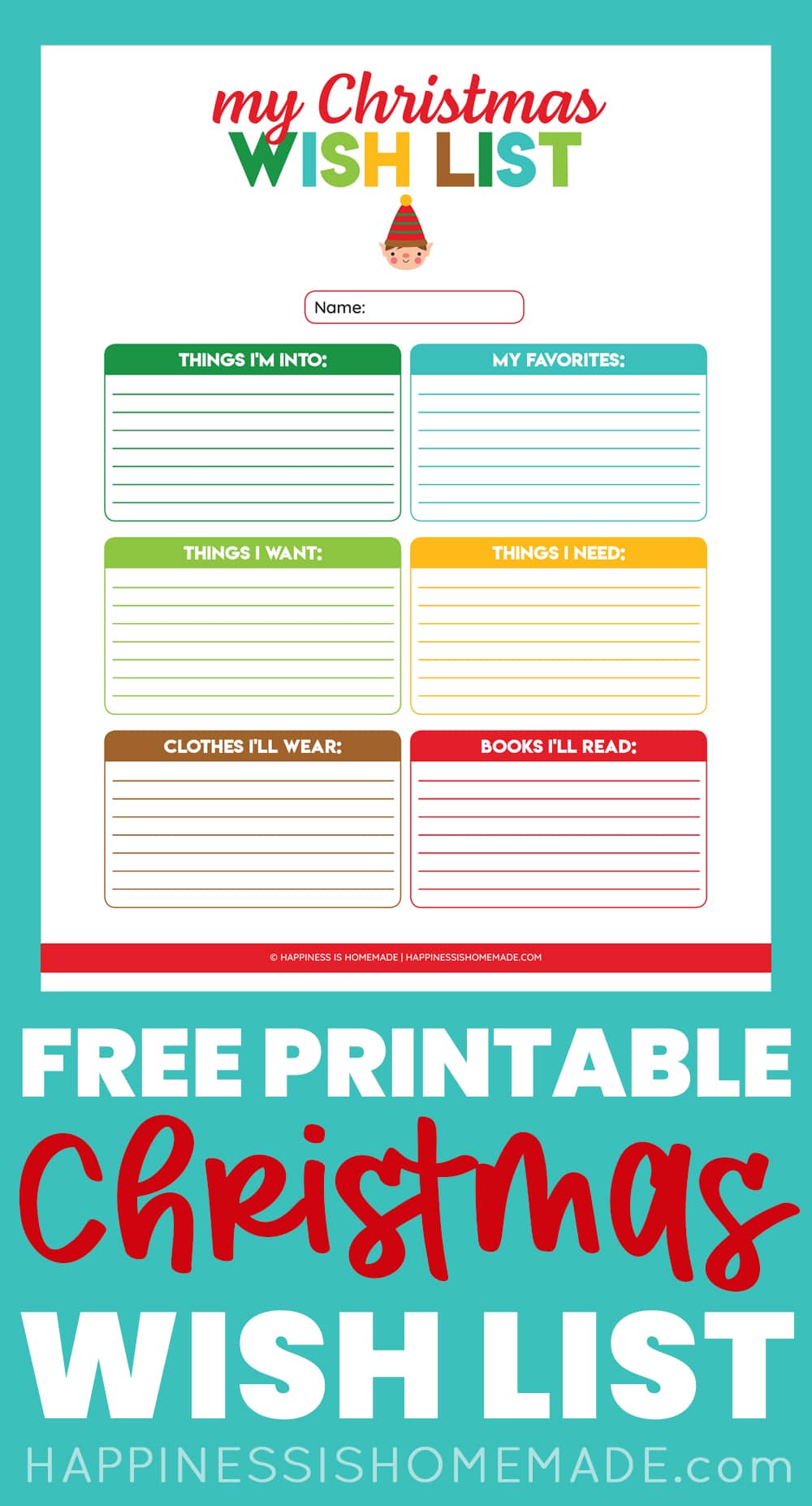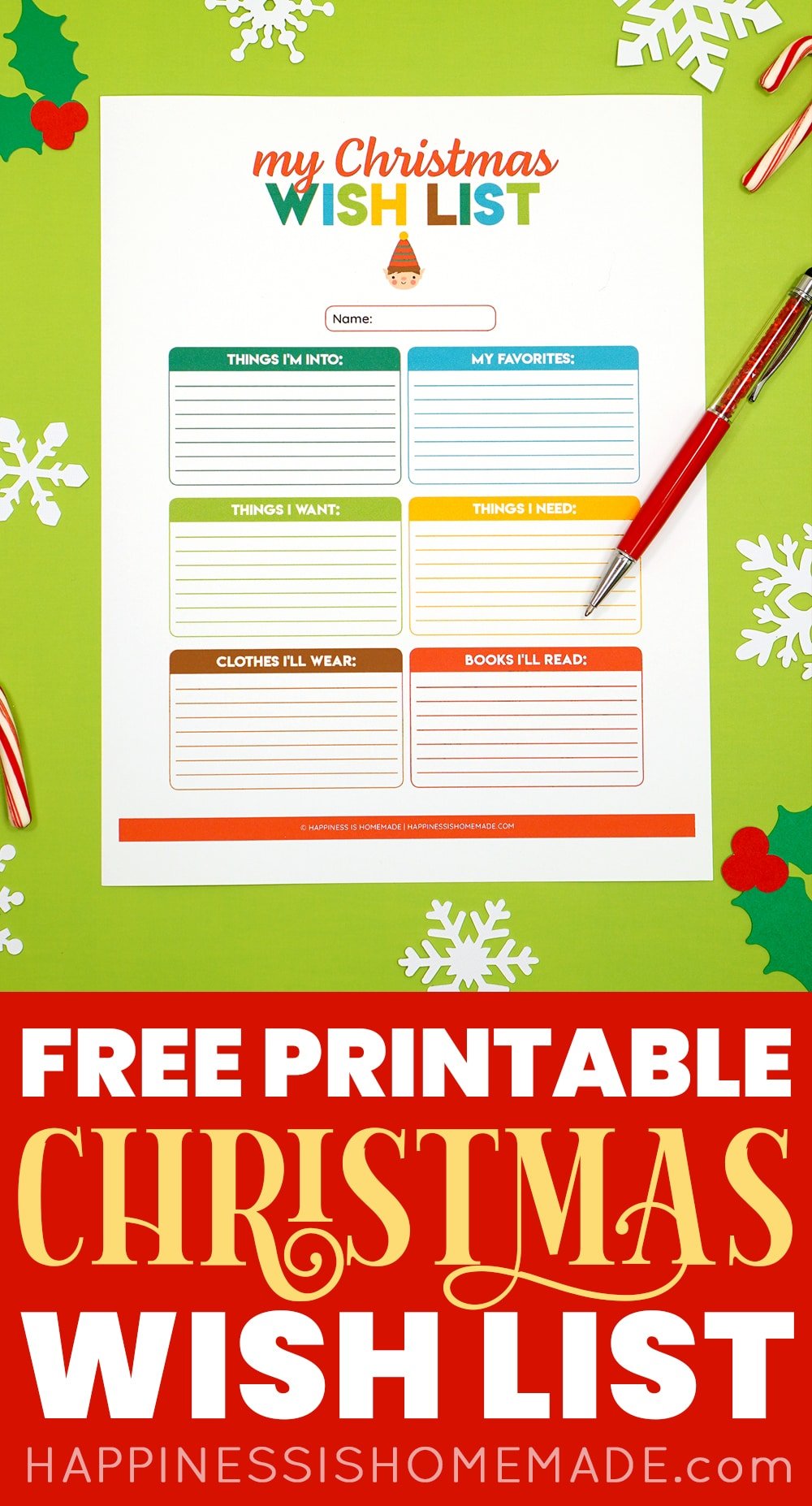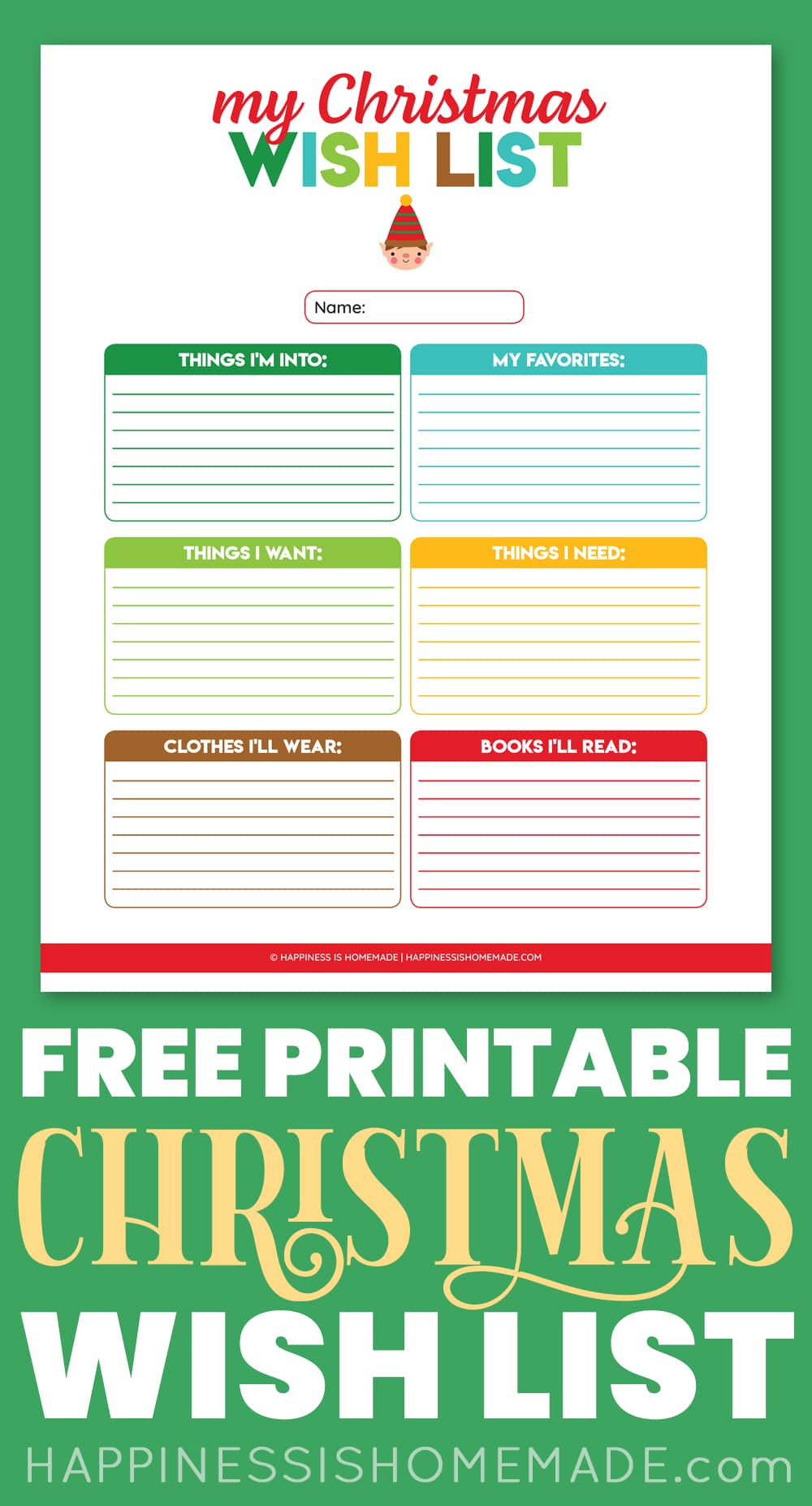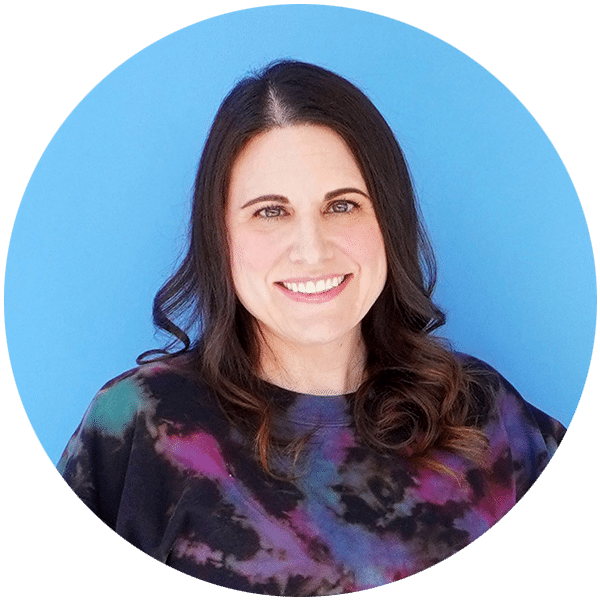 Heidi Kundin has captivated the hearts of millions with her colorful and inspiring approach to crafting, celebrations, and family fun. With over 15 years of experience, Heidi's website has become a must-visit destination for those seeking quick and easy creative ideas and last-minute solutions. Her warm personality shines through her posts, inviting readers to join her on a creative journey that's fun, rewarding, and achievable.