Free Printable Unicorn Bingo Game
This post and its photos may contain affiliate links. As an Amazon associate I earn from qualifying purchases. If you make a purchase through these links, I may receive a small commission at no extra cost to you!
Download our FREE Printable Unicorn Bingo Game Cards to play this fun and colorful unicorn game! This Unicorn Bingo Game is a blast for kids and adults of all ages – perfect for a unicorn birthday party, family game night, sleepover, unicorn-themed baby shower, and more!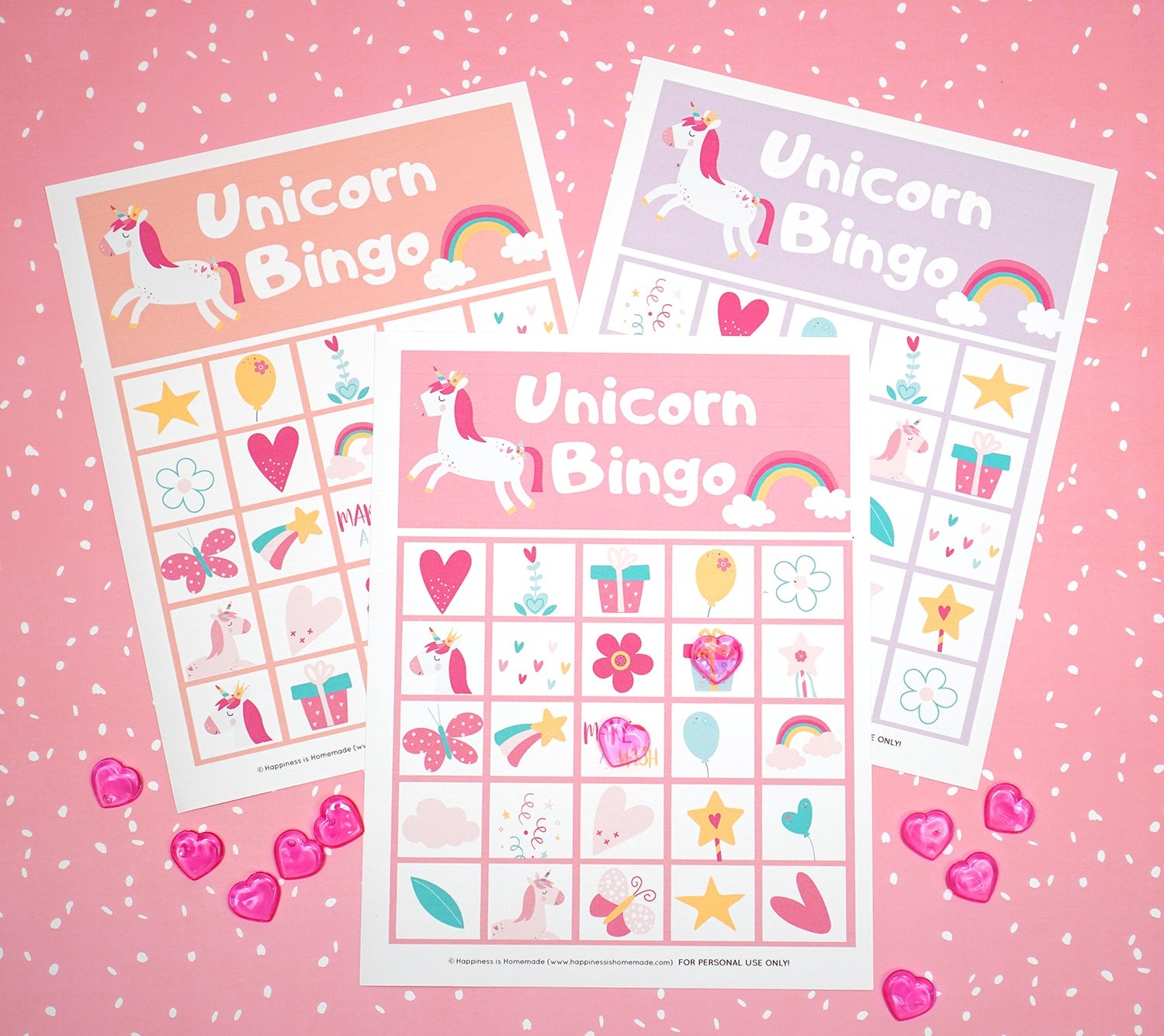 This post may contain affiliate links. I will receive a small commission from these sales at no additional cost to you!
Printable Unicorn Bingo Game Cards
We all know it, and we all love it—Bingo is a classic party game for good reason! It's easy to understand for even the youngest players, and there are opportunities for lots of winners.
This Unicorn Bingo is whimsical, colorful, and loads of fun, especially for little kids who are obsessed with all things unicorns! We've included calling cards and eight different versions of the bingo game cards, so it's perfect for a family game night or a small birthday party! The cards are all image-based, so even younger kids who can't read yet can play along.
Be sure to scroll all the way to the bottom of this post for 15 more Totally Free Unicorn printables that I know you're going to love!
Unicorn Bingo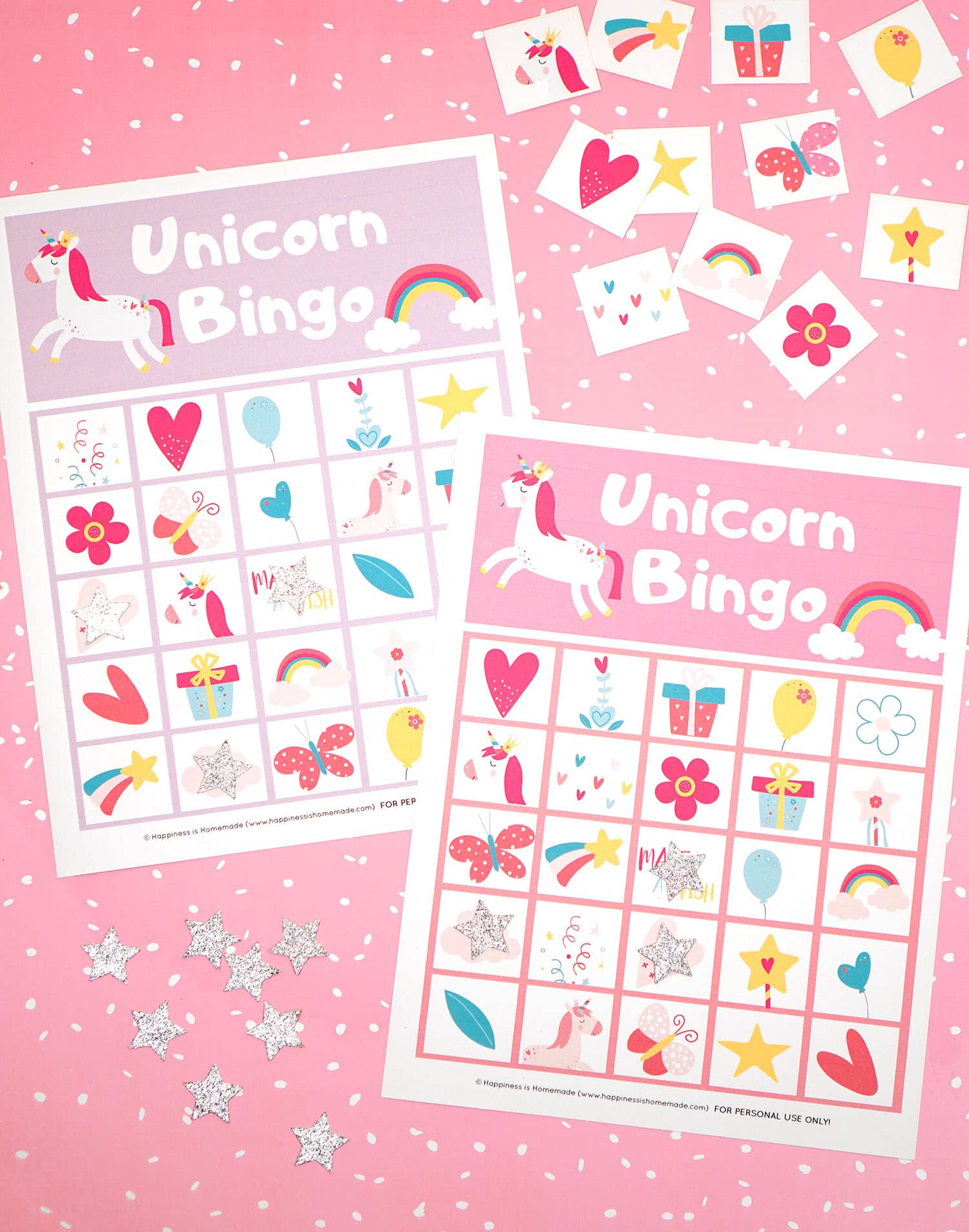 Materials Needed to Play Unicorn Bingo

:
Printable Unicorn Bingo Game Cards (get the download below!)
Scissors or Paper Trimmer (we LOVE our Cricut Paper Trimmer for jobs like this!)
Bowl, jar, hat, etc. for the calling card pieces
Bingo markers or a pen/pencil for each player
Someone to act as the Bingo Caller
Unicorn-themed party favors for prizes (We suggest making our Unicorn Body Scrub!)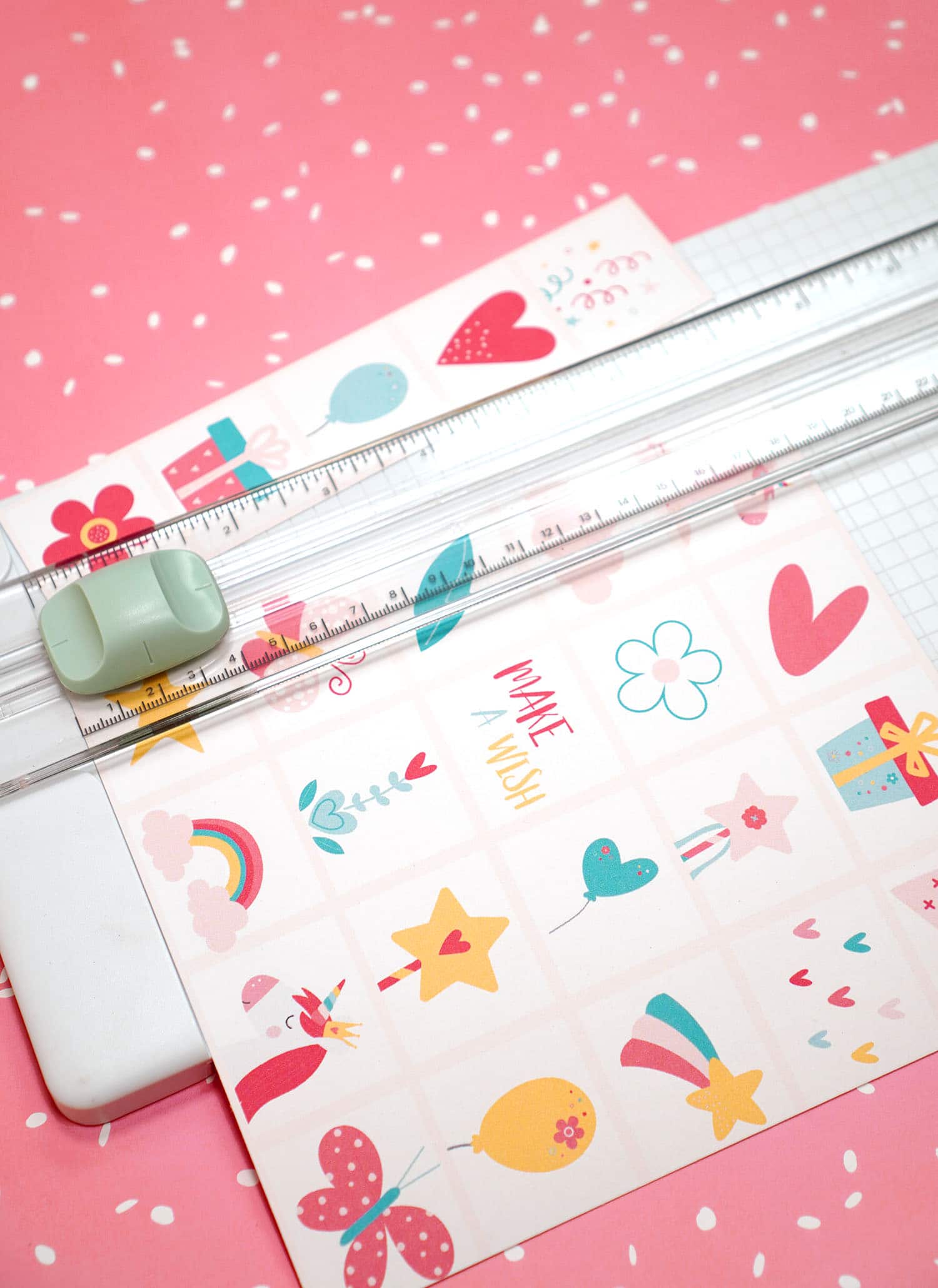 Now that you have everything you need, let's play the game! Simply cut up the calling card, put the pieces into the jar, and hand out playing cards and markers to all the players.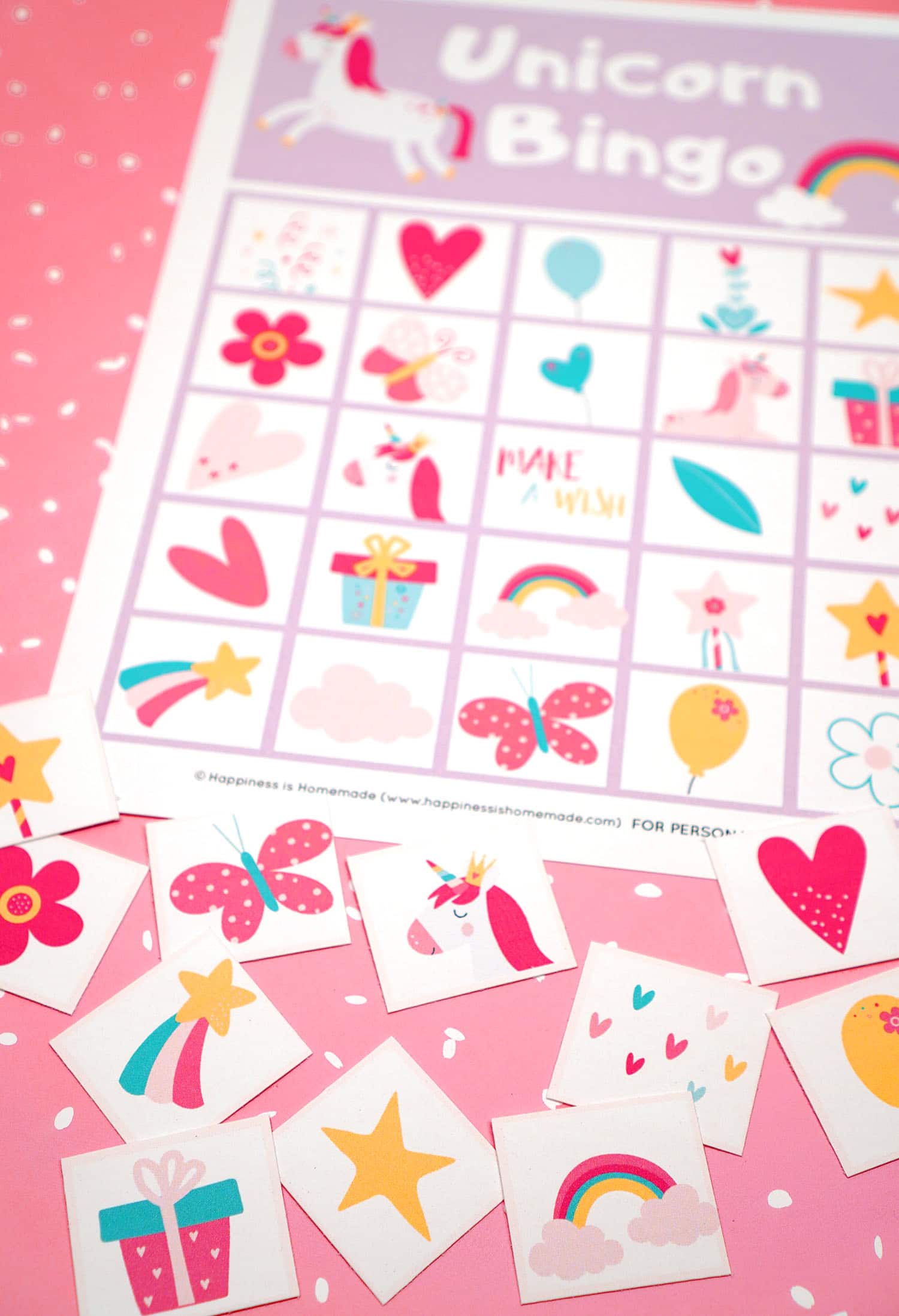 How to Play Unicorn Bingo
Each player gets a Unicorn Bingo card and Bingo markers or a pen/pencil to mark off the spaces.
Players mark off the FREE space, which on this card is labeled, "Make a Wish."
The Bingo Caller pulls a card from the jar or bowl and describes/shows it to the crowd. For example, the Caller may say, "yellow balloon" or "pink unicorn."
Players mark off the corresponding spot on their game cards.
To win the game, a player must cover 5 spaces in a row (can be horizontally, vertically, or diagonally) and shout out "BINGO!" before any of the other players.
The Caller can tell everyone to clear their cards and begin another round or continue playing the same round until another bingo is called.
Pretty simple, right? If you'd like a version that's a little more challenging, try Four Corners Bingo! That's where the first person who gets all four corner spots first wins.
Note: these Unicorn Bingo cards all contain the same images rearranged, so they won't work for full-card blackout bingo – everyone would get BINGO at the same time!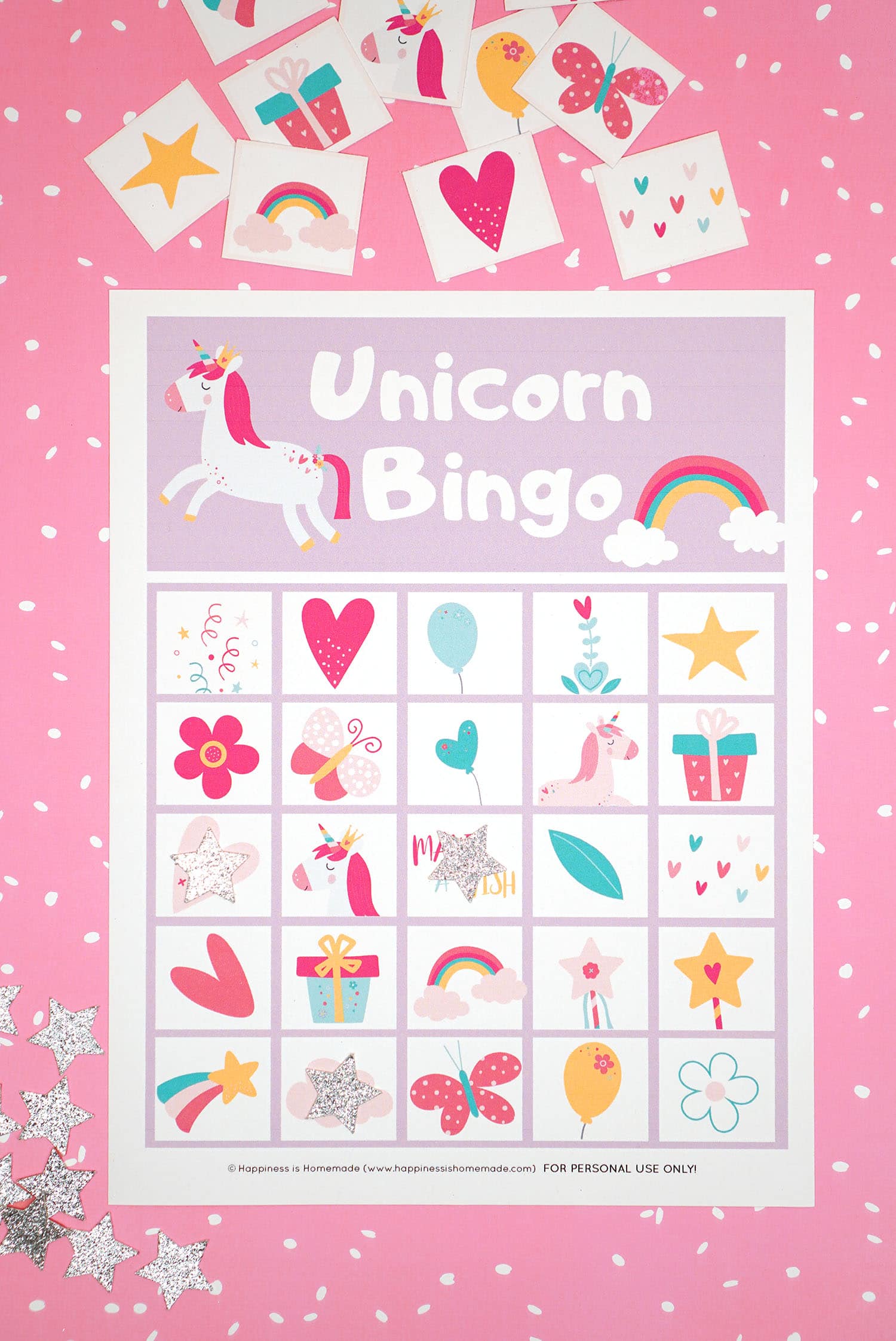 Tips for Printing the Unicorn Bingo Game
We recommend printing this unicorn bingo game on heavy cardstock for best results, and if you plan to use these again for parties or in the classroom, we recommend laminating the game cards for even further durability (we LOVE our laminator!). You can also use dry-erase markers to mark the laminated game cards for many, MANY rounds of bingo fun!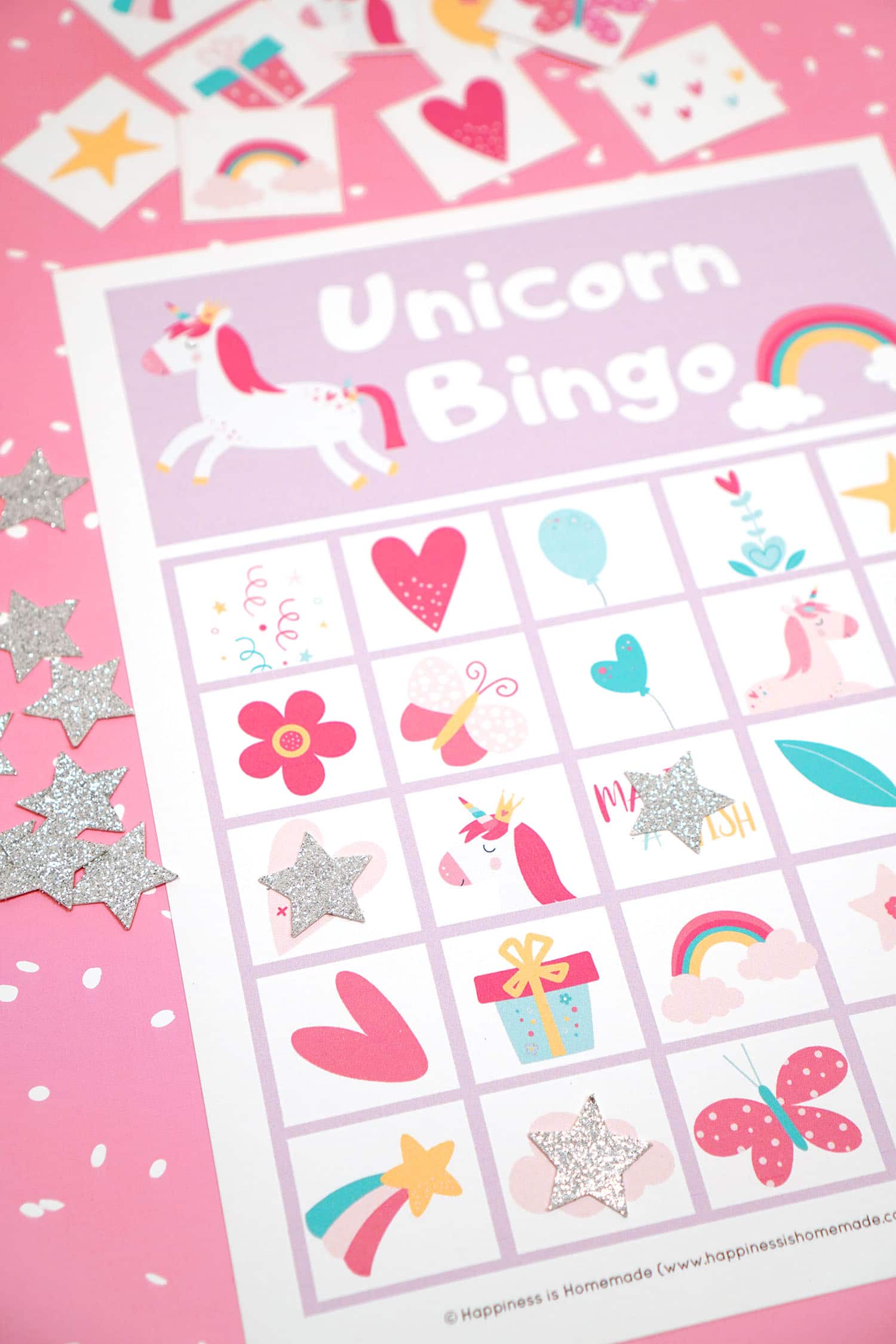 Items to Use as Bingo Markers
If you plan to save the cards and reuse them for another party (or play multiple rounds of Bingo), it's best not to let your guests mark them up with pens and pencils. Instead, use one of the following to mark the Bingo cards as you go along: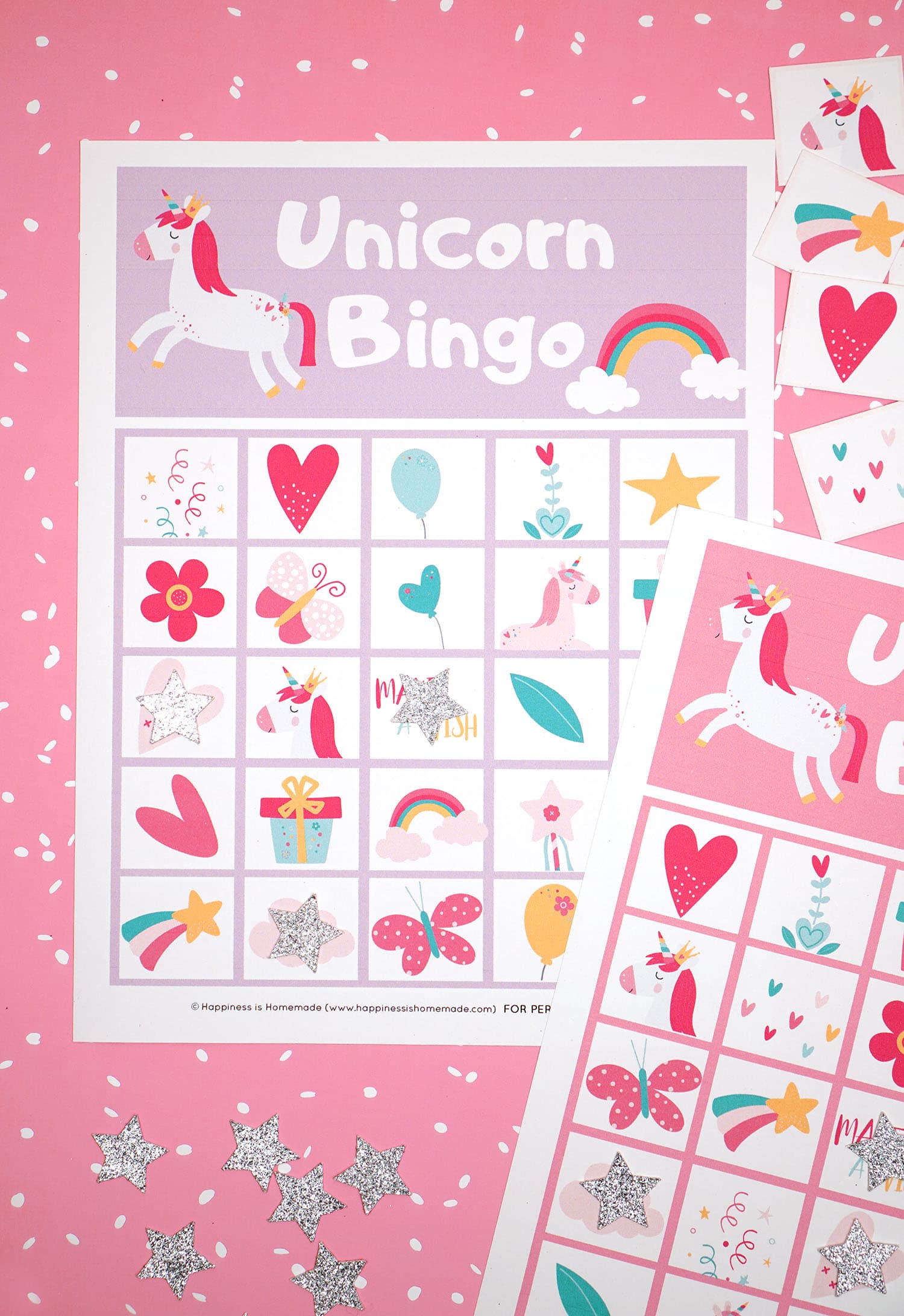 ---
Download the Unicorn Bingo Printable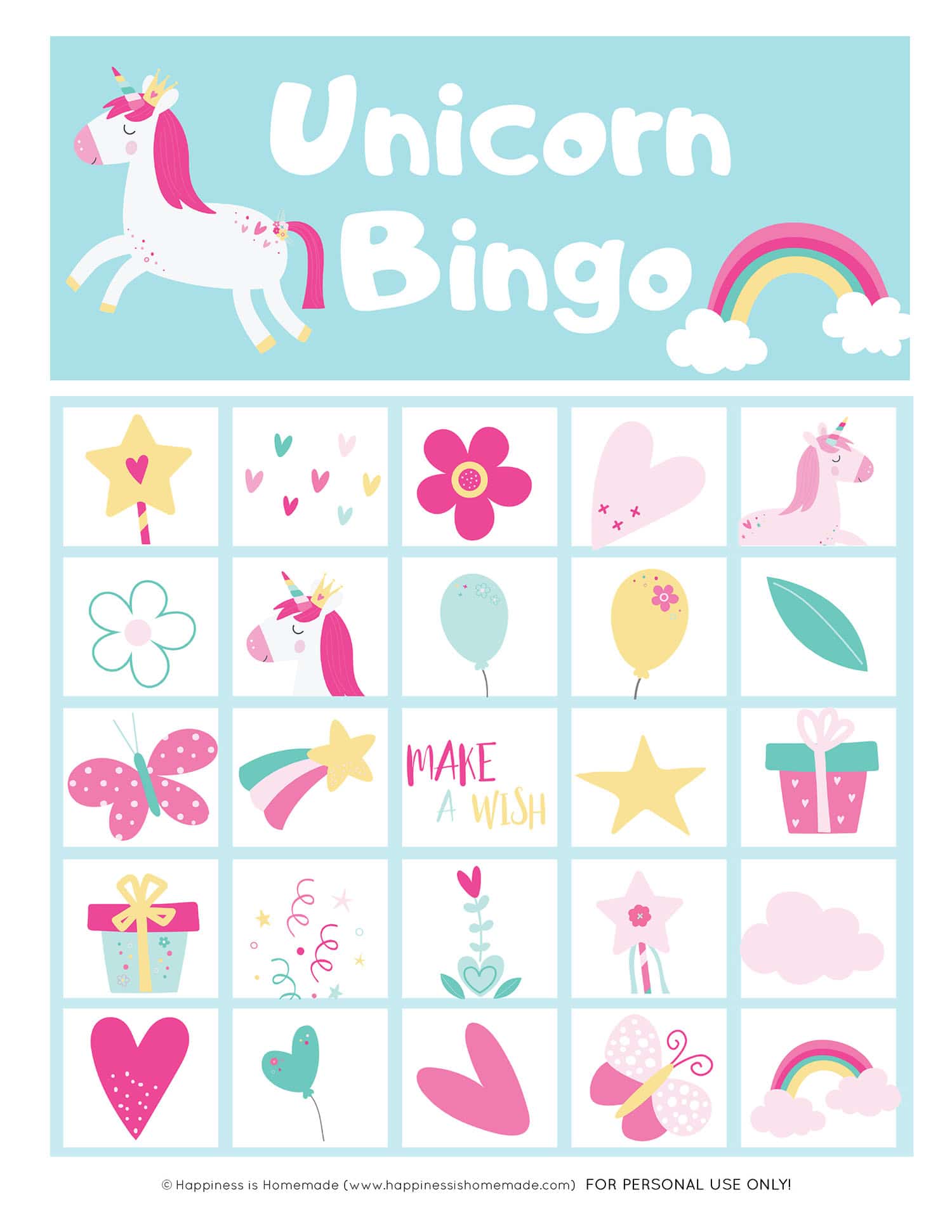 To get the Unicorn Bingo Printable, enter your name and email address into the form below and click the "Get It Now!" button!
File is for Personal Use Only! Read our full license terms here.
---
15 More Unicorn Printables
If you like my Unicorn Bingo Printable, you're going to LOVE these Unicorn printables from my Totally Free friends!
Click on the links below to be taken to the download page for each individual file:
We hope you have a ton of fun playing our cute unicorn bingo game and using all of these amazing unicorn printables!

Check out these other printable games!
Don't Forget to Pin This Unicorn Bingo Game for Later!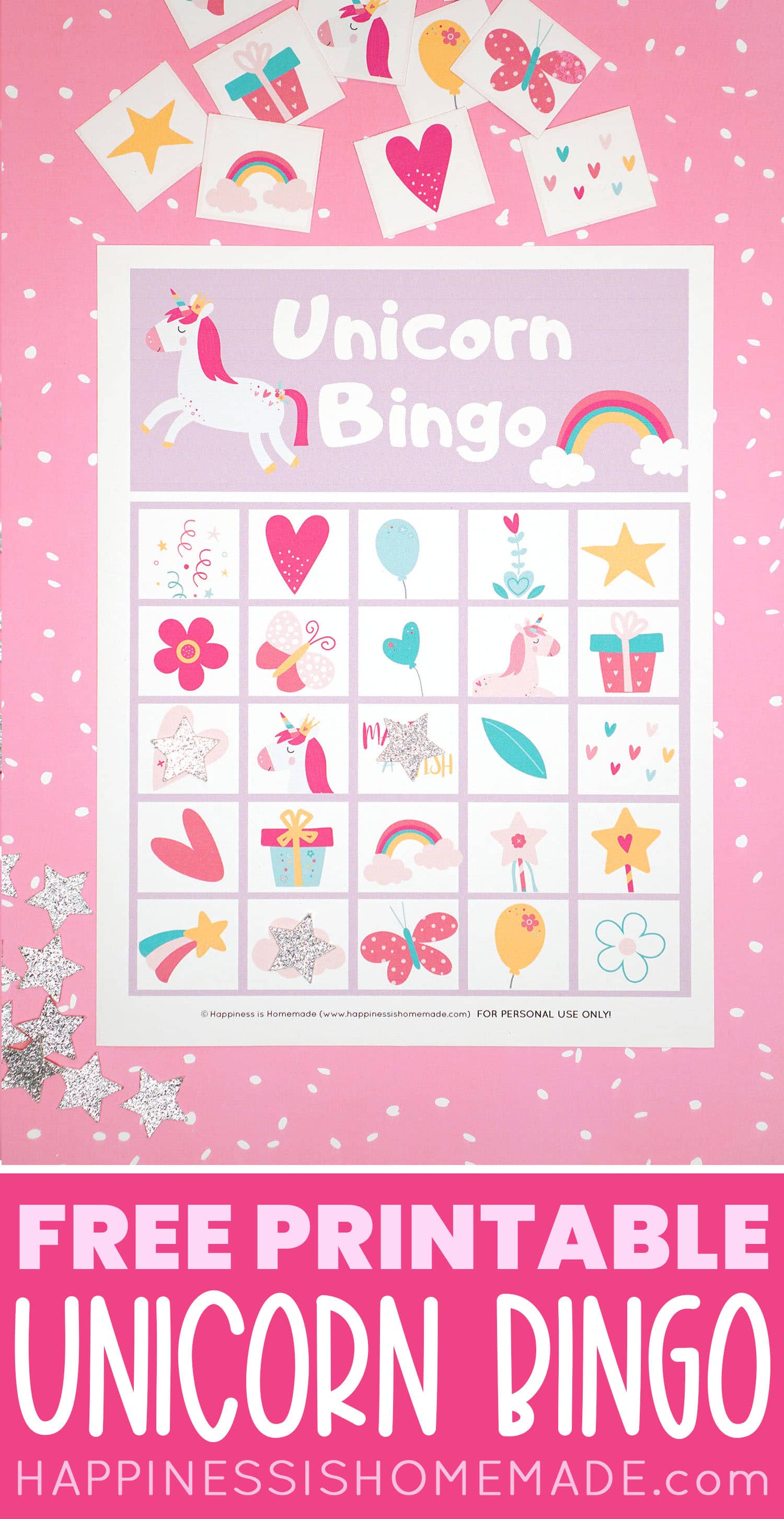 ---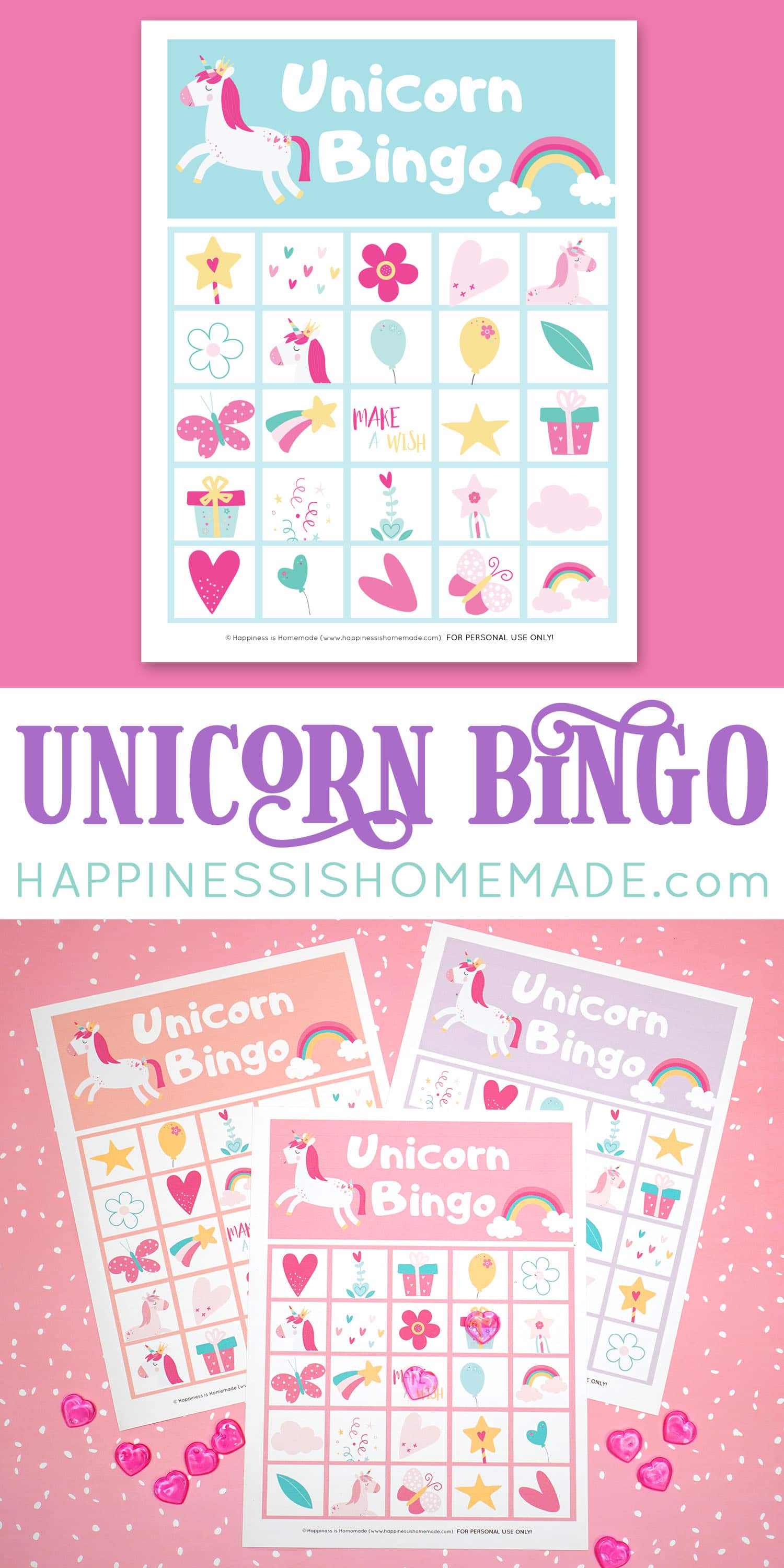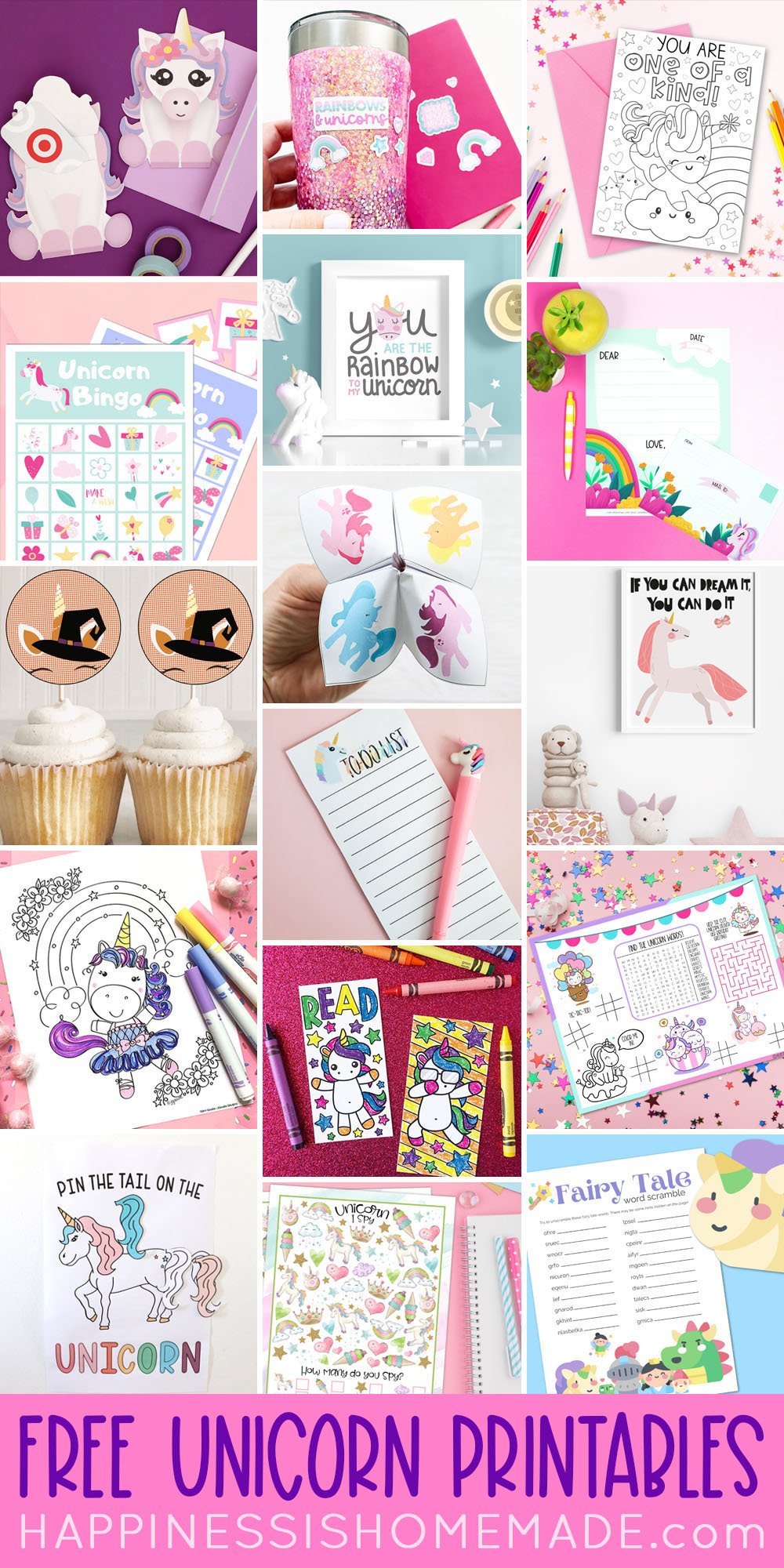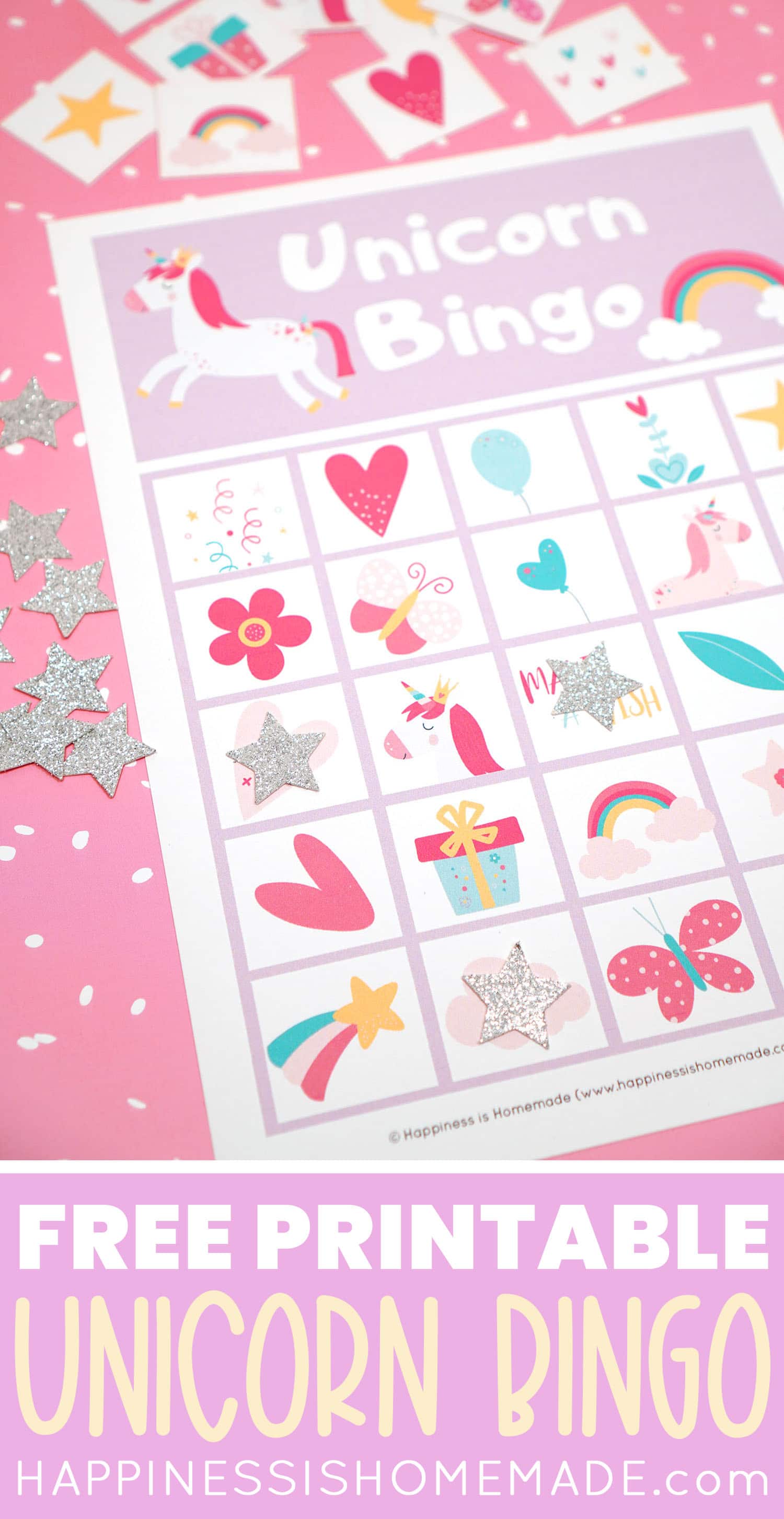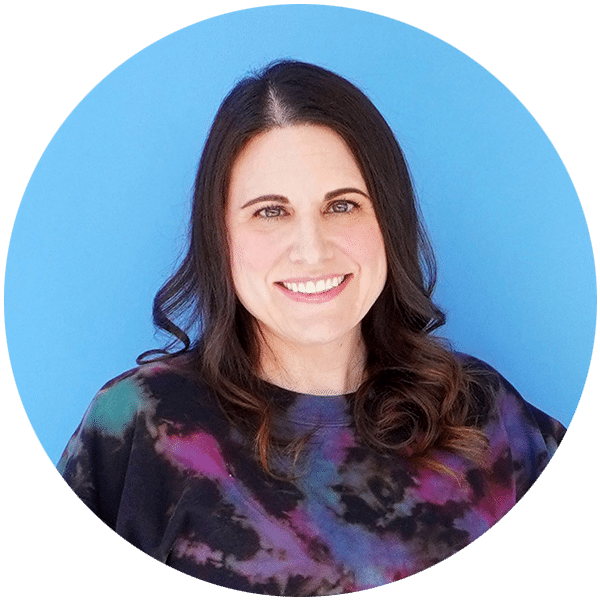 Heidi Kundin has captivated the hearts of millions with her colorful and inspiring approach to crafting, celebrations, and family fun. With over 15 years of experience, Heidi's website has become a must-visit destination for those seeking quick and easy creative ideas and last-minute solutions. Her warm personality shines through her posts, inviting readers to join her on a creative journey that's fun, rewarding, and achievable.