DIY Rainbow Macramé Earrings
This post and its photos may contain affiliate links. As an Amazon associate I earn from qualifying purchases. If you make a purchase through these links, I may receive a small commission at no extra cost to you!
Cute DIY Rainbow Macramé Earrings are super quick and easy to make! These adorable and trendy rainbow earrings would make a fantastic DIY gift idea!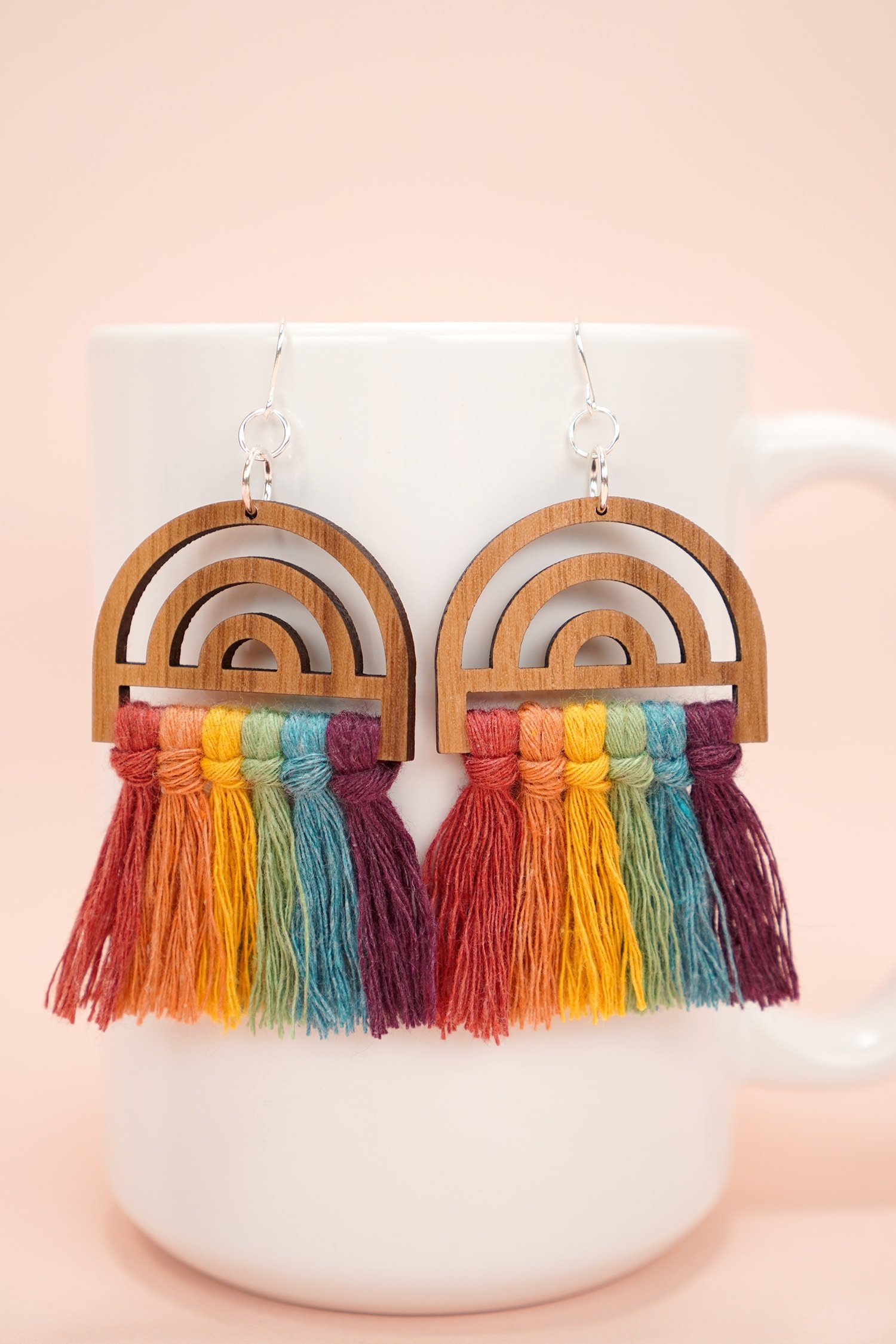 This post may contain affiliate links. I will receive a small commission from these sales at no additional cost to you!
Hi friends! I hope you're all doing well! This past weekend, I made one of my most favorite projects EVER, and I could NOT wait to share it with you!
These DIY rainbow macramé earrings require just a few simple supplies, and they make a HUGE impact! Make them in lots of different color combinations to match your entire wardrobe, and be sure to keep a few extra pairs on hand – they make an AWESOME gift idea!
DIY Rainbow Macramé Earrings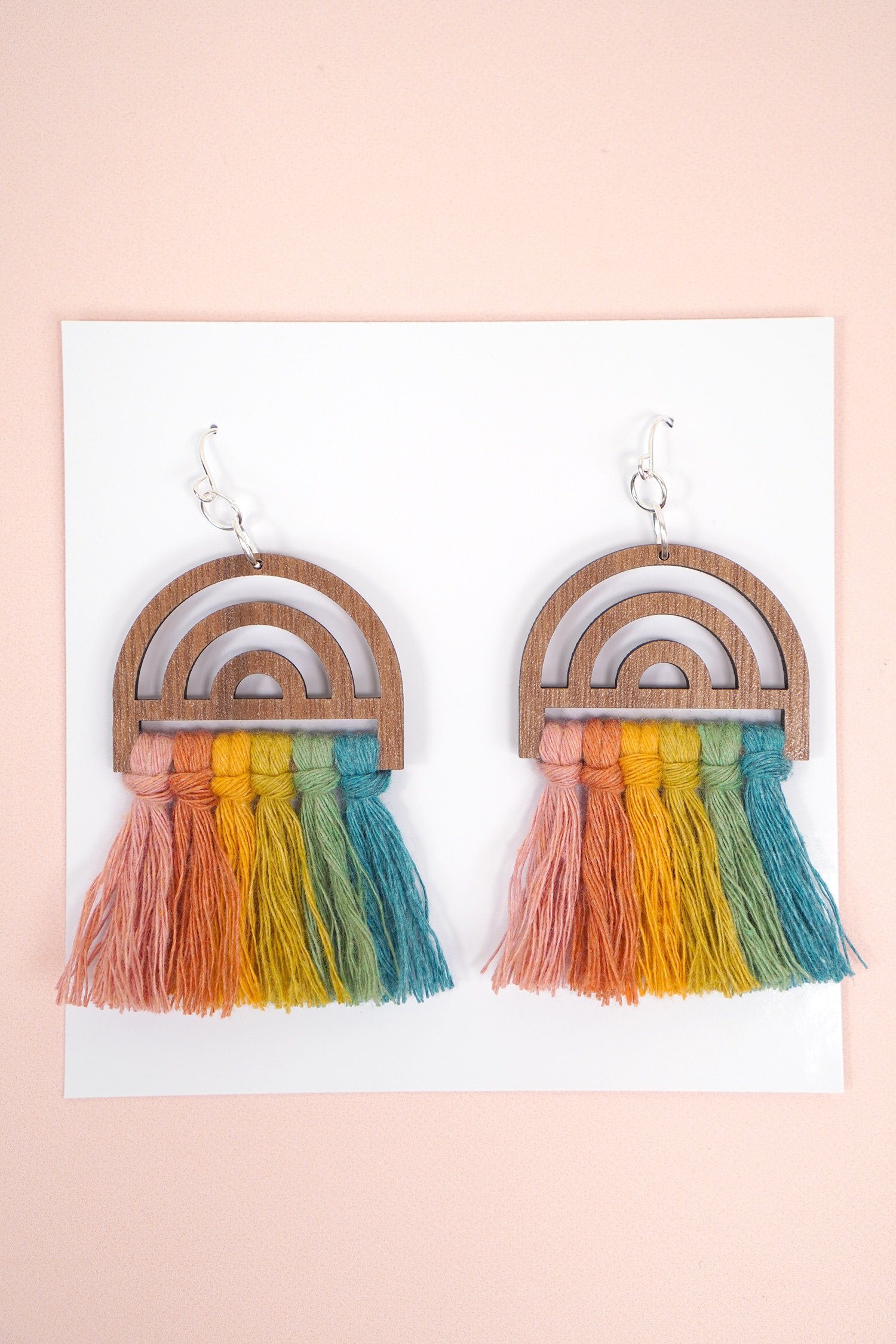 If you have a Glowforge, I'll show you how to cut the rainbow pieces from a sheet of hardwood; if not, we also have the precut rainbow jewelry findings available in our shop!
P.S. If you don't have a Glowforge, but you've had your eye on one, you can use our special Glowforge link to save up to $500 on your machine!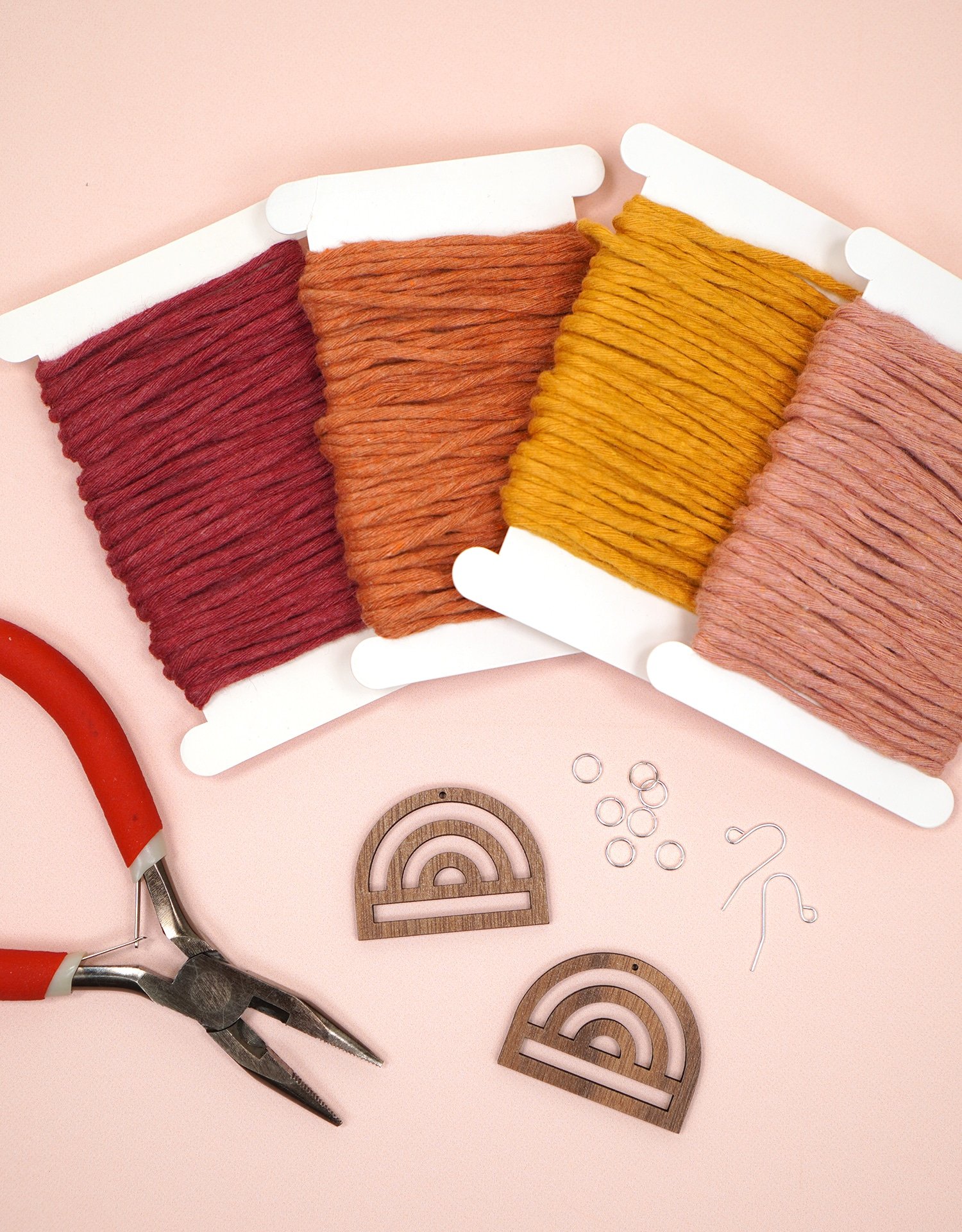 Supplies Needed to Make Rainbow Macramé Earrings:
---
Get the Rainbow Earring Findings Here:
---
How to Make Rainbow Macramé Earrings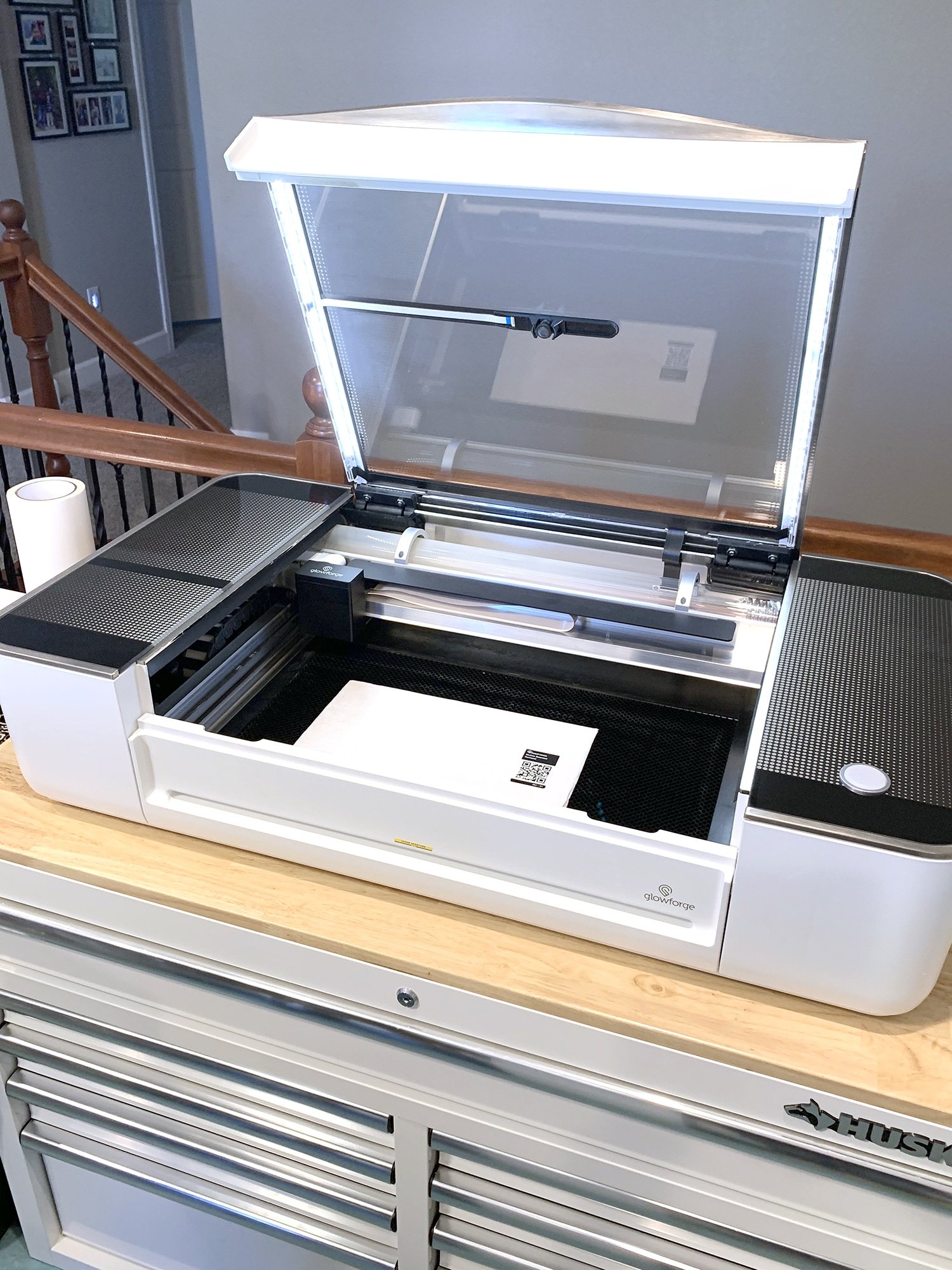 I love, love, LOVE to use my Glowforge Pro for cutting projects like these wood earrings, and it is SUPER quick and easy to use!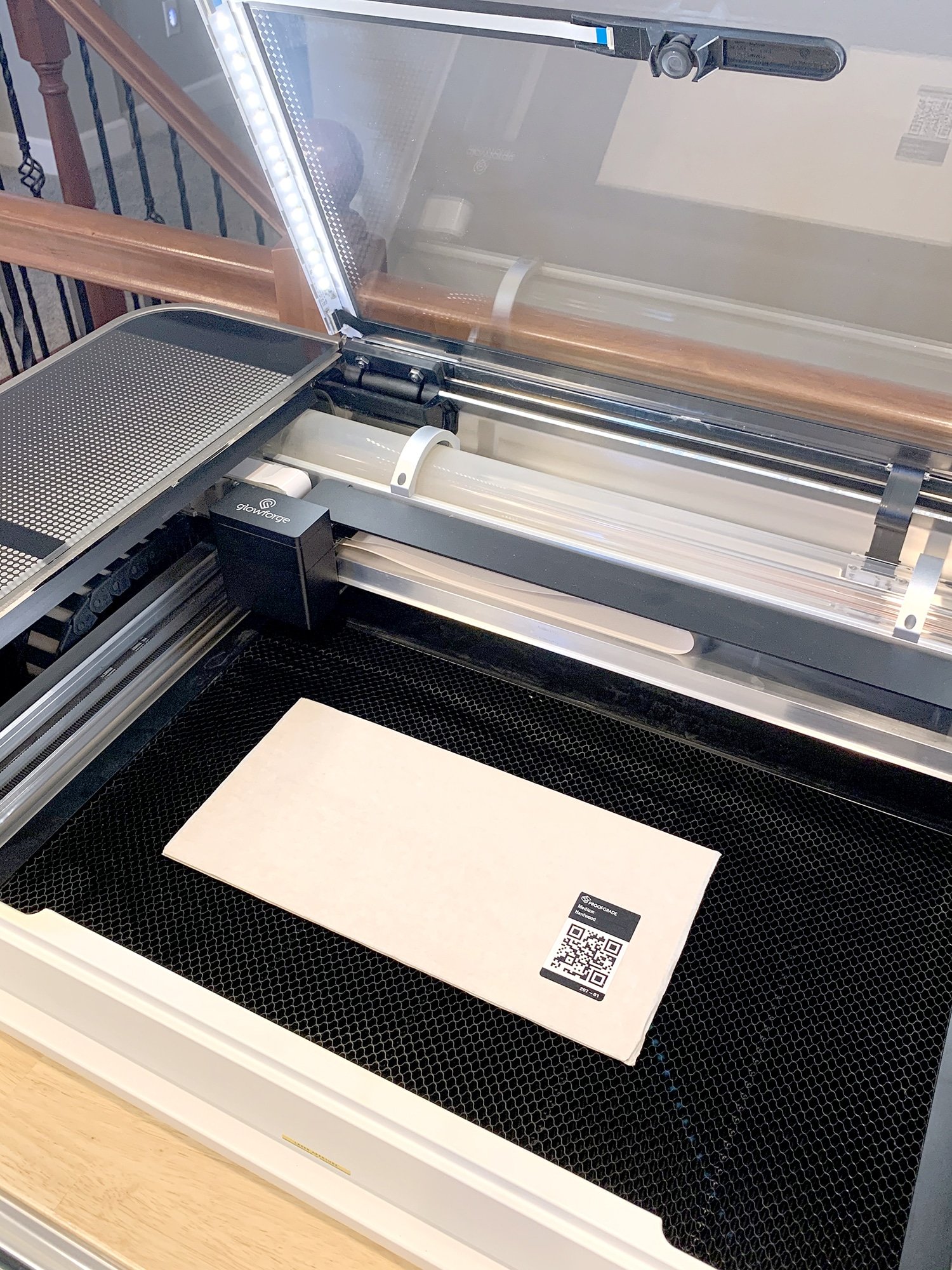 Start by placing a sheet of hardwood in the bed of your Glowforge – I used Proofgrade Walnut Hardwood, but any type of hardwood will work.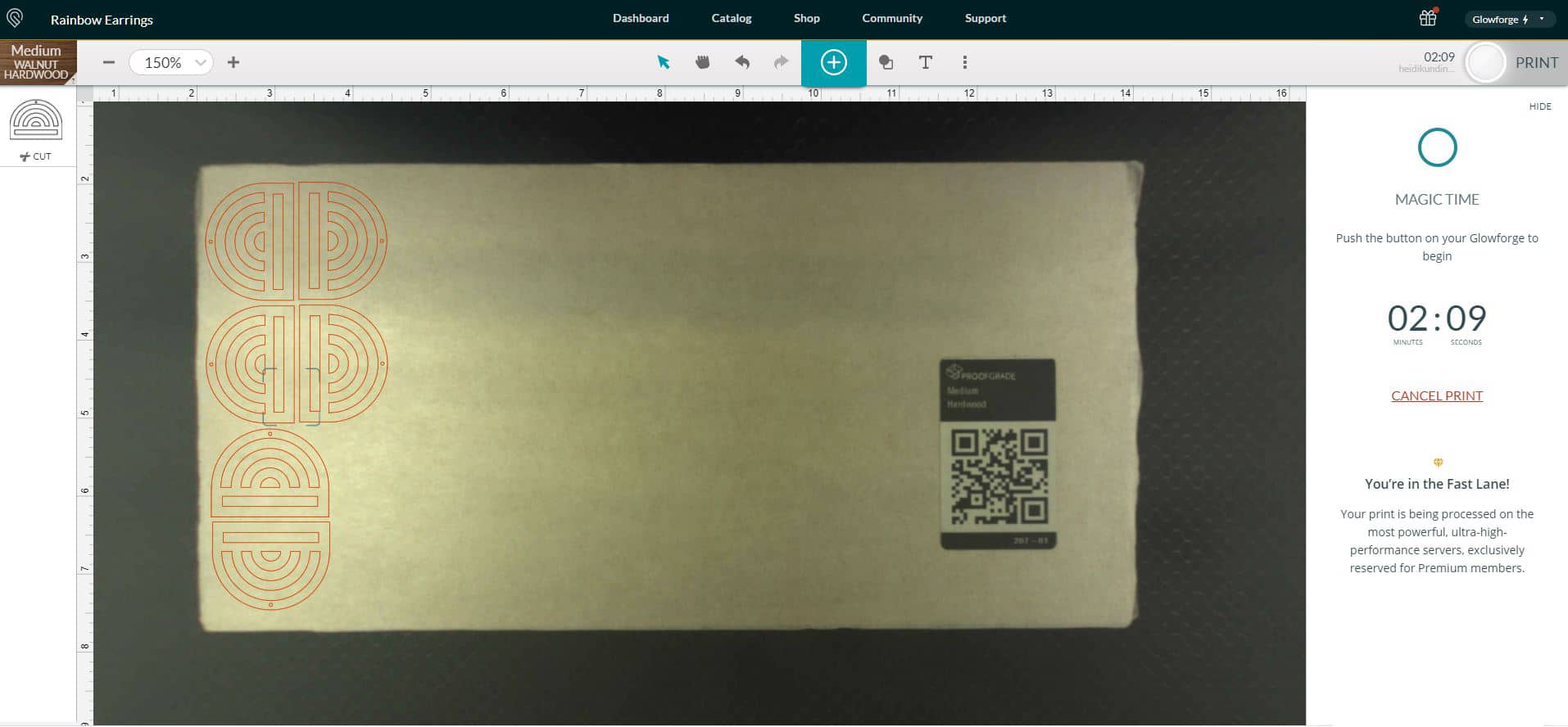 Open up the Glowforge App software, click the teal "+" button in the upper center of the screen, and upload the rainbow earrings SVG file (available below). Arrange the SVG pieces on your sheet of wood, select your material, and click "Print" in the upper right hand corner. The software will calculate the cutting time and let you know just how long it will take – it only took me two minutes and nine seconds to cut three pairs of earrings!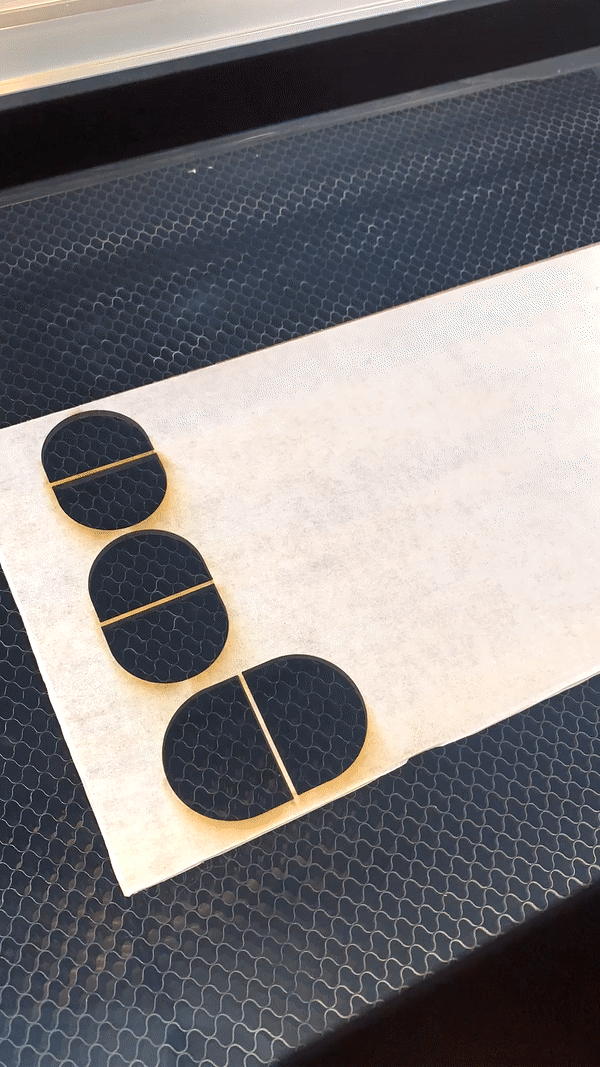 Push the button, and watch your Glowforge do all of the hard work for you! It's like magic!
Next, cut two pieces of macramé cord to size. Depending on how long you want your rainbows to hang, somewhere between 4-6 inches is a good size.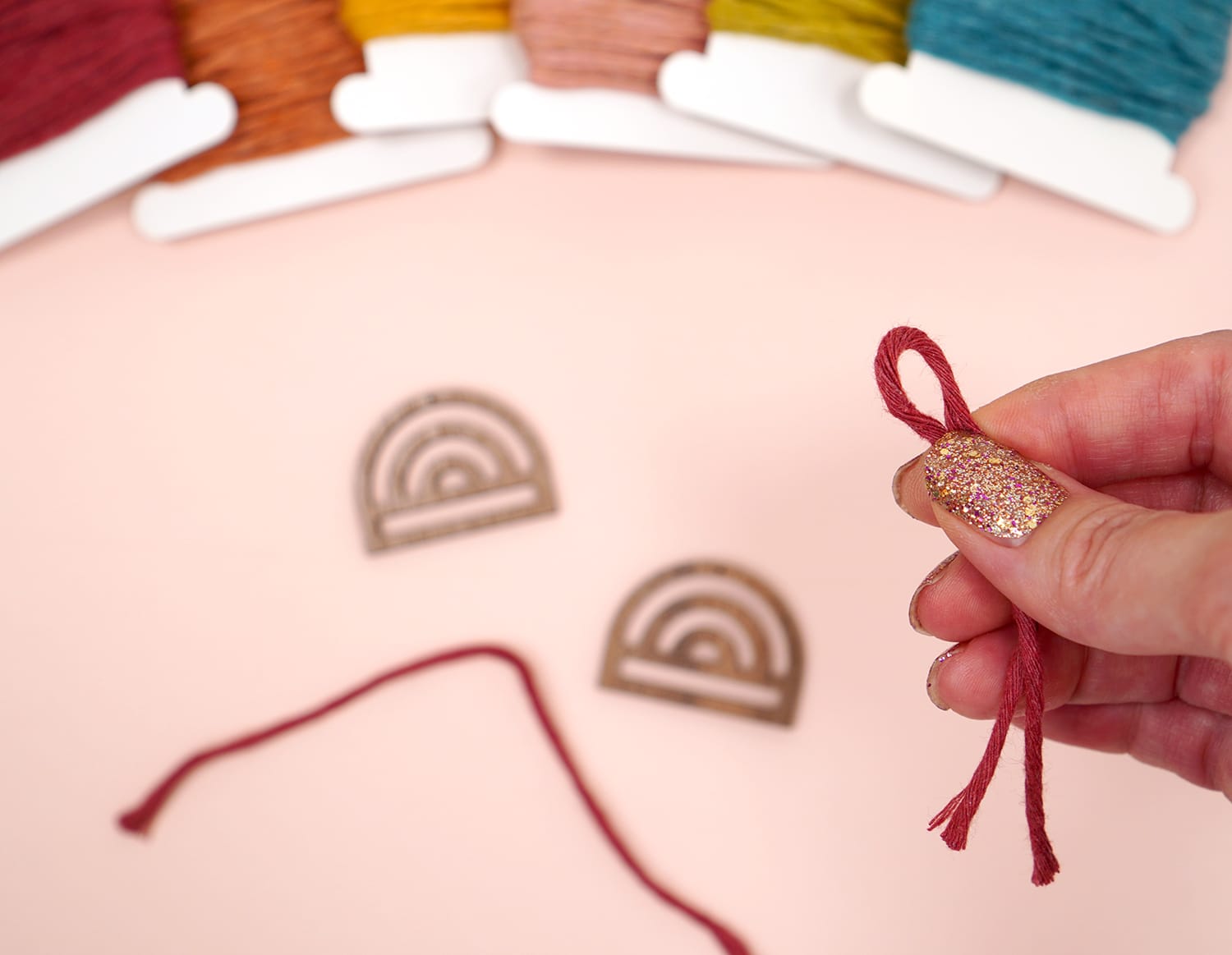 Loop one of the strings in half.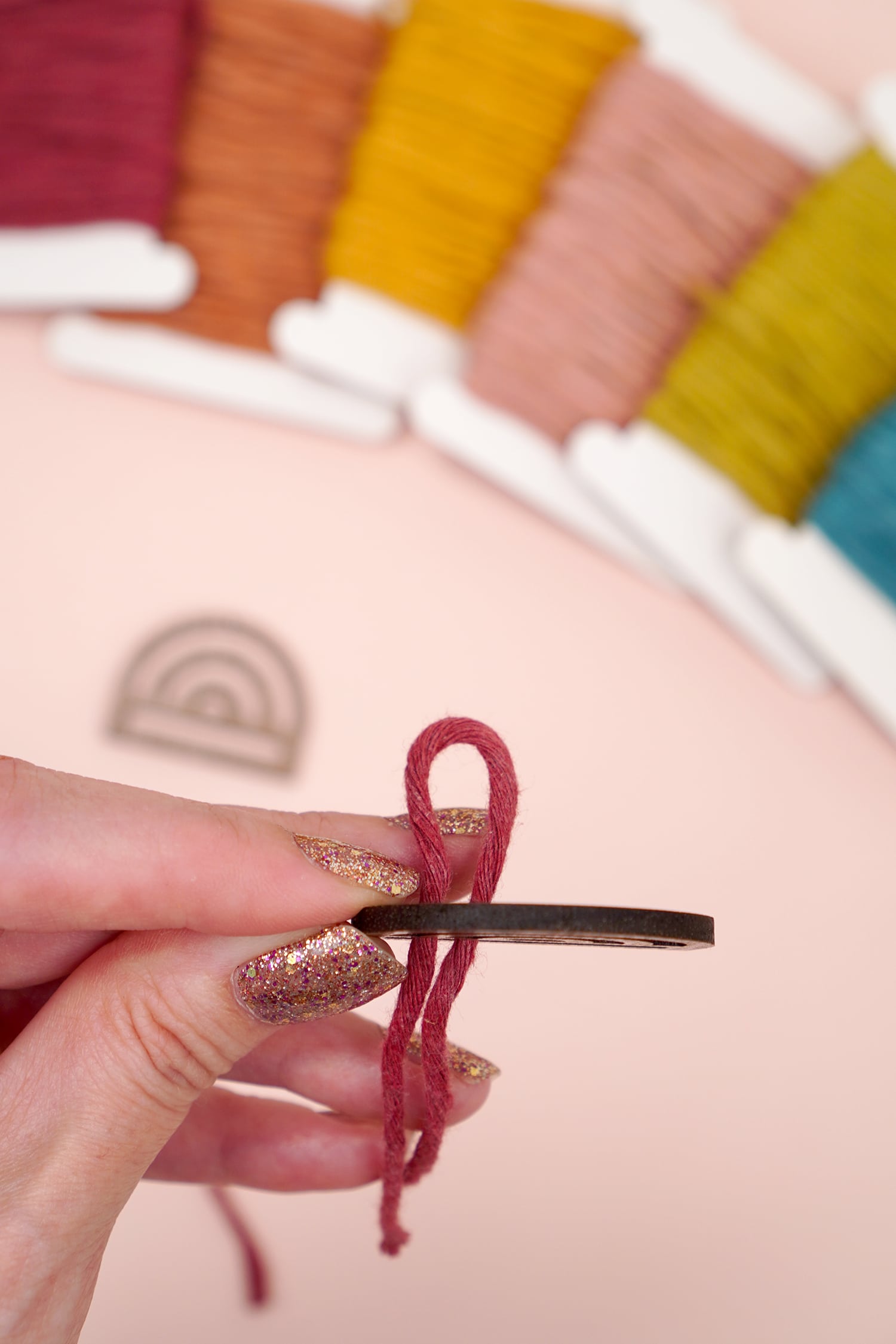 Thread the looped end through the horizontal opening in the rainbow earring.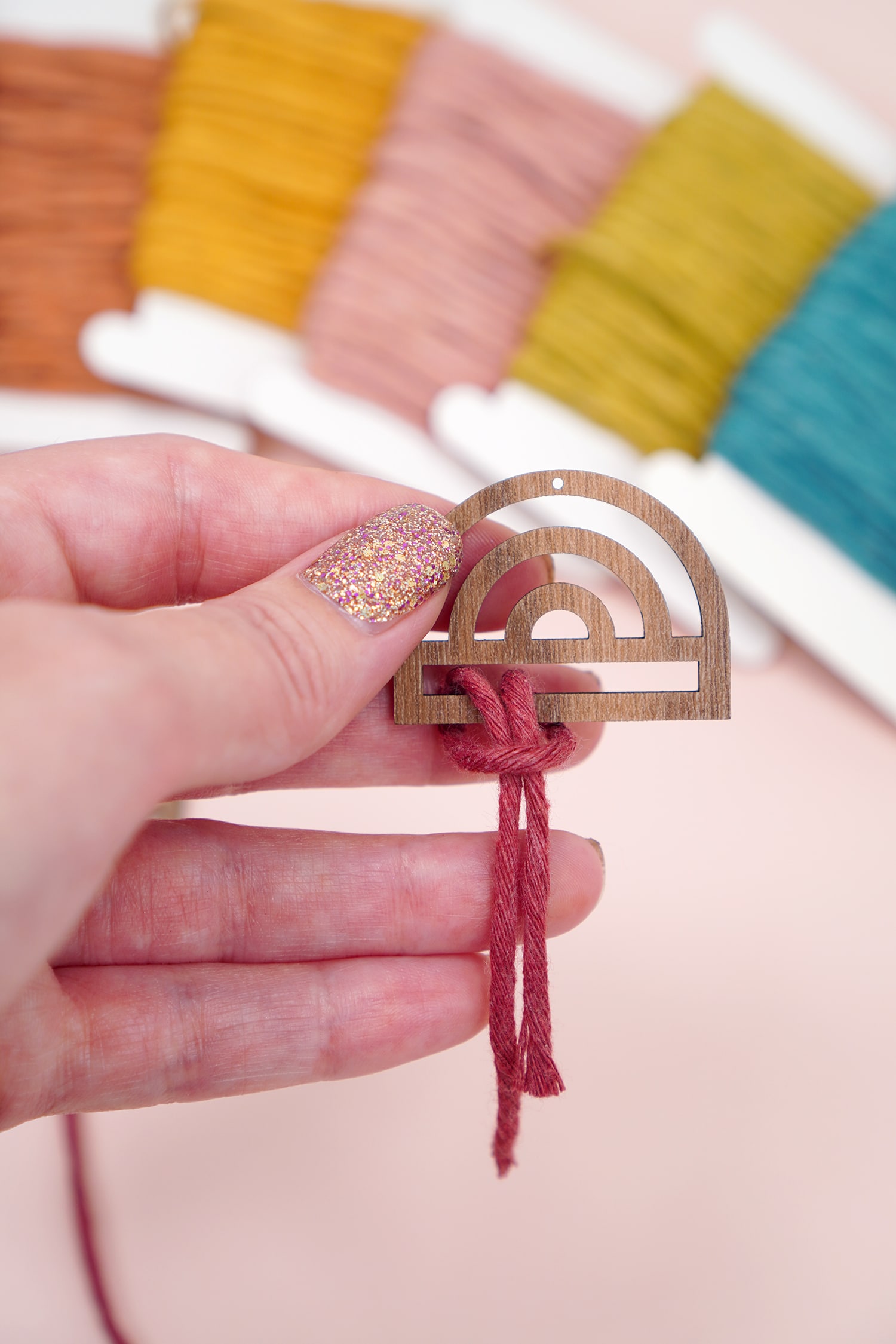 Bring the loop back under to the front, and thread the loose ends through it.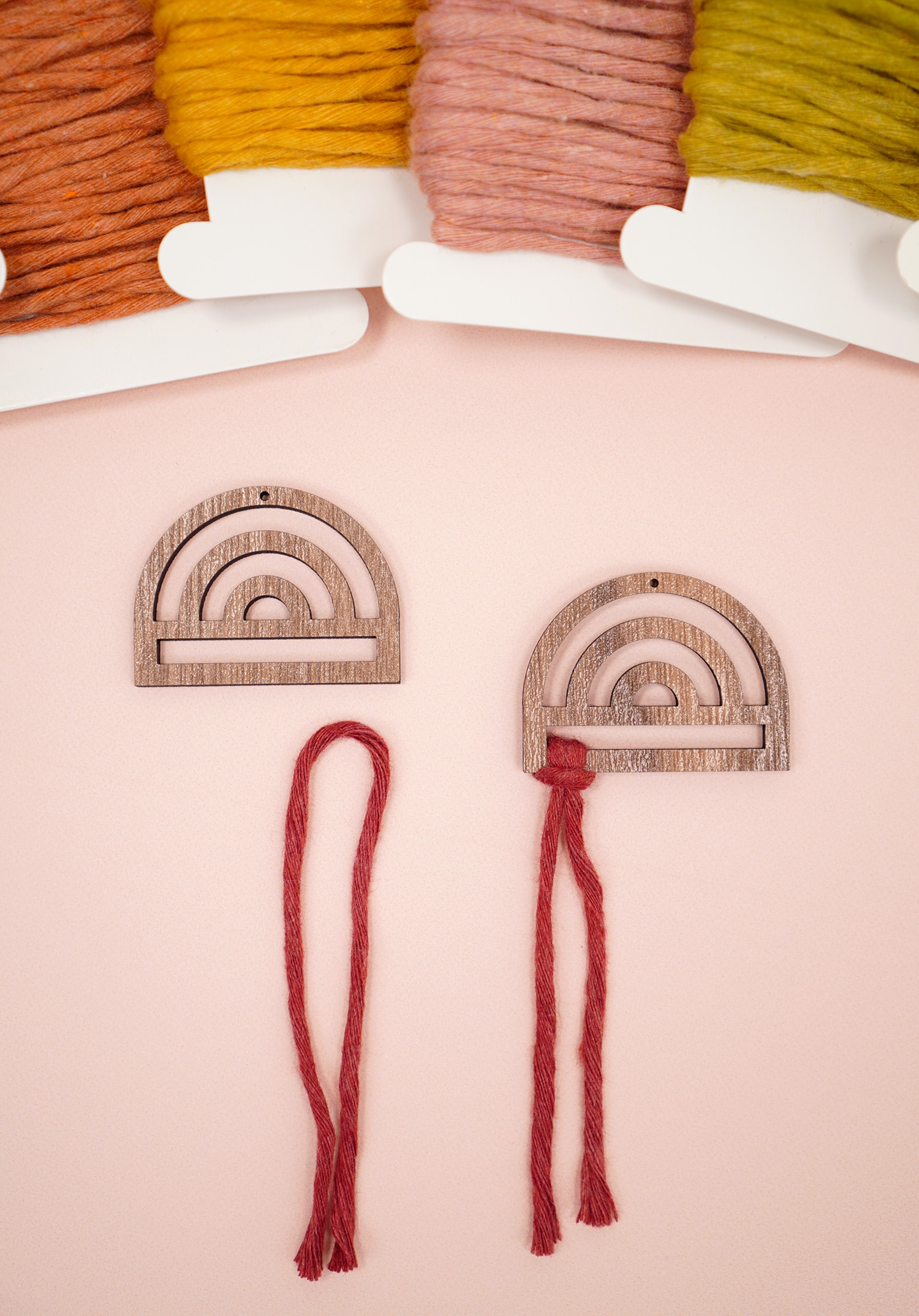 Gently and carefully tighten the loop (the wood earrings are rather sturdy, but they CAN break if you pull too hard on them!) and repeat the process with the other earring.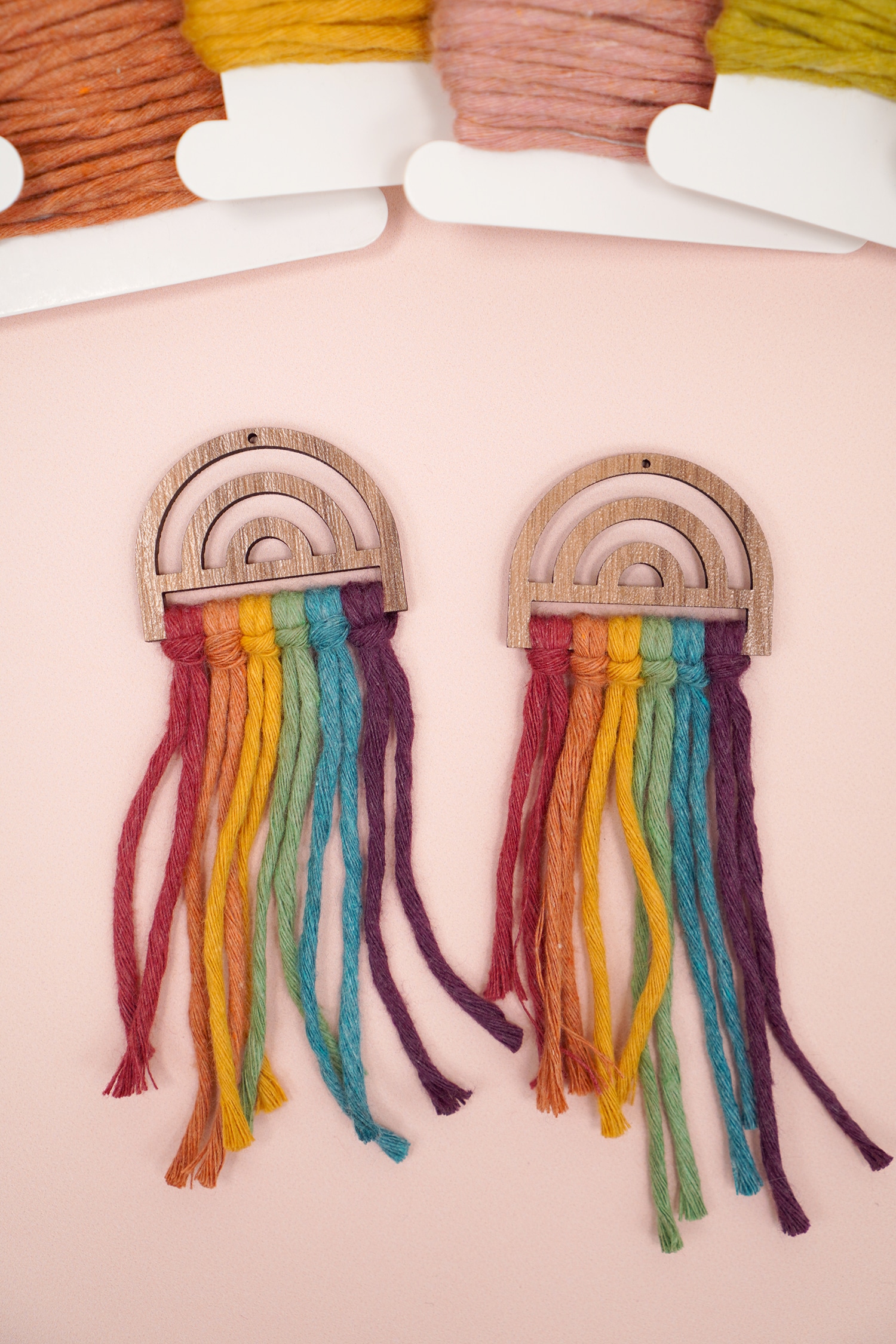 Repeat with additional colors as desired. The wood earring bases perfectly fit six colors of 1.5mm Bobbiny macramé cord, but could accommodate seven colors if you squeeze them tightly together.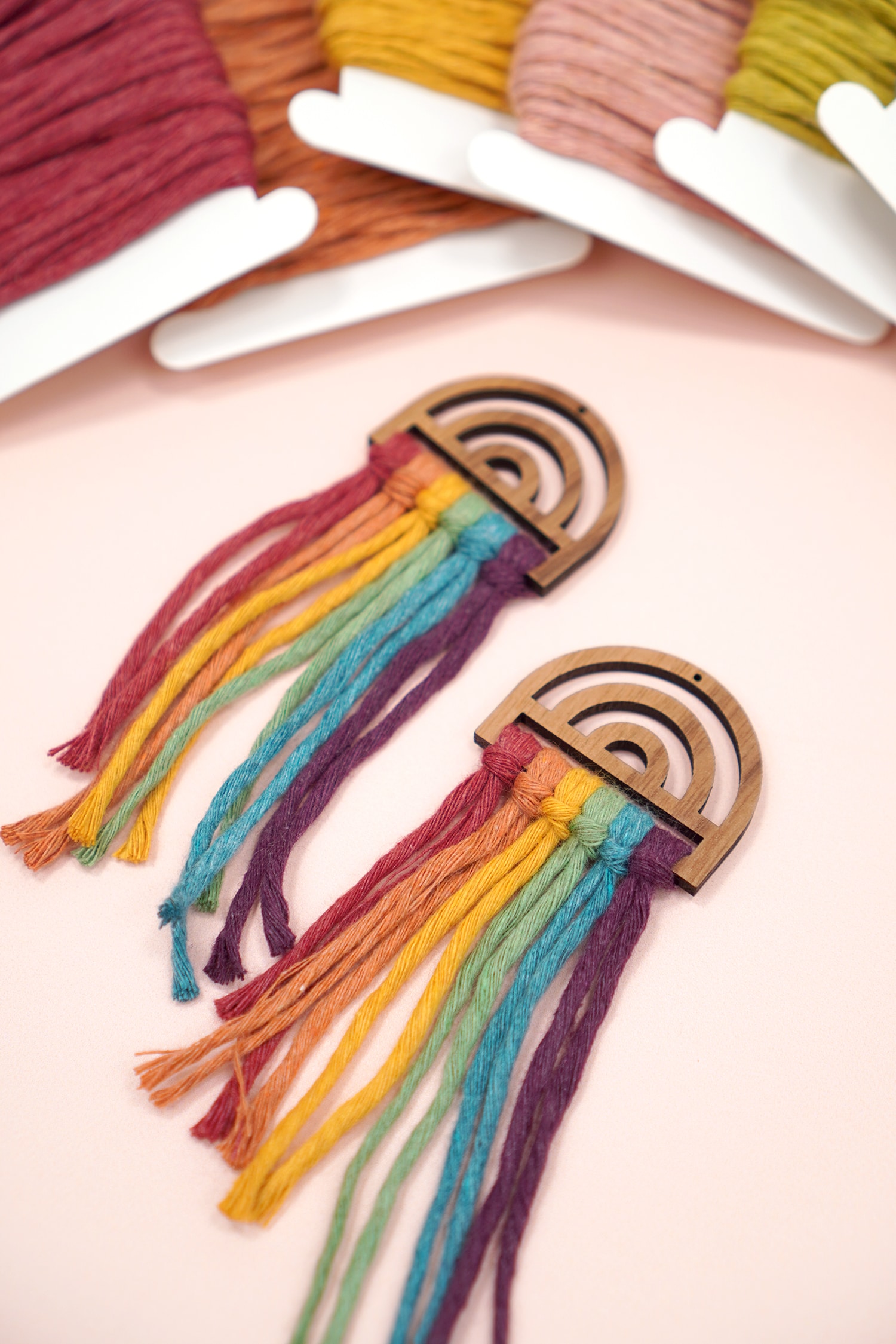 As shown, the colors of cording that we used for this pair of earrings are: Wild Rose, Terracotta, Mustard, Eucalyptus Green, Teal, and Blackberry.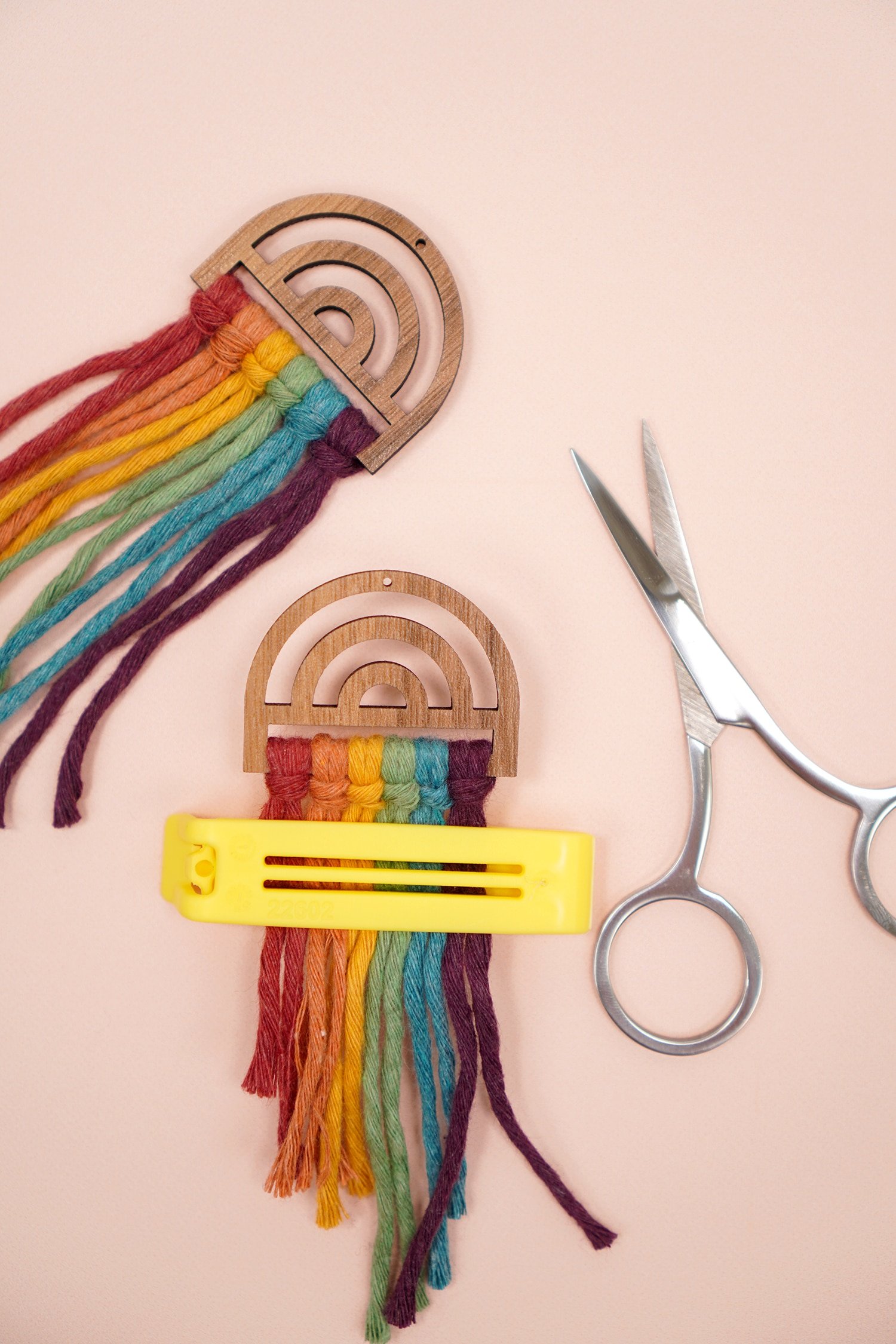 Next, it's time to trim your macramé cord, so grab a sharp pair of scissors.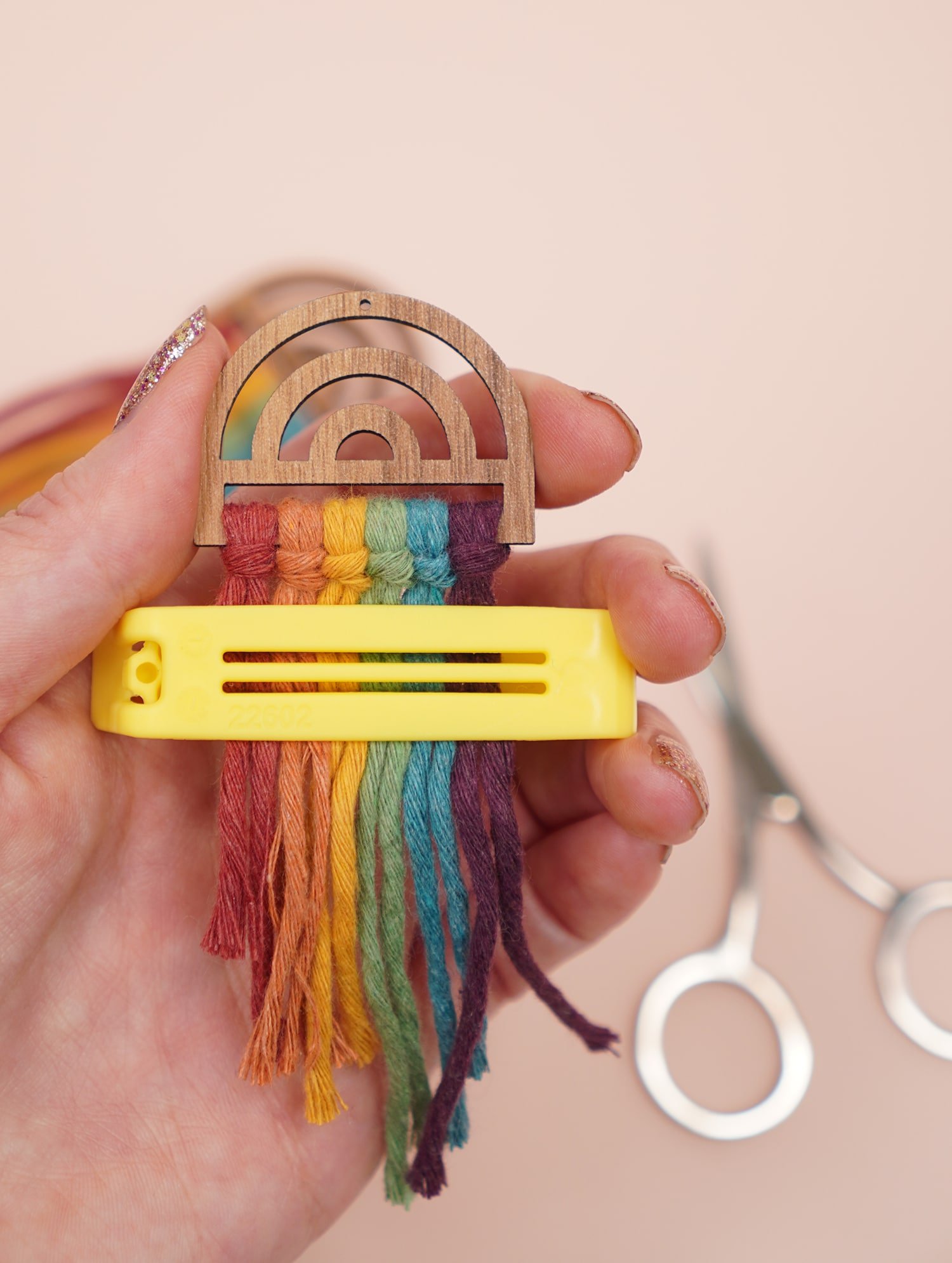 I find that using a bag clip to hold the cording together helps to keep things straight and serves as a useful measuring tool to keep the earrings even.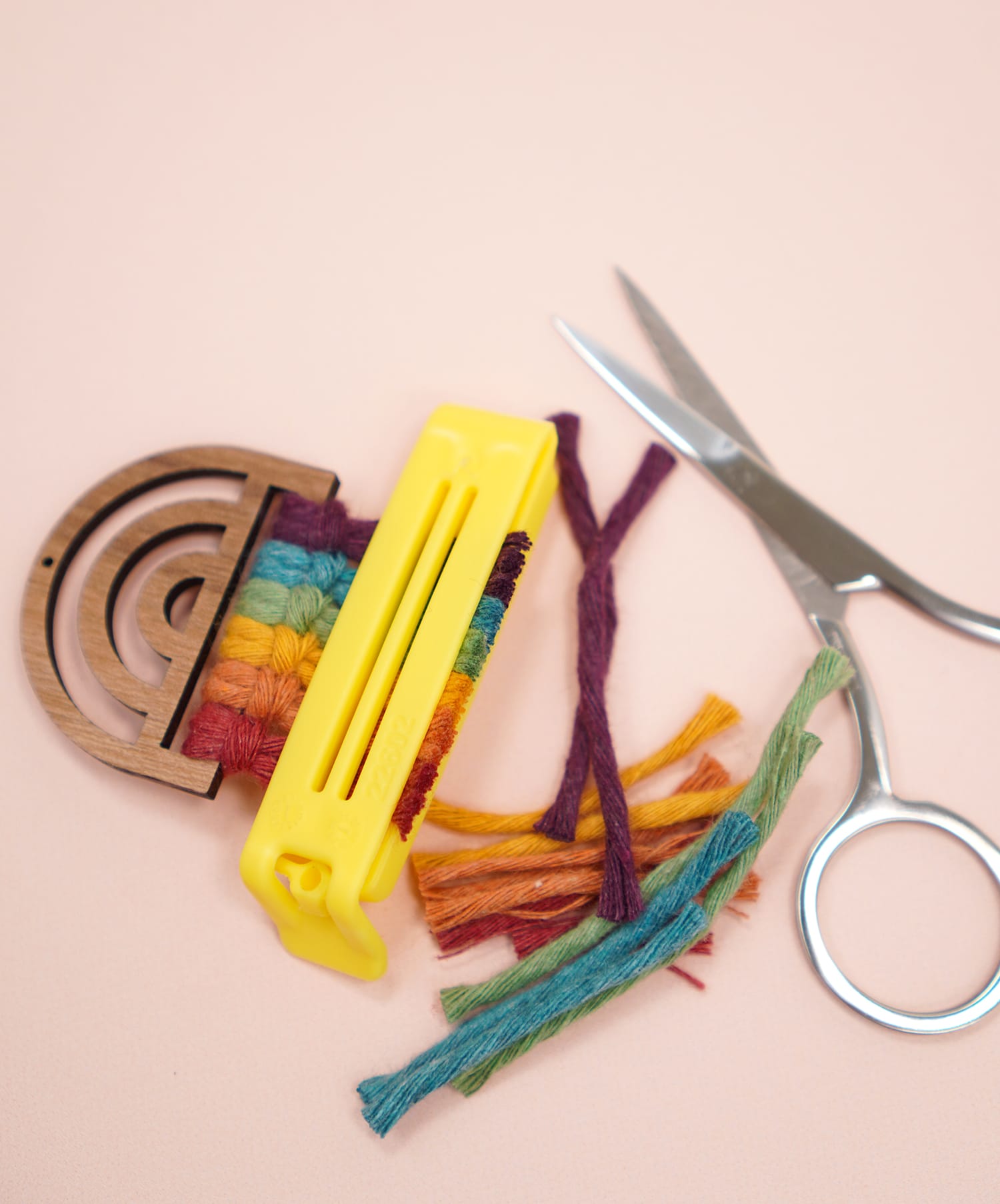 Trim your earrings as long or as short as you desire – I kept my cording around 1.5″ long.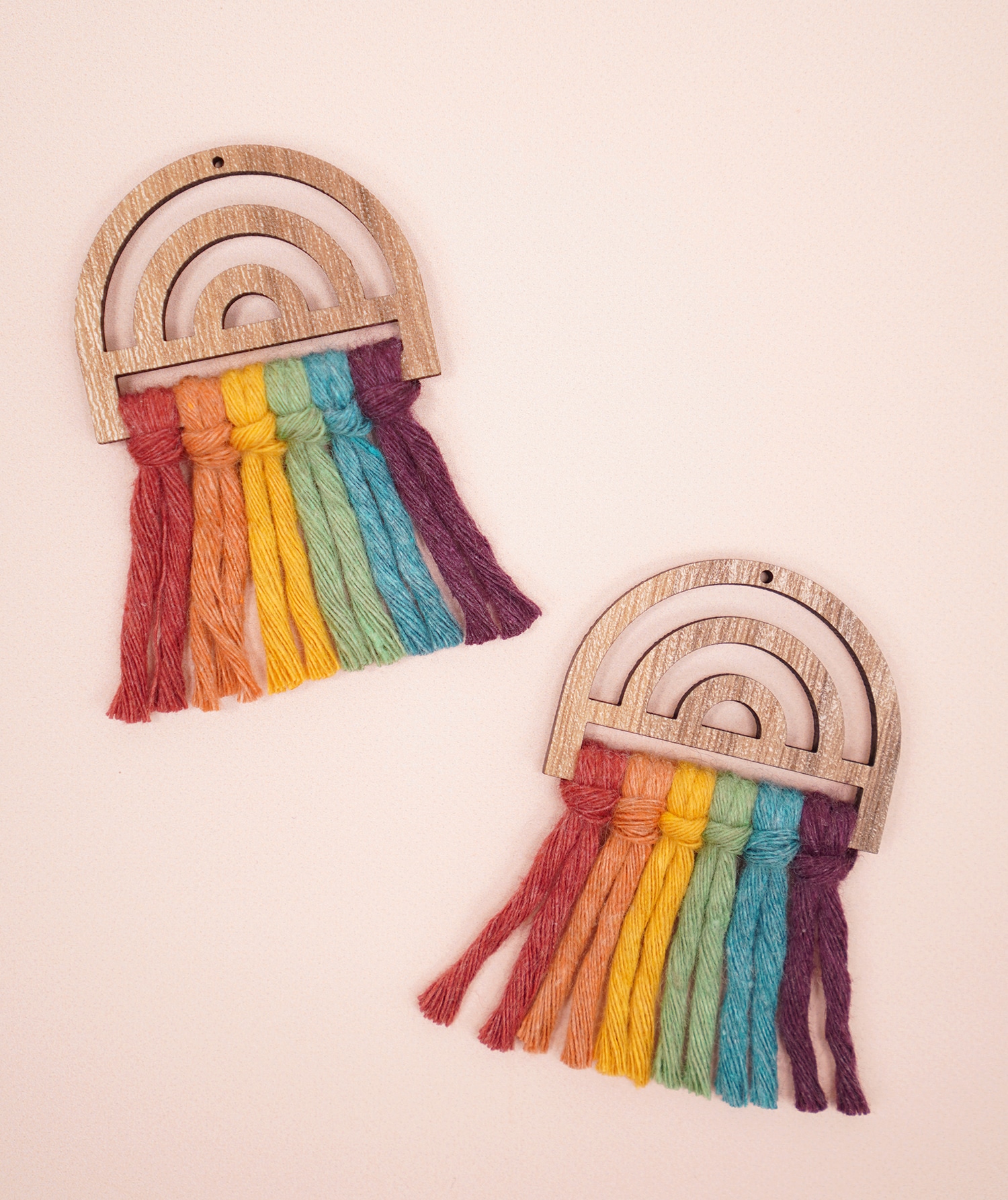 You can leave the earrings with the cording intact as shown, or you can opt to fringe the cording like I did. It looks great both ways, though you should be aware that over time, the cording may eventually start to fray on its own even if you don't choose to fringe it.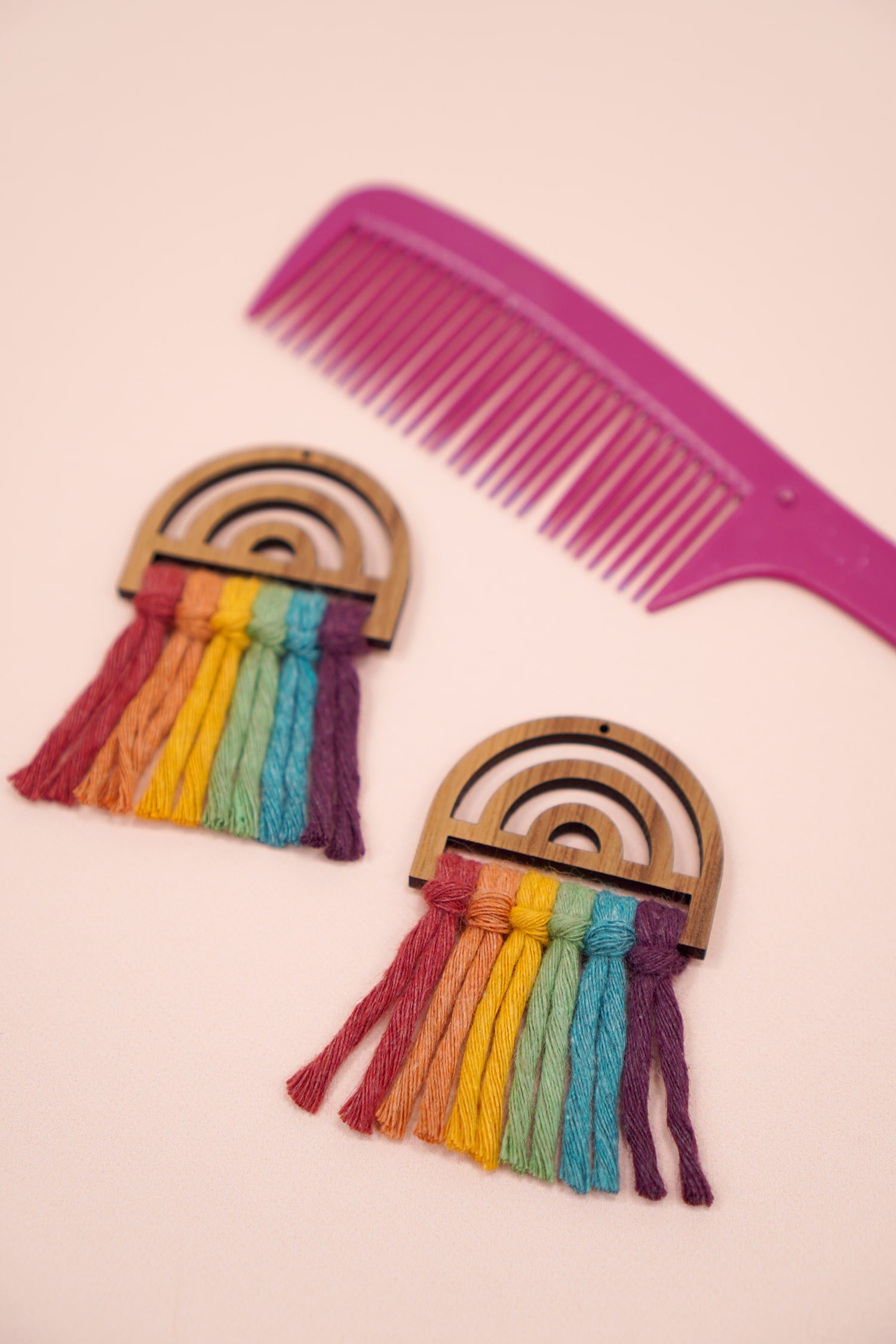 To fringe the cording, use an inexpensive comb with fairly tight teeth.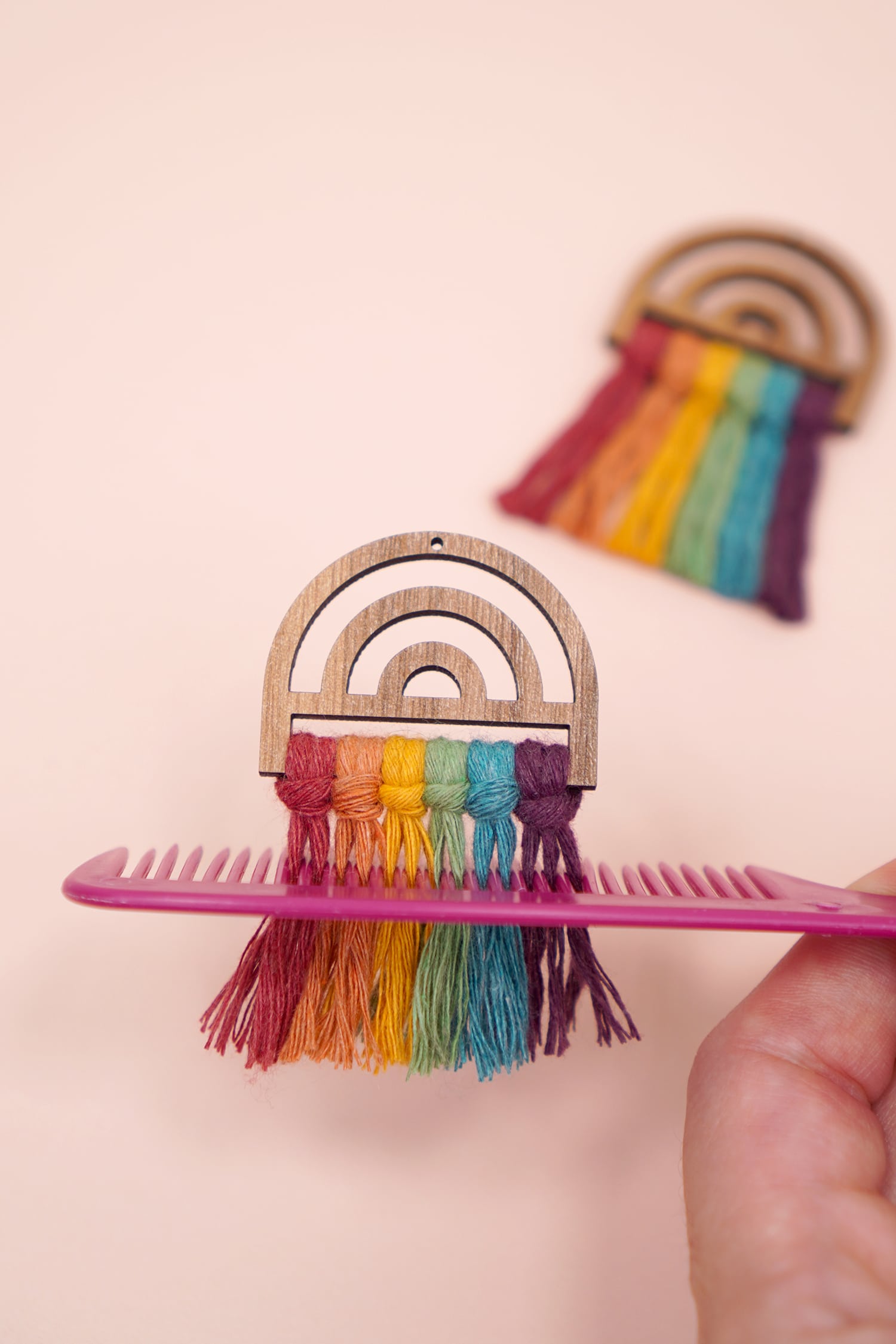 Being careful to avoid the knots, gently run the comb through the cording to untwist and separate the single strands.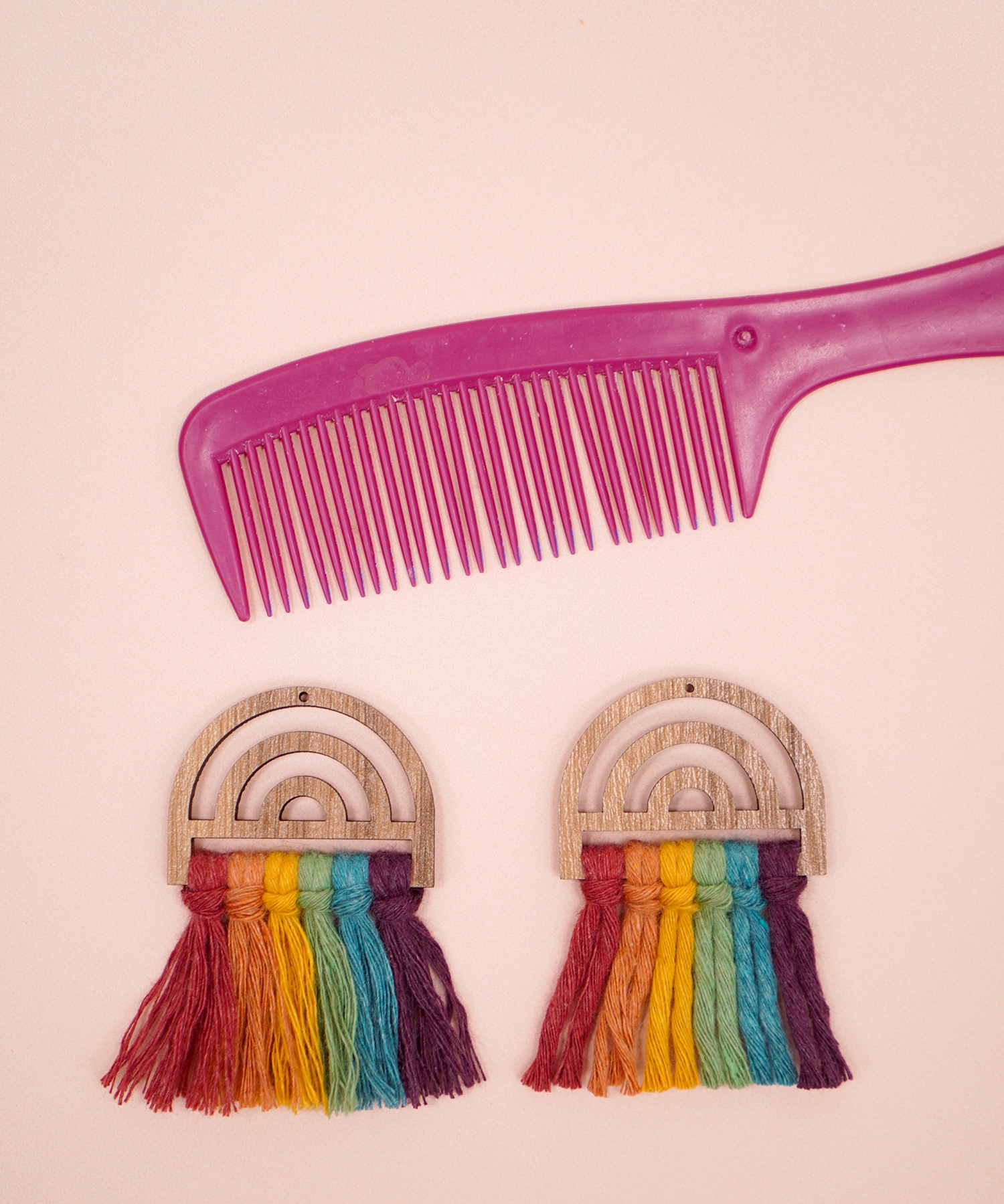 You can see the difference between a fringed/combed earring on the left and a corded earring on the right.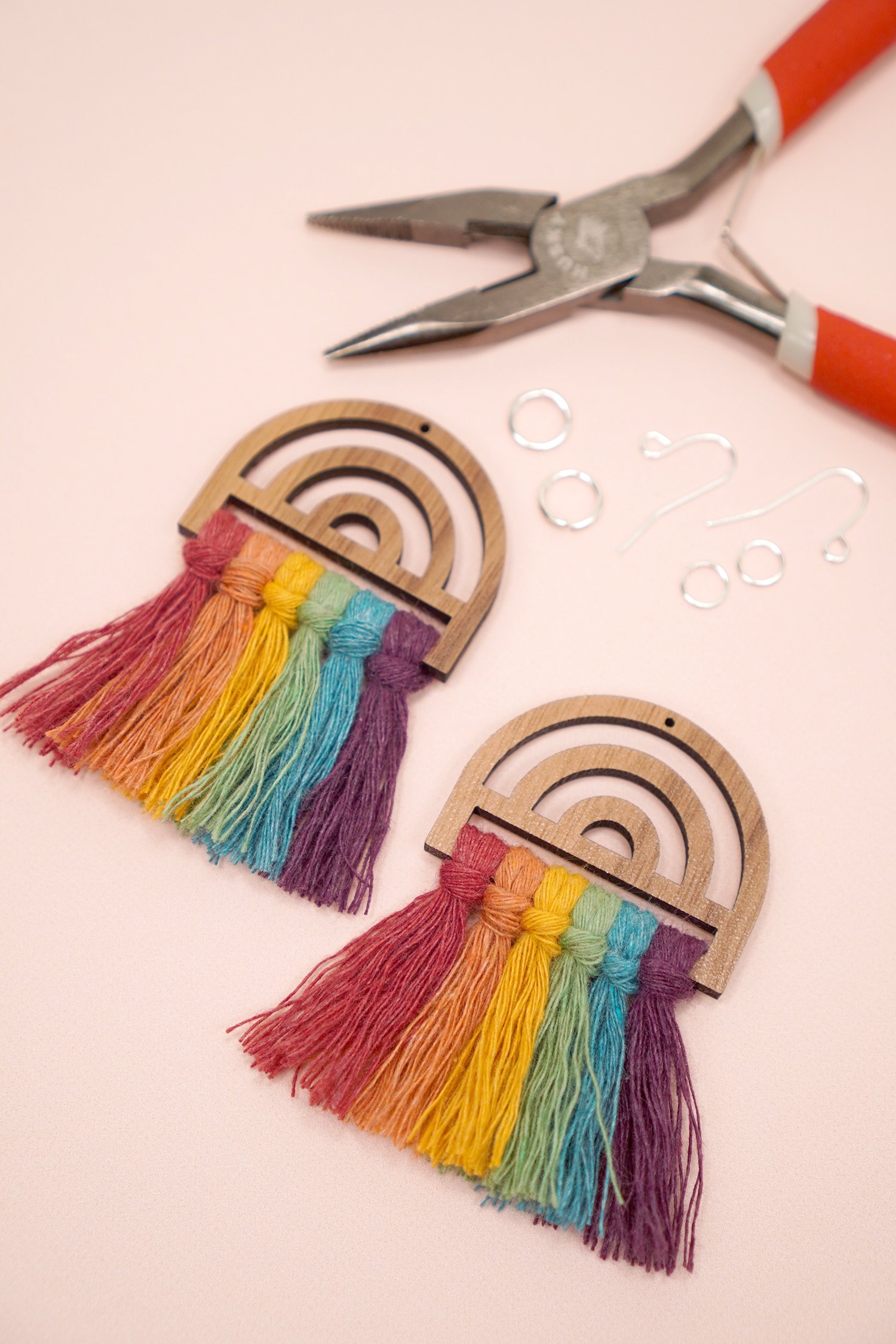 Finally, use your jewelry pliers to attach the earring hardware (I used two jump rings and an earring wire for each earring).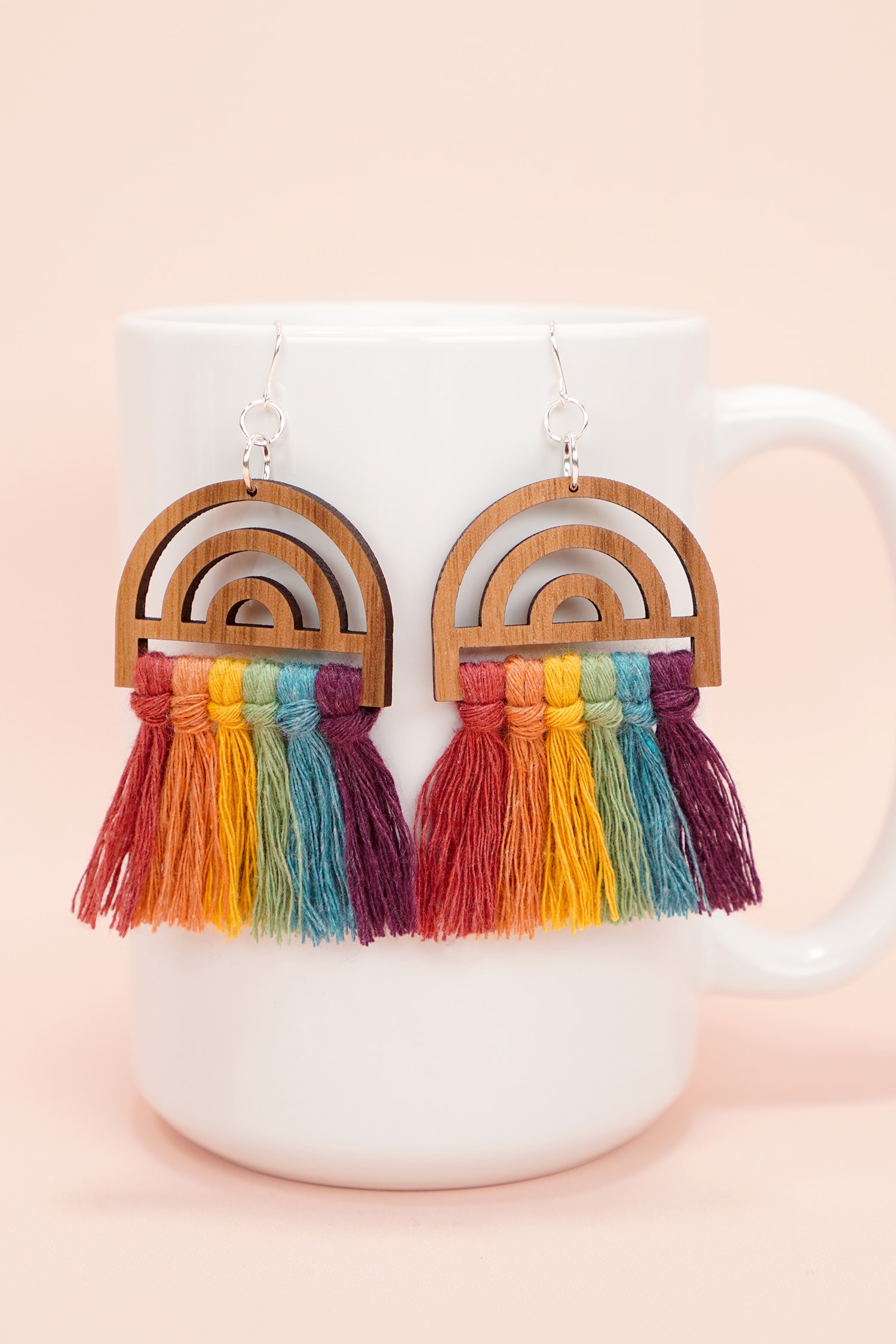 Easy peasy and SUPER cute, don't you think!? These rainbow earrings would make a fantastic (and inexpensive!) homemade DIY gift idea!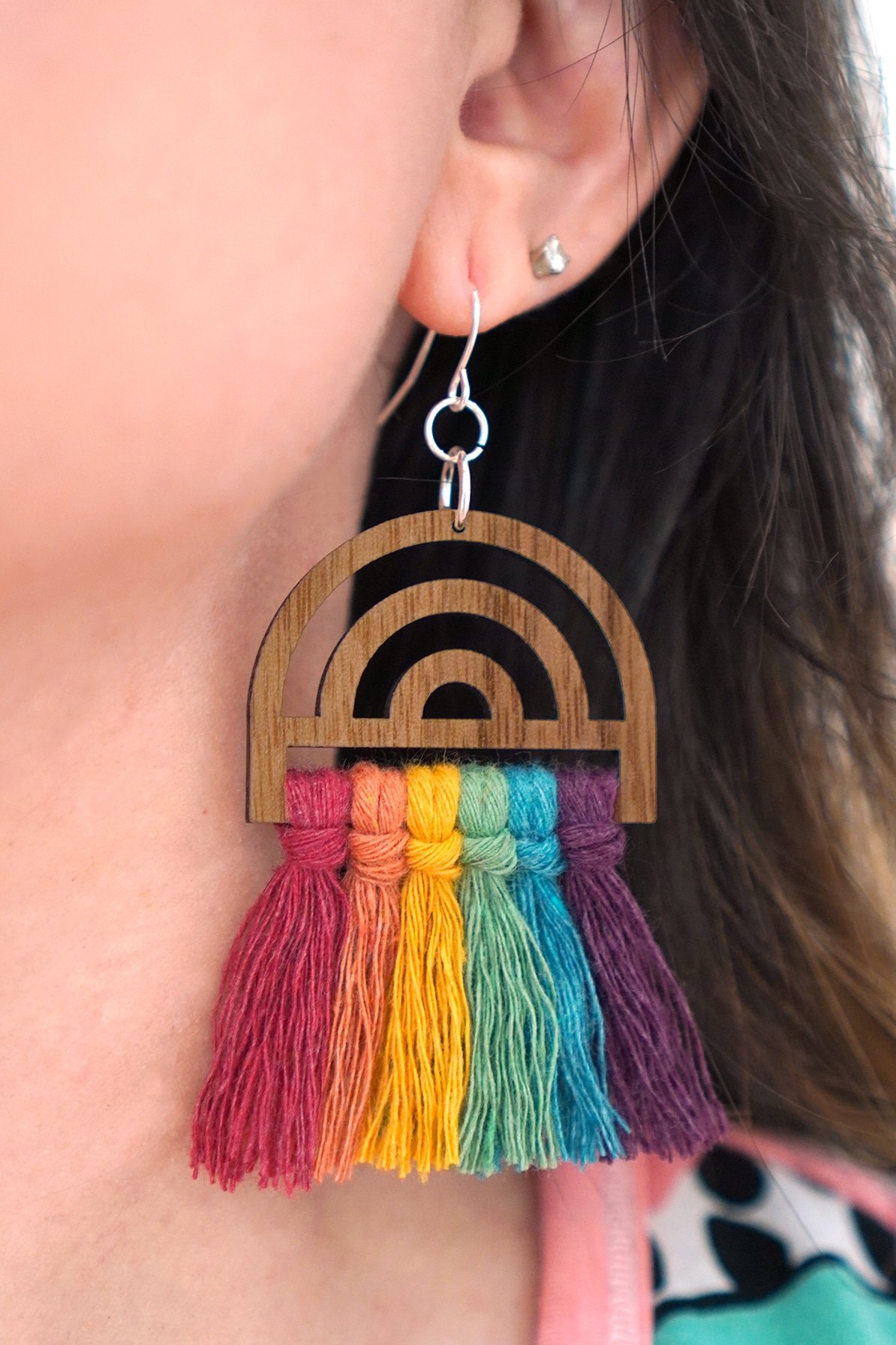 😍🌈😍🌈😍 OBSESSED. 🌈😍🌈😍🌈😍🌈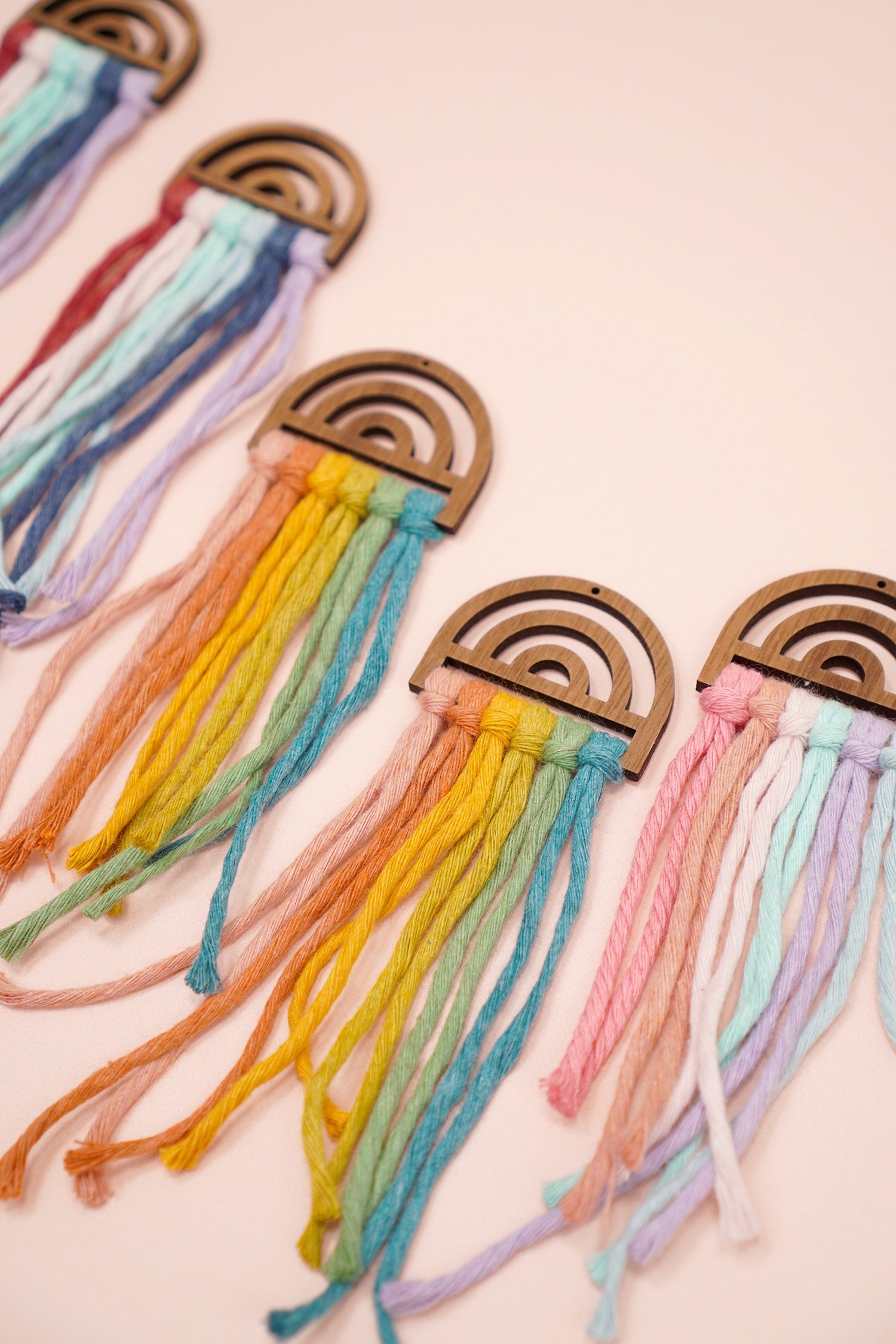 Repeat with ALL the different color combinations! I promise that once you make one pair, you're going to want to make many, MANY more!
You don't have to stick to rainbow colors either – have fun experimenting with all kinds of pretty color combinations!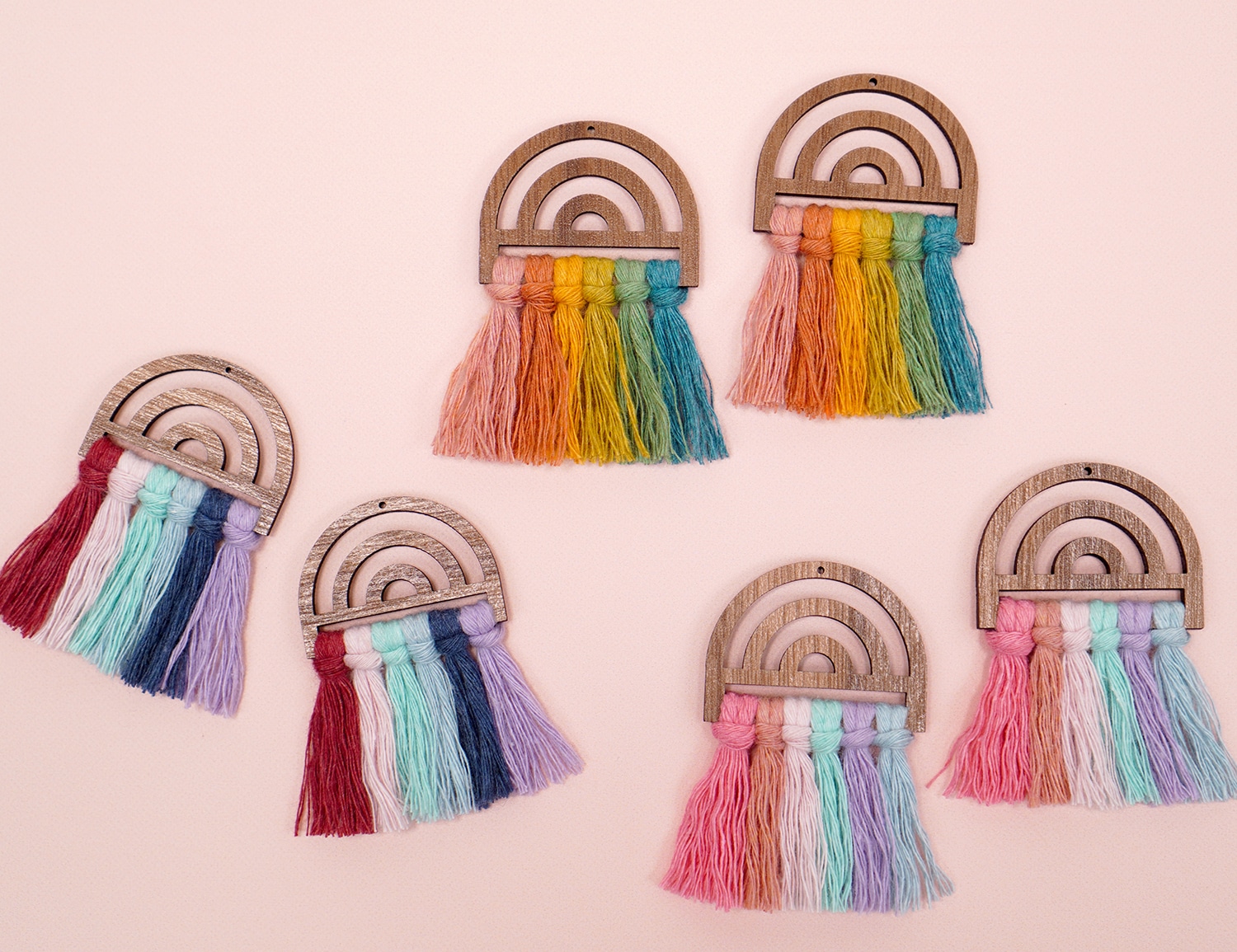 They're all so fun!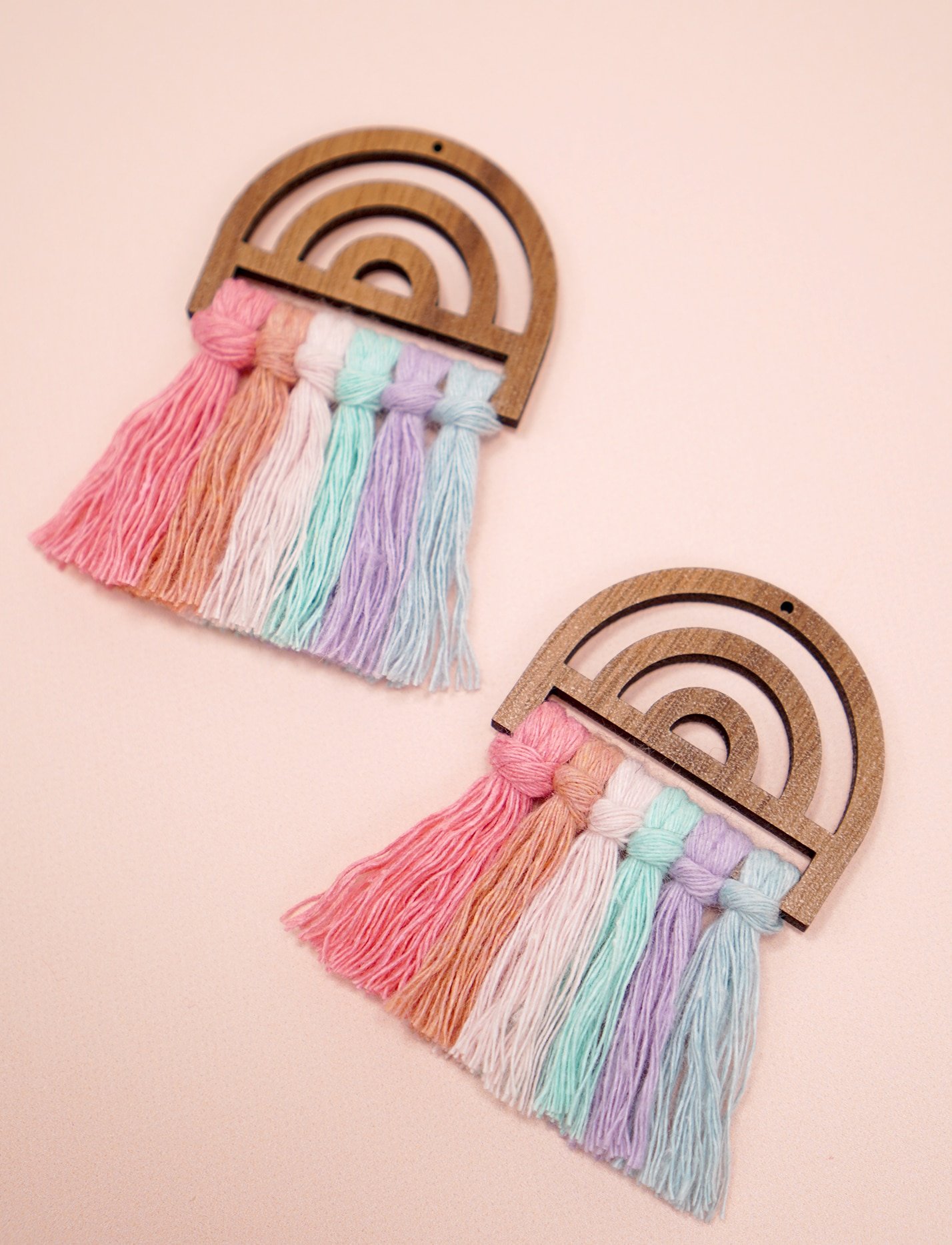 This pair of pretty pastel macramé earrings uses Pink (from the Amazon set mentioned below), Blush, Baby Pink, Mint, Lavender, and Misty colored Bobbiny cord.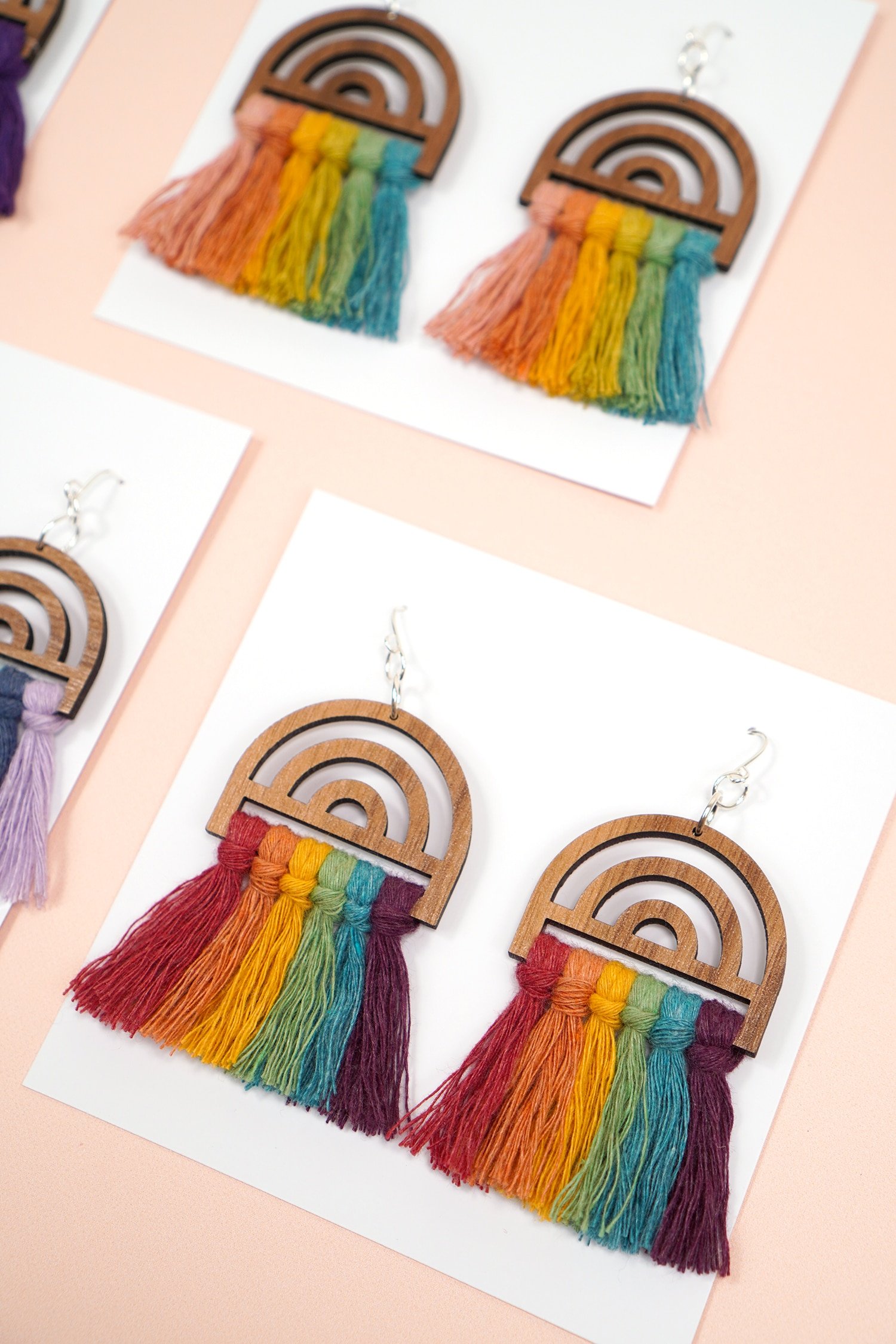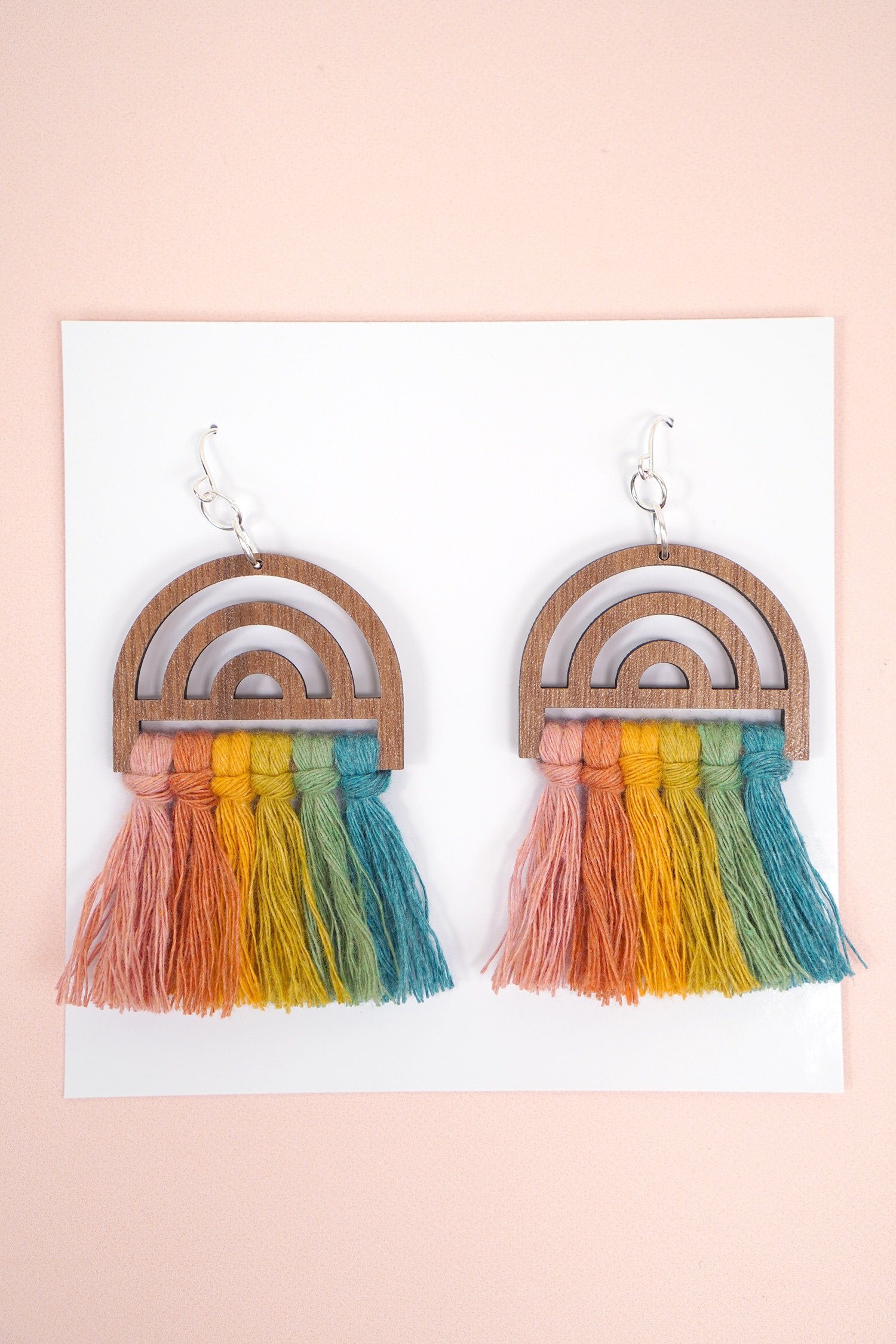 I think this color combination is my most favorite! Cord colors used: Blush, Terracotta, Mustard, Kiwi, Eucalyptus Green, and Teal.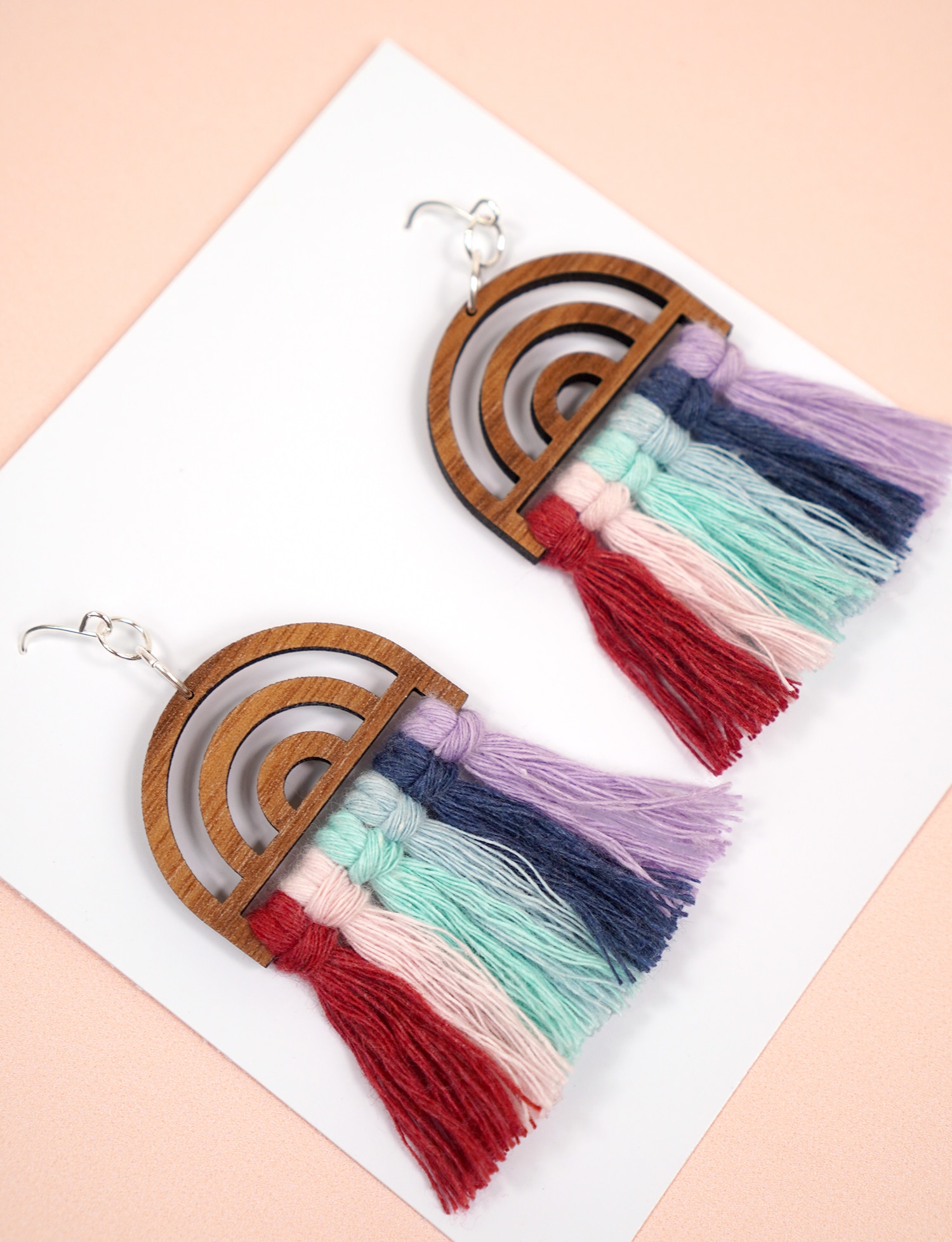 For this fun pair, I used Wild Rose, Baby Pink, Mint, Misty, Jeans, and Lavender macramé cord.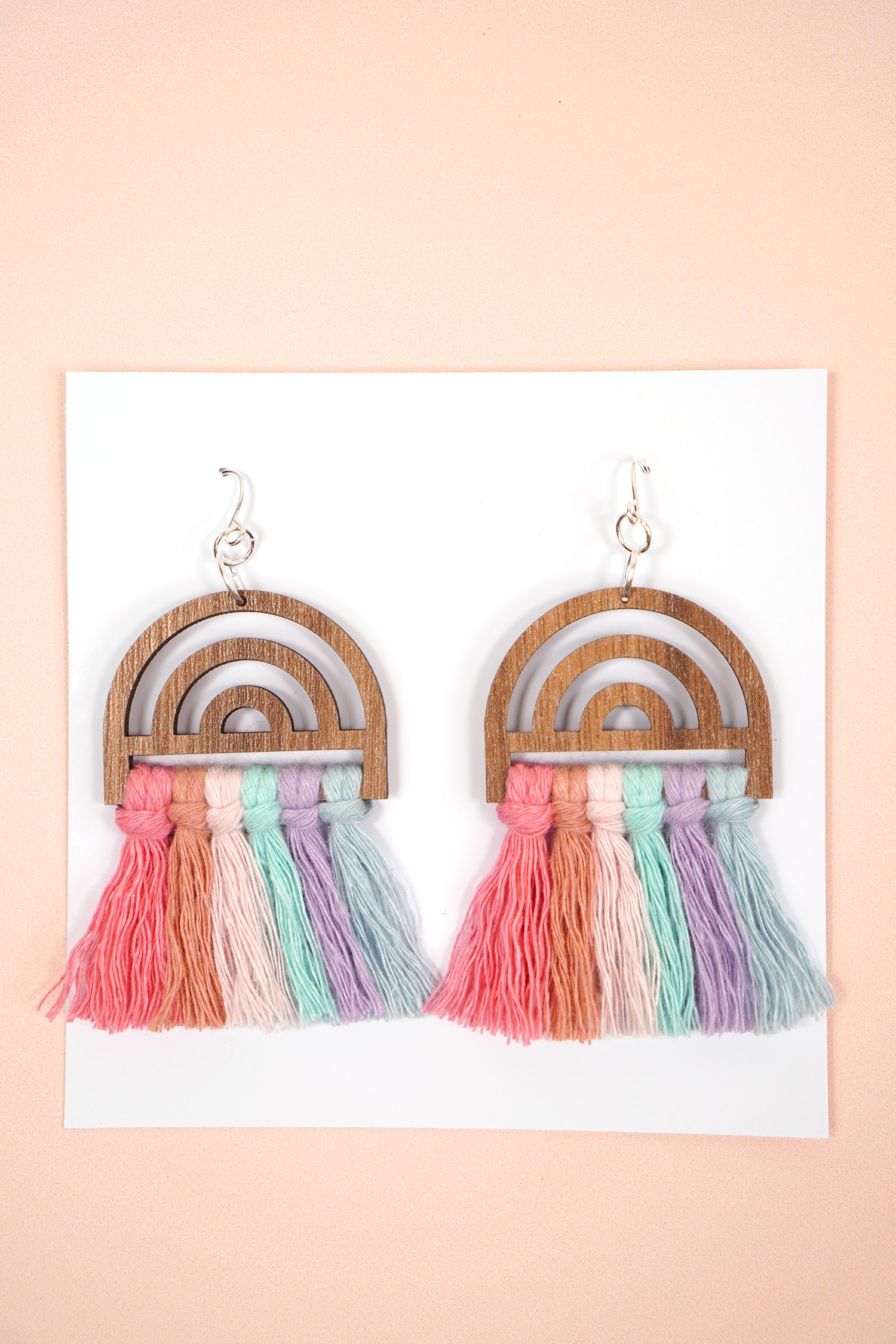 I'm telling you, you really won't be able to stop at just one pair! They're SO much fun to make!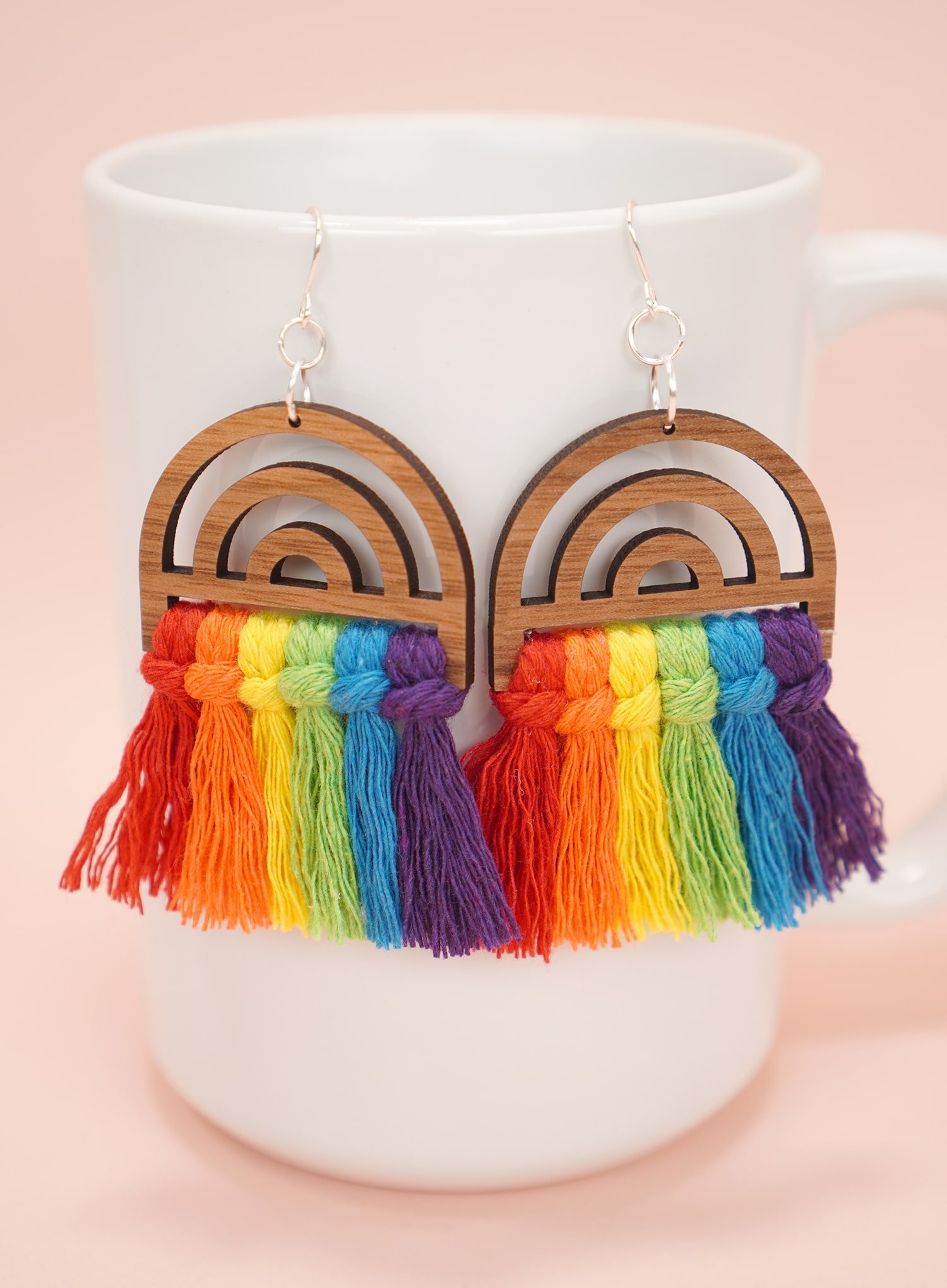 I also tested a different brand of vibrant macramé cord from Amazon, and it also worked well, though it was a little more challenging to work with since it is thicker (just shy of 3mm). This thicker cord would probably work best with five colors per earring, though I was able to squeeze six colors in with a little effort.
The bold colors REALLY pop, though, so if super bright colors are your jam, you might want to check this brand of cord out!
No matter which color combination you decide to use, these rainbow macramé earrings are sure to be a HUGE hit!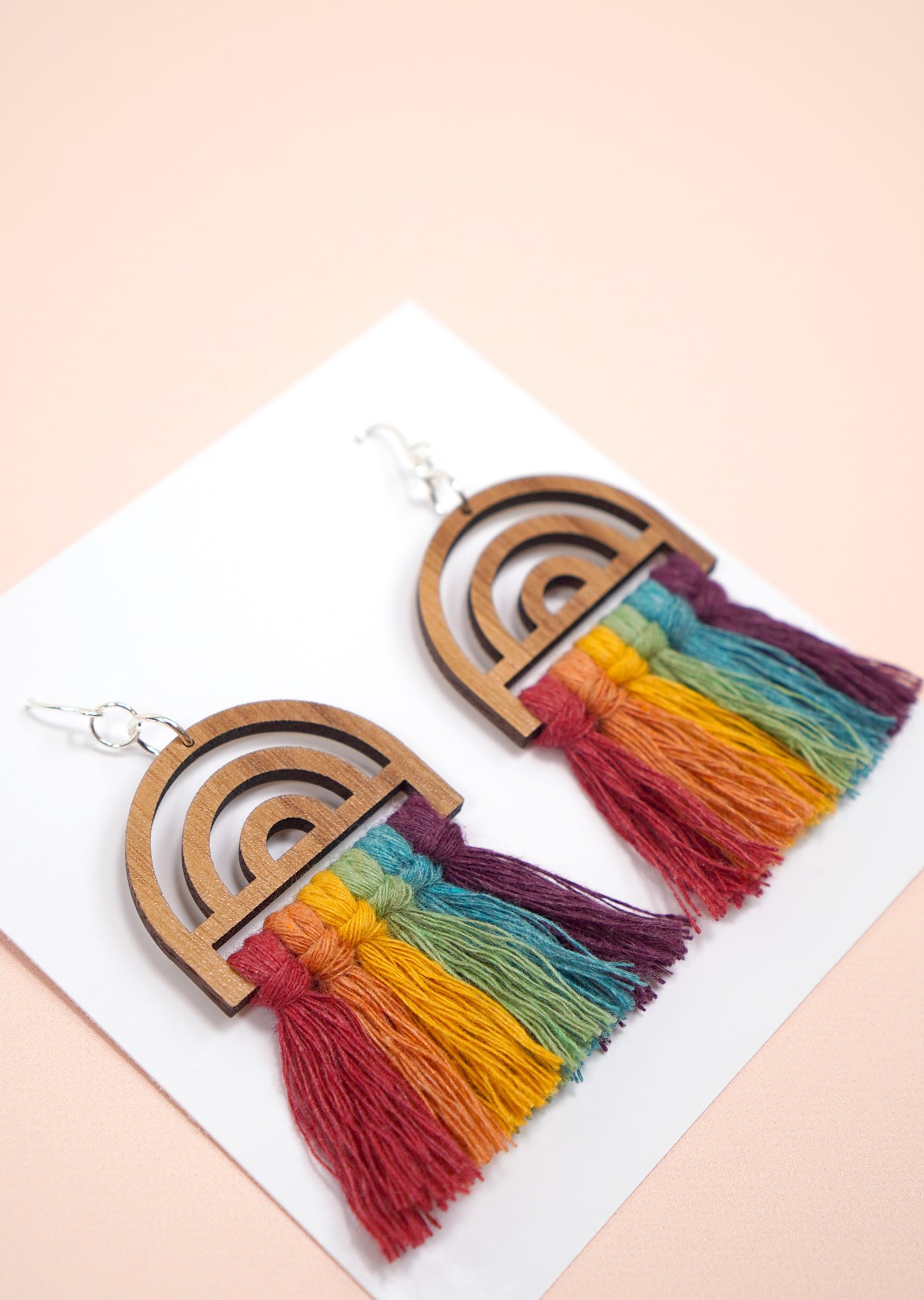 ---
Rainbow Earring SVG File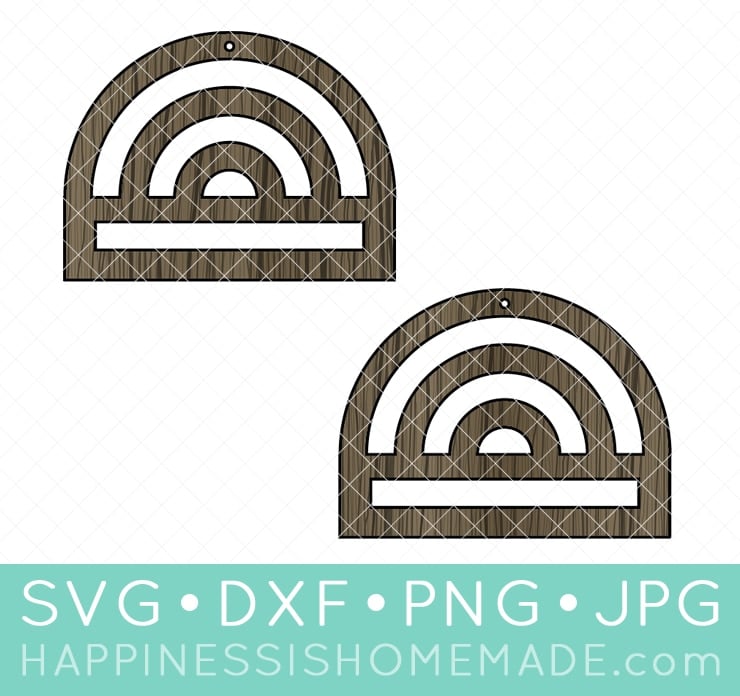 To get the Rainbow Earring SVG File, enter your name and email into the form below and click the "Get It Now!" button!
---
I really hope that you love these rainbow macramé earrings just as much as I do, and I can't wait to see what you make! Be sure to tag us on social media @hiHomemadeBlog to show us your creations!
Happy crafting!

You May Also Like: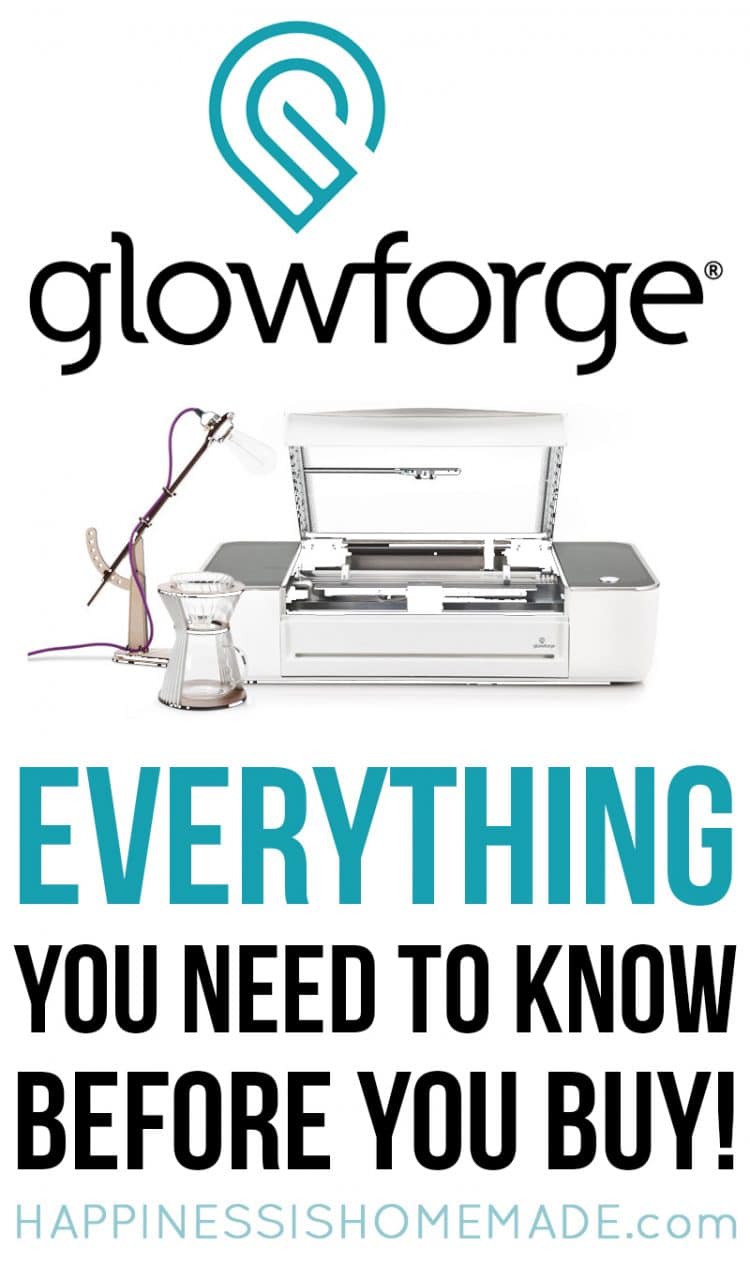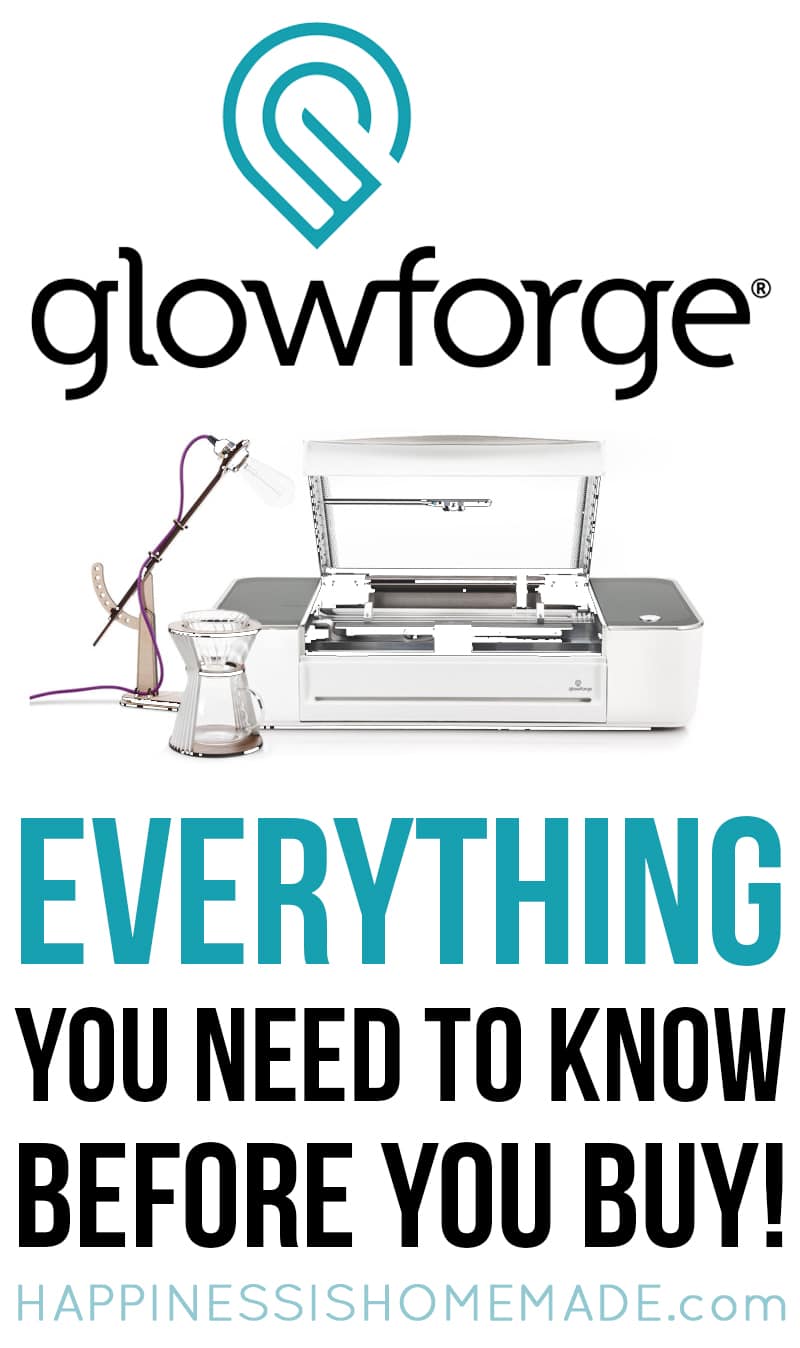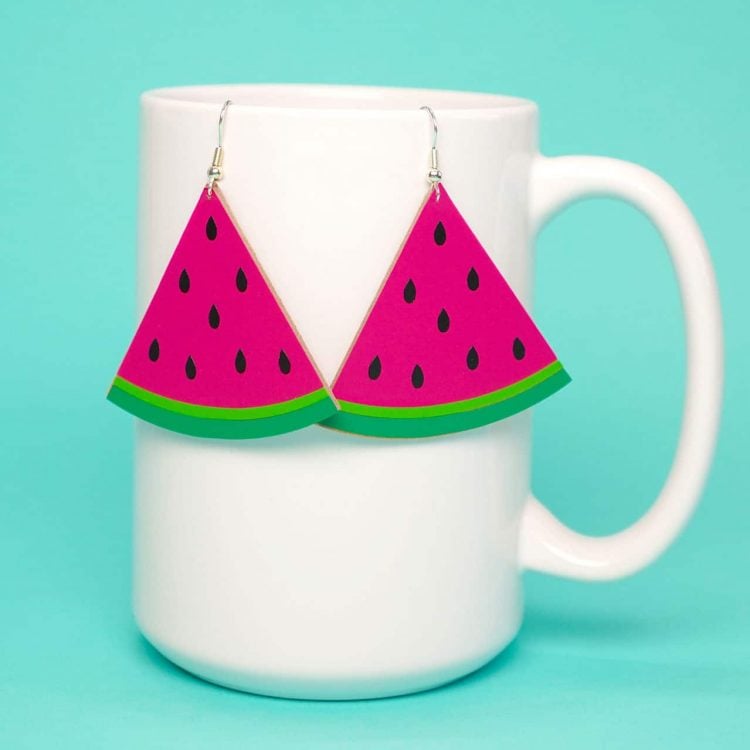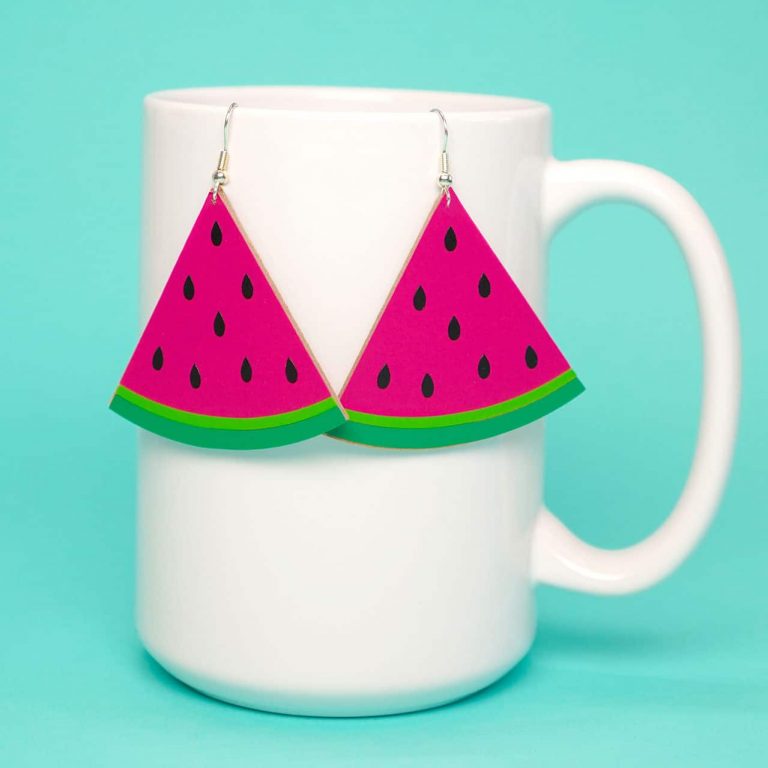 12 Free Earring SVG Files (including these adorable watermelons!)
Don't Forget to Pin These Macramé Rainbow Earrings for Later!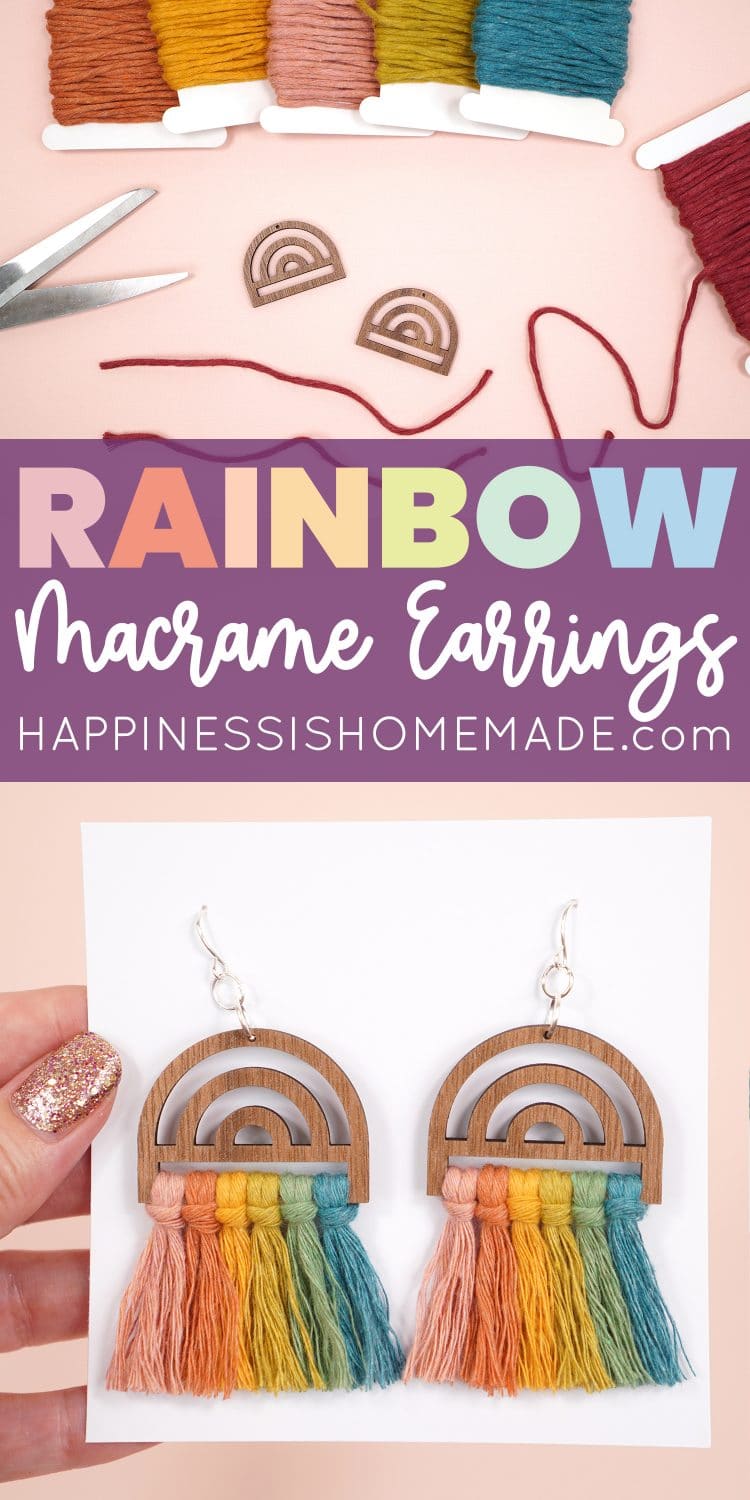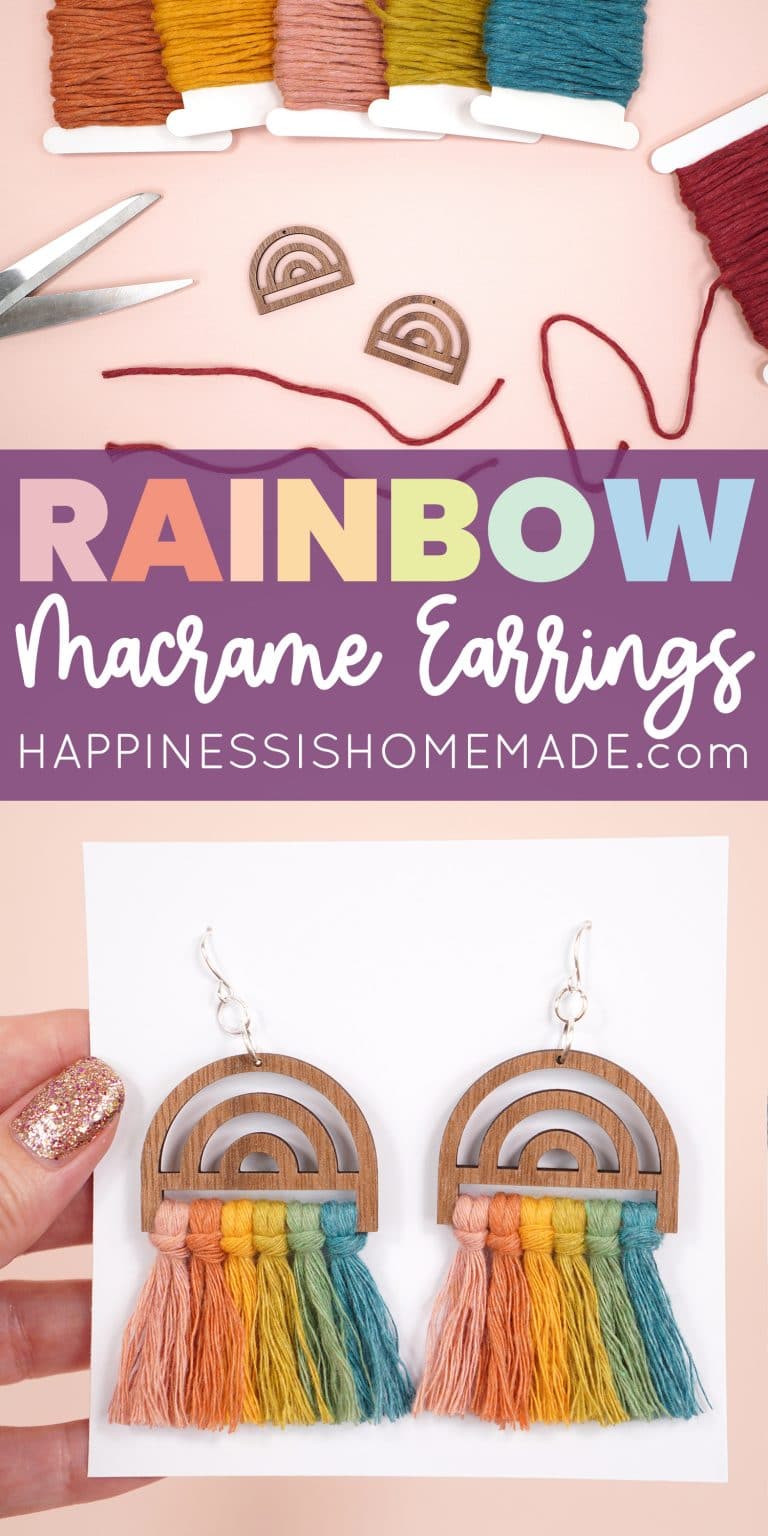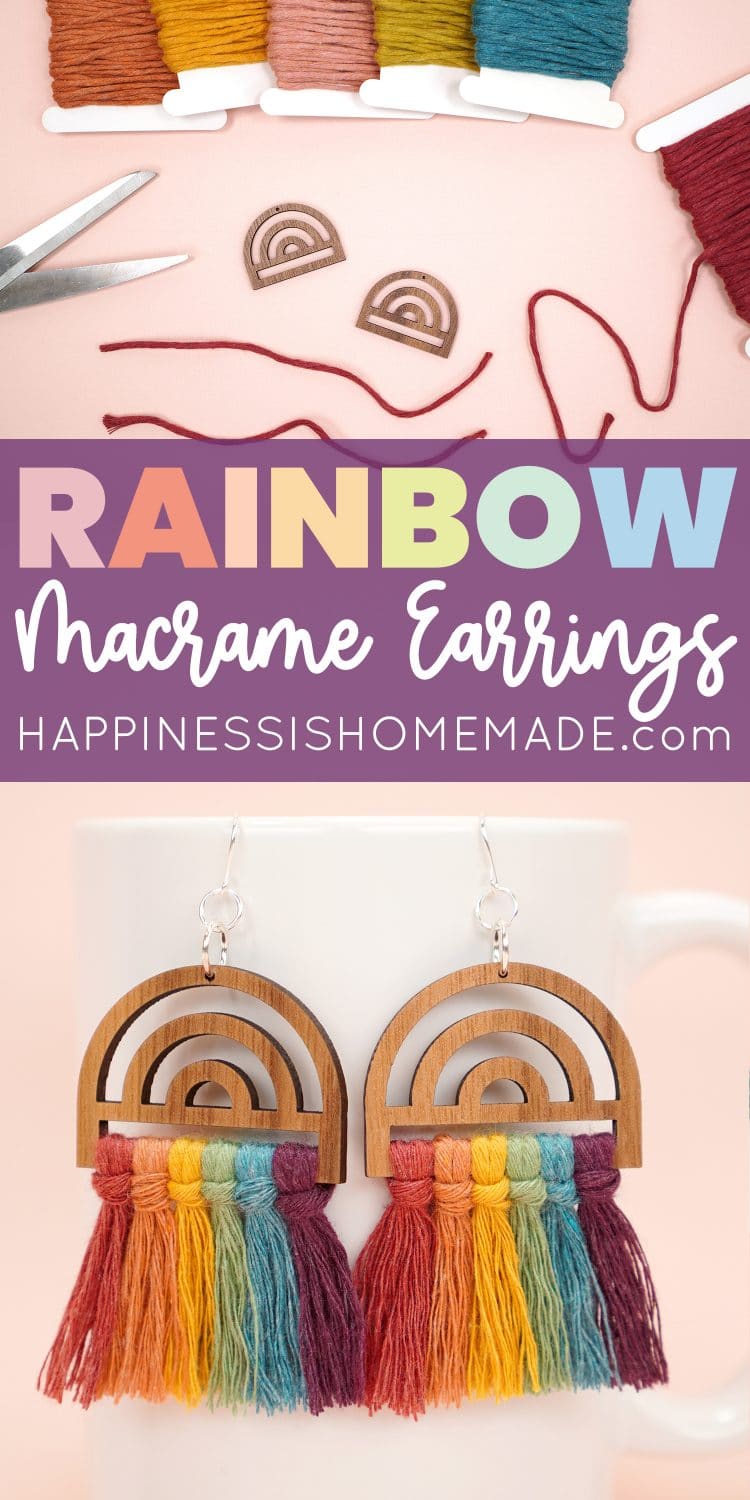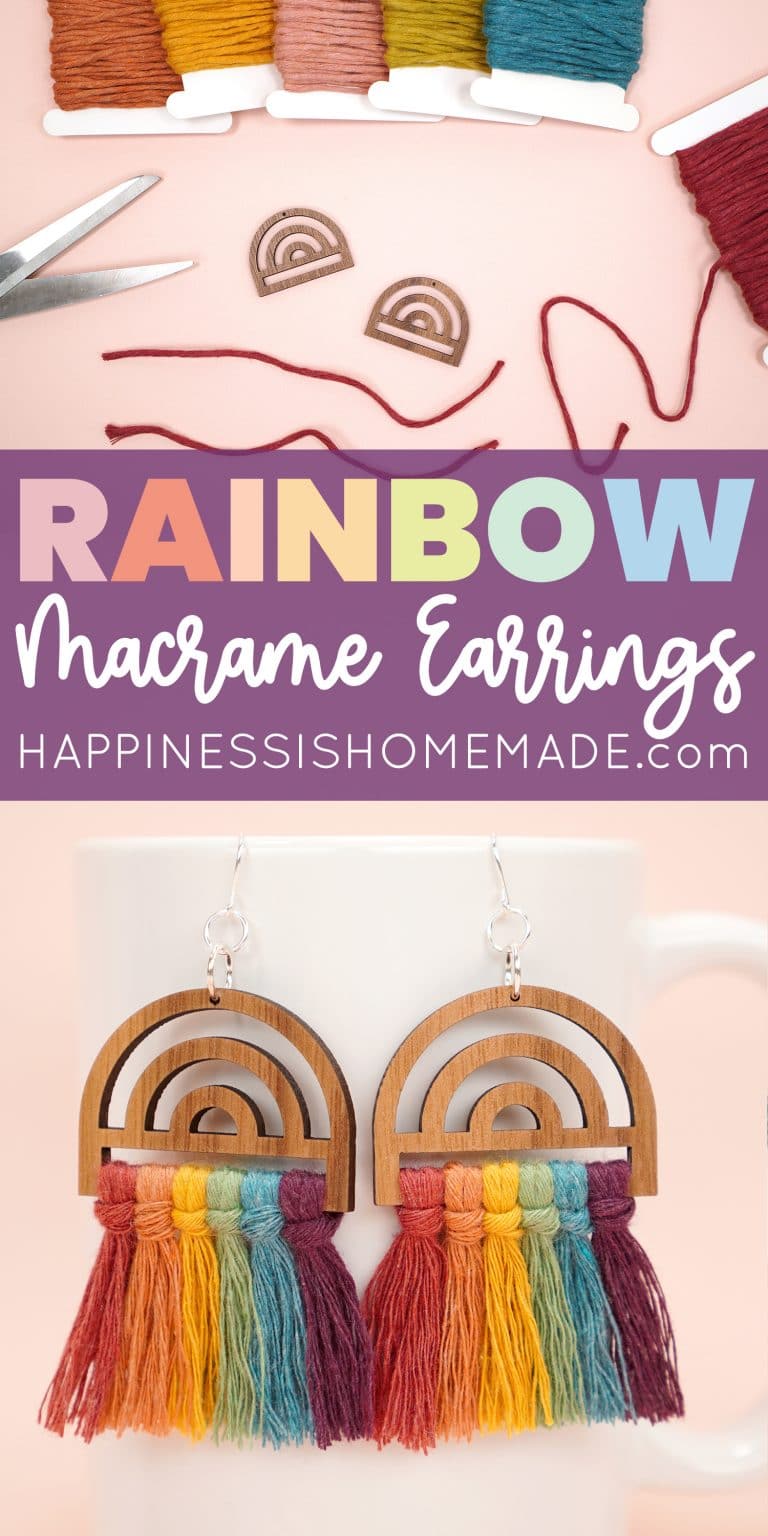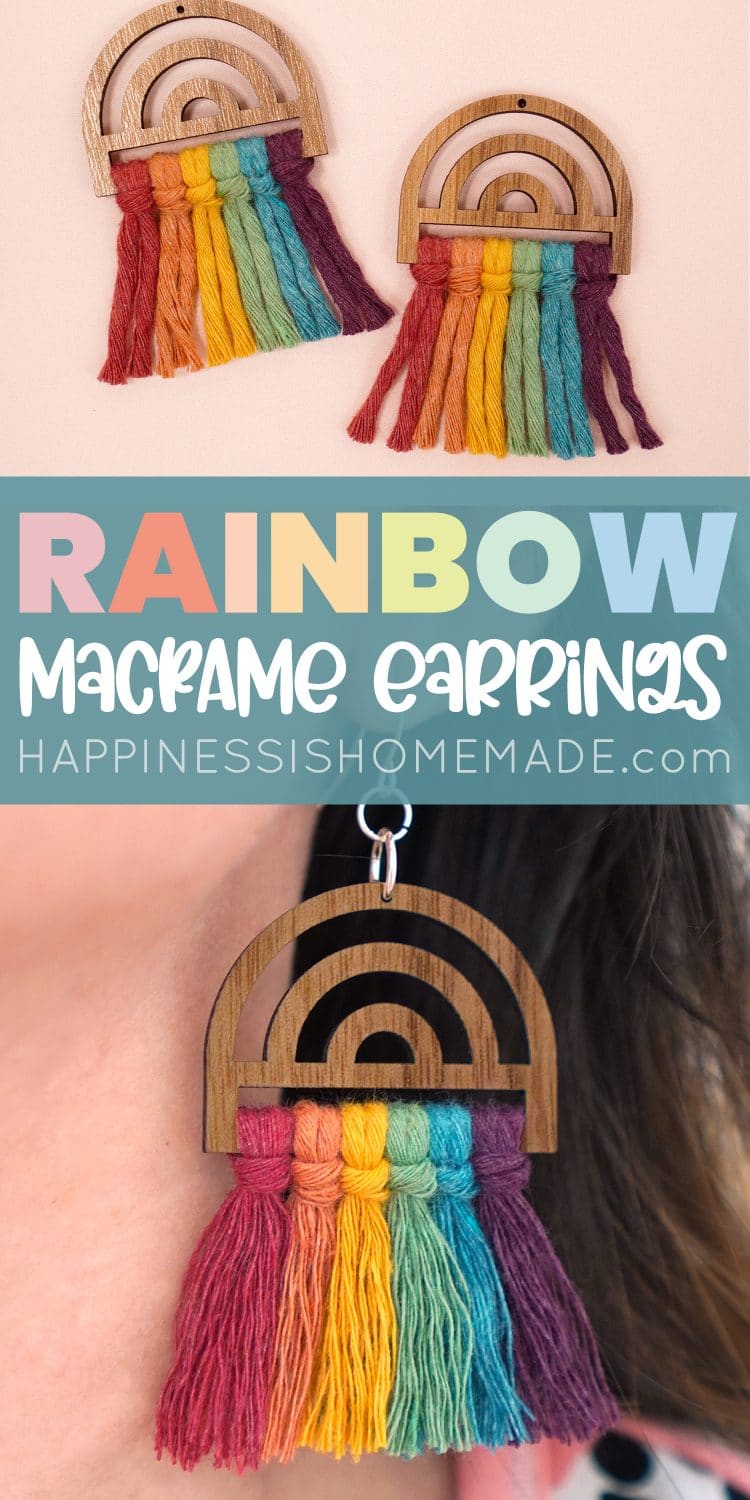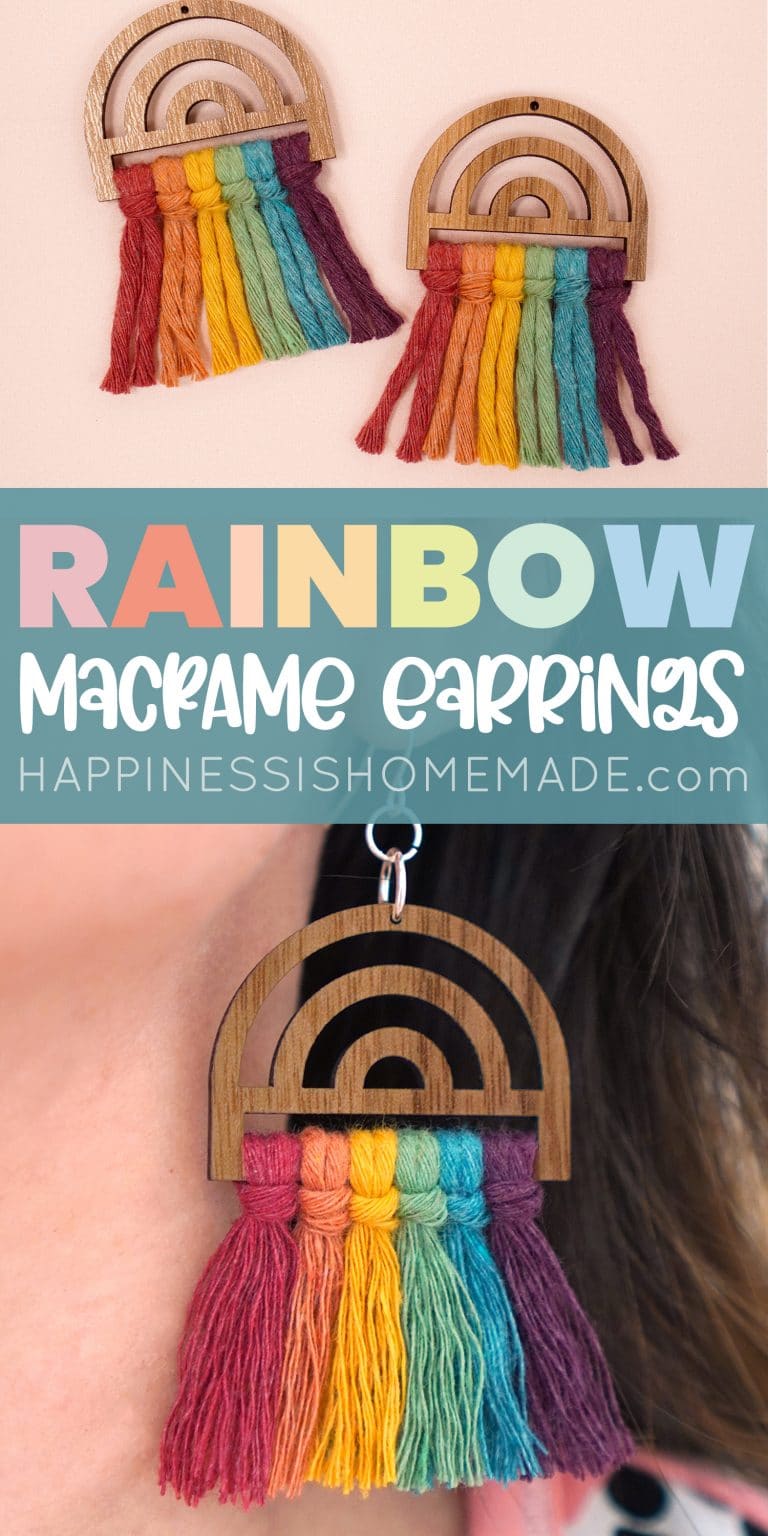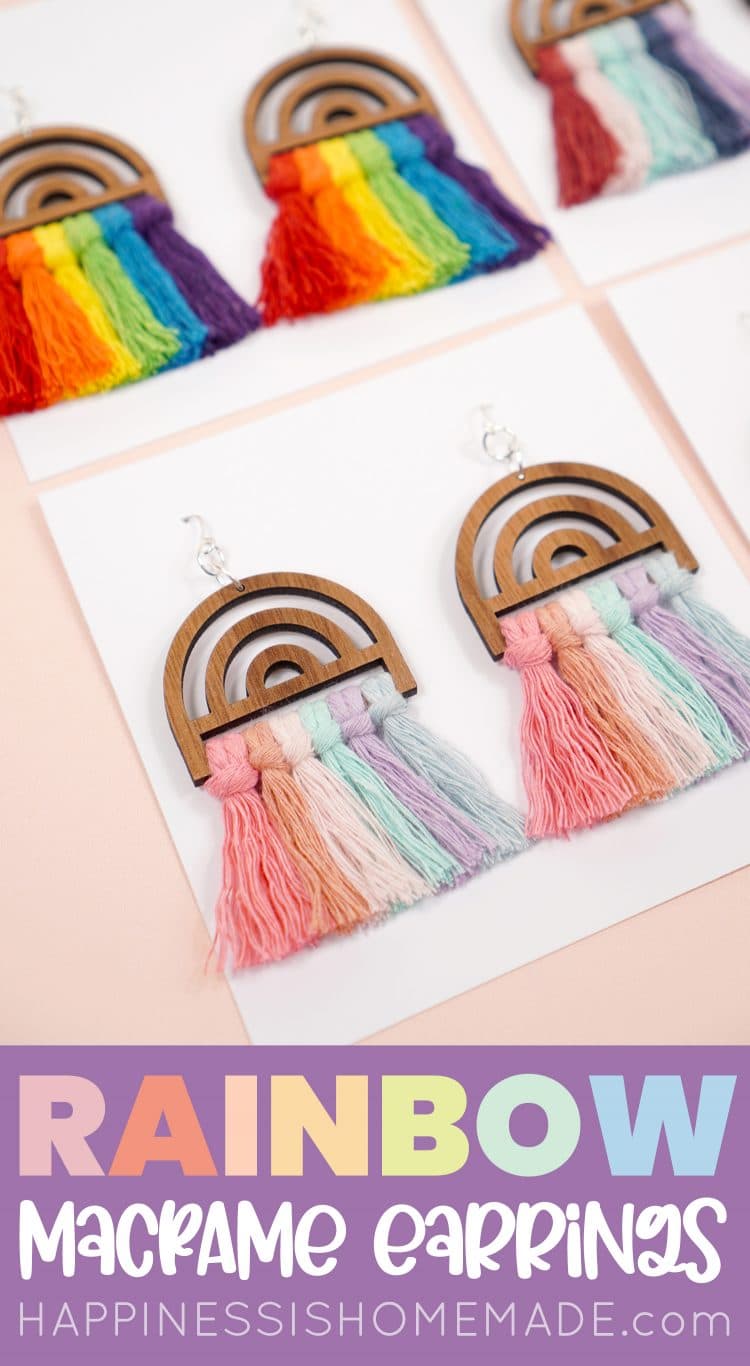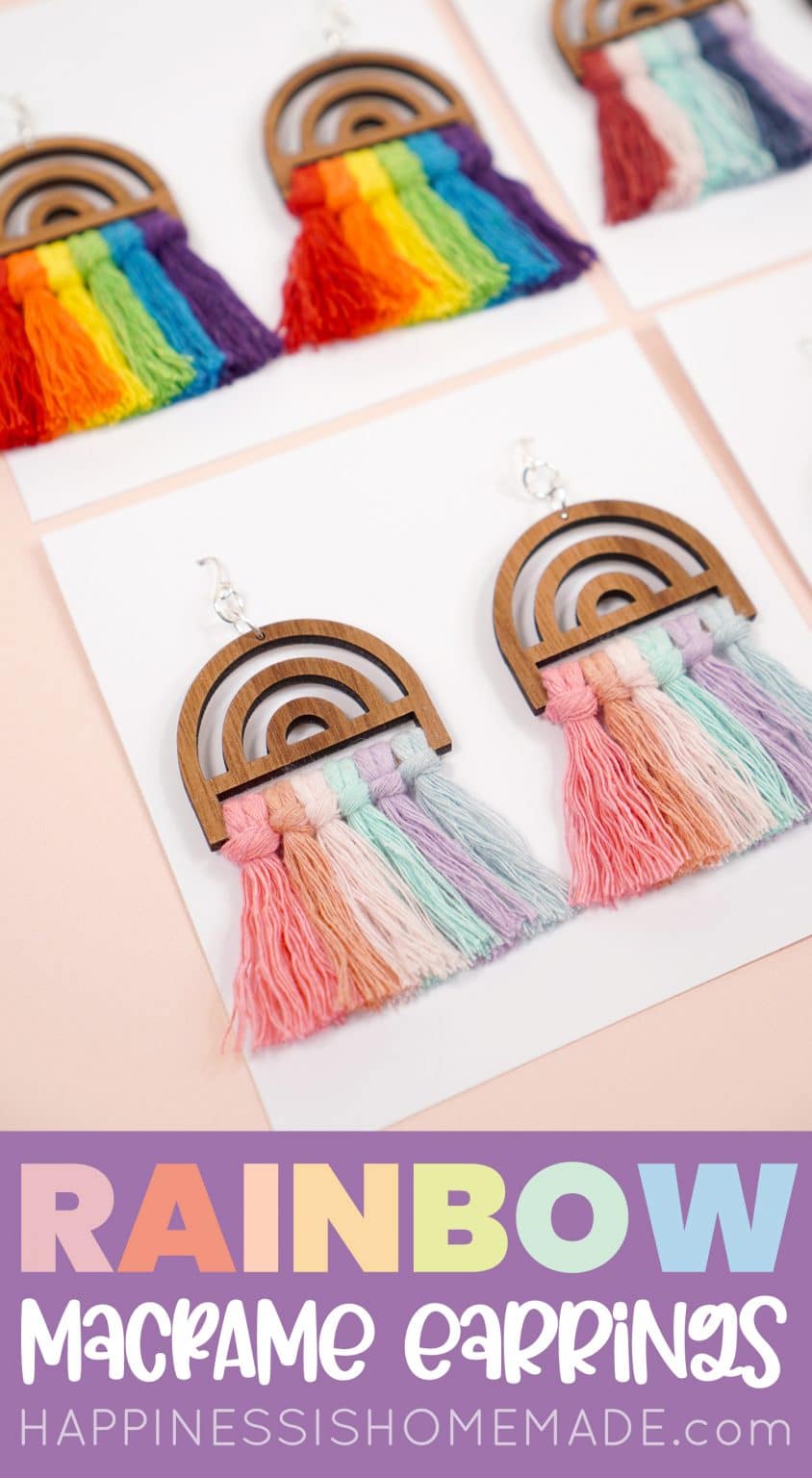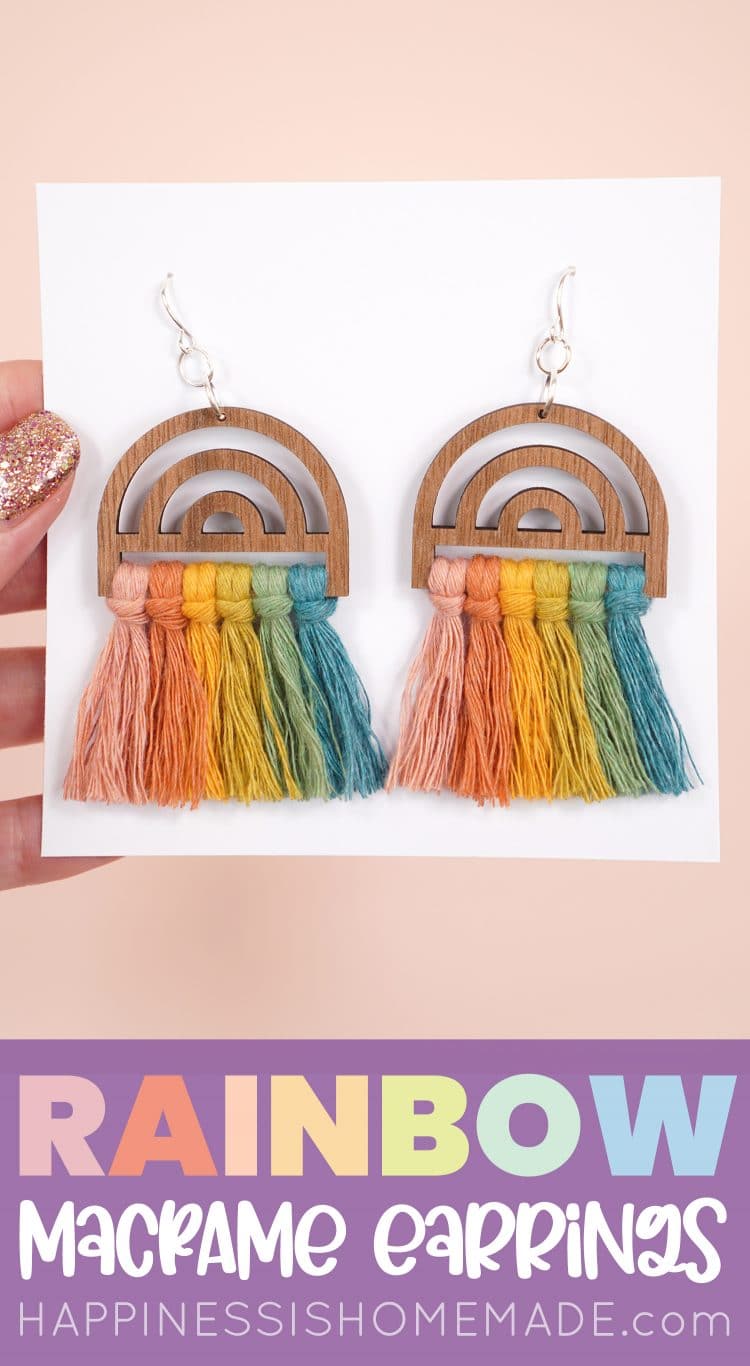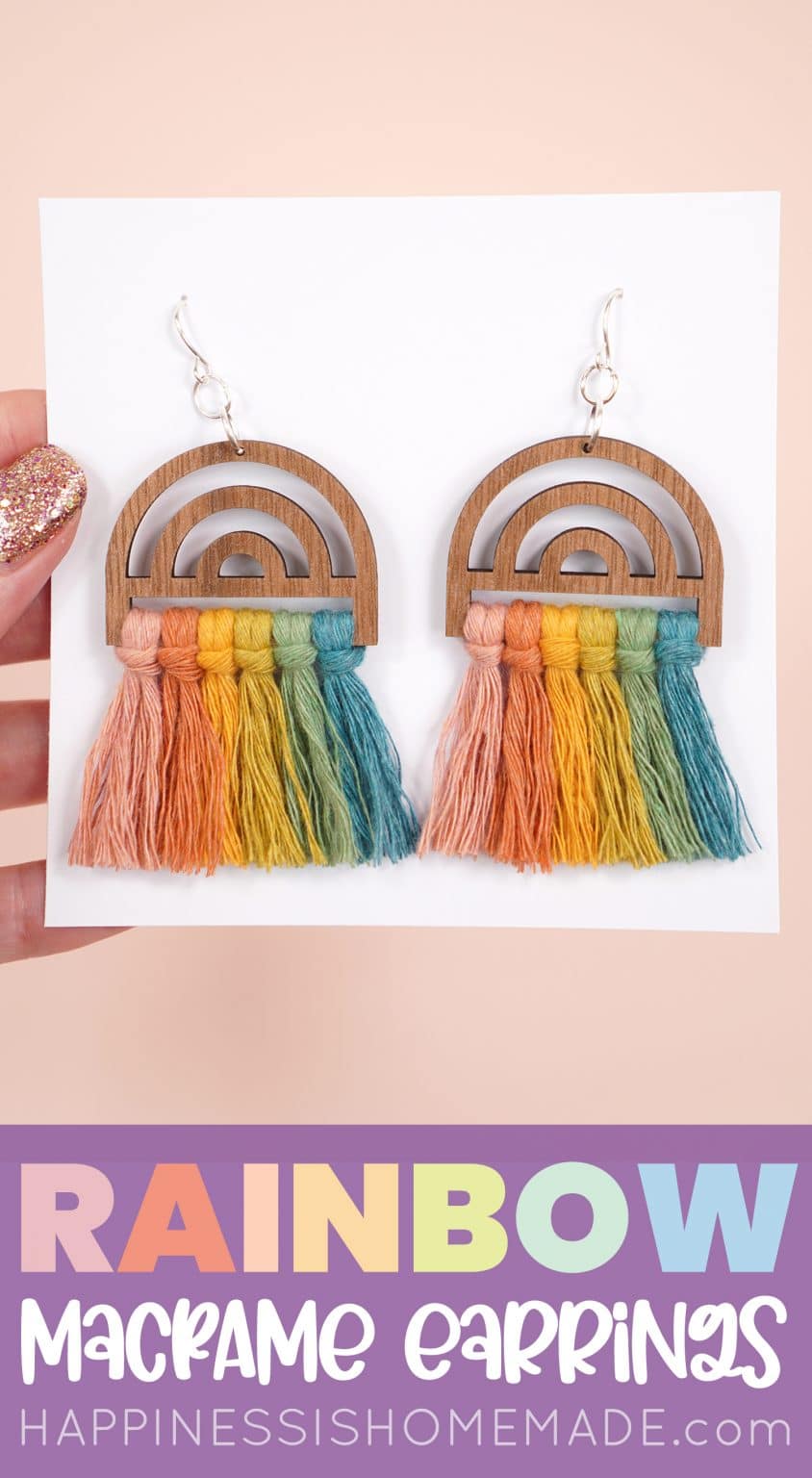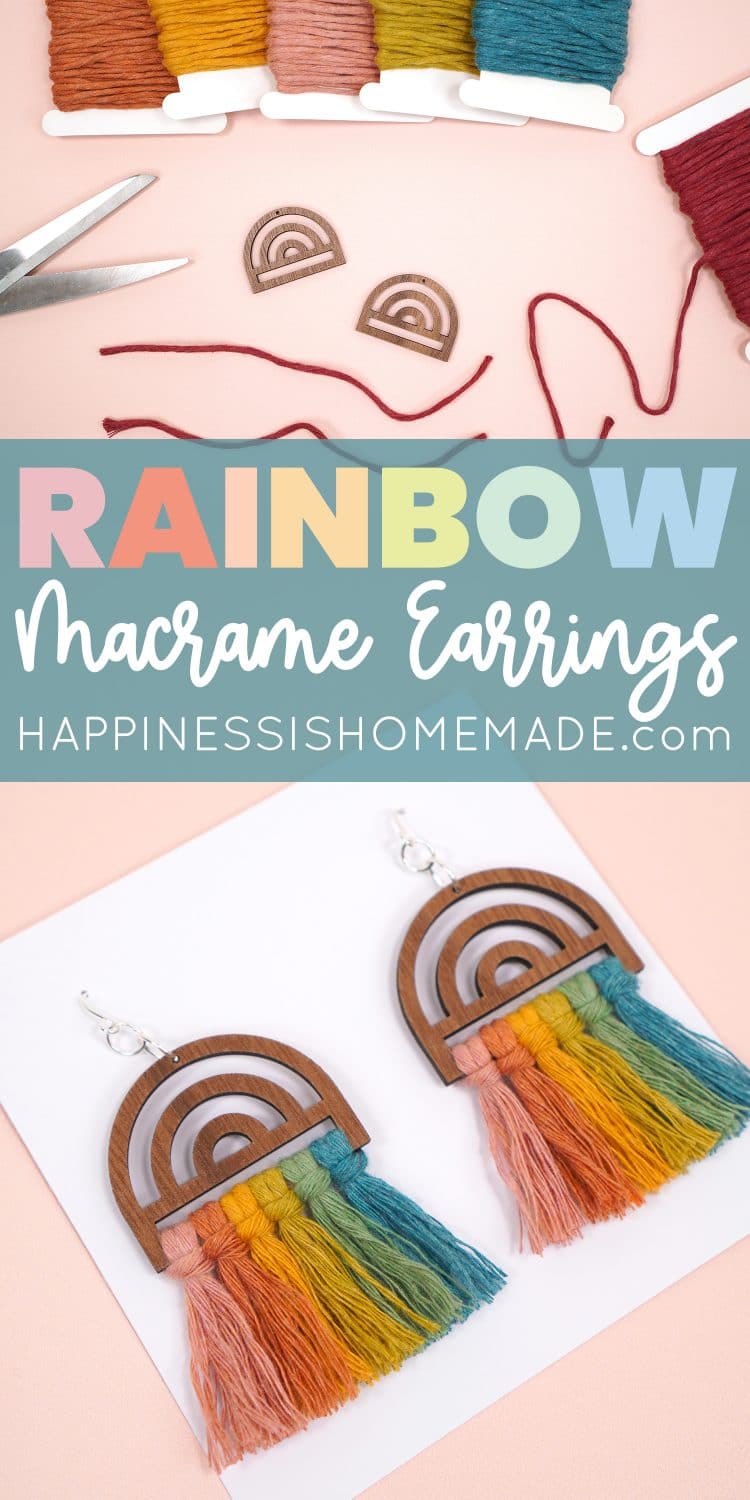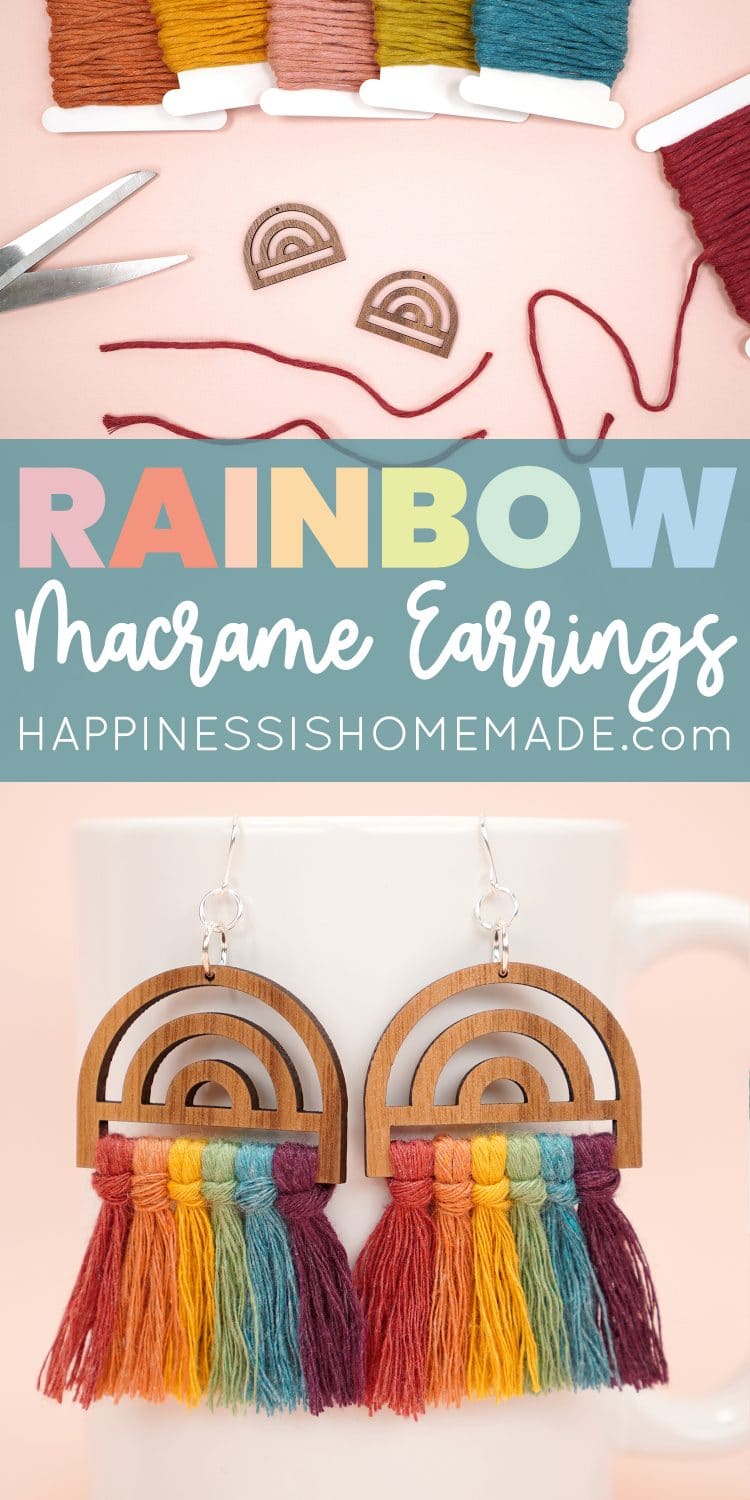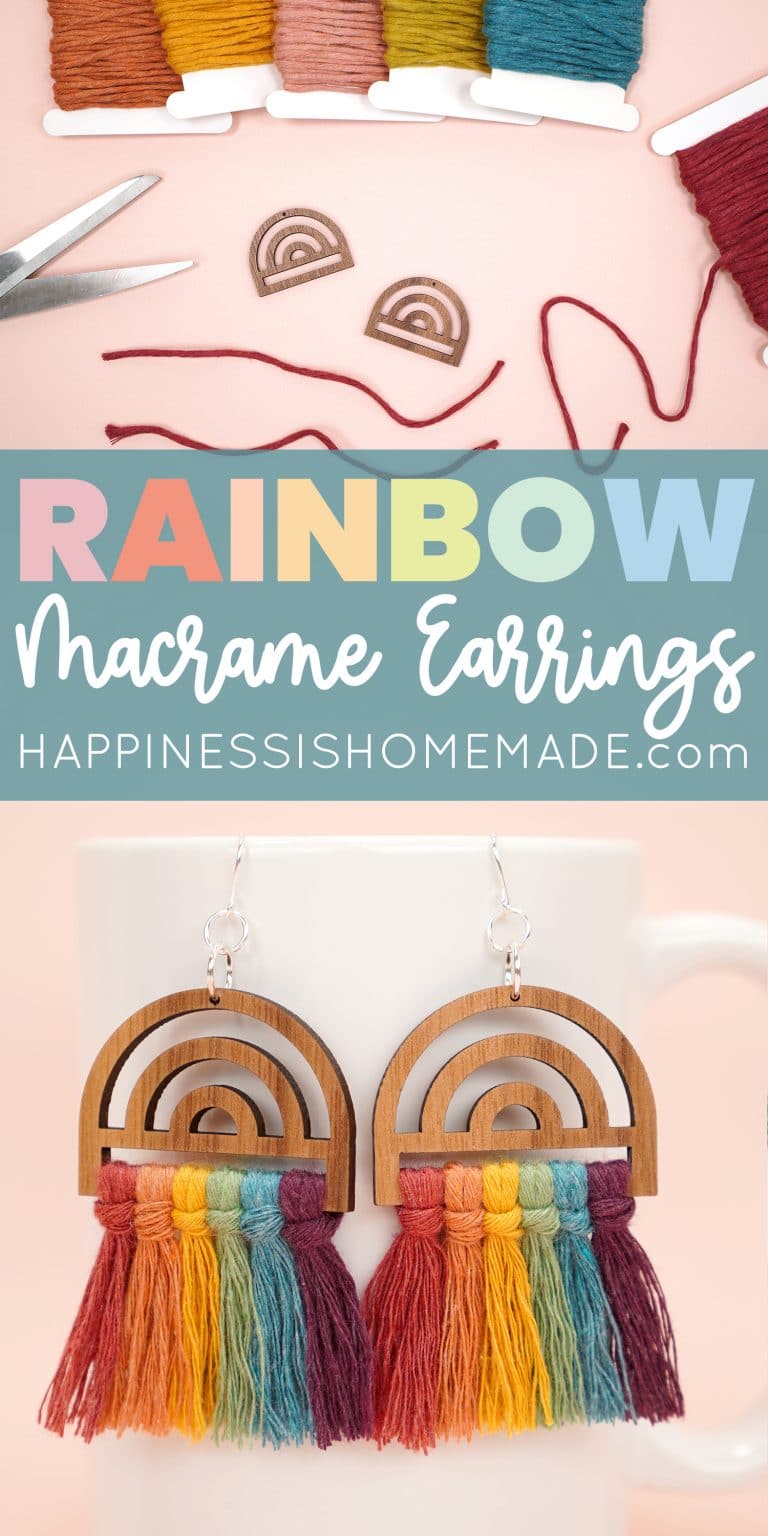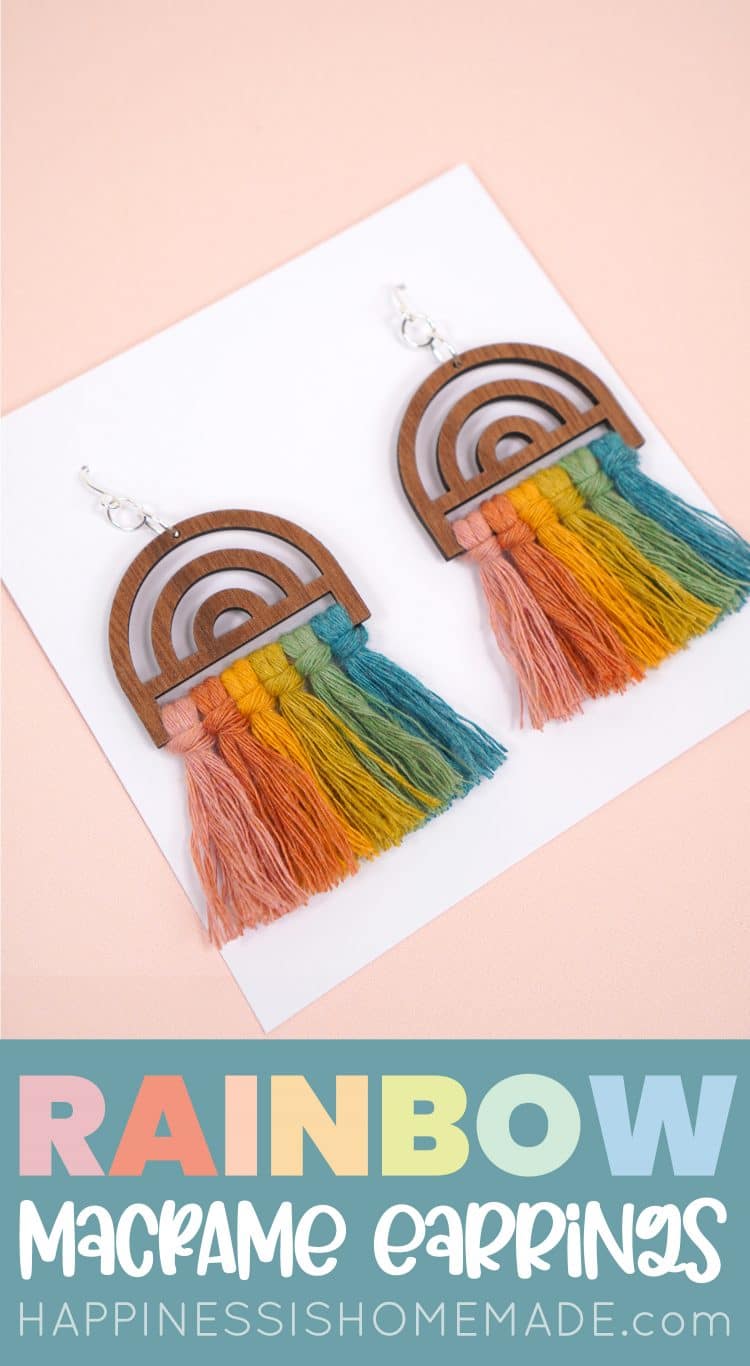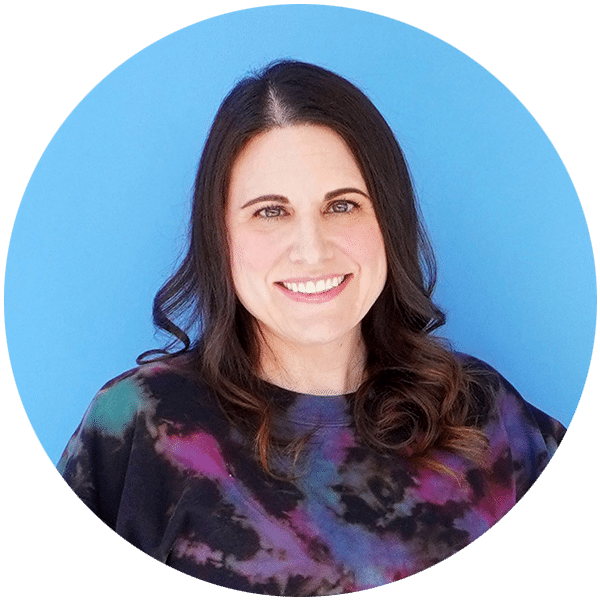 Heidi Kundin has captivated the hearts of millions with her colorful and inspiring approach to crafting, celebrations, and family fun. With over 15 years of experience, Heidi's website has become a must-visit destination for those seeking quick and easy creative ideas and last-minute solutions. Her warm personality shines through her posts, inviting readers to join her on a creative journey that's fun, rewarding, and achievable.