Craft Room Tour
This post and its photos may contain affiliate links. As an Amazon associate I earn from qualifying purchases. If you make a purchase through these links, I may receive a small commission at no extra cost to you!
Looking for craft room ideas? Tour my craft room and take a peek at my colorful craft room organization!

Oh my gosh, you guys! It was recently brought to my attention that I have never shared my awesome new craft room with y'all! We rearranged some of the spaces in our house about a year ago, and as a result, this incredible new craft room was born out of my boys' old playroom loft space. Our cheery new craft room is a wonderfully inspirational space that's jam-packed with colorful and creative organization ideas!
Craft Room Tour – Happiness is Homemade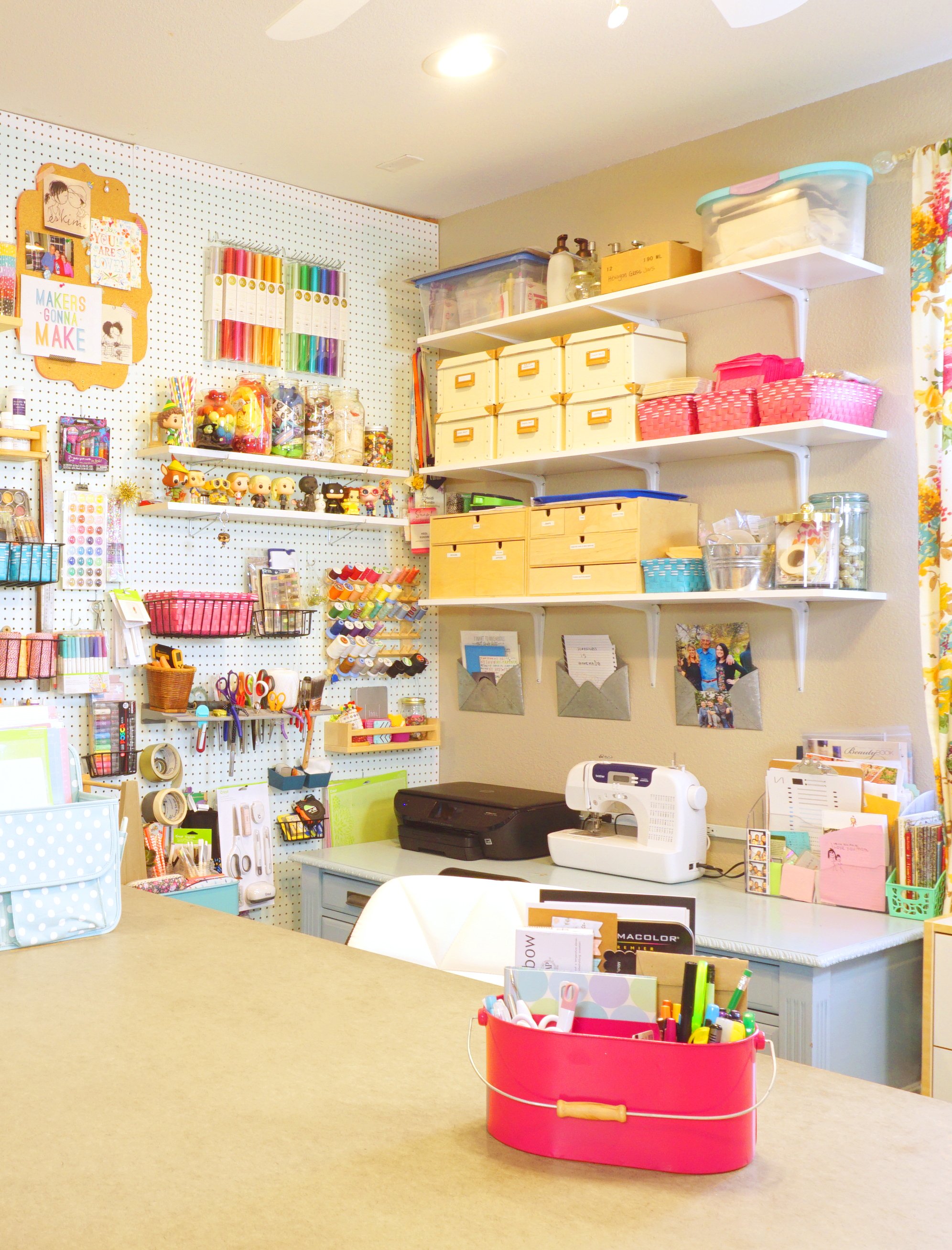 In the center of the craft room is an 8'x4′ raised Masonite work table that is built upon two 3′ square storage cubbies for maximum storage space. I have LOTS of craft supplies, so having a designated place to put everything is crucial for keeping my craft room tidy and organized!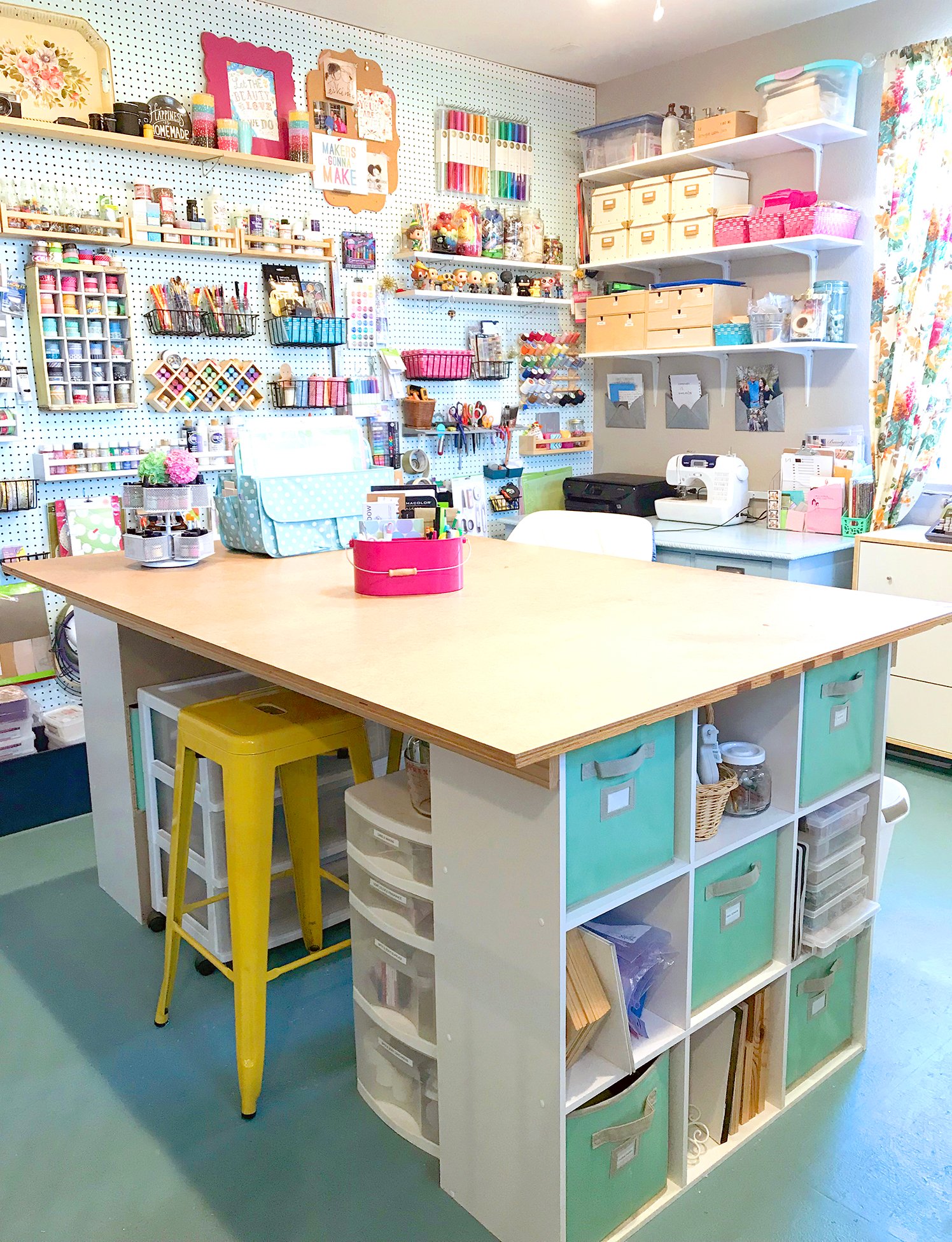 As you can see, there's a lot of storage and organization going on in this room! The 9-cube storage cubbies that serve as the base of the work table are filled with foldable storage cubes that keep my supplies neatly out of sight. I also have two sets of plastic drawers under the table that house my bath & body craft supplies. I'm head over heels for the looks of those yellow bar stools, but when I'm sitting and working at the table for an extended period of time, I much prefer the cushy padding and the low back on my white leather chair!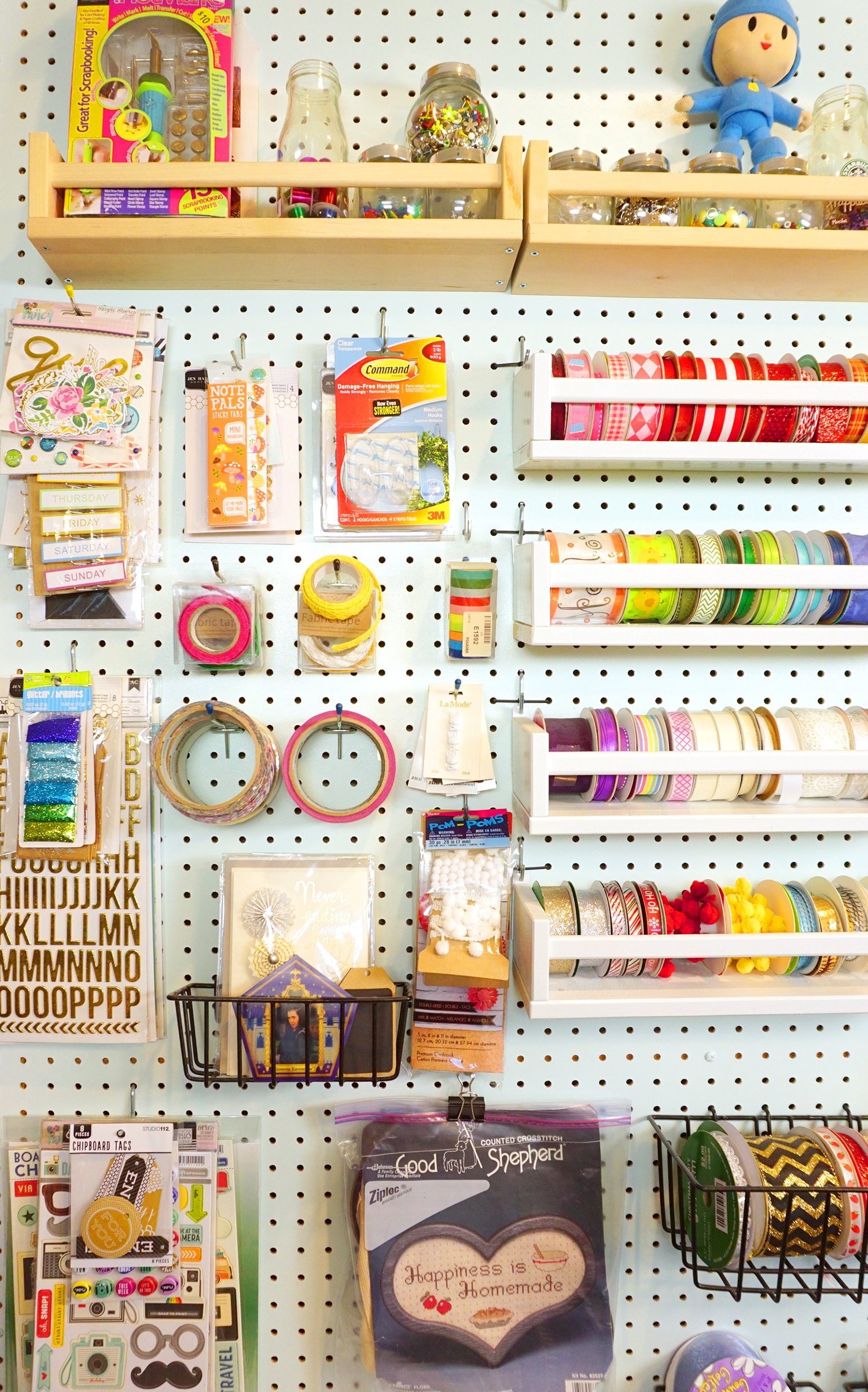 Okay, but enough about chairs and tables…let's talk about the thing that everyone always mentions when they first see my craft room – my amazing mint green pegboard wall of awesomeness! The pegboard takes up an entire wall of the craft room (measuring 12′ wide), and it's packed full of SOOO many fun supplies that my 4-year-old niece is convinced that I have an actual craft store inside of my house – ha! She insists upon visiting "Aunt Heidi's Craft Store" every time she comes over to visit!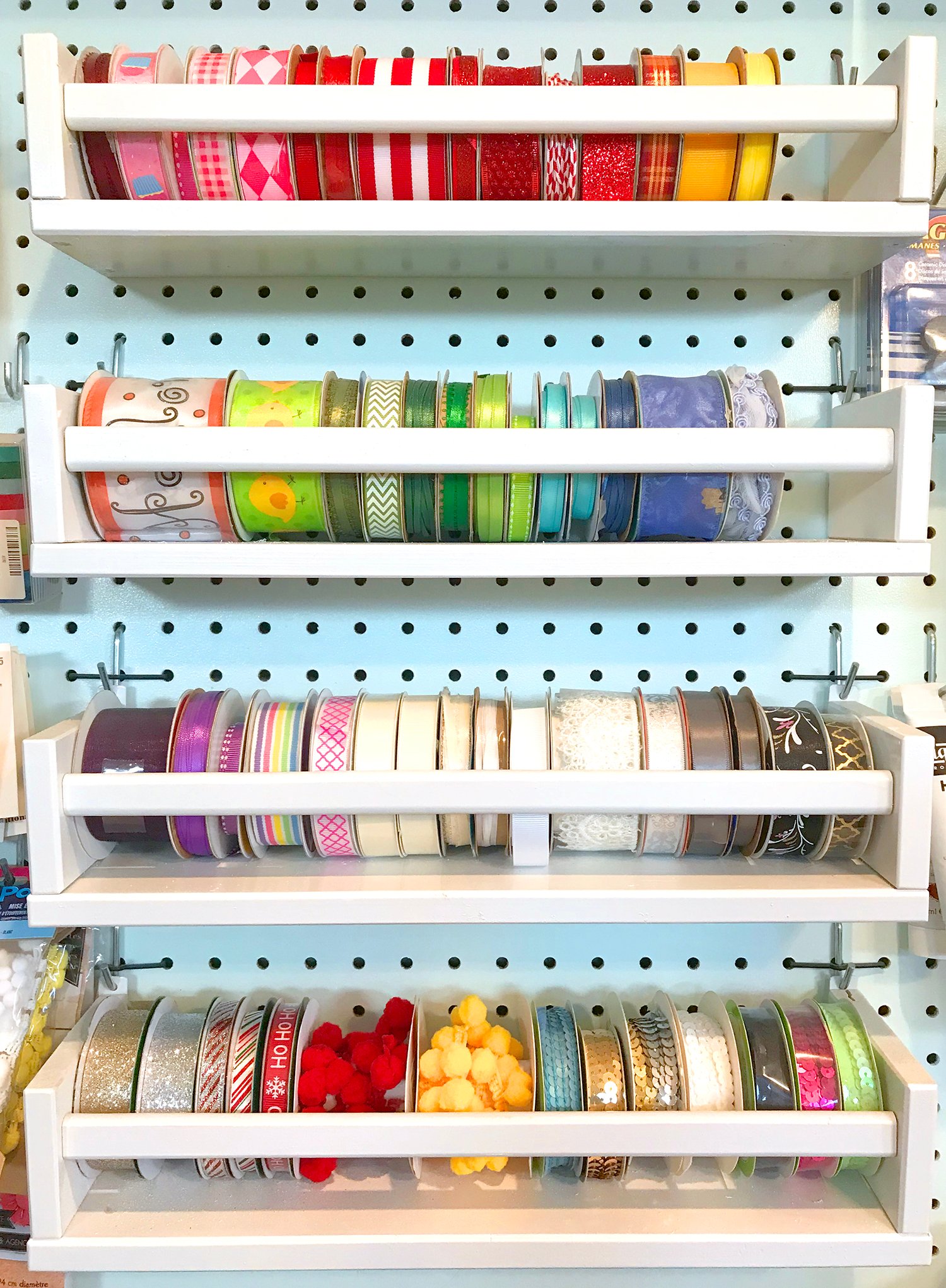 You may have seen Ikea BEKVÄM spice racks used as bookshelves before, and in my craft room, we use them for storing TONS of things! I actually have a dozen of these spice rack shelves on my pegboard, and I absolutely LOVE them! They're the perfect size for storing spools of ribbon and bottles of paint, glue, and other doodads!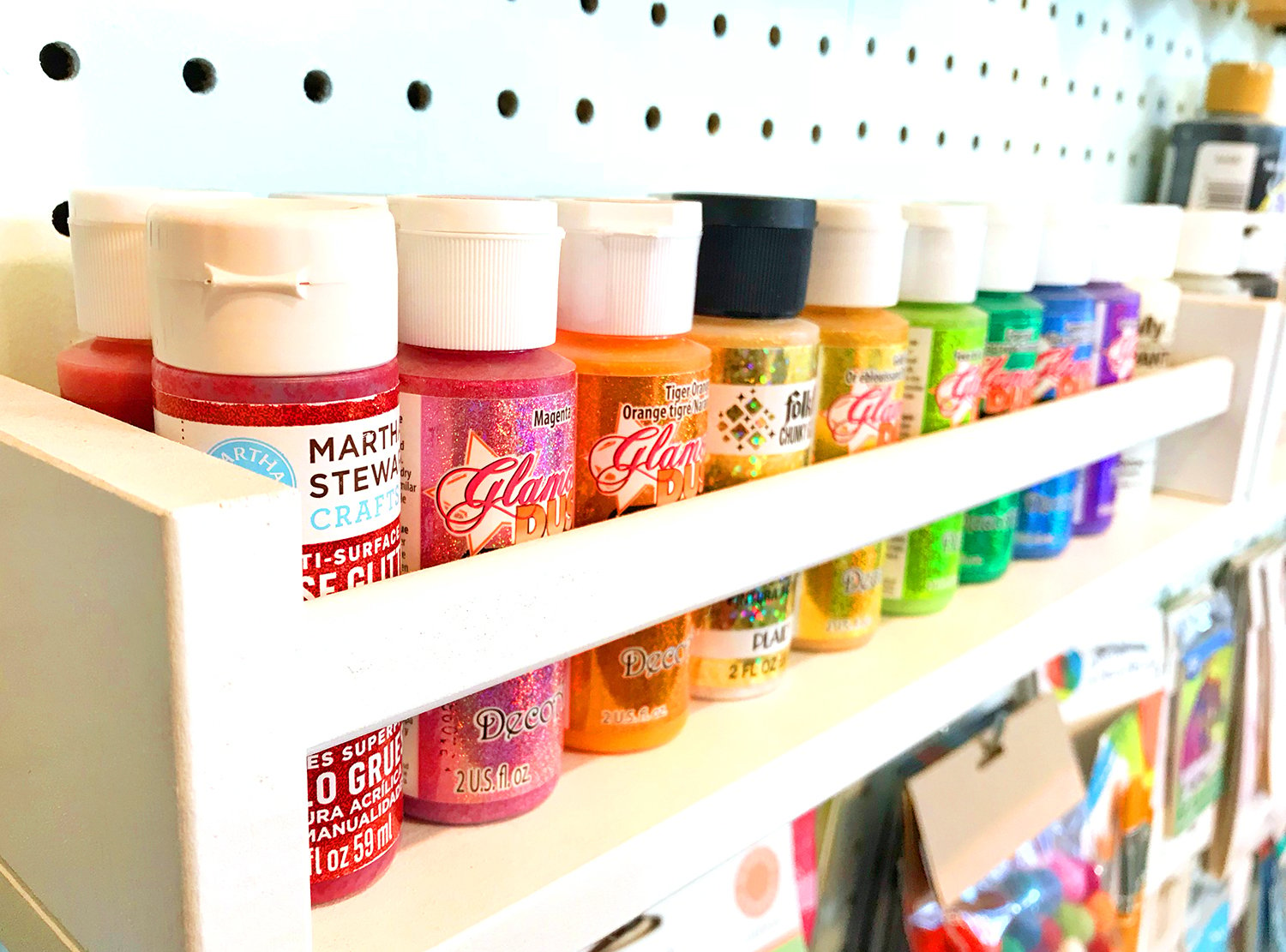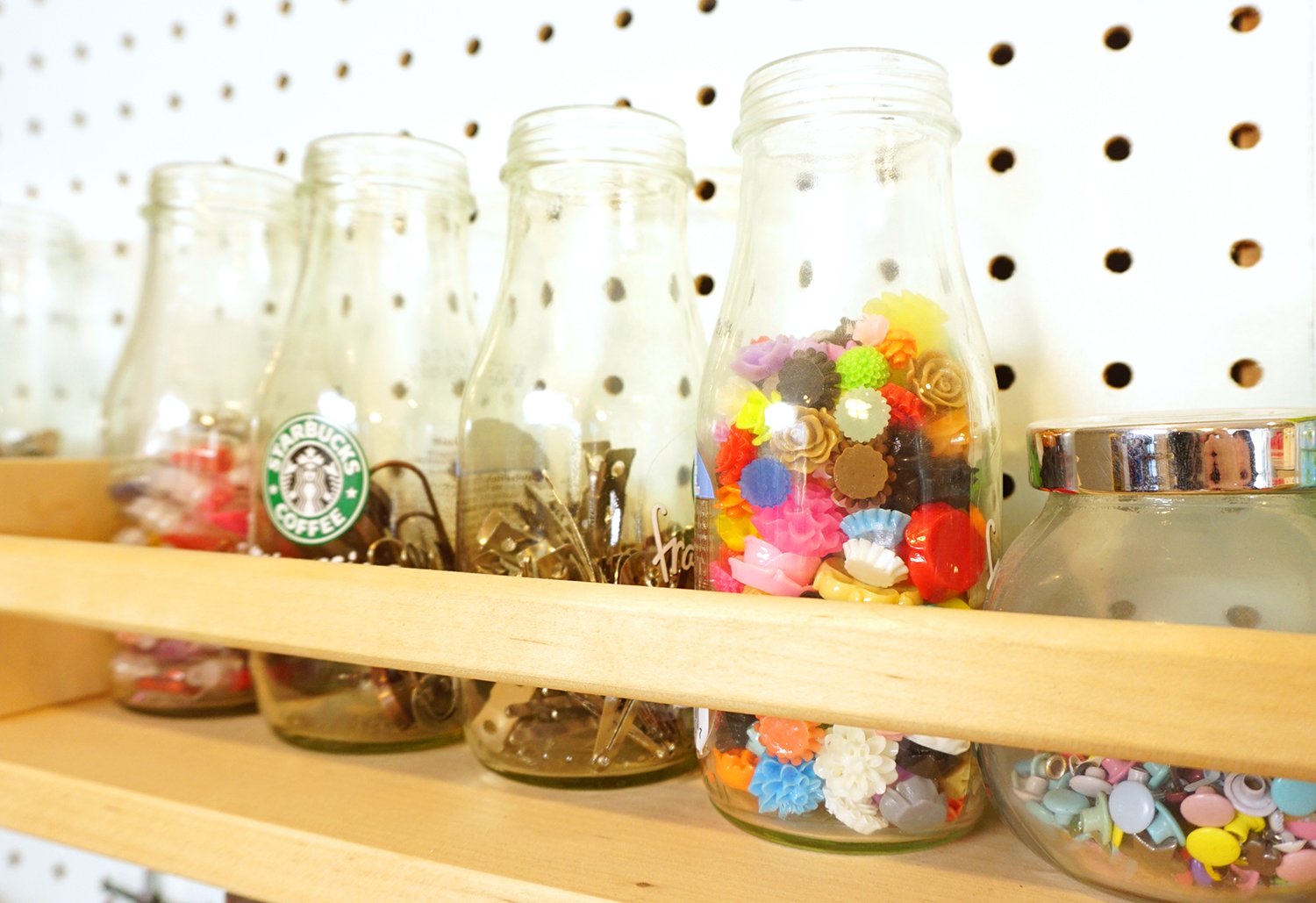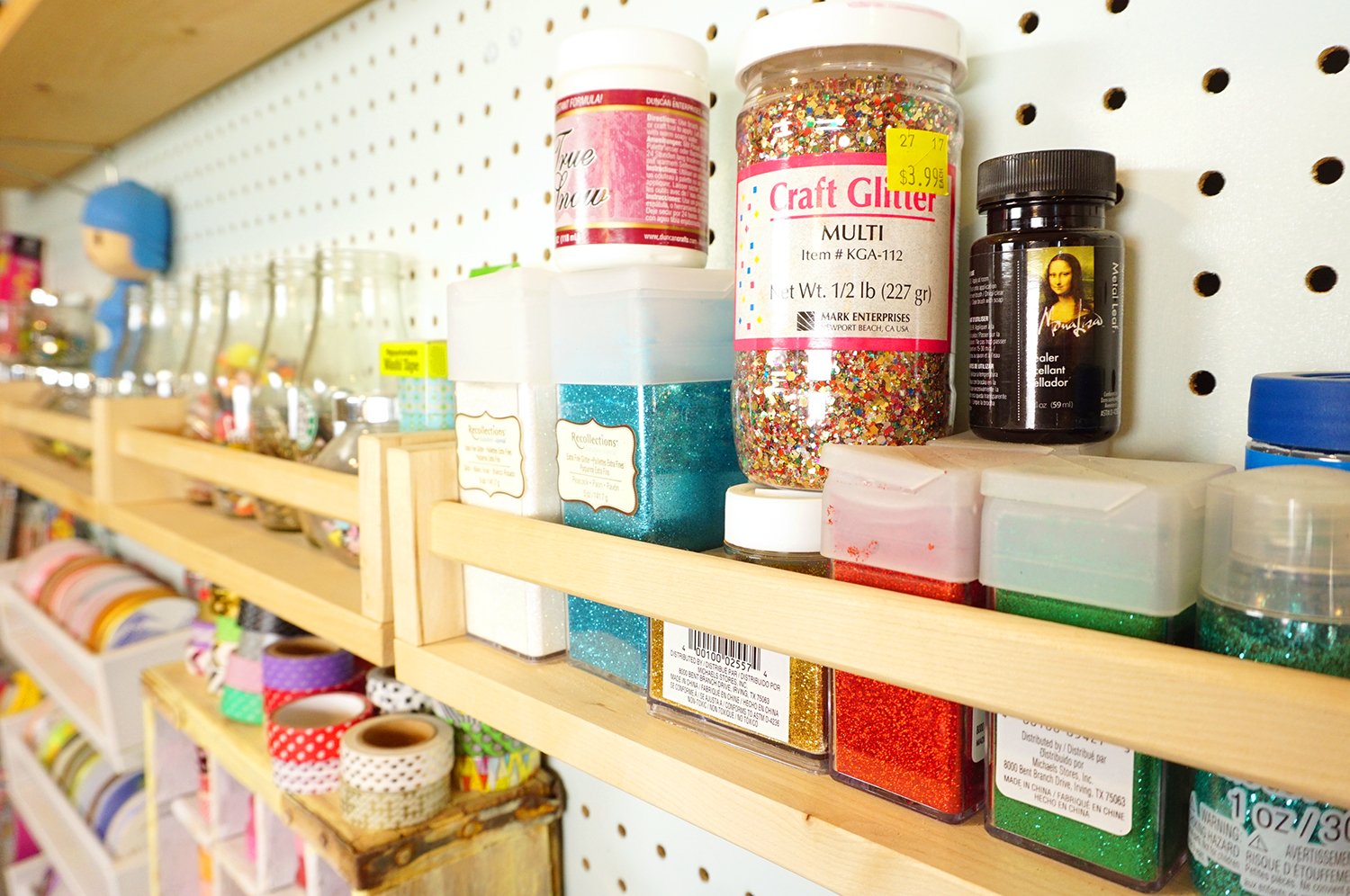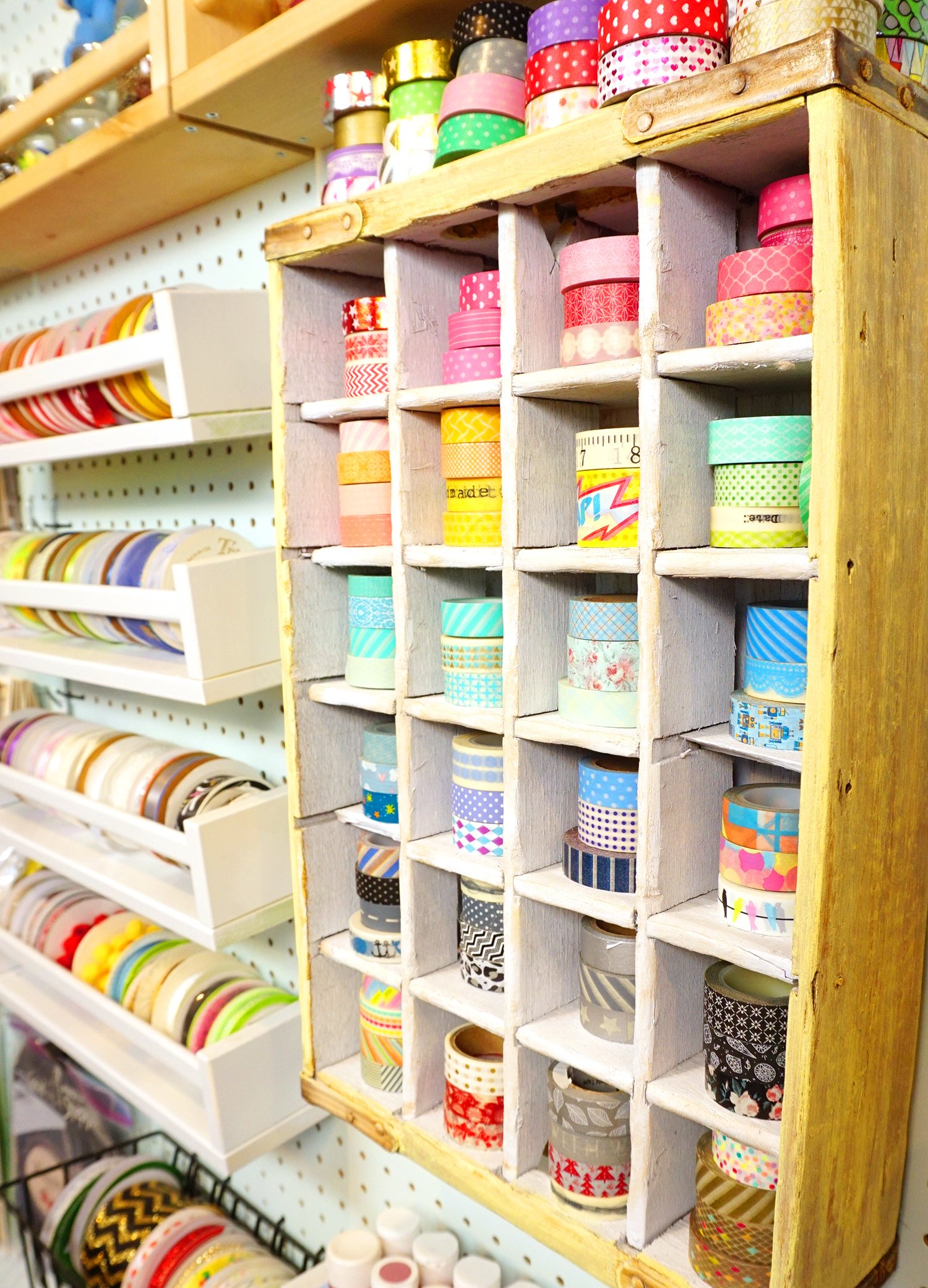 One of my favorite things on the pegboard wall is my vintage soda crate filled with washi tape – SO fun, right?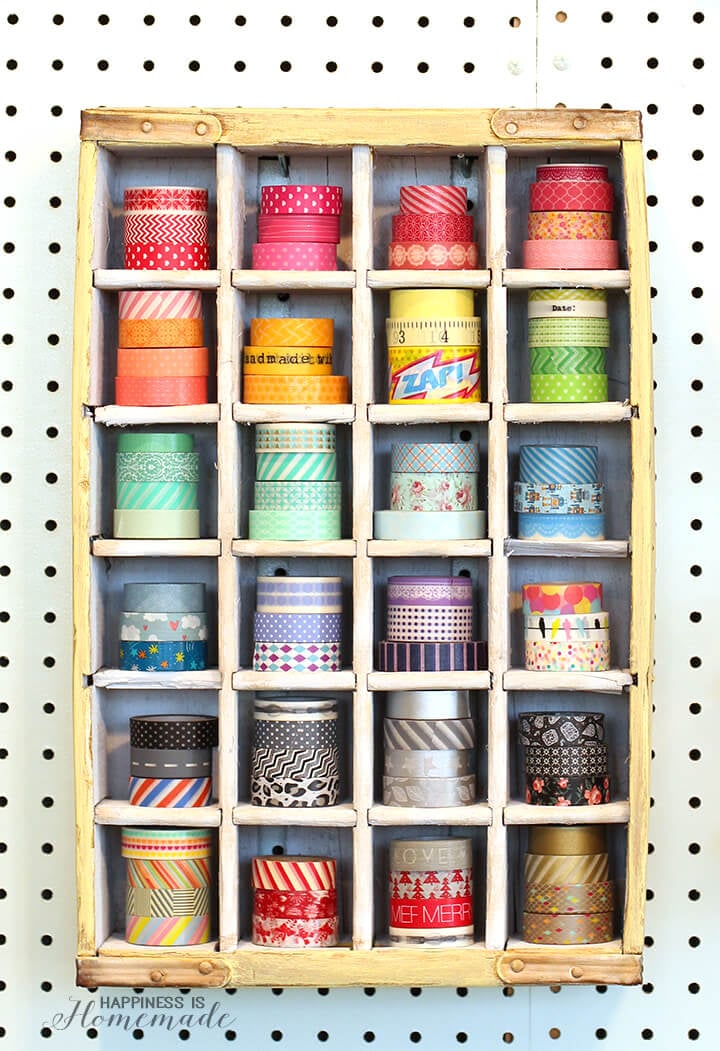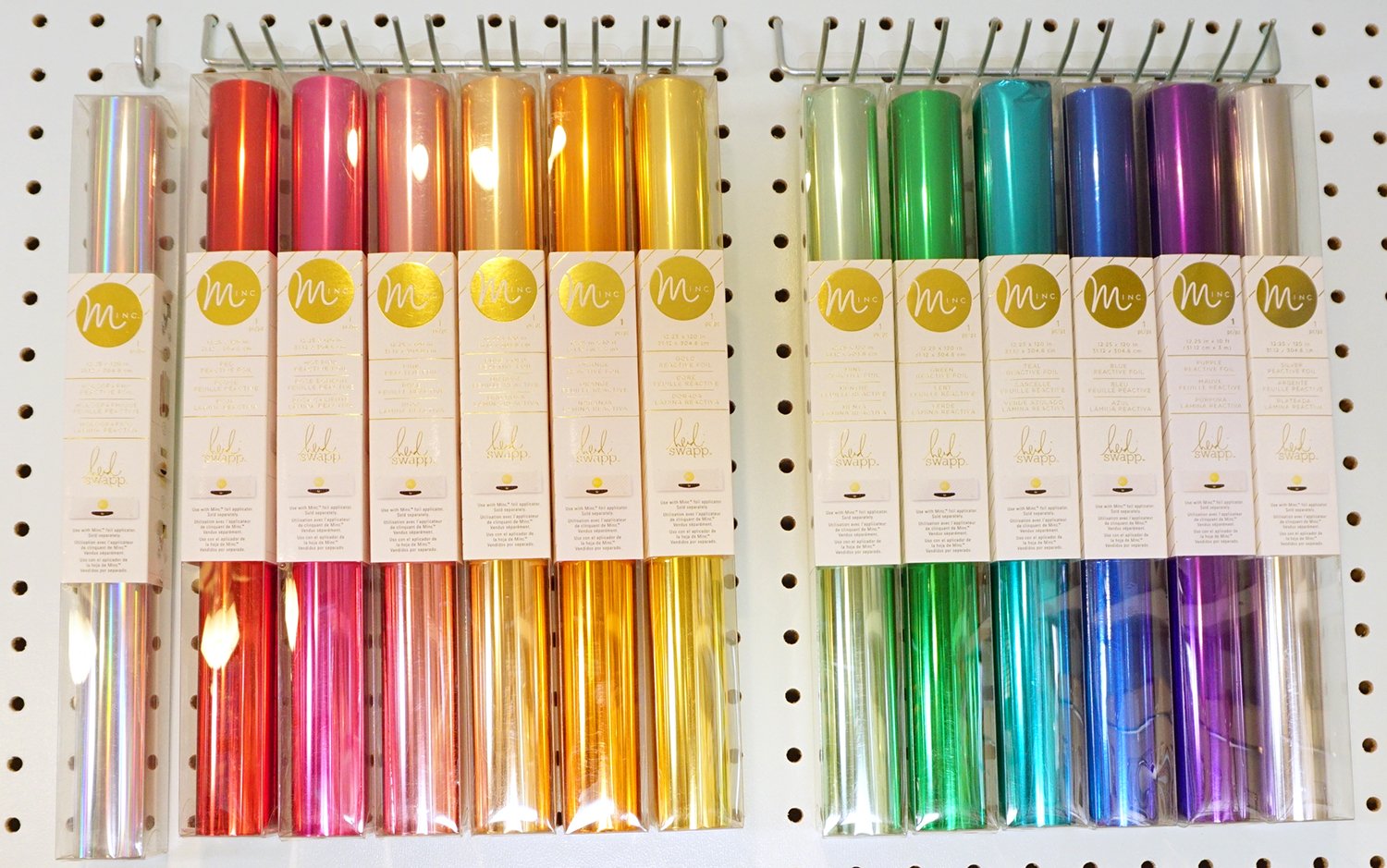 In case you hadn't noticed, I tend to organize everything in rainbow order, and this row of shimmery shiny Minc foils are no exception!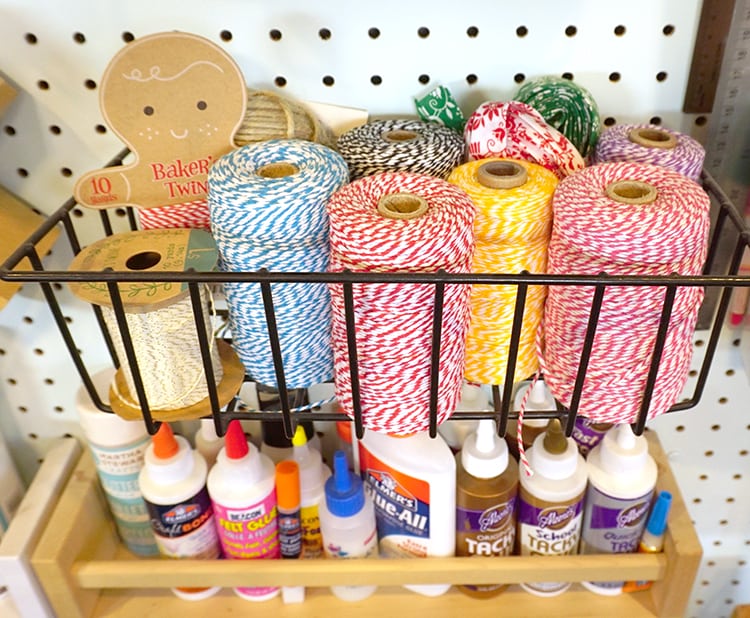 Aside from the spice rack shelves, I also have a bunch of these wire storage bins for holding other odds and ends.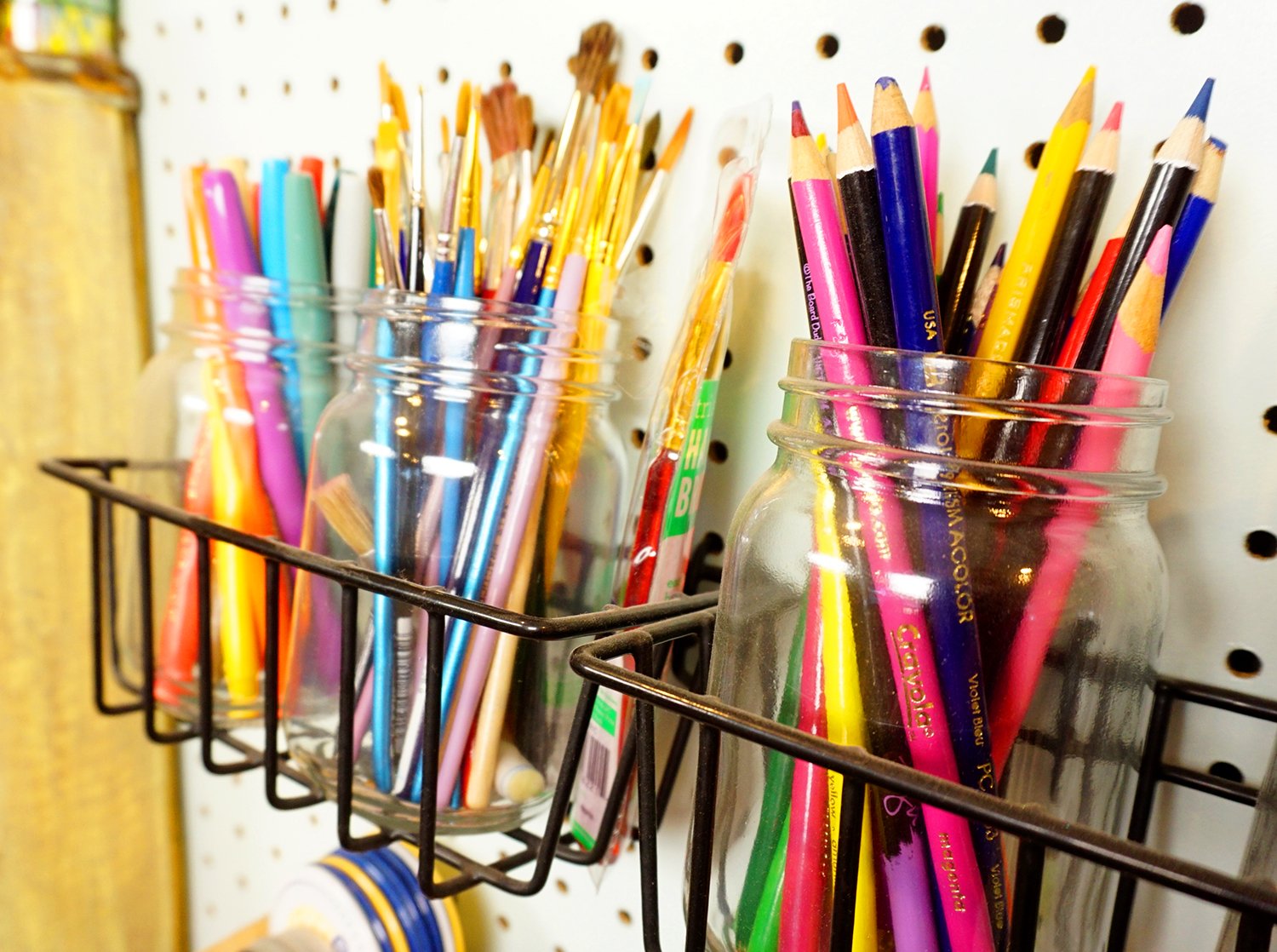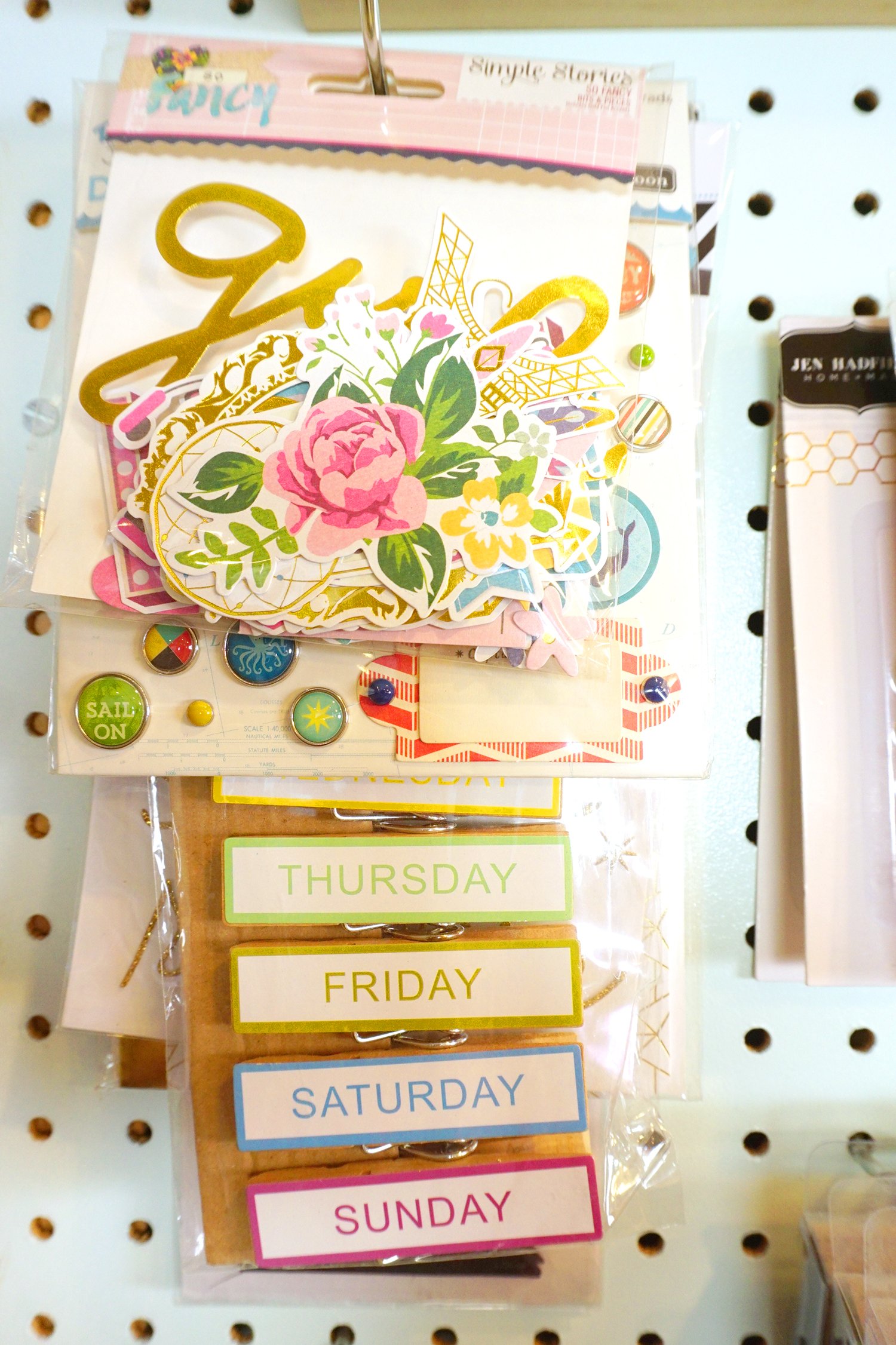 And, of course, lots and LOTS of pegs and hooks for hanging up everything else!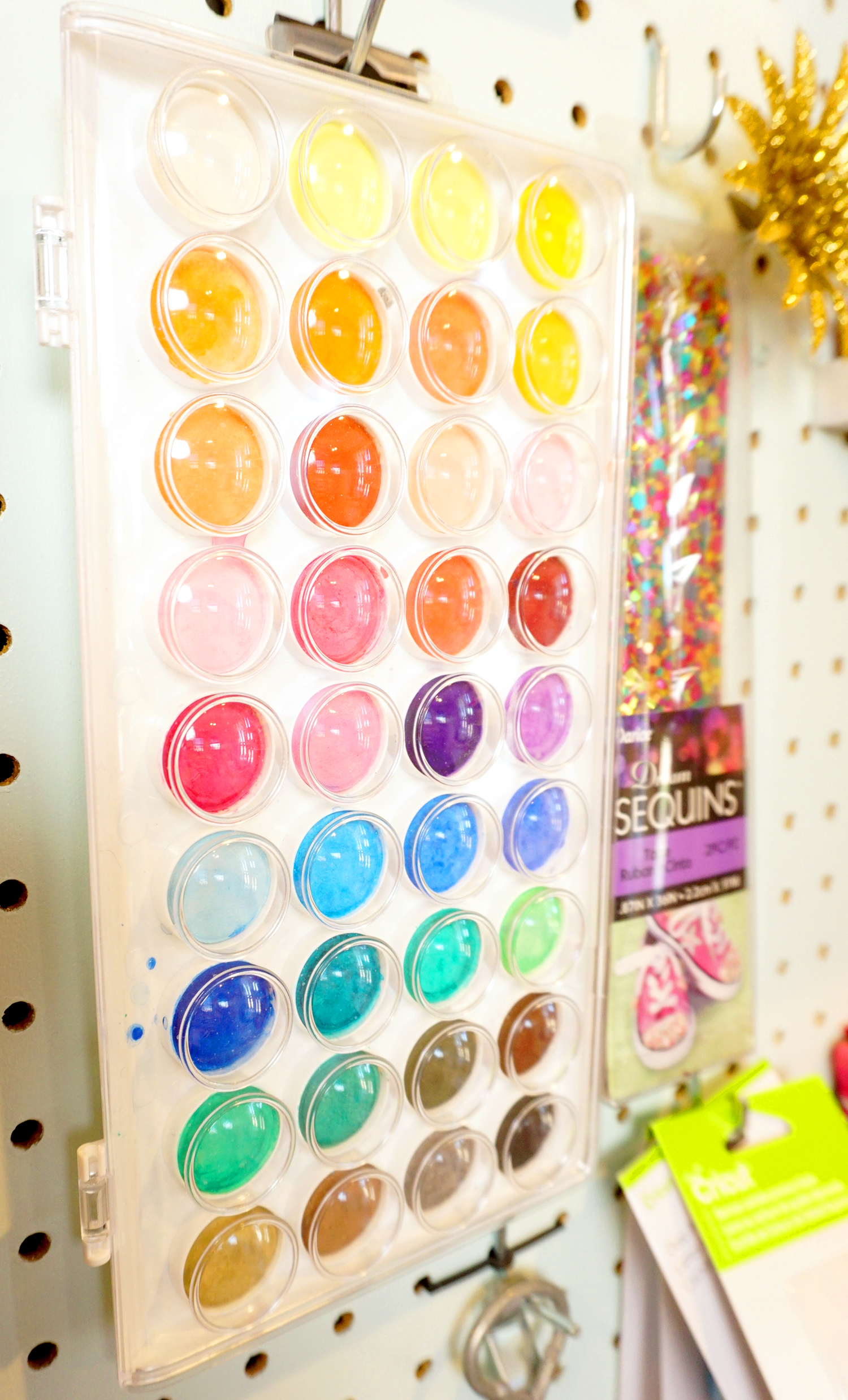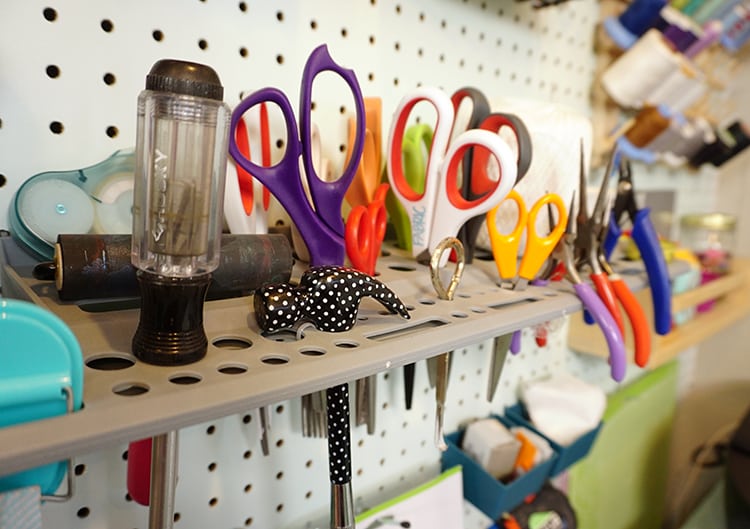 My pegboard tool organizer is also one of my must-haves – it holds SO many things, and it's a great way for me to keep all of my scissors and tools in one convenient location!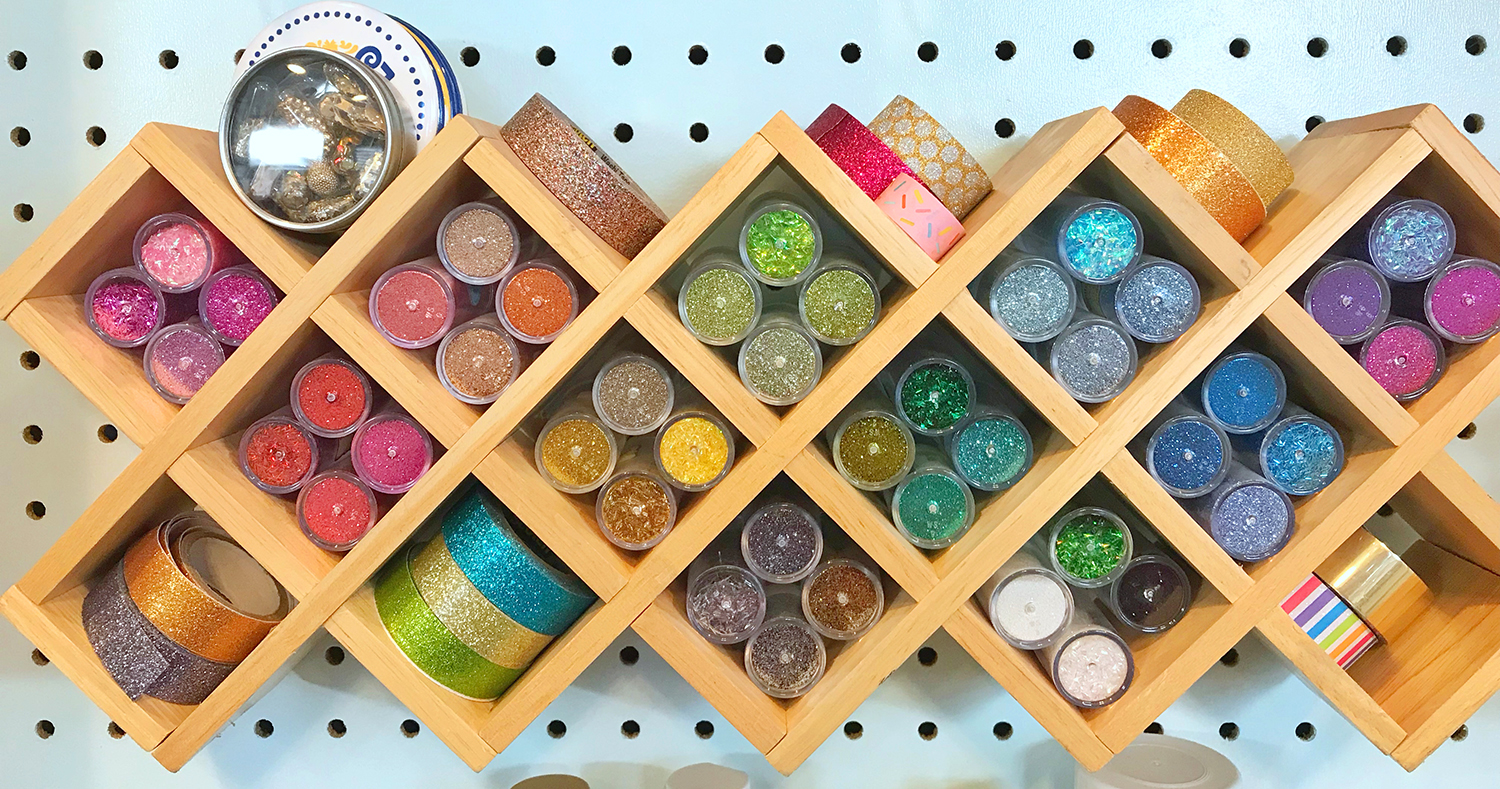 This fun geometric cubby shelf is the perfect size for storing my glitter collection!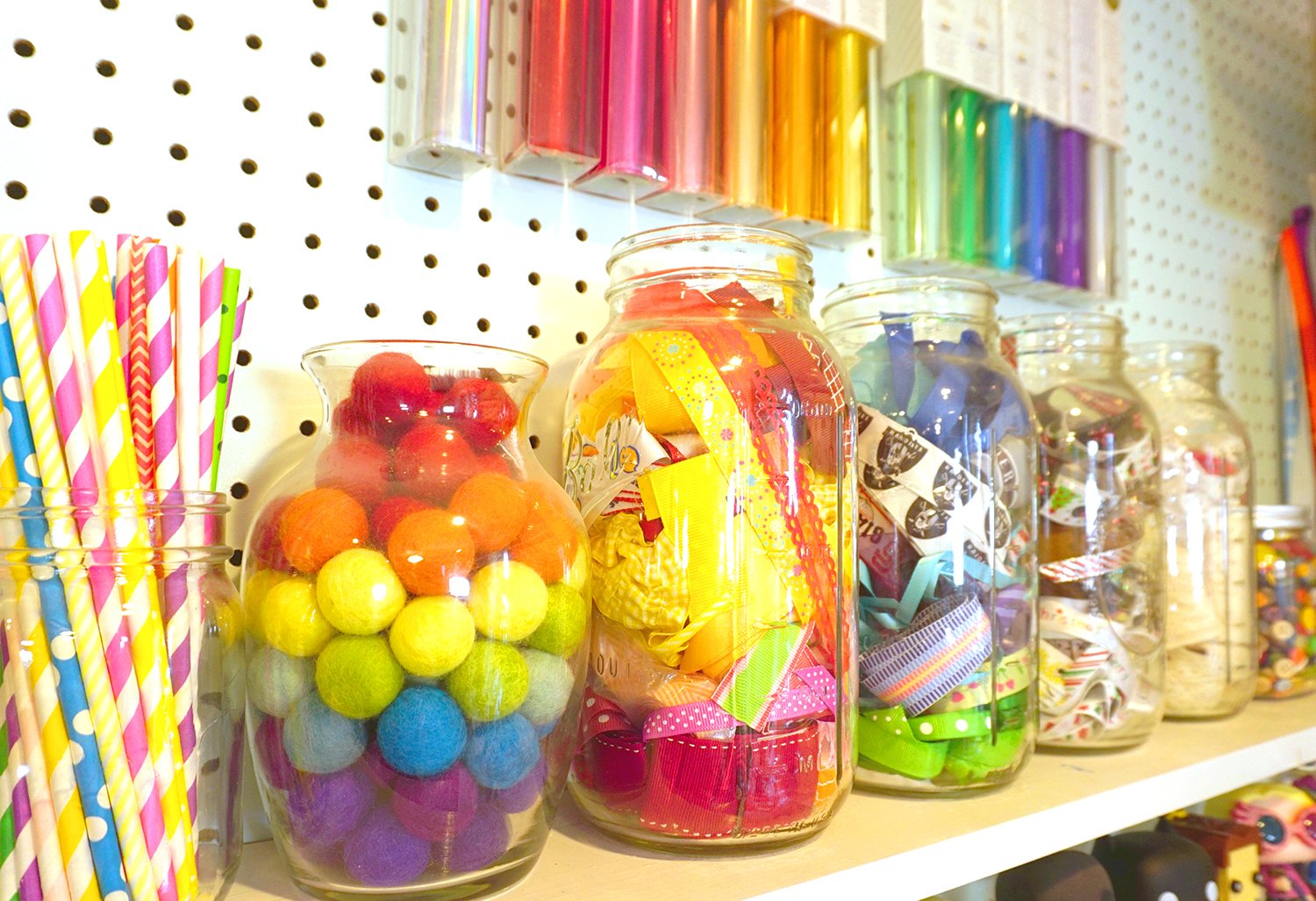 At the top of the pegboard, I installed several shelves for even more craft supply organization. I love using these 1/2 gallon mason jars to hold my small scrap pieces of ribbon and lace!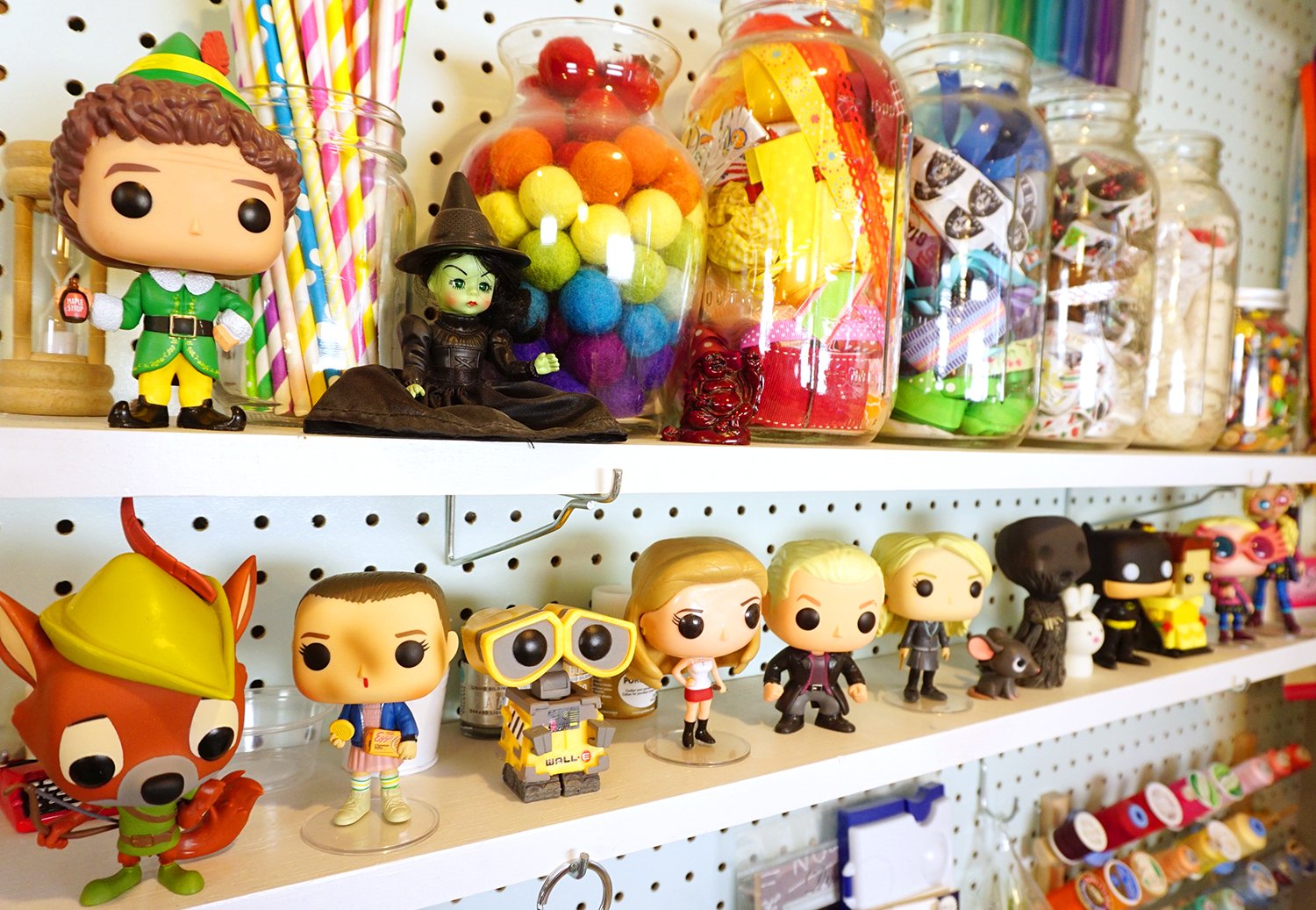 (The shelves also make a great place to display my collection of Funko Pop figures! Bonus points if you can name them all!)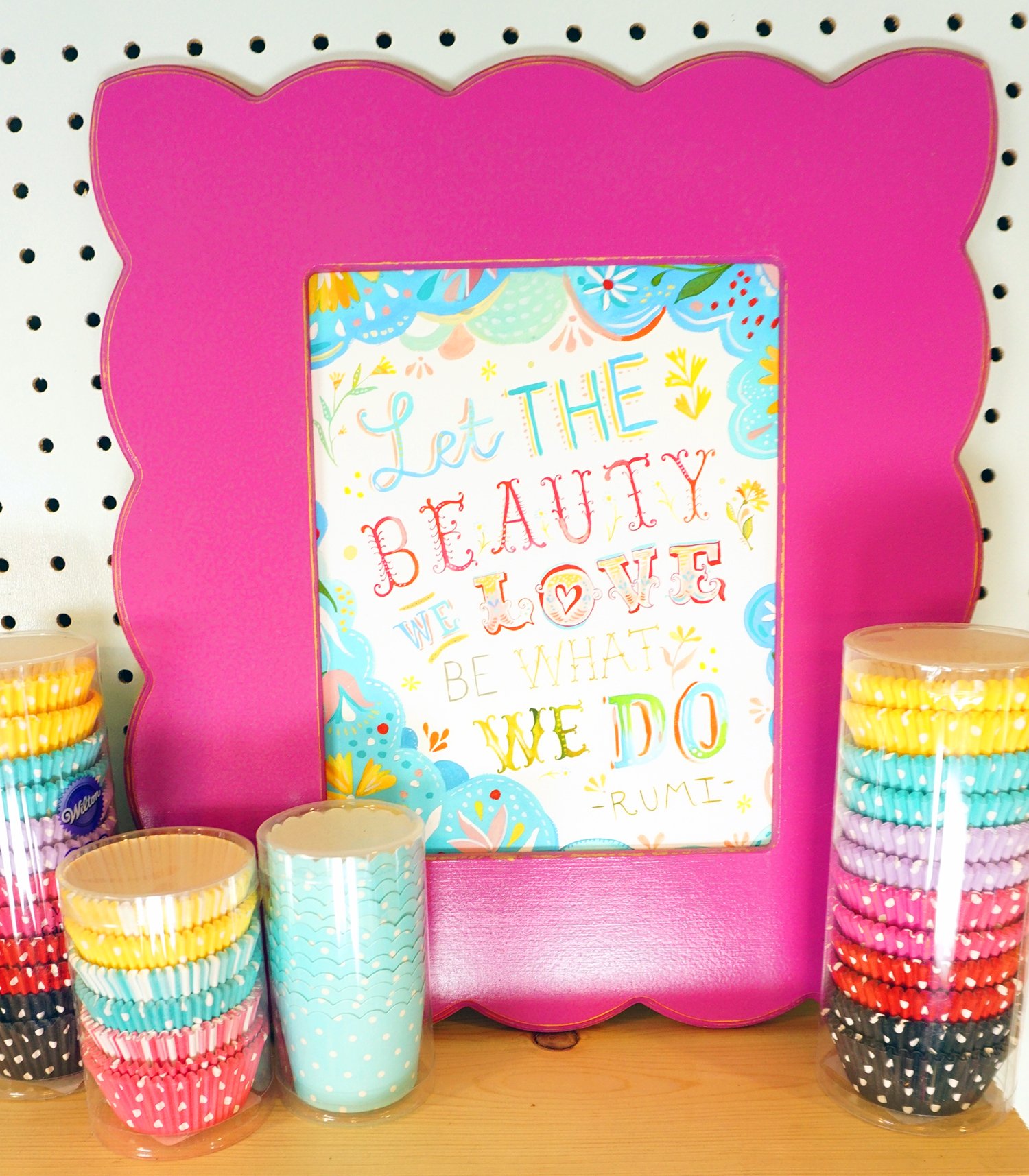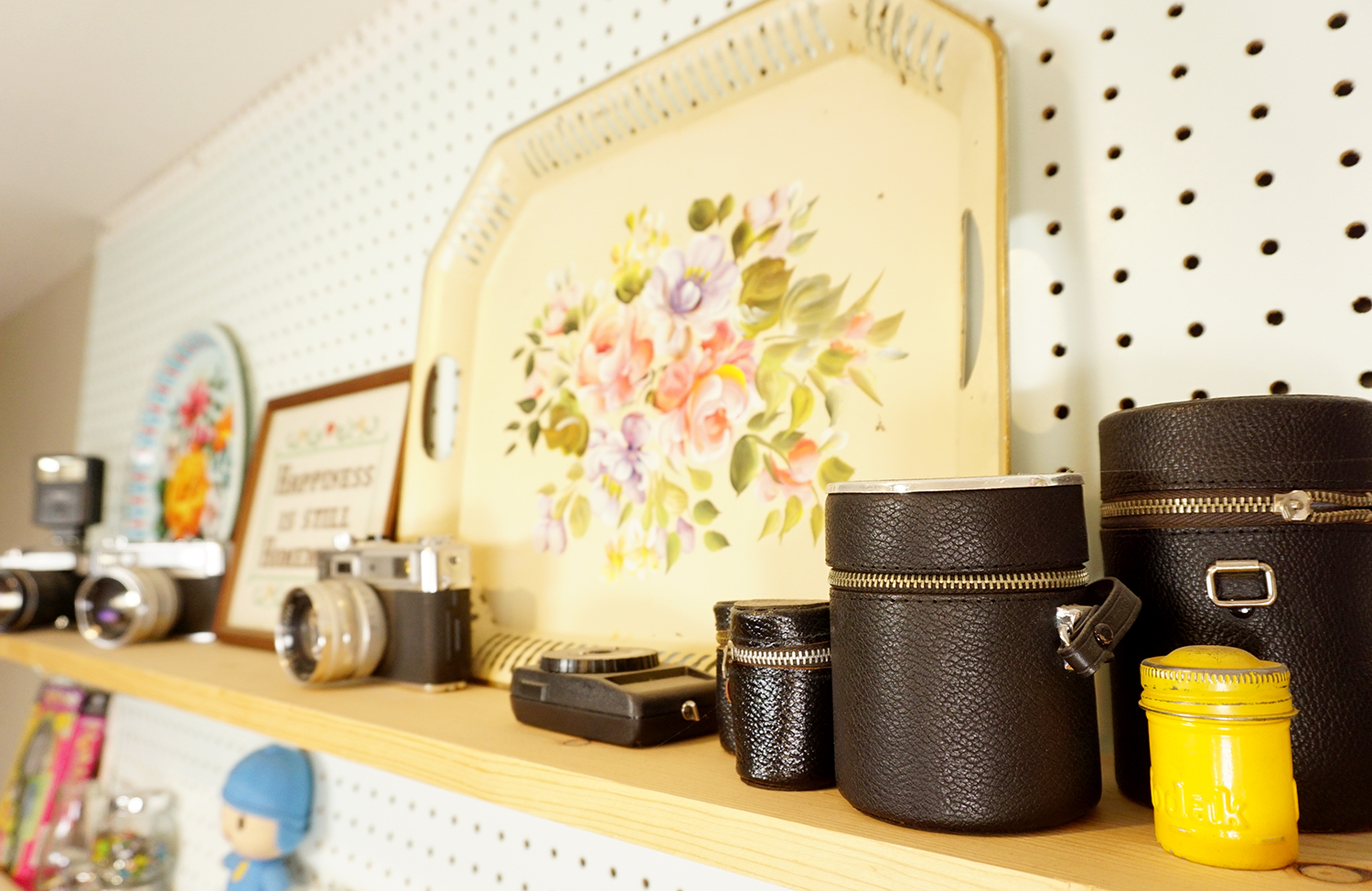 The very top shelf on my pegboard wall is filled with some of my favorite vintage goodies – cameras and camera equipment, Tole painted trays, and a "Happiness is Still Homemade" cross stitch that I adore!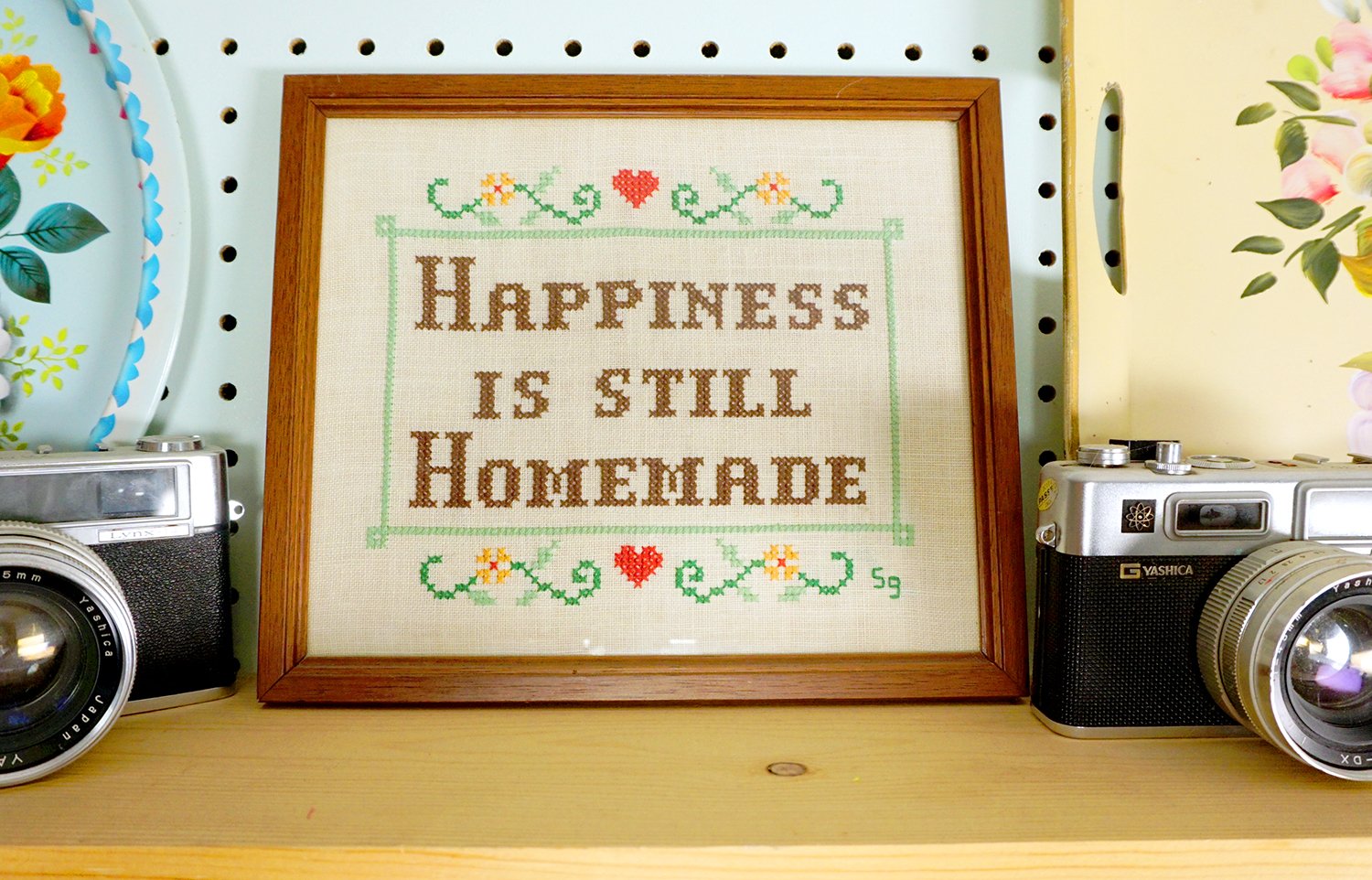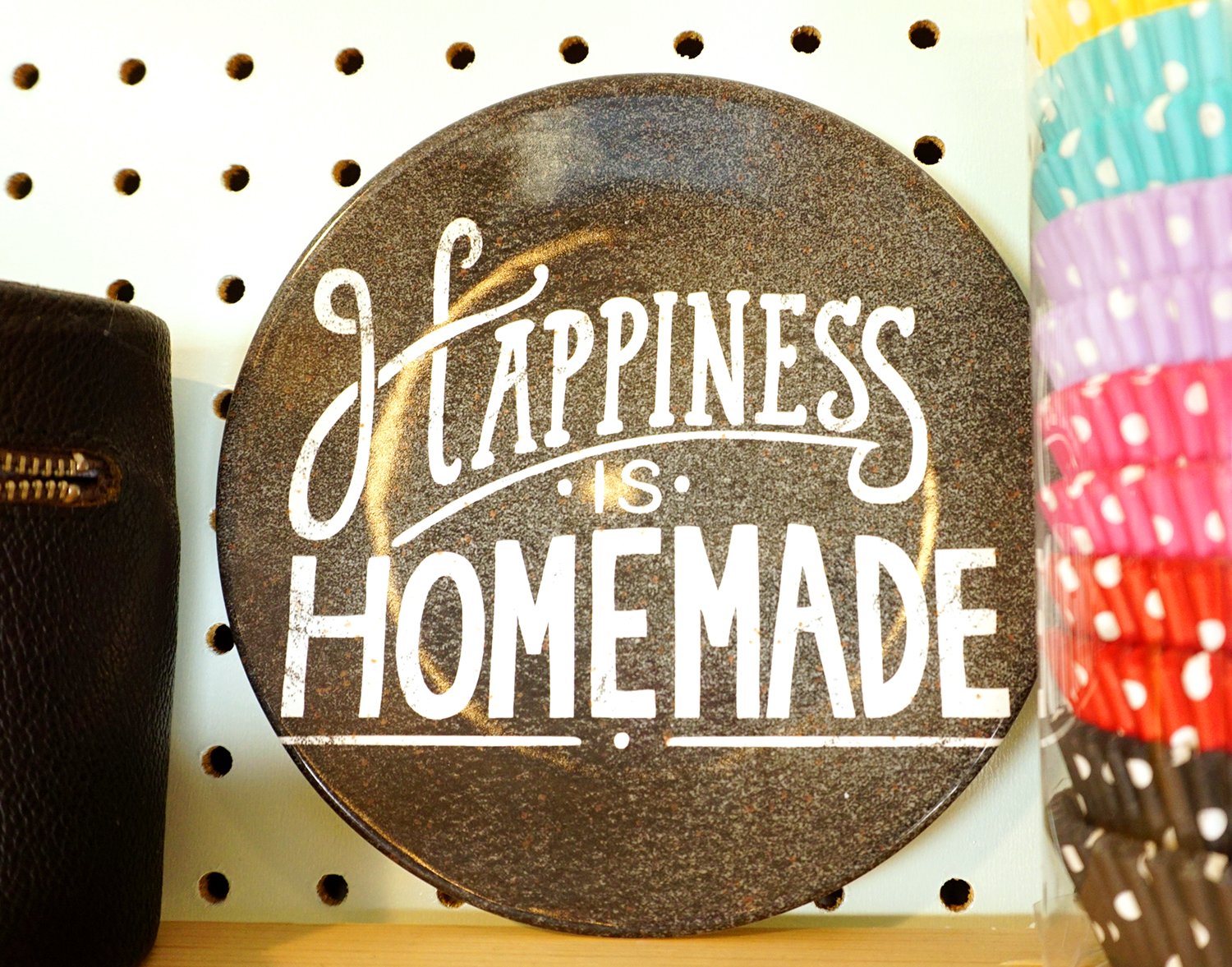 There are actually quite a few Happiness is Homemade decorations hidden throughout the room!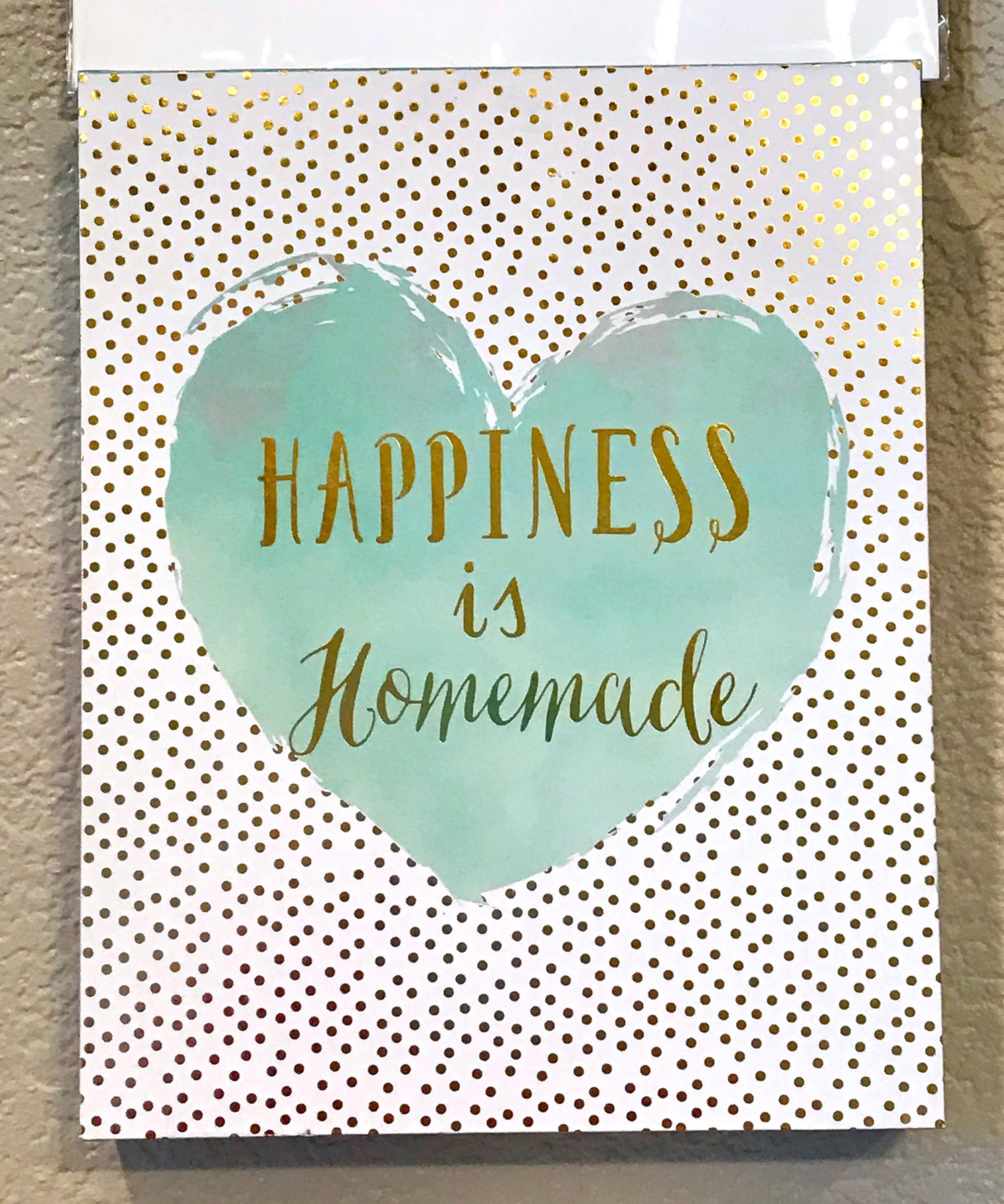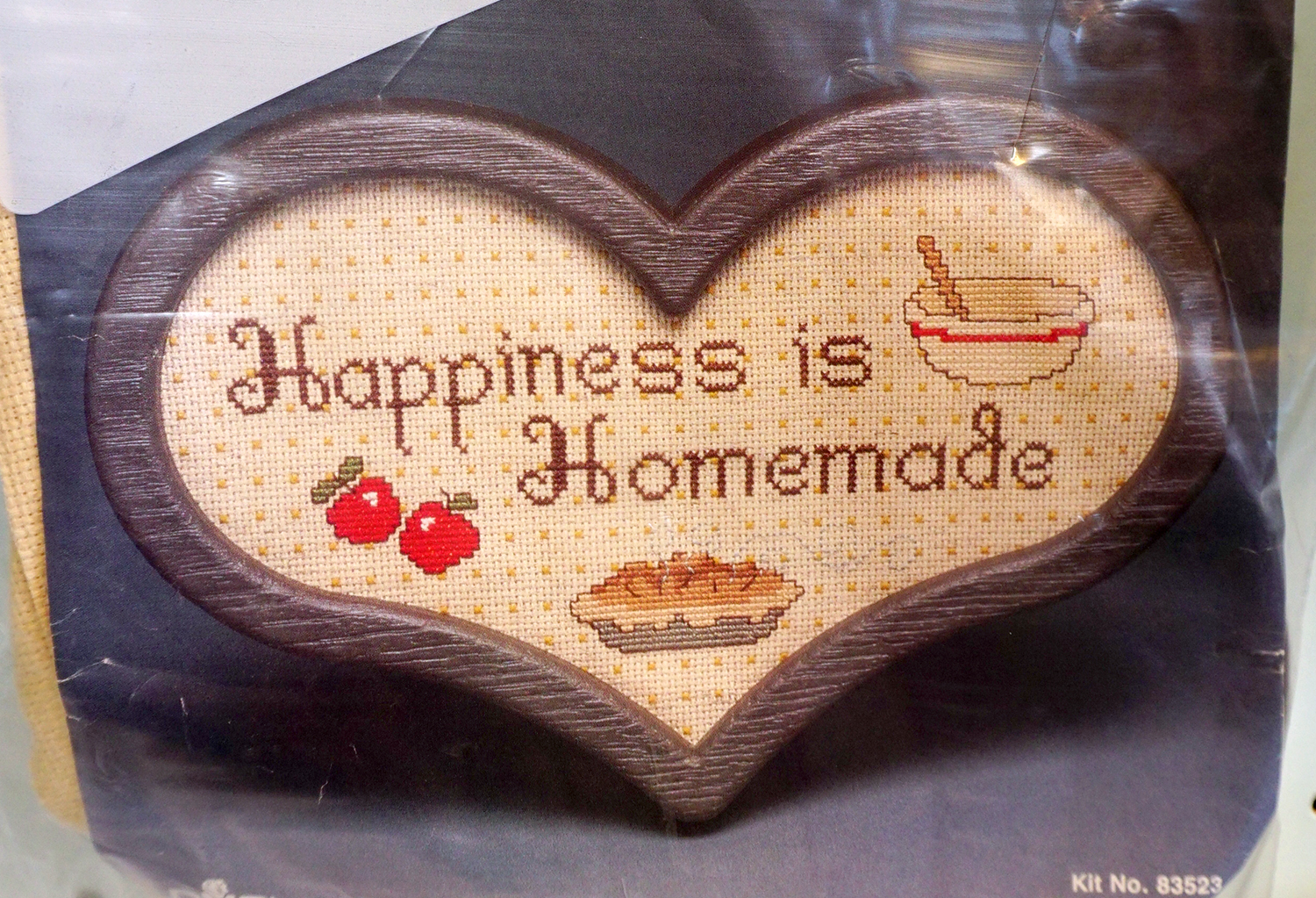 I swear, someday I'll eventually complete this cute little cross stitch kit!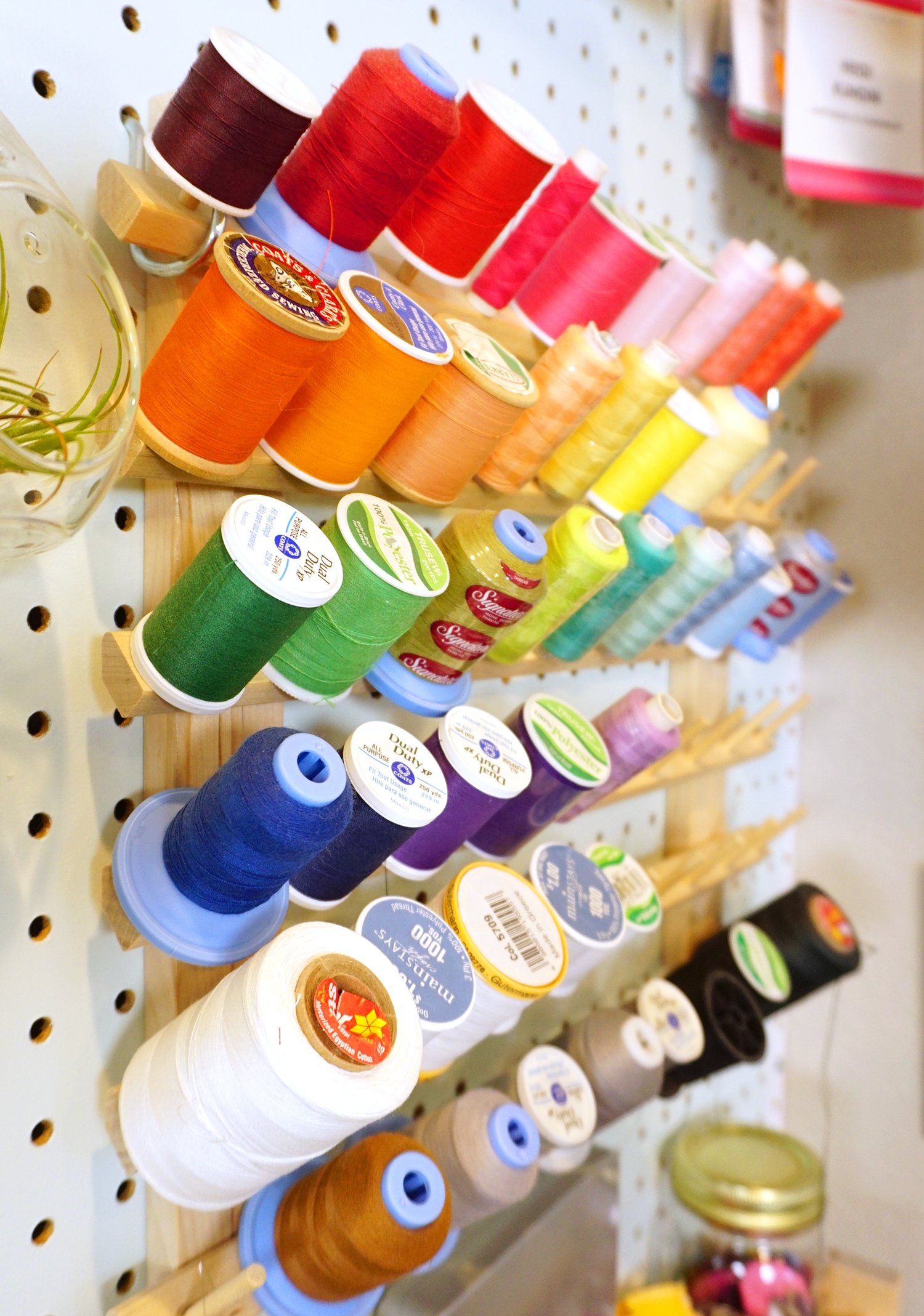 The far corner of the pegboard wall is adjacent to my blue vintage desk and is home to all of my sewing supplies including this colorful rack of threads.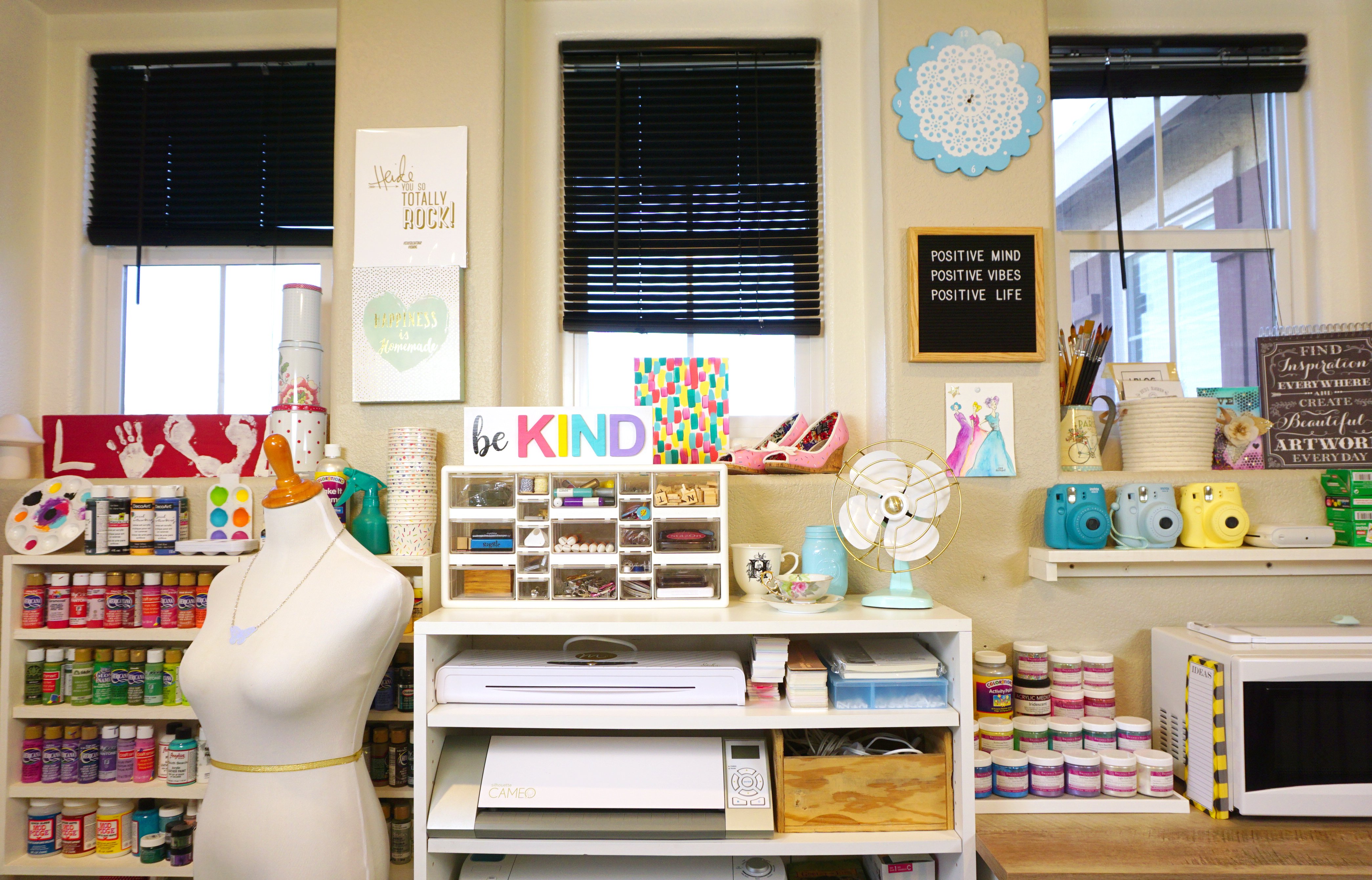 On the wall opposite the pegboard are three high windows, and a lot more stuff! Lining the wall are my photo prop credenza (which now holds plastic shoeboxes of craft supplies instead of photo props), a tall bookshelf, and my craft paint storage shelves.
A long time ago, I made a craft paint storage shelf out of a recycled drawer, but since my craft paint collection has grown considerably since that time, I now have two homemade shelves to hold my numerous paints!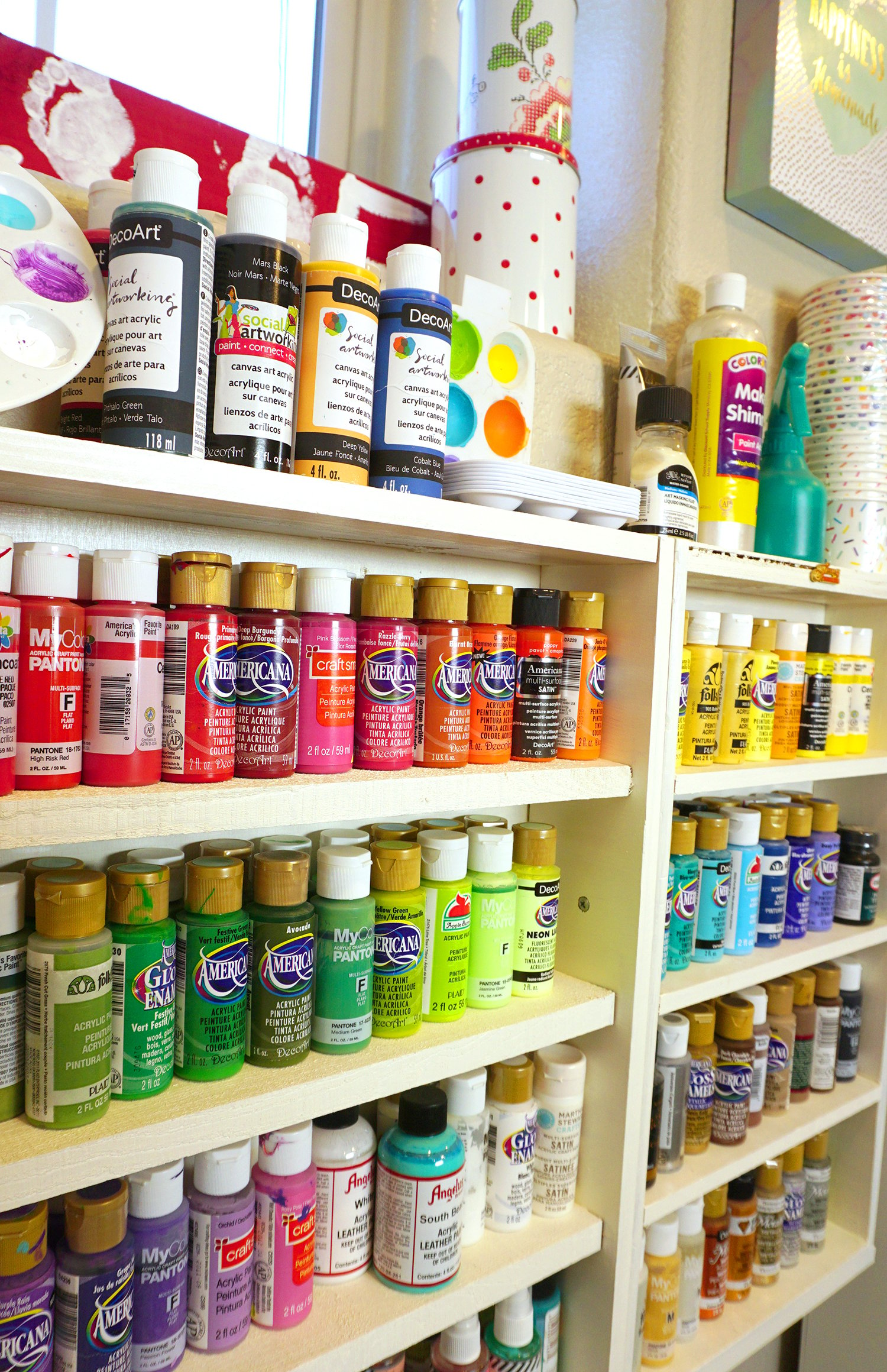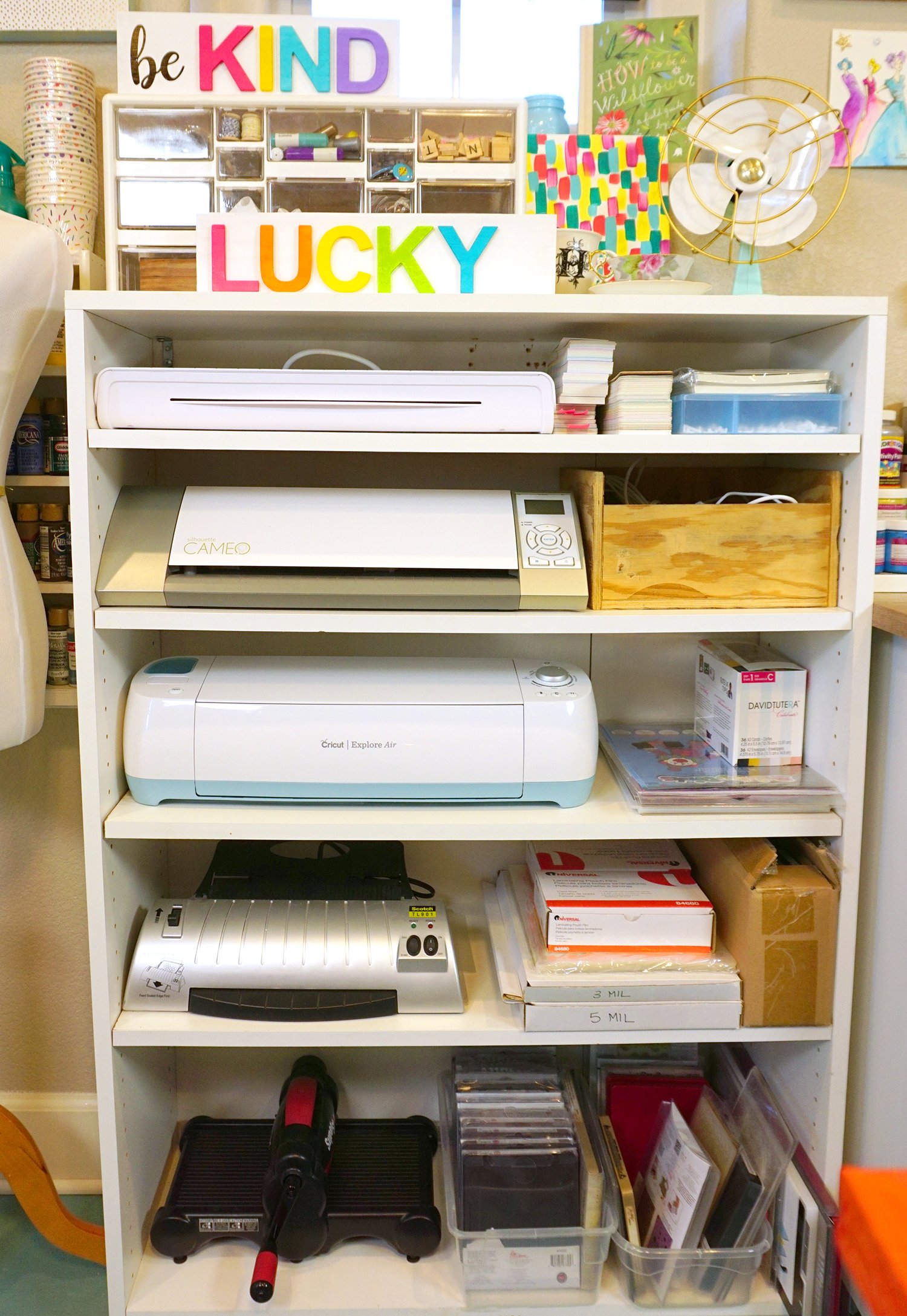 The tall bookcase stores all of my cutting machines, my Minc foil machine, my laminator, and all of the related supplies. The only thing that's missing from these shelves is my Cricut Maker, because I use it so often that it's taken up permanent residence in the center of my craft room table!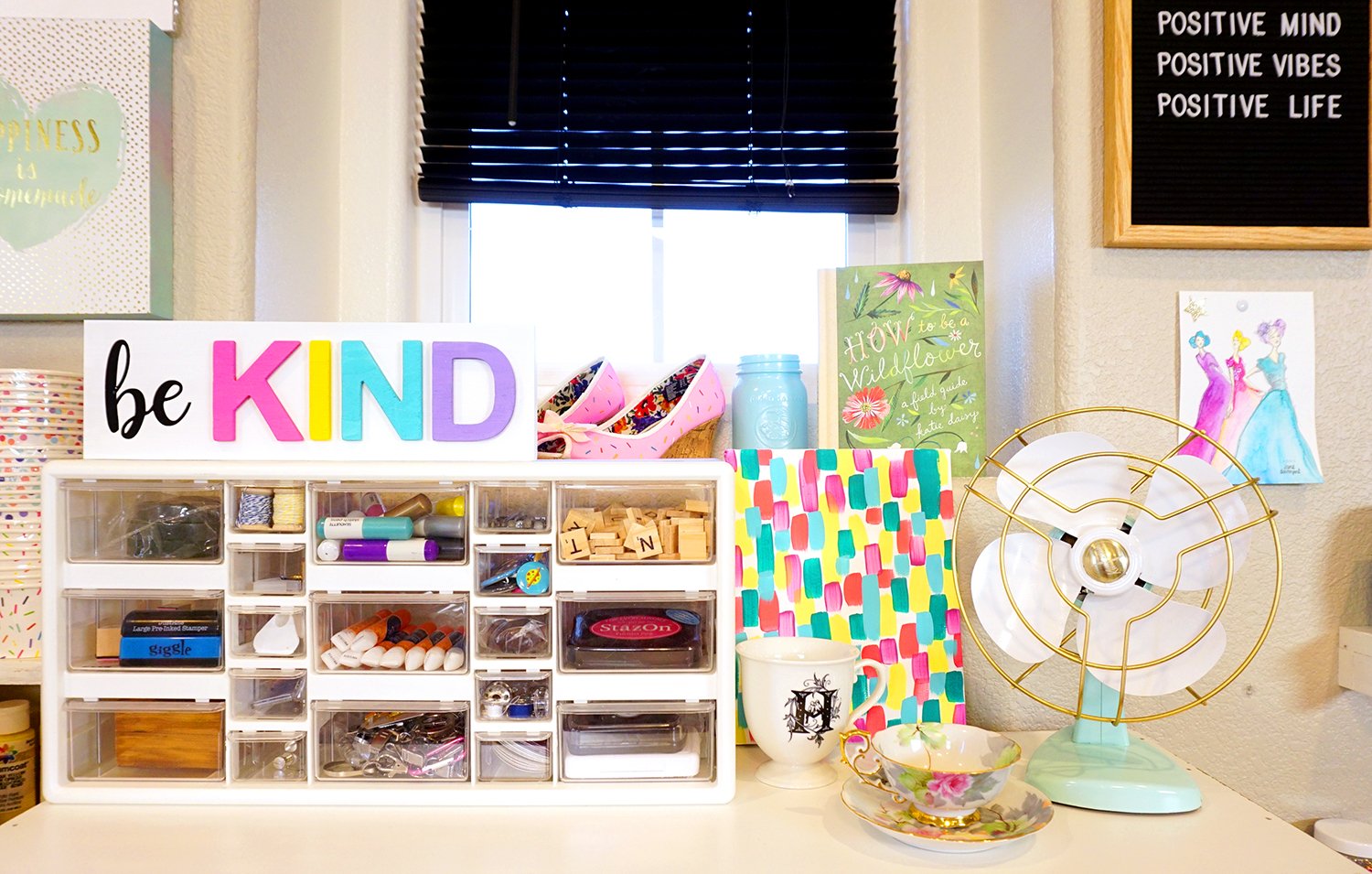 On top of the bookshelf are more storage drawers along with a few vintage treasures and a handful of old craft projects. The "Be Kind" sign is inspired by one that was made by Creative Green Living a while back, and I adore it!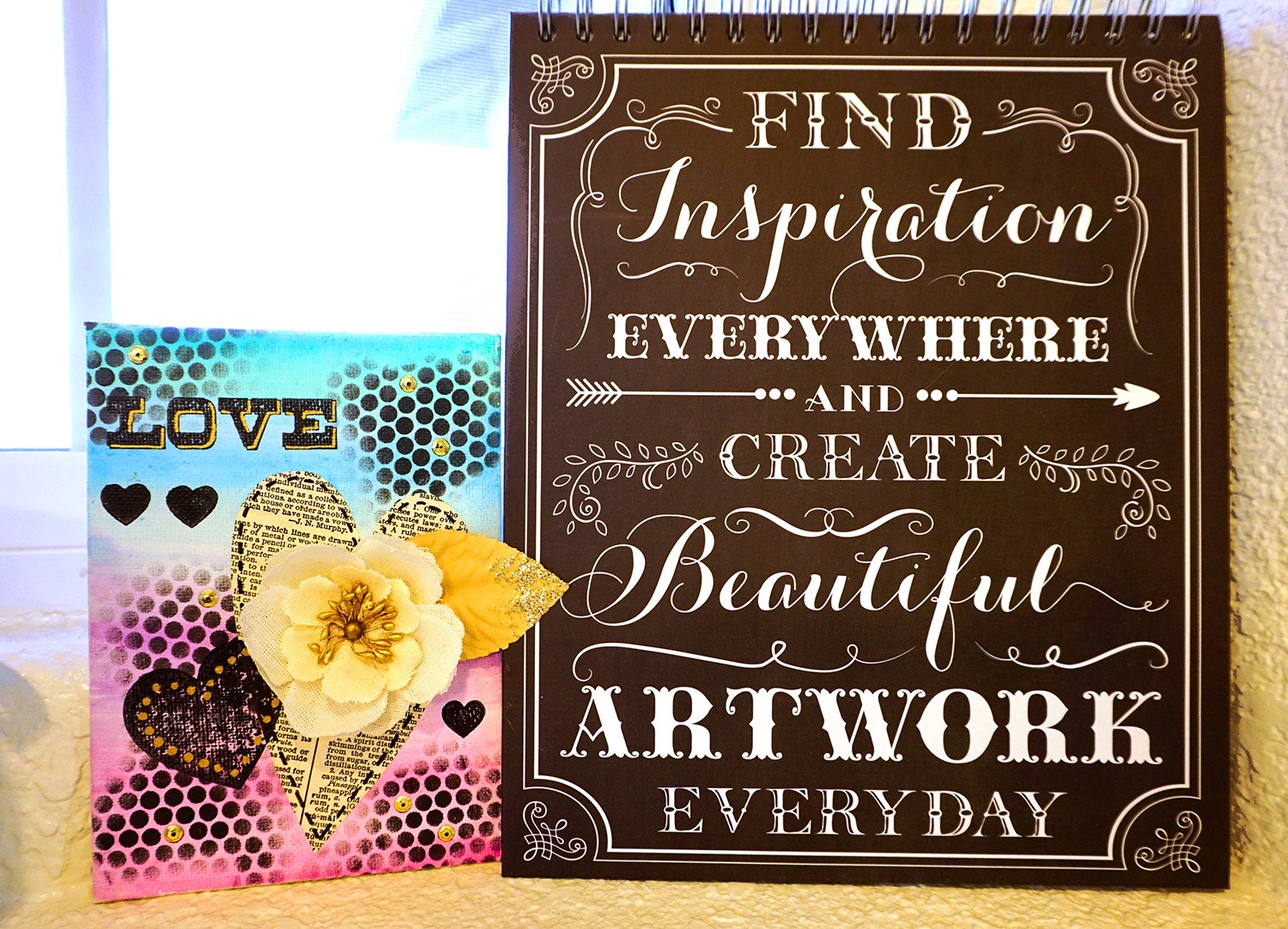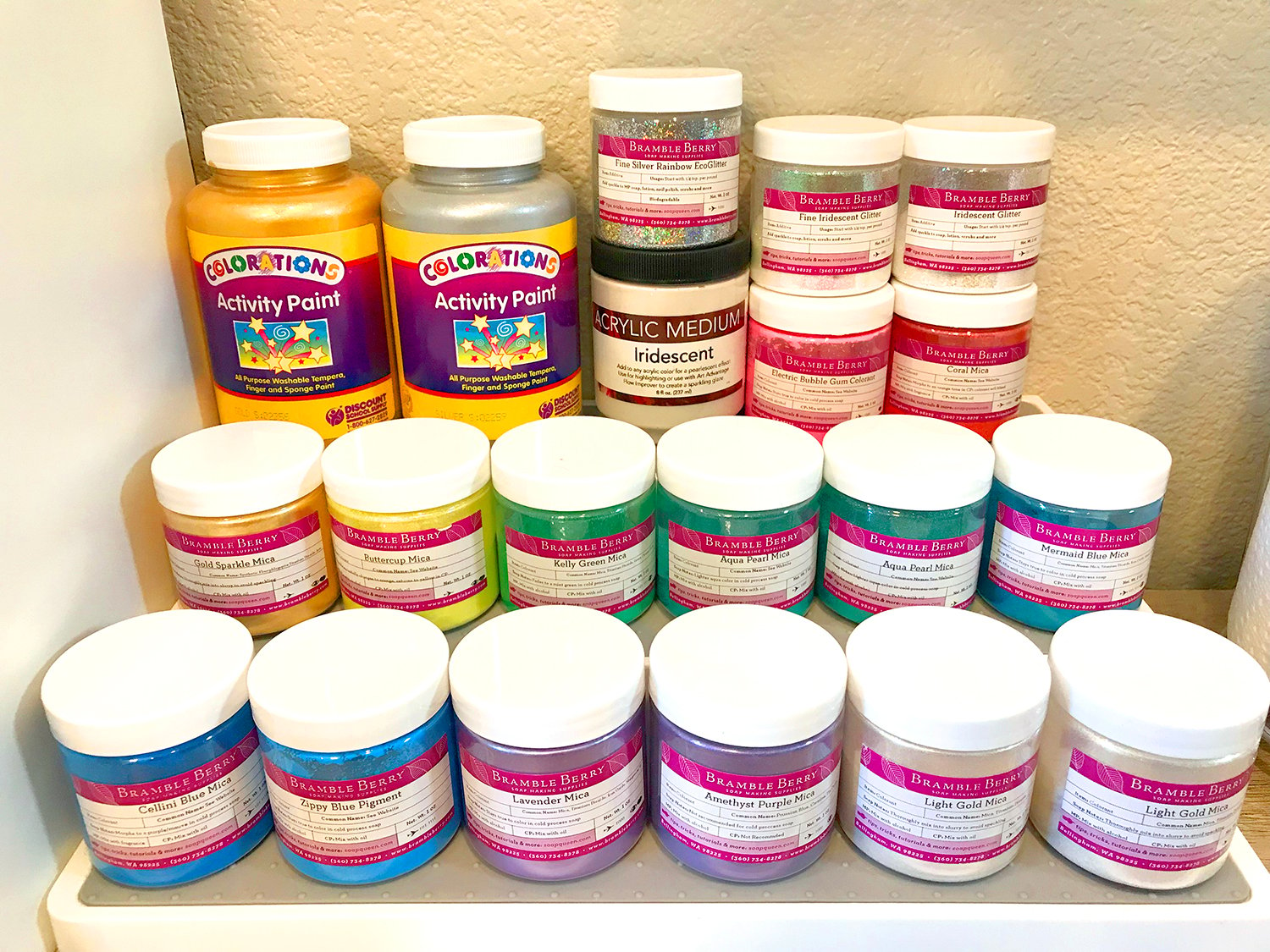 Everywhere you look, there's something else organized in rainbow order! These bright and colorful micas are the latest addition to my bath & body craft supply collection.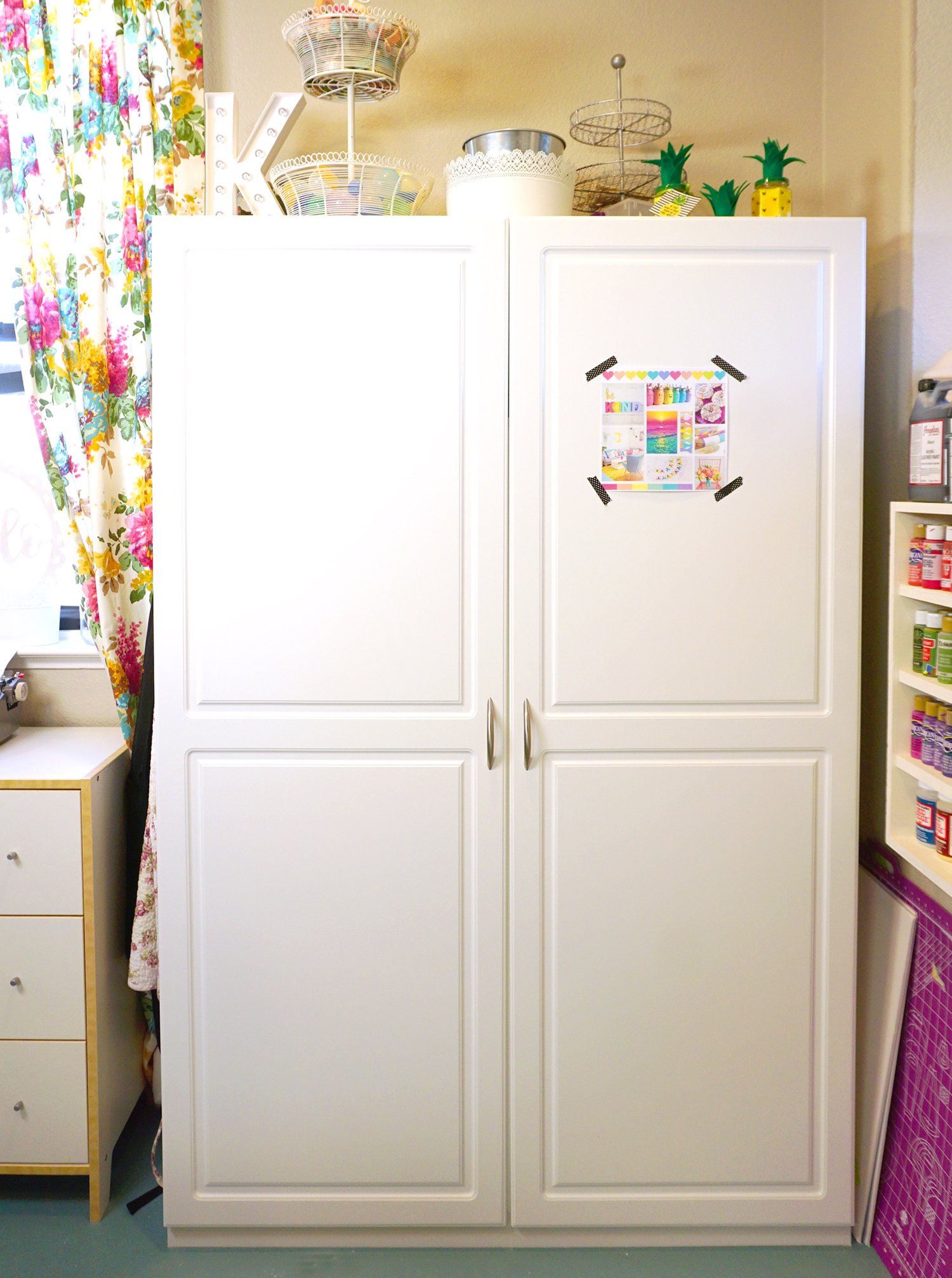 The third wall of the craft room is where my oversized craft supply cabinet stands. Let me tell you, this baby is also key in helping to keep my space looking clean and tidy because it's a hot mess inside of there…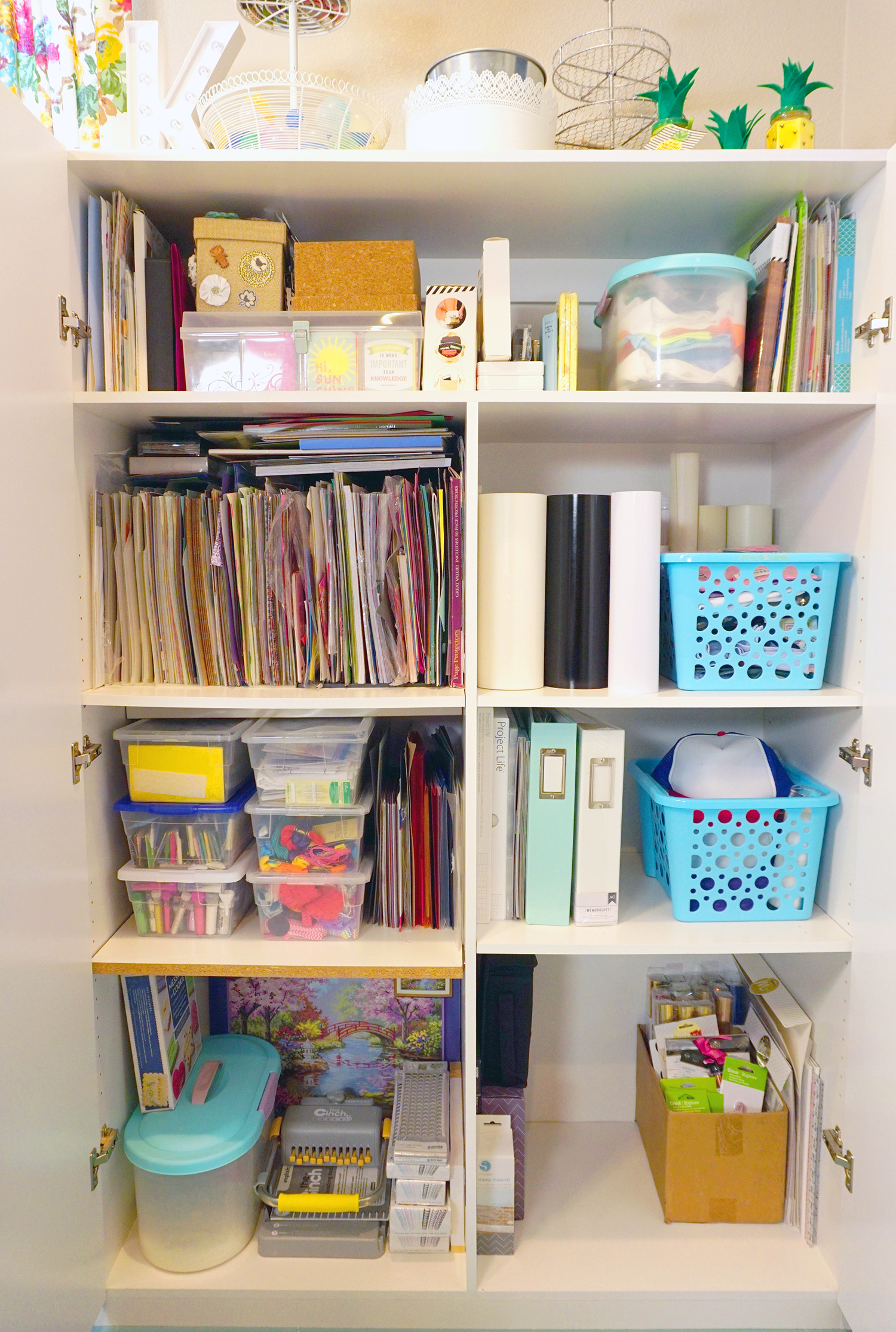 There's a hodgepodge of supplies in there including embroidery thread, jewelry supplies, and Project Life cards, but the majority of the supplies in here are things that I use with my Cricut machine – scrapbook papers, vinyl, crafting blanks (and MUCH more!).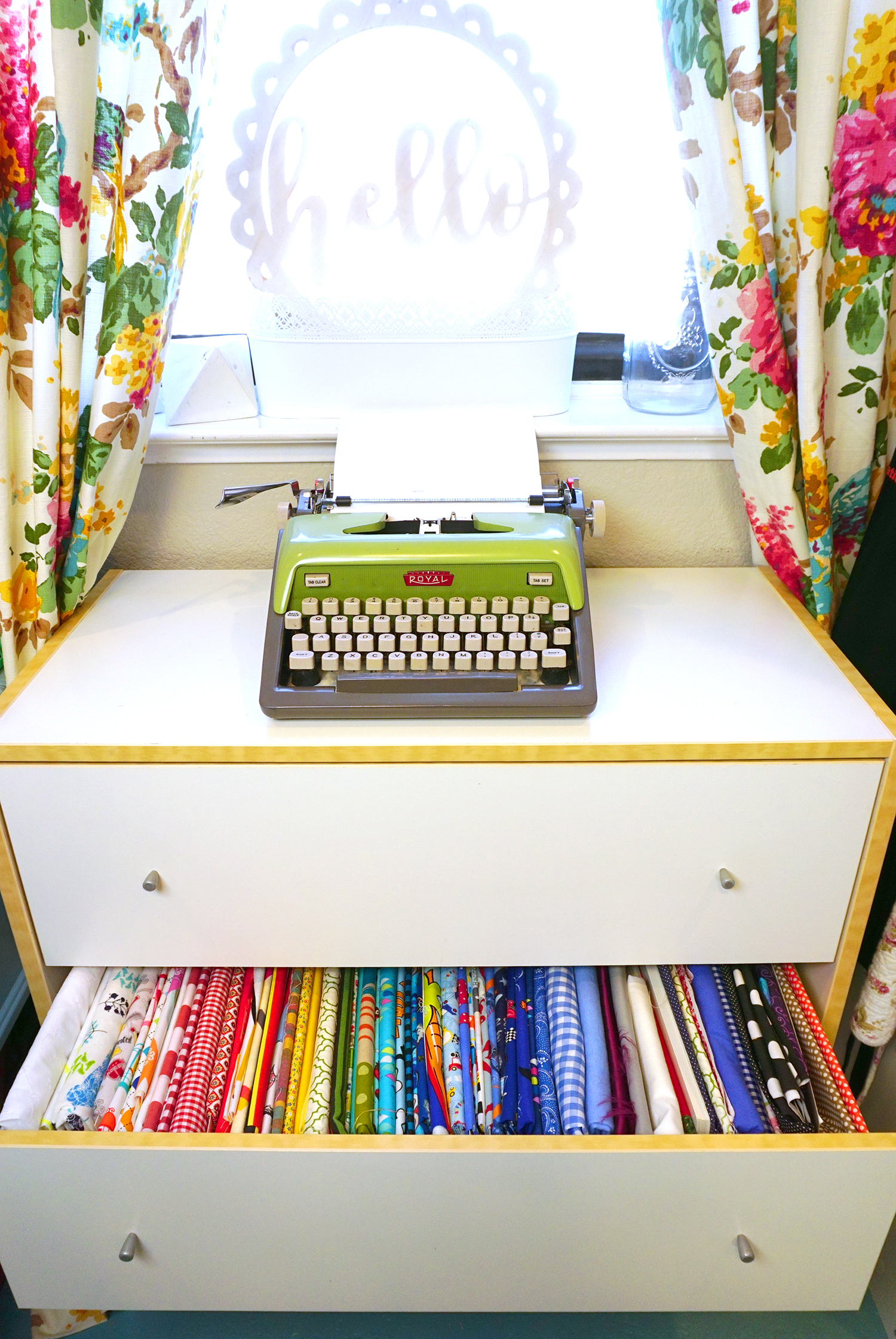 Next to the cabinet is a dresser that holds all of my fabrics (you can see what I use to organize my fabrics here!). The top two drawers are filled with a rainbow of colors and patterns, and the bottom drawer is home to my vintage sheet fabric collection.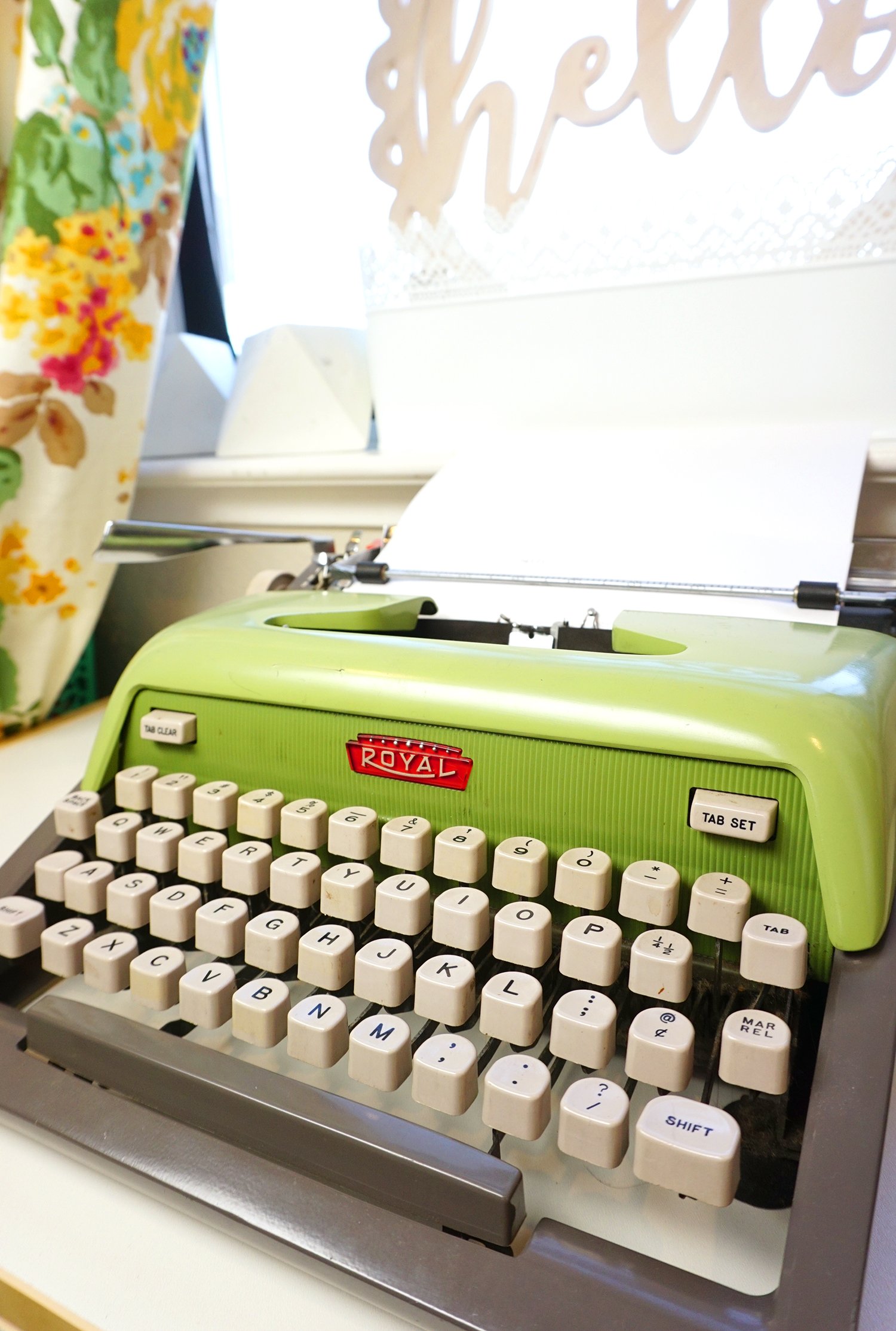 And I can't forget my vintage Royal typewriter – one of my favorite things EVER! I have been debating spray painting this typewriter for years now…what do you think? Should I go for it?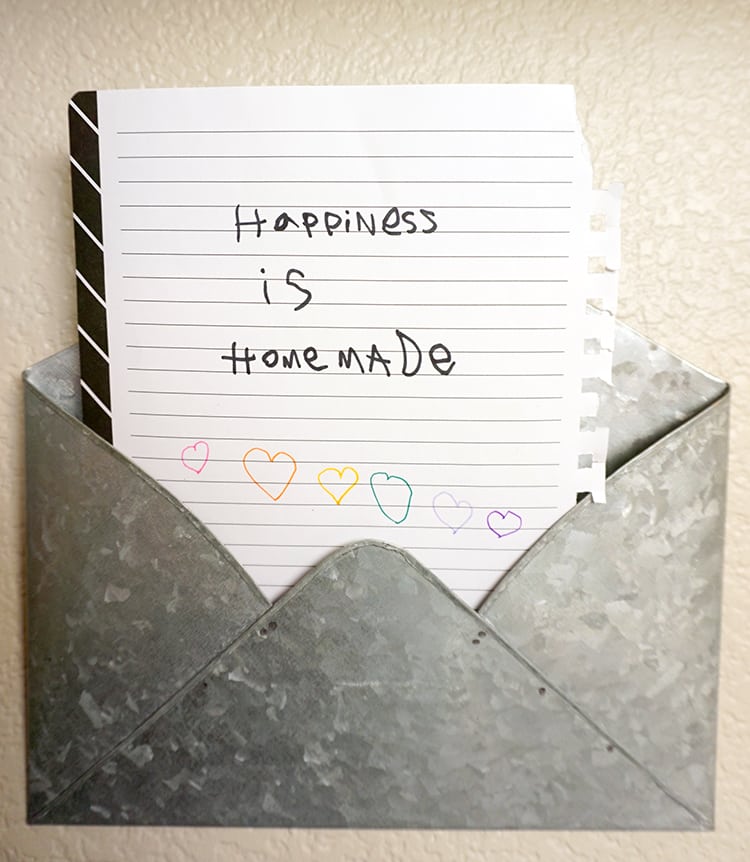 I picked up these cute galvanized envelopes from Magnolia Market a couple of years ago, and I use them for storing important documents and displaying photos above my desk. My youngest son filled this envelope with a handmade version of my logo for me ♥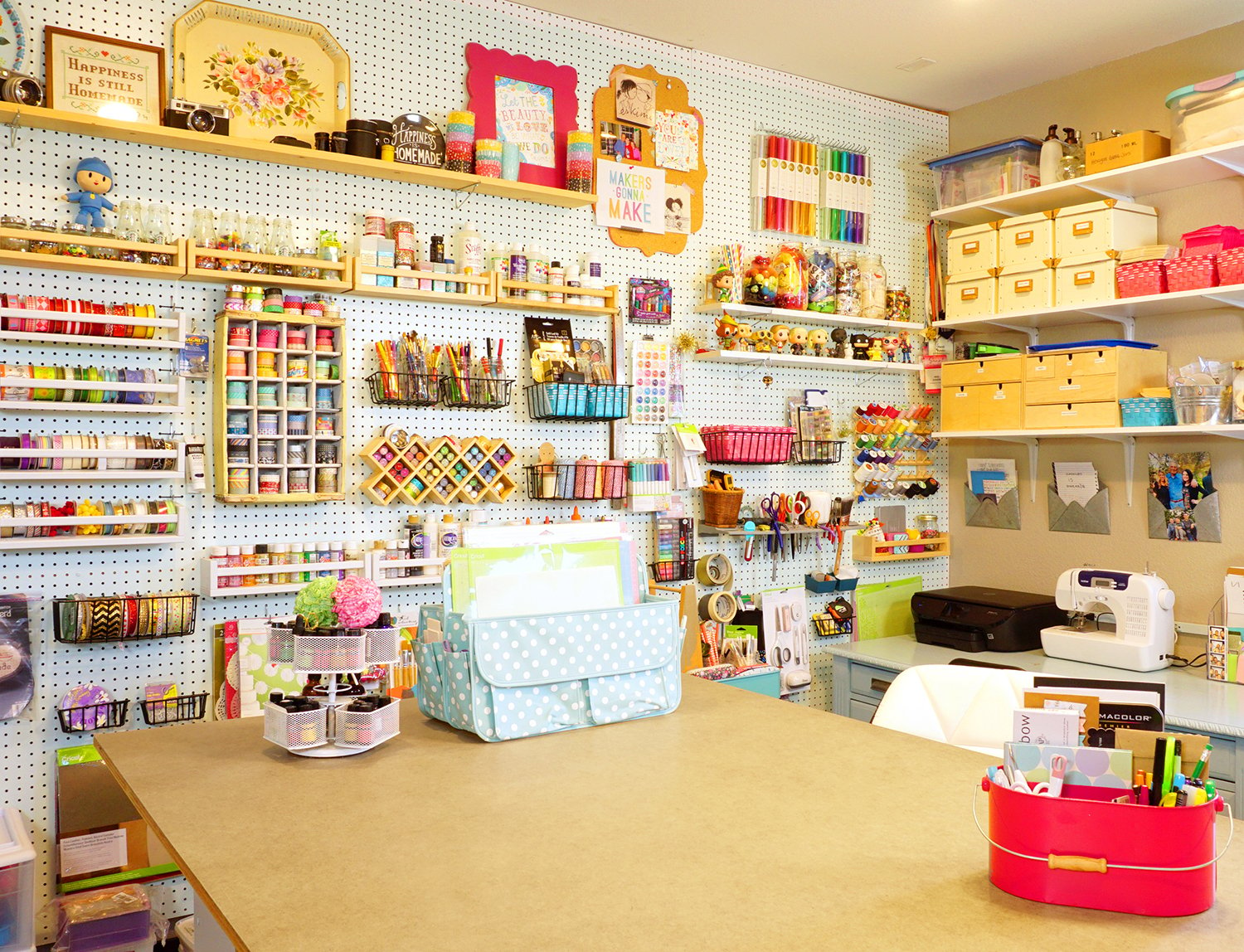 My craft room is my favorite room in the whole house, and I love spending my time in here! When you're surrounded by so much inspiration, it's easy to come up with tons of awesome new creative ideas to share with our friends and readers!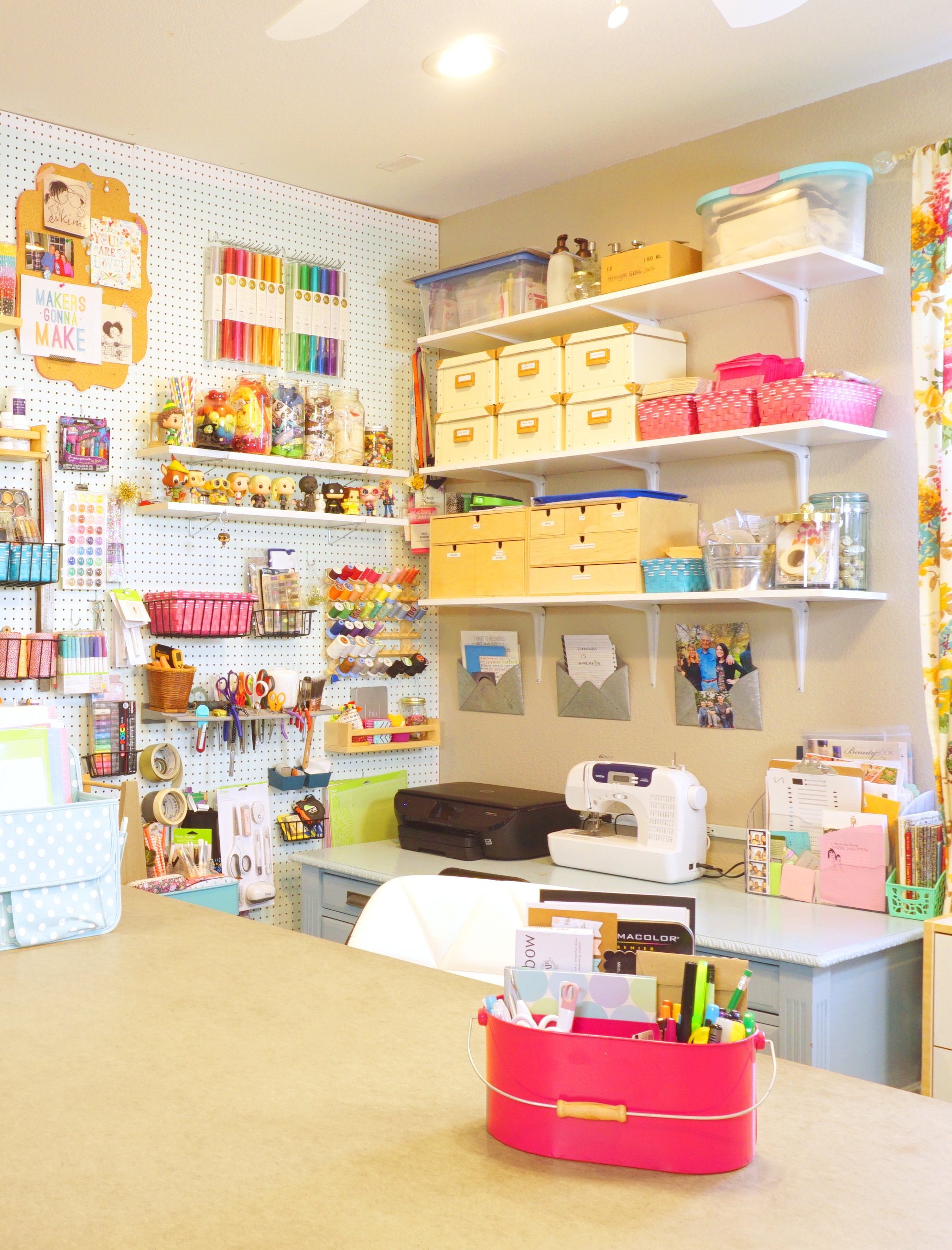 If you're looking for even more craft room inspiration, be sure to click the image below to find LOTS more amazing craft rooms from my friends!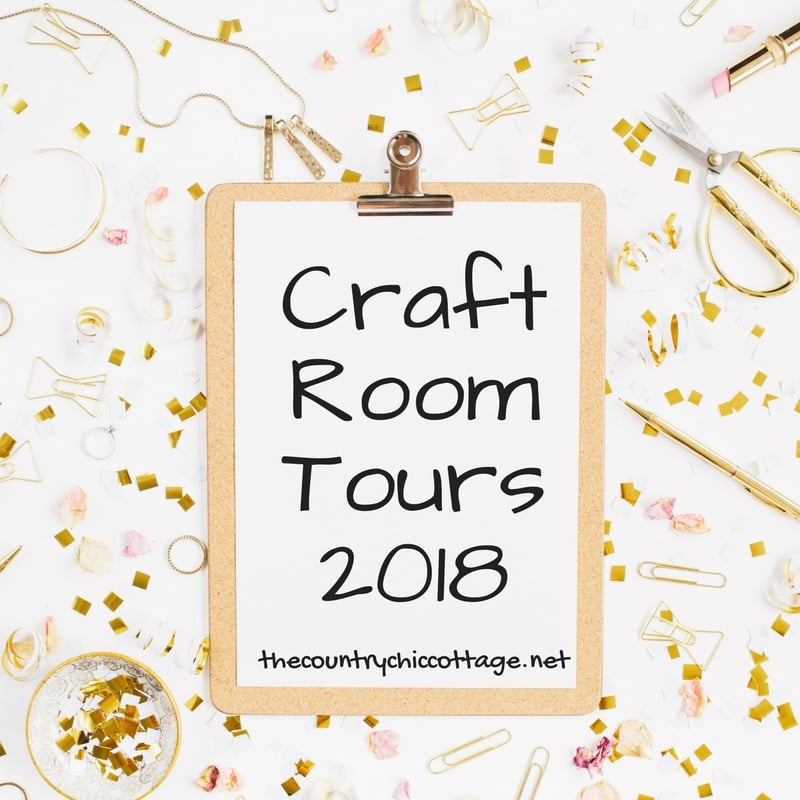 Check 'em all out here (scroll to the bottom of the post!)!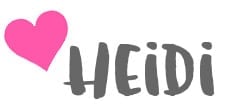 Pin These Craft Room Ideas for Later!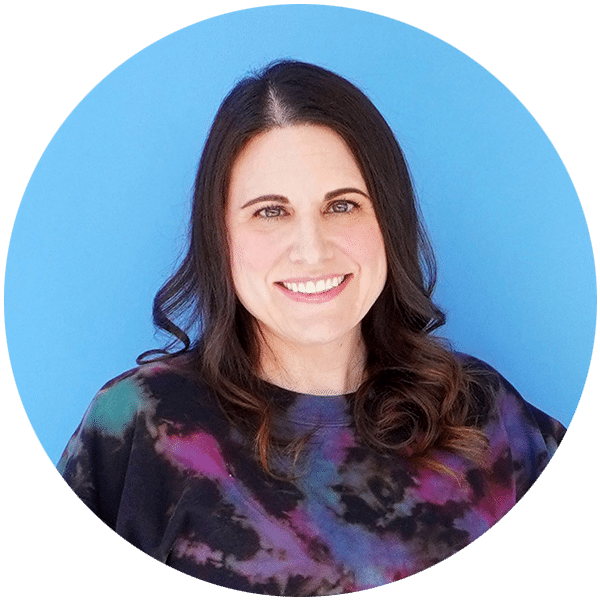 Heidi Kundin has captivated the hearts of millions with her colorful and inspiring approach to crafting, celebrations, and family fun. With over 15 years of experience, Heidi's website has become a must-visit destination for those seeking quick and easy creative ideas and last-minute solutions. Her warm personality shines through her posts, inviting readers to join her on a creative journey that's fun, rewarding, and achievable.