24 Fun Disney Crafts for All Ages
This post and its photos may contain affiliate links. As an Amazon associate I earn from qualifying purchases. If you make a purchase through these links, I may receive a small commission at no extra cost to you!
These Disney Crafts for Kids and Adults are TONS of fun! Perfect for Disney fans of all ages!
Are you a fan of all things Disney? Are you a little obsessed with Mickey, Disney Princesses, and other favorite characters from the iconic films? So are we! We've put together a fun list of Disney crafts for all ages. From tots to teens to adults, you're going to find something amazing to make for yourself or a friend here.
For all you crafty mamas out there, we've found some shirts, bags, ornaments and bath bombs to make. Kids will go nuts for the slime, paper plate crafts, and figurines. We've even found a cute little savings jar to make if you're planning an upcoming Disney vacation!
Gather the family for a fun afternoon or evening of crafting, followed by one of your favorite Disney movies. Or perhaps try a Disney craft as a way to get kids excited for an upcoming visit to the parks.
No matter the reason, you're going to love these darling Disney crafts!
Cute Disney Crafts for Kids & Adults
Best Day Ever Disney Shirt from Happiness is Homemade: Any visit to Disneyland is ten times better with one of these shirts to proudly show off your love of Disney! You can also use the SVG to make a fun tote bag or backpack for the trip.
Forky Craft from Simple Everyday Mom: Your kiddo can make her own Forky, just like Bonnie! Using WikkiStix for the eyebrows and mouth means you can give Forky all sorts of fun expressions. Remember to let the clay dry completely before the kids play with him. He's a little fragile!
Princess Slime from The Best Ideas for Kids: Most kids are obsessed with making and playing with slime, and if your daughter is a fan of princesses, she'll love the versatility of this slime recipe. She can theme each one with a different princess. The Belle slime with yellow glitter glue and a rose is our favorite, but the Ariel slime with the sparkly greens and blues is a close second. We love them all!
Disney Glitter Ornaments from Happiness is Homemade: Make Christmas a little more magical with some sparkly Disney ornaments to adorn your tree. They're super easy to make with adhesive vinyl and your favorite cutting machine.
Mickey Mouse Paper Plate Craft from The Simple Parent: Perfect for toddlers and preschoolers, this classic Mickey craft is an easy, non-fussy craft to make at home or in the classroom. You could even use colored plates and paper if you need to eliminate the painting due to time constraints.
Princess Paper Dolls from Red Ted Art: How amazing are these princess paper dolls based on some of our favorite Disney princesses? You'll find instructions and templates for making Snow White, Elsa, Belle, Cinderella, Aurora, Jasmine, and Ariel. These are definitely keepers. Hang them on a tree as ornaments, or string them on a ribbon or twine to make a princess-themed banner for a shelf or window. They also make beautiful party decor.
Avengers Teacher Shirt from Artsy-Fartsy Mama: This shirt would make a wonderful end-of-year gift for your child's teacher. It'll get lots of laughs from their coworkers!
Evanora's Emerald Necklace from Happiness is Homemade: If you're a fan of the Oz the Great and Powerful movie, you probably loved Evanora's emerald necklace. It was just stunning! You can recreate this piece in about 5 minutes to make one for yourself, and it's perfect for an Evanora costume or just to wear as an everyday costume jewelry piece.
Frozen Peppermint Bath Bombs from See Vanessa Craft: Pamper yourself or give them as a gift to a friend. These peppermint bath bombs will provide a refreshing bath experience. The bathwater will turn a pretty shade of light blue, and the peppermint scent is sure to jump-start the senses.
Chameleon Tangled-Inspired Backpack from Cutefetti: Remember Pascal, the pet chameleon and best friend of Rapunzel from Tangled? That character inspires this backpack, and it's perfect for Disneybounding with a Tangled theme! If you're not familiar with the term Disneybounding, it's the practice of wearing an outfit inspired by a character, but it's not a costume where you're supposed to look exactly like the character. You can find more info on the practice here.
Stroller Sign from Happiness is Homemade: Planning a trip to the parks soon? If you have babies or toddlers in tow and will be using a stroller, you need a way to make yours stand out! Create one of these fun stroller ID tags so you can spot yours right away.
Slinky Dog from Kids Activities Blog: Slinky Dog is one of our favorite Toy Story characters, and he's even more fun to make than he is to watch! The pipe cleaner body and tail are genius. The kids will have so much fun playing with Slinky Dog when you're finished.
Jack Skellington Sharpie Mug from Farm Girl Gabs: We love a good mug around here, and Sharpie mugs are especially great because they're so easy and inexpensive to make. Use your favorite cutting machine to cut the template and draw the face on the mug. Of course, if you're the crafty sort, you may be able to complete the face free-hand. Any Nightmare Before Christmas fan would love receiving this!
Disney Savings Jar from Liz on Call: A trip to Disney can be expensive for any family, but making a savings jar will remind you every day to set aside money to make those memories. The Mickey ribbon on this savings jar is too cute.
Moana Rock Stone from The Inspiration Edit: This is a fun craft for tweens and teens, especially those who are into rock painting and hiding the rocks around the community.
Maui Costume from See Lindsay: We can't get over how cute this Maui costume is! The Cricut Maker makes this costume possible, so it's great for those who can't sew. While it does take some time to pull it all together, it's worth it for a unique costume that no one else will be wearing.
Inside Out Emoji Magnets from Bre Pea: We loved Inside Out when it came out several years ago, and now that it's streaming on Disney Plus, we've been enjoying it again. These magnets are a fun craft to go along with the movie, and it's an activity that older kids will enjoy. Use the magnets to decorate your fridge or lockers at school.
Avengers Bath Bombs from Mommyhood Life: Even superheroes need a relaxing bath now and then! Your kiddos will go crazy for these Avengers-themed bath bombs. Anything that gets kids in the tub willingly is a win, right?
Muppets Peg Dolls from Artsy-Fartsy Mama: Oh, the Muppets! These characters bring back so many memories. Older kids will have a lot of fun making these peg dolls, or you can make them for your little ones to play with. They'll provide hours of fun for imaginative play.
Baby Yoda Cork Figurine from Cool Moms Cool Tips: Turn a champagne cork into an adorable little figurine of The Child (aka Baby Yoda). This would make a great little toy to play with or could be turned into an ornament with some twine glued to the top.
Cinderella's Carriage from Artsy Momma: With some paper plates and a little creativity, you can make Cinderella's carriage! The swirly wheels made from dessert plates look so whimsical. This carriage will be a fun craft for a princess tea if they do those in your area.
Olaf Bookmark from The Best Ideas for Kids: Making cute bookmarks is a great way to encourage young readers to dive into fun fairytales and fantasy books. This Olaf bookmark is adorable, and it's easy to put together with the provided template.
Alien Handprint Card from Simple Everyday Mom: The Little Green Men (or aliens) from the Toy Story movies are so fun to craft. This version is a handprint card, and it's perfect for kids to give to their friends on their birthdays. Grandparents would love one, too.
Rocket Racoon Bag from Organized 31: Get all those Guardians of the Galaxy toys organized in a super cool Rocket Racoon bag. This would make an excellent gift with a couple of inexpensive toys added to it. This is a gift that can be enjoyed for years.
Pin this list of Disney crafts for your next movie night or crafternoon! Which one are you going to make first?
You May Also Like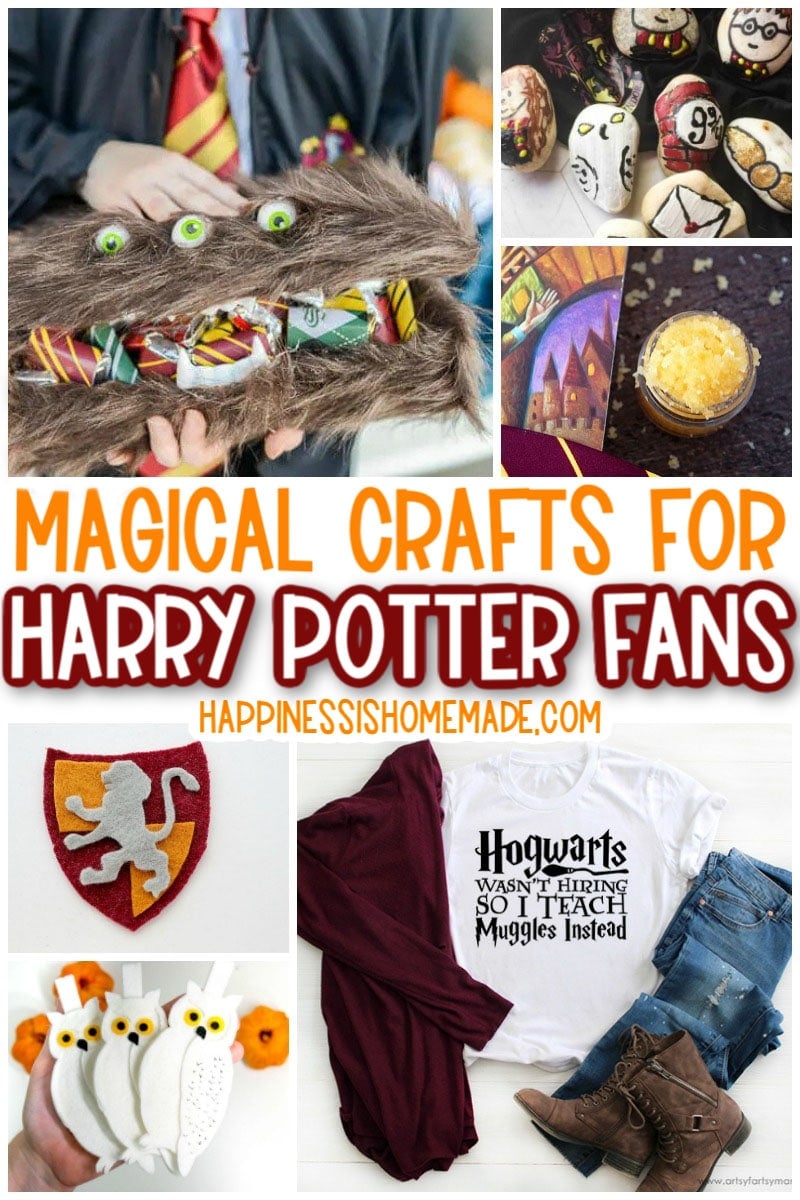 Harry Potter Crafts for All Ages
Don't Forget to Pin These Disney Crafts For Later!
24 Disney Crafts for Kids & Adults
Come back to this list later for quick reference! You'll love these awesome Disney crafts!