17 Dr. Seuss Crafts for Kids
This post and its photos may contain affiliate links. As an Amazon associate I earn from qualifying purchases. If you make a purchase through these links, I may receive a small commission at no extra cost to you!
These 17 Fun Dr. Seuss Crafts and Art Projects for Kids are sure to be a huge hit with preschool and kindergarten children (and kids of ALL ages!)! Cute Dr. Seuss-inspired crafts feature characters and elements from their favorite Seuss stories!
Dr. Seuss Crafts for Kids
No one inspires creativity and imagination in kids more than Dr. Seuss! His 40+ children's books are beloved classics that have inspired art and creative expression in children for decades since 1937. Crafts are an important outlet of creative expression for kids, and even guided crafts like the ones you'll find below will lead to some fantastic conversations and memories with your children or students.
As Dr. Seuss said, "I like nonsense, it wakes up the brain cells. Fantasy is a necessary ingredient in living." These fantastical Dr. Seuss crafts are very fitting for celebrating his works on his birthday, March 2nd, also known as Read Across America Day.
Ask the kids to pick out their favorite Dr. Seuss book to read, and then follow it up with one of these fun Dr. Seuss crafts for a fun family night or engaging classroom activity. You could even throw in an entertaining movie and watch The Cat in the Hat, The Lorax, or Horton Hears a Who!
Dr. Seuss Crafts to Celebrate Read Across America Day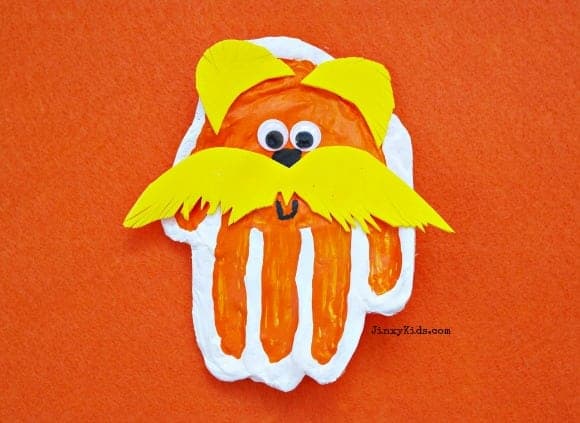 1. Handprint Lorax Salt Dough Craft from Jinxy Kids: Handprint salt dough crafts are so much fun, and they're not just for Christmas! This Lorax craft is bright and beautiful. You don't even have to wait a long time for this to dry—you can do it in the microwave to speed up the process! Add a string to it to hang in your preschooler's bedroom or the playroom.
2. Put Me in the Zoo Craft from Natural Beach Living: Paper plate crafts are easy and inexpensive, which makes them a total winner for classroom crafts. Kids will love how colorful and silly this craft is! It's terrific for toddlers and preschoolers, as gluing and placing the tissue paper and pom-poms provide lots of fine motor practice.
3. Cat in the Hat Perler Bead Pendants from Happiness is Homemade: Don't Perler bead crafts take you back to your school days? Our Cat in the Hat Perler bead pendant is the perfect thing for your kids to wear for Dr. Seuss's birthday (aka Read Across America Day).
4. Thing 1 and Thing 2 Corner Bookmarks from Red Ted Art: Flex your origami skills to make some whimsical Thing 1 and Thing 2 bookmarks. Help your kiddo make a bunch for the whole class. What a fun gift!
5. Dr. Seuss Decorative Felt Hoops from Hey, Let's Make Stuff: You have so many fun options with these Dr. Seuss hoops! You could add them to a nursery or playroom. Or, if you want to let the kids play with them, don't glue the pieces down. Kids can change them around to create storyboards of their own.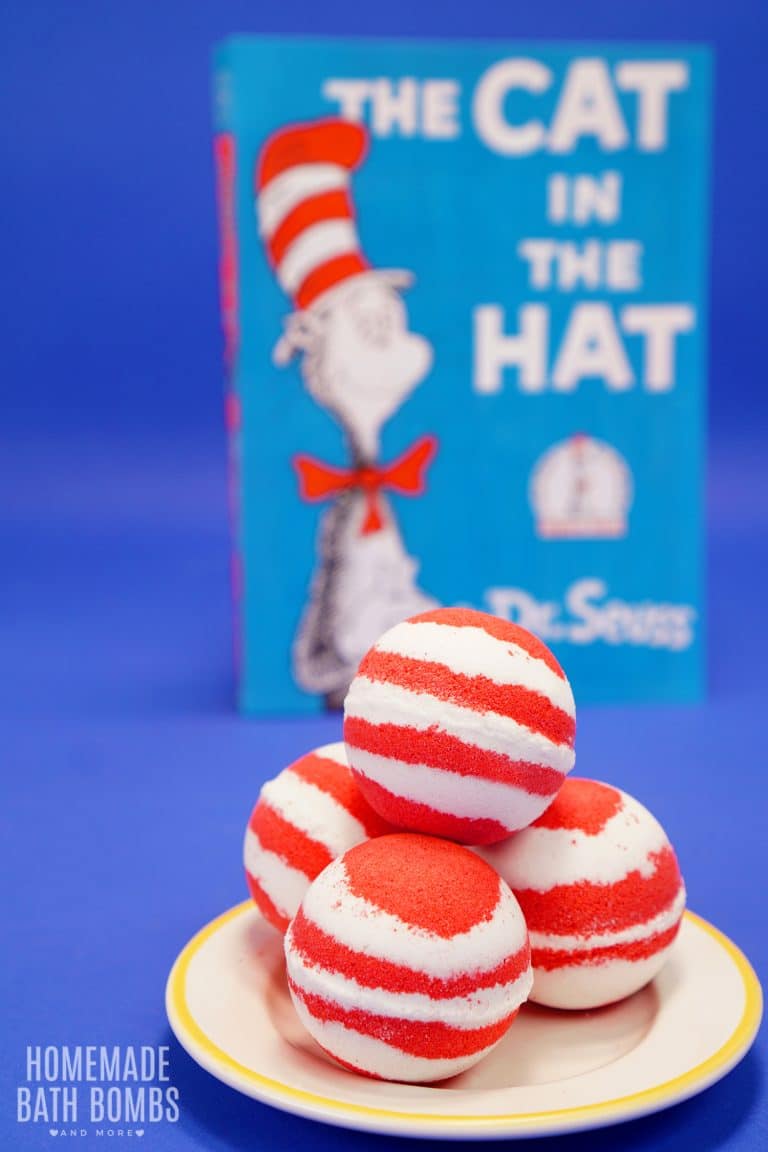 6. Cat in the Hat Bath Bombs by Homemade Bath Bombs and More: These bath bombs are a ton of fun, and they're easy enough for small kids to make with adult assistance. Molding the bath bombs is a great sensory experience for little hands!
7. Dr. Seuss Hat Craft from Mommy Made That: Make this cute Cat in the Hat craft with your toddler or preschooler. It's another great project to work on those fine motor skills, plus it's super cute!
8. Cat in the Hat Paper Bag Puppet from The Inspiration Edit: Puppets are fantastic for reinforcing story concepts, and this Cat in the Hat puppet is easy to put together thanks to the printable template. It's a great classroom activity since minimal materials are required. Kids may need assistance placing the cat's head into the hat.
9. Popsicle Stick Truffula Trees from Simple Everyday Mom: Any fan of The Lorax will recognize these iconic Truffula trees! They'll make lovely bookmarks when you're finished!
10. Cat in the Hat Handprint Crafts from Kids Craft Room: This post has instructions for making both the Cat in the Hat and the Fish. You could frame these or create them on canvas to add some decor to the kids' playroom.
11. One Fish, Two Fish Wine Cork Painting from Must Have Mom: Wine cork stamping is easy and fun for younger kids, and this sort of activity is terrific for color recognition.
12. Thing 1 and Thing 2 Pencils from Moms and Crafters: Schoolwork is a little more fun when you have cool pencils like these! Make these Thing 1 and Thing 2 pencils, and share one with a friend!
13. Dr. Seuss Jar Gift for Teachers from The Country Chic Cottage: Teachers shouldn't be left out of the fun! Make this cute jar and fill it full of bookmarks, erasers, Sharpies, pencils, or anything else that your child's hard working teacher may need.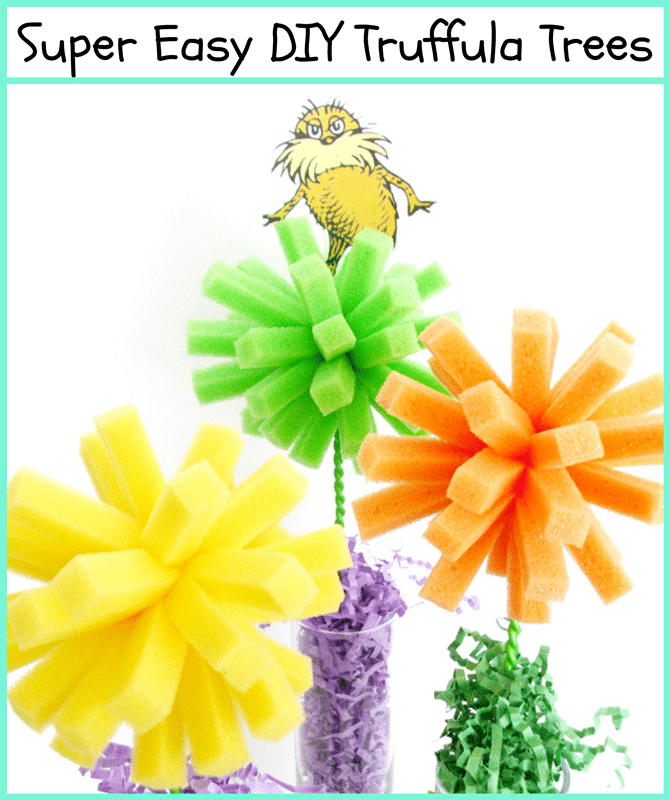 14. Dish Sponge Truffula Trees from Pet Scribbles: Throwing a Dr. Seuss-themed party? You can make Truffula trees in a snap simply by using dish washing sponges! Just add some decorative paper shred to a vase, insert the brush, and voila! Instant Truffula Tree!
15. Dr. Seuss Activity Blocks from Sugar Bee Crafts: Okay, this craft is a little bit more time-intensive, but you can use the same ideas on pre-made wooden blocks to save time. The kids will play with these for hours, creating puzzles, word games, and mixing things up. SO much fun!
16. Cat in the Hat Paper Craft from Non-Toy Gifts: It's a craft and a learning tool in one! Not only is this paper craft fun to make, but it helps kids review their shapes, too. And since it only involves cutting and drawing simple shapes, it's easier for little hands to do.
17. Quilled Truffula Trees from Artsy Craftsy Mom: Have you tried paper quilling crafts before? They're easy once you get it down pat, and you can create some really beautiful crafts with this technique. This beautiful Truffula tree craft is a fantastic choice for the older kids to get involved in crafting.
Pin this list of Dr. Seuss Crafts, and save it so you can come back anytime you'd like to add a little whimsy and creativity into your kids' day! We hope you have as much fun making these crafts as we did finding them!
You May Also Like: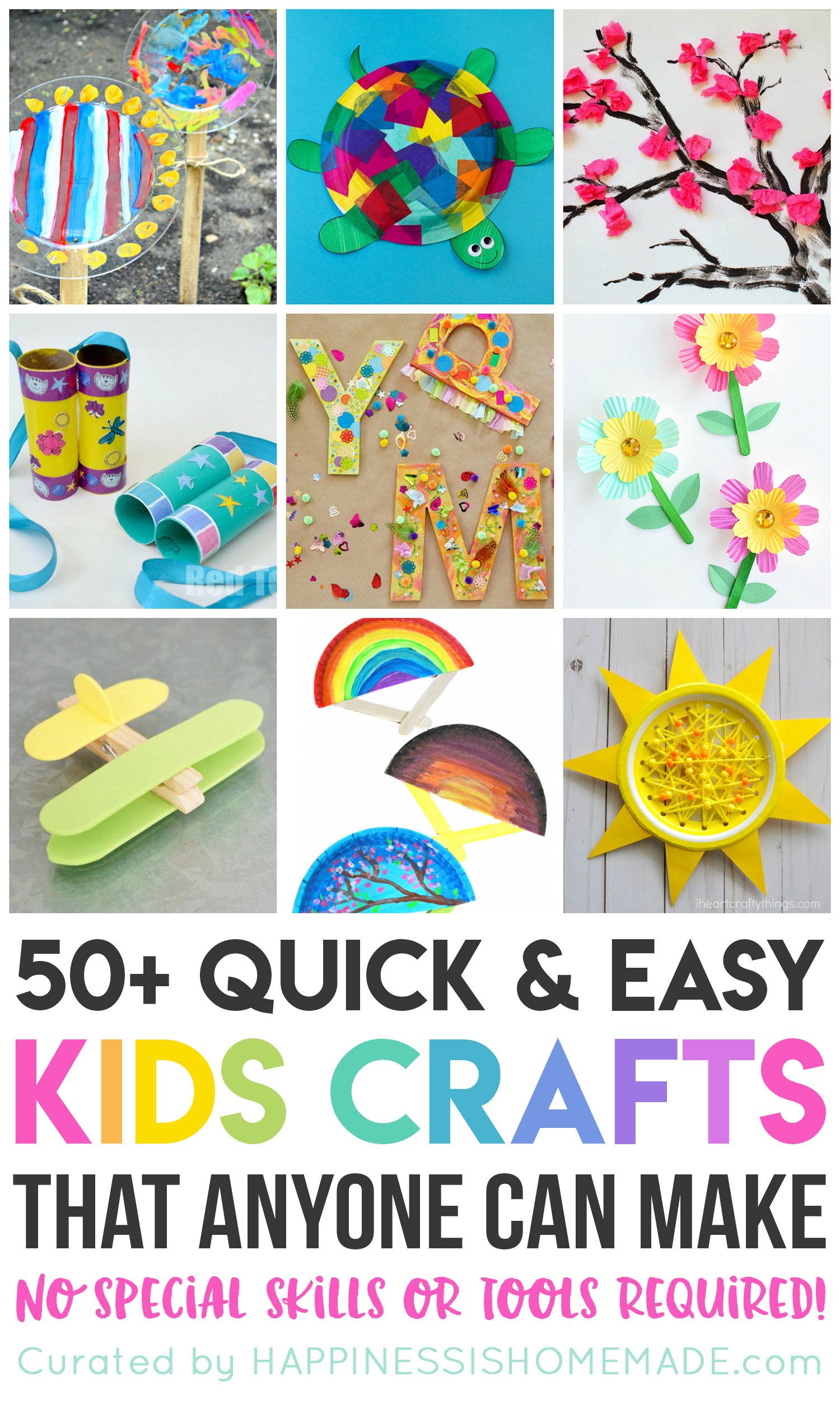 50+ Quick and Easy Kids Crafts
20+ Cute Unicorn Crafts for All Ages
Pin These Dr. Seuss Crafts For Later:
17 Dr. Seuss Crafts for Kids
Come back to this list later for quick and easy reference!