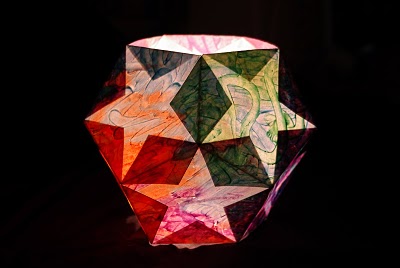 DODECAHEDRON STAR LANTERN TUTORIAL NOW AVAILABLE HERE!
Remember how I said we'd be making some fun stuff from all of our crayon paintings? Well, here's the first one! This dodecahedron star lantern is absolutely stunning, but I can't take any credit for this idea – it came from Childhood Magic where Ariella has posted a very detailed tutorial on how you can make your own – go check it out!
While we were making our crayon paintings, I had Sutton "paint" four pages of a pentagon template that I made up in Adobe Illustrator and printed on to cardstock (if you'd like, you can download my pattern HERE)…technically you only need 10 or 11 pentagons (four template pages gives you 12), but it was nice to be able to pick and choose which ones looked best together.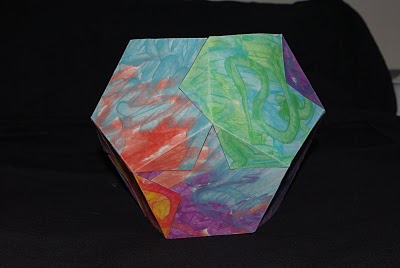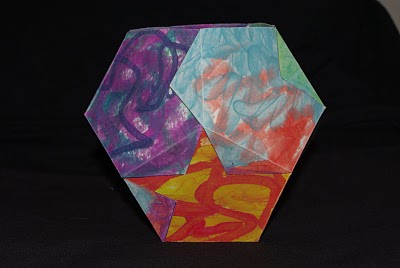 …while I do think it looks pretty neat with the lights on, the true magic happens with a candle and a darkened room…
Brilliant! I wish my camera could actually capture how cool this looks in person!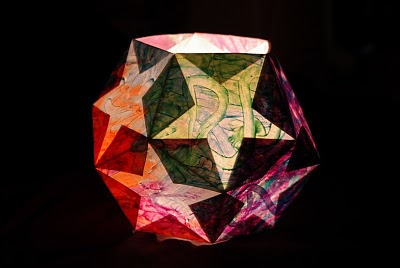 I actually put this together late last night while the boys were sleeping, so I can't wait for them to see it tonight…now I just need to spend the day tearing the house apart to find the battery-operated tea lights since I definitely won't be giving them a lit candle and a paper lantern to play with!