Fall Word Search Printable
This post and its photos may contain affiliate links. As an Amazon associate I earn from qualifying purchases. If you make a purchase through these links, I may receive a small commission at no extra cost to you!
This printable Fall Word Search is fun for kids of all ages—and adults, too! Pick a comfy chair and your favorite pen or pencil, get cozy, and find all 20 fall-themed words in this simple and entertaining seek and find puzzle.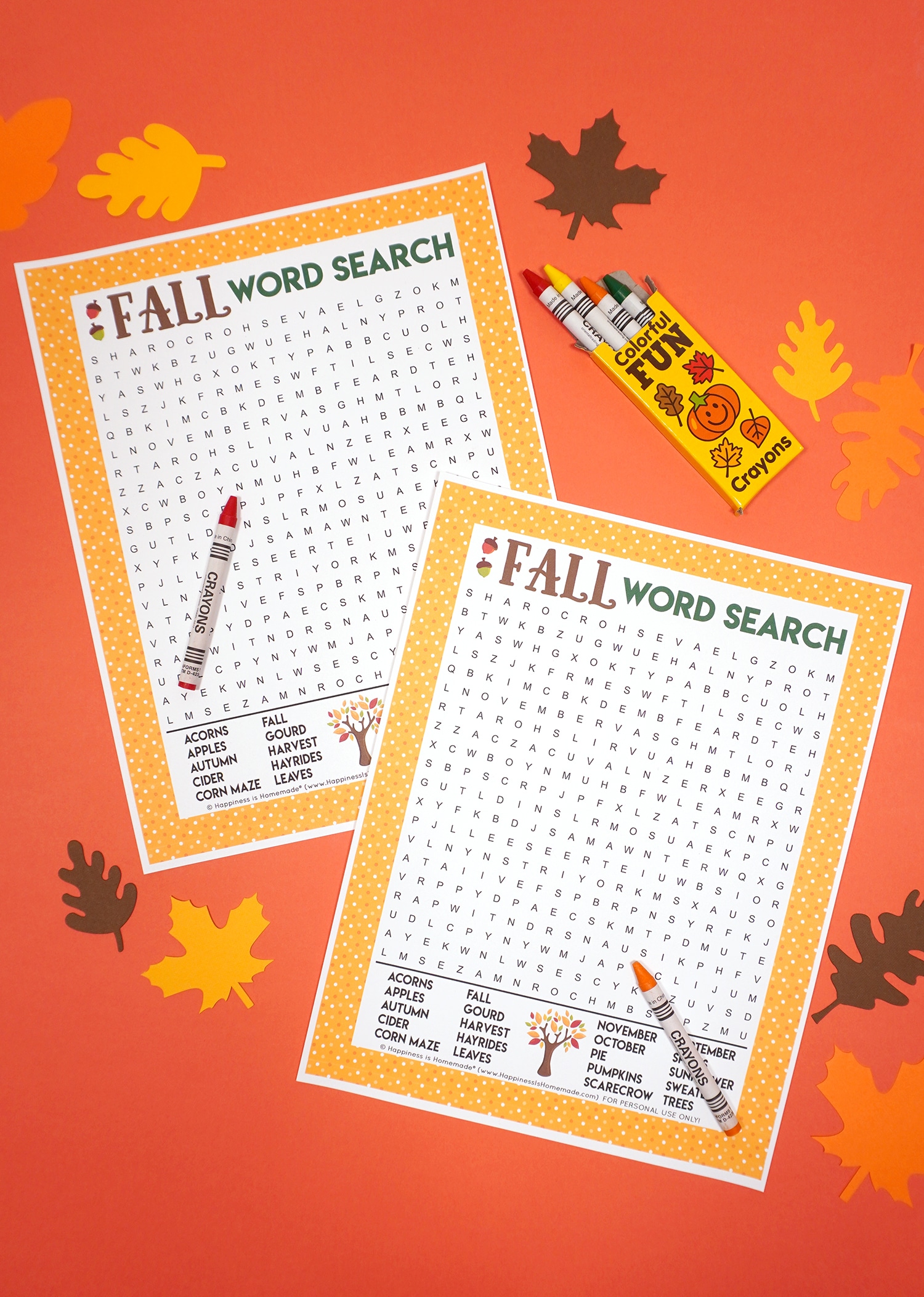 This post may contain affiliate links. I will receive a small commission from these sales at no additional cost to you!
Fall Word Search Printable
Fall is in the air! The leaves are changing colors and falling to the ground; the air is cooler, and pumpkin spice flavor has taken over all the major food groups. Not that we're complaining! We love all things fall! That's why we've put together a fun autumn word puzzle for kids to enjoy.
A crisp autumn day is a perfect time to complete a Fall Word Search. If it's a rainy fall day, curl up in a comfy chair with a blanket, a cup of cider, and our free printable for a bit of relaxation. Or, if it's a dry day and you want to enjoy the cooler air and changing leaves, grab a clipboard and take the fall word search outdoors. Either way, you'll have a great time looking for the 20 autumn-themed words on our list!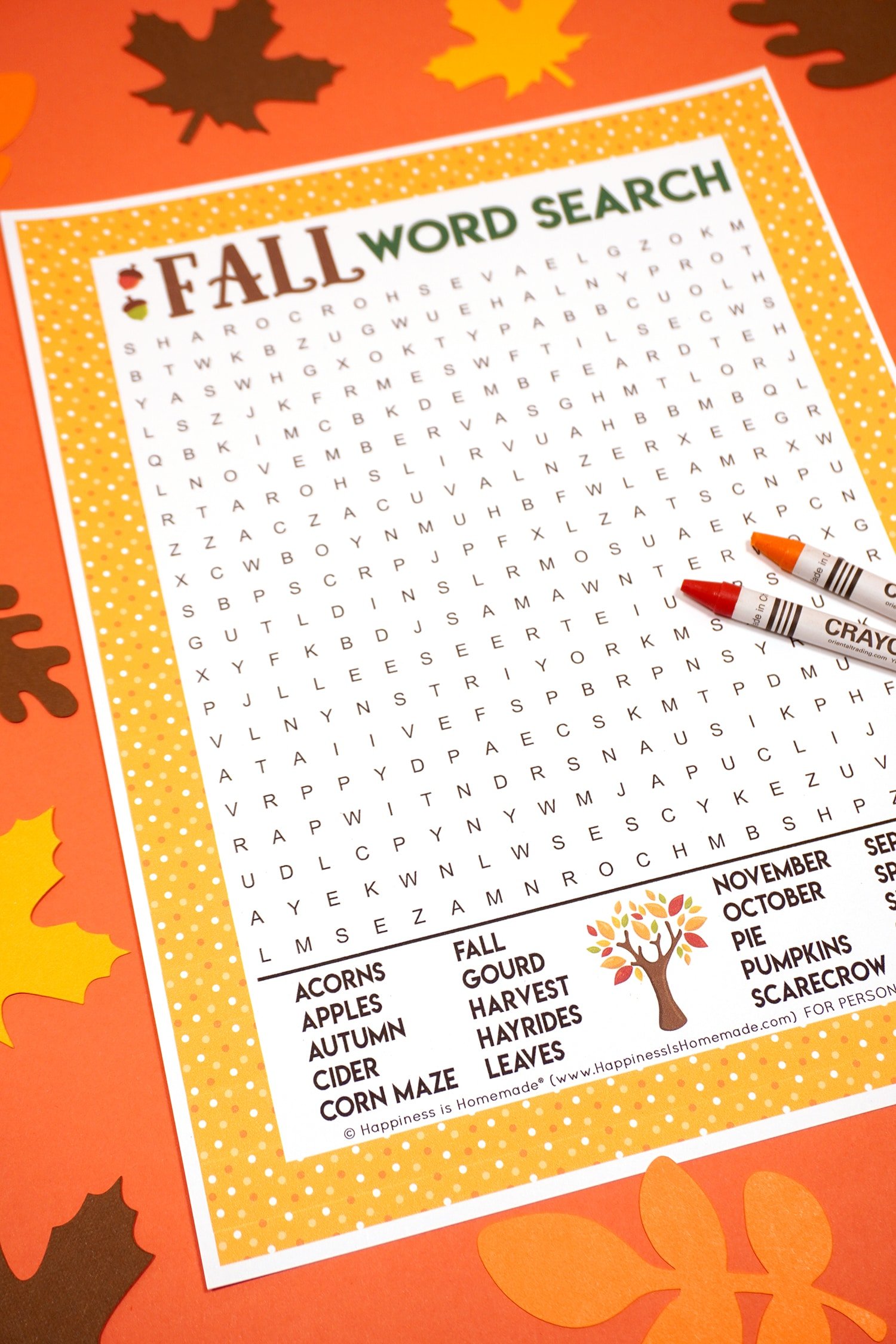 What Are the Benefits of Word Search Puzzles?
Word searches are terrific for introducing new vocabulary to kids. They show children how to spell new words and, often, how they relate to each other. For instance, all of these words are about the autumn season. So kids will learn that fall is during September, October, and November (primarily), and that some popular fall activities are hayrides and corn mazes. The word bank is a great reminder of all things wonderful about the season.
Our fall word search is great for home or in the classroom. Let the kids complete the seek and find during quiet time. It's a fun way to get kids calm and focused!
Word searches help kids look for and identify words in different ways. By scanning the block of letters horizontally, vertically, diagonally, and in reverse, kids learn to look for letter patterns to identify words quickly.
And you don't have to be a kid to enjoy this word search. Studies have shown that simple cognitive exercises like word searches are beneficial for adults, too. So grab a pen and start looking!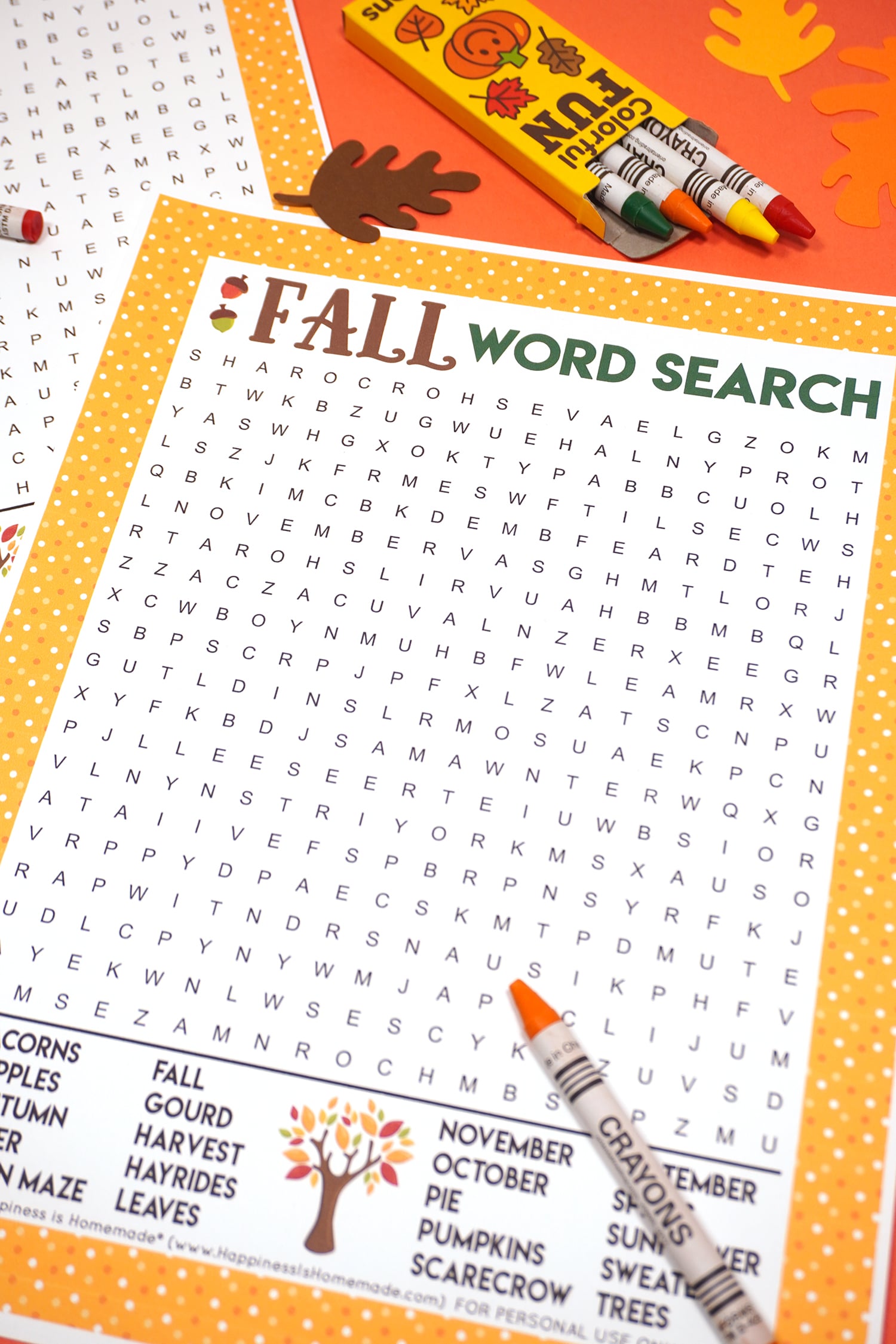 How to Make Word Searches More Fun
If you'd like to change things up with your word searches, here are some fun ideas you might try when identifying the words.
Use crayons or highlighters in gorgeous fall colors to mark the words as you find them. Think reds, oranges, yellows, and browns.
Use watercolors (or watercolor pencils) to mark the words.
Use thin, semi-transparent washi tape in fall colors to mark the words.
Here are some other fun ideas to try after the fall word search is completed:
Trace the outline of a leaf over the word puzzle and color it in lightly.
Use the word bank as inspiration to write a short story or paragraph about fall.
Use the words as a jumping-off point to make a fall bucket list (or download ours here!).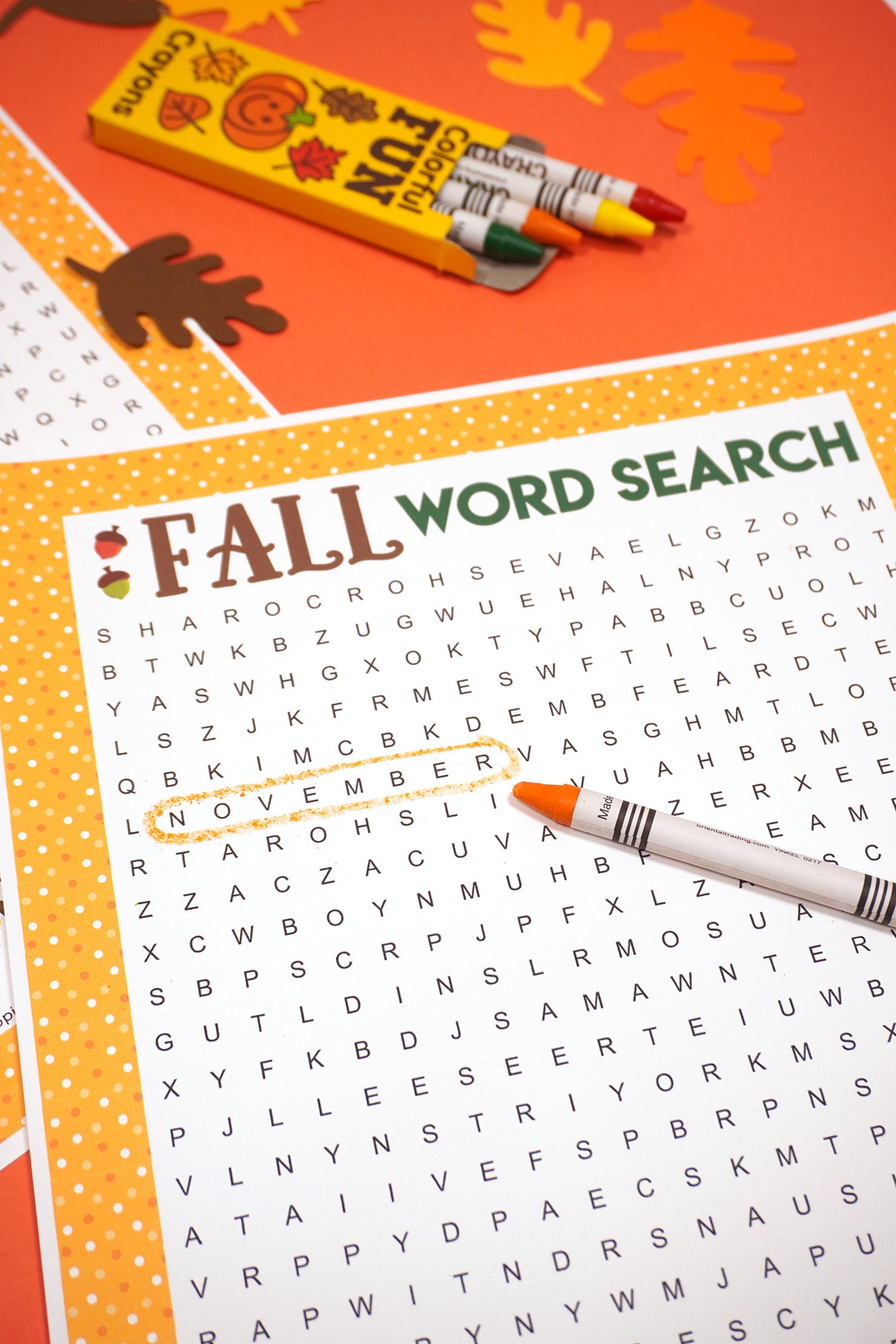 Are you a fan of word searches? How do you complete yours—in order from the first word on the list to the last, or do you mark them off willy-nilly as you find them? We tend to be in the second camp!
Don't forget to pin this fall word search and have a quick and easy printable activity at the ready this fall! Perfect for down time between school sessions!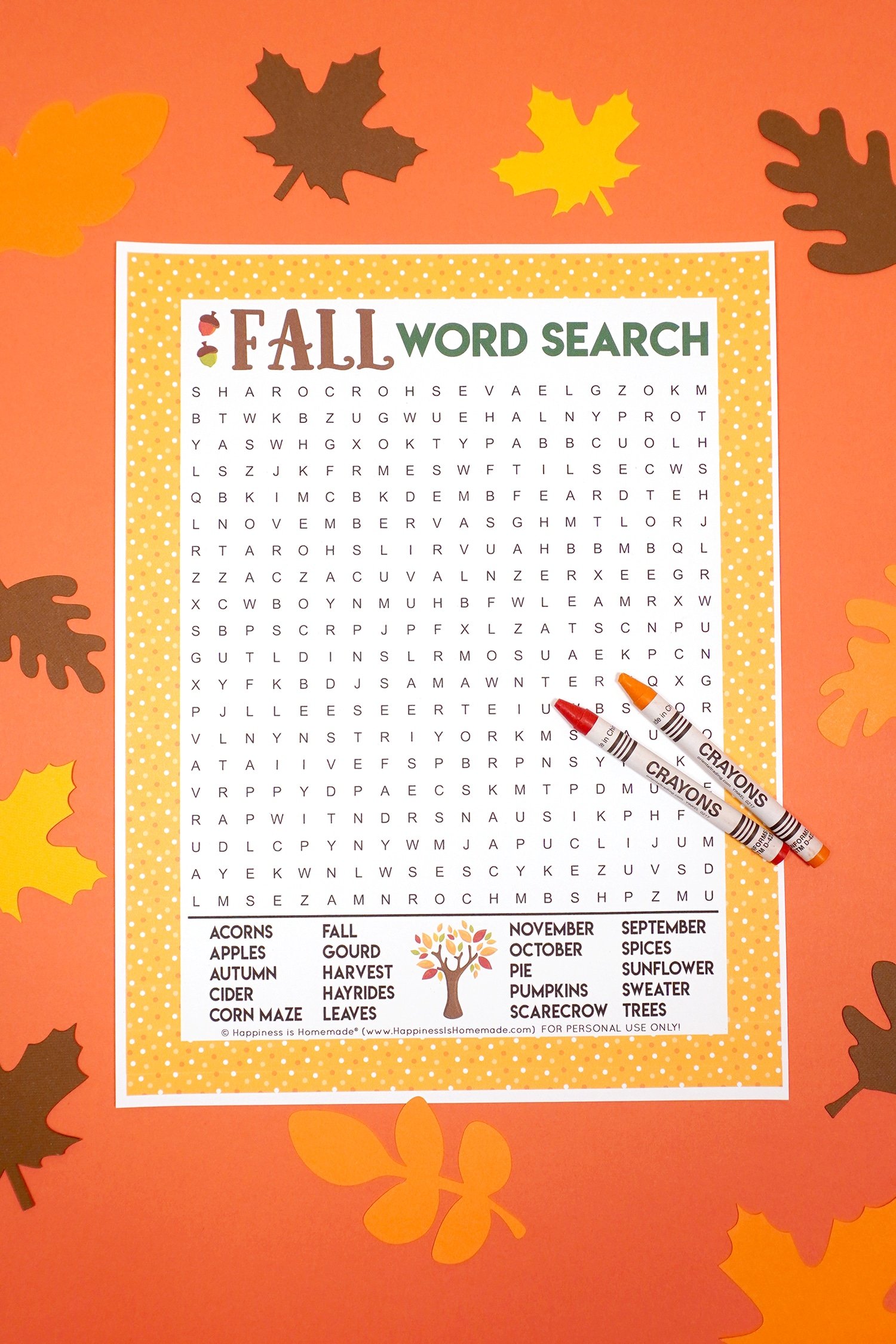 To get the free Fall Word Search Printable, enter your name and email address into the form below and click the "Get It Now!" button!

Check out these other Fall Printables!
Don't Forget to Pin This Fall Word Search for Later!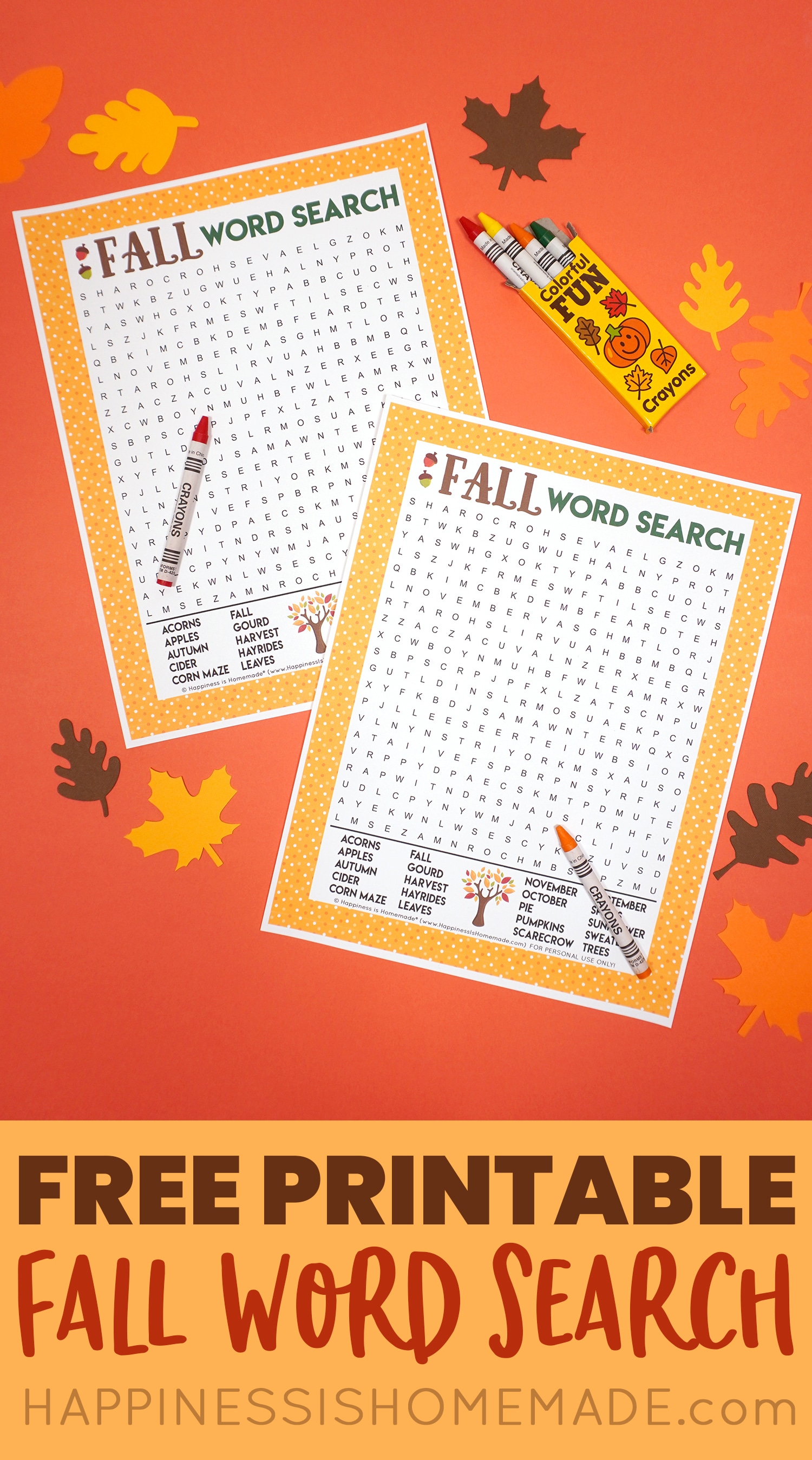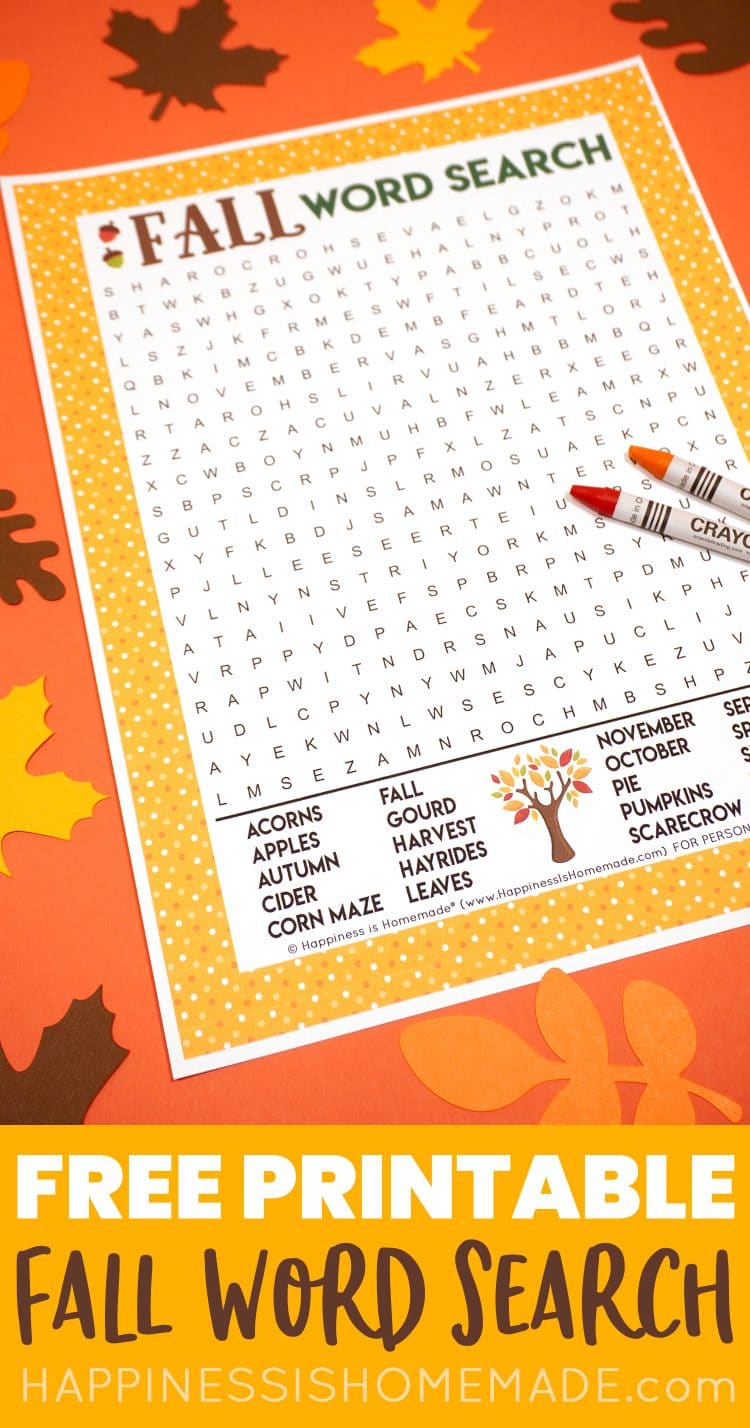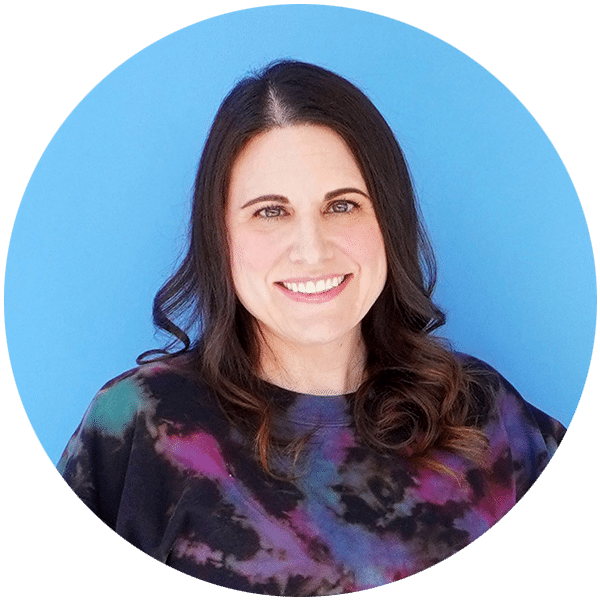 Heidi Kundin has captivated the hearts of millions with her colorful and inspiring approach to crafting, celebrations, and family fun. With over 15 years of experience, Heidi's website has become a must-visit destination for those seeking quick and easy creative ideas and last-minute solutions. Her warm personality shines through her posts, inviting readers to join her on a creative journey that's fun, rewarding, and achievable.