Beginner Fitness Jumpstart: Week 6
This post and its photos may contain affiliate links. As an Amazon associate I earn from qualifying purchases. If you make a purchase through these links, I may receive a small commission at no extra cost to you!
Get your FREE weekly workout guide and healthy dinner meal plan here! Just follow along with the plan to jumpstart your fitness and start feeling your best!
Welcome to Week Six of the 8-Week Fitness Jumpstart hosted by Play. Party. Pin. and myself! If you missed any of the previous weeks, no worries! You can join in at any time, and catch up on the previous weeks by clicking here!
Week Six! We're three quarters of the way through our 8-Week Fitness Jumpstart, and I hope you're feeling great and developing healthy habits. If you feel like you've fallen off track along the way, feel free to go back and repeat one of the previous weeks if you don't feel ready to advance. The most important goals are to keep moving your body on a consistent basis and to keep providing your body with healthy fuel.
WEEK SIX WORKOUTS:
WORKOUT PLAN: For each day shown, complete the listed exercises at least once (note: if you are able, repeat each cycle 2-3 times to maximize results) and walk/run for the stated amount of time. This week's workout incorporates several days of run/walking. For these workouts, run for 2 minutes followed by walking for 1 minute. Repeat the run/walk cycle for 30 minutes.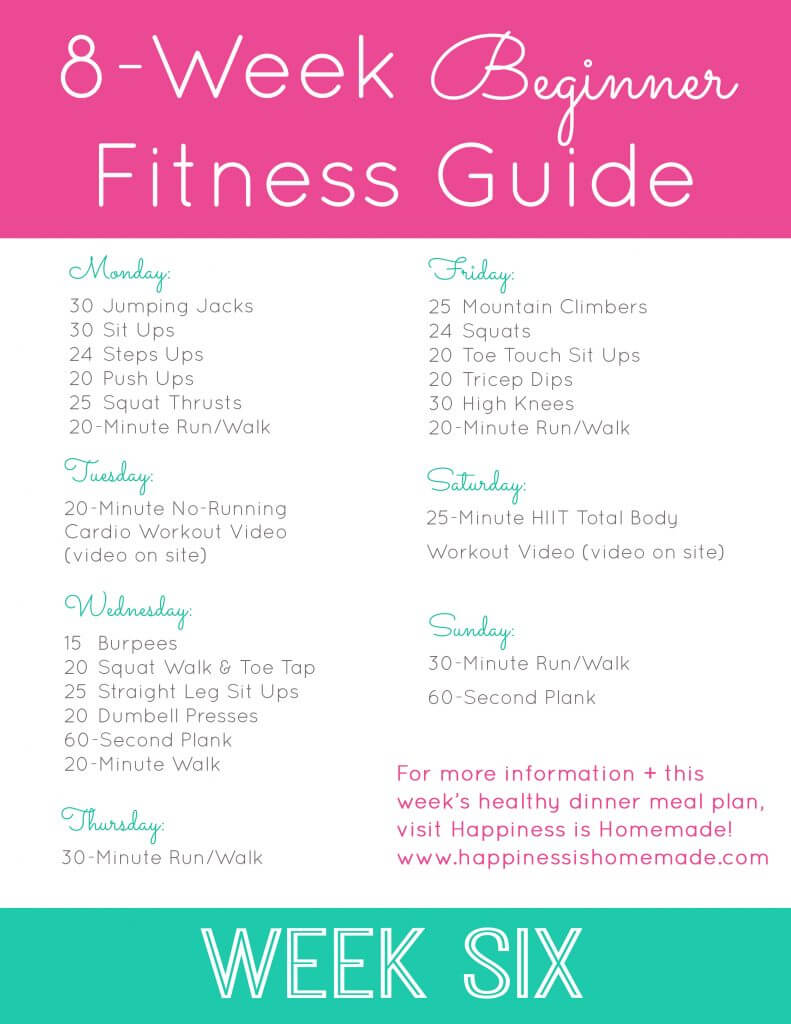 CLICK HERE TO PRINT THE WEEK SIX WORKOUT PLAN
Click here to see video demonstrations of some of this week's exercises!
WEEK SIX WORKOUT VIDEOS:
20-Minute No-Running Cardio Workout:
25-Minute HIIT Total Body Burn:
WEEK SIX DINNER MEAL PLAN:
This week's meal plan is extra special because we're also including a grocery shopping list so that you can easily purchase all of the ingredients required for this week's dinners. What's even more awesome is that this special addition required ZERO prep work on my part, all thanks to the magic of eMeals!
I've shared my love for eMeals with my readers before, but if you haven't heard of them, let me introduce you to your newest and most favorite game life changer. Ever.
eMeals is an absolutely brilliant and delicious way to take ALL of the work out of meal planning. eMeals provides you with a weekly menu plan including recipes, cooking instructions and a grocery shopping list. With over 50 different plans to chose from including Paleo, Clean Eating, Gluten-Free, Vegetarian, Crockpot, 30-Minute Meals and SO many more, there's something for everyone's tastes and dietary restrictions. We have tried several of the plans over the past couple of years, and my kids like the Classic, Kid Friendly and Low Fat meal plans the best. Personally, I love the Paleo and Clean Eating plans because they take all the guess work out of dinnertime and allow me to prepare wholesome meals for my family without needing to analyze each ingredient.
With the tremendous time saving benefit of eMeals, you'll never have to waste time planning meals and pouring over recipes to create your own shopping lists ever again! (Psst…they're also offering a FREE 14 day trial if you sign up with this link!)
eMeals is graciously providing Happiness is Homemade readers with this week's Clean Eating meal plan and grocery shopping list, and I totally admit that I cheated and made a couple of the meals last week so that I could show you how awesome they are!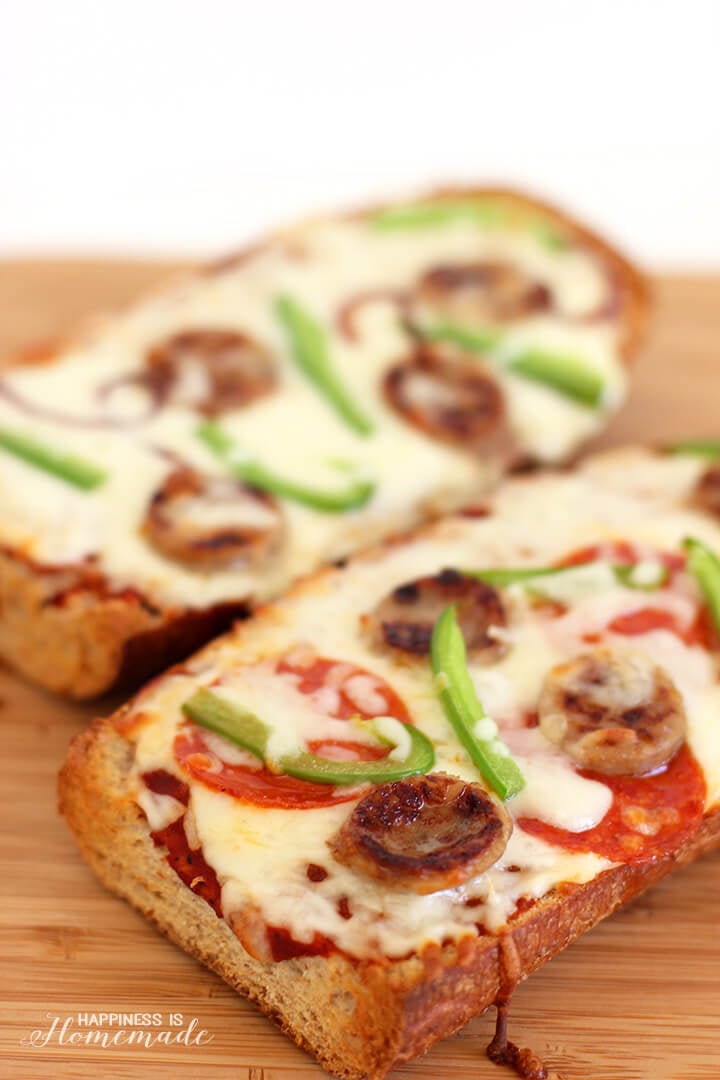 These whole wheat french bread pizzas with chicken sausage and green peppers were a HUGE hit with the entire family! The kids requested pepperonis in place of the mushrooms from the recipe, and everyone raved about how delicious these were.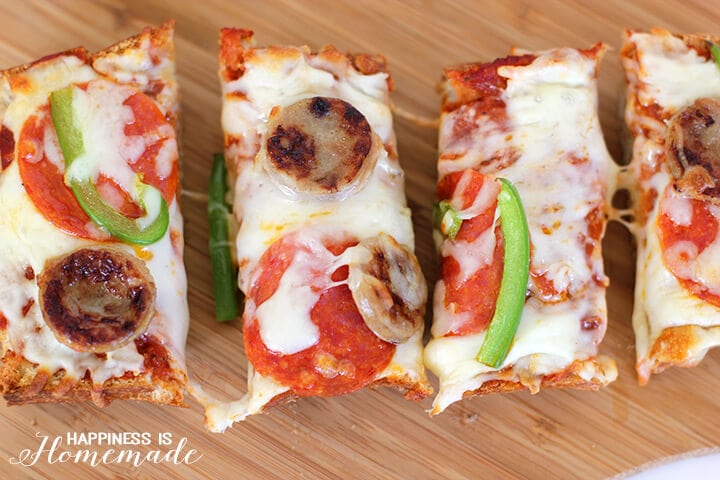 Tip: toast the bread in the oven for 5-6 minutes before adding the toppings for an even crispier crunch!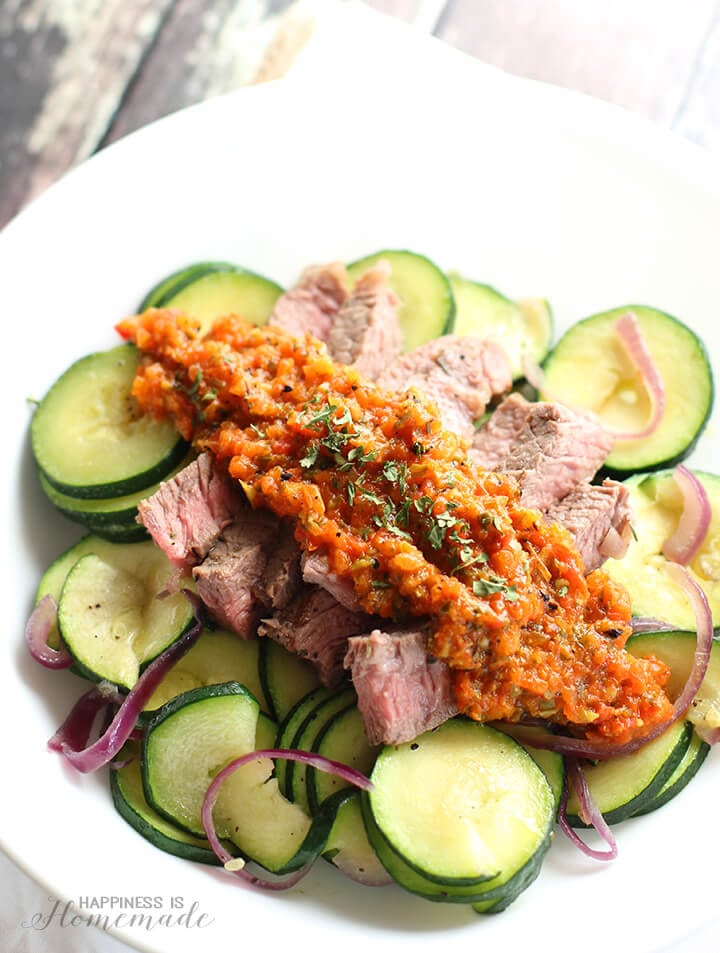 Tuscan Flank Steak with Roasted Red Pepper Sauce was another favorite from this week's eMeals menu. The steak is rubbed with seasonings before grilling, then topped with a flavorful homemade red pepper and basil sauce. SO yummy!
DOWNLOAD THIS WEEK'S CLEAN EATING MEAL PLAN AND SHOPPING LIST HERE!
Find all 8 weeks of the Beginner Fitness Jumpstart (including weekly workouts and meal plan!) here:
[riview id=312 num=2000 orderby=title order=asc size=200×200 showtitle=always lightbox=0]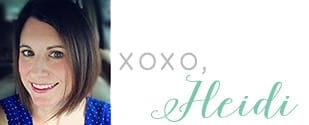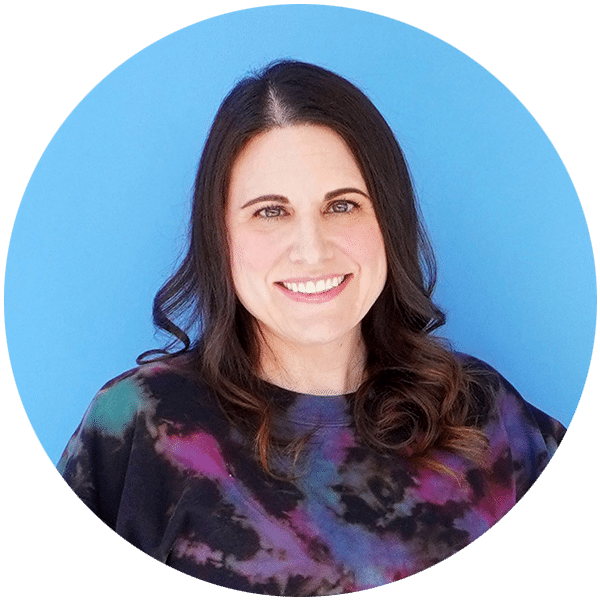 Heidi Kundin has captivated the hearts of millions with her colorful and inspiring approach to crafting, celebrations, and family fun. With over 15 years of experience, Heidi's website has become a must-visit destination for those seeking quick and easy creative ideas and last-minute solutions. Her warm personality shines through her posts, inviting readers to join her on a creative journey that's fun, rewarding, and achievable.