Free Printable Chore Chart for Kids
This post and its photos may contain affiliate links. As an Amazon associate I earn from qualifying purchases. If you make a purchase through these links, I may receive a small commission at no extra cost to you!
Teach kids responsibility with these free printable chore charts for kids! Printable weekly chore charts make tracking daily chores easy and fun!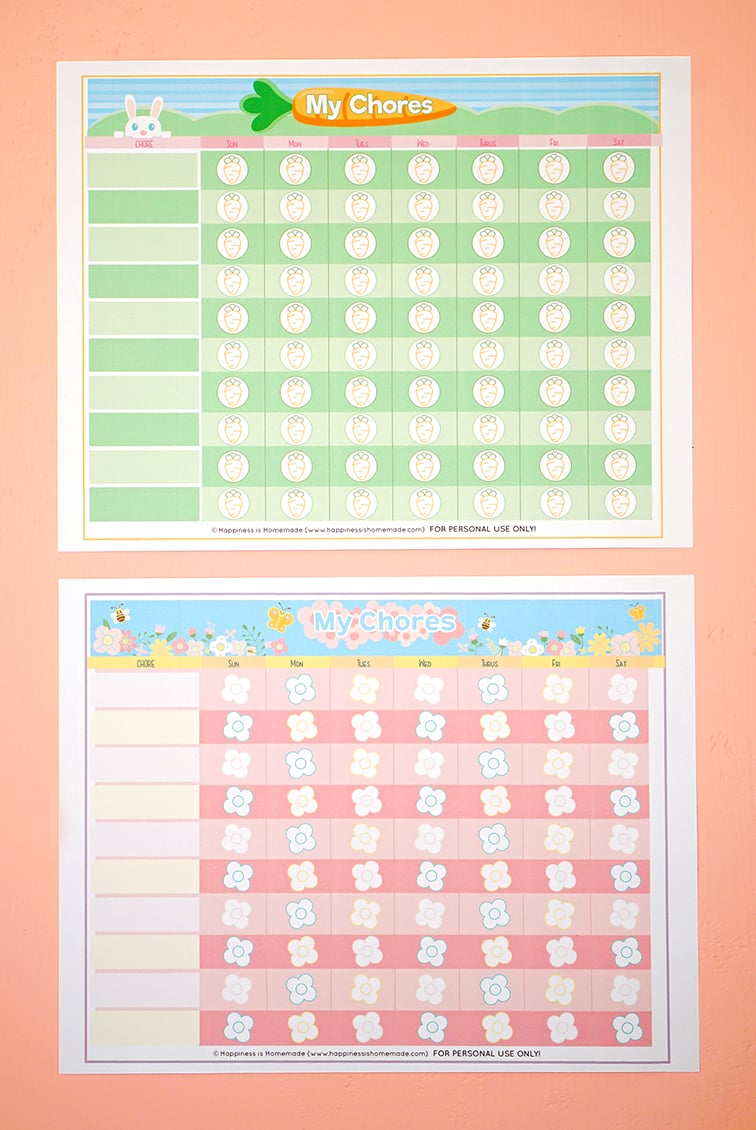 This post may contain affiliate links. I will receive a small commission from these sales at no additional cost to you!
Printable Chore Chart for Kids
Motivating kids to do their chores can sometimes be a difficult task, but this free printable chore chart makes things easy and fun! Kids can visually see their assigned chores listed out, and they'll gain a sense of accomplishment and satisfaction as they check each item off of their list. Assigning kids age-appropriate chores is a great way to teach them valuable life skills, and it's also a great opportunity for older kids to earn money!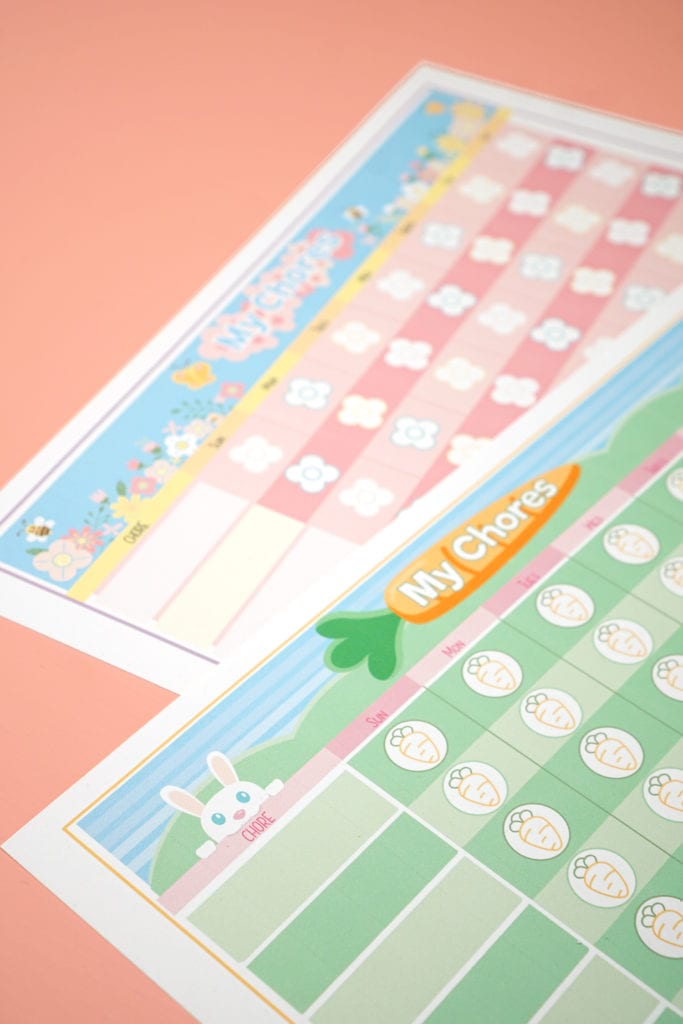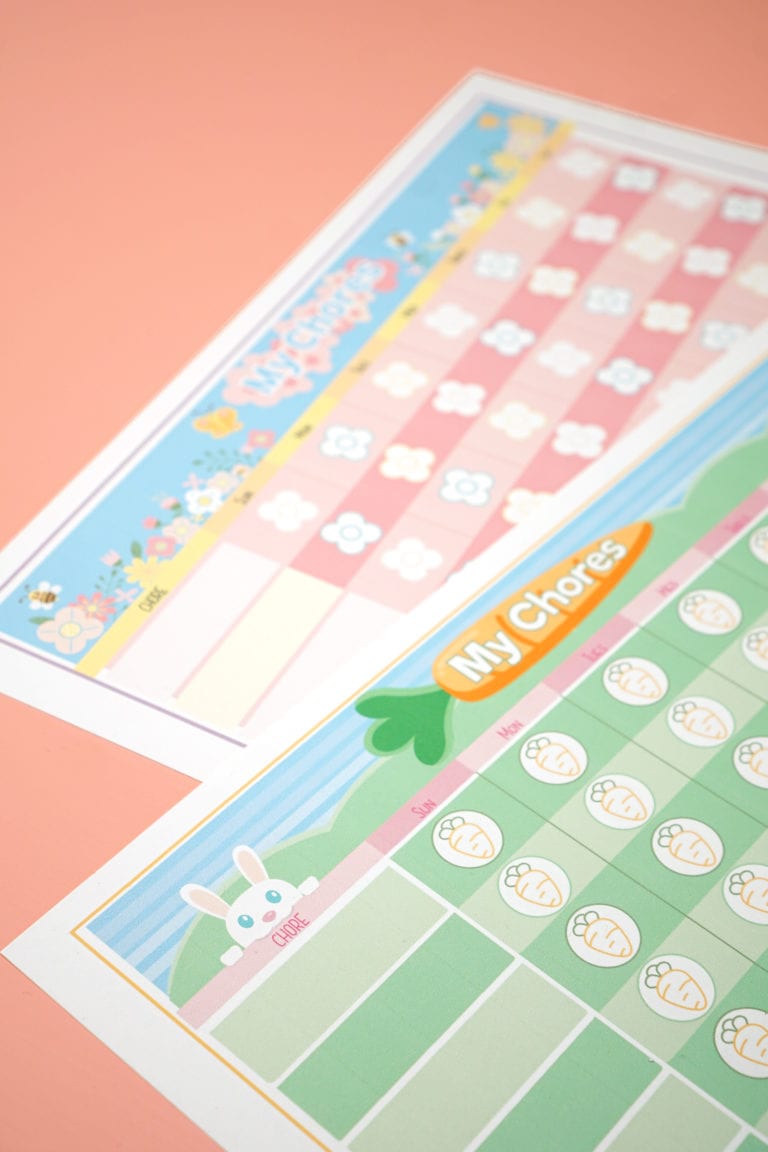 Our printable chore charts comes in two different versions that are perfect for spring time (or any time!) – a cute bunny and carrots chart and a pretty flower and butterfly chart.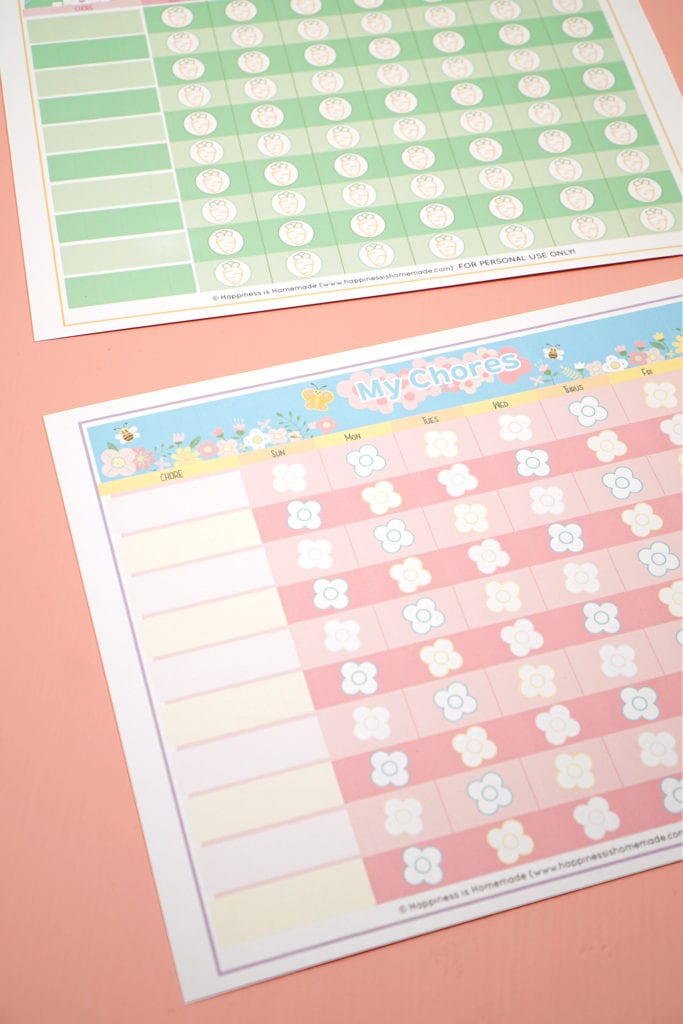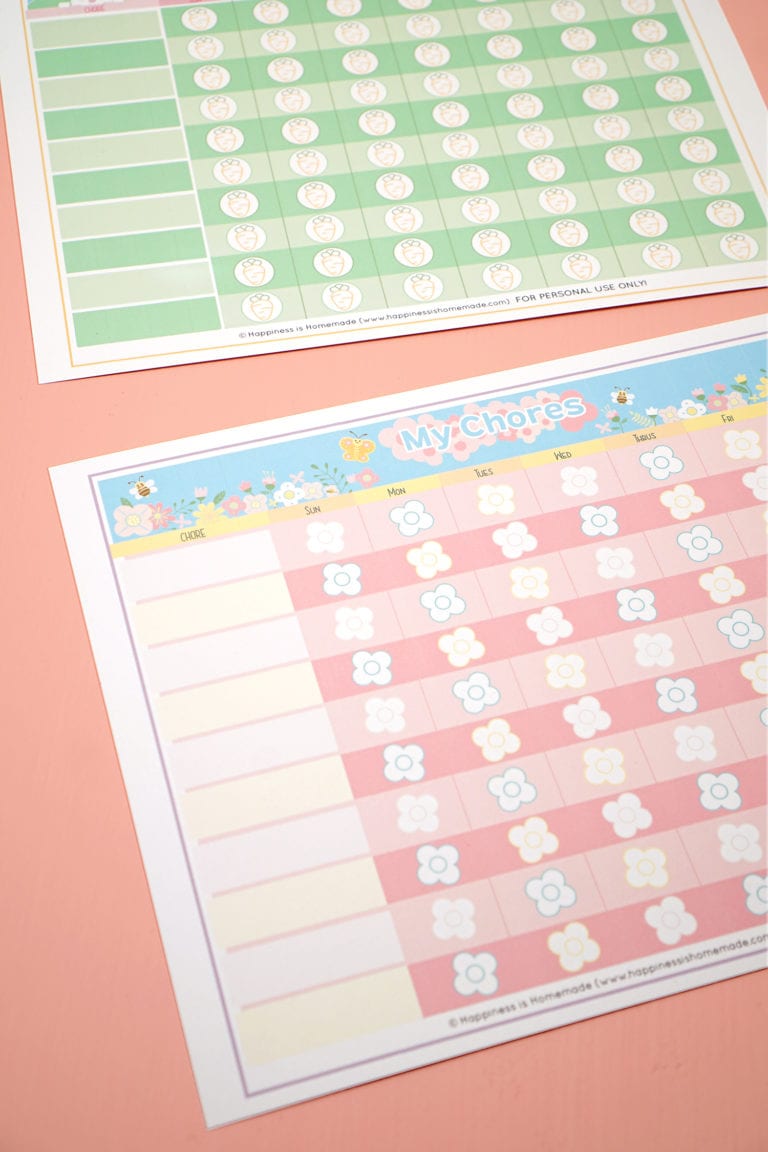 Each chart has space to list out ten different chores or tasks (we like to include everything from brushing your teeth to putting away dishes), along with a checkbox for each day of the week. Simply check off the tasks each day as they're accomplished or use a reward sticker to mark off the job!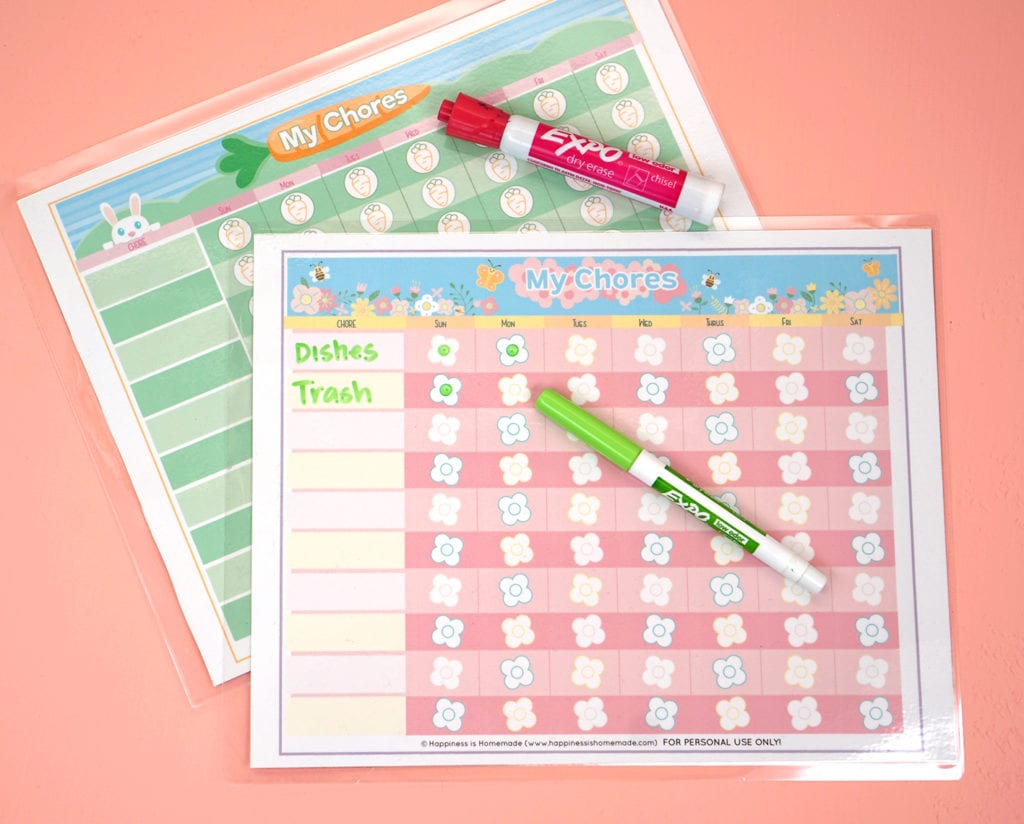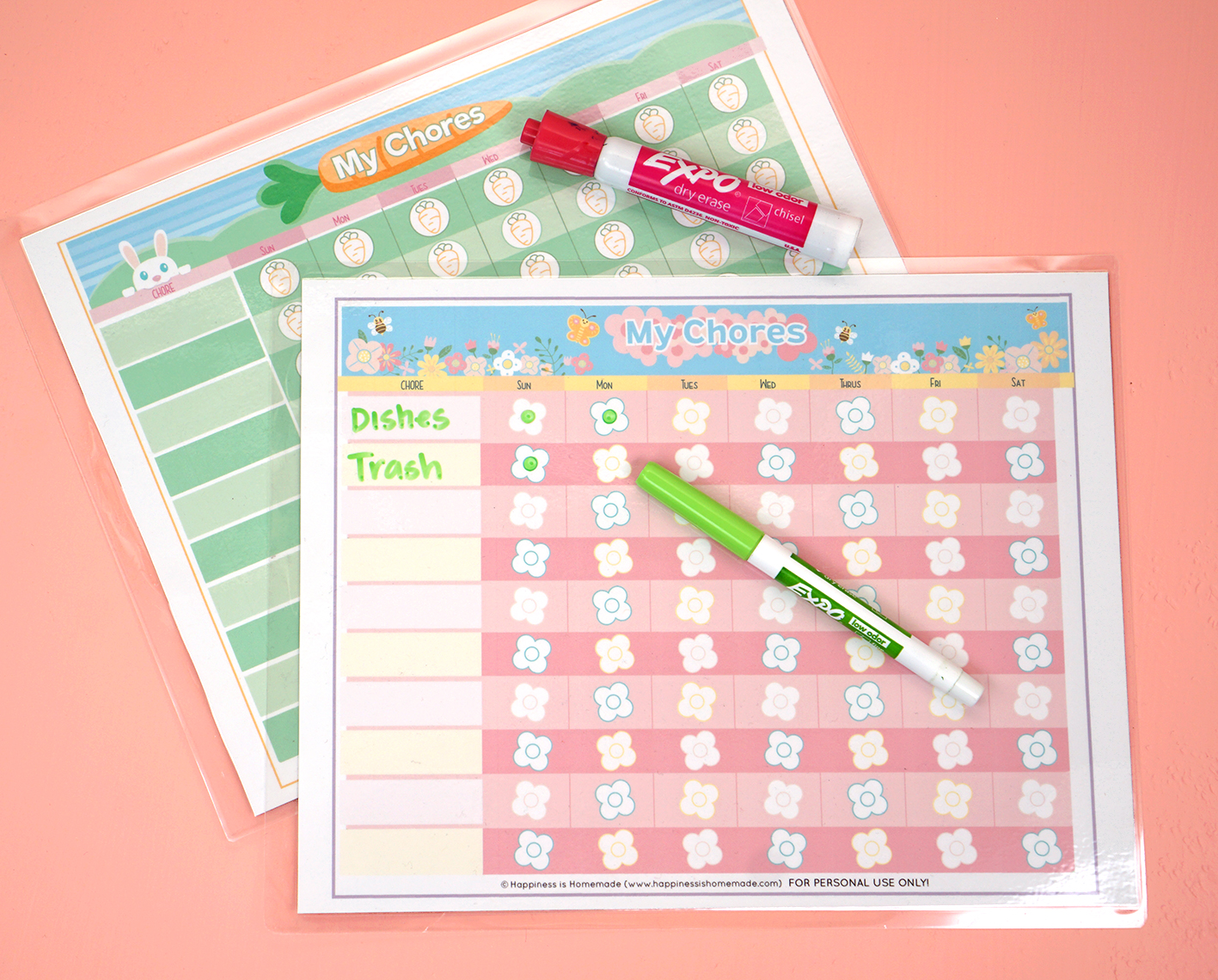 You can even laminate the chore chart and use it with a dry erase marker over and over again! I have an older version of this Scotch laminator that has served me well for over 10 years (including 6 years of heavy and frequent homeschool use!) and is still going strong! It's probably the most-used machine in my craft room aside from my Cricut Maker!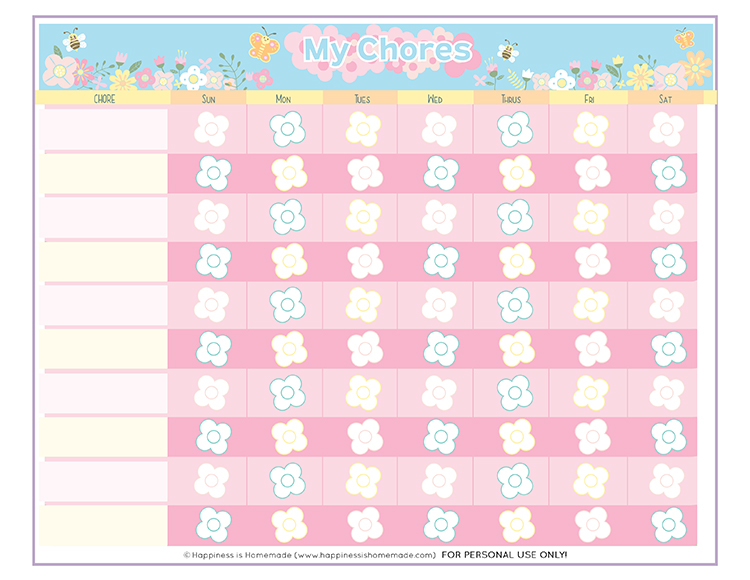 If you need ideas for filling out your child's chore chart, here are some
Age Appropriate Chores for Kids & Chore Chart Ideas
Note: Each age groups also includes all chores from the younger age groups.
2-3 Years Old
Dust
Wipe Tables
Pick Up Toys
Put Away Clothes
Put Dirty Laundry in Hamper
Brush Teeth/Hair
4-6 Years Old
Take Care of Pets
Make Bed
Set the Table
Sort Laundry
Match Socks & Basic Laundry Folding
Empty Silverware from Dishwasher
Pull Weeds
Water Plants
Wash Mirrors
7-10 Years Old
Wash Dishes & Load/Unload Dishwasher
Sweep and Vacuum Floors
Take Out Trash
Simple Meal Prep
Fold Laundry
Clean Out the Car
Clean Bathrooms
Pack School Lunches
Walk Pets
Homework
11-13 Years Old
Mow Lawn
Mop Floors
Cook Simple Meals
Clean Out Refrigerator
Take Trash to Curb
Wash & Dry Laundry
14 Years Old +
Babysit Younger Siblings
Run Simple Errands
Iron
Plan and Cook Meals
Organize Cupboards & Shelves
Deep Cleaning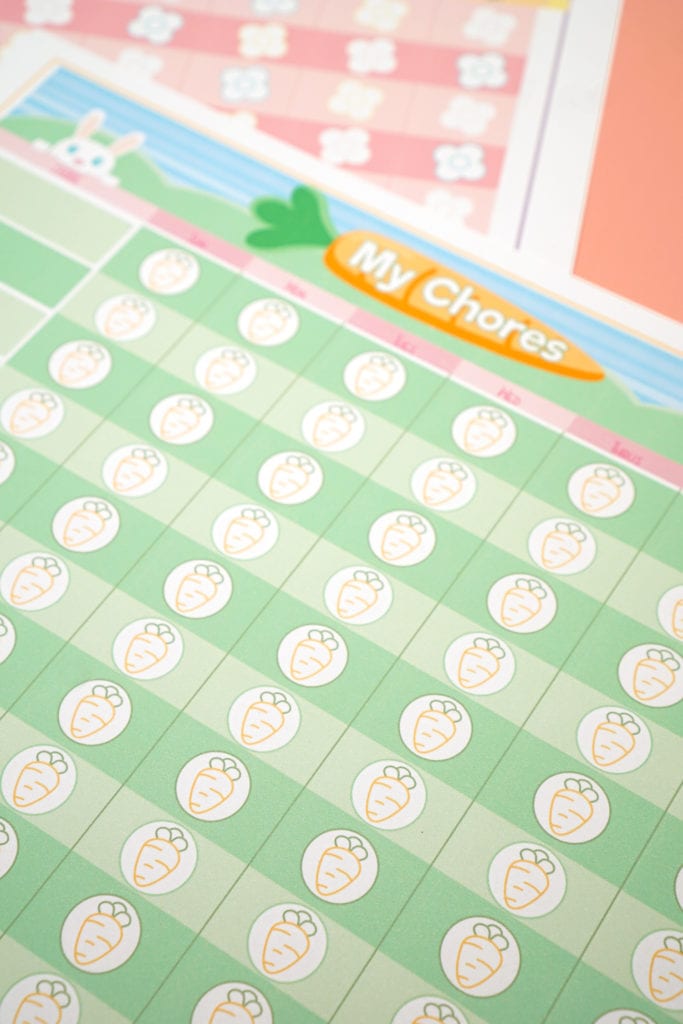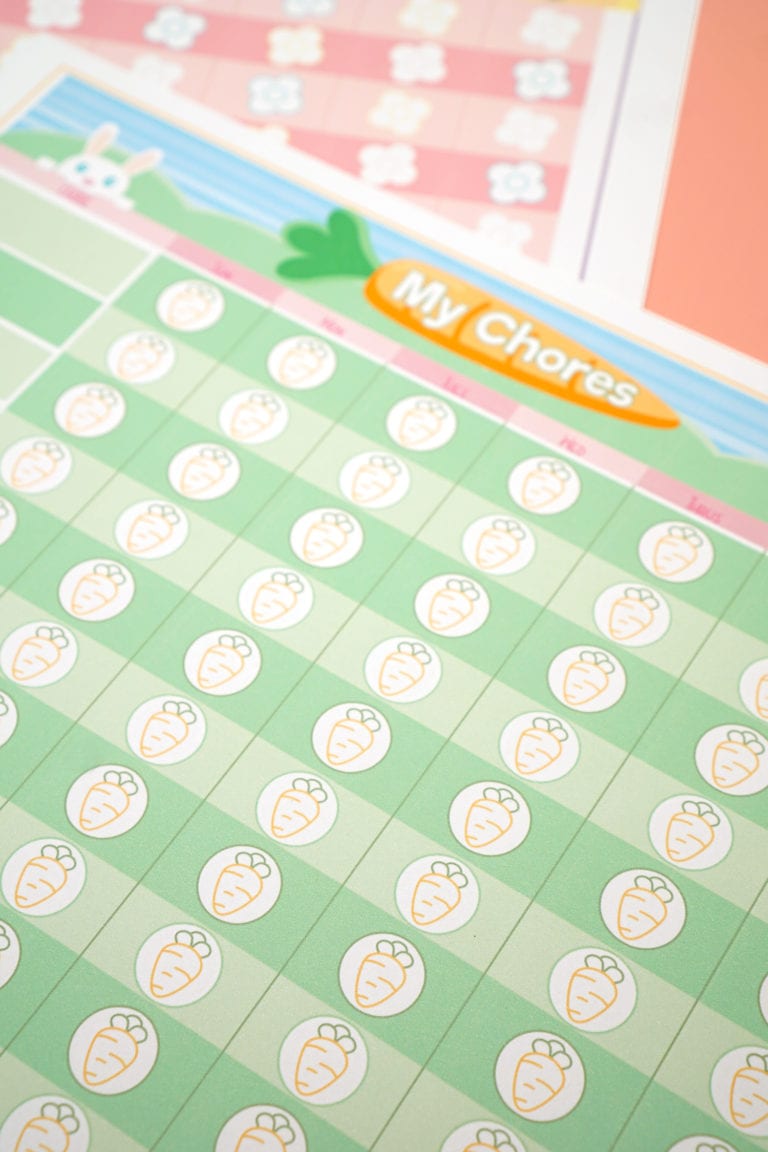 For toddlers and preschoolers, the thrill of placing stickers upon their chore chart serves as a great reward and motivator. Older children often like to work towards a reward, for example, if they complete 90% of their chores that week, they can go out for ice cream or play an hour of video games. Tweens and teens are frequently motivated by money, so allowing them to earn a weekly allowance in exchange for completed chores is another option and another opportunity for learning life skills like budgeting.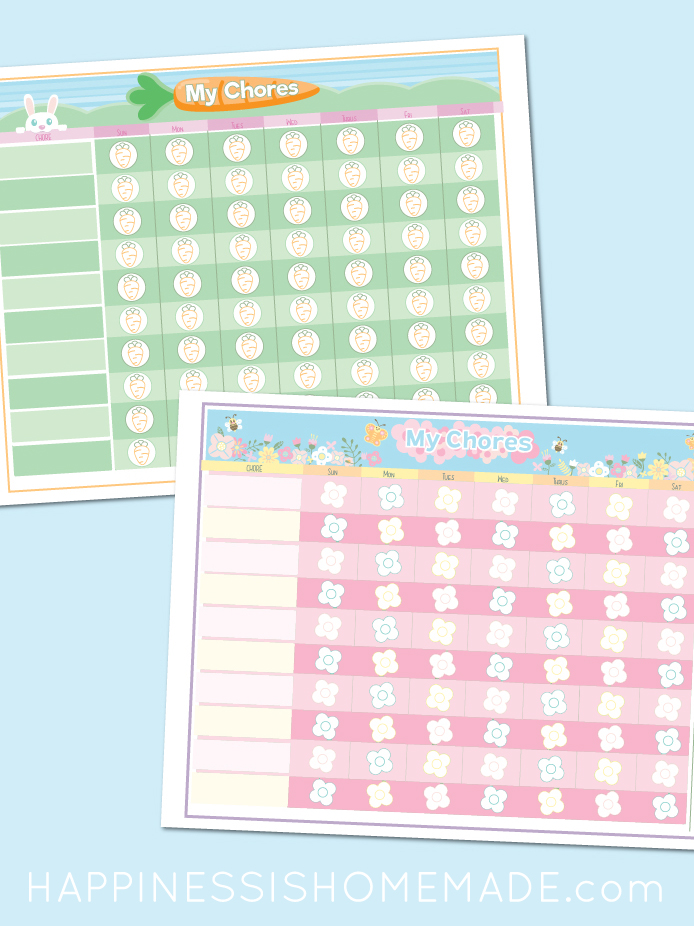 FOR INSTANT ACCESS TO THE PRINTABLE, ENTER YOUR NAME AND EMAIL ADDRESS INTO THE FORM BELOW AND CLICK THE "GET IT NOW!" BUTTON!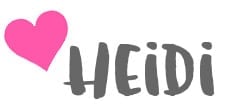 You May Also Like: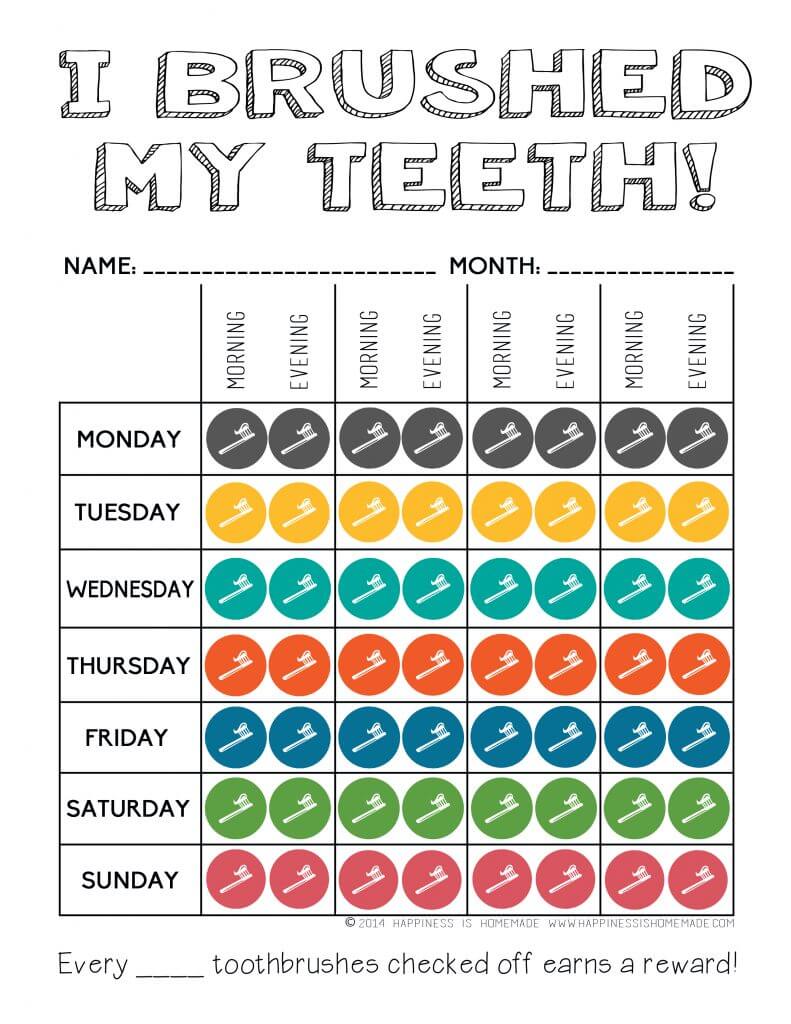 Printable Tooth Brushing Reward Chart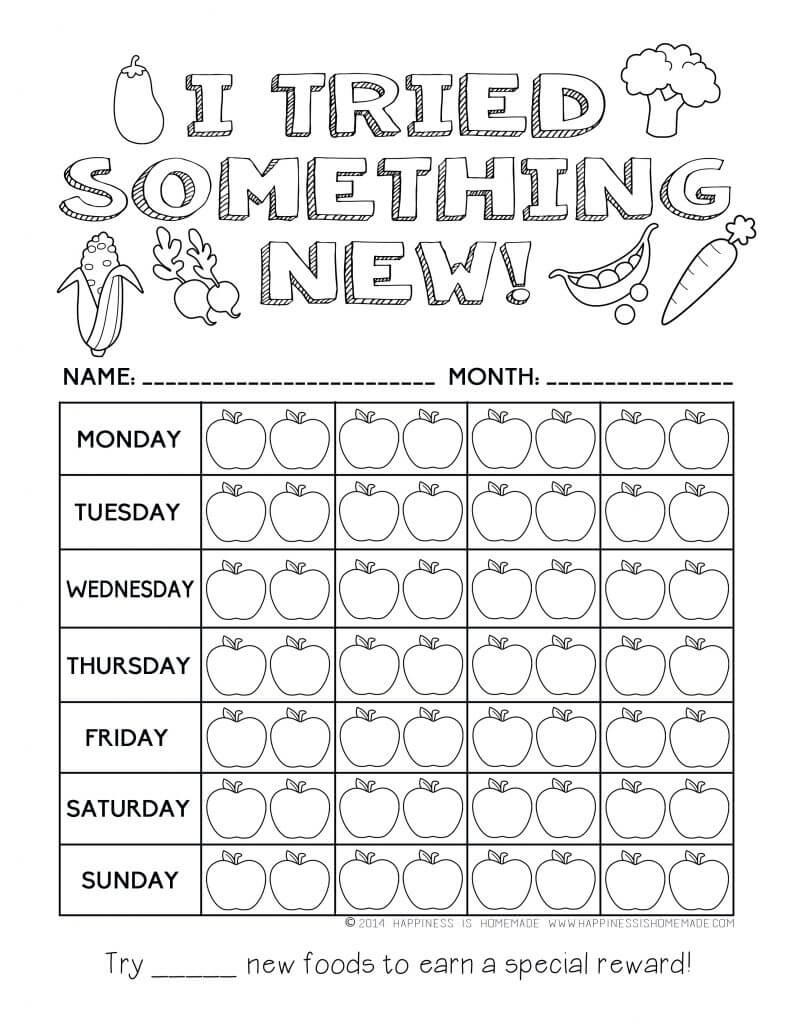 Printable Healthy Eating Chart (and Coloring Pages!)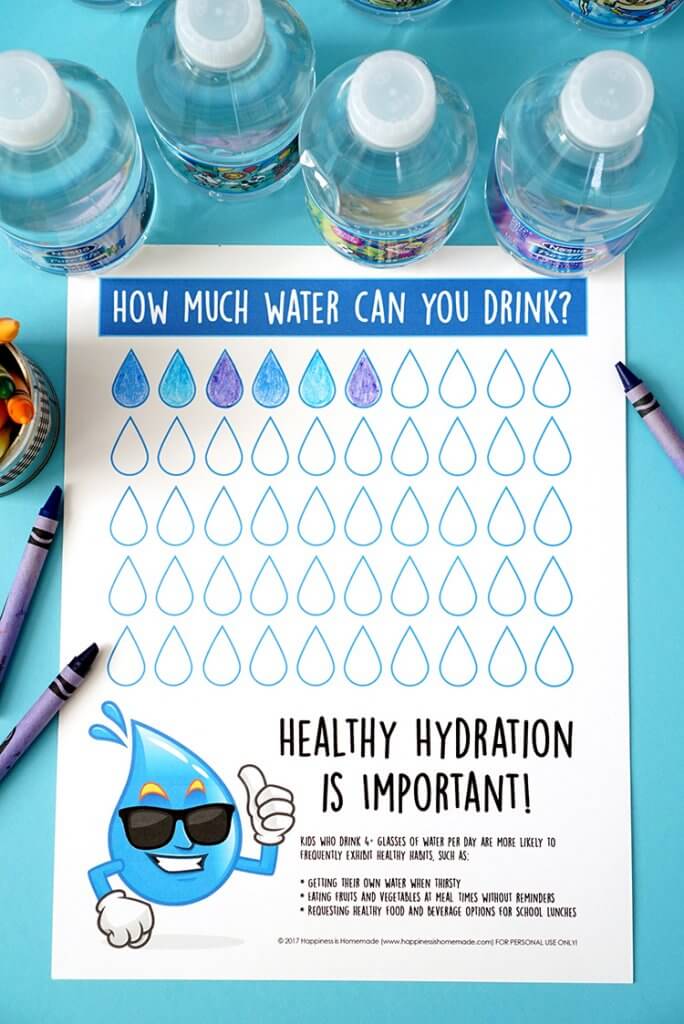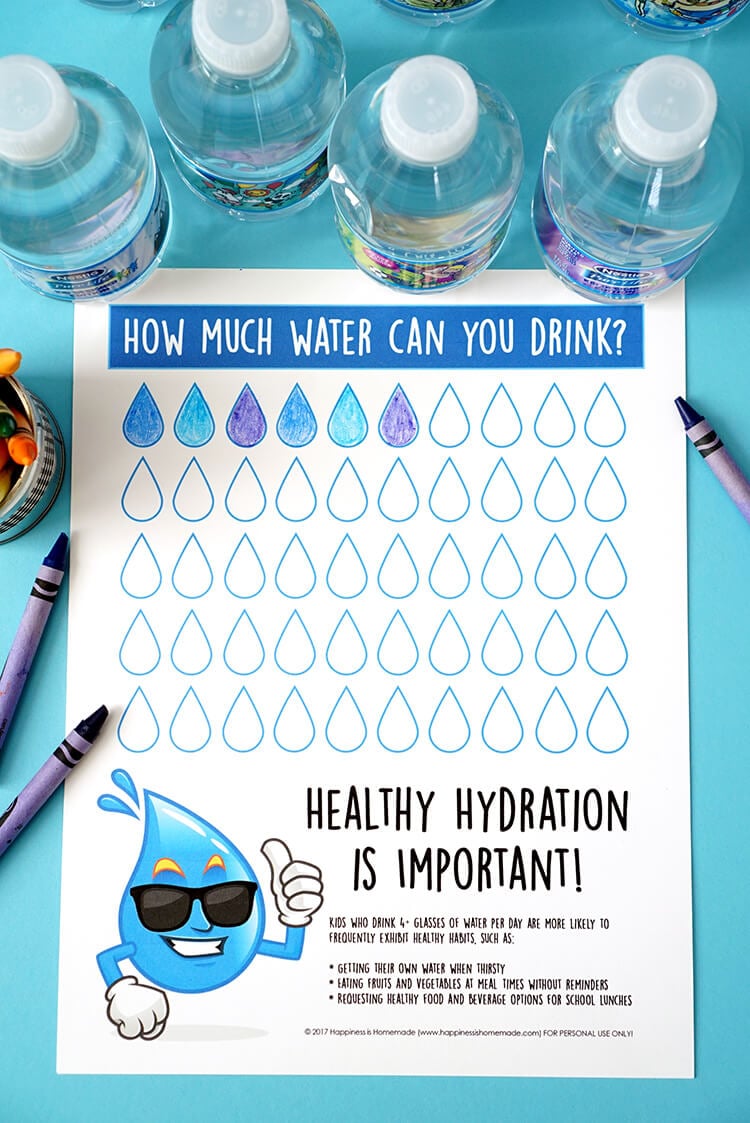 Healthy Hydration Tracking Chart
Pin This Printable Chore Chart for Later!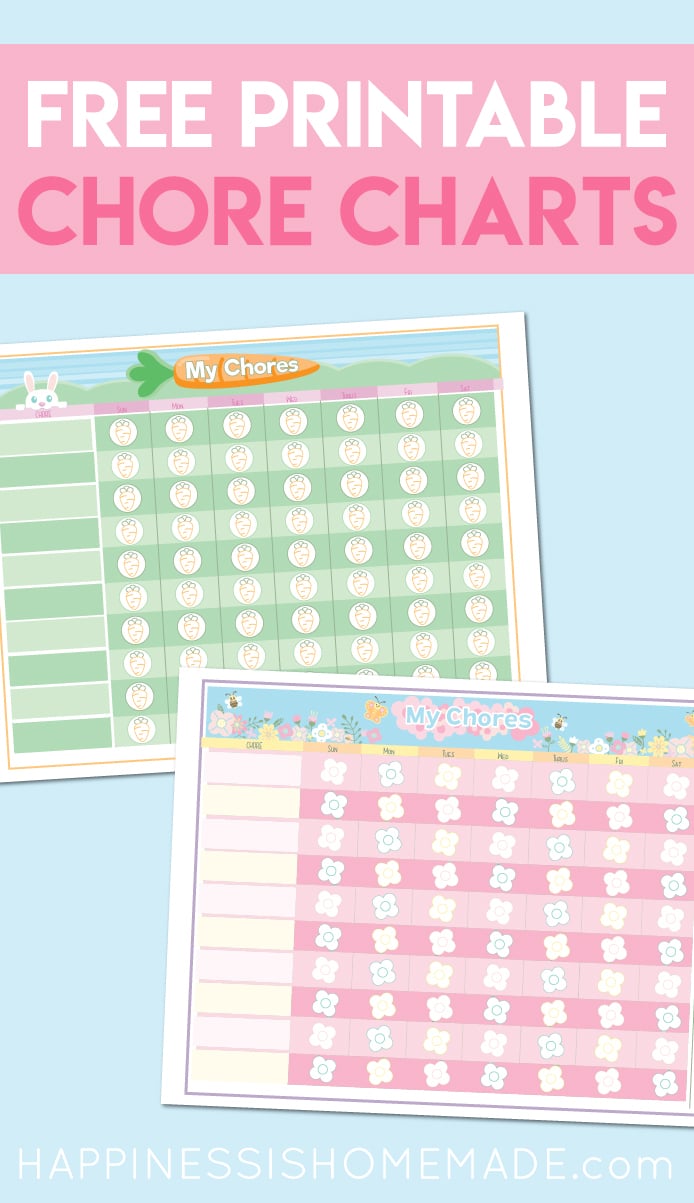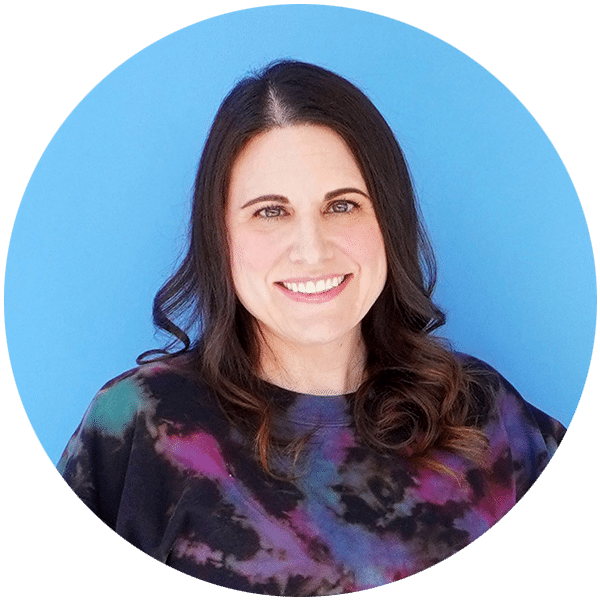 Heidi Kundin has captivated the hearts of millions with her colorful and inspiring approach to crafting, celebrations, and family fun. With over 15 years of experience, Heidi's website has become a must-visit destination for those seeking quick and easy creative ideas and last-minute solutions. Her warm personality shines through her posts, inviting readers to join her on a creative journey that's fun, rewarding, and achievable.