Healthy Hydration Water Tracking Chart
This post and its photos may contain affiliate links. As an Amazon associate I earn from qualifying purchases. If you make a purchase through these links, I may receive a small commission at no extra cost to you!
Encourage your children to drink more water with this fun Healthy Hydration Water Tracking Chart!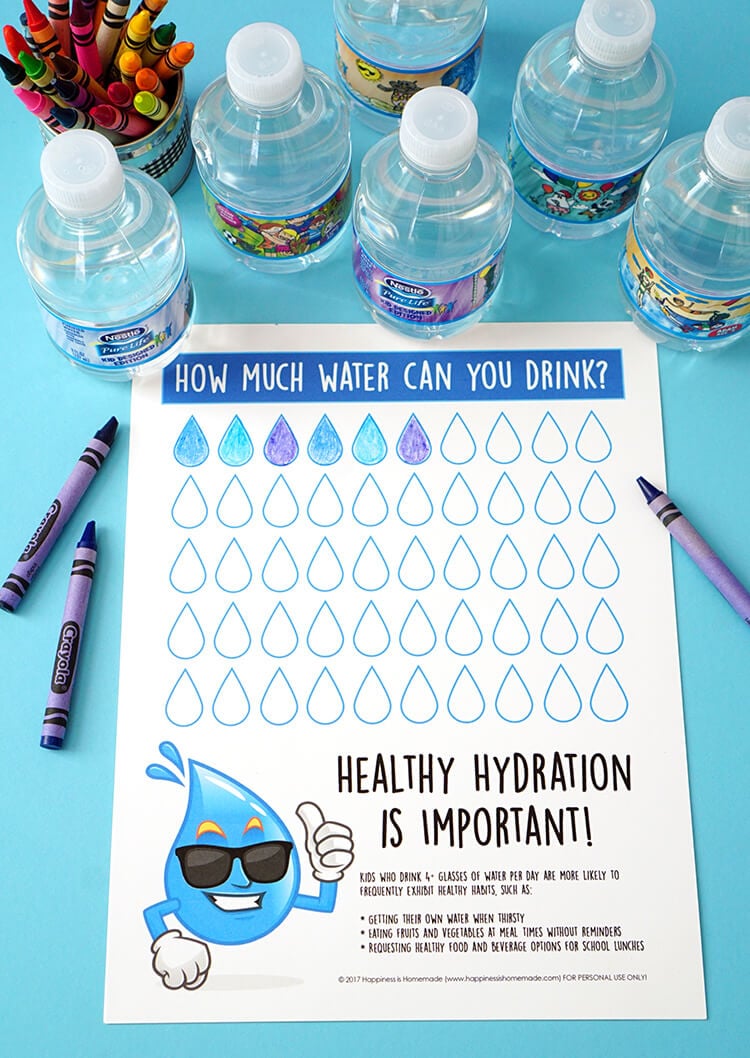 Kids have many choices when it comes to beverages, and unfortunately, many children are reaching for sugar-laden drinks instead of water. At baseball practice the other day, I noticed that six out of the ten children on the team were consuming sports drinks or juice during their "water break." I am fortunate that my three boys frequently reach for water, and they actually often prefer it to other beverages. My family may enjoy drinking water, but we're always looking for ways to make it even more easy and fun!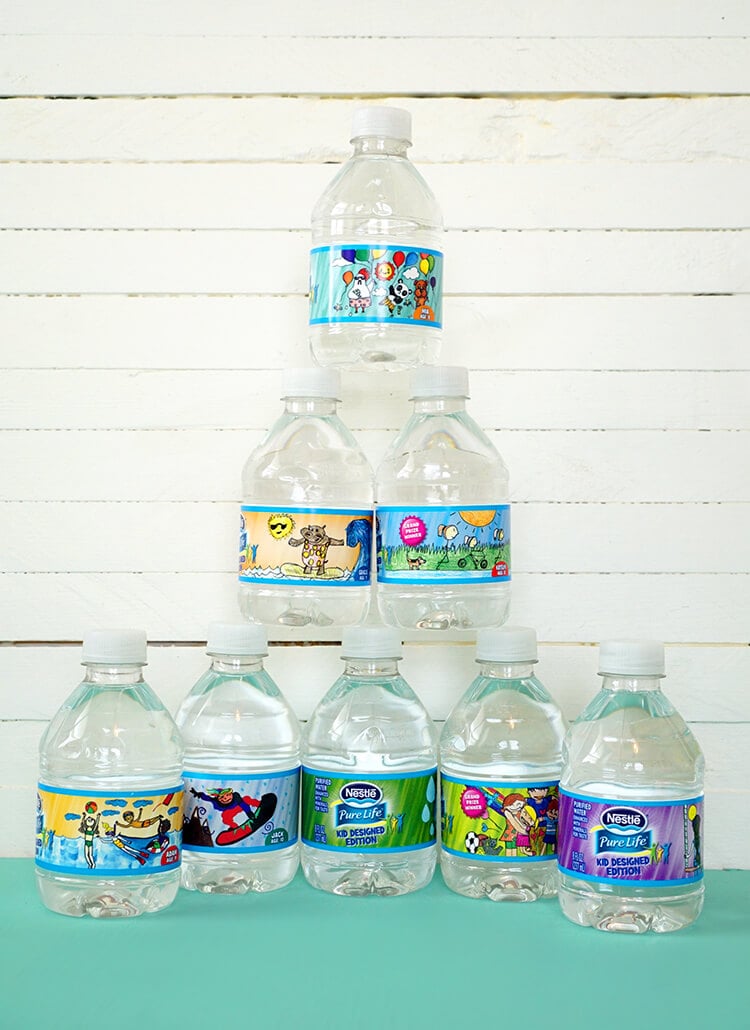 NESTLÉ® PURE LIFE® 8oz "Share-a-Smile™" Kid Designed Edition makes drinking water easy and fun! Designed by kids, the bright and colorful labels showcase award-winning artwork from the 2016 NESTLÉ® PURE LIFE® "Share-A-Smile™" contest. Parents were asked to have their children draw what makes them smile for a chance to win great prizes; including a chance to have their child's design commercially produced and included on NESTLÉ® PURE LIFE® "Share-a-Smile™" labels. The eight winning labels are fantastic – from a panda and his pals floating through the sky to a surfing hippo and friends frolicking at the beach– you can't help but smile and let your imagination soar with the new NESTLÉ® PURE LIFE® "Share-a-Smile™" Kid Designed Edition.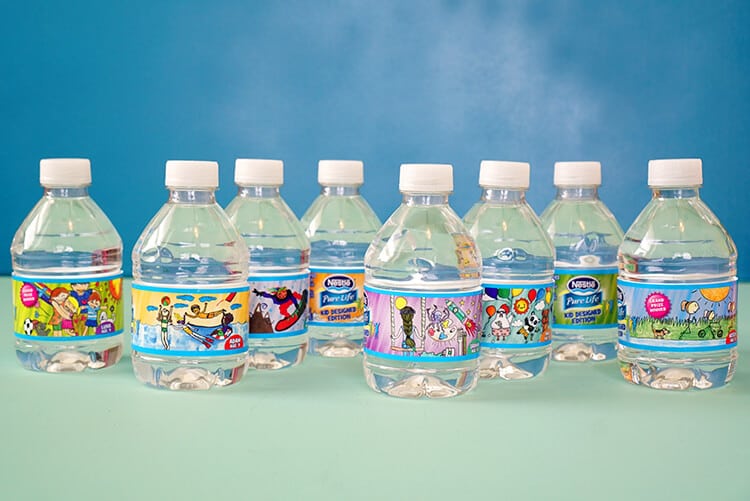 Recent data from the CDC's National Center for Health statistics show that more than two-thirds of children in the US consume at least one sugary beverage on any given day, and around 30% consume two or more per day. Replacing just one single 12-ounce (140 calories) sugar-sweetened beverage with water can cut more than 65 cups of sugar from one's diet in a year! 65 CUPS!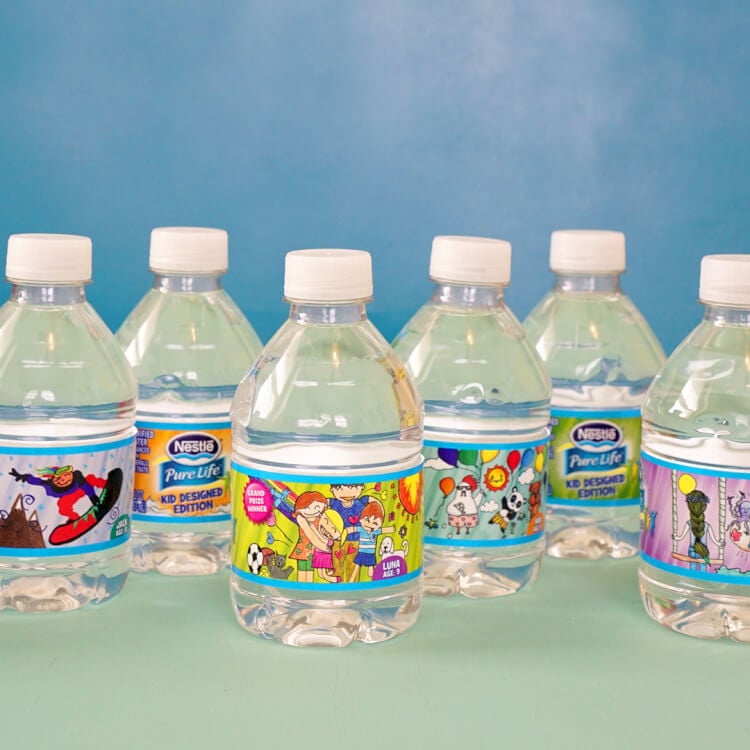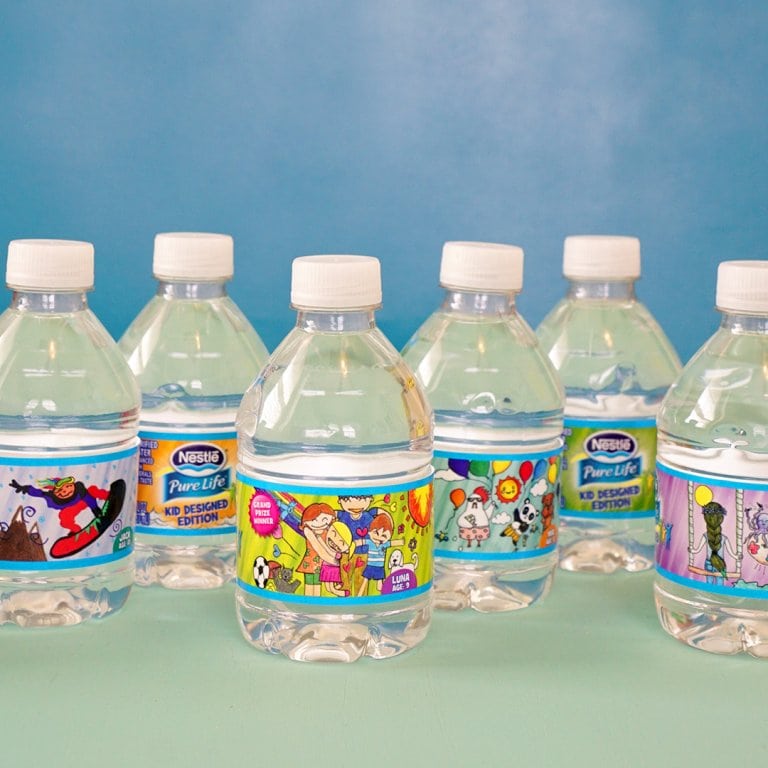 Another recent study discovered that more than half of US kids are inadequately hydrated1, and up to 75% of kids reported not drinking any water before school in the mornings2. Even though getting your children to drink water is one of the biggest "healthy habit" struggles that today's parents face, there are undoubtedly many benefits to drinking water. Kids who drink 4+ glasses of water per day are more likely to exhibit healthy habits including getting their own water when thirsty and requesting healthy foods such as fruits and vegetables at meal times and for school lunches.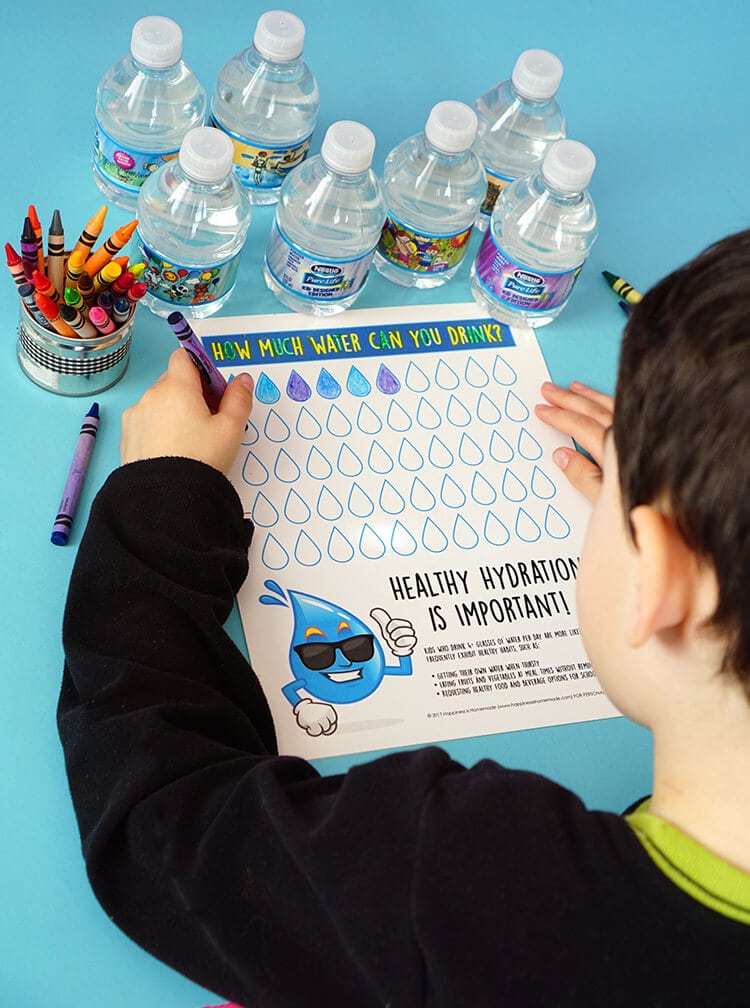 There's no doubt that staying healthy and hydrated is beneficial, and with the NESTLÉ® PURE LIFE® "Share-a-Smile™" Kid Designed Collection, drinking water has never been more fun for my family! My boys love having a visual reminder, so I created this handy "How Much Water Can You Drink?" water tracking chart for them. Each day, they color in a water droplet for every 8oz of water that they drink, and it's fun to watch them get so excited about drinking water! Since each "Share-a-Smile™" bottle contains 8 oz of water, it's easy for my kids to track their own progress, and they love drinking from different "Share-a-Smile™" labeled bottles each time!
_________________________________________________________________
1 Kenney EL, et al. Prevalence of Inadequate Hydration Among US Children and Disparities by Gender and Race/Ethnicity: National Health and Nutrition Examination Survey, 2009-2012. Am J Public Health. 2015 Aug;105(8):e113-8.
2 Stookey JD. What is the cell hydration status of healthy children in the USA? Preliminary data on urine osmolality and water intake. Public Health Nutr. 2012 Nov;15(11):2148-56.
Thank you to Nestle® Pure Life® for sponsoring this blog post. All opinions are my own.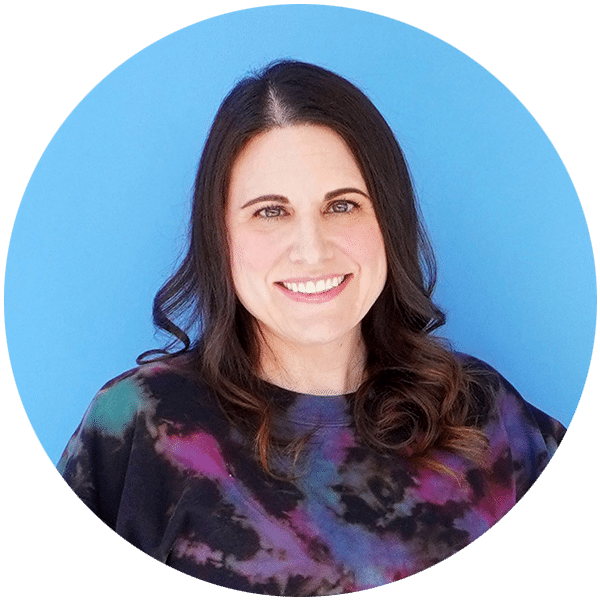 Heidi Kundin has captivated the hearts of millions with her colorful and inspiring approach to crafting, celebrations, and family fun. With over 15 years of experience, Heidi's website has become a must-visit destination for those seeking quick and easy creative ideas and last-minute solutions. Her warm personality shines through her posts, inviting readers to join her on a creative journey that's fun, rewarding, and achievable.