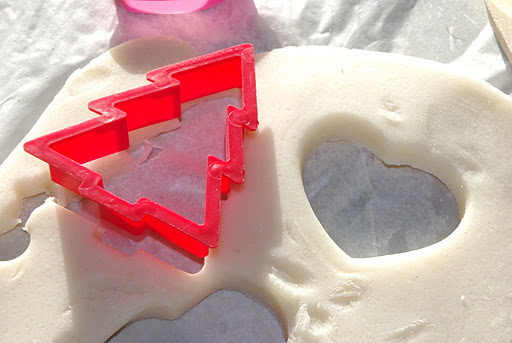 We never get snow where we live…okay, maybe not NEVER, but I think it's happened about 3 times in the past 15 years. Since Sawyer is still on Winter Break from school he came up with the idea of making some Wintery white playdough to make "snowmen" with. I suggested adding some irridescent glitter (which was nearly impossible to photograph, even in sunlight), and we had a sure fire hit!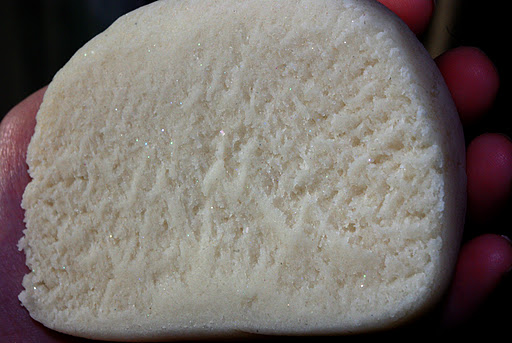 You can't really see it very well in the other pictures, but I swear there was a ton of shimmery glitter in the dough!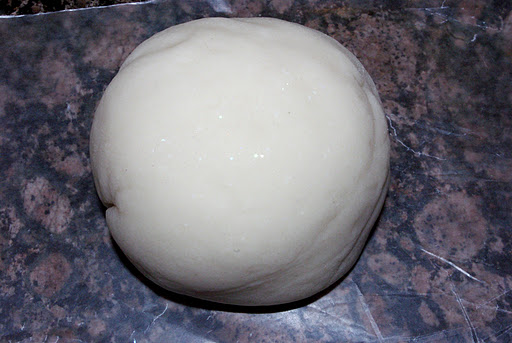 The recipe makes enough dough for my two big boys to share, but you might want to double it if you have a larger group of children.
* 1 cup flour
* 1/2 cup salt
* 1 cup water
* 1 tsp. oil
* 1 tsp. cream of tartar
* 2-3 tbsp. of ultra fine glitter
In a large saucepan, mix together the flour, salt and cream of tartar. Add the water and oil and stir until mixed well. Place on stove over medium heat, stirring constantly. After a few minutes it will cook down to playdough consistency. Allow to cool (cover with a damp cloth while cooling to avoid drying out), and then knead in the glitter one tablespoon at a time.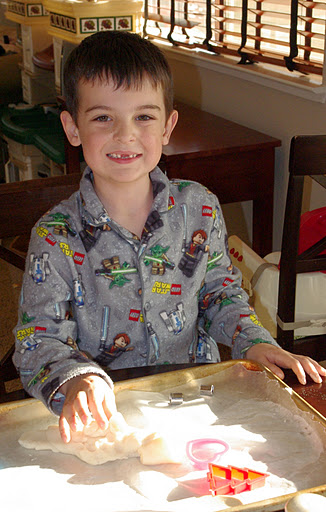 We've had a lot of playdough and pajamas during this winter break!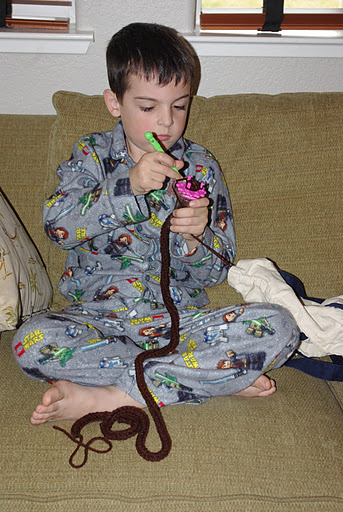 We've also had a lot of knitting going on! We discovered the Clover Wonder Knitter, and the boys are hooked on how easy it is to quickly crank out long chains of knitting. Sawyer and I have each made a skinny scarf that loops around your neck four times to create the illusion of a larger cowl, and Sutton wants to try to make some finger puppets next!
Hope you all had a wonderful holiday season and a happy new year!