Holographic Shrink Plastic Jewelry with Cricut
This post and its photos may contain affiliate links. As an Amazon associate I earn from qualifying purchases. If you make a purchase through these links, I may receive a small commission at no extra cost to you!
This fun Holographic Shrink Plastic Jewelry is a grown-up version of the classic Shrinky Dinks craft made easy with the Cricut Explore Air cutting machine! The possibilities are endless!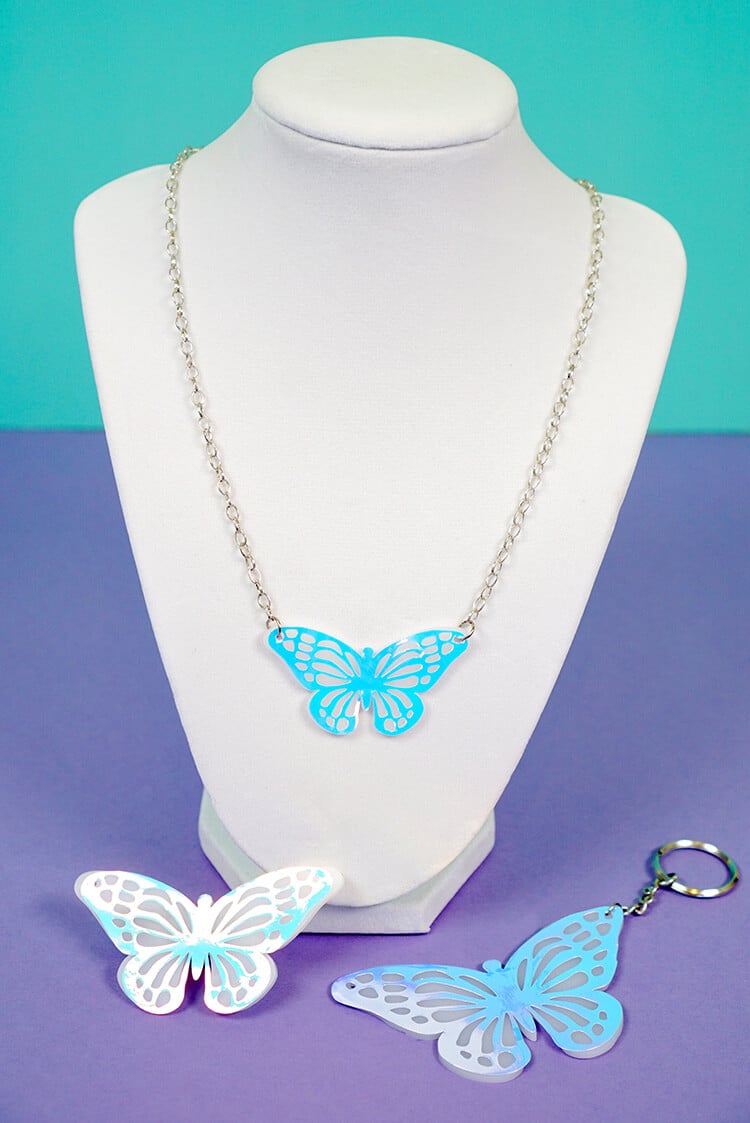 Shrink plastic has long been a favorite material of mine, especially when you pair it with the Cricut Explore Air machine. Yep, that's right! The Explore Air will easily cut "Shrinky Dink" plastic, and the possibilities are endless! (Remember when I made those super cool Shrinky Dink Snowflake Ornaments? And that time that I made a Shrinky Dink Donut Charm Bracelet?)
To make this fun shrink plastic jewelry, I added an extra layer of awesomeness by pairing the shrink plastic with Cricut's new holographic vinyl, and the result is pure shimmery goodness!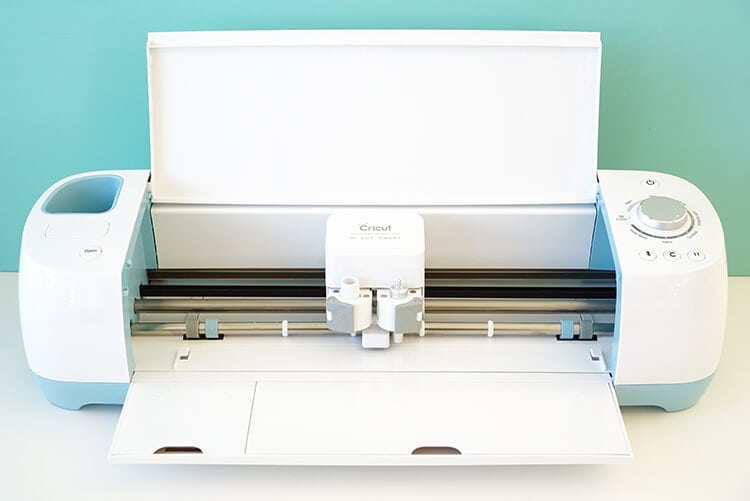 I love using my Cricut Explore Air machine to cut my projects quickly, easily, and most importantly, precisely!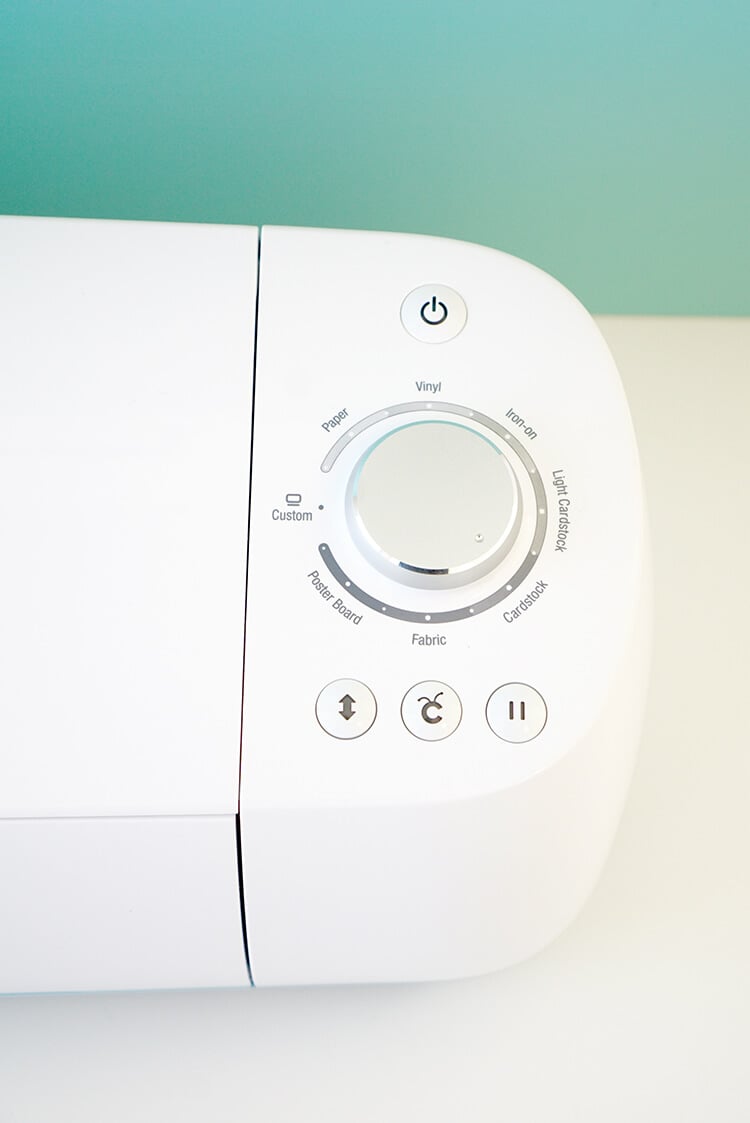 One of my favorite features of the Explore Air is the dial settings (you don't have to worry about manually changing the blade depth or remembering which depth matches up to each material!). With the Cricut Explore Air, you simply turn the dial to select the material that you are working with, and the machine takes care of the rest – easy peasy!
What You'll Need to Make Shrink Plastic Jewelry: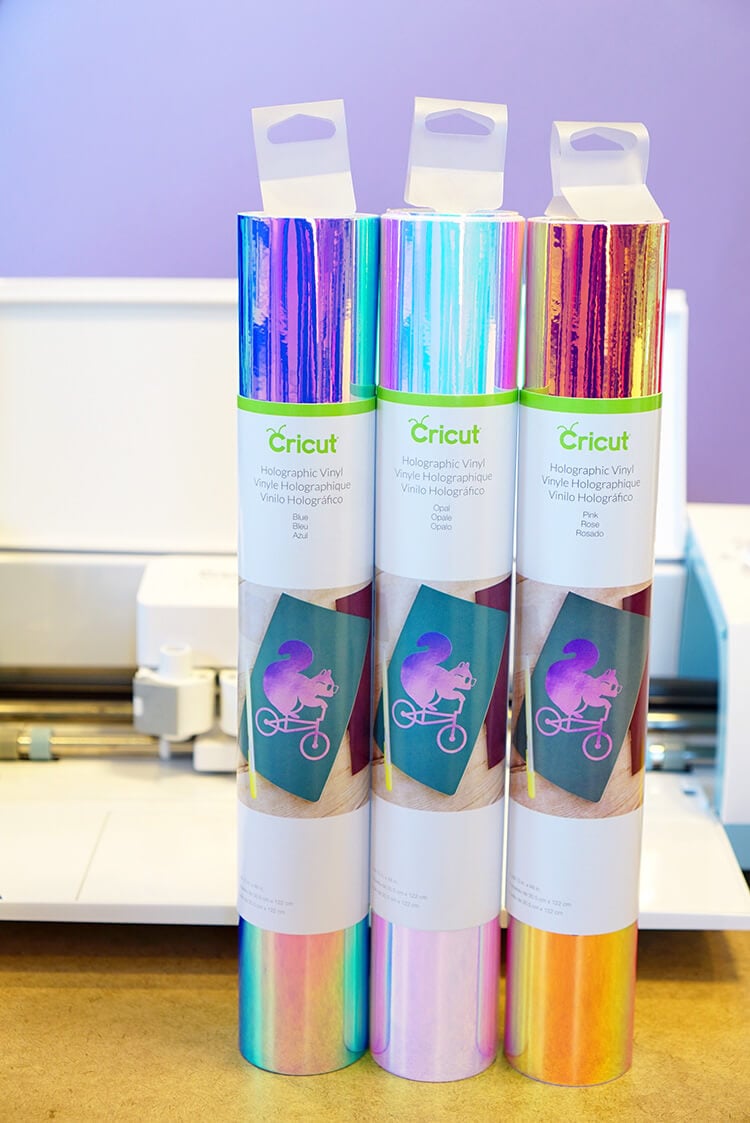 The Cricut Holographic Vinyl comes in three different colors – Blue, Opal, and Pink – and they are ALL amazing! Each one shimmers in a different array of colors, and they all have that gorgeous iridescent shine. I used the Opal vinyl for this project, but I assure you that you'll be seeing the other two colors in an upcoming project or two as well!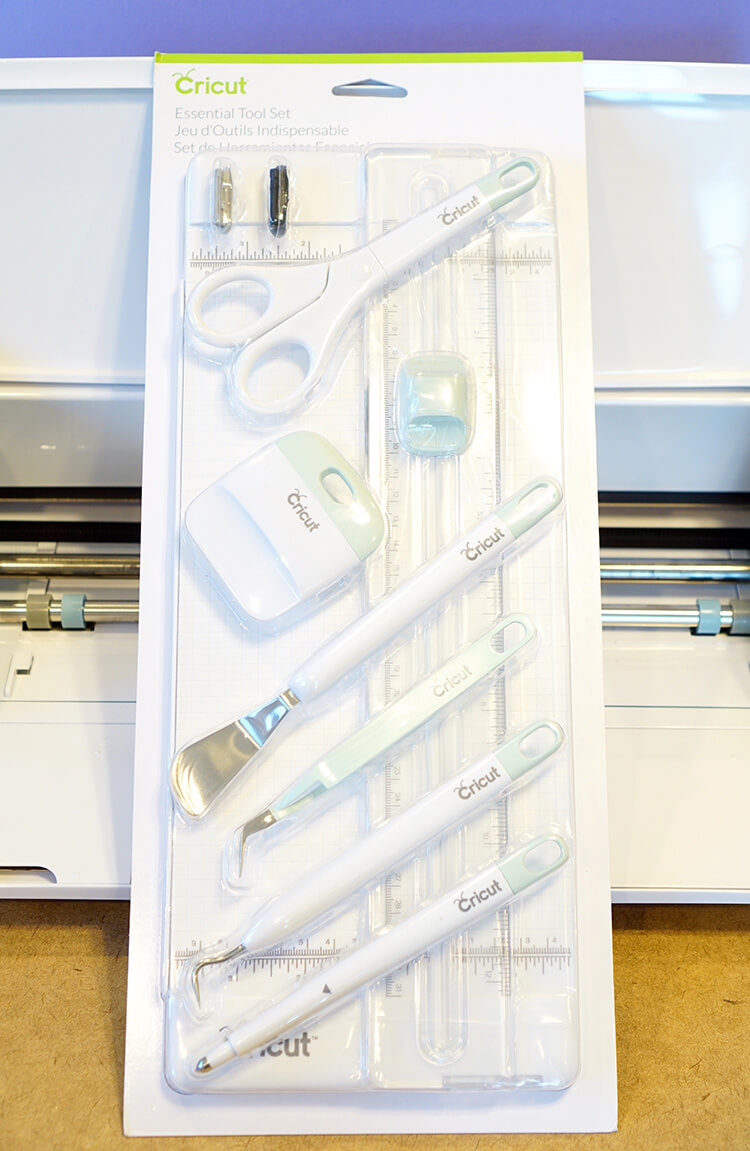 I also used the new Cricut Essentials Tool Set for this project, and if you don't have this set yet, I highly recommend it! I can't get enough of these tools (and I'm kind of wondering how I lived without some of them for this long!). It comes with all of these awesome gadgets:
• Tweezers to lift and secure delicate material
• Weeder to remove tiny negative cuts
• Scissors with protective blade cover
• Spatula to lift cuts from the mat
• Scraper to burnish material and clean all cutting mats
• Scoring stylus to add fold lines to cards and envelopes
• High-quality trimmer for materials up to 12″ wide
• Replacement blade for the trimmer
• Scoring blade allows you to add score lines to your projects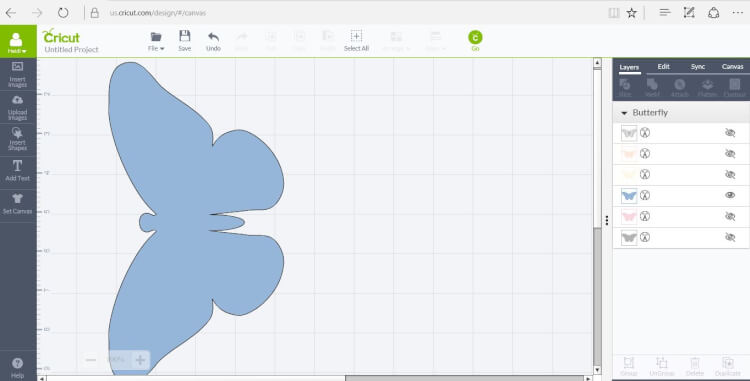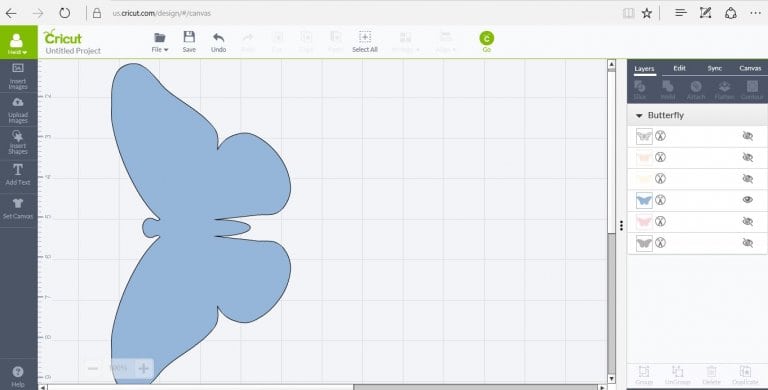 To make the butterfly shrink plastic jewelry and accessories, I started with a butterfly image in the Cricut Design Space (#M3F6B3). To cut a solid layer of shrink plastic, I turned off all of the layers except for the largest background (to turn off layers, click on the eyeball to the right of each layer listed), and sent that design to the Explore Air machine to cut.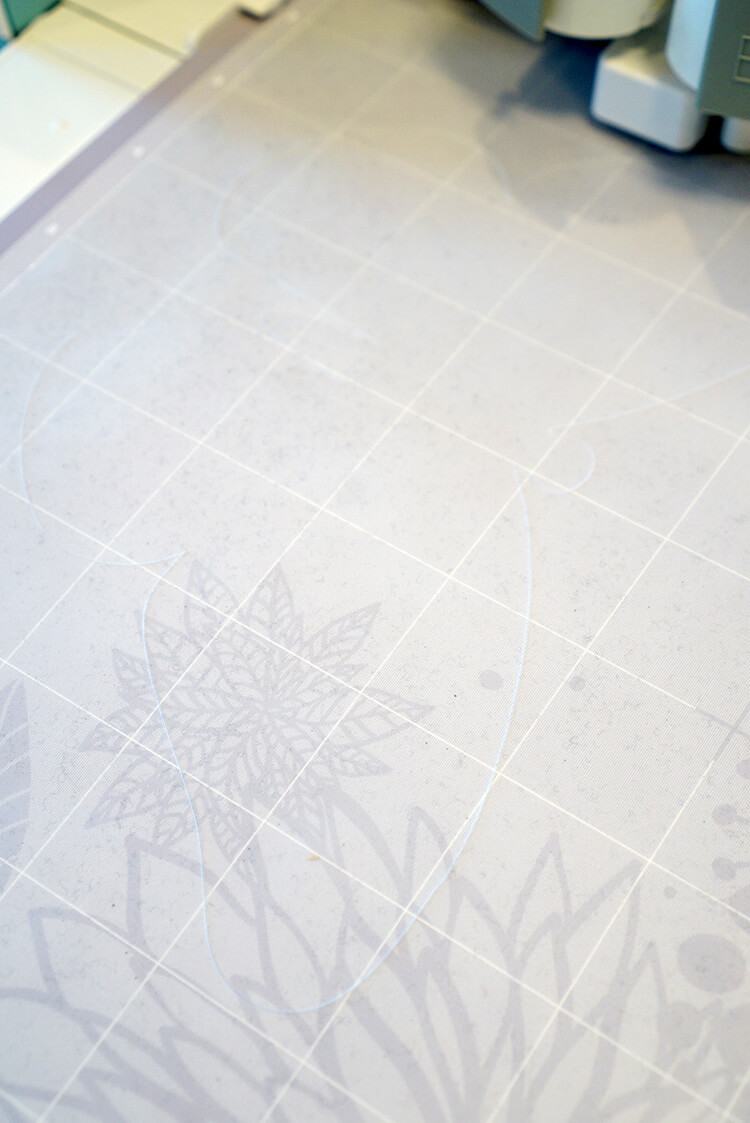 To cut the shrink plastic, I set the dial to the left to the heaviest poster board setting (this signals for the machine to double cut your design) and used my Deep Point Blade.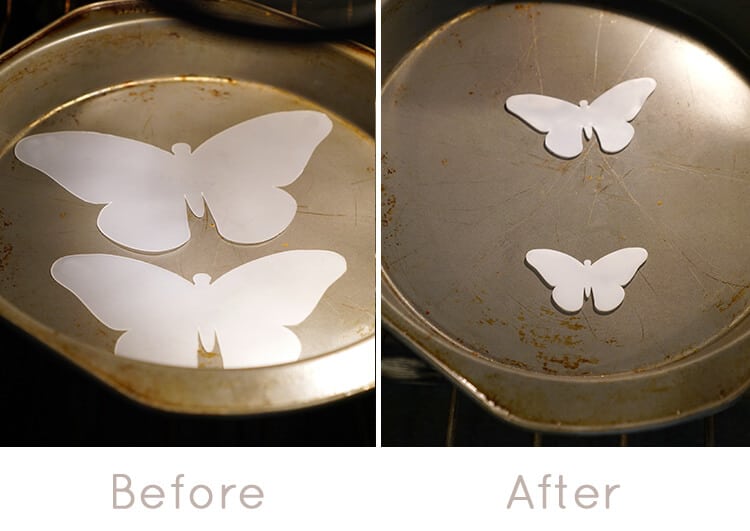 After cutting out your design with the Cricut Explore Air, shrink the plastic in a 325-degree oven. It only takes a couple of minutes, and when it's done, your design with be about 3x smaller and 3x thicker than when you started! Let the plastic cool and firm for 5 minutes before touching.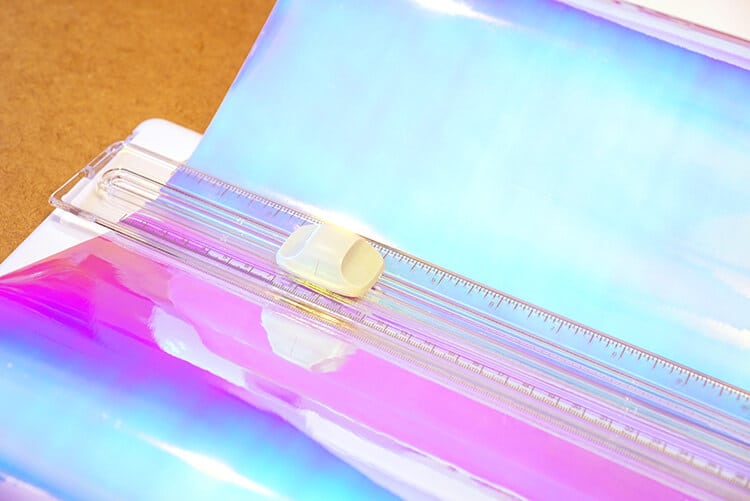 You guys. This holographic vinyl is GORGEOUS. AMAZING. INCREDIBLE. STUNNING! I have to be honest, I'm not usually a huge fan of iridescence in my craft projects, but this stuff has totally changed my mind! I can't get over how pretty it is, and how much MORE pretty it is in person! It really does shimmer like an opal with tones of pink, blue, purple, and silver.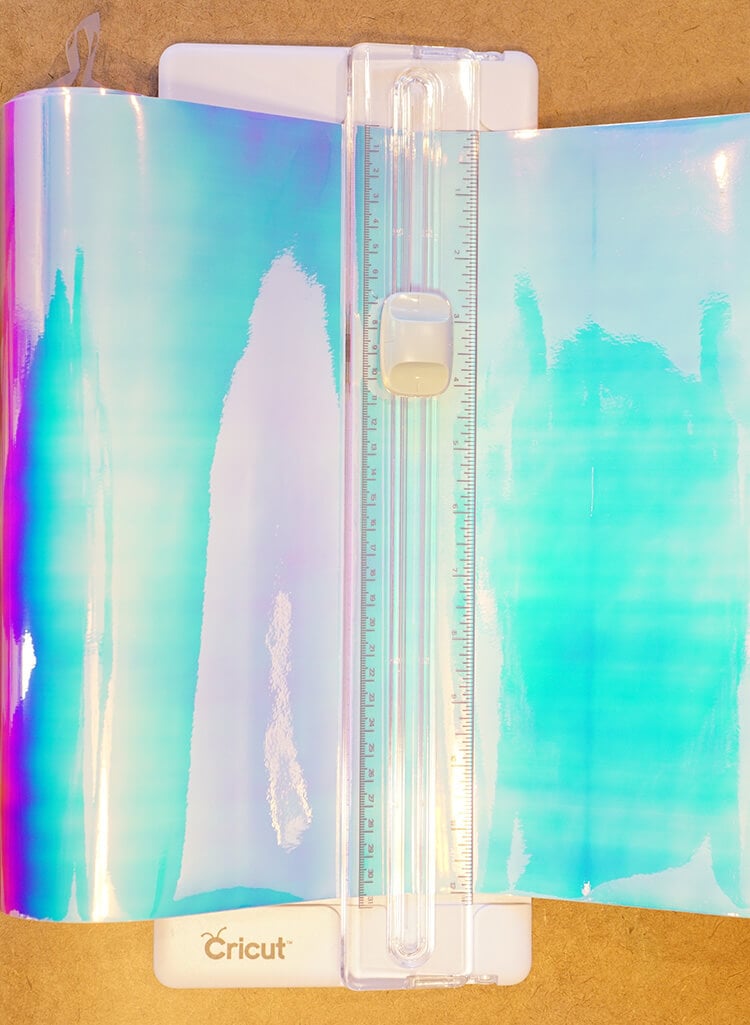 I cut a strip of holographic vinyl to size using the paper trimmer (from the Essentials Tool Set). I actually have two of these trimmers now – one in my craft room and one in our homeschool room. I find that I use them ALL the time, and my three boys frequently use them as well.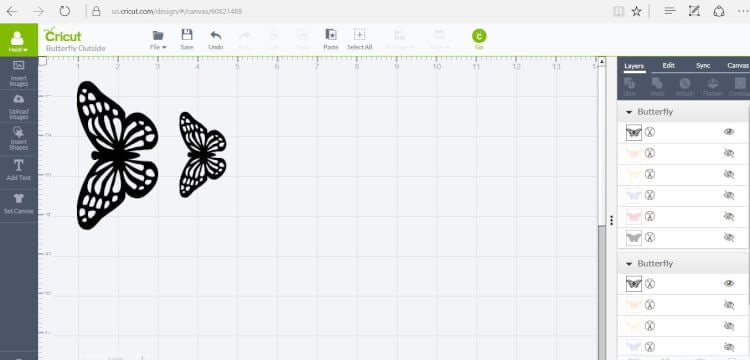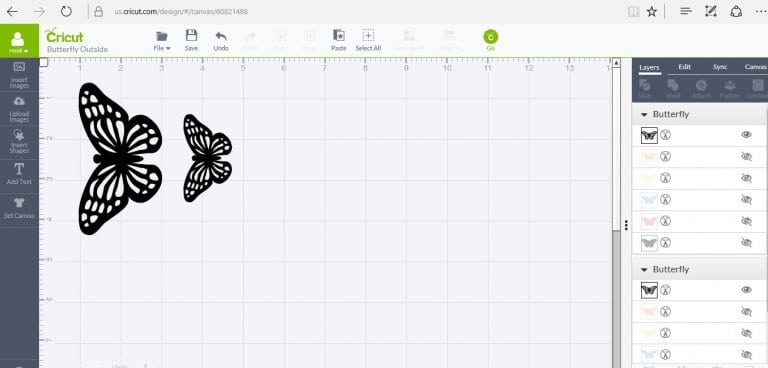 To cut the vinyl detail layer, I turned off all layers of the butterfly except for the decorative patterned layer. Because the full-sized shrink plastic butterfly was shrunken in the oven, the vinyl layers will need to be resized before you cut them. The best way to do this is to measure the butterflies from wing tip to tip and then resize the image accordingly. I wanted to make sure that there was no vinyl overhanging the edges of my plastic butterflies, so I cut my vinyl just a tiny bit smaller than the measurement of the butterflies.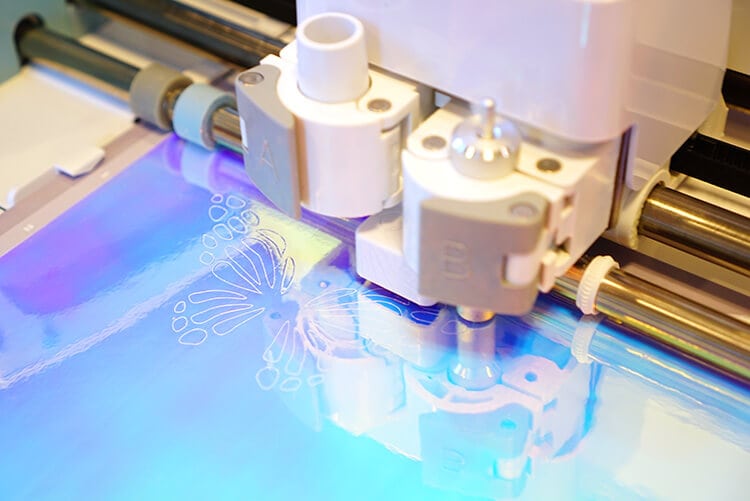 I set the machine's settings to"vinyl," and it cut like a dream!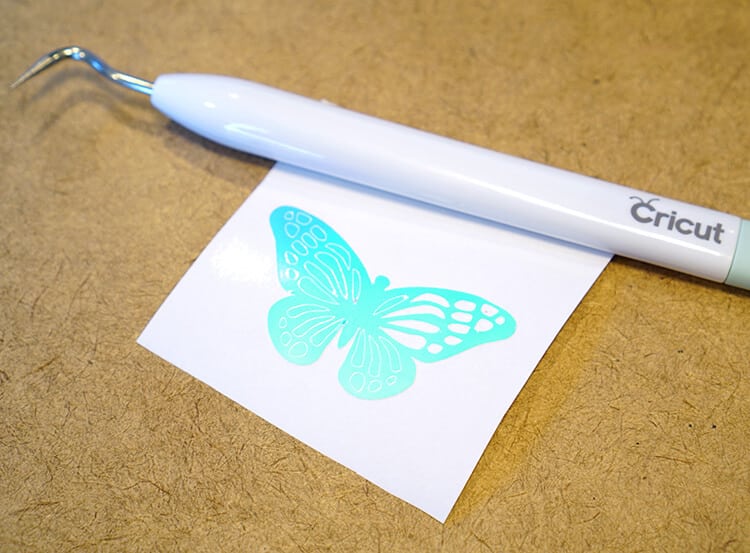 Use the weeding tool (again, part of the Essentials Tool Kit!) to easily remove the excess pieces of vinyl.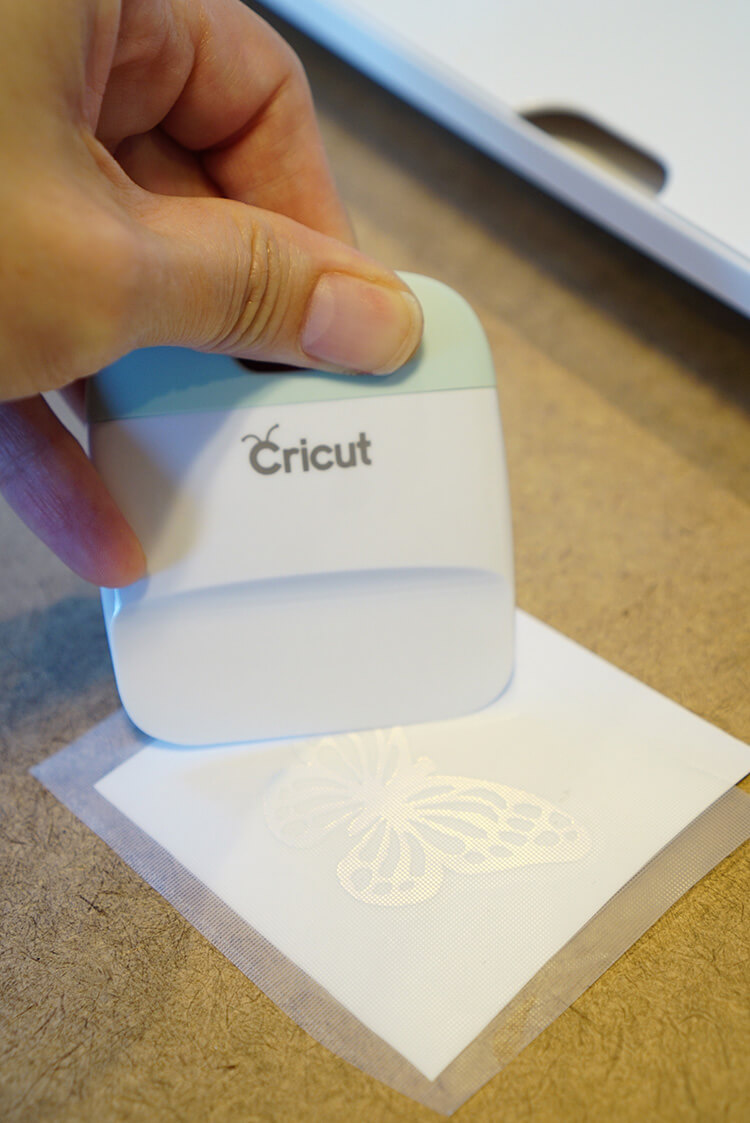 Use the scraper to transfer the butterfly to a small piece of transfer tape, and then transfer the vinyl to the top of the plastic butterflies.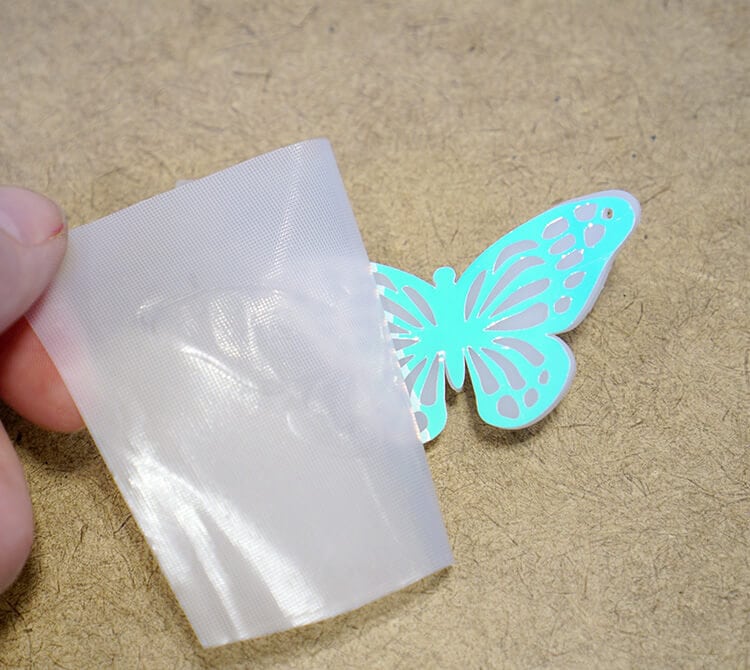 Easy peasy!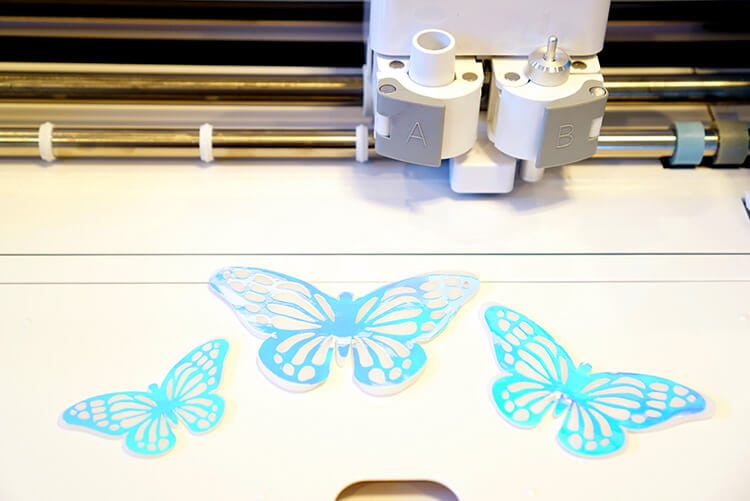 They're so shiny and pretty! For some reason, my camera had a tough time picking up the iridescent colors of the butterflies (except for the blue and silver tones), but I assure you, they are multi-colored and gorgeous!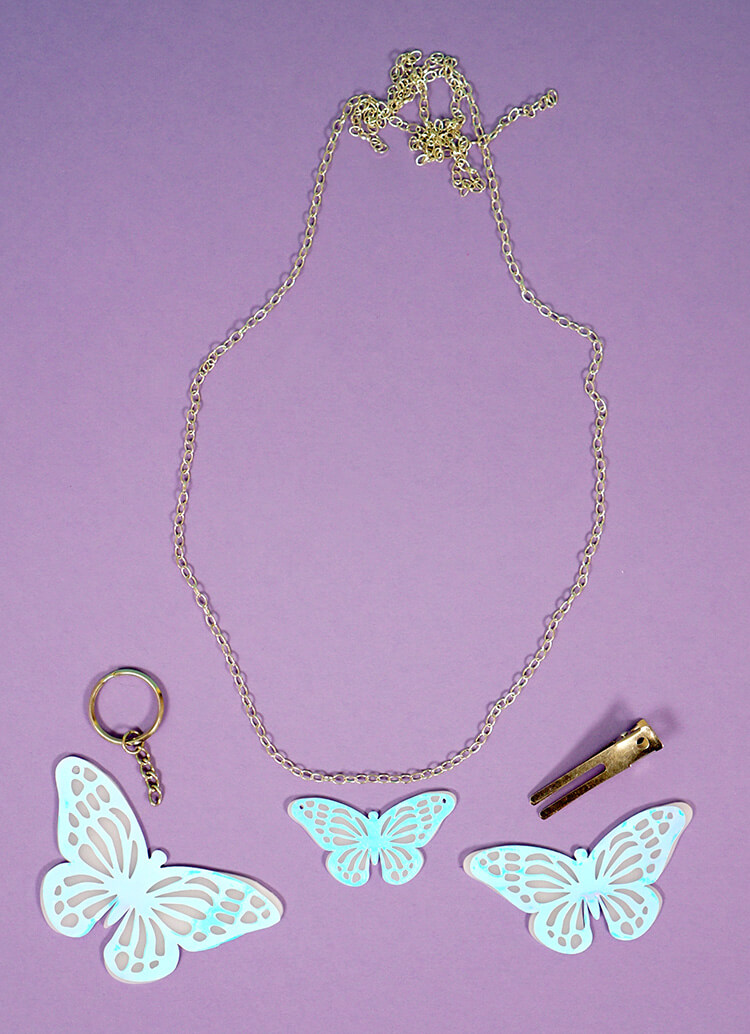 I was originally planning on making just one necklace, but once I started making shiny butterflies, I ended up making a few of them, so I also made a butterfly keychain and a couple of hair clips.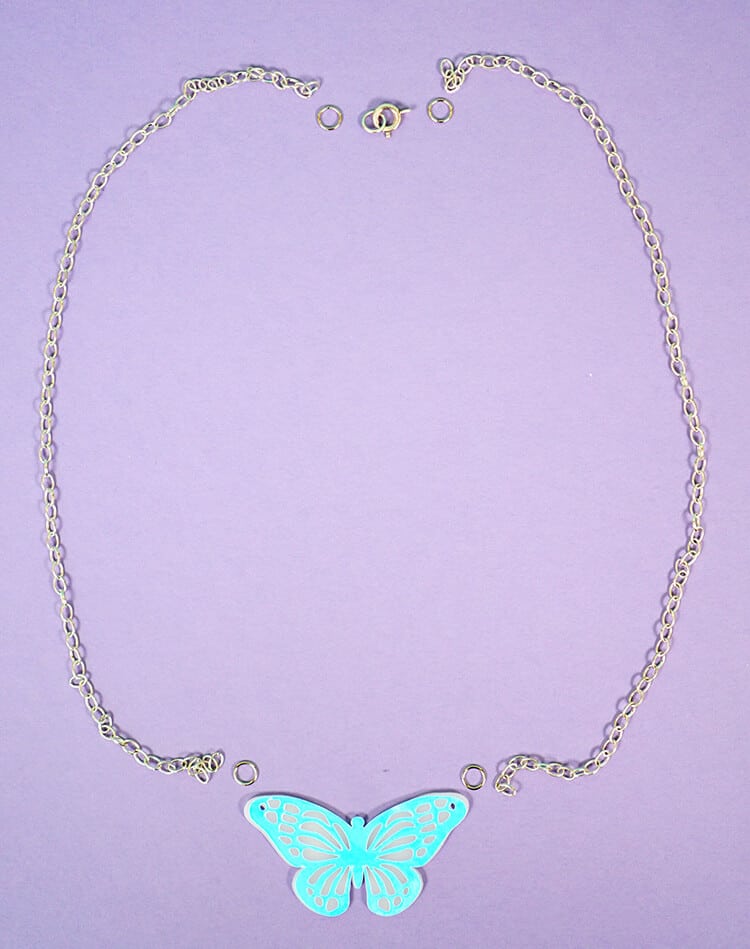 For the necklace, I attached two jump rings to the butterfly's wings, and attached those rings to two lengths of chain. The opposite end of each chain is attached to another jump ring and one half of the clasp. Super easy to make!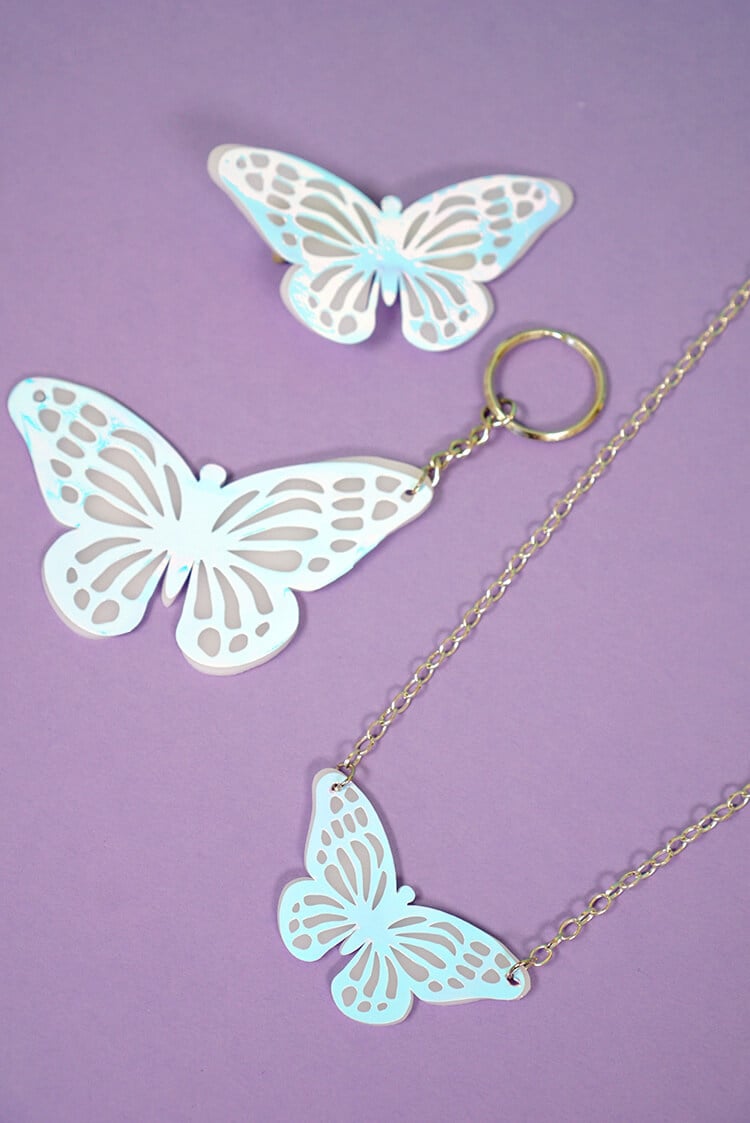 The keychain was made by attaching a jump ring to the corner of the butterfly's wing and to the end of the keychain. For the clips, I glued a barrette onto the back of each butterfly with E-6000 adhesive. They would make fun pins as well!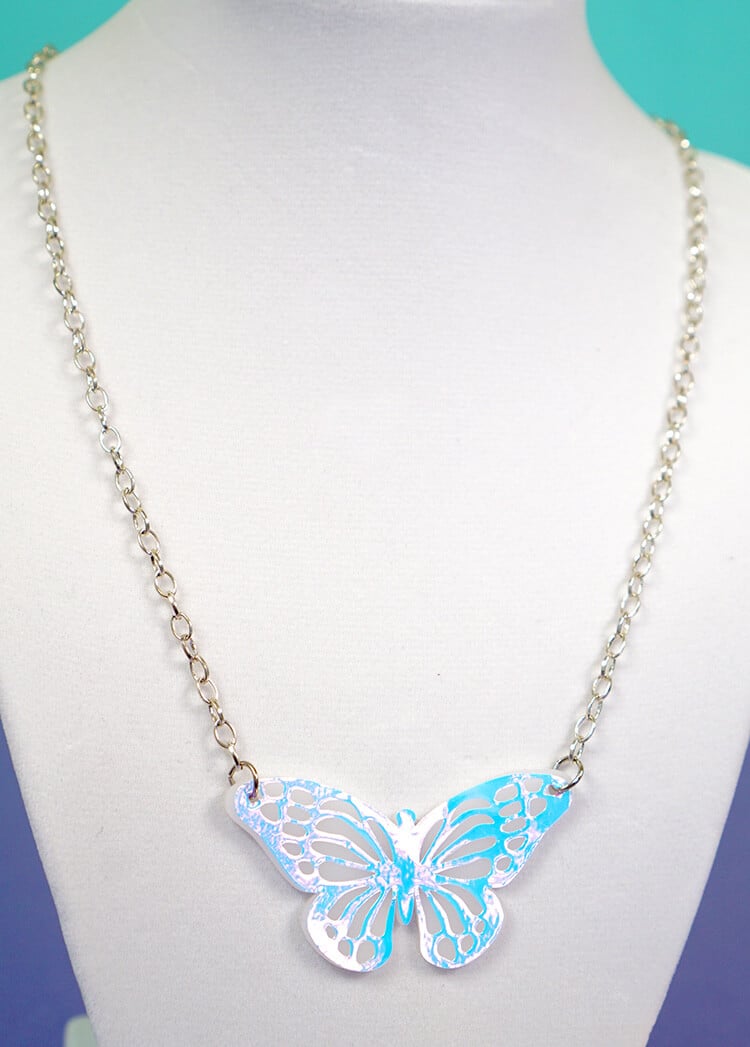 This would make a fantastic quick and easy gift idea!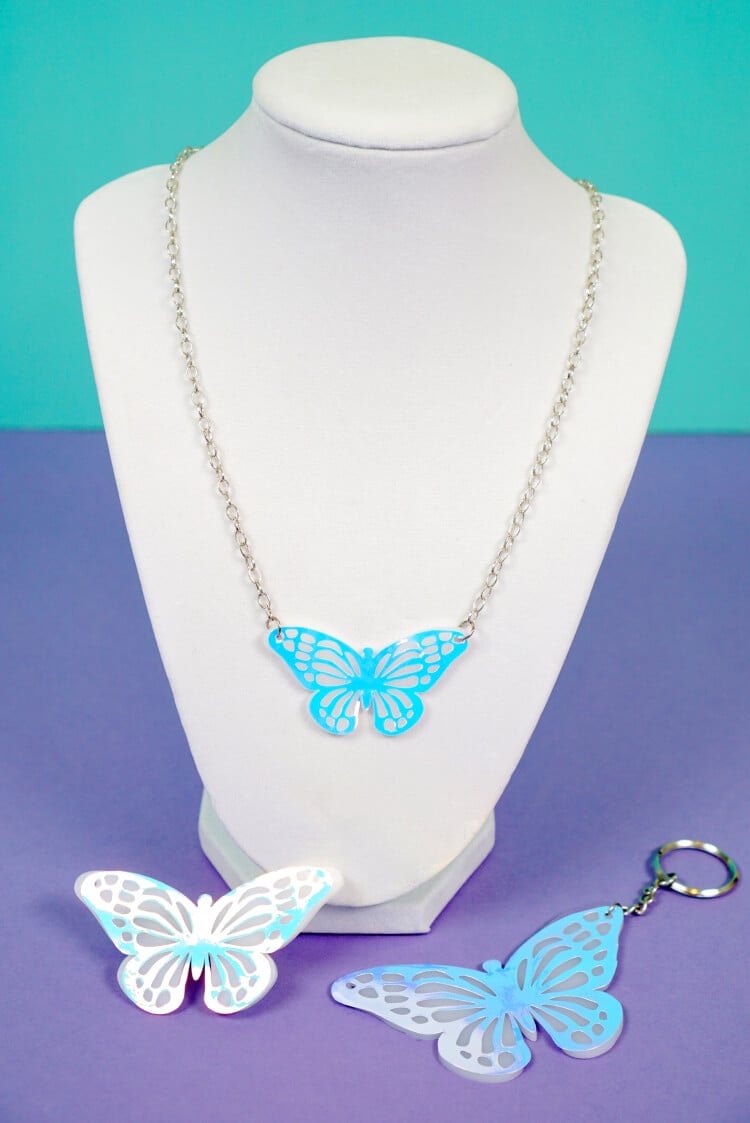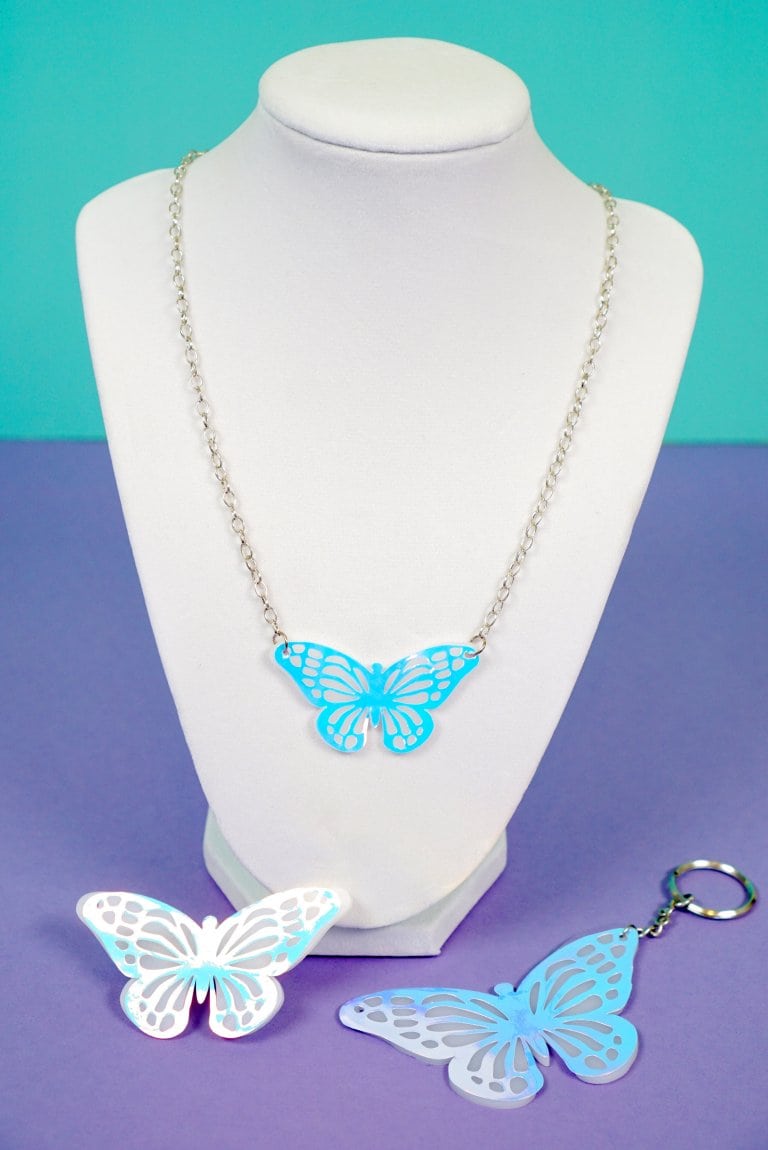 I really love how these turned out! I predict lots more shrink plastic and Cricut projects in my future!
For even more quick and easy ideas, be sure to follow Cricut on Facebook and Pinterest!

Check Out These Other Cricut Ideas!
If you like this idea, don't forget to pin it!

You Might Also Like: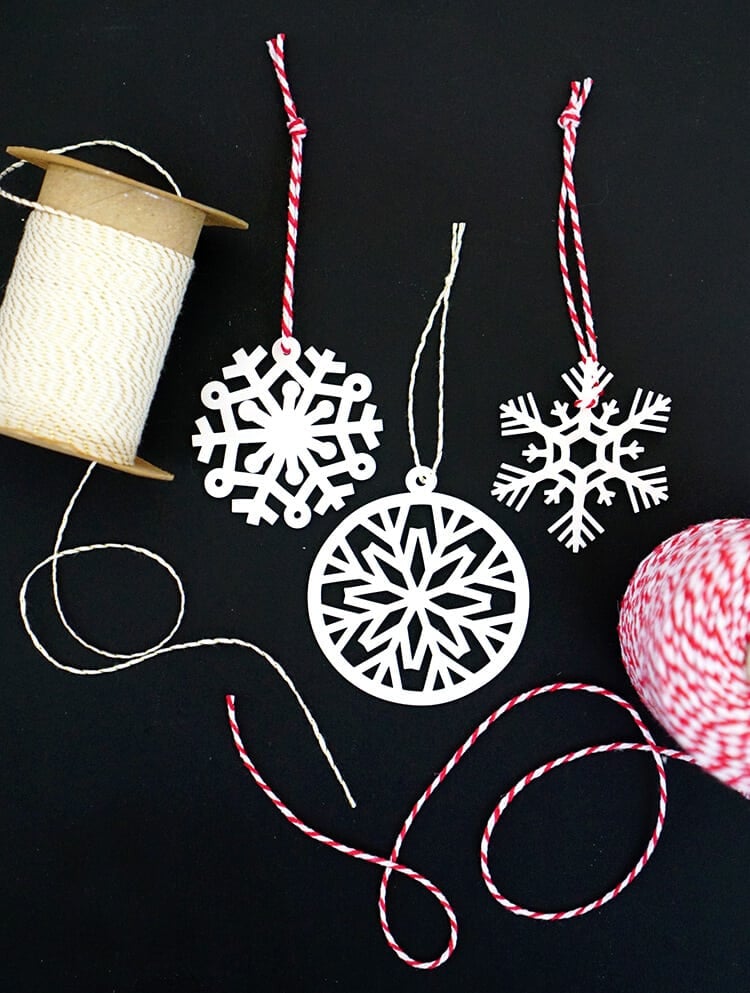 Shrinky Dink Donut Charm Bracelet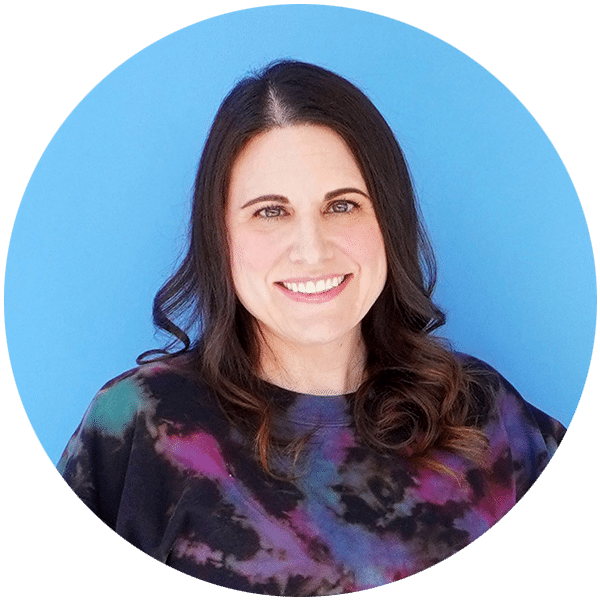 Heidi Kundin has captivated the hearts of millions with her colorful and inspiring approach to crafting, celebrations, and family fun. With over 15 years of experience, Heidi's website has become a must-visit destination for those seeking quick and easy creative ideas and last-minute solutions. Her warm personality shines through her posts, inviting readers to join her on a creative journey that's fun, rewarding, and achievable.