Lemon-Lime Coconut Sugar Scrub + Gift Tags
This post and its photos may contain affiliate links. As an Amazon associate I earn from qualifying purchases. If you make a purchase through these links, I may receive a small commission at no extra cost to you!
This spa-themed gift basket is filled with fun pedicure goodies and homemade lemon-lime coconut sugar scrub that's guaranteed to chase your stress away!

My dear friend spends her days working in a super hectic and stressful environment, so I wanted to make her a special holiday gift that would help her relax at the end of her busy day. I decided to create a spa-themed gift basket full of pampering pedicure goodies and a homemade sugar scrub that's specially formulated to help relieve stress. She totally deserves it!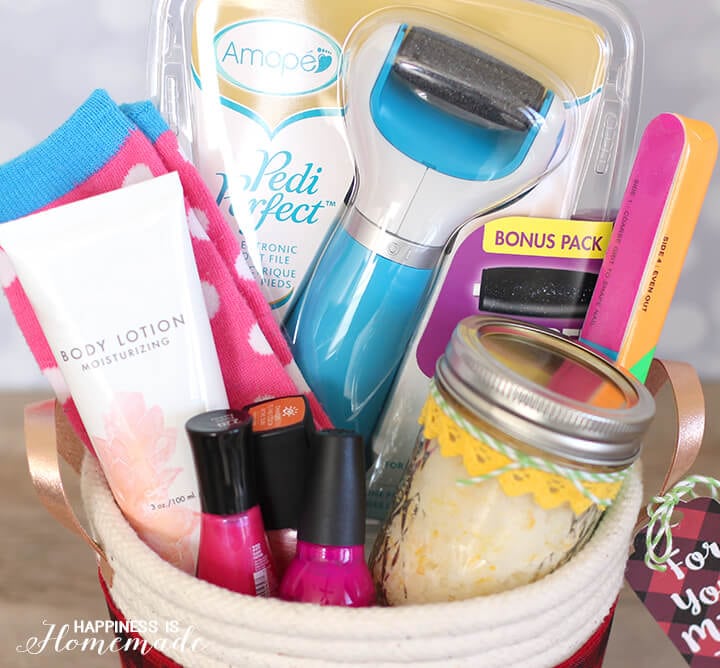 What's in the Basket?
DIY Lemon-Lime Coconut Sugar Scrub (recipe below)
I packaged all of my pedicure goodies inside one of my no-sew rope baskets, wrapped a plaid ribbon around the basket, and added a punny holiday gift tag.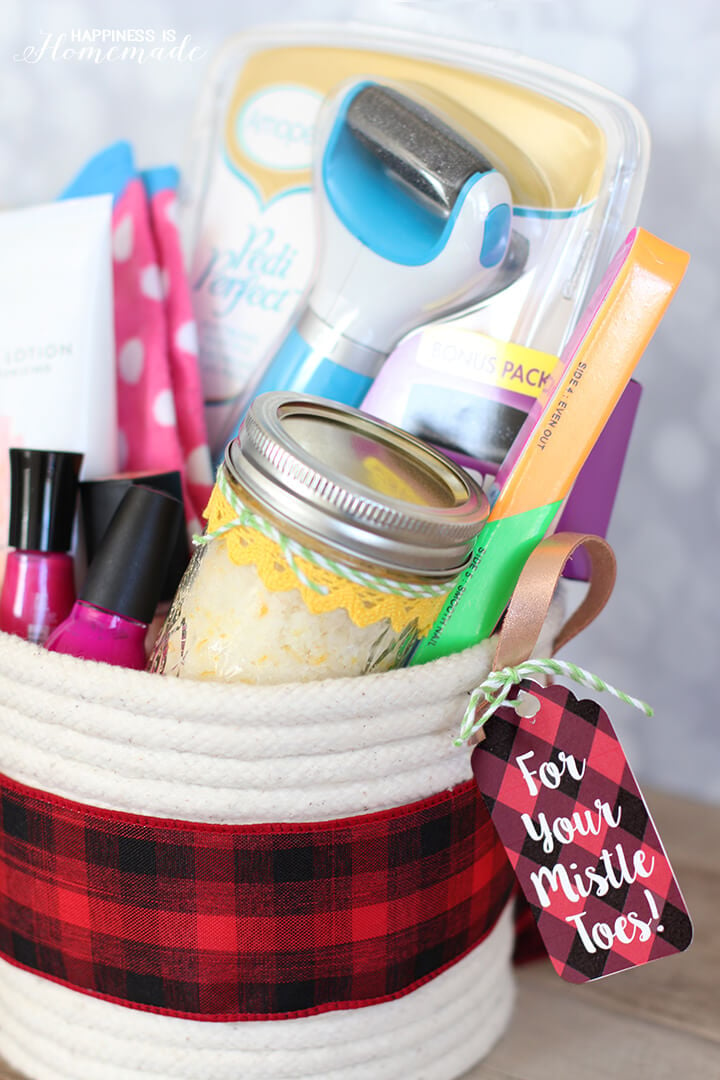 I quickly whipped up these cute "For Your Mistle Toes!" gift tags using the same plaid backgrounds as my buffalo plaid Christmas gift tags. Easy peasy! I would love to receive this gift basket for the holidays, and I know that my friend is going to love it as much as I do! Scroll down to the bottom to get your FREE Buffalo Check Plaid Mistle Toes Gift Tags!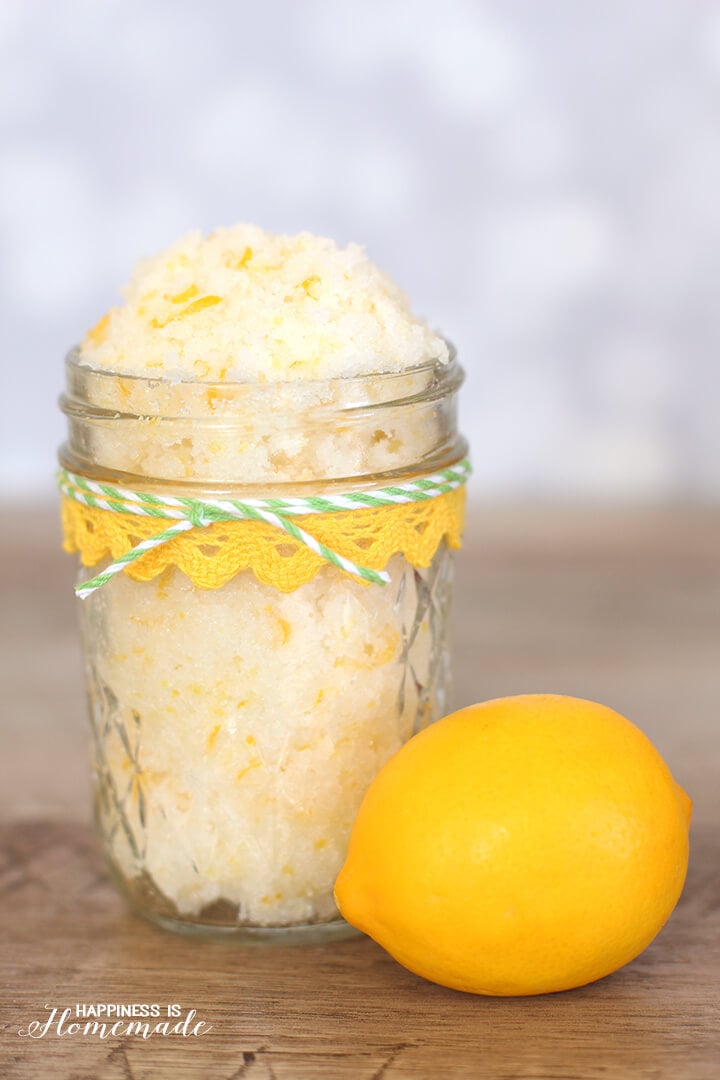 Homemade bath & body products are one of my favorite holiday gifts (check out our entire collection of 10-minute DIY tutorials!), so naturally I included one in my spa gift basket! This luxurious lemon-lime coconut sugar scrub was designed specifically to help relieve stress and promote feelings of well-being. Lemon and lime fragrances have been reported to help ease stress, increase mental clarity, and reduce tension, so it's the perfect combination of scents for relaxing and winding down after a busy day.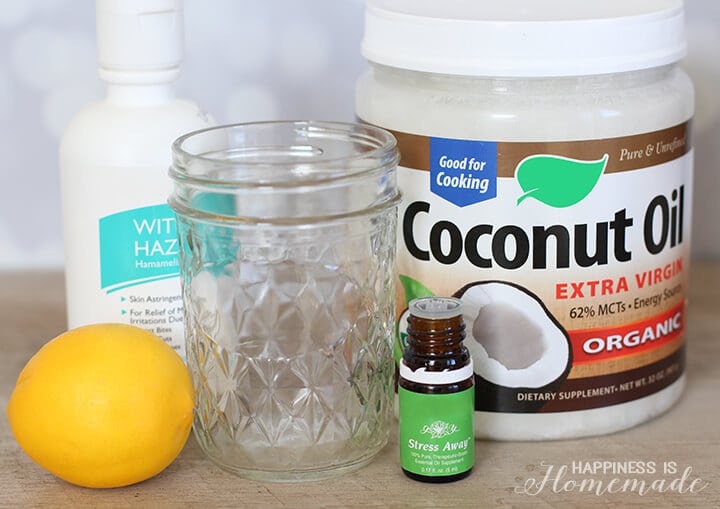 What You'll Need: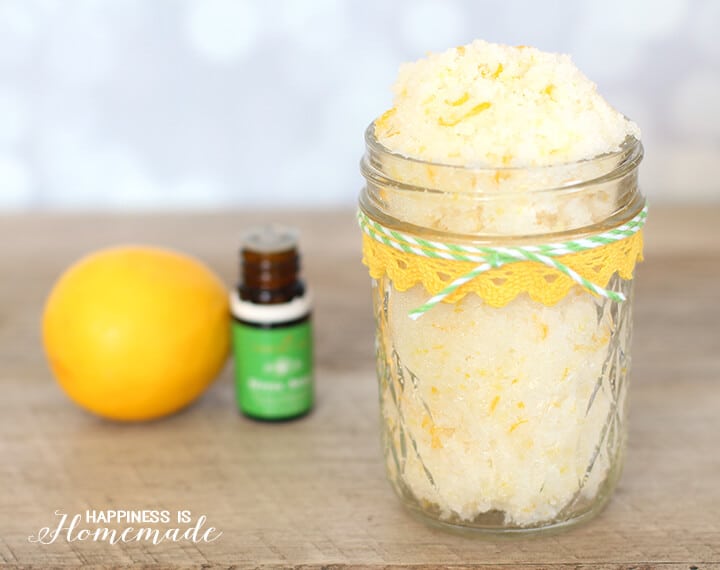 Mix all of the ingredients together, including up to an additional 1/4 cup of sugar as needed (if you feel that the mixture looks too wet). Keep in mind that coconut oil becomes solid at temperatures below 76 degrees F, so while the scrub may look a bit wet when you first add the melted oil, it will take on a drier texture and appearance as the coconut oil hardens. Heat from the shower or bathtub along with the heat of your hands will melt the coconut oil again as you use the scrub, and it will be the perfect consistency!
Check Out These Other Bath & Body Ideas!
Pin This Lemon-Lime Coconut Sugar Scrub for Later: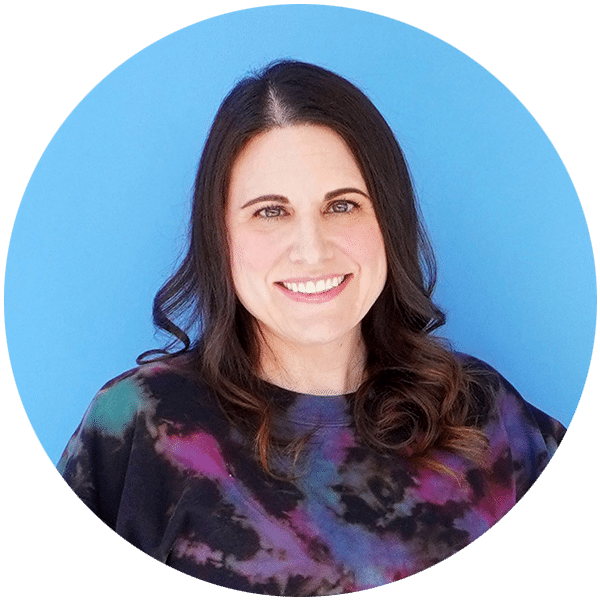 Heidi Kundin has captivated the hearts of millions with her colorful and inspiring approach to crafting, celebrations, and family fun. With over 15 years of experience, Heidi's website has become a must-visit destination for those seeking quick and easy creative ideas and last-minute solutions. Her warm personality shines through her posts, inviting readers to join her on a creative journey that's fun, rewarding, and achievable.