45+ DIY Sugar Scrub Recipes
This post and its photos may contain affiliate links. As an Amazon associate I earn from qualifying purchases. If you make a purchase through these links, I may receive a small commission at no extra cost to you!
Learn how to make sugar scrub with these 45+ DIY sugar scrub recipes! Keep your skin smooth, silky, and hydrated with these natural homemade sugar scrubs – SO easy to make!
This post may contain affiliate links. I will receive a small commission from these sales at no additional cost to you!
Whether the temperatures are rising as we near summer or the weather is turning dry and chilly, it seems that dry skin is a perpetual problem. You could head to the store to buy a scrub, but we think making the products ourselves is a lot more fun! DIY sugar scrubs are super easy to make, and they're terrific, frugal gifts for friends and family during the holidays and all year long.
(If you DO want to purchase a scrub, we highly recommend checking out the Sugar Scrubs for sale on Etsy!)
We've put together a HUGE list of 45+ DIY sugar scrub recipes that include body scrubs, lip scrubs, and sugar scrub bars. You're sure to find a recipe that works for you no matter the season!
Note: keep in mind that you shouldn't exfoliate every day. A couple of times a week is all you need to slough off dead skin cells to reveal supple, smooth skin. Use caution when using these products, as some can leave an oily film behind in the shower or tub.
Body Scrubs
Let's kick things off with some DIY sugar scrub recipes for the body!
Unicorn Sugar Scrub from Happiness is Homemade: Our unicorn scrub is gorgeous, sparkly, and oh-so-fun! It makes a wonderful party favor for a unicorn-themed party and would make a fantastic gift for anyone obsessed with shine and sparkle. Teens and tweens will love it!
Energizing Coffee Sugar Scrub from Happiness is Homemade: Treat yourself to a refreshing shower experience with this coffee sugar scrub. Not only will your skin feel silky smooth, but you'll feel energized and ready for the day.
Spiced Apple Cider Sugar Scrub from Happiness is Homemade: Bring the best smells of fall into your shower! This sugar scrub only takes a few minutes to make and will keep your skin silky smooth as the weather gets colder.
DIY Pina Colada Sugar Scrub from Happiness is Homemade: Escape to the smells and relaxing feel of a tropical vacation every time you shower. Pineapple fragrance oil and organic coconut oil combine to make this delicious-smelling scrub that makes dry skin a thing of the past.
Lemon-Lime Coconut Sugar Scrub from Happiness is Homemade: Use this sugar scrub to de-stress and increase mental clarity. It's perfect for unwinding at the end of the day.
Vanilla Pumpkin Spice Sugar Scrub from Happiness is Homemade: Ready in just 5 minutes, this sugar scrub is a quick gift you can make for a friend in a pinch. Plus, fall calls for pumpkin spice everything, even down to your shower experience!
Rose Petal Sugar Scrub from Happiness is Homemade: This simple, natural sugar scrub is a beautiful way to make the most of the roses you get for holidays and special occasions. Crush the petals, and blend them with coconut oil and sugar to create a luxurious body scrub. Add your favorite essential oil if you'd like even more scent.
Vanilla Sugar Scrub from Suburban Simplicity: Do you prefer subtle scents? Try this vanilla sugar scrub made with coconut oil to leave your skin feeling soft and supple. It's a terrific year-round recipe.
Cotton Blossom Sugar Scrub from The Soccer Mom Blog: This recipe is a copycat of the Bath & Body Works version, and it smells heavenly. It costs a fraction of the price to make, so whip up a big batch to give to friends and family. Cotton blossom fragrance oil gives it its fantastic fragrance.
Cinnamon Sugar Scrub from The Farm Girl Gabs: Perfect for fall, Christmas, or anytime during the year that you want to be pampered, this cinnamon sugar scrub leaves skin feeling smooth and refreshed. The aroma from the ground cinnamon and cinnamon essential oil is amazing.
Lemon Mint Sugar Scrub from Glue Sticks & Gumdrops: With the smells of both citrus and mint, this sugar scrub is totally invigorating! It's a terrific choice for spring or summer for super smooth legs.
Pink Lemonade Sugar Scrub from Simple in the Country: Enjoy the smells of summer all year long with this fruity-smelling pink lemonade sugar scrub made with Kool-aid and lemon juice.
Coconut Lime Mint Sugar Scrub from Moms Who Save: The fragrance of this sugar scrub is so refreshing! You only need 4 simple ingredients to make it—coconut oil, sugar, peppermint essential oil, and a lime.
Coffee, Cacao, and Peppermint Sugar Scrub from The Rising Spoon: Did you know that ground coffee beans can help improve skin circulation? It also invigorates and stimulates, especially when paired with peppermint essential oil.
Oatmeal and Brown Sugar Scrub from Glue Sticks & Gumdrops: You have everything you need in your pantry to make this sugar scrub—oatmeal, brown sugar, and olive oil. You can't get much simpler than that!
Snickerdoodle Sugar Scrub from Sunny Sweet Days: Here's another recipe made with brown sugar, but the ground cinnamon and vanilla extract give the added element of the sweet aroma of snickerdoodles.
Vanilla Candy Cane Sugar Scrub from Creative Green Living: Make big batches of this Christmasy sugar scrub to give to friends and family. Of course, you'll want to keep some for yourself, too. You'll get a burst of the holiday spirit every time you use it!
Uplifting Lemon Body Scrub from April Golightly: The fresh lemon scent of this body scrub is sure to lift your spirits. Even better, you only need three simple ingredients to make it.
Cucumber Mint Sugar Scrub from The Inspiration Edit: This cucumber sugar scrub is made with cucumber fragrance oil and peppermint essential oil as well as sugar and olive oil for an invigorating, refreshing feel after you shower and exfoliate.
Mermaid Sugar Scrub from The Soccer Mom Blog: Feeling those mermaid vibes? This sugar scrub is sure to get your skin ready for summer. Exfoliate those knees, elbows, and anywhere else you need a little skin-smoothing help. The food coloring and sugar sprinkles in this recipe are optional, but it sure makes the mixture look pretty.
Mint Chocolate Sugar Scrub from A Magical Mess: This recipe smells like a thin mint, but it's much better for your body! The next time you're craving chocolate, take a shower instead of reaching for the snack bin.
Cranberry Sugar Scrub from Simply Stacie: This gorgeous red sugar scrub made with real cranberries is a wonderful DIY gift for Christmas. Cranberries are full of antioxidants, and they're good for your body from the inside out.
Lemon Lavender Coconut Sugar Scrub from Life Currents: The lavender flowers are a beautiful addition to this sugar scrub recipe. It's pretty to look at and makes your skin soft and healthy. Lemon and lavender together smell lovely, too.
Rainbow Sugar Scrub from Lemon Lime Adventures: Make someone's day a little brighter with this gorgeous rainbow sugar scrub with layers of colors. The scent is a happiness blend of several essential oils, but you can add whatever you like to yours.
Vanilla Orange Mint Sugar Scrub from Finding Zest: Rather than essential oils, this sugar scrub is made with vanilla and peppermint extracts as well as sugar, coconut oil, and grated orange peel.
Lip Scrubs
Get smooth, kissable, beautiful lips in just a few minutes by making one of these DIY sugar scrub recipes for the lips!
Butterbeer Sugar Scrub from Happiness is Homemade: This Harry Potter-inspired sugar scrub tastes incredible leaves your lips feeling soft and kissably smooth. If you'd like to use it as a head-to-toe body scrub, all you need to do is adjust the quantities of the ingredients.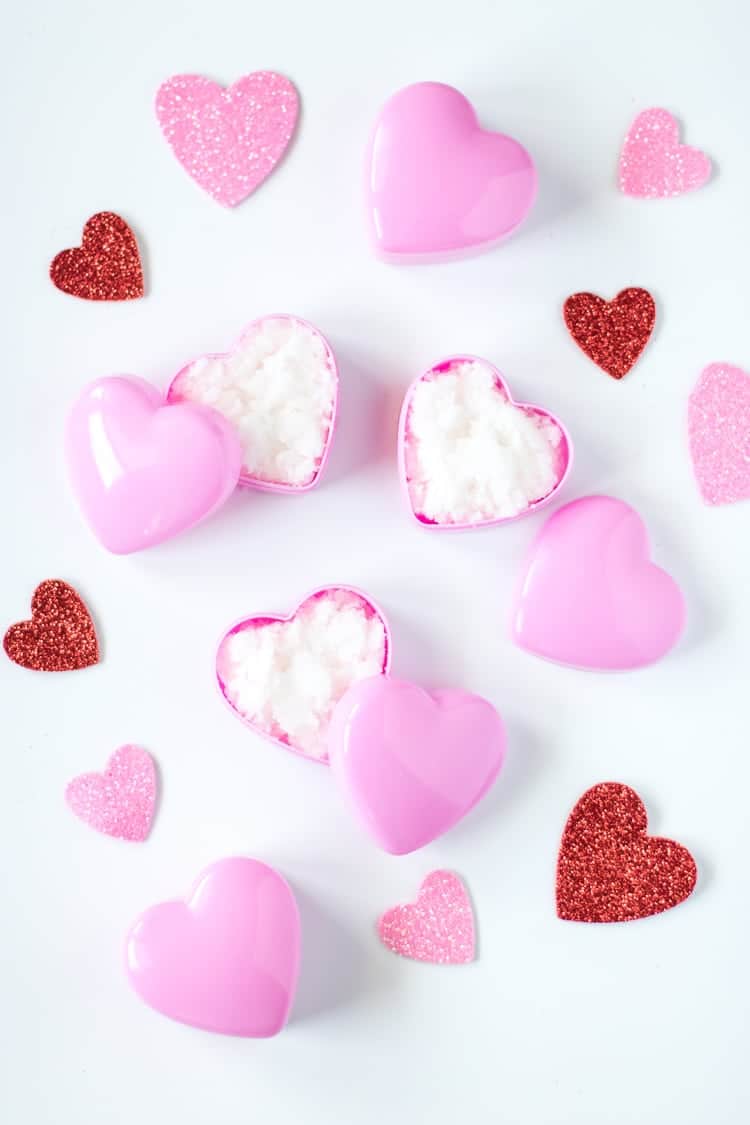 Valentine Lip Scrub from That's What Che Said: Soft, kissable lips are what we all want at Valentine's Day right? Get them fast with this easy, DIY Valentine Sugar Lip Scrub Recipe! Easy to make, safe to use, and works perfectly to relieve lips of chapped and rough skin!
Cotton Candy Sugar Lip Scrub from Scattered Thoughts of a Crafty Mom: This cotton candy lip scrub is another DIY that's easy and fun for teens and tweens. Make some as party favors or frugal gifts for friends. It nourishes dry, chapped lips with coconut oil and Vitamin E oil.
Tropical Punch Lip Scrub from The Farm Girl Gabs: Use this tropical punch lip scrub to exfoliate your lips, revealing silky smooth lips that'll make applying lipstick so much easier. The tropical punch flavoring makes this recipe smell and taste amazing.
Honey Lavender Lip Scrub from The Rising Spoon: Exfoliate, nourish, and moisturize your lips with natural ingredients like brown sugar, raw honey, coconut oil, and lavender essential oil.
Vanilla and Honey Lip Scrub from The Soccer Mom Blog: Keep lips healthy and hydrated with a simple scrub made with sugar, avocado oil, honey, and vanilla extract ( to make it smell yummy)!
Cherry Vanilla Lip Scrub from Midwest Modern Momma: You're going to love the flavor of this lip scrub made with cherry flavoring and vanilla extract. Talk about kissable lips!
Lime Mojito Sugar Scrub from This Ole Mom: Make a lip scrub that tastes like your favorite cocktail. Not only is it tasty, but the coconut oil and Vitamin E will leave your lips super moisturized.
Raspberry Lip Scrub from Simply Stacie: Raw sugar, fractionated coconut oil, and fresh raspberries are all you need to make this pretty lip scrub. White or brown sugar may be used if you can't find raw sugar.
Cinnamon Lip Scrub from Food, Fun, & Family: This lip-plumping scrub is made with cinnamon essential oil and ground cinnamon. Use them anytime your pucker needs a little smoothing and hydration.
Watermelon Lip Scrub from A Cultivated Nest: Get a taste of summer every time you exfoliate. Watermelon flavoring makes this recipe smell and taste incredible. The food coloring is optional, but it does give it that pretty pink color. You could also do a little green food coloring in a separate batch to alternate the layers.
Unicorn Lip Scrub from Nerdy Mamma: Make this with a group of girls for a unicorn party. It's a straightforward recipe of just sugar, coconut oil, and food coloring. Add an extract of your choice for flavor and scent.
Sugar Scrub Bars
We can't leave out DIY sugar scrub bars! If you love sugar scrubs but hate the mess, sugar scrub bars are the perfect solution for you!
Shimmery Snowflake Sugar Scrub Cubes from Happiness is Homemade: These snowflake sugar scrub cubes are inspired by Frozen and would make a beautiful DIY gift for a tween or teen.
Peppermint Sugar Scrub Bars from Happy Mothering: Leave skin feeling soft and silky while invigorating the senses with peppermint essential oil.
Brown Sugar Scrub Bars from A Cultivated Nest: Soften and scent your skin to make it glow for summertime. Use this in the shower to get rid of dead skin and leave behind smooth, supple skin instead.
Strawberry Heart Sugar Scrub Bars from Outnumbered 3 to 1: Perfect as a Valentine's Day gift or a romantic gift any day of the year, you'll fall in love with these strawberry heart-shaped sugar scrub bars.
Lime and Coconut Sugar Scrub Bars from Food, Fun, & Family: You'll enjoy the bright and cheerful scent of these bars while you exfoliate in the shower or bath. They're terrific for summer!
Pumpkin Spice Sugar Scrub Cubes from Lydi Out Loud: Smell like fall whenever you use these pumpkin spice sugar scrub cubes made with nutmeg, clove, and cinnamon essential oils as well as pumpkin pie spice.
Rose and Jasmine Sugar Scrub Cubes from Sugar, Spice, & Glitter: The pretty floral scent in these bars makes it perfect for spring or summer. They'd also make a lovely gift for Mother's Day.
Sugar Scrub Cubes for Men from Mama Instincts: Men need smooth skin, too! And while, yes, they could use the sugar scrub cubes above, these are scented with cedarwood, bergamot, orange, and lemon essential oils for a manlier scent with a hint of freshness from the citrus.
Cucumber Melon Sugar Scrub Bars from The Momma Diaries: Cucumber melon is a light fragrance well-suited to spring and summer. They'll leave skin hydrated and fresh when it's time to rock those shorts and skirts.
No matter what season it is or what your skincare needs are, there's a sugar scrub in this collection for everyone! Which one are you going to make first?
You May Also Like:
10-Minute DIY Milk & Honey Soap
Pin These DIY Sugar Scrubs For Later!
DIY Sugar Scrubs
Pin this huge list of sugar scrub recipes to make pampering gifts for yourself or your friends all year long!