10-Minute DIY Milk & Honey Soap
This post and its photos may contain affiliate links. As an Amazon associate I earn from qualifying purchases. If you make a purchase through these links, I may receive a small commission at no extra cost to you!
This easy DIY Milk and Honey soap can be made in just 10 minutes, and it boasts lots of great skin benefits from the goats milk and honey! A wonderful quick and easy homemade gift idea!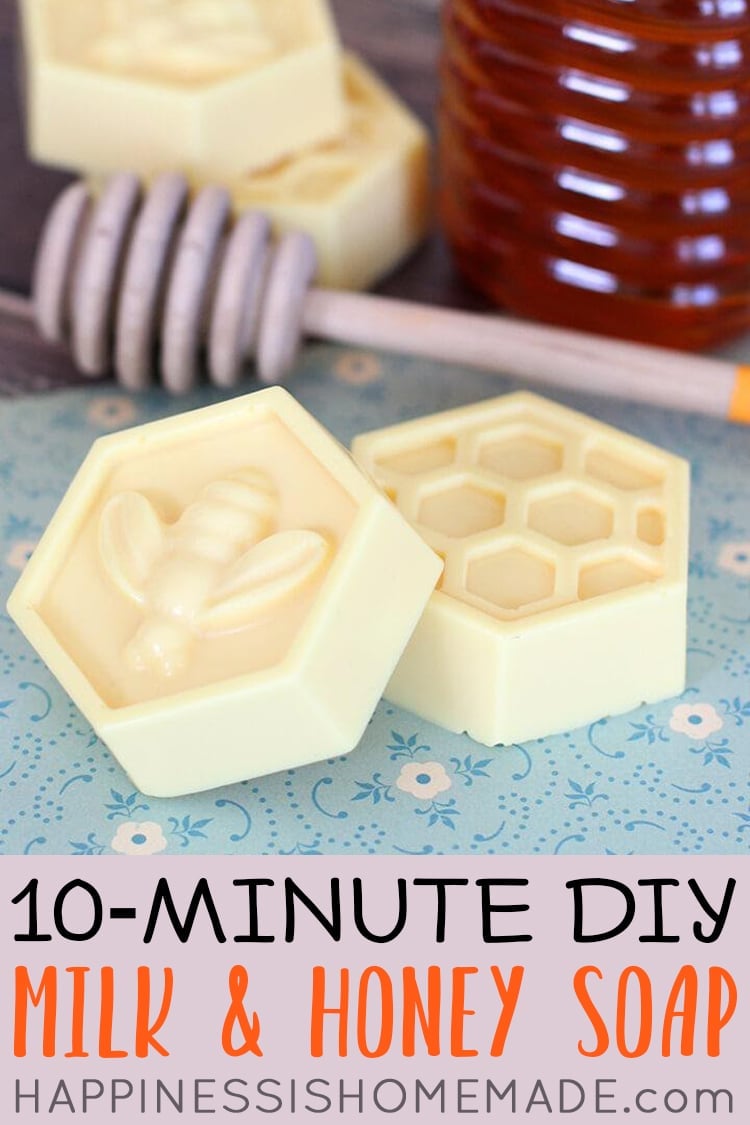 This post may contain affiliate links. I will receive a small commission from these sales at no additional cost to you!
HOMEMADE MILK & HONEY SOAP
Homemade milk and honey soap have always been one of my favorites. It smells divine, and there are loads of skin benefits from the honey – it's moisturizing, clarifying, soothing, and also naturally antibacterial. Because of these properties, honey is fantastic for the treatment of acne and aging and for general complexion brightening. C'mon now, we all could use a little bit of anti-aging and complexion brightening, right?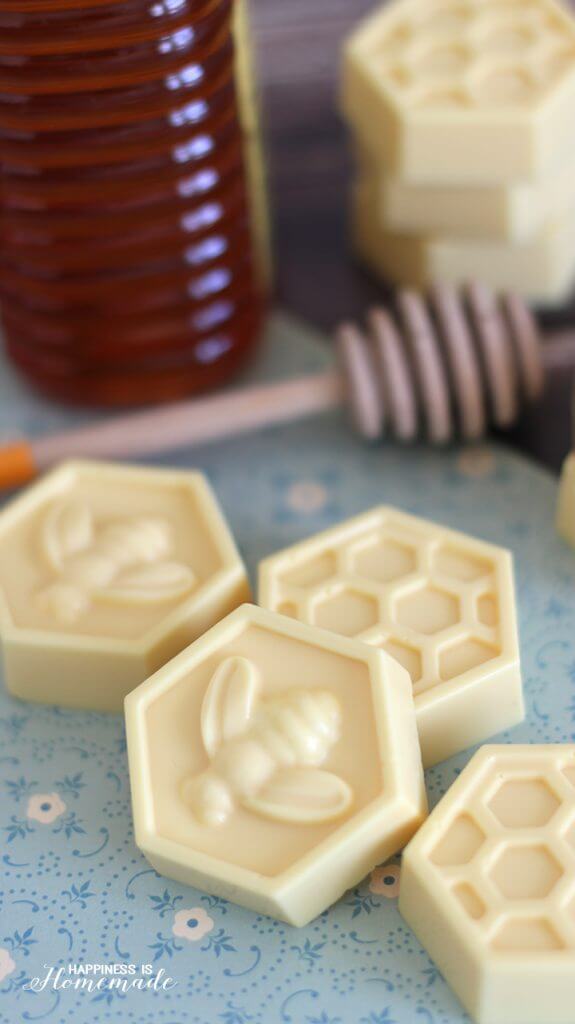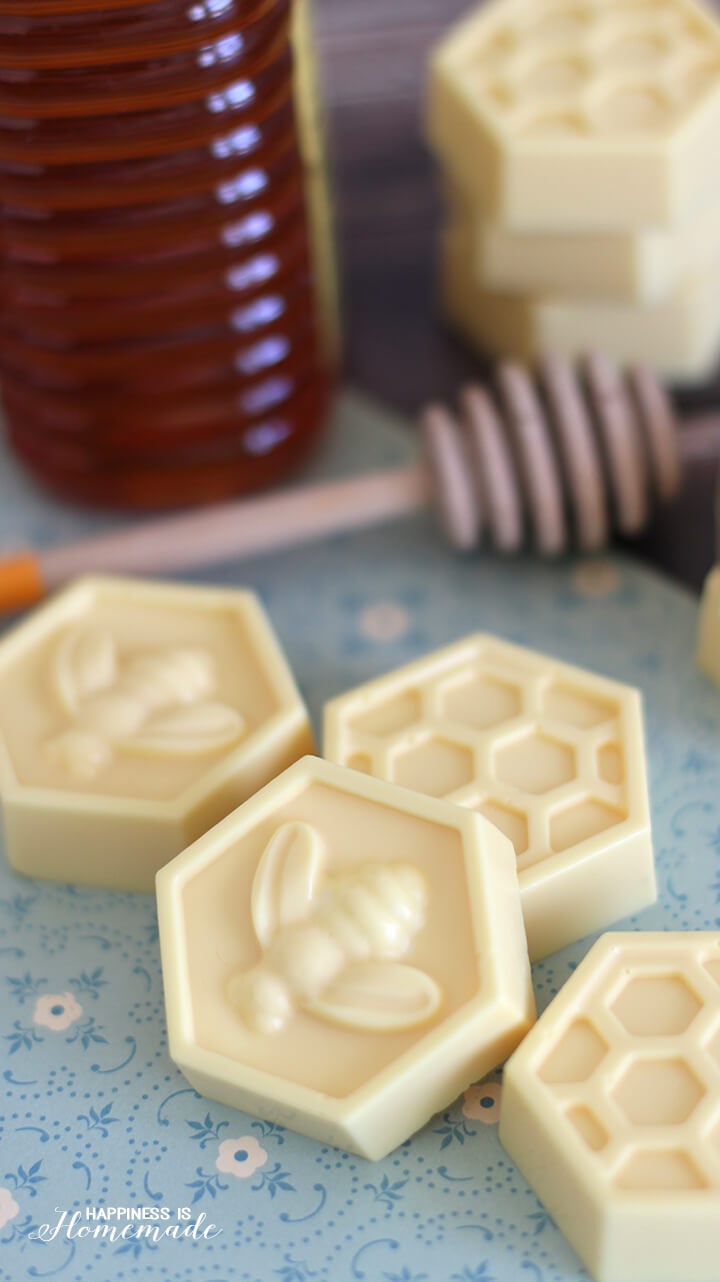 HOW TO MAKE MILK AND HONEY SOAP:
I love these natural soaps for their sweet delicate aroma and for the incredible skin benefits, but what I love even more is the fact that I can whip up an entire batch of these beauties in under 10 minutes! They'll take a little longer to firm up, but the actual "work" part is done in less than 10 minutes.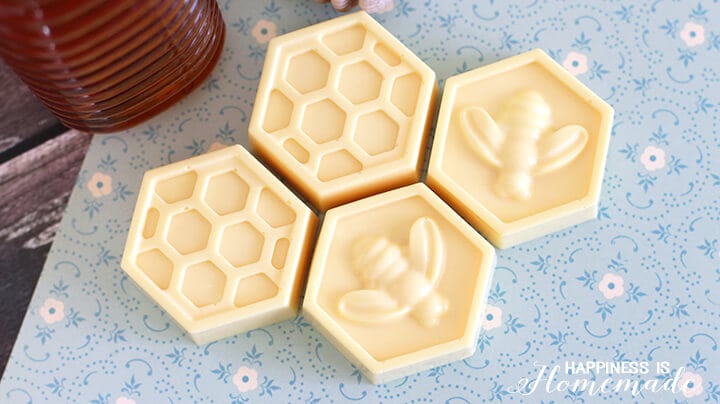 SUPPLIES TO MAKE DIY MILK & HONEY SOAP: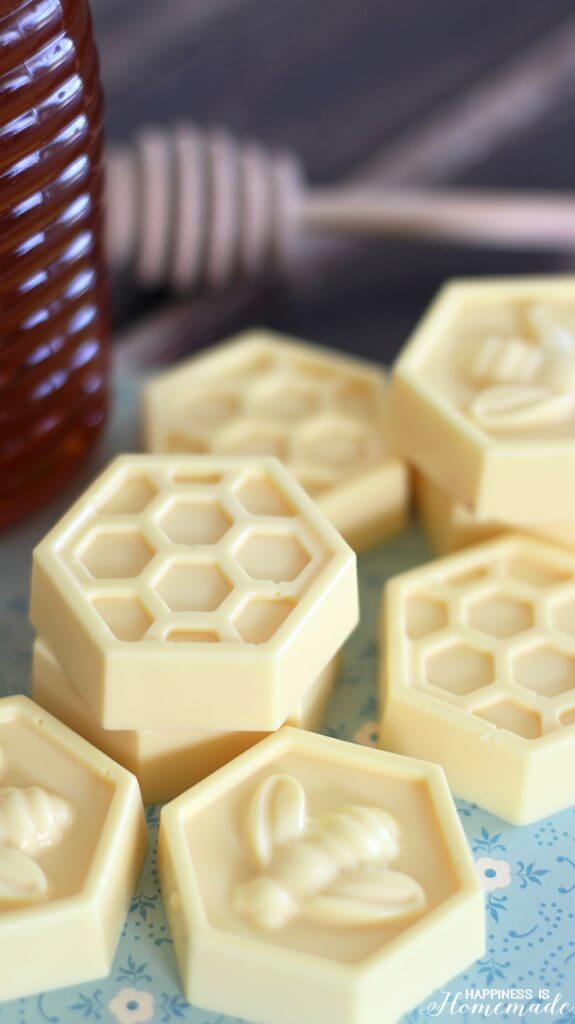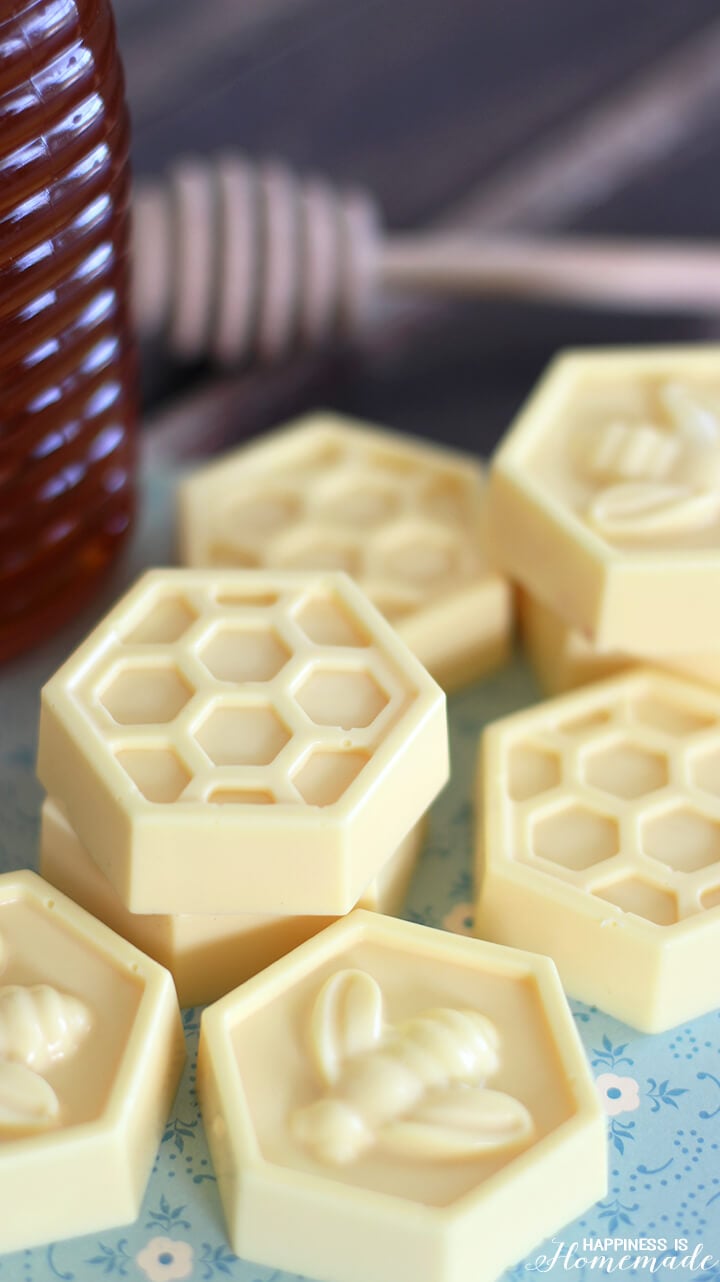 I didn't take any step-by-step photos of the process this time, but I did create a quick video that will show you just how easy it is to make these soaps!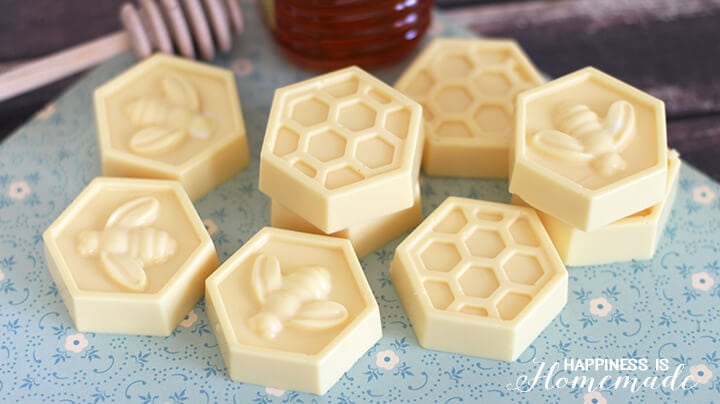 I generally use about 1 lb (or half of the block) of soap base at a time to make ten honeycomb soaps – if you want to fill the entire mold (19 soaps), use the full 2 lbs of soap base. Slice the block of goat's milk soap base into cubes that are approximately ½" in size. The soap base is soft, and it cuts easily with a kitchen knife.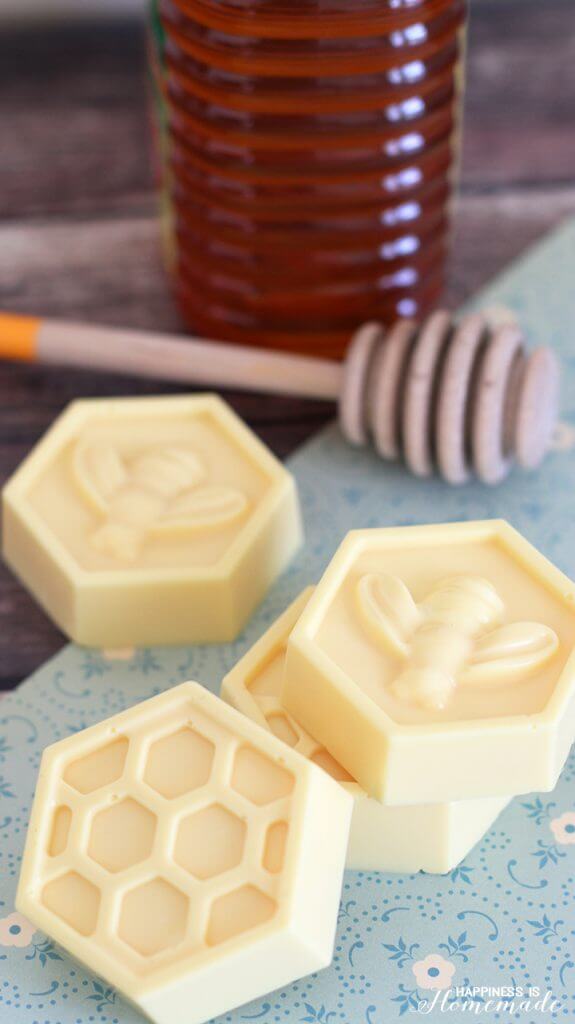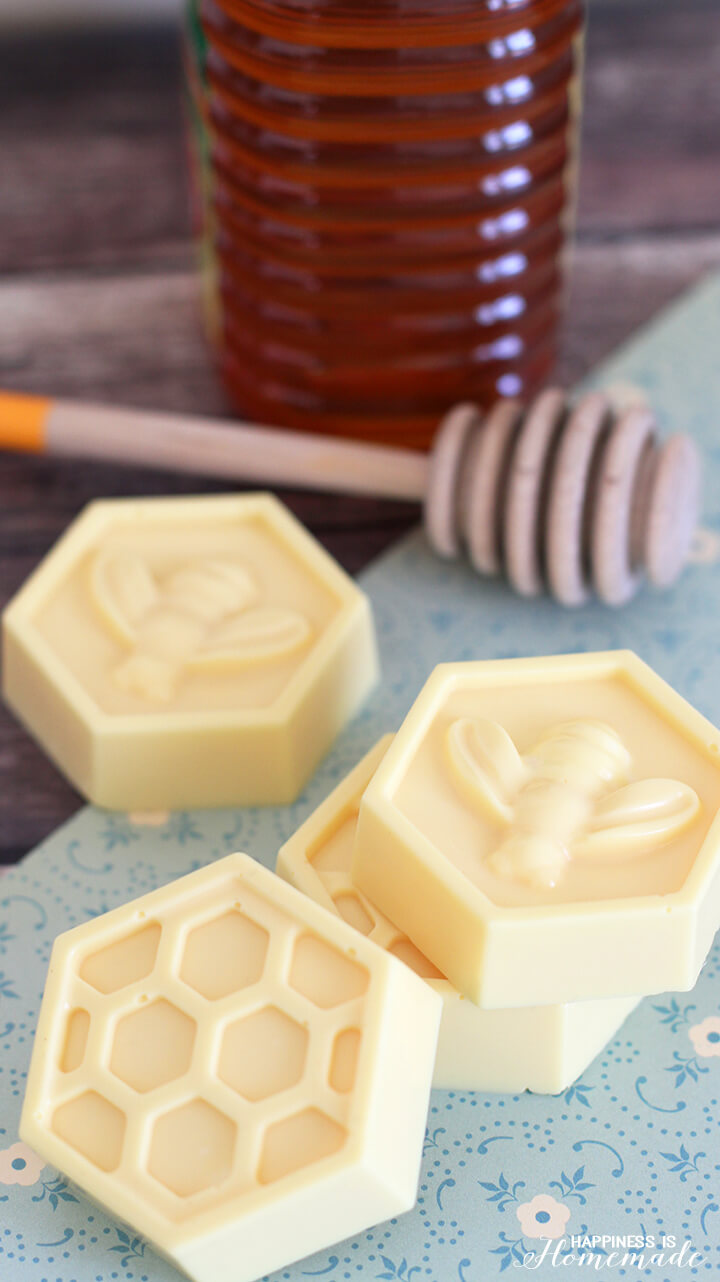 Place the cubes inside of a 4-cup Pyrex measuring cup, and melt in the microwave. Melt in 20-30 second increments, stirring well after each microwave session, to ensure that the soap is completely melted.
When the soap is completely melted, stir in 3 tablespoons of honey and a few drops of yellow soap colorant. I also added one drop of red colorant to give my soap more of a golden hue.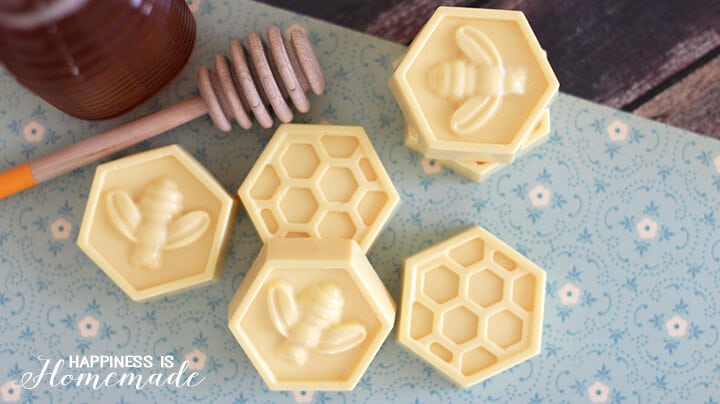 Pour the melted soap into the honeycomb mold, and allow to sit undisturbed until cool. The cooling process can take anywhere from 30 minutes to 2 hours depending on temperature and humidity levels.
When the soap is cool and firm, carefully remove them from the silicone mold.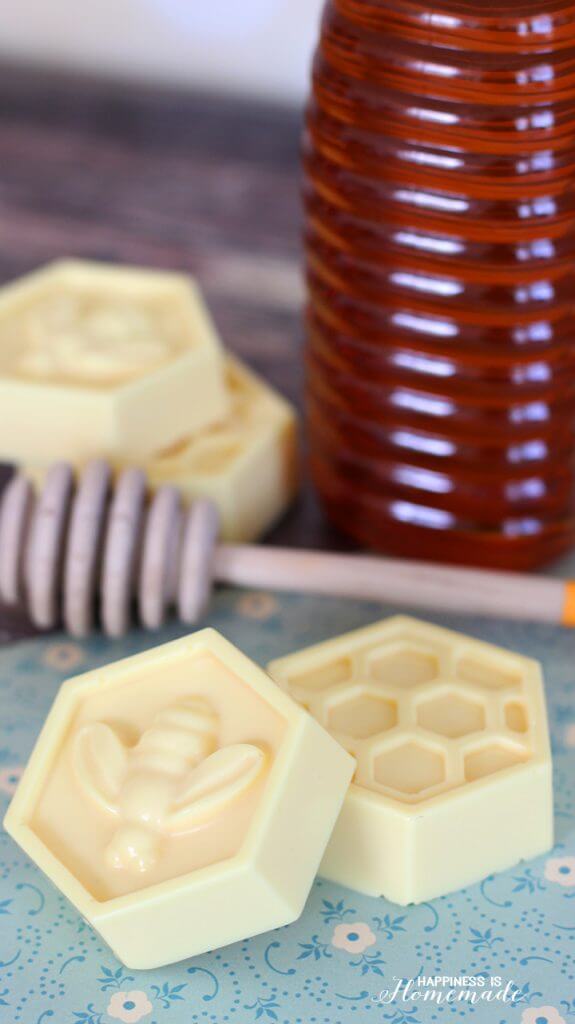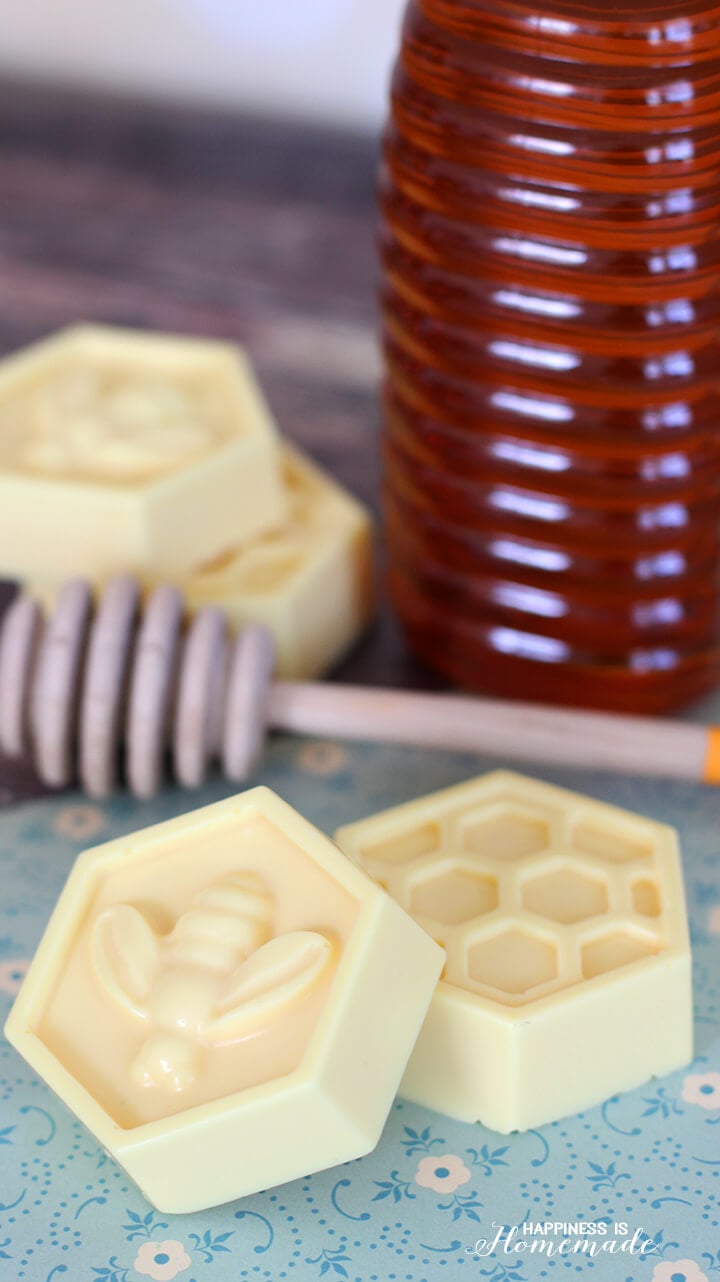 These DIY milk & honey soaps make a fantastic homemade gift – perfect for friends, family, teachers, coaches, and neighbors! They're great for fundraisers and craft fairs, too!
—————————————————————————————
Frequently Asked Questions:
We get asked a LOT of questions about our melt and pour homemade soaps, so here are a few FAQs that you might find useful!
Do melt and pour soaps need to cure?
No! Unlike cold process soaps, your new melt and pour soaps will be ready to use just as soon as they have completely cooled and hardened.
How long does homemade soap last?
The shelf life for melt and pour soap base is around two years, but the shelf life of your finished soaps will depend upon what you have added to them. Soaps with simple color and fragrance additives should last at least the full two years. Soaps with added botanicals or fresh ingredients will have a shorter shelf life.
Many soaps will last well beyond the two year shelf life, however, you may find that the color or fragrance fades over time, and the soaps may begin to lose moisture and become dry.
For these milk and honey soaps, honey has an extremely long shelf life, so they will be good for at least two years if properly wrapped and stored!
How do you wrap/package/store homemade soap?
Melt and pour soaps should be wrapped and packaged soon after making. We recommend wrapping the soaps with plastic wrap or placing them in a plastic zipper bag and storing them in a cool and dry location. Soaps may also be shrink wrapped using shrink plastic and a heat gun, but be careful and work quickly so that you don't accidentally melt the soap in the process!
Why does melt and pour soap sweat? And how can I prevent it?
Glycerin can be found in many different types of soap bases, and glycerin is known for its ability to attract moisture (which makes it great for hydrating skin!). Glycerin attracts moisture from the air which often will appear as small beads of "dew" or "sweat" on the surface of the soap. This is NOT moisture being released from the soap itself!
To prevent your melt and pour soaps from sweating, be sure to wrap them promptly and store them properly.
How do I get rid of bubbles in my soap?
Spritzing the surface of your freshly-poured soap with 91% Isopropyl Alcohol (or higher) will break the surface tension and help release trapped air bubbles.
Can I use a different type of soap base?
You bet! Well, most likely anyway. While changing the soap base may alter the benefits that are listed in our soap recipes, we have found that 98% of our recipes can be made with alternative melt and pour soap bases. Goat's milk soap base, shea butter soap base, coconut milk soap base, glycerin soap base, and others are fairly interchangeable and will not likely alter the successful outcome of your finished soap.
What else can I add into my soap?
There are SO many different ways that you can customize your homemade soaps! Experiment with adding different essential oils, butters (shea butter and cocoa butter are fantastic options!), natural colors, botanicals, and more! You can add extra skin-nourishing benefits by including liquid oils such as coconut oil, sweet almond oil, or olive oil – use just a small amount to avoid making your bars of soap too soft!
For some ideas and inspiration, be sure to check out our entire collection of DIY bath and body products!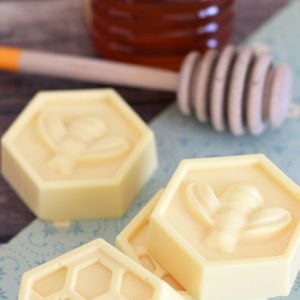 What You'll Need:
2

lb

Goat Milk Soap Base

5

tbsp

Raw Honey

Gold Soap Colorant

91% Isopropyl Alcohol,

in a spray bottle

Microwave-safe Measuring Cup

12" Silicone Honeycomb Mold
Instructions:
Slice the goat's milk soap base into small cubes and place into a microwave-safe measuring cup. Melt in the microwave in 30-second increments, stirring well after each session, to ensure that the soap is completely melted.

Carefully stir in gold soap colorant and honey. Pour the melted soap into the mold and spritz with isopropyl alcohol to remove any air bubbles.

Allow the soaps to sit undisturbed until completely firm (approximately 60-90 minutes depending on temperature and humidity) before unmolding.
Pin This Homemade Soap for Later!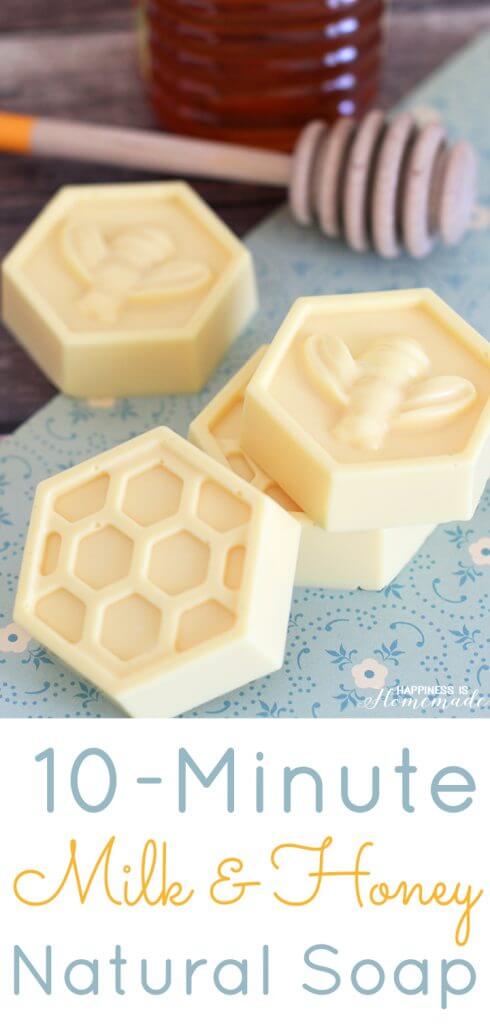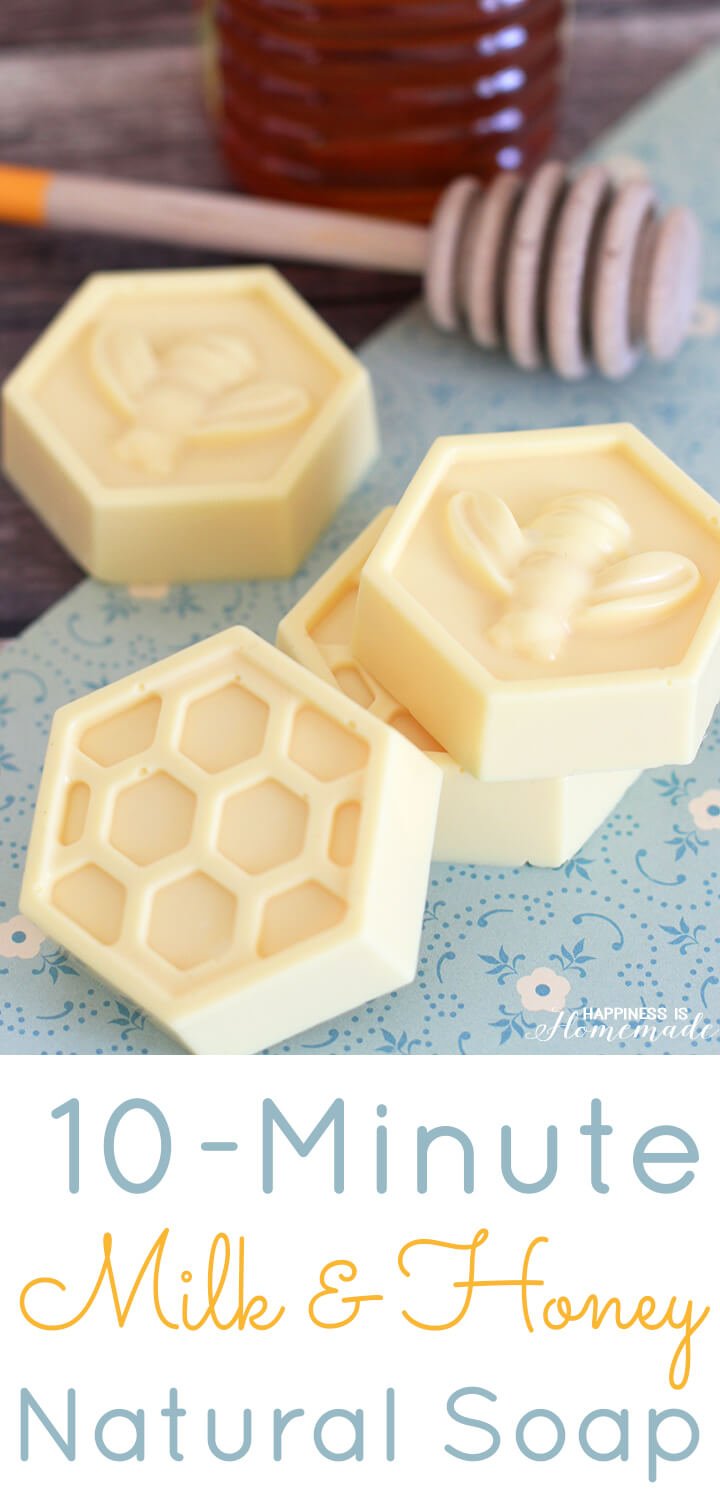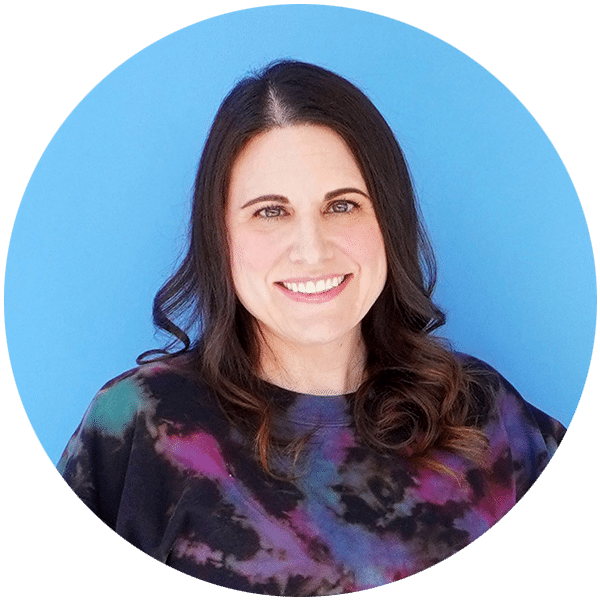 Heidi Kundin has captivated the hearts of millions with her colorful and inspiring approach to crafting, celebrations, and family fun. With over 15 years of experience, Heidi's website has become a must-visit destination for those seeking quick and easy creative ideas and last-minute solutions. Her warm personality shines through her posts, inviting readers to join her on a creative journey that's fun, rewarding, and achievable.