40+ Paper Plate Crafts for Kids
This post and its photos may contain affiliate links. As an Amazon associate I earn from qualifying purchases. If you make a purchase through these links, I may receive a small commission at no extra cost to you!
Paper plate crafts are fun for kids of all ages! Inexpensive, easy, and totally versatile, there are SO many different paper plate crafts to be made!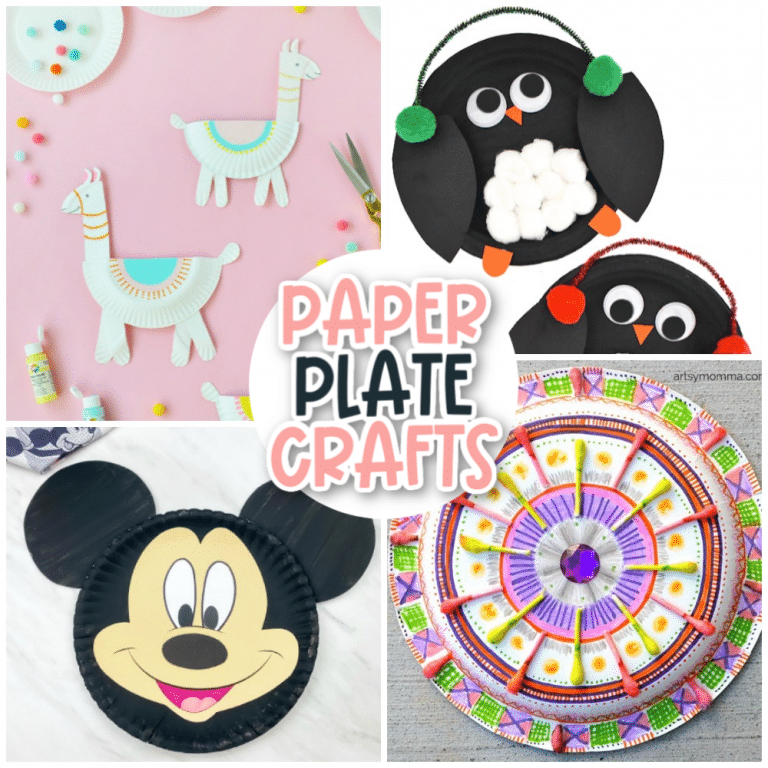 This post may contain affiliate links. I will receive a small commission from these sales at no additional cost to you!
Fun Paper Plate Craft for Kids
When it comes to crafting with the kids, is there anything more classic than paper plate crafts? They're cheap, easy, and you probably already have the paper plates on hand to get started!
Whether you're looking for a sloth, a horse, a rainbow, or something crafty for Easter or Christmas, you're going to find a fabulous project here. Make sure you pin this list to come back to any time you need a quick and easy craft that your kids will love!
Let's kick off the list with some paper plate crafts that you can do any time during the year. Below that, you'll find paper plate crafts for Spring, Summer, Fall, and Winter, with many of the holidays included.
Anytime Paper Plate Crafts
Llama Paper Plate Craft from Homemade Charlotte: Llamas are some of the coolest and cutest animals, and we just fell in love with these paper plate llamas. You can get all the pieces you need for a llama from a single paper plate. The step-by-step instructions make it super easy to recreate!
Paper Plate Sloth Craft from I Heart Crafty Things: When you just can't get enough sloth cuteness, try this sloth paper plate craft made with two paper plates, cardstock, googly eyes, and cardboard. Doesn't he look adorable hanging from his tree branch?
Emoji Paper Plate Craft from Natural Beach Living: Do you ever wish you could show off your face as your favorite emojis in real life? Well, now you can! The kids (and you!) will get a kick out of creating your favorite emojis out of paper plates. Personally, the heart eyes emoji is one of my faves!
Horse Paper Plate Craft from Simple Everyday Mom: Kids who are obsessed with horses will want to make this craft for sure. Paint the paper plate and use the template to make the face and mane. Isn't he a cute little character?
Space Themed Wreaths from 3 Dinosaurs: Studying the planets? Have a kid who's obsessed with space? These space-themed paper plate wreaths are a fantastic way to learn about and explore planets, stars, moons, and more.
Flying Unicorn Plate Craft from Messy Little Monster: You can't get any cooler than a unicorn flying over a rainbow, right? This interactive paper plate craft will be a big hit with little girls who love unicorns.
Cardinal Paper Plate Craft from Artsy Momma: This tissue paper and paper plate cardinal makes a fun craft as part of a bird-themed unit or for a winter craft, as you start seeing cardinals in the snow. The cardinal is also the state bird for seven states, so it makes a wonderful art project to incorporate into state history lessons.
Minion Paper Plate Craft from Glue Sticks & Gumdrops: If your little one is mad for Minions, you'll love this easy Minion craft! The eye is made with a mason jar lid ring—isn't that fun? Don't worry if you don't have felt for this craft. Black construction paper or cardstock will work just fine, too.
Paper Plate Lion Craft from Kids Activities Blog: Whether you're planning a visit to the zoo or just want to make a fun animal craft, this lion paper plate craft is a wonderful choice. Kids can practice their scissor skills on the lion's mane!
Paper Plate Dream Catcher Craft from Meraki Mother: You don't often find paper plate crafts that are appropriate for tweens and teens, but I think this would be an excellent choice. Beautiful dream catchers have become very popular in recent years, but they've been a Native American tradition for a long time. If you have a child who suffers from nightmares, making a dream catcher can be a positive experience to help them work through their fears.
Mandala Paper Plate Craft from Artsy Momma: This craft is fun for elementary-aged kids and older. Even your tweens and teens will love it. The fun thing about this craft is that you can create any design you can dream up.
Minnie and Mickey Paper Plates from Simple Everyday Mom: Hey, Mouskateers! Disney fans of all ages will enjoy putting these Mickey and Minnie paper plates together. They'll make cute decorations for your child's room or nursery.
Snake Paper Plate Craft from Mombrite: Making coiled snakes with paper plates is as easy as cutting your plate into a spiral! Then, decorate your snake with stripes, spots, or solid colors, and add the face. It's ssssensational!
Dinosaur Paper Plate Craft from I Heart Crafty Things: Put a smile on any dino-loving kid's face with this colorful craft. Construct three different types of dinosaurs with paper plates, and create interesting texture with bubble wrap.
Paper Plate Parrots from Glue Sticks & Gumdrops: Whether you're studying rainforest animals or birds, this parrot paper plate craft will be a fun addition to your activities. If you don't have feathers, make some out of construction paper! It'll look just as good.
---
Spring Paper Plate Crafts
Streamer Rainbows Craft from Happiness is Homemade: Add a little cheer to your day with these fun and colorful streamer rainbows. They're fun to make as part of a weather unit or simply when you could use a little rainbow to help you look forward to happier days.
Snail Paper Plate Craft from Toot's Mom is Tired: Snails are usually found after a good rain, so they'll be a terrific subject for a spring craft. Just look at that colorful, swirly shell made of pom-poms. Beautiful!
Paper Plate Ladybug from About a Mom: Ladybugs are considered good luck, so why not make one of your own this spring? This is a good time for kids to practice cutting circles, but you could also use a circle punch if you have one.
Hyper Colorful Paper Plate Flowers from Pink Stripey Socks: Cheap paper plates and vivid watercolors combine to make gorgeous hyper colorful flowers. Wouldn't a few of these add a lot of cheer to a wall or mantle?
Paper Plate Rainbows from Glitter on a Dime: Make these lovely paper plate rainbows in a pinch using Kwik Stix paint sticks. If you don't have those, markers, crayons, or regular paint works just fine, too.
Felt Rainbow Craft from The Homespun Hydrangea: This sweet little craft comes together in just a few minutes, so it's a great choice when crafting with wiggly toddlers and preschoolers. You may need to pre-cut the felt strips and pieces for the face for kids who don't yet have the scissor skills to do so.
Bunny and Chick Paper Plate Crafts from Box of Ideas: Hippity-hoppity, Easter's on its way with these two adorable characters. The printable faces make these crafts simple and straightforward, so they're perfect for doing with a group of kids.
Paper Plate Easter Basket Craft from The Best Ideas for Kids: This project combines potato stamping to make the eggs with a paper plate craft to create the basket. Kids from toddler age and up can participate in this craft that would be so fun to do as a family.
---
Summer Paper Plate Crafts
Rocking Paper Plate Submarine from Red Ted Art: If you're looking for ocean crafts, you typically come across ocean animals. But let's not forget submarines—they make it possible to study some of our favorite deep water creatures. This rocking submarine is fun to make and play with.
Ice Cream Paper Plate Craft from Easy Peasy and Fun: We all scream for ice cream, but until you can get some, make these paper plate ice creams. They'd make fun party decorations for a summer birthday party, too.
Paper Plate Watermelons from Glue Sticks & Gumdrops: Watermelon is the official food of summer! Okay, maybe it's not the official food, but it totally should be. Celebrate your love for this yummy fruit with a fun watermelon paper plate craft that's easy enough for preschoolers.
Puffer Fish Plate Craft from The Simple Parent: What a cute and exciting craft! This puffer fish looks like the real thing. Do be careful using toothpicks with younger children, especially children who are prone to putting things in their mouths. However, if you're worried, you could also break up some spaghetti pasta to use for the puffer fish's spines.
Rocking Paper Plate Mermaids from Red Ted Art: Here's another rocking paper plate craft featuring mermaids. Watch The Little Mermaid, and then spend an afternoon making these cute crafts to finish off a fun afternoon.
Uncle Sam Paper Plate Craft from Glue Sticks & Gumdrops: Uncle Sam is an iconic figure in American History, so this is a very fitting craft for the 4th of July or any other patriotic holiday.
---
Fall Paper Plate Crafts
Watercolor Fall Leaf Wreath from Happiness is Homemade: Our watercolor wreath makes for gorgeous decor in the fall. It'll look beautiful hanging on your door! And if you don't have a cutting machine, not to worry. You can cut leaves by hand or simply use faux autumn leaves available at your local craft store to cover the paper plate wreath instead.
Apple Paper Plate Lacing Craft from Our Kid Things: This lacing activity is perfect for kids who are just beginning to sew. Work on those fine motor skills while making a lovely apple craft for fall.
Paper Plate Spider from Glue Sticks & Gumdrops: This not-so-scary spider is the perfect simple craft for Halloween. If you don't want to deal with the mess of black paint, you could always start with black paper plates.
Paper Plate Pumpkins from Mombrite: You can't have Halloween without a few jack-o-lanterns, but that doesn't mean you need to get out the carving knife. Make your own with paper plates instead. This is a simple, fun craft to do with a group of kids or in the classroom.
Thanksgiving Gratitude Turkeys from Happiness is Homemade: Gobble, gobble! November is a time to serve up a heaping helping of gratitude with this fun craft. Kids can write things they're grateful for on the tail feathers. Let the whole family get in on the fun!
---
Winter Paper Plate Crafts
Christmas Tissue Paper Wreath from Happiness is Homemade: Deck your halls with a lovely Christmas tissue paper wreath. Kids will be able to practice their fine motor skills with cutting tissue paper and gluing it to the plate. Of course, you could also use pre-cut tissue paper squares as well.
Paper Plate Christmas Trees from I Heart Crafty Things: Work on lacing skills during the winter holidays with this lovely Christmas tree paper plate craft. The pom-pom ornaments and laced garland are beautiful.
Groundhog Paper Plate Craft from Simply Today Life: We tend to forget about the holidays between Christmas and Valentine's Day, but Groundhog Day is such fun for kids. Make your own groundhog as you learn about the Groundhog Day traditions and weather predictions in our country.
Polar Bear Paper Plate Craft from A Dab of Glue Will Do: Winter is an ideal time to study animals that live in cold climates, like the polar bear. Because this polar bear is made with simple shapes and easy-to-come-by materials, it's great for crafting in the classroom.
Snowman Paper Plate Craft from Easy Peasy and Fun: This sweet snowman craft shines and sparkles just like a real snowman out in the snow. Use glitter or shimmer sugar to get that sparkly look.
Penguin Paper Plate Craft from Our Kid Things: If you love those cute, waddly penguins like we do, make these penguin paper plate crafts with the kids. They're so adorable with their cotton ball tummies and pom-pom earmuffs.
There are SO many fun paper plate crafts for kids in this list! Which one was your favorite?
You May Also Like:
50+ Quick & Easy Kids Crafts that ANYONE Can Make!
Easy Summer Kids Crafts That Anyone Can Make!
25 Fun Printable Games for Kids
Pin These Paper Plate Craft For Kids For Later
Paper Plate Craft for Kids
Pin this list of paper plate crafts so you'll have a project ready any time the kids want to get crafty!