10-Minute DIY Lip Balm
This post and its photos may contain affiliate links. As an Amazon associate I earn from qualifying purchases. If you make a purchase through these links, I may receive a small commission at no extra cost to you!
Make your own lip balm or lip gloss in just ten minutes! Homemade lip balm is a fantastic DIY gift idea with unlimited flavor and color options!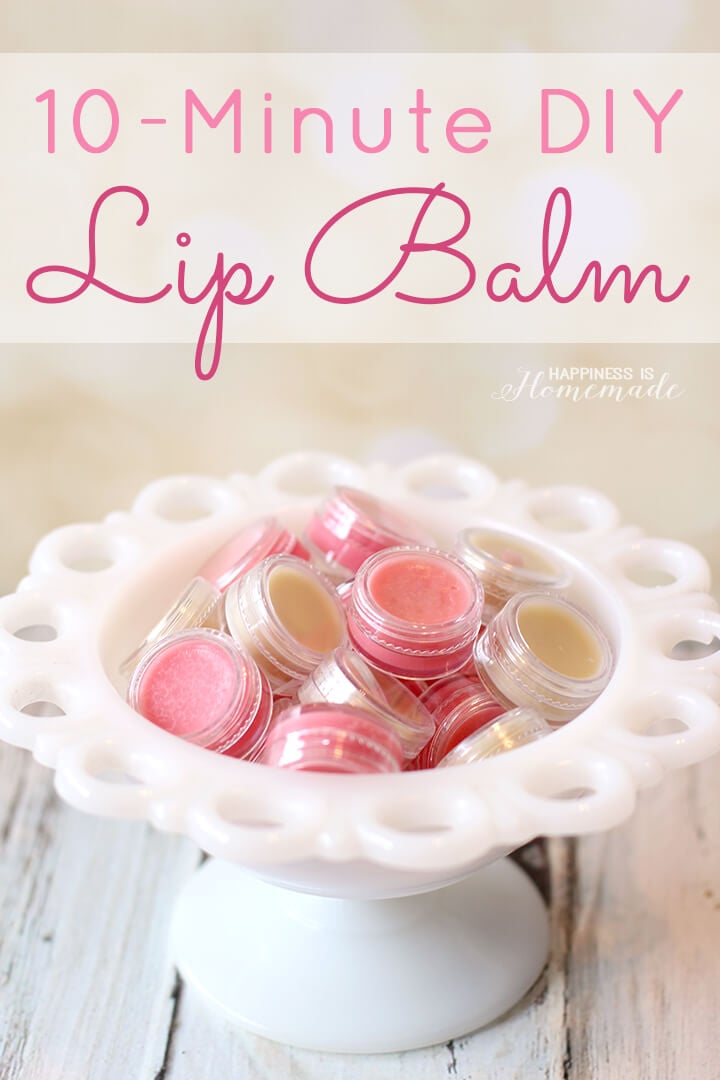 This post may contain affiliate links. I will receive a small commission from these sales at no additional cost to you!
10-Minute DIY Lip Balm
I'm one of those people who can never have enough lip balm – seriously, I just went digging through my purse and discovered that I have NINE of them in there! With the harsh and dry winter weather starting to settle in, it's especially important to keep your lips hydrated so that they don't get chapped and irritated. Lip balm also makes a quick and easy DIY holiday gift idea, and trust me, once you start to make your own, you're going to want to make about a zillion different versions!
Homemade Lip Balm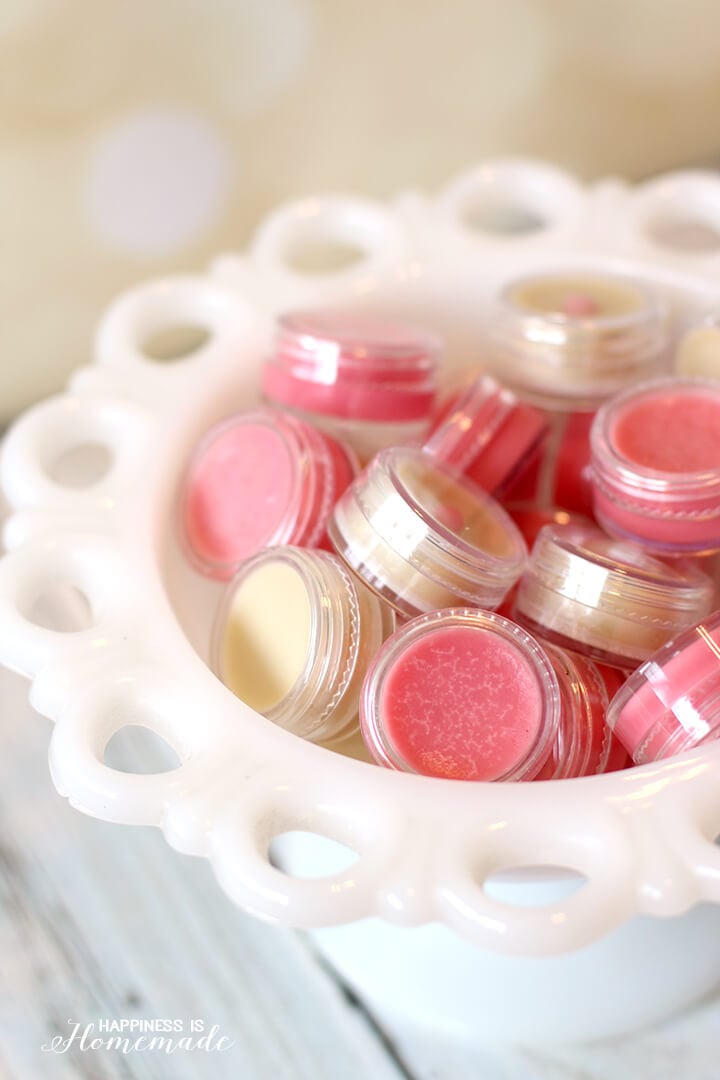 This basic recipe will create a lip balm that is firm to the touch, but that softens upon contact with your lips – perfect for filling tubes or pots. If you want a softer and glossier version, reduce the amount of beeswax by 1/3 and add a tiny bit more of the liquid oil. This recipe is VERY easy to alter to suit your needs and the ingredients that you have on hand, so feel free to play around with it!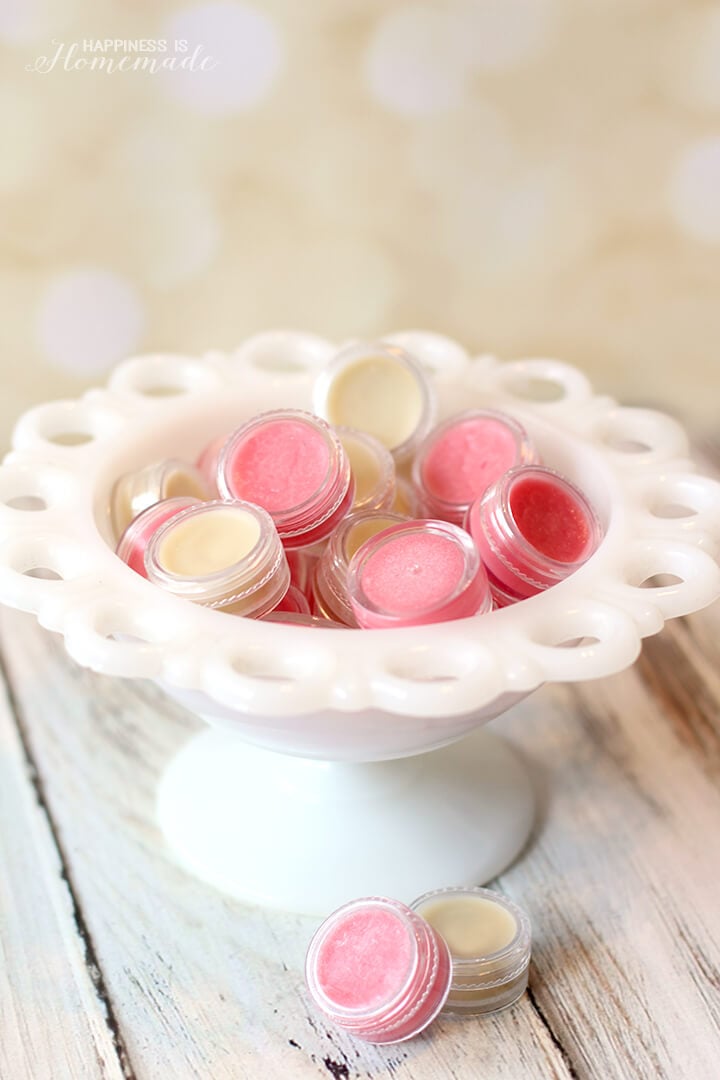 Experiment with your favorite flavor and color combinations! Essential oils are a great way to add flavor along with additional health benefits (try peppermint, wild orange, lemon, lavender, citrus bliss, and more!) or if you prefer to use a traditional flavoring oil, you can enjoy every flavor from watermelon to cheesecake to tropical punch and root beer (and about a thousand other flavors in between!).
A rainbow of different colors can be achieved with mica cosmetic coloring powders or you can simply melt down an old lipstick along with the lip balm ingredients to give it a colorful tint. Cosmetic powders will also allow you to add a bit of pearl shimmer or full-on glittery sparkle!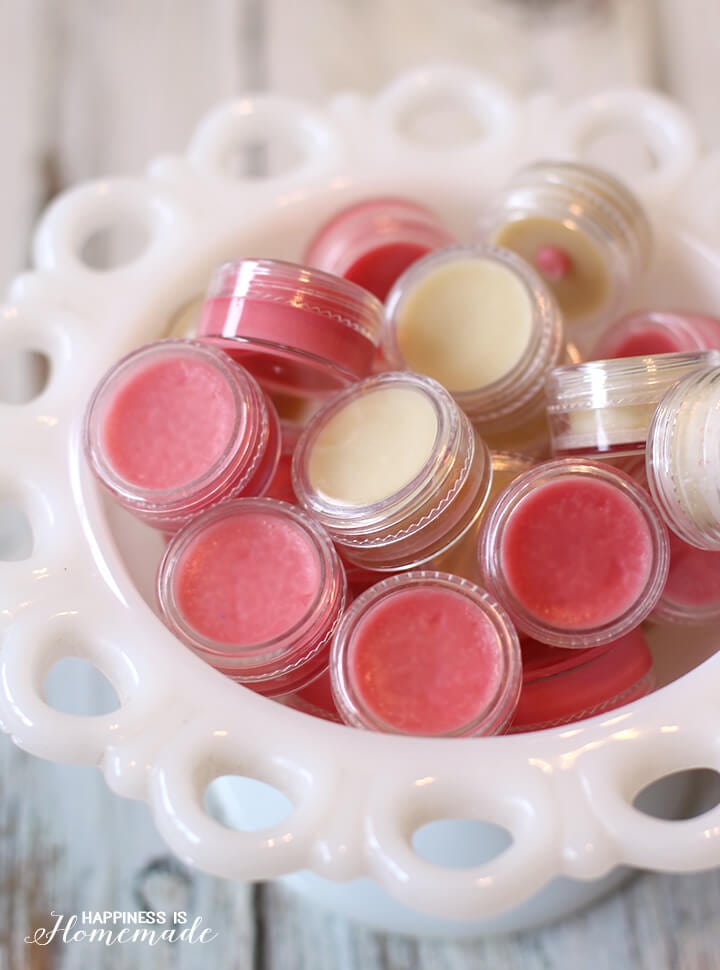 10-Minute DIY Lip Balm Printable Recipe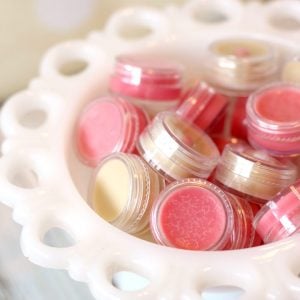 Instructions:
In a microwave-safe container (I use a glass

Pyrex measuring cup

), melt the beeswax, shea butter, and coconut oil in 30-second increments, stirring well after each one.

Stir in the essential oil or flavor oil.
There are SO many ways that you can play around with this recipe to make it your own, and I hope you have as much fun creating your customized lip balms and glosses as I do!

Pin This 10-Minute DIY Lip Balm For Later: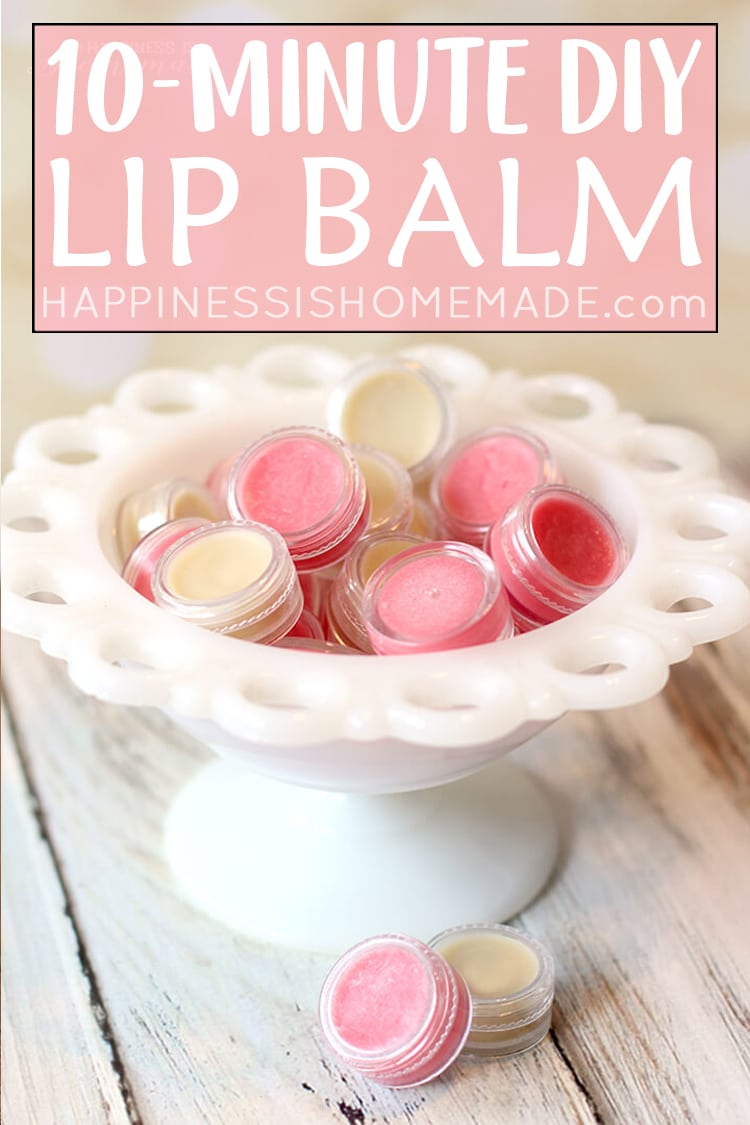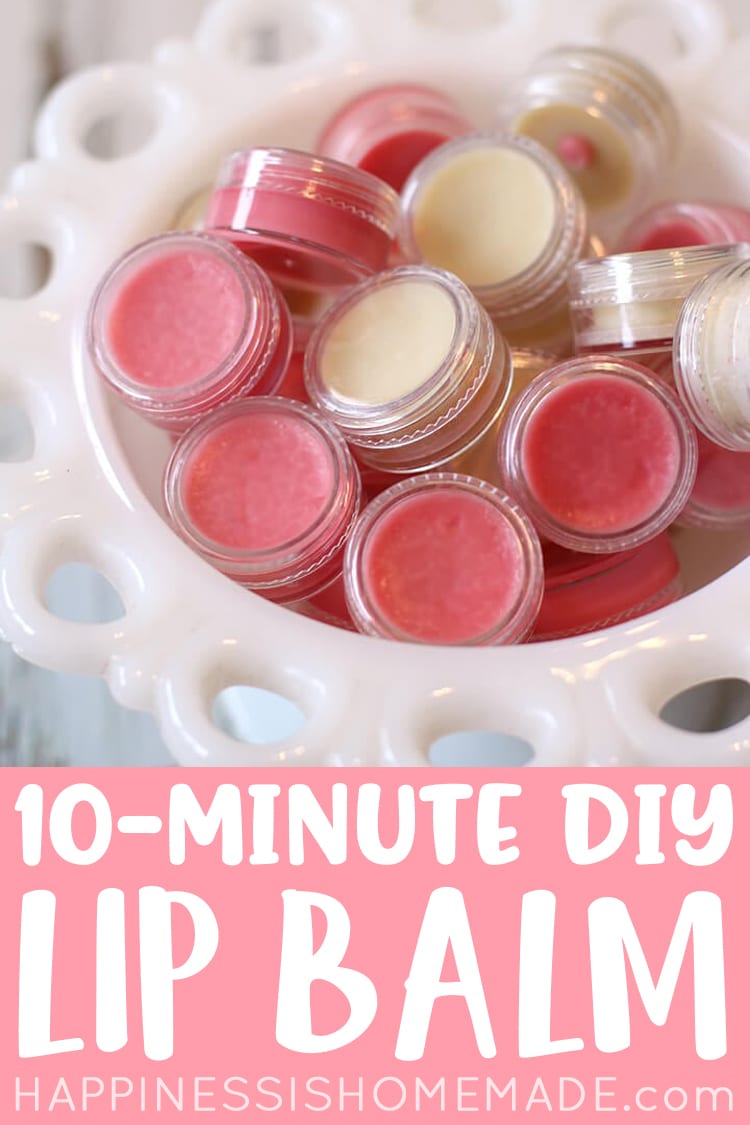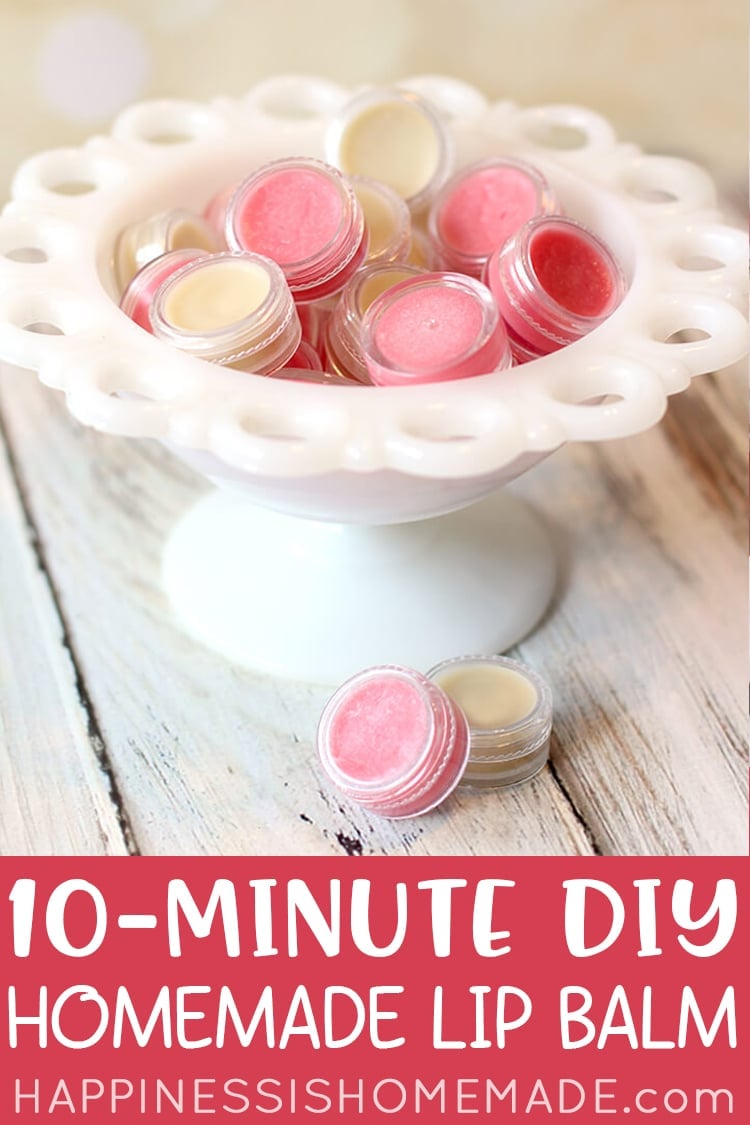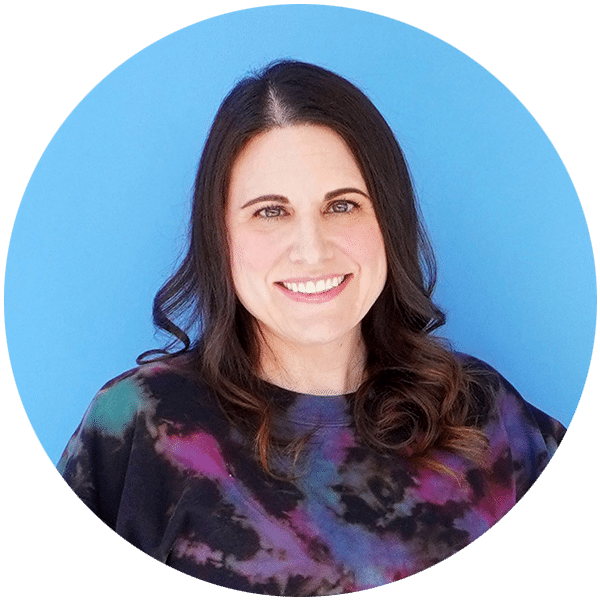 Heidi Kundin has captivated the hearts of millions with her colorful and inspiring approach to crafting, celebrations, and family fun. With over 15 years of experience, Heidi's website has become a must-visit destination for those seeking quick and easy creative ideas and last-minute solutions. Her warm personality shines through her posts, inviting readers to join her on a creative journey that's fun, rewarding, and achievable.