Free Printable Camping Bingo Game
This post and its photos may contain affiliate links. As an Amazon associate I earn from qualifying purchases. If you make a purchase through these links, I may receive a small commission at no extra cost to you!
These printable Camping Bingo Cards are tons of fun! Have some family fun around the campsite with this cute camping bingo game that's great for all ages!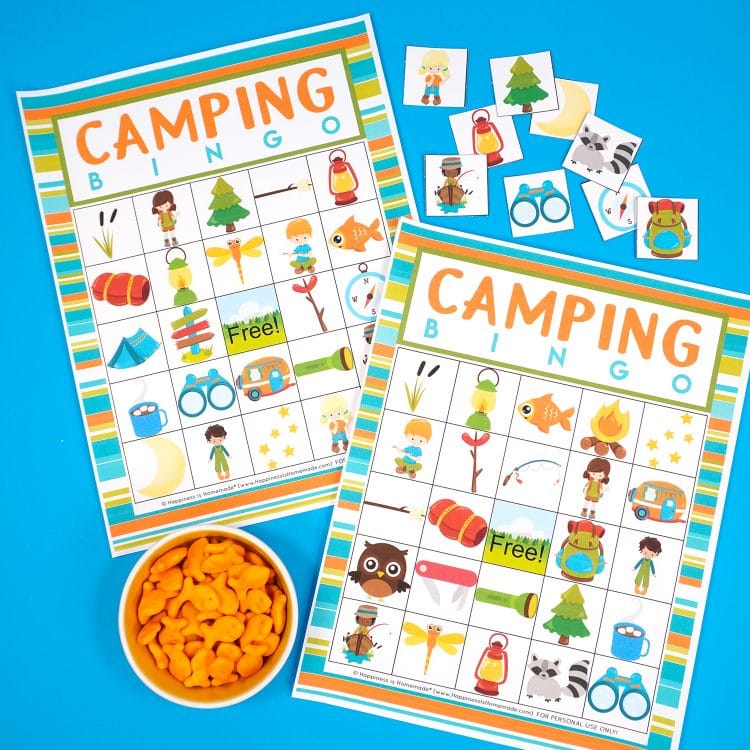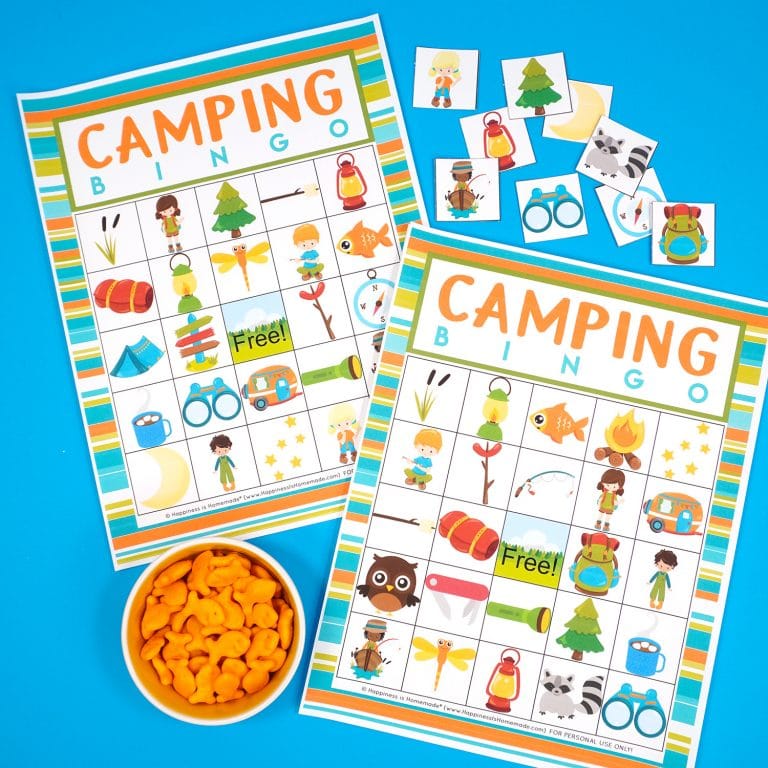 This post may contain affiliate links. I will receive a small commission from these sales at no additional cost to you!
Free Printable Camping Bingo Game
It's summertime, and around here, summer usually means camping, road trips, and family fun! If your family is headed out camping this summer, be sure to print out our Camping Bingo Game Cards for some family fun at the campsite!
We've teamed up with some of our favorite blogger friends to bring you a whole collection of Totally Free Printables – perfect for your next camping or road trip adventure!
Be sure to scroll all the way to the bottom of this post for 17 more Totally Free camping and road trip printables that I know you're going to love!
You Might Also Like Related Posts:
Printable Camping Bingo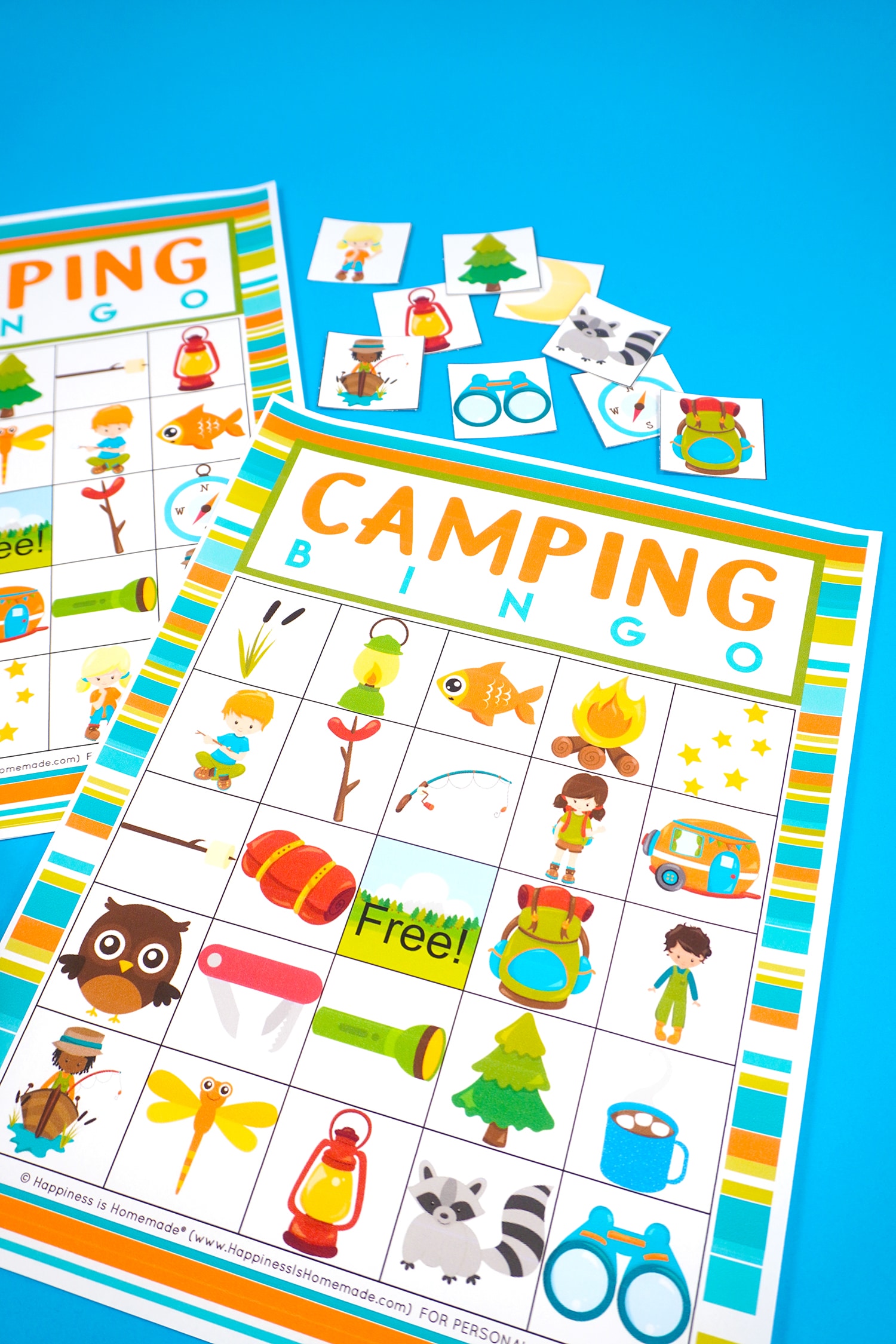 Our camping bingo game comes with a set of 30 calling cards and six game cards. If you need additional game cards, we offer an upgraded set of 20 cards in our Camping Games MEGA Bundle in our shop.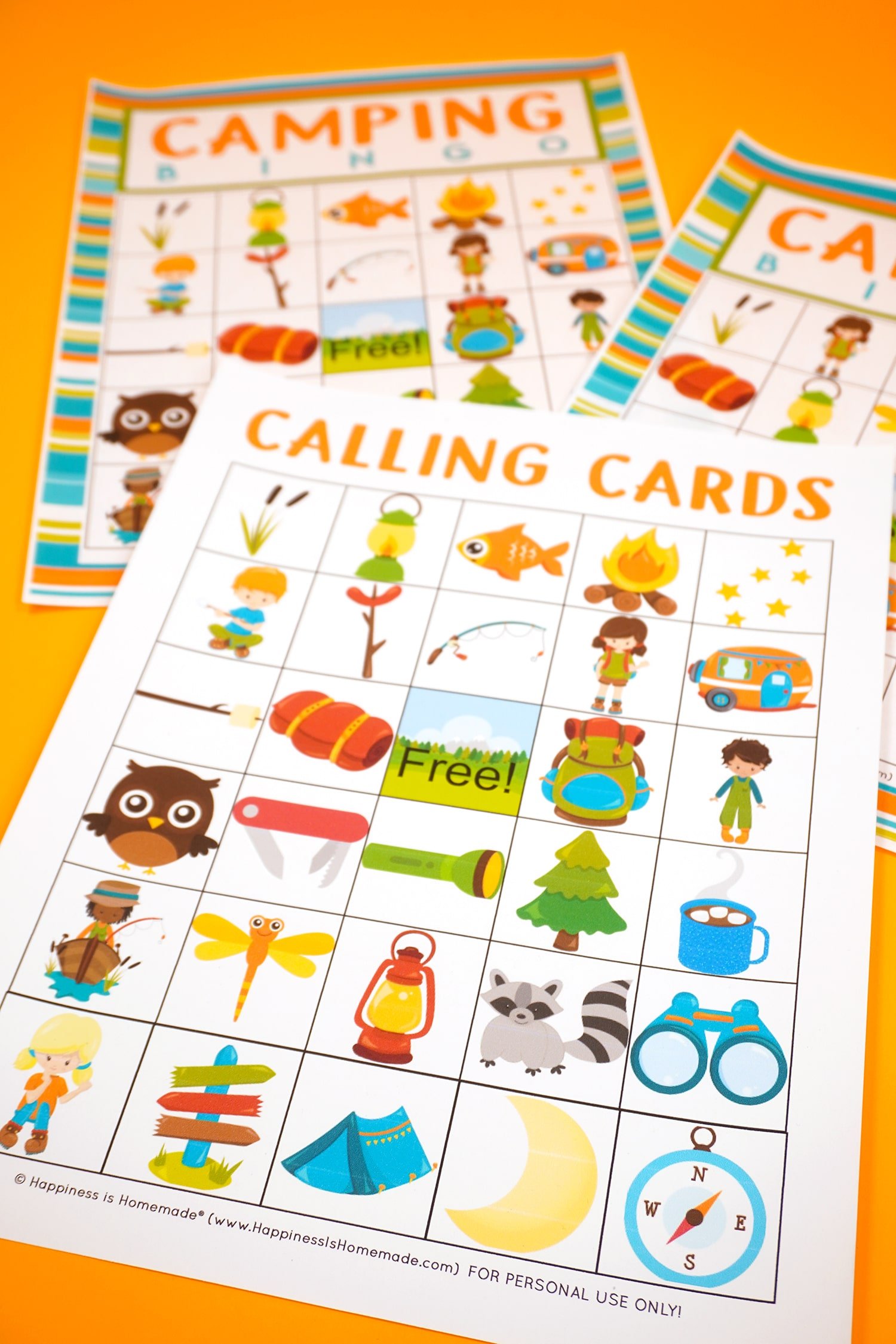 We've included a set of 30 calling cards (we always just hold up the "Free" space card first to remind everyone to cover that space!) so that you are able to play both traditional and blackout bingo with ease.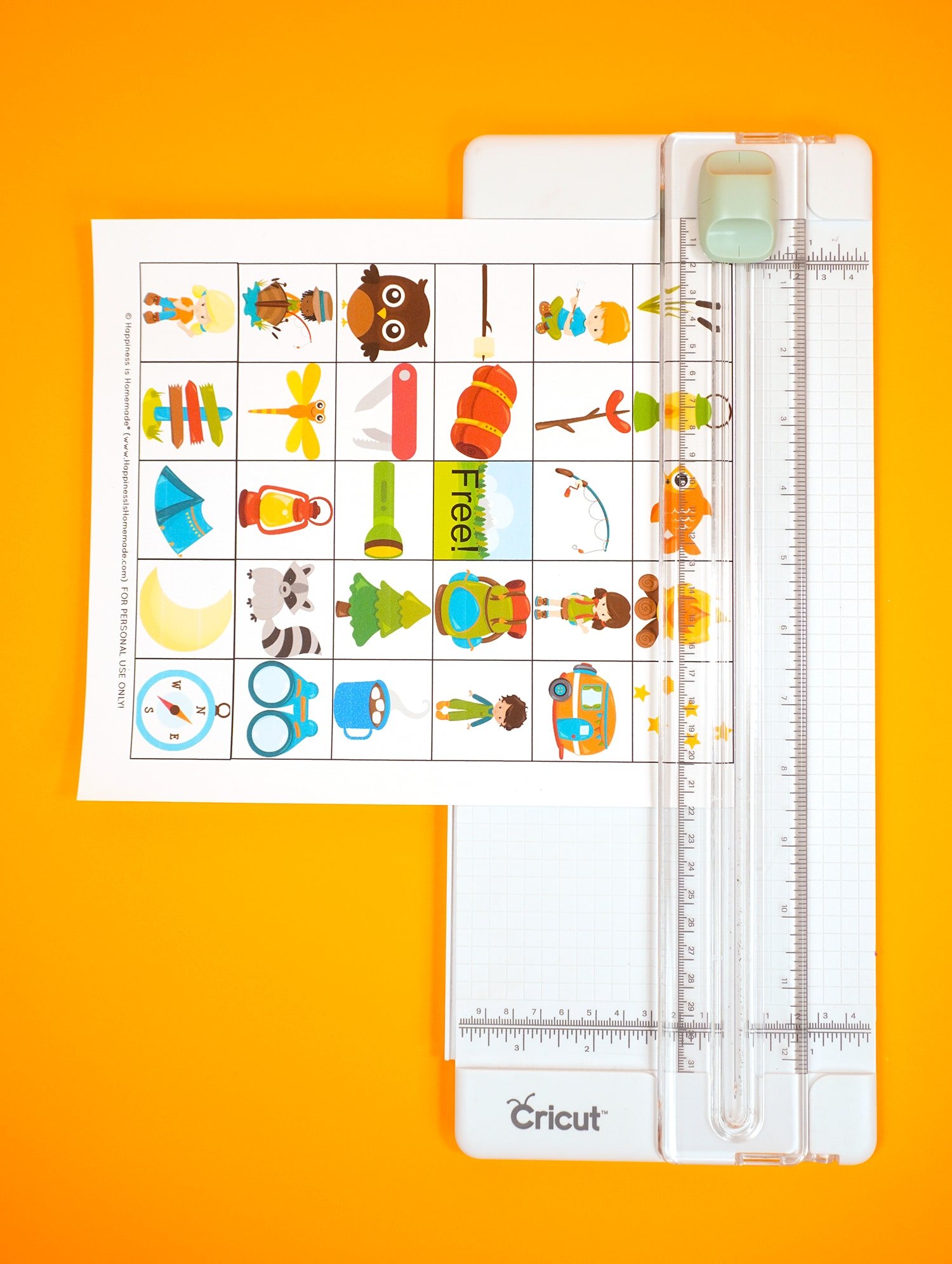 HOW TO PLAY BINGO:
Traditional Bingo:
Print out a bingo card for each player along with one set of calling cards. Cut out the calling cards and place the cards into a bowl or a hat.
Pull one card at a time from the hat/bowl and describe the image to the players before showing them the card. For example, "Sleeping Bag" or "Campfire."
Cover the corresponding image on the bingo card with a marker (for camping bingo, M&Ms, Goldfish Crackers, and mini marshmallows all make great markers!).
To win the game, a player must cover 5 spaces in a row either horizontally, vertically, or diagonally, and shout out "BINGO!" before any of the other players.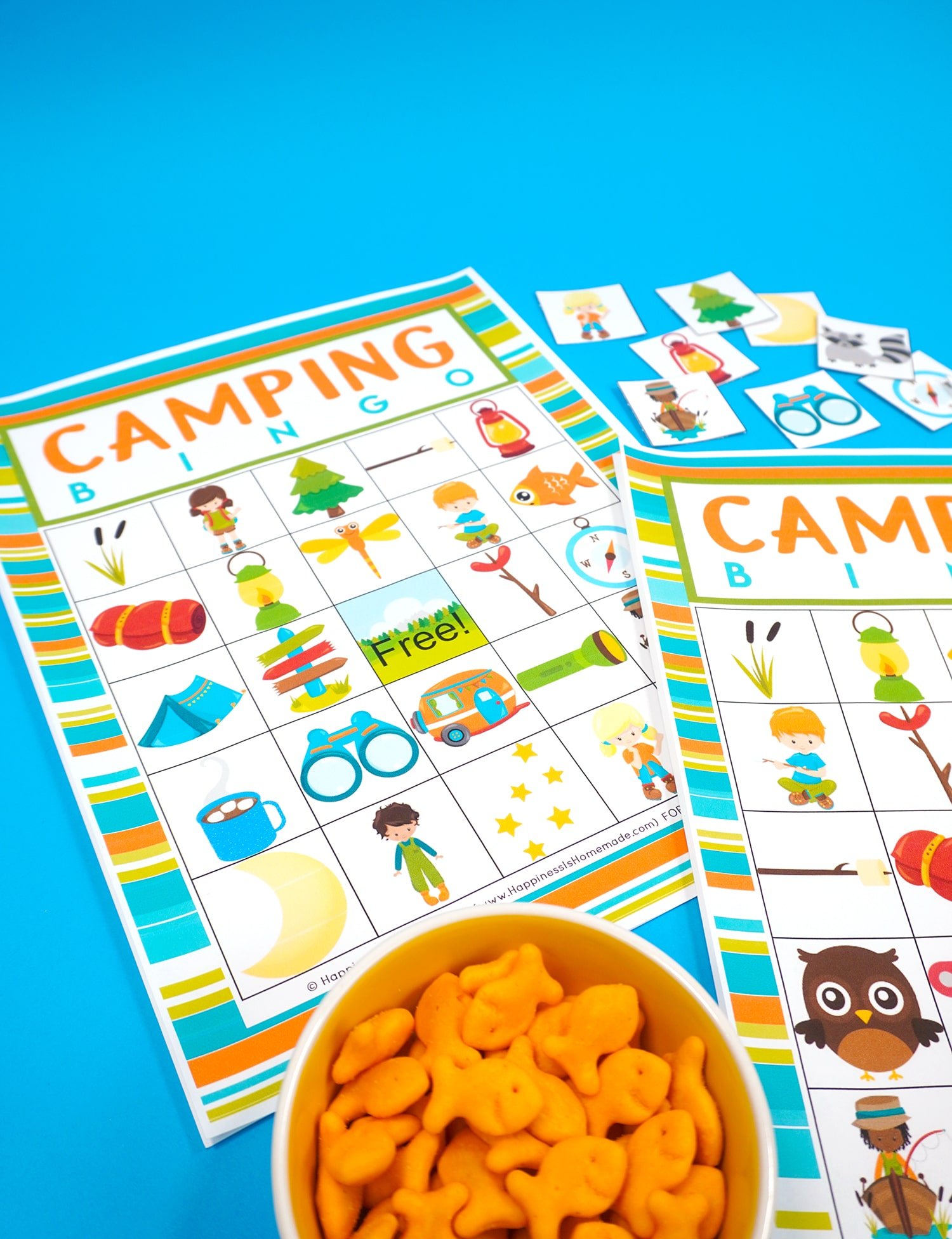 Blackout Bingo:
Blackout bingo follows the same rules as above, however, the winner of the game is the first person to cover ALL of the spaces on their game card and shout out "BINGO!"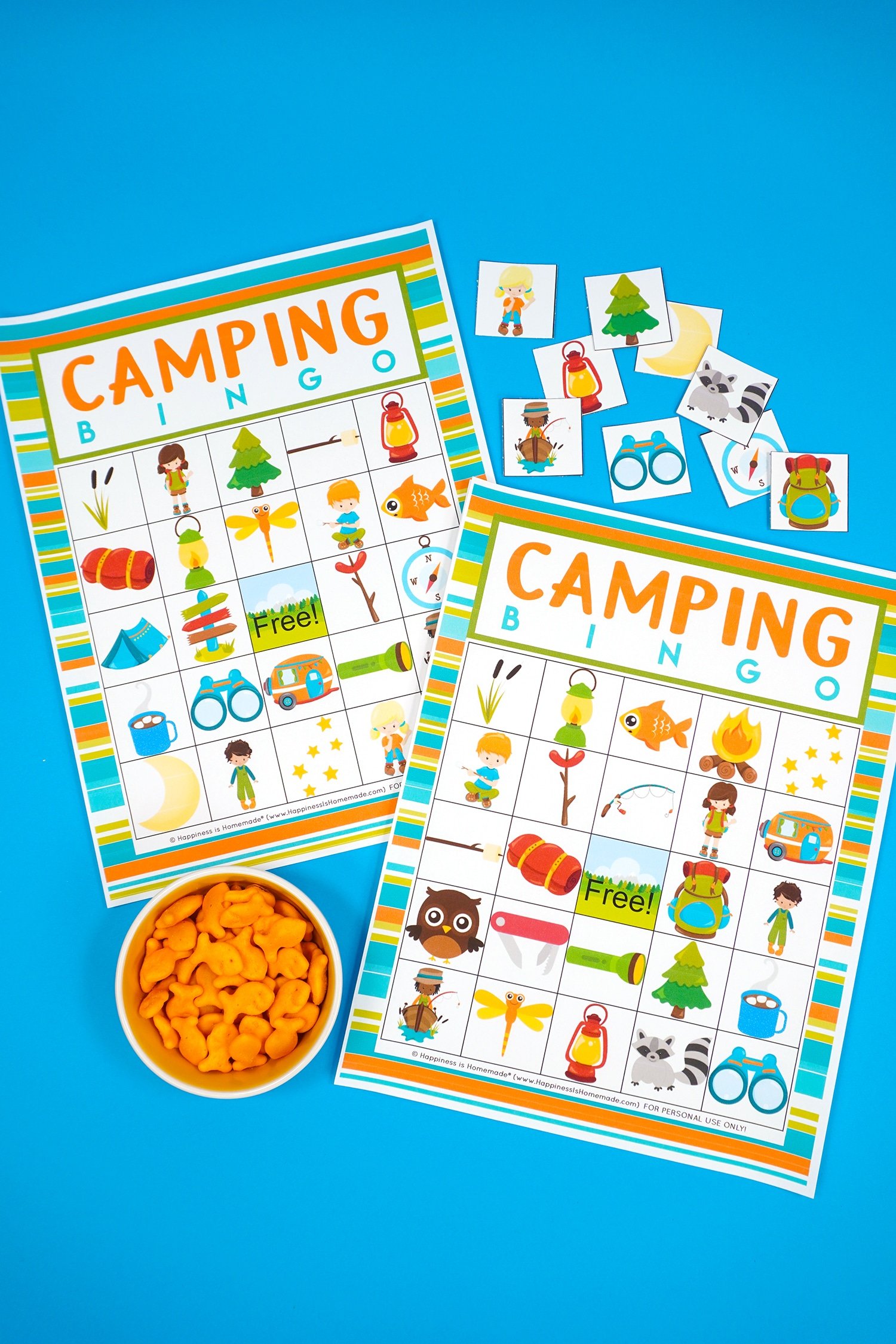 This bingo game is perfect for all ages and is a great evening activity to do at your campsite before bedtime! (We also love to play these Card Games for Kids!)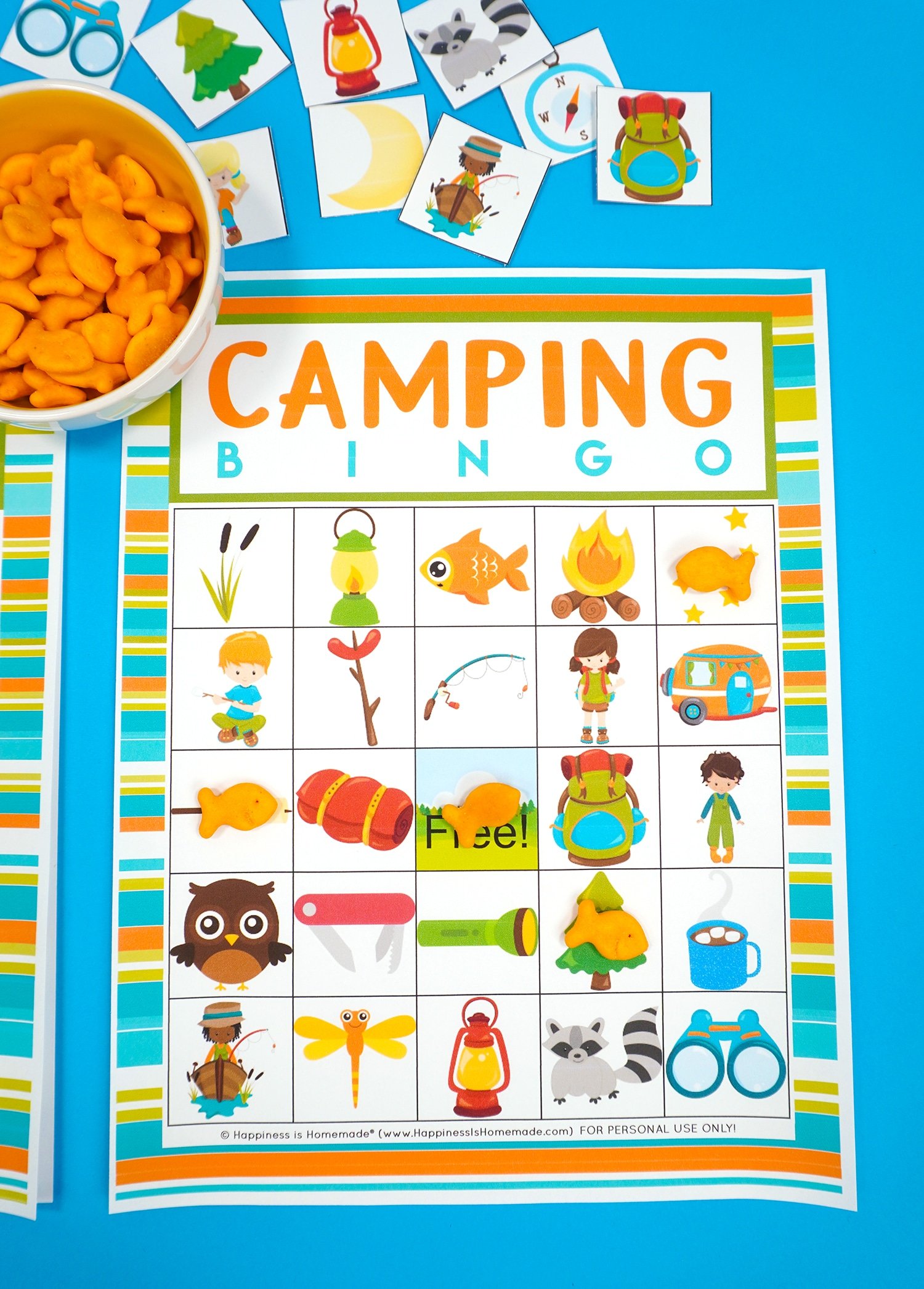 (Plus, those game board makers make a great after-dinner snack or dessert depending on what you use! My preference is mini marshmallows, but my kids LOVE Goldfish Crackers!)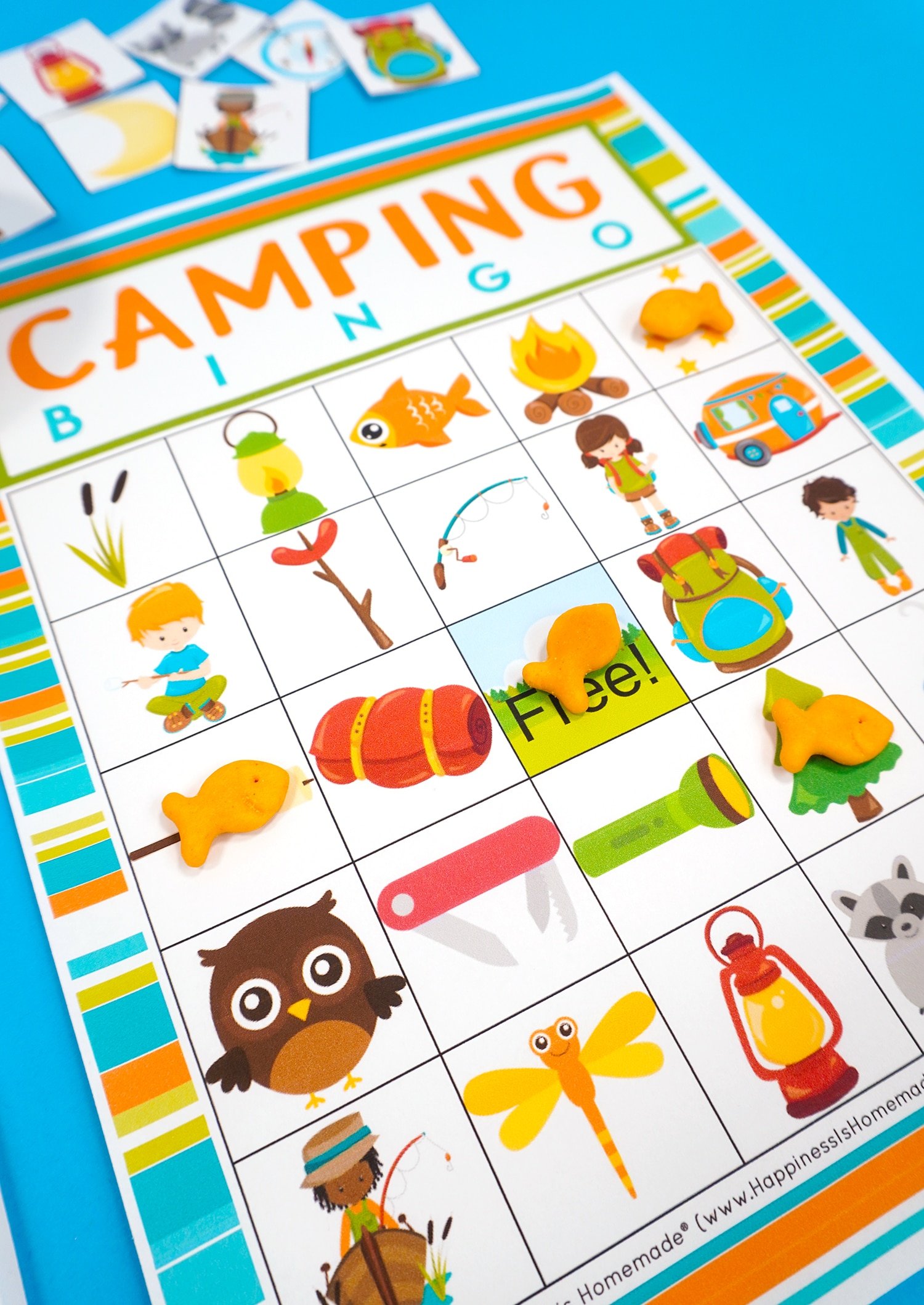 If you want to offer a prize for the winner, glowsticks, flavored marshmallows, and camping novelty socks are all fun ideas!
---
Download the Camping Bingo Printables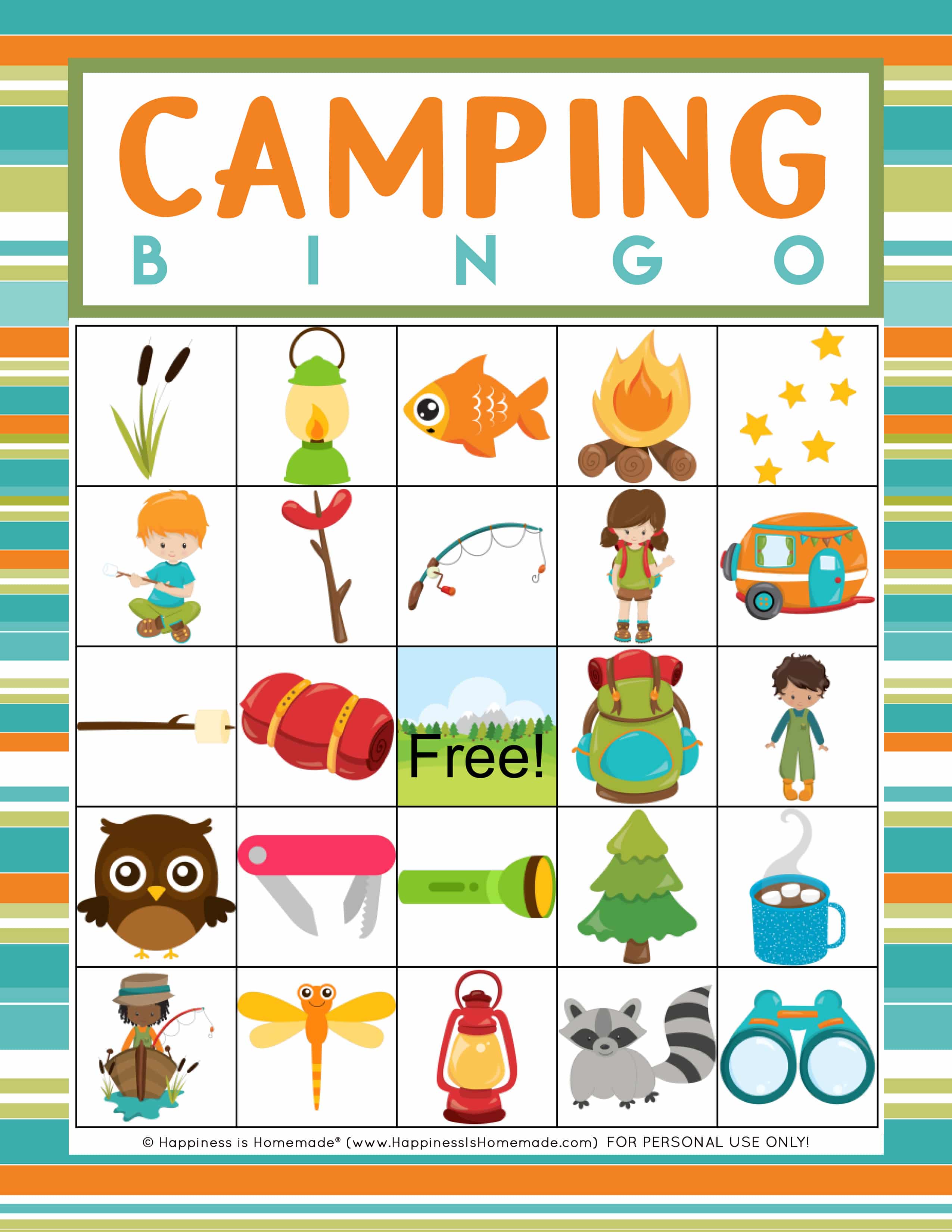 To get the Camping Bingo Printables, enter your name and email address into the form below and click the "Get It Now!" button!
File is for Personal Use Only! Read our full license terms here.
---
17 More Camping Printables
If you like my Camping Bingo Printables, you're going to LOVE these camping printables files from my Totally Free friends!
Click on the links below to be taken to the download page for each individual file: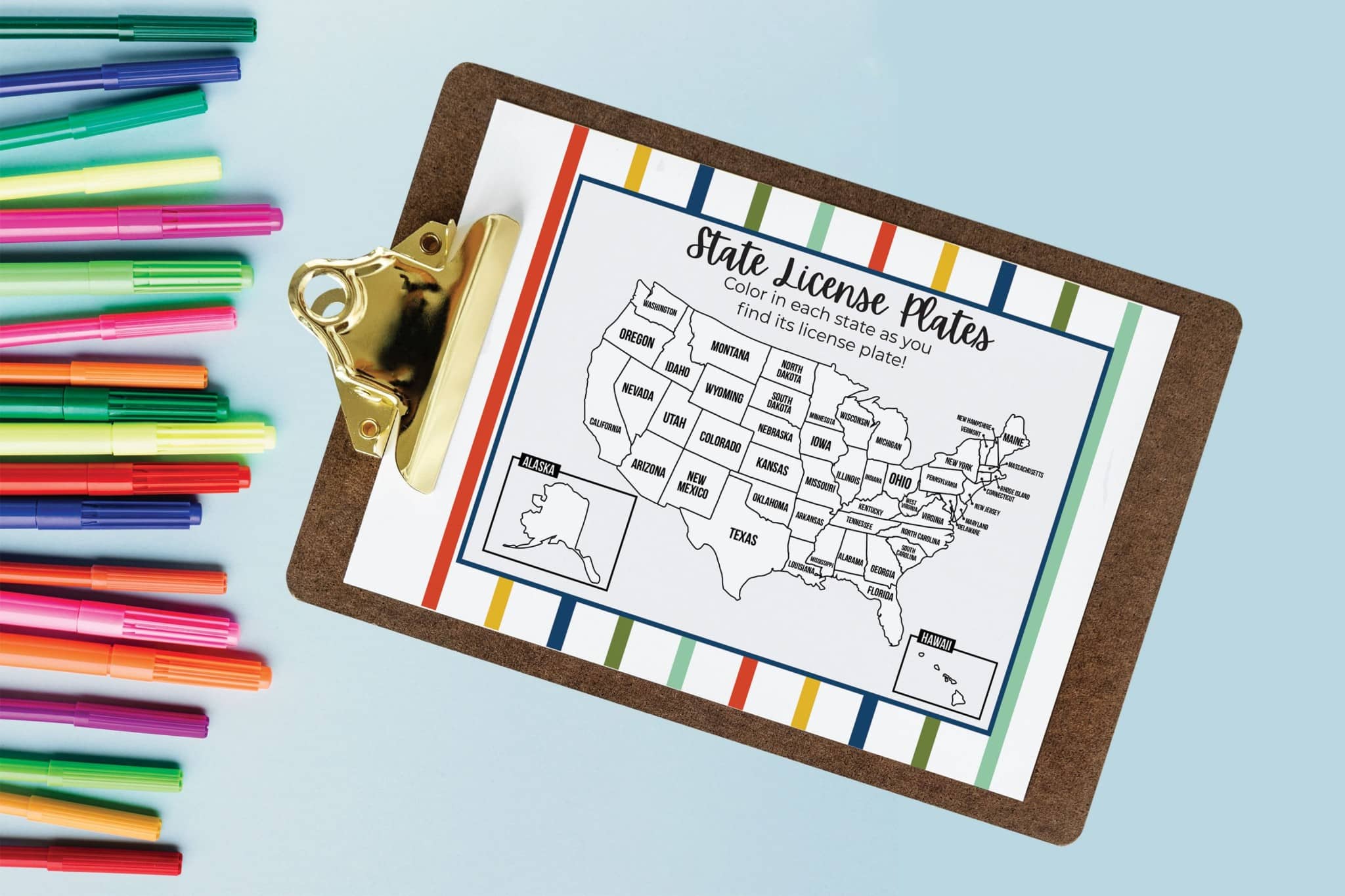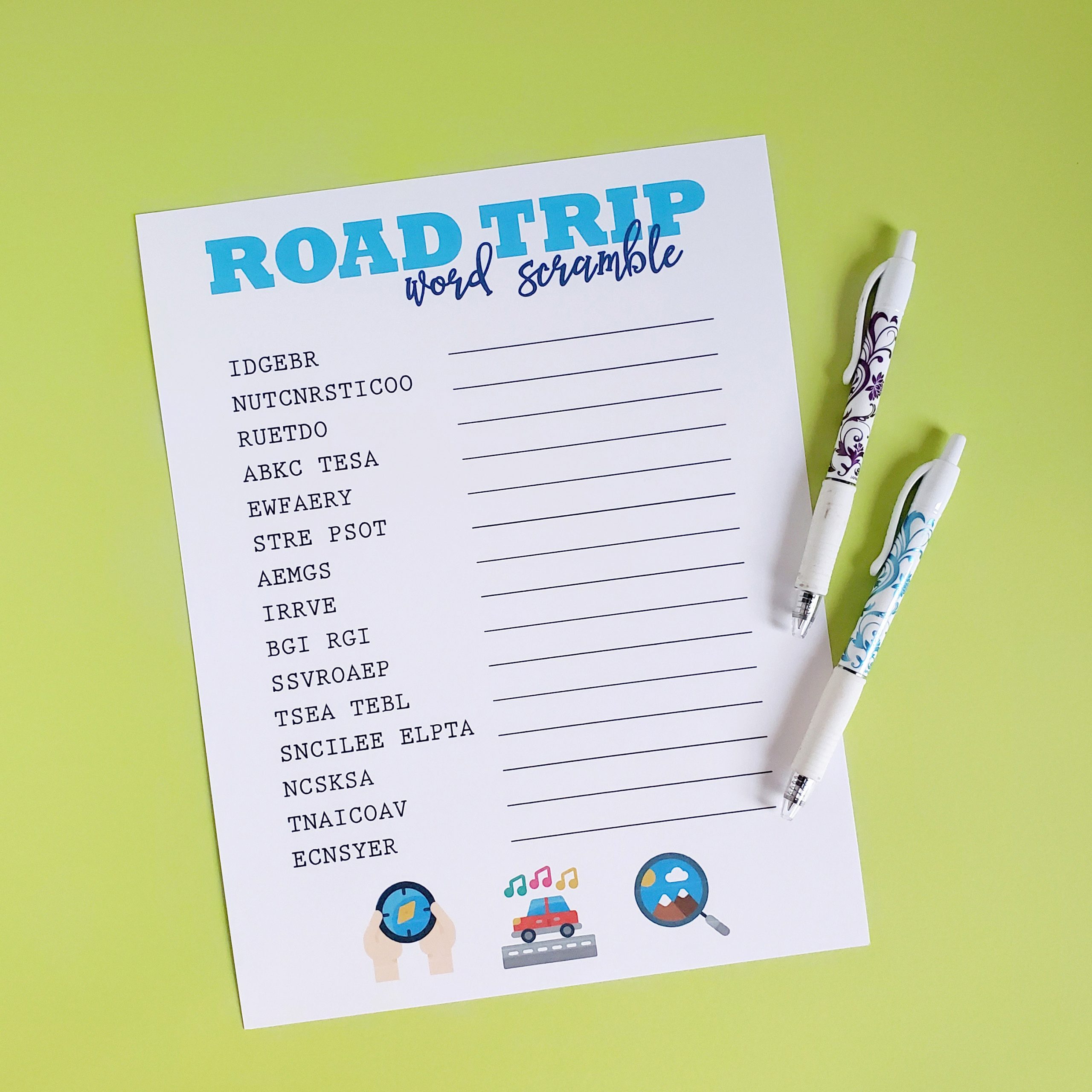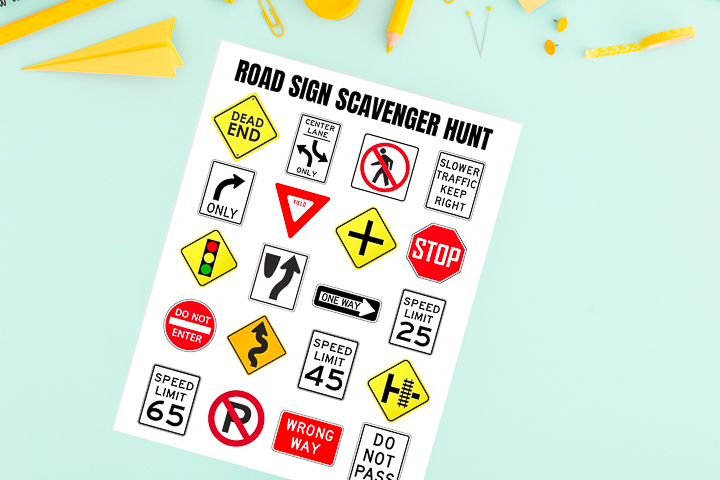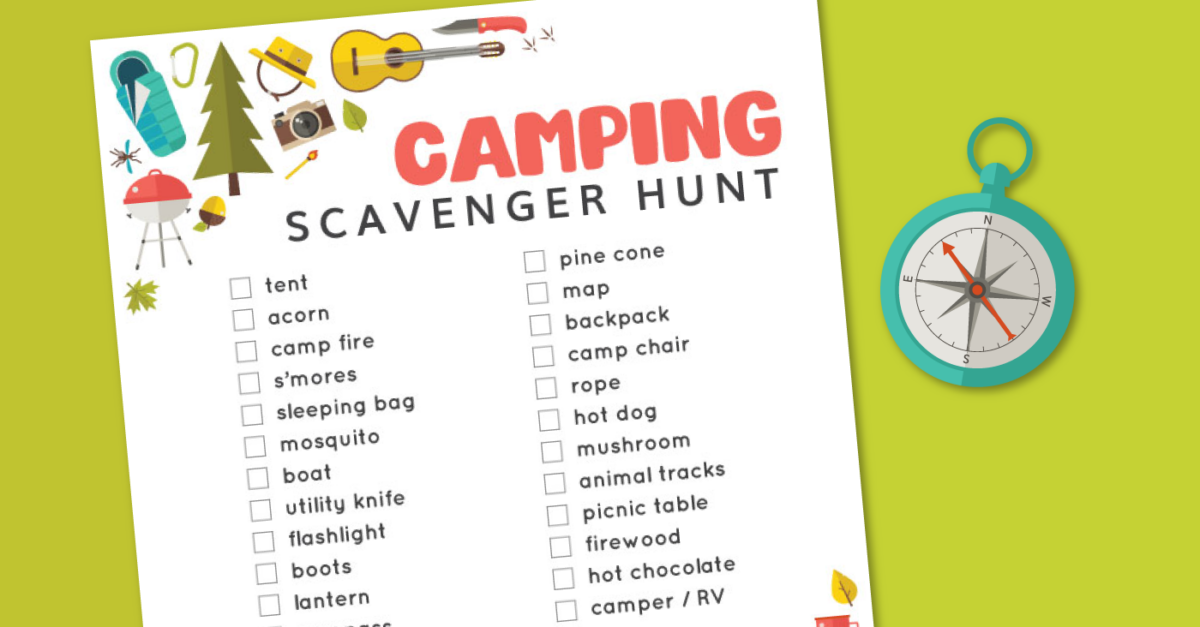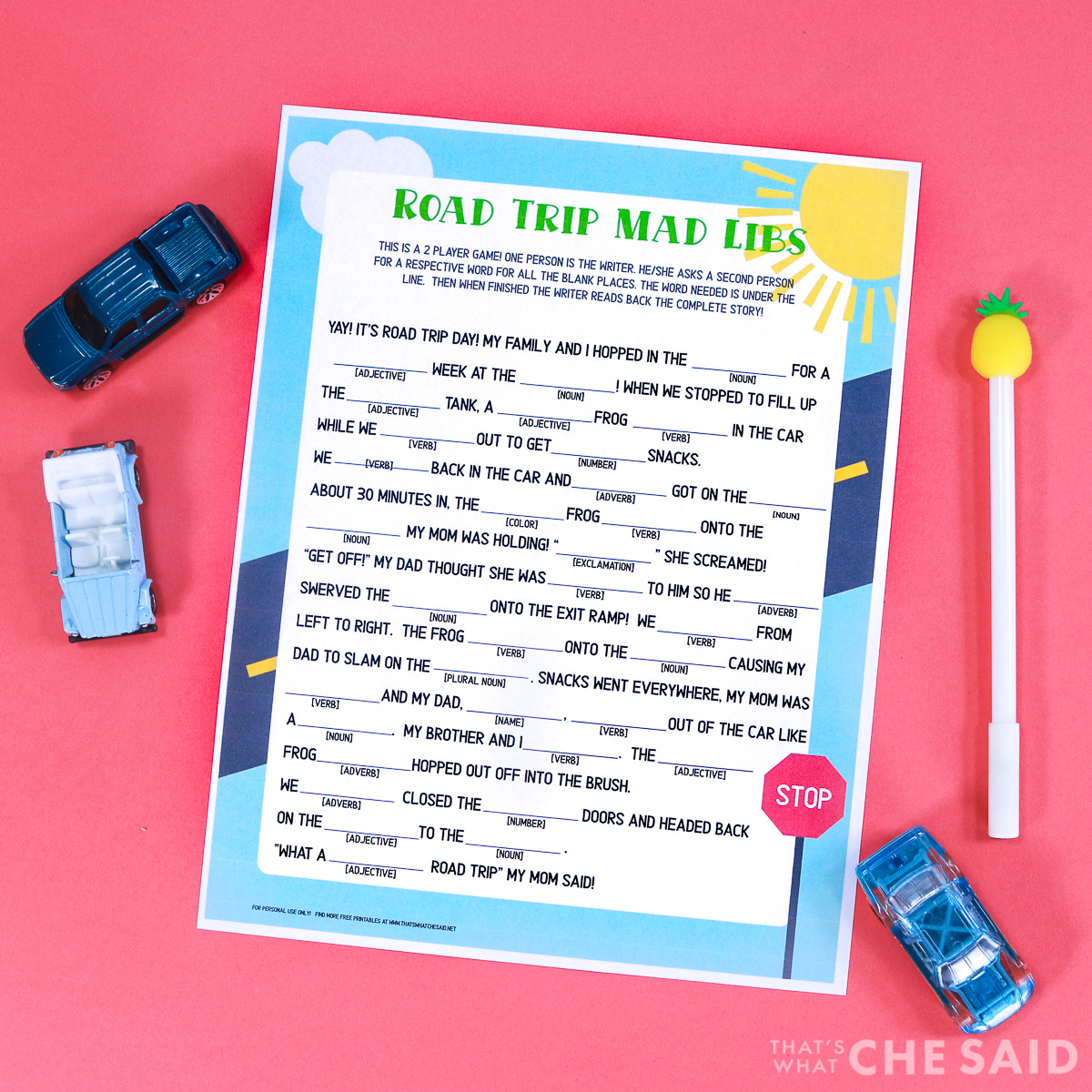 Happy camping and safe travels!

---
Want Even More Camping Games? Upgrade to our MEGA Camping Games Bundle – on SALE Now!
---
Check Out These Other Totally Free Printables Collections!
---
Pin This Camping Bingo for Later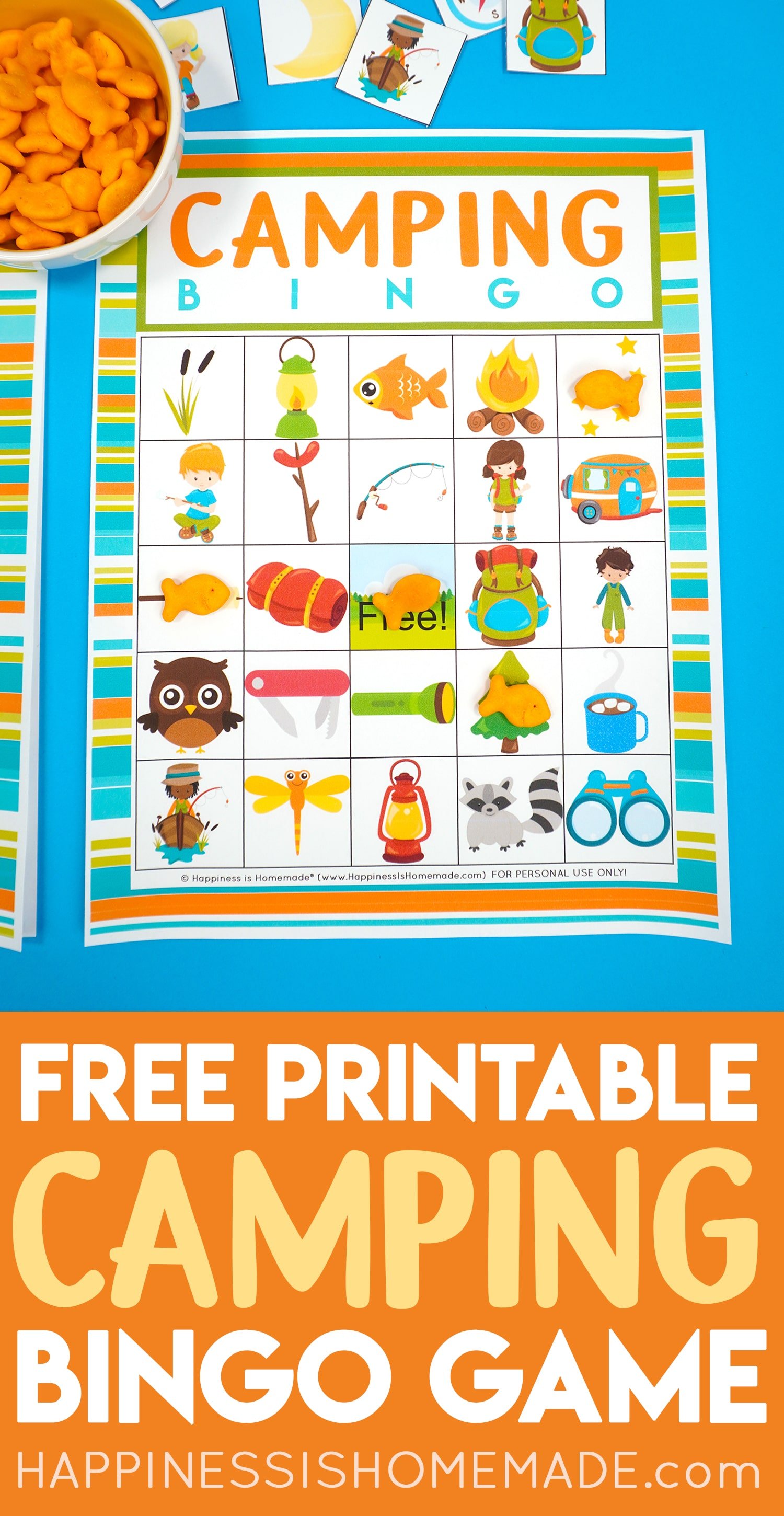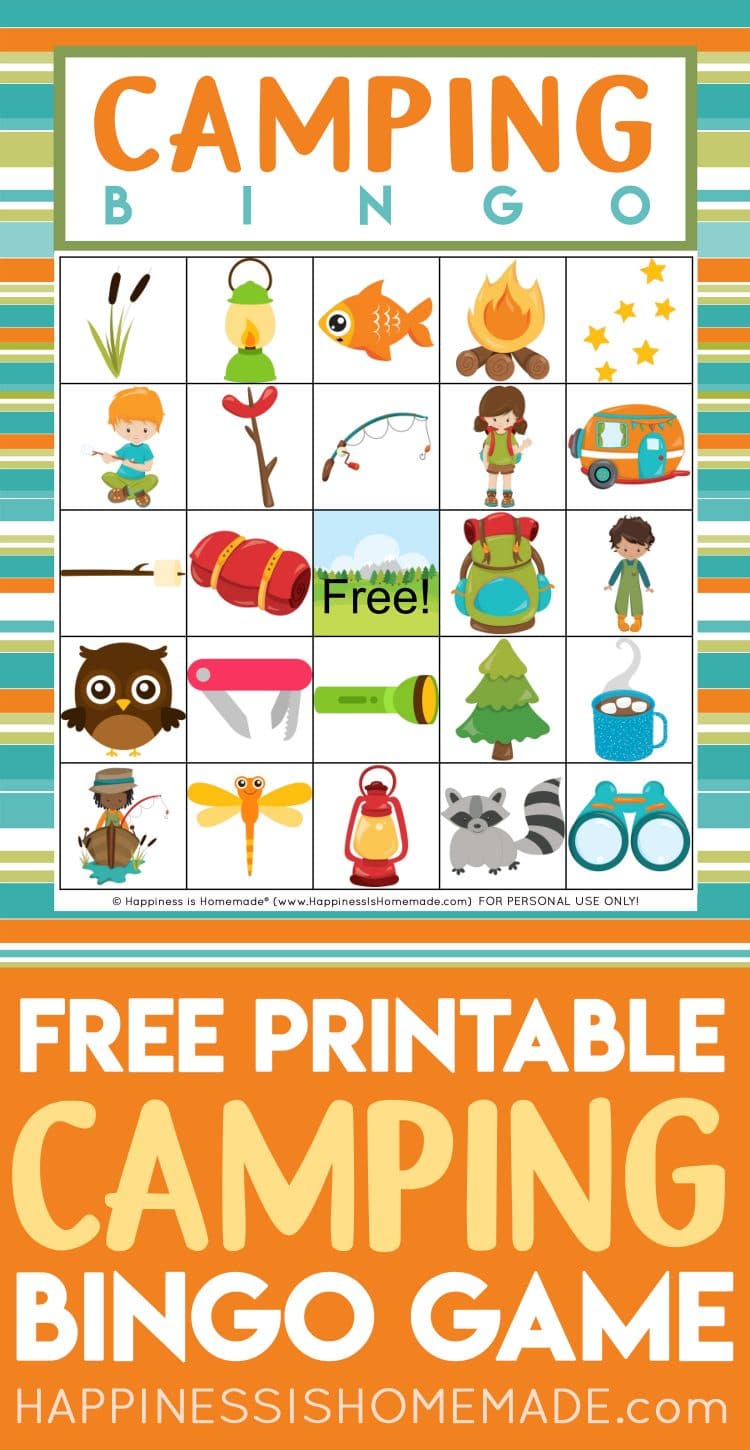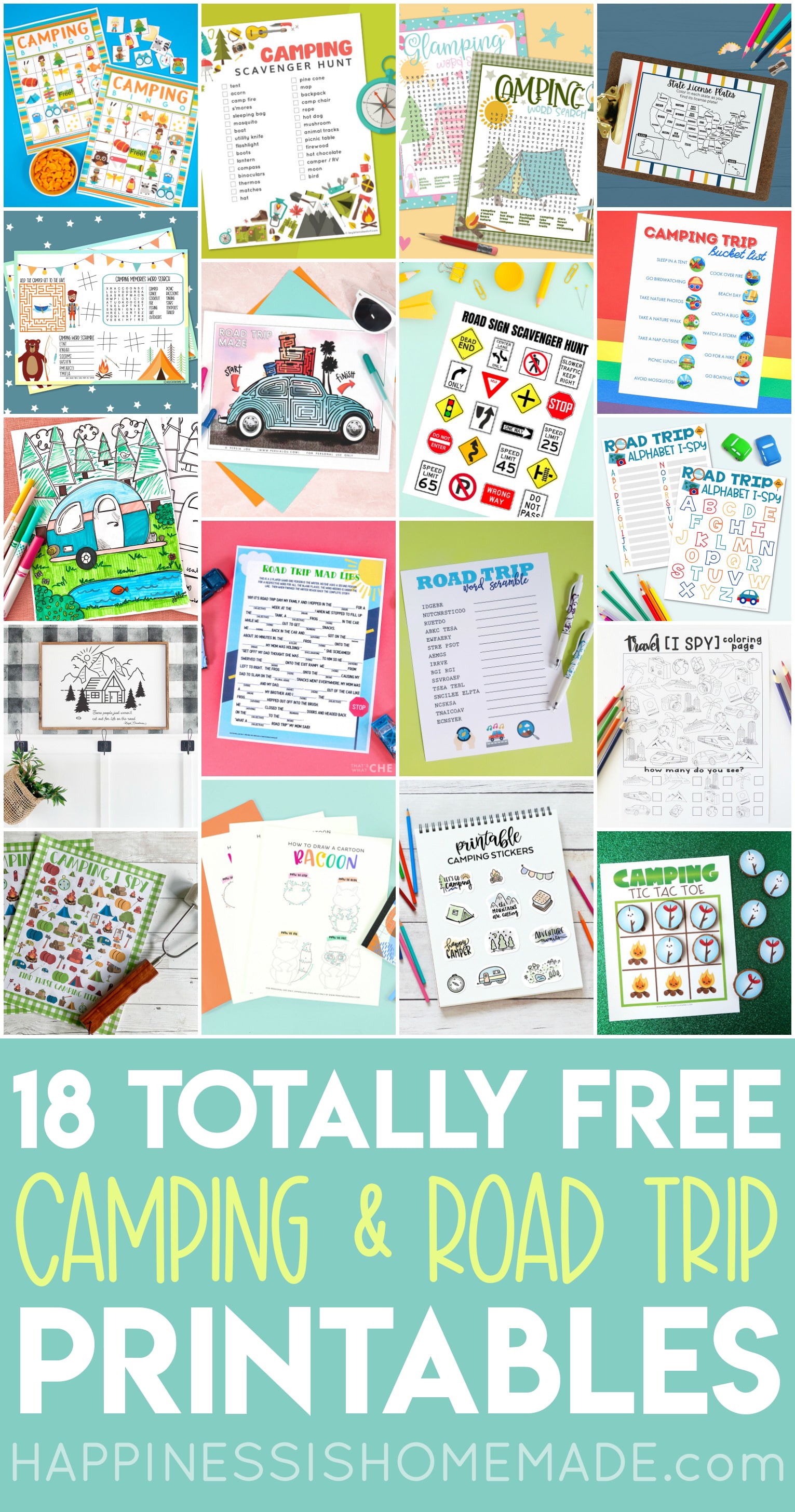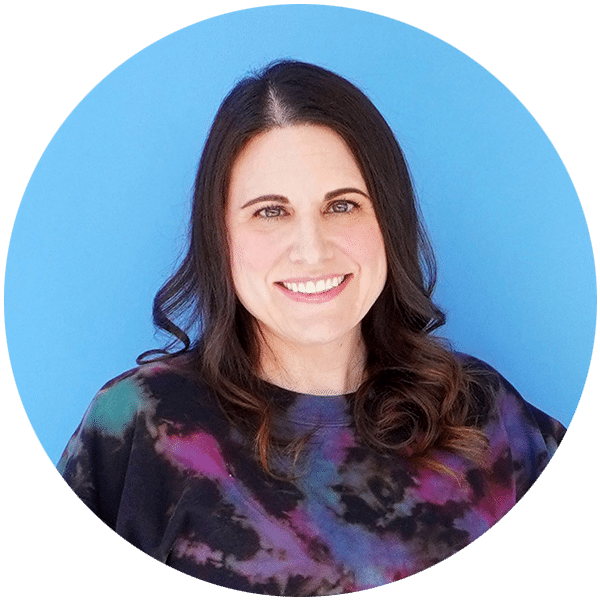 Heidi Kundin has captivated the hearts of millions with her colorful and inspiring approach to crafting, celebrations, and family fun. With over 15 years of experience, Heidi's website has become a must-visit destination for those seeking quick and easy creative ideas and last-minute solutions. Her warm personality shines through her posts, inviting readers to join her on a creative journey that's fun, rewarding, and achievable.