Free Thanksgiving Scavenger Hunt Printable
This post and its photos may contain affiliate links. As an Amazon associate I earn from qualifying purchases. If you make a purchase through these links, I may receive a small commission at no extra cost to you!
This free Thanksgiving Scavenger Hunt printable is a super fun activity for the entire family! The perfect no-prep Thanksgiving game for all ages – simply print and play!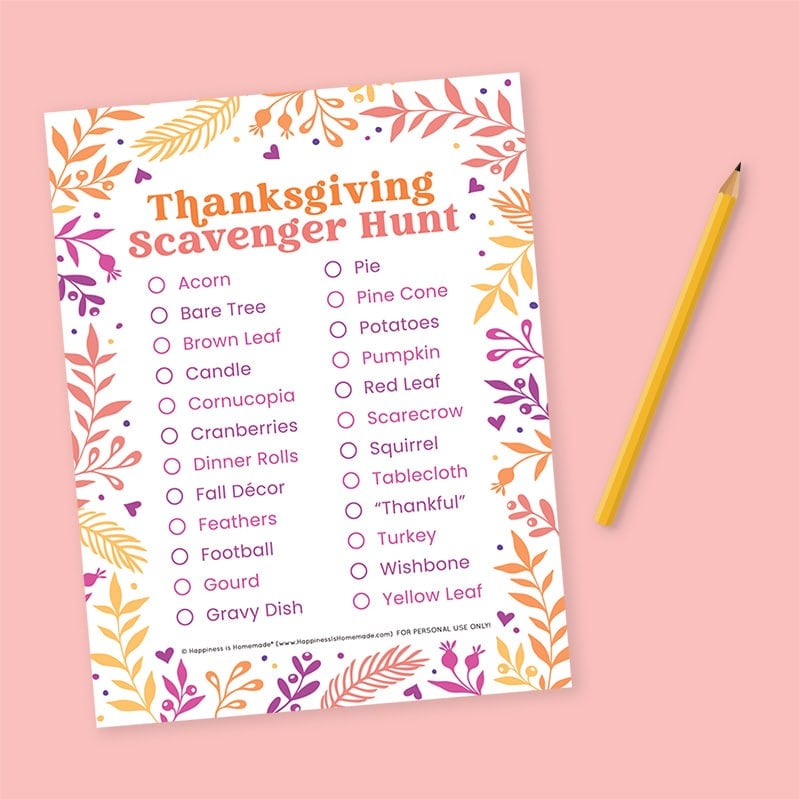 This post may contain affiliate links. I will receive a small commission from these sales at no additional cost to you!
Free Thanksgiving Scavenger Hunt Printable
Bring the food and the FUN this year with our Thanksgiving Scavenger Hunt. It's a fun Thanksgiving-themed search and find game that's a great way to keep the kids entertained while you're making dinner this year!
Be sure to scroll all the way to the bottom of this post for 12 more Totally Free Thanksgiving SVG files that I know you're going to love!
Free Printable Thanksgiving Scavenger Hunt
It's time to start planning those Thanksgiving menus, crafts, games, and activities for Thanksgiving Day! We've got you covered with our free printable Thanksgiving Planner, Thanksgiving craft ideas, and our collection of Thanksgiving game ideas including this brand new Thanksgiving scavenger hunt game! Get your copy below!
This fun Thanksgiving scavenger hunt is a great activity to keep the kids occupied before Thanksgiving dinner, and it's also the perfect after-dinner activity for the whole family! Burn off some of those dinner calories and avoid the tryptophan-induced sleepiness that often comes after the big Thanksgiving meal!
This fun scavenger hunt is perfect for kids of all ages, though little ones may need help from the older kids or adults reading some of the words.
---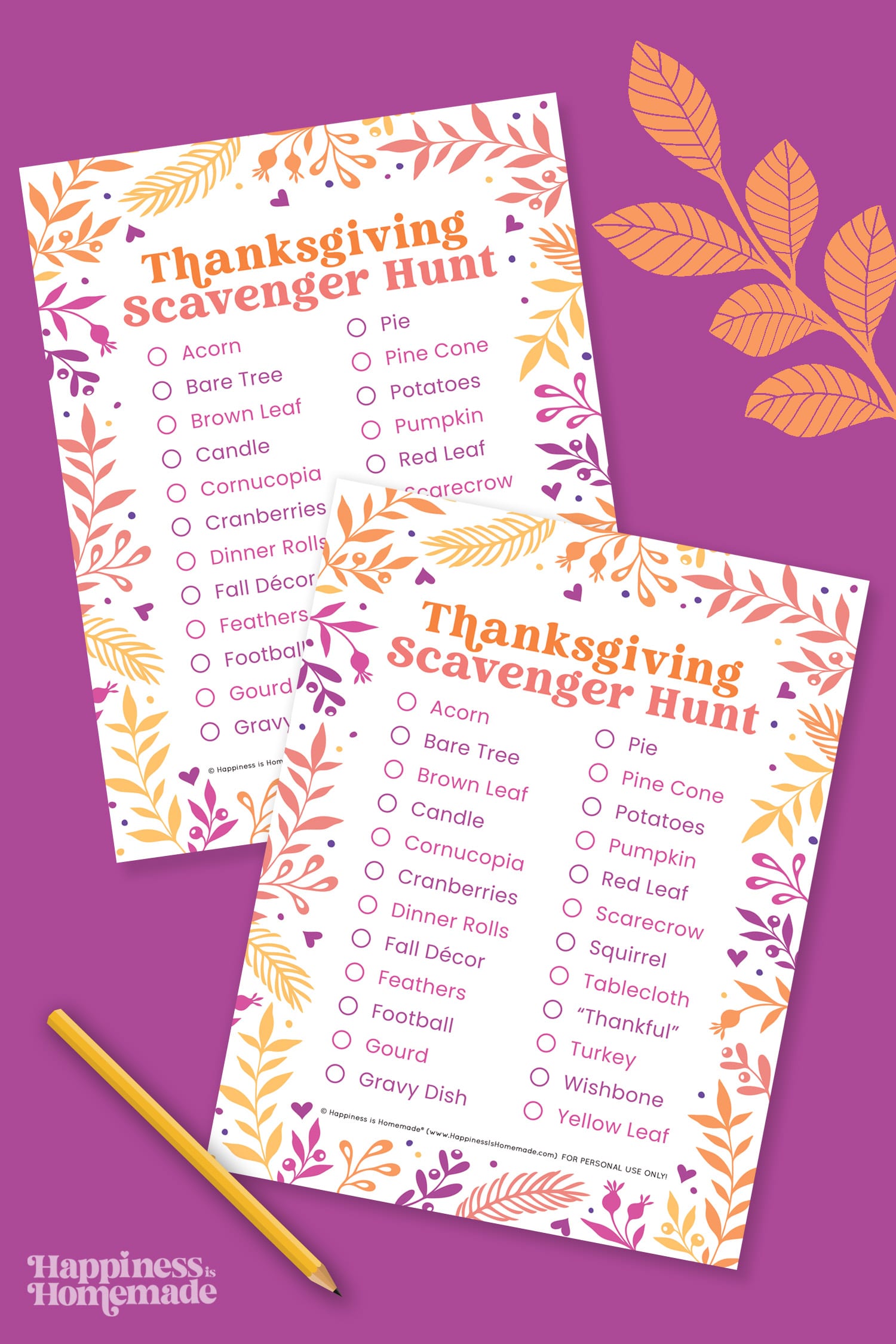 How to Play the Thanksgiving Scavenger Hunt Game
Provide each participant with the printable scavenger hunt checklist, a clipboard (optional, but highly recommended!), and a pen or pencil. Decide whether to play as individuals or in pairs (or even in small groups if you have a lot of people). If you have lots of younger kids present, let them buddy up with older children who can help them read the words, if necessary.
Send the kids through the house, into the yard, and around the neighborhood (with supervision, of course!) to discover and check each item off of their lists. Note: if you're experiencing bad weather on Thanksgiving Day, you can opt to print pictures of each item off of the internet and hide them around the house. This option still provides the fun of searching with the comfort of staying warm and dry inside!
There are two ways that you can choose to end the game and declare a winner:
1) The first team or player to find all of the items on the list and return to the original starting place wins.
2) Set a time limit and then gather back at the starting place to see who found the most items. The player or team with the most items checked off in the time allotted is the winner. (This method is preferable if you don't expect that your players will be able to find all of the items on the list)
In the event of a tie, we like to play a Thanksgiving Word Search or Thanksgiving Word Scramble game as a tie-breaker. The winner is the first to find all of the hidden words or unscramble all of the letters.
Tip: Make this Thanksgiving game even more fun and a little more challenging by having the players take photos of each item that they find. You can use the pictures to create a fabulous Thanksgiving Day collage later!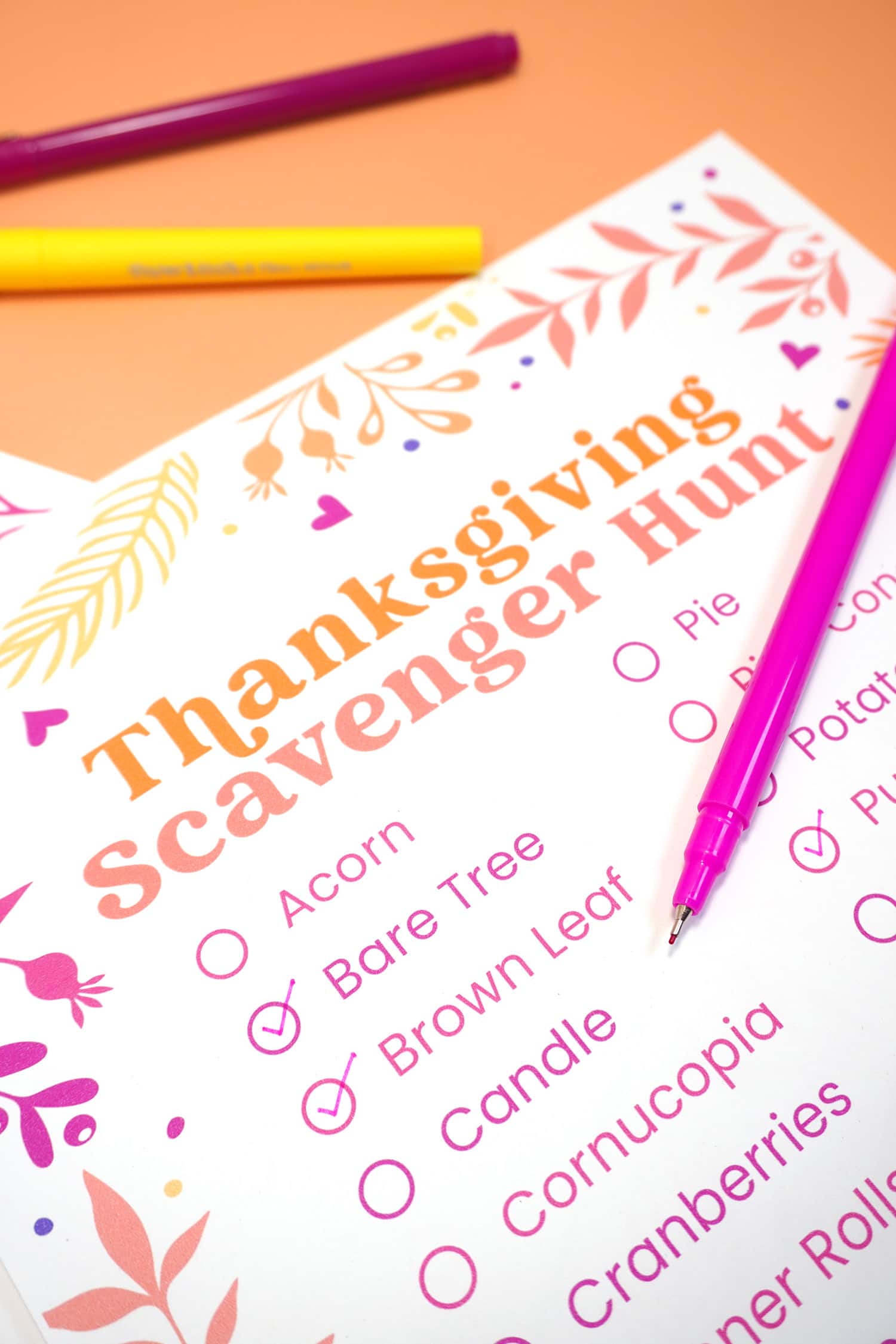 Thanksgiving Scavenger Hunt Prize Ideas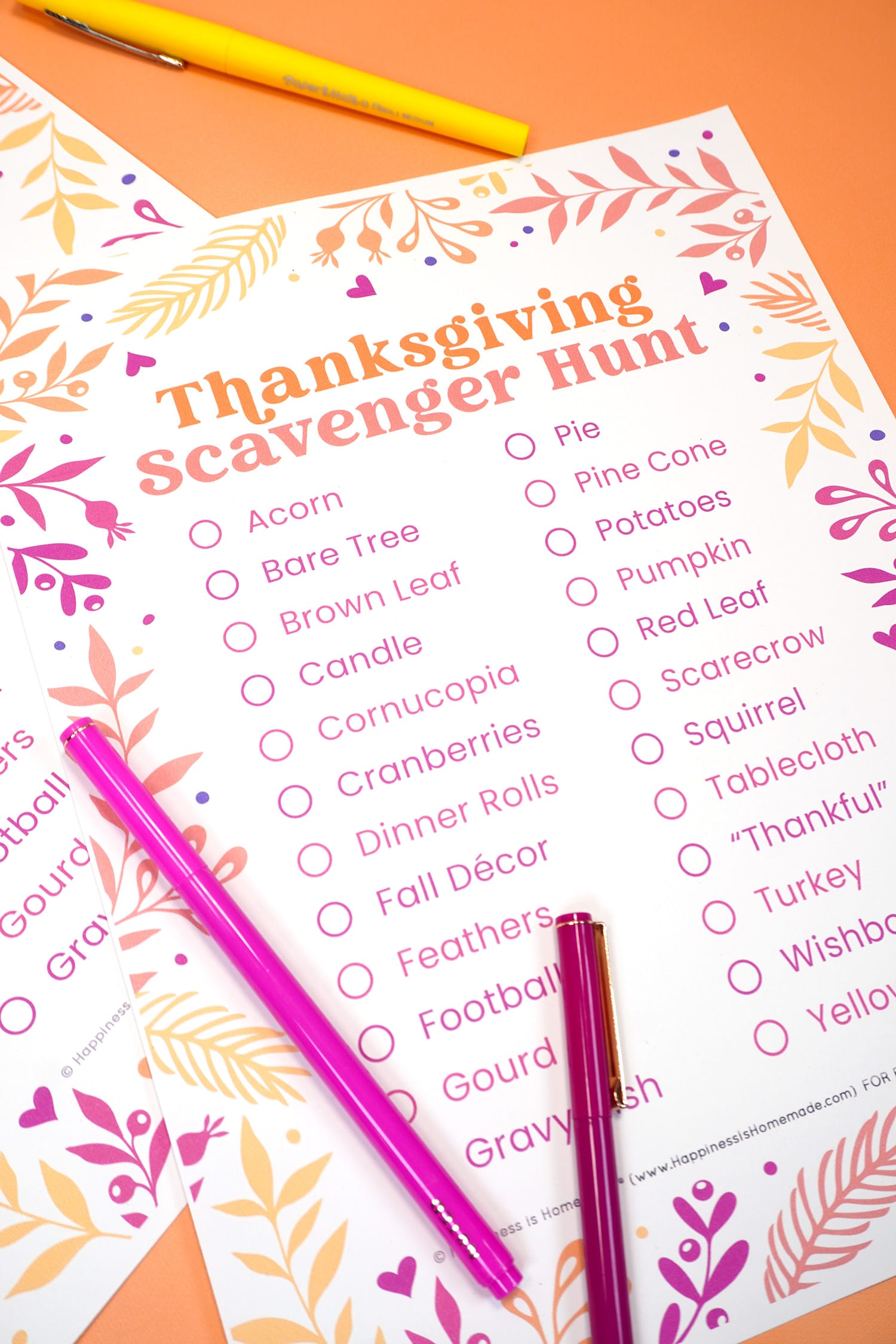 The list of words includes items that you may find outdoors in nature, indoors as holiday decorations, on the Thanksgiving dinner table, and even a "Thankful" clue that is left open to your interpretation – search for a literal "Thankful" written out somewhere, or be figurative in your interpretation and discover someone being thankful or something you're especially grateful for!
With so many different ways to play this scavenger hunt game, it is sure to become one of your favorite Thanksgiving activities and new family traditions!
---
Download the Thanksgiving Scavenger Hunt Printable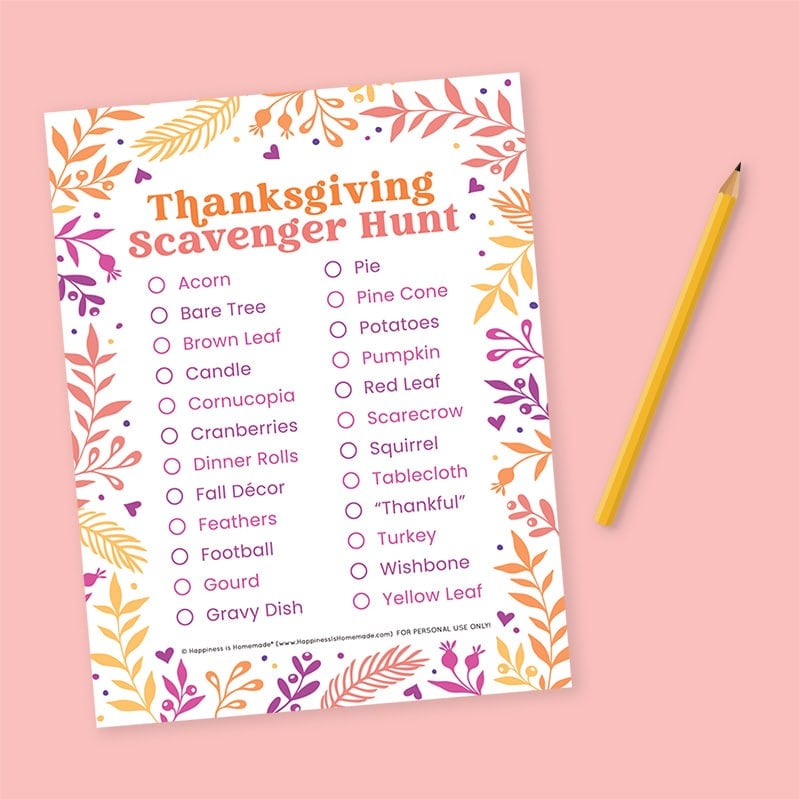 To get the Thanksgiving Scavenger Hunt Printable, enter your name and email address into the form below and click the "Get It Now!" button!
File is for Personal Use Only! Read our full license terms here.
---
12 More Thanksgiving Printables
If you like my Thanksgiving Scavenger Hunt Printable, you're going to LOVE these Thanksgiving printables from my Totally Free friends!
Click on the links below to be taken to the download page for each individual file:
Happy Thanksgiving holiday season!

---
Check Out These Other Fun Thanksgiving Games & Printables!
---
Don't Forget to Pin This Free Printable Thanksgiving Scavenger Hunt for Later!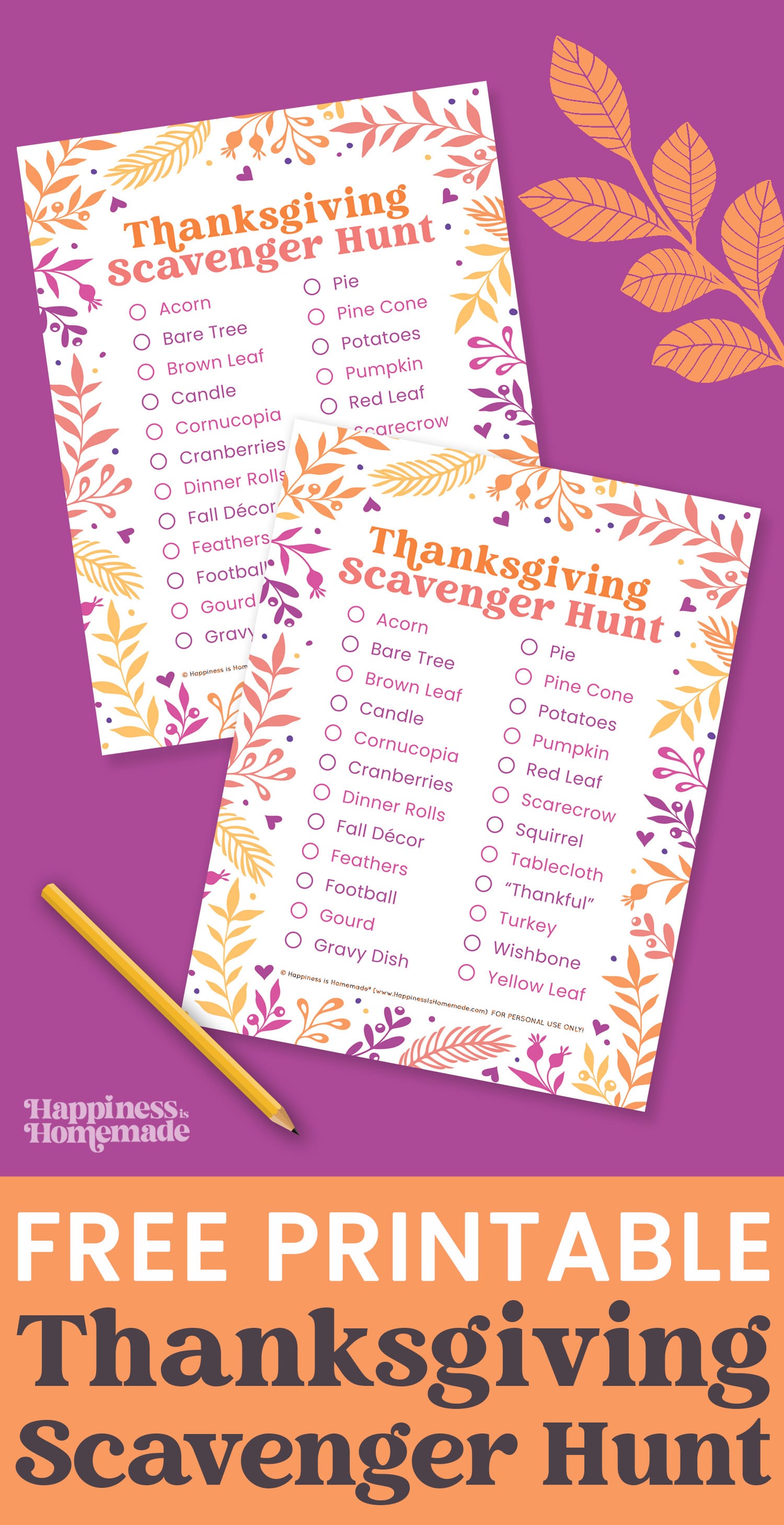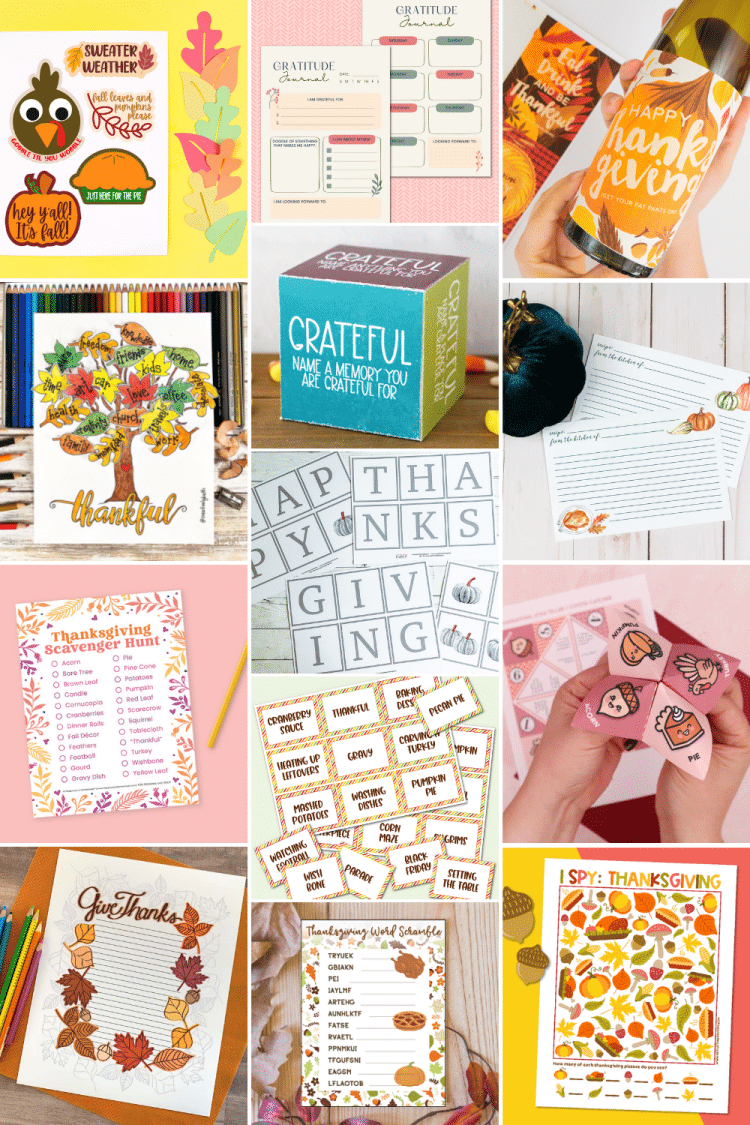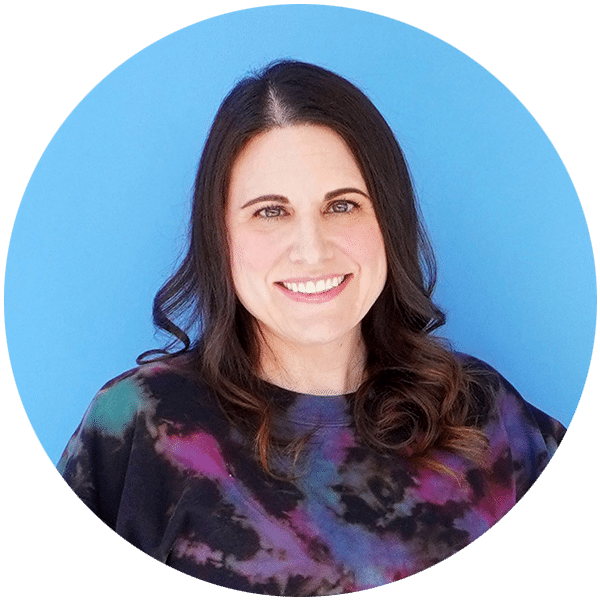 Heidi Kundin has captivated the hearts of millions with her colorful and inspiring approach to crafting, celebrations, and family fun. With over 15 years of experience, Heidi's website has become a must-visit destination for those seeking quick and easy creative ideas and last-minute solutions. Her warm personality shines through her posts, inviting readers to join her on a creative journey that's fun, rewarding, and achievable.