Ouija Board Halloween Sign + SVG
This post and its photos may contain affiliate links. As an Amazon associate I earn from qualifying purchases. If you make a purchase through these links, I may receive a small commission at no extra cost to you!
Ouija Board-Inspired Halloween Sign – Use our Halloween SVG file to create your own spooky spirit board Halloween sign with your Glowforge, Cricut, or Silhouette machine!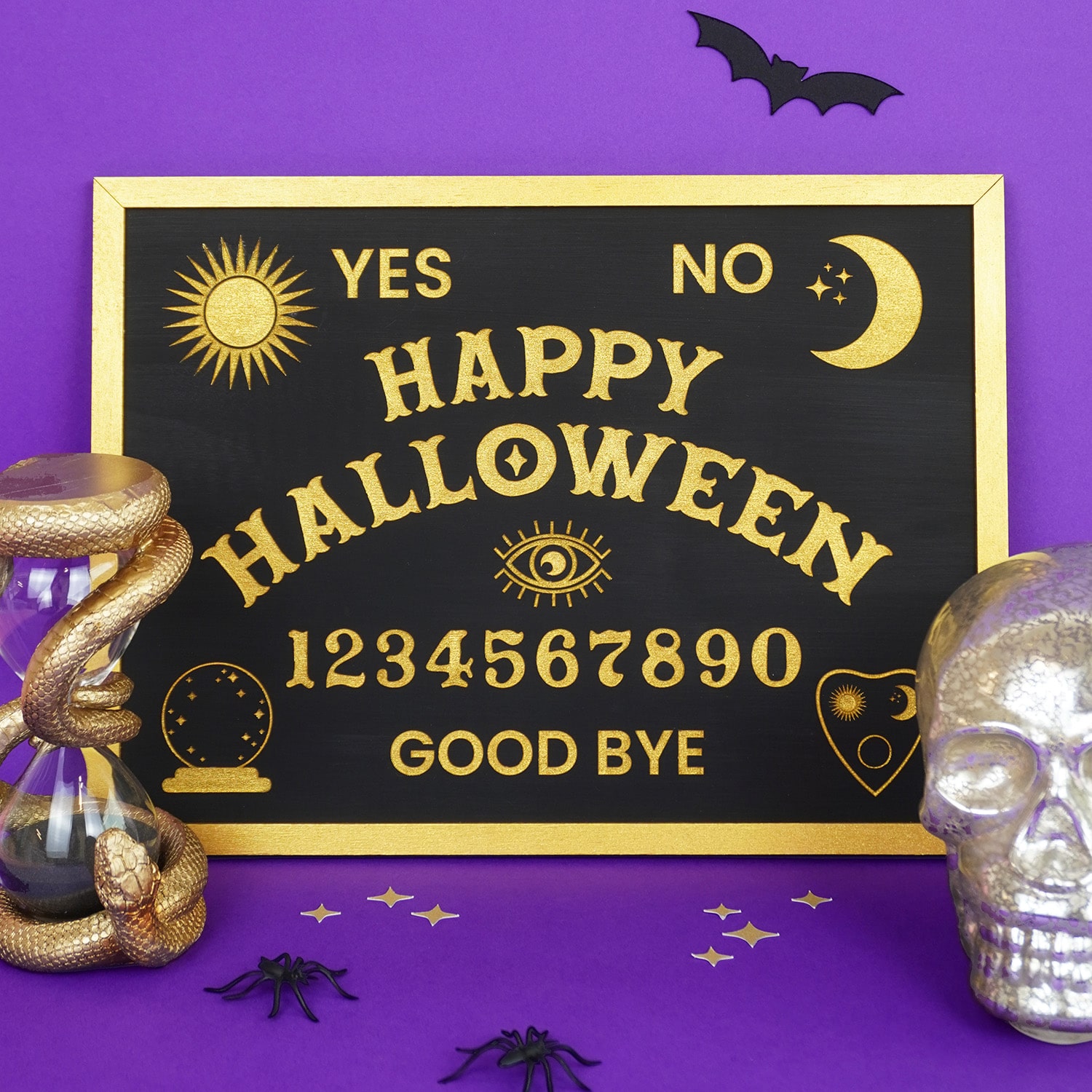 This post may contain affiliate links. I will receive a small commission from these sales at no additional cost to you!
Spooky Season is here, and I am loving it! This year, I opted for Halloween decorations that have a "vintage mystic" vibe to them – crystal balls, gilded snakes, palmistry charts, moon phases, and this SUPER cool Ouija-board inspired sign that I designed especially for the occasion.
I created my Halloween sign by engraving a sheet of wood with my Glowforge Pro; however, you could also use this file with your Cricut or Silhouette machine, too! When using a Cricut or Silhouette, cut the design from adhesive or iron-on vinyl and apply it to a blank wooden sign base.
Check Out These Other Awesome Halloween Posts!
---
Ouija Board Inspired Halloween Sign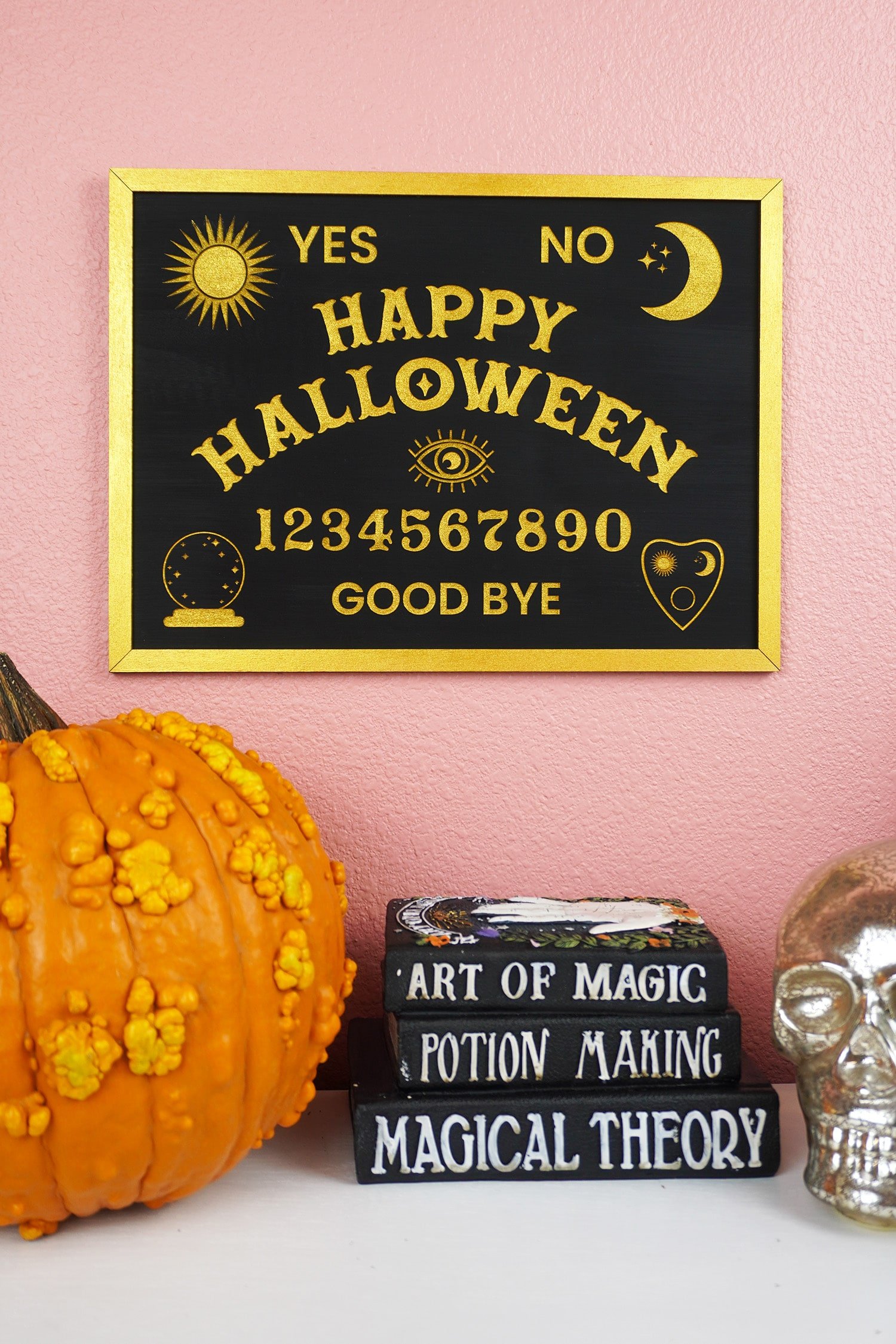 Note: the following tutorial is for creating an engraved Halloween sign with a Glowforge machine, but you can use this SVG with other machines and materials, too! (Learn How to Use Iron-On on Wood and How to Make a Metal Sign here!)
Supplies Needed:
NOTE: Filler primer is optional, but highly recommended for the smoothest finish and best results!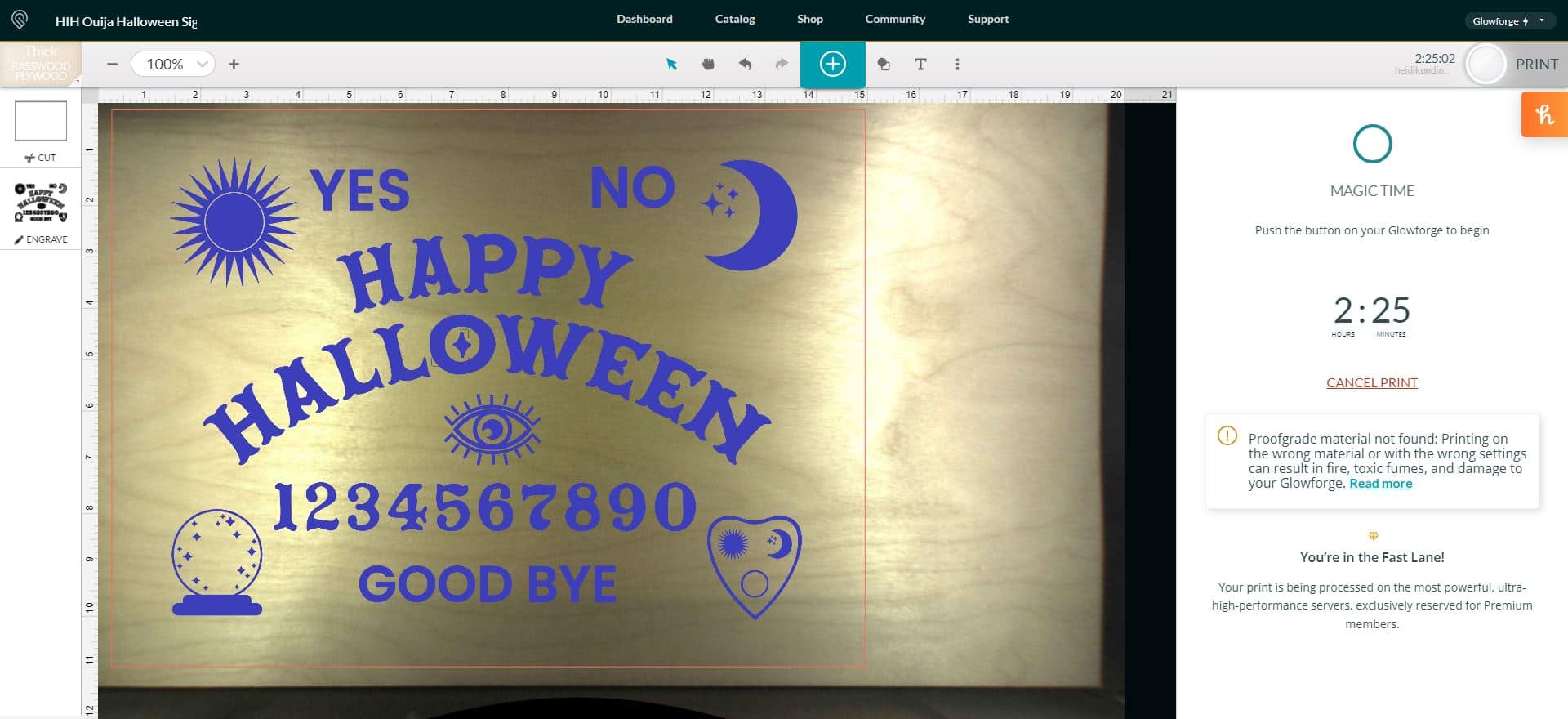 To begin, paint your sheets of wood with filler primer, if desired, and sand smooth. Paint the wood in your desired background color (we used black). When the paint is completely dry, mask the wood with paper masking tape.

Open the Glowforge Print App software, and upload the Halloween sign SVG file. Set the outer rectangle to cut and the inner design to engrave. Set the focus in the center of your design to set the material height, and then click the "Print" button in the upper right hand corner.
Press the flashing button on your Glowforge machine, and watch the magic happen! ✨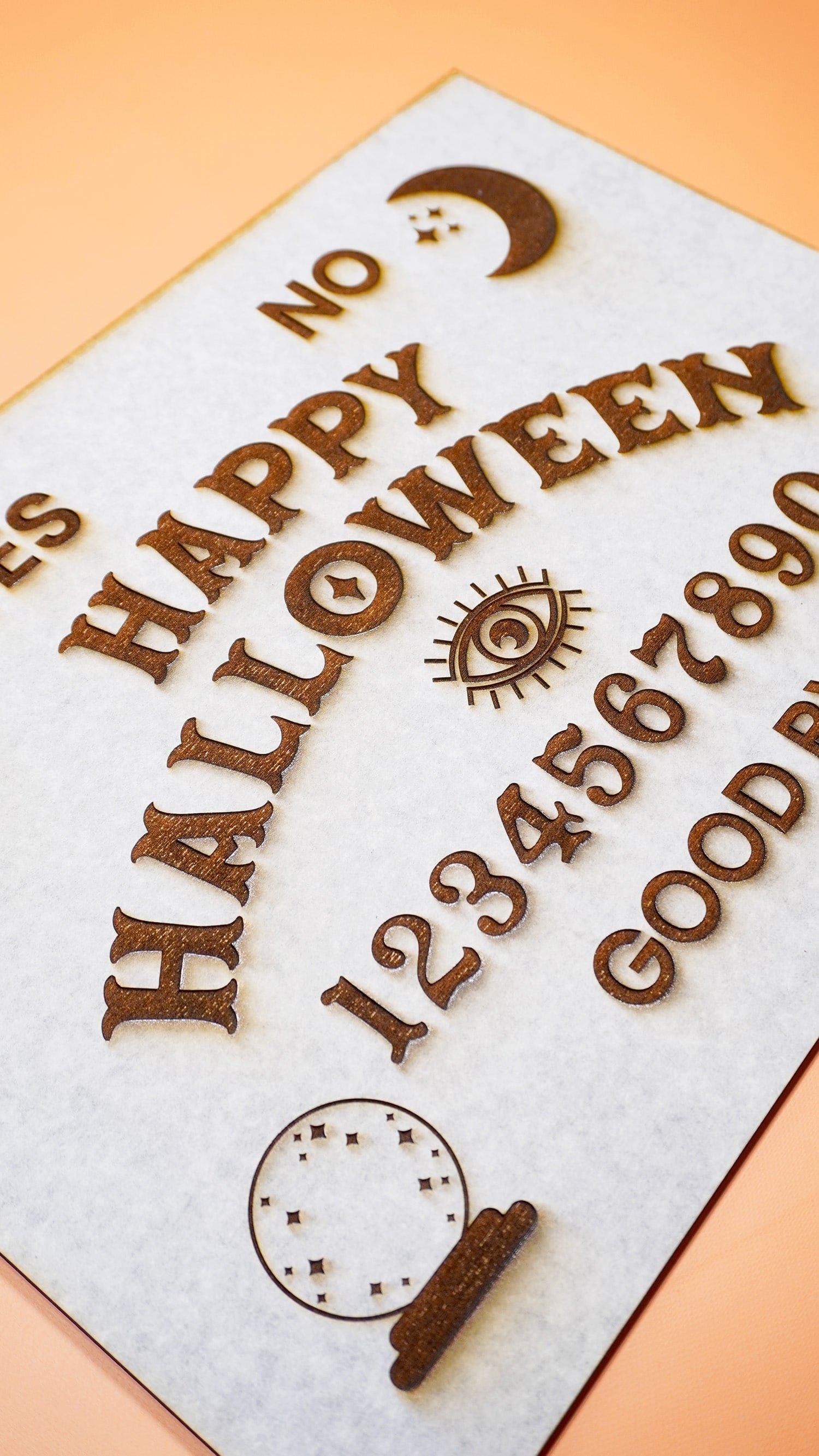 For my Ouija board-inspired Halloween sign, I chose to engrave the design into a single sheet of 1/4″ Birch wood, but you could also opt to cut out the design from a second sheet of 1/8″ wood or acrylic and layer it on top of the first sheet. There are LOTS of fun design possibilities with this SVG file!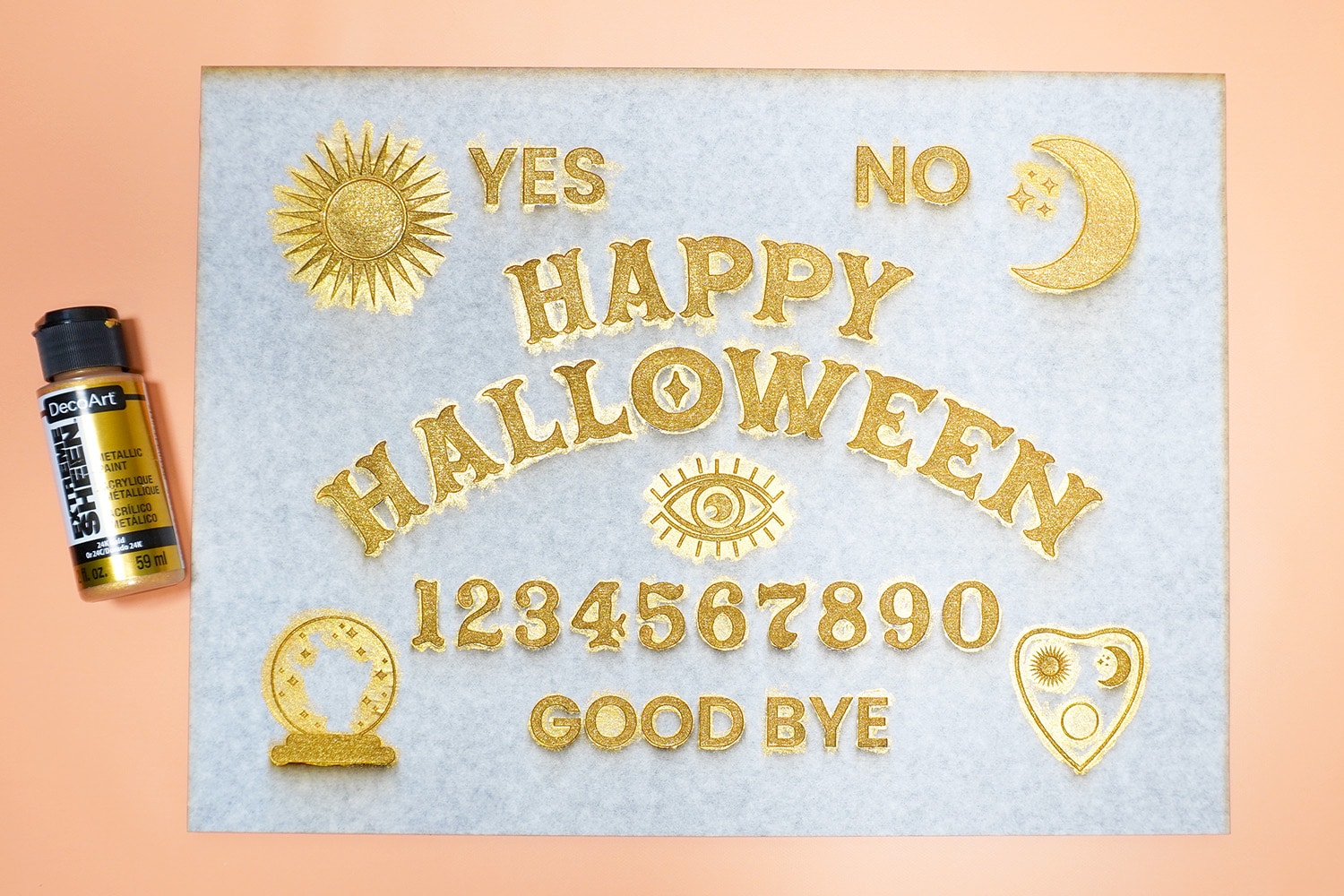 I wanted to dress up my engraving, so while the masking was still on the sign, I used a small paintbrush to add two coats of gold paint detail to the engraving. This Extreme Sheen 24k Gold paint from DecoArt worked really well!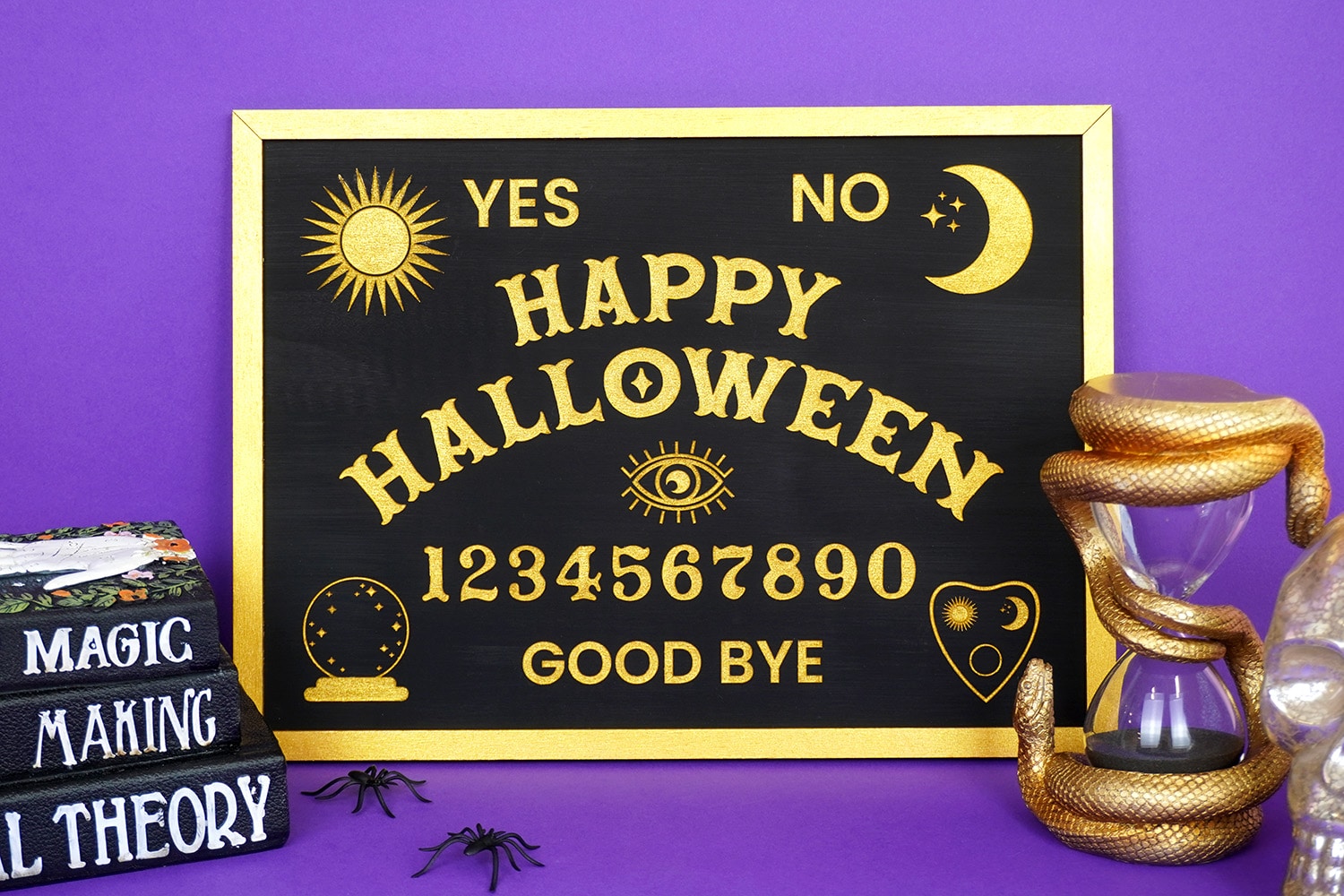 Allow the gold paint to dry about half-way, and then peel off the masking to reveal the finished design. Cut the frame pieces out of a sheet of 1/8″ wood or MDF, paint, and attach to the sign.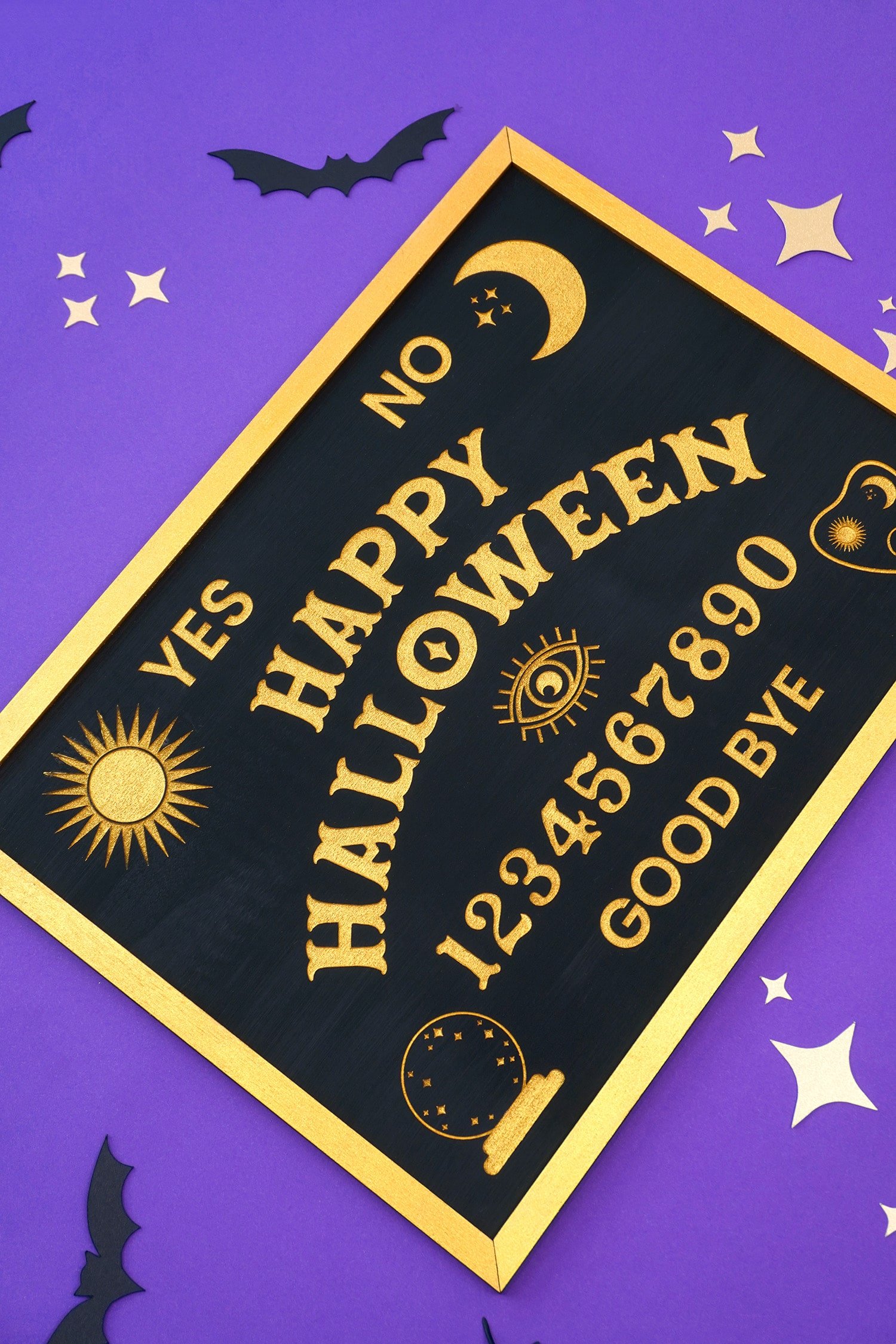 The way that the gold paint combines with the texture of the engraving gives the piece a "glittery" metallic finish that's reminiscent of brushed metal – it's super cool!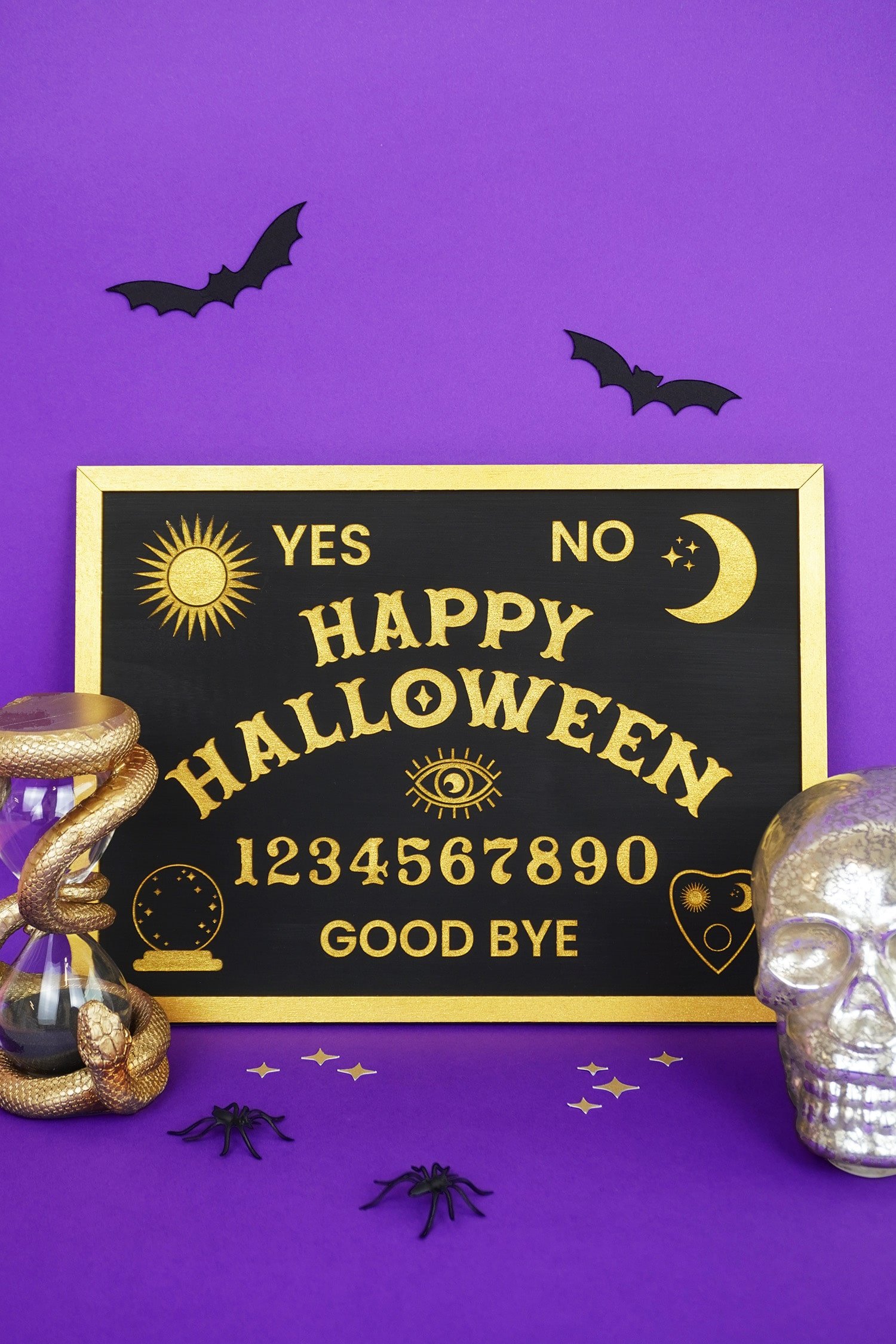 ---
Get the Ouija Board-Inspired Halloween SVG File Here:
---
I can't wait to see all of the Halloween signs that you create! Feel free to tag us on social media @hiHomemadeBlog so we can check it out!

---
Check Out These Other Halloween Ideas!
Don't Forget to Pin This for Later!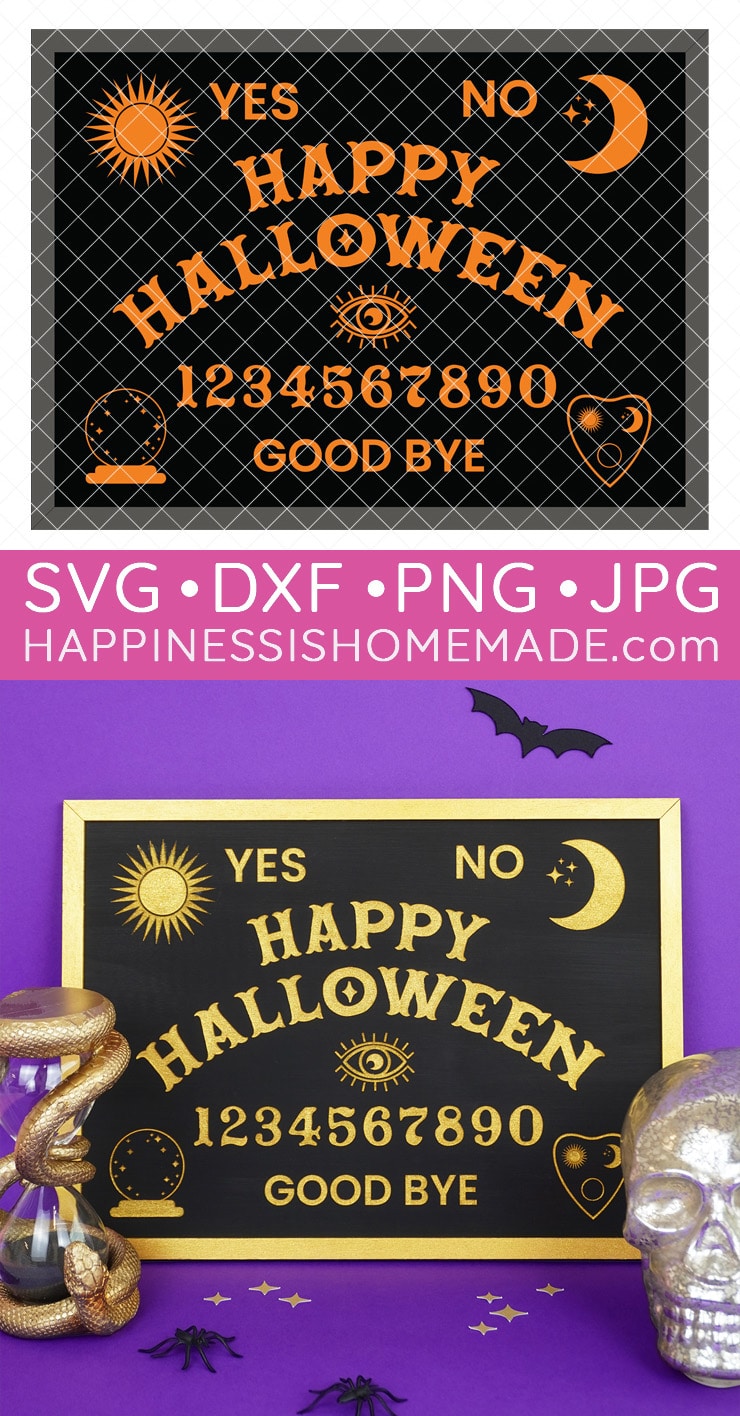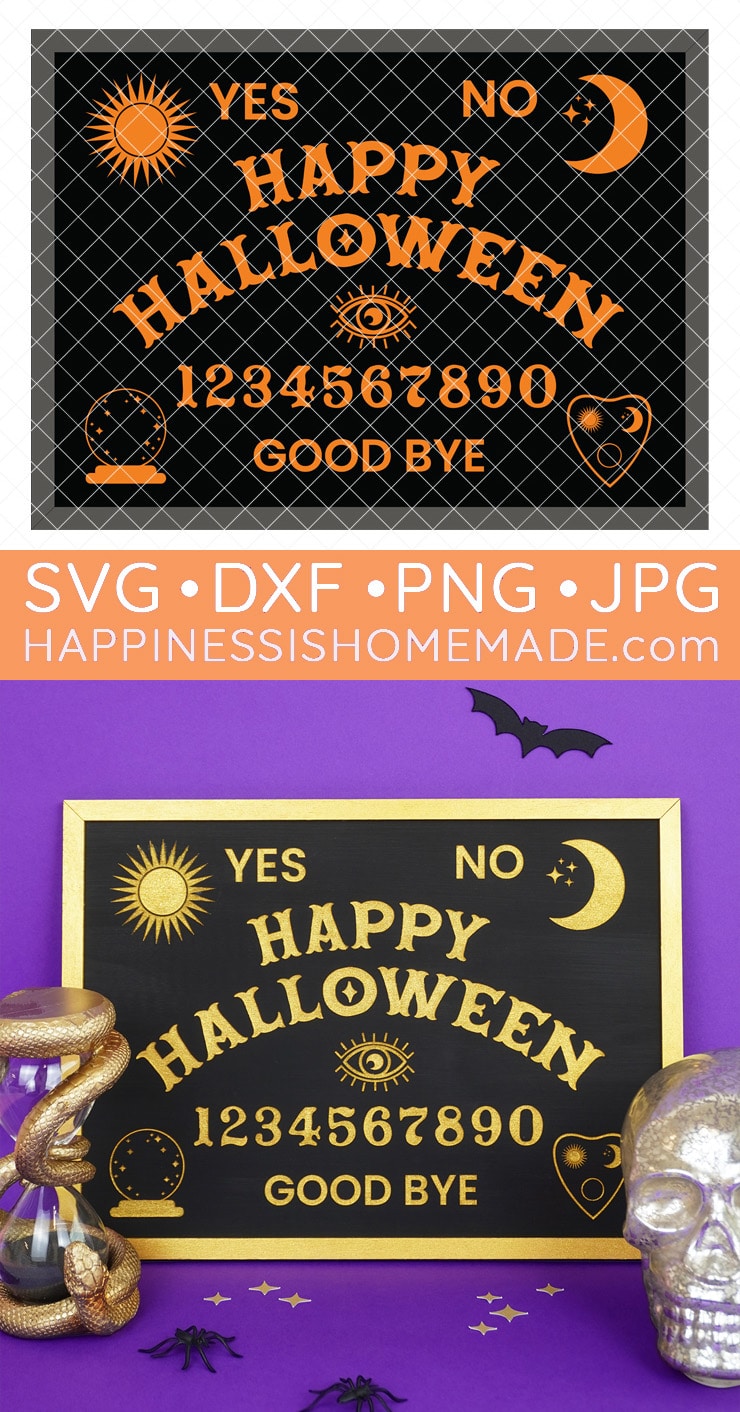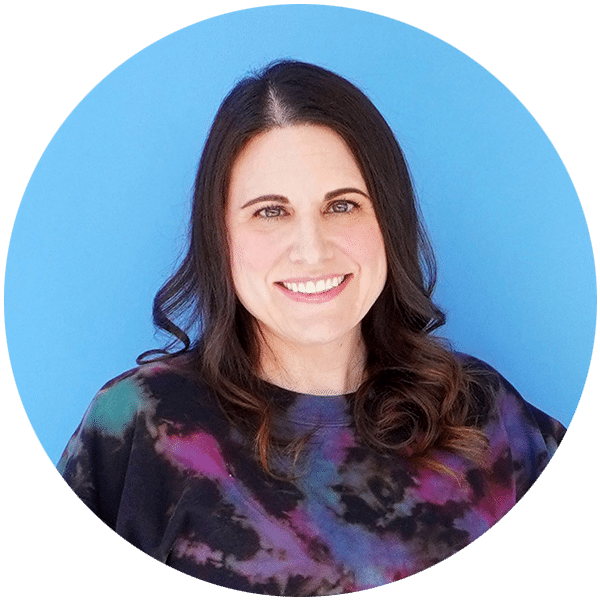 Heidi Kundin has captivated the hearts of millions with her colorful and inspiring approach to crafting, celebrations, and family fun. With over 15 years of experience, Heidi's website has become a must-visit destination for those seeking quick and easy creative ideas and last-minute solutions. Her warm personality shines through her posts, inviting readers to join her on a creative journey that's fun, rewarding, and achievable.