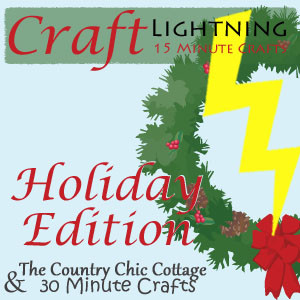 It's time for the holiday edition of Craft Lightning! This round features all kinds of Christmas, Hanukkah and Kwanzaa crafts that can be made in 15 minutes or less. For our quick holiday craft, we created adorable glittered word and letter ornaments that will add sparkle and pizzazz to your Christmas tree.
What You'll Need:
Paintbrush
White glue
Glitter
Xacto Knife or Electronic Cutting Machine
I used my Silhouette CAMEO to cut holiday words and letters because it's quick, but you can also use an Xacto knife if you don't have a cutting machine. Just print the words/letters on to printer paper, lay it on top of the chipboard (use tape to secure it if needed), and cut through both layers.
Cover the chipboard in a layer of glue, and cover with glitter.
My boys loved to help me sprinkle the glitter on our ornaments.
(it's my favorite part, too!)
Shake off the excess glitter and allow to dry. I also gave my ornaments a quick coat of super gloss spray sealer to keep the glitter from rubbing off and getting all over the place, but that step is optional.
Add a length of fishing line, twine or ribbon to hang the ornaments.
It took me about fifteen minutes to make three word ornaments, so these are definitely a lightning quick craft! To save even more time, you could also use glitter cardstock and avoid having to glitter your own!