The Best Mango Smoothie Recipe!
This post and its photos may contain affiliate links. As an Amazon associate I earn from qualifying purchases. If you make a purchase through these links, I may receive a small commission at no extra cost to you!
This quick and easy mango smoothie recipe is made from simple ingredients and is loaded with awesome health benefits! Start your day off right with this yummy and healthy mango smoothie!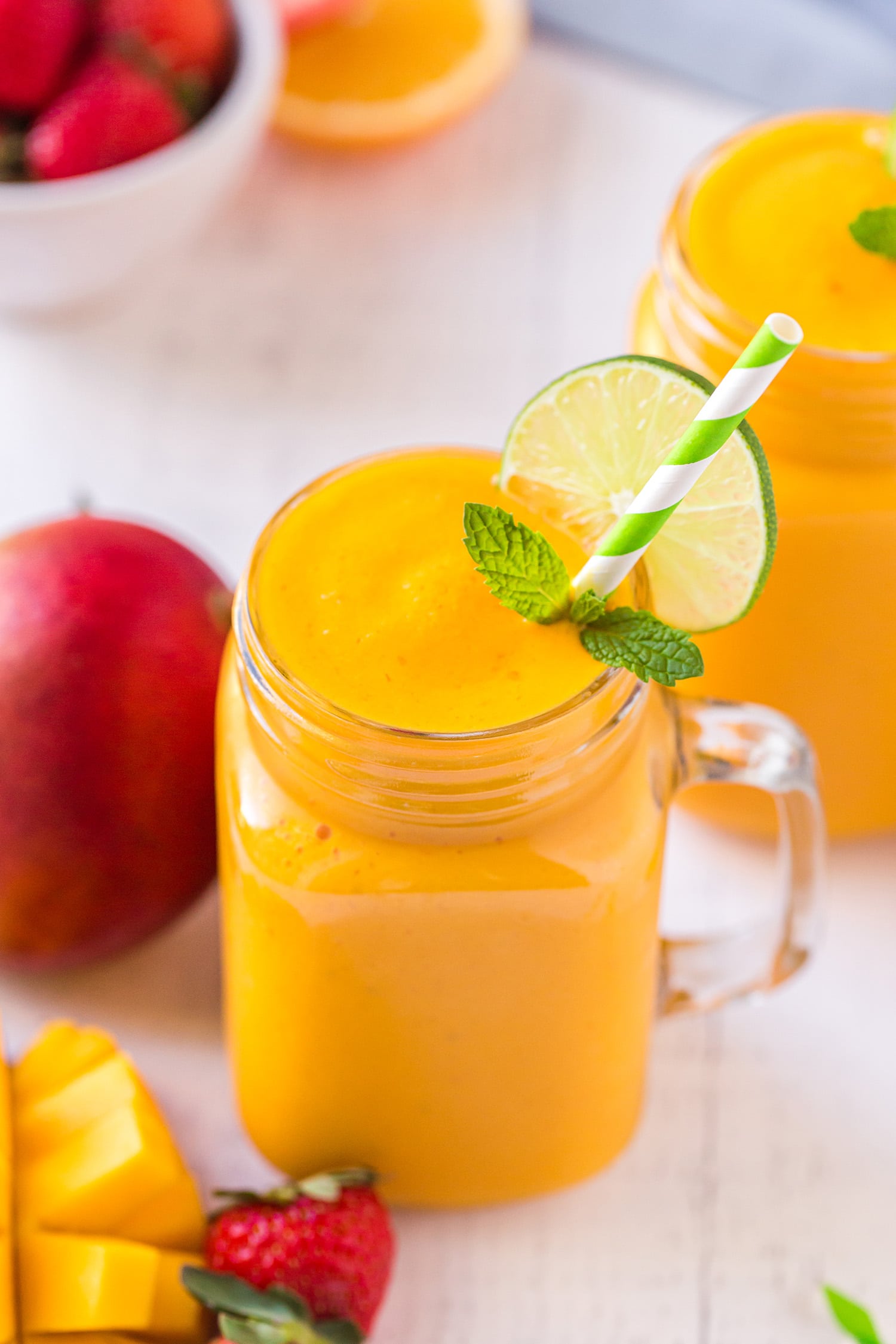 This post may contain affiliate links. I will receive a small commission from these sales at no additional cost to you!
A Quick and Easy Mango Smoothie Recipe You'll Love!
It's no secret that we love making homemade smoothies around here, and this delicious mango smoothie is one of our favorites! It makes a great option for a healthy breakfast or an afternoon snack, and it's an extra refreshing drink on a hot summer day!
The delightful tropical flavor also makes for a great smoothie bowl! Simply pour the smoothie into a bowl instead of a cup, and top with your favorite fresh fruits, nuts, and more. I think coconut flakes and fresh strawberries would be perfect for this one!
Check Out These Other Yummy Smoothie Recipes!
---
How to Make a Mango Smoothie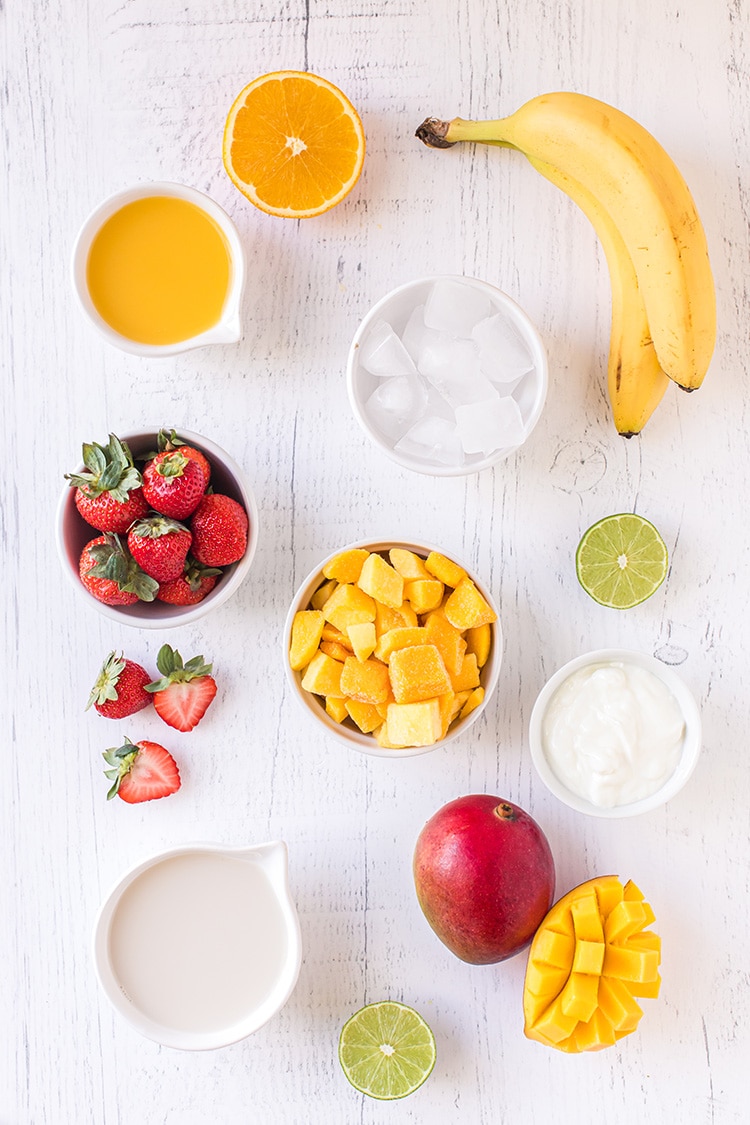 Drinking a delicious smoothie in the morning is an excellent way to start your day! Smoothies are easy and quick to prepare, are rich in important nutrients, and can be customized to suit anyone's diet.
Supplies Needed:
Ingredients You'll Need for a Mango Smoothie:
Sweetened Almond Milk
Vanilla Greek Yogurt
Frozen Mango Pieces
Orange Juice
Lime Juice
Fresh Strawberries
Ripe Banana
Ice Cubes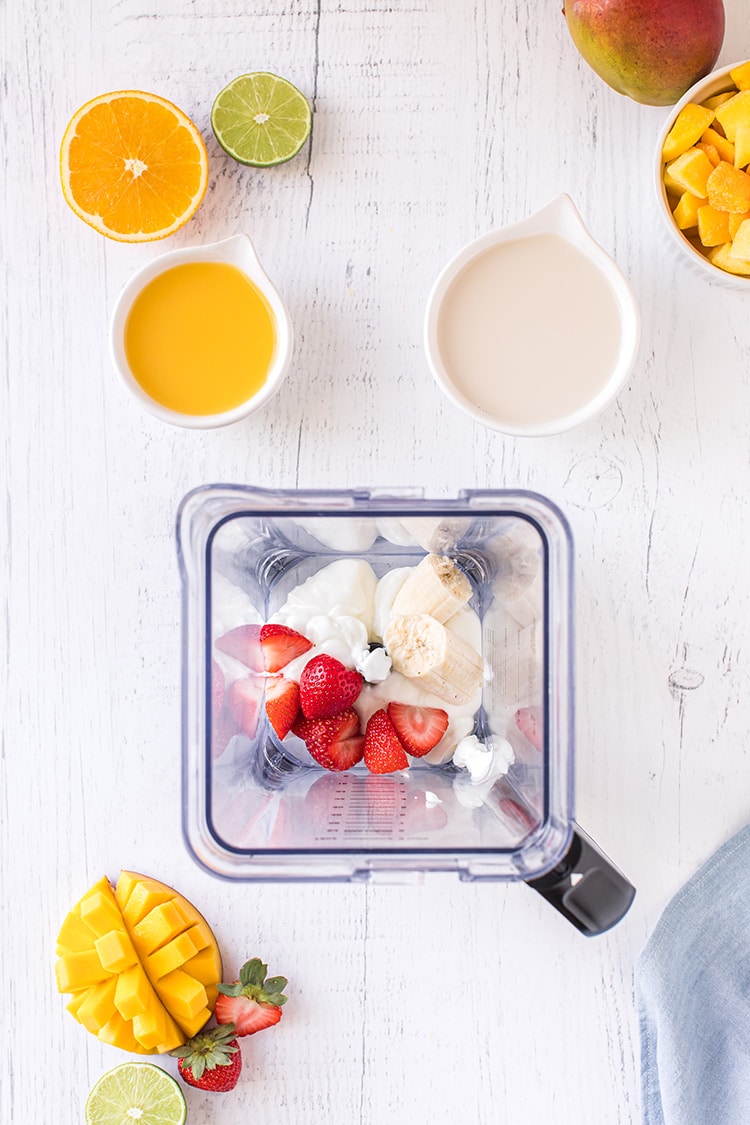 A quick note on using fresh vs frozen ingredients:
The key to making a good smoothie is creating the right balance of fresh and frozen ingredients. If you have too many frozen ingredients, the smoothie will become too thick, and your blender may not be able to blend it very well. If you use too many fresh ingredients, the smoothie will become too thin, and it will turn out more like a juice blend than an actual smoothie.
In this recipe, ice cubes are added to balance the use of fresh strawberries and banana. If you opt to use frozen strawberries or banana instead, swap out the ice cubes for an additional 1/4 cup of juice or almond milk. If you decide to use fresh mango, you may want to double or triple the amount of ice cubes, or use fresh mango in tandem with frozen strawberries and bananas. Feel free to experiment with using fresh and frozen ingredients as they are available to you, just remember that keeping the balance between them is key!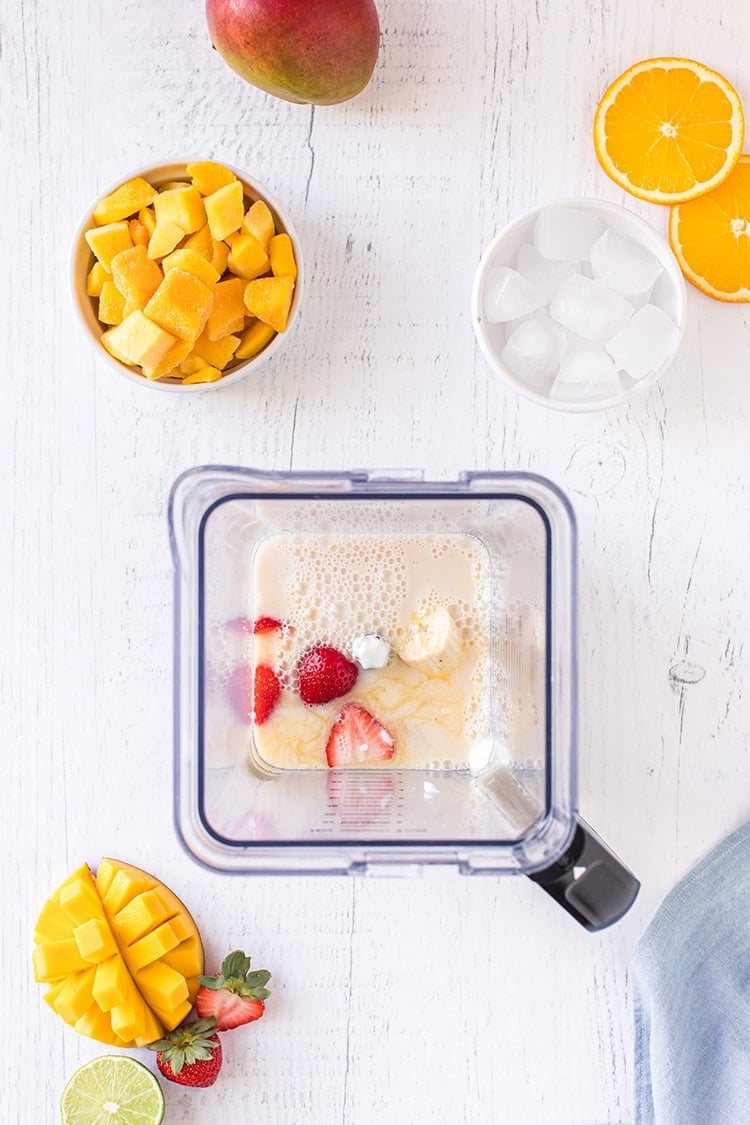 Begin by adding all of the softer ingredients into the blender – juices, almond milk, fresh fruit, and yogurt.
Note: If you want to add protein powder, collagen, or any other additional supplements, add them during this step of the process.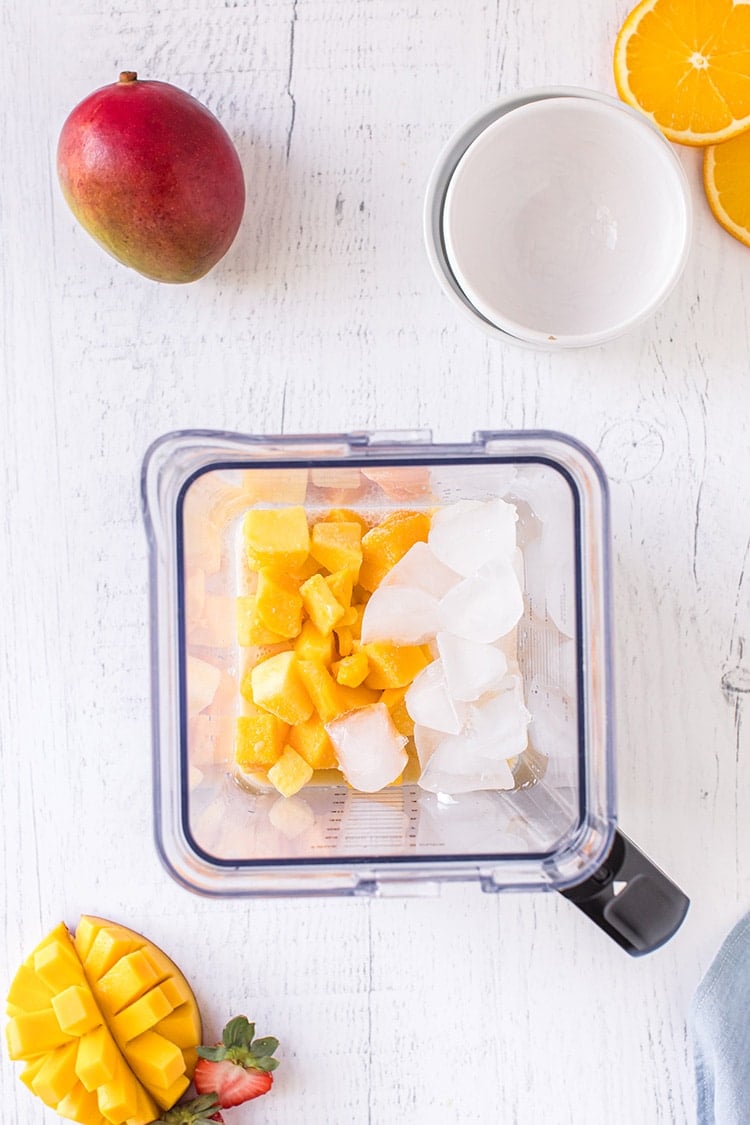 Next, add the frozen mango pieces and ice cubes.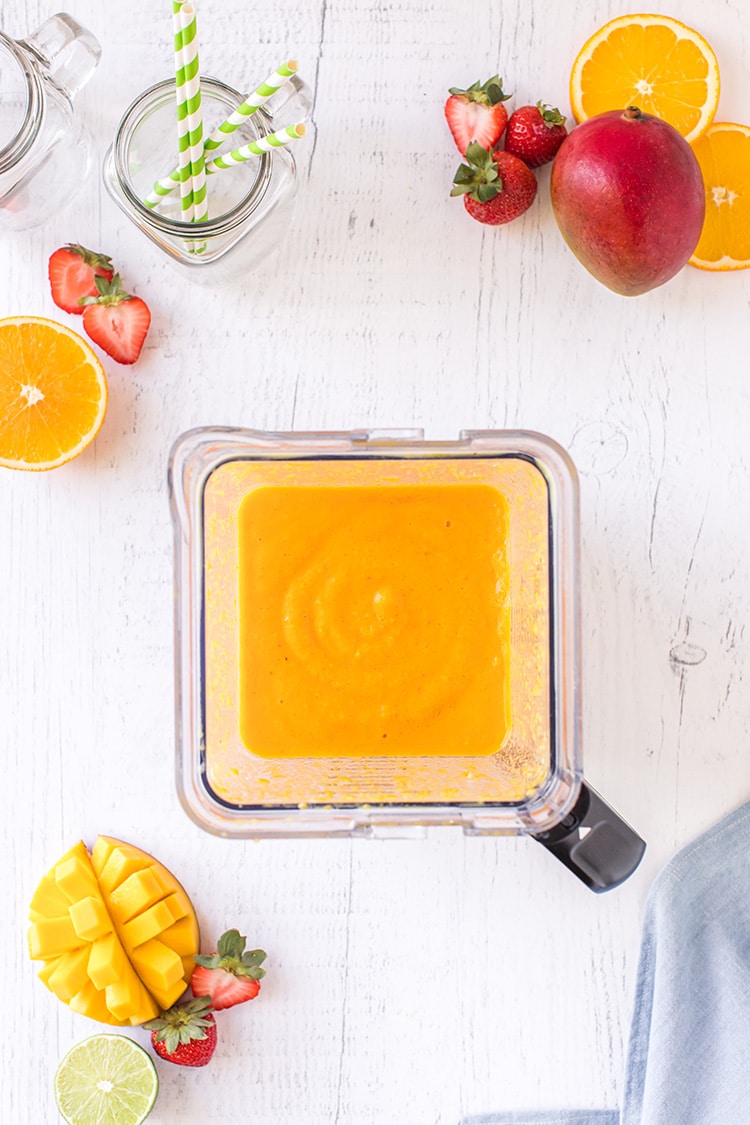 Blend until smooth, creamy, and well combined.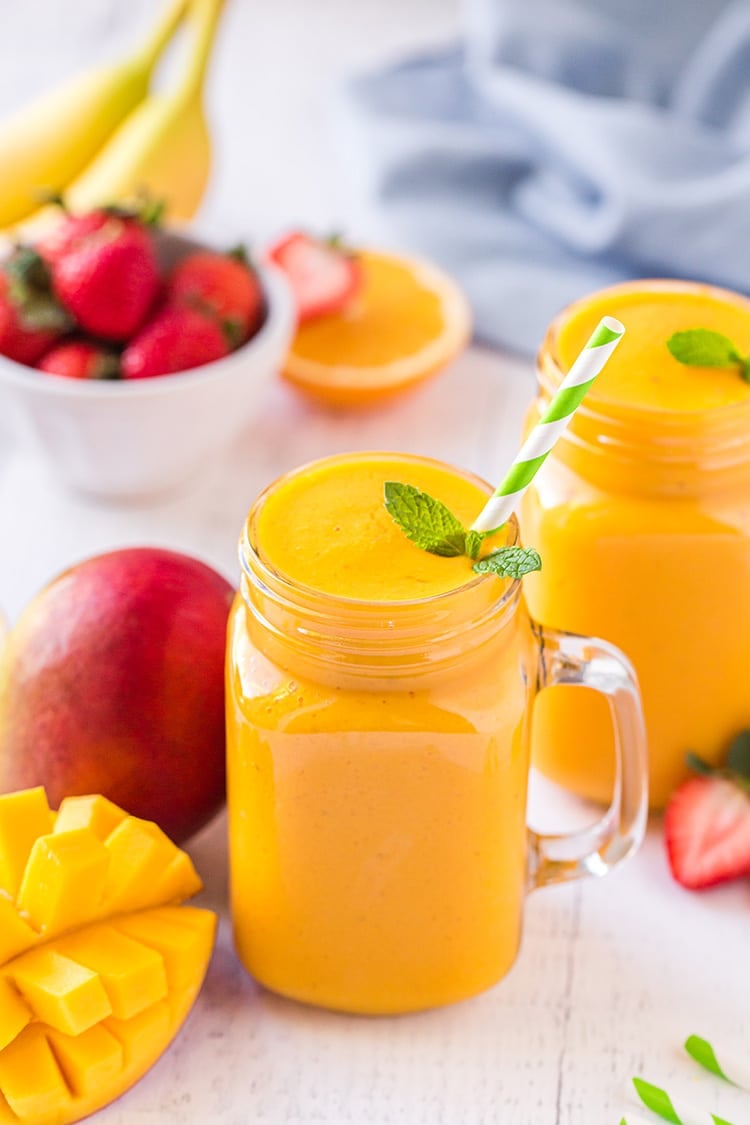 Pour into a glass and garnish as desired – it's smoothie time! YUMMM!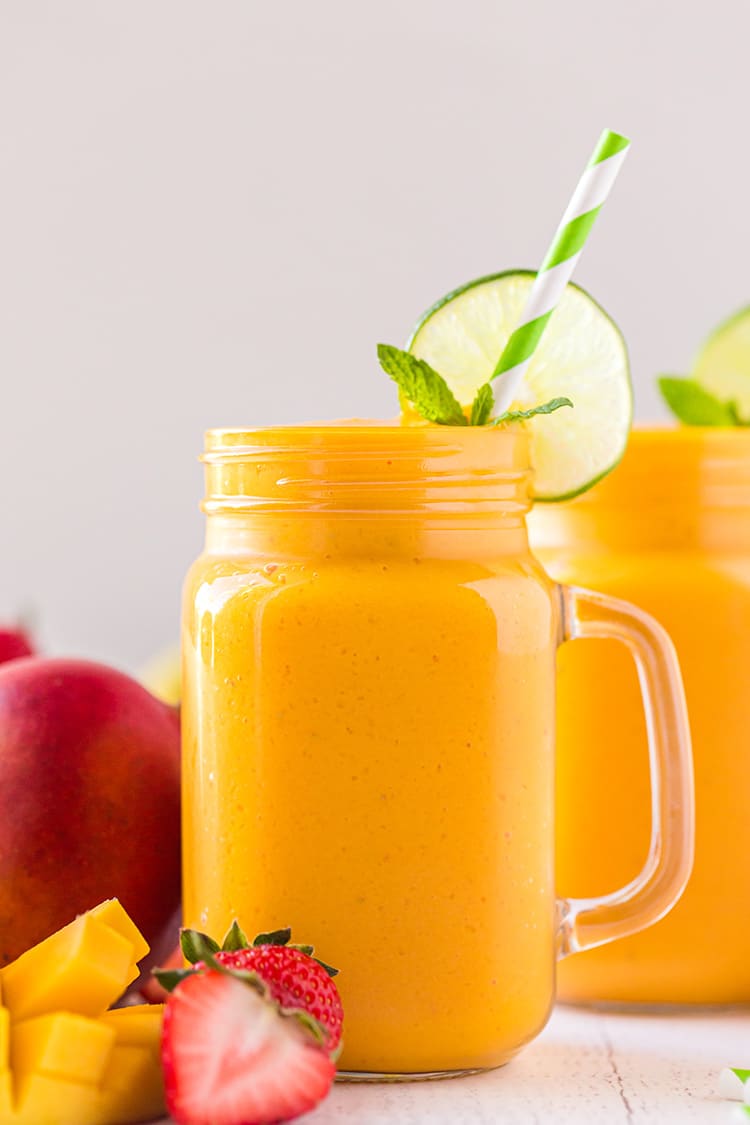 This strawberry mango smoothie is sure to be a HUGE hit with your family and friends!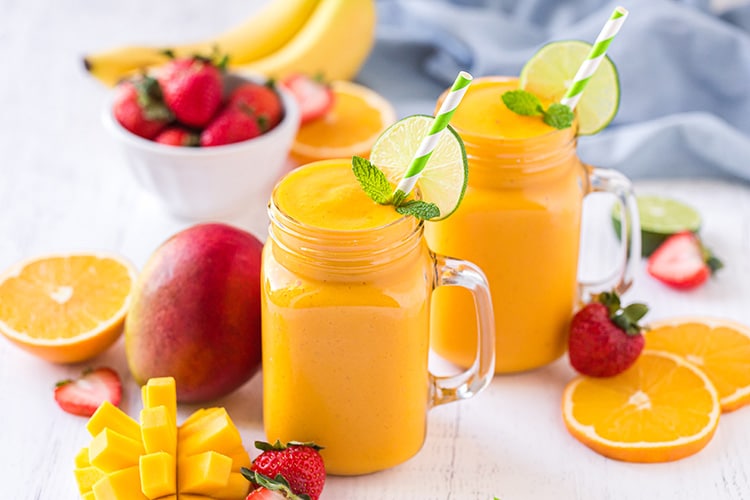 Can I Make Substitutions to This Mango Smoothie Recipe?
Of course! Check out our recommendations below:
Almond Milk: We use sweetened almond milk in our smoothie, but you can also use unsweetened almond milk if desired, or you could even swap the almond milk for coconut milk or dairy milk if you prefer.
Vanilla Greek Yogurt: You can use regular yogurt or coconut yogurt here; if you want to cut back on the added sugar, use plain yogurt instead of vanilla, and add a tiny splash of vanilla extract.
Frozen Mango: Feel free to also use fresh mangoes instead of frozen mango. See our notes on this above.
Orange Juice: The orange juice can be swapped out for your preferred fruit juice – apple juice, pineapple juice, and mango nectar all work really well in this recipe.
Lime Juice: Use lemon juice for a slightly different flavor.
Banana & Strawberries: Use frozen bananas and strawberries instead of fresh for a thicker smoothie.
Other blend-ins that you may want to experiment with adding to your recipe are nut butters (almond butter is our favorite!), chia seeds, and flax seeds. Add leafy greens like spinach or kale to make a green smoothie.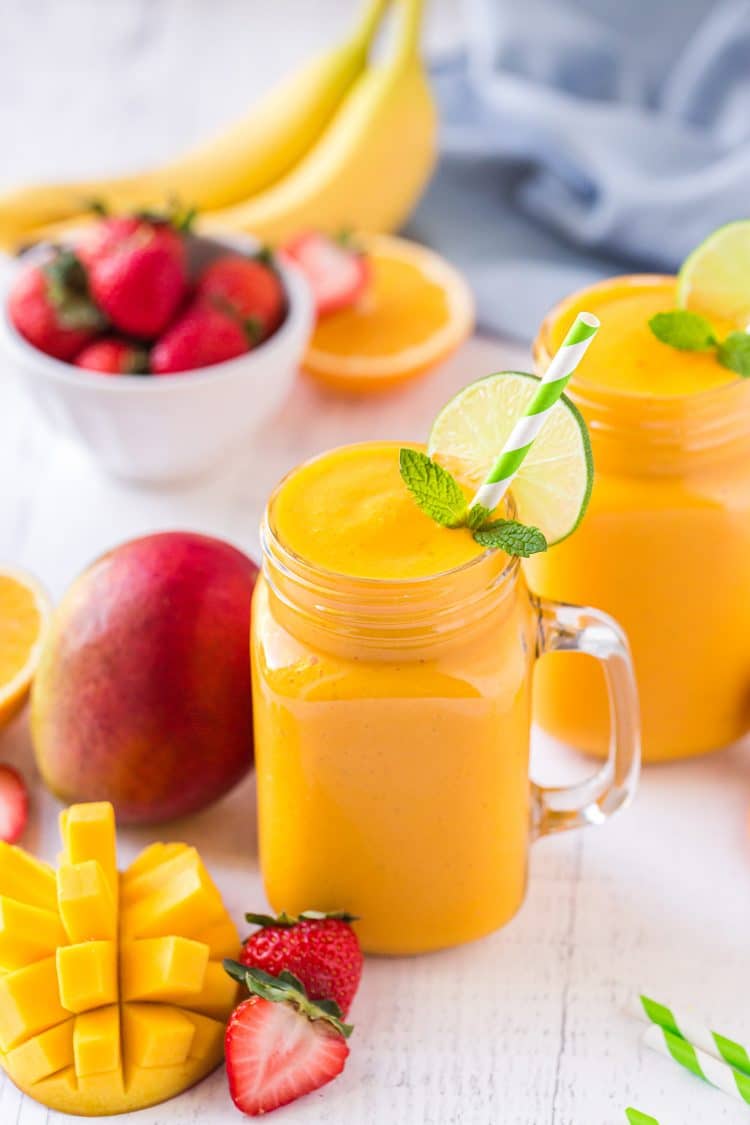 What Are the Health Benefits of Mangoes?
Mangoes are one of the top 3 fruits when it comes to antioxidant content! Mangoes contain high amounts of vitamins A, C, and E which aid in healthy digestion and help boost the immune system. Mangoes are also rich in potassium, which is good for building muscle, maintaining the balance of fluids in the body, and regulating blood pressure.
Mangoes are also an excellent option for people looking to shave off a few pounds since they are low in calories, fat-free, and cholesterol-free. They also have a very low sugar content while being non-dairy and gluten-free.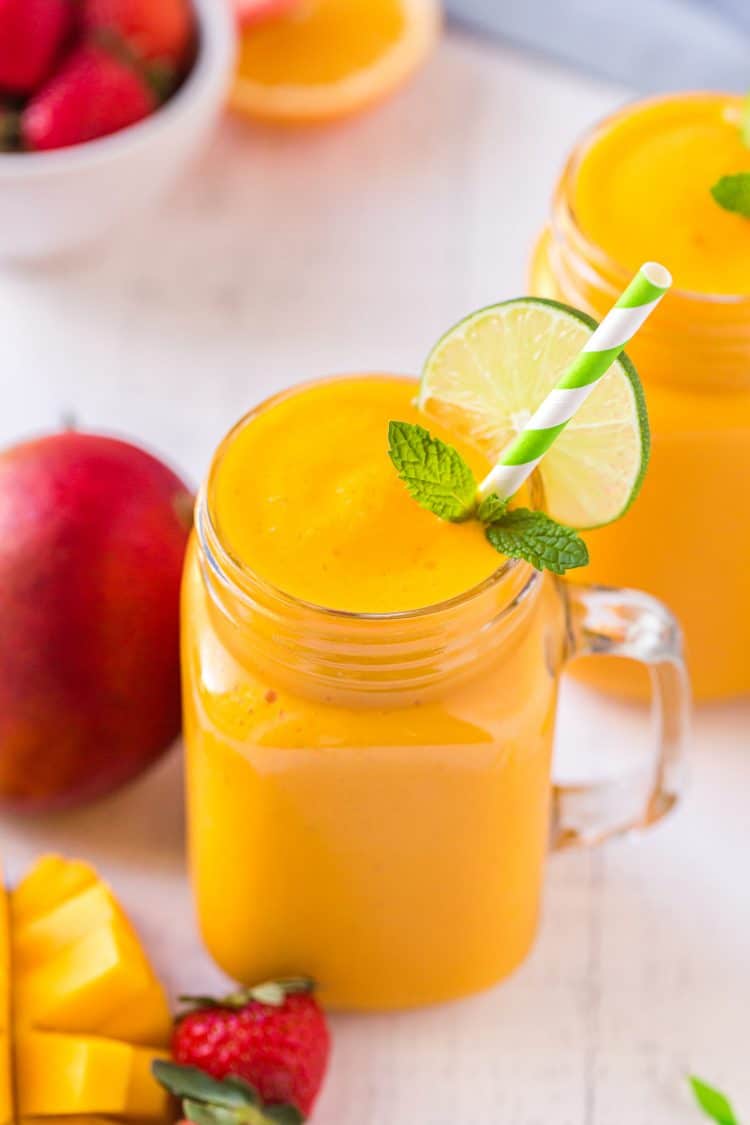 How Do I Store My Mango Smoothie?
After making this creamy smoothie, you can store any leftovers in the refrigerator for up to 48 hours. Storing it in the freezer will allow the smoothie to keep for up to 2 months. Simply allow the smoothie to sit at room temperature (or microwave in short 10-second bursts), stirring frequently, until it reaches the proper drinkable consistency.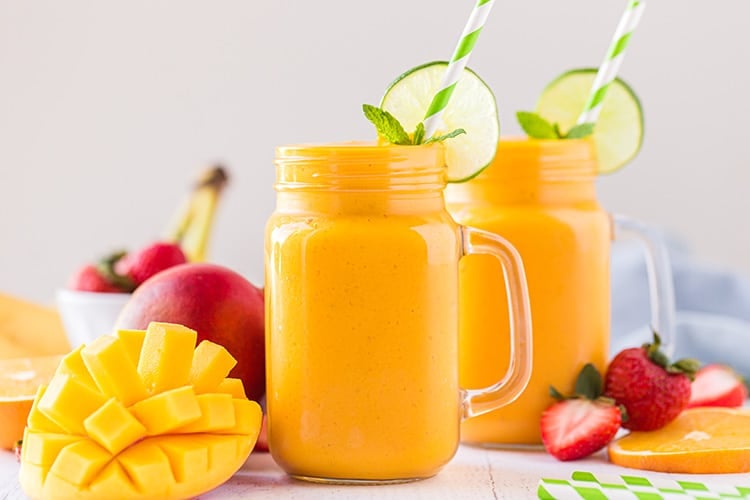 Fresh smoothies really are quick, easy, and healthy eating at its finest! We love smoothie season, and this easy recipe is definitely a winner!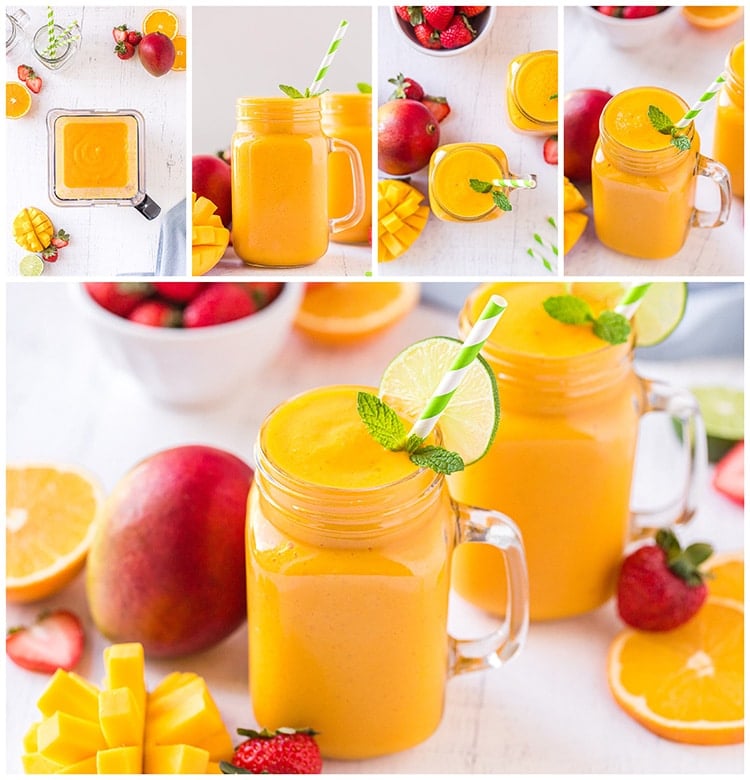 ---
Mango Smoothie Recipe Card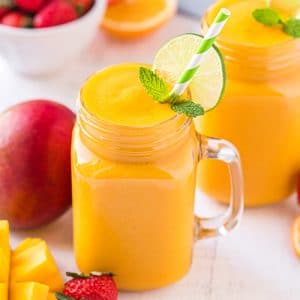 What You'll Need:
4

Strawberries,

with or without stems

1

Banana

1

cup

Almond Milk,

sweetened

1/3

cup

Vanilla Greek Yogurt

1/3

cup

Orange Juice

2

tsp

Lime Juice

2 1/2

cups

Mango Chunks,

frozen

1/2

cup

Ice Cubes

Lime Wheels and Mint Leaves

for garnish, if desired
Instructions:
Add all ingredients into the blender in the order listed.

Blend until smooth and well combined.

Pour into a glass, garnish, and enjoy!
Nutrition
Calories:
122
kcal
|
Carbohydrates:
27.6
g
|
Protein:
4
g
|
Fat:
1.4
g
|
Saturated Fat:
0.4
g
|
Polyunsaturated Fat:
0.2
g
|
Monounsaturated Fat:
0.4
g
|
Cholesterol:
2.1
mg
|
Sodium:
40.6
mg
|
Potassium:
170.5
mg
|
Fiber:
2.5
g
|
Sugar:
21.3
g

Check Out These Other Smoothie Recipes!
Don't Forget to Pin This for Later!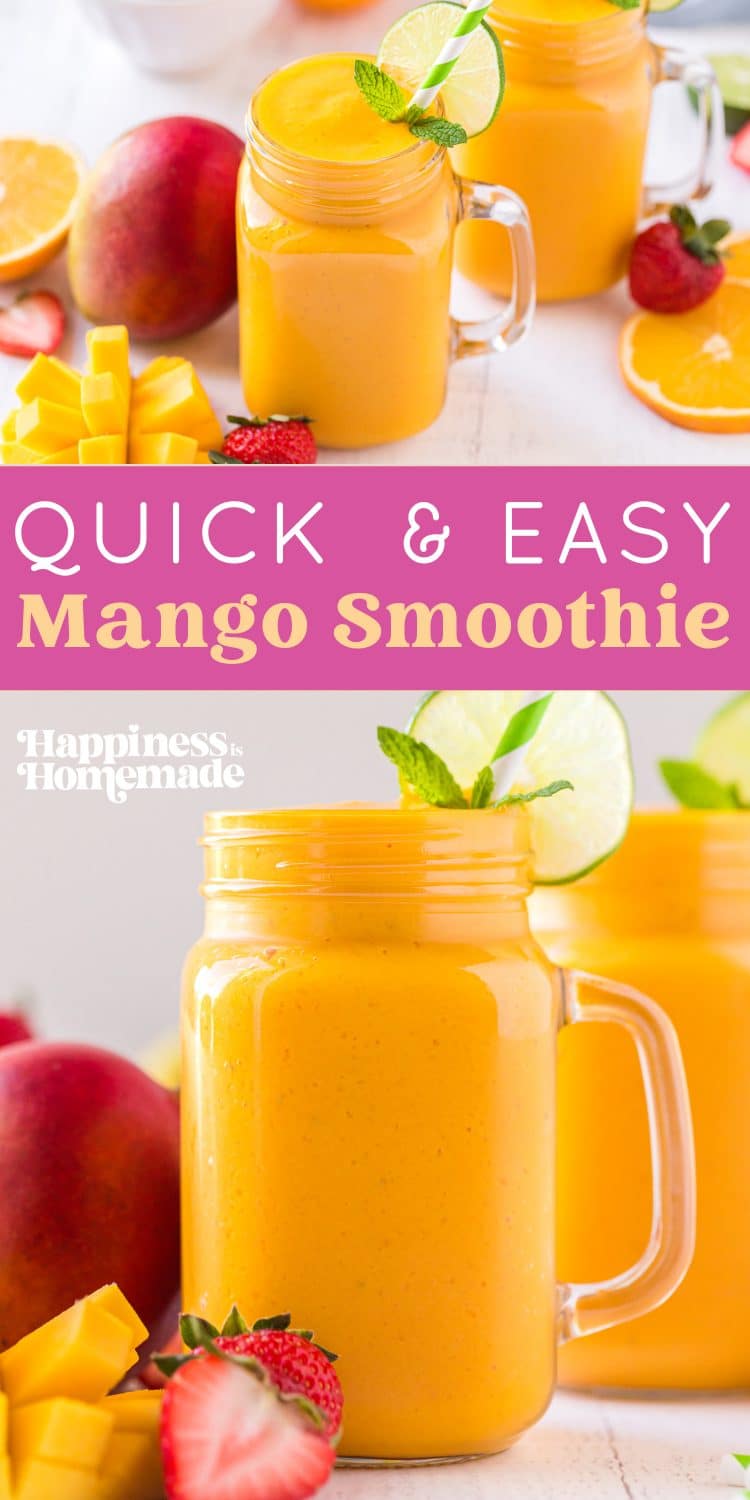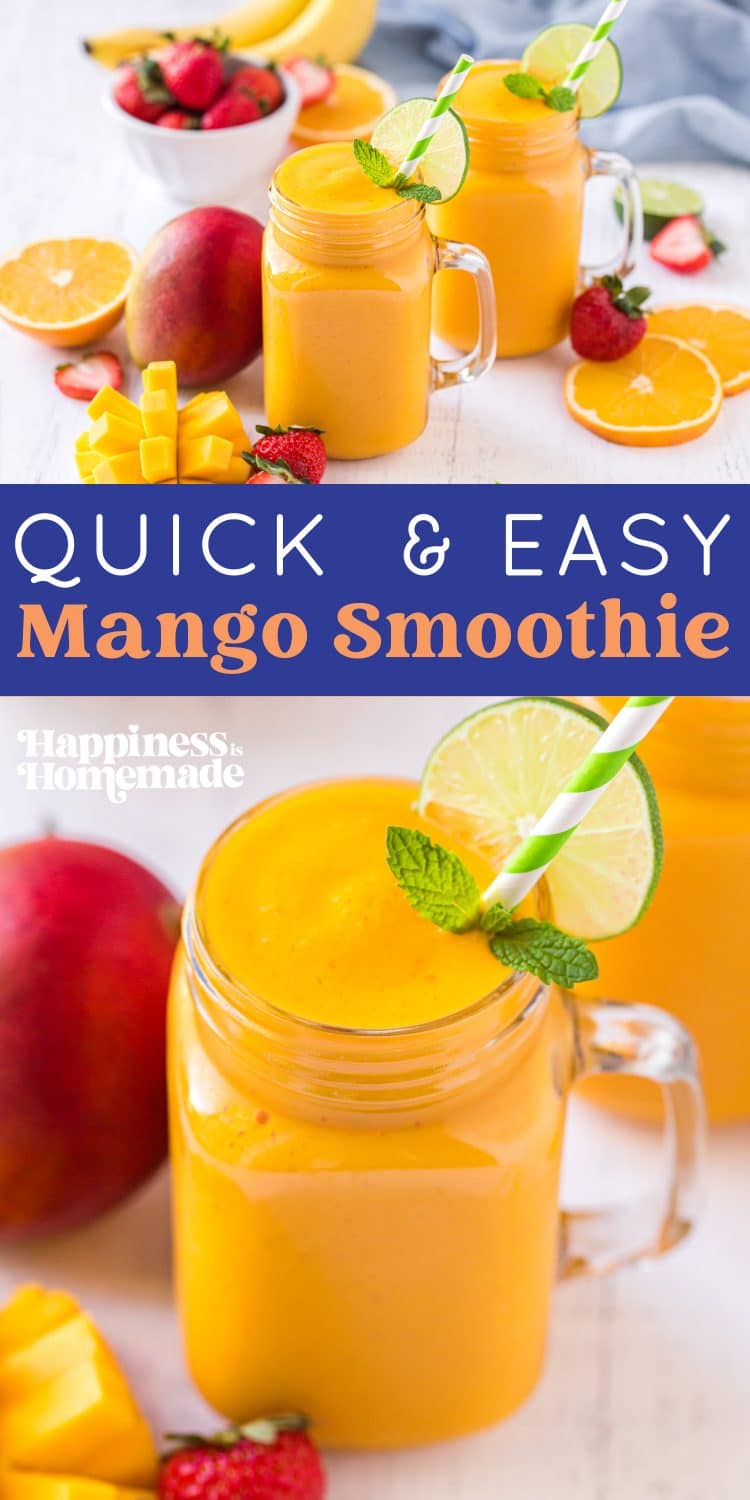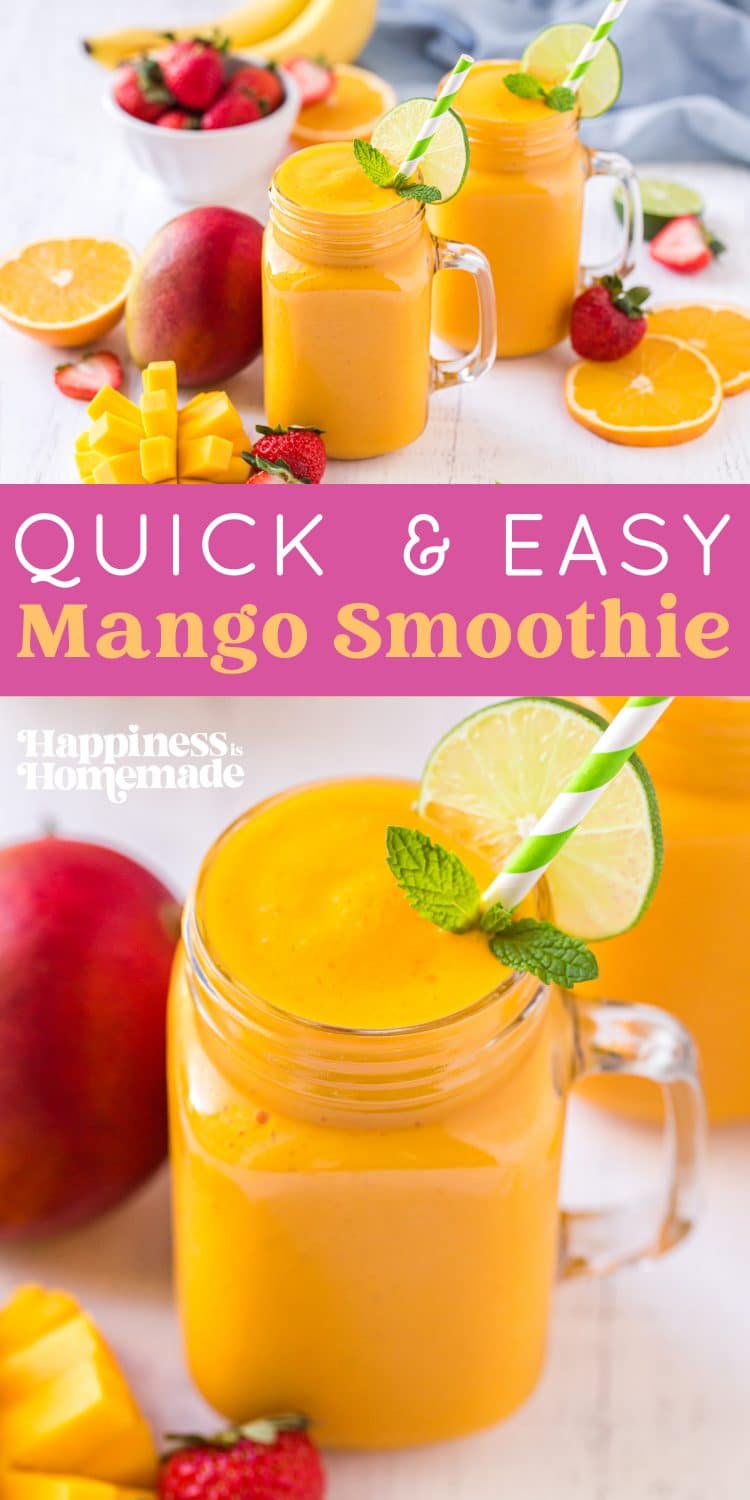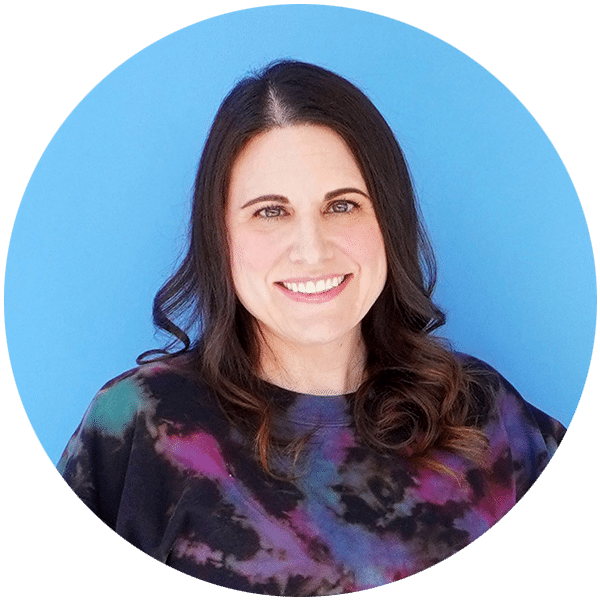 Heidi Kundin has captivated the hearts of millions with her colorful and inspiring approach to crafting, celebrations, and family fun. With over 15 years of experience, Heidi's website has become a must-visit destination for those seeking quick and easy creative ideas and last-minute solutions. Her warm personality shines through her posts, inviting readers to join her on a creative journey that's fun, rewarding, and achievable.