xTool M1 Laser Unboxing – What's in the Box?
This post and its photos may contain affiliate links. As an Amazon associate I earn from qualifying purchases. If you make a purchase through these links, I may receive a small commission at no extra cost to you!
Unbox the xTool M1 10w Laser Cutter with me! Check out what's in the box: xTool M1 Deluxe with the RA2 Pro and Smoke Purifier!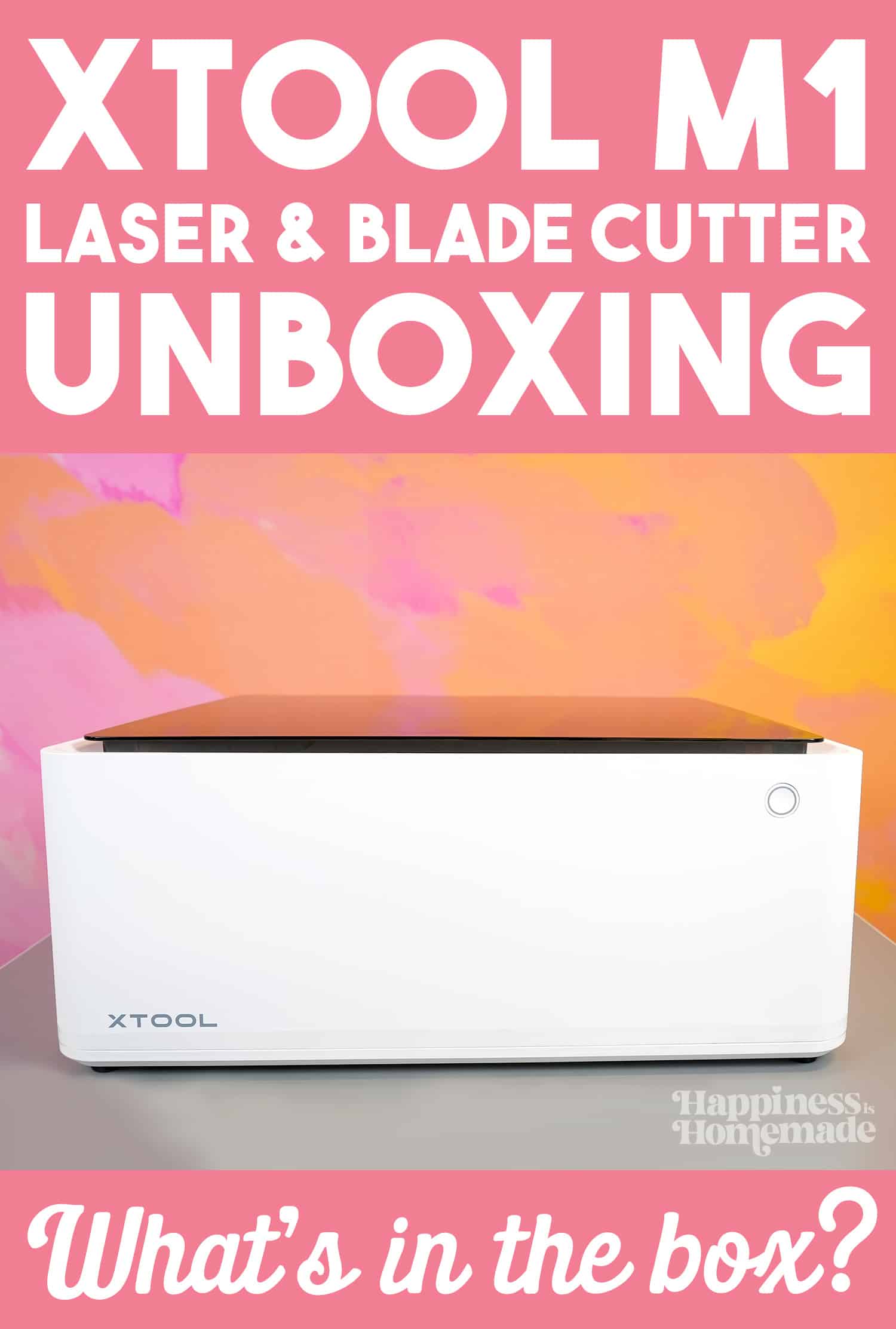 This post may contain affiliate links. I will receive a small commission from these sales at no additional cost to you!
Meet the xTool M1 – the world's first HYBRID 3-in-1 laser and blade cutter!
Last year, Makeblock's xTool M1 became one of the fastest funded Kickstarter projects EVER, becoming fully funded in just 15 minutes and raising over $1 million within the first five days of their campaign. People LOVED the idea of combining a laser cutter and engraver with blade cutting functionality similar to a Cricut or Silhouette machine.
Makeblock went public with sales of the xTool M1 in late June, and needless to say, there has been a LOT of hype surrounding this hobby-sized laser cutter!
Today, we're unboxing the xTool M1 10w Deluxe Set, and showing you exactly what you'll find inside of the box!
You May Also Want to Check These Out!
---
Unboxing the xTool M1 10w Deluxe Set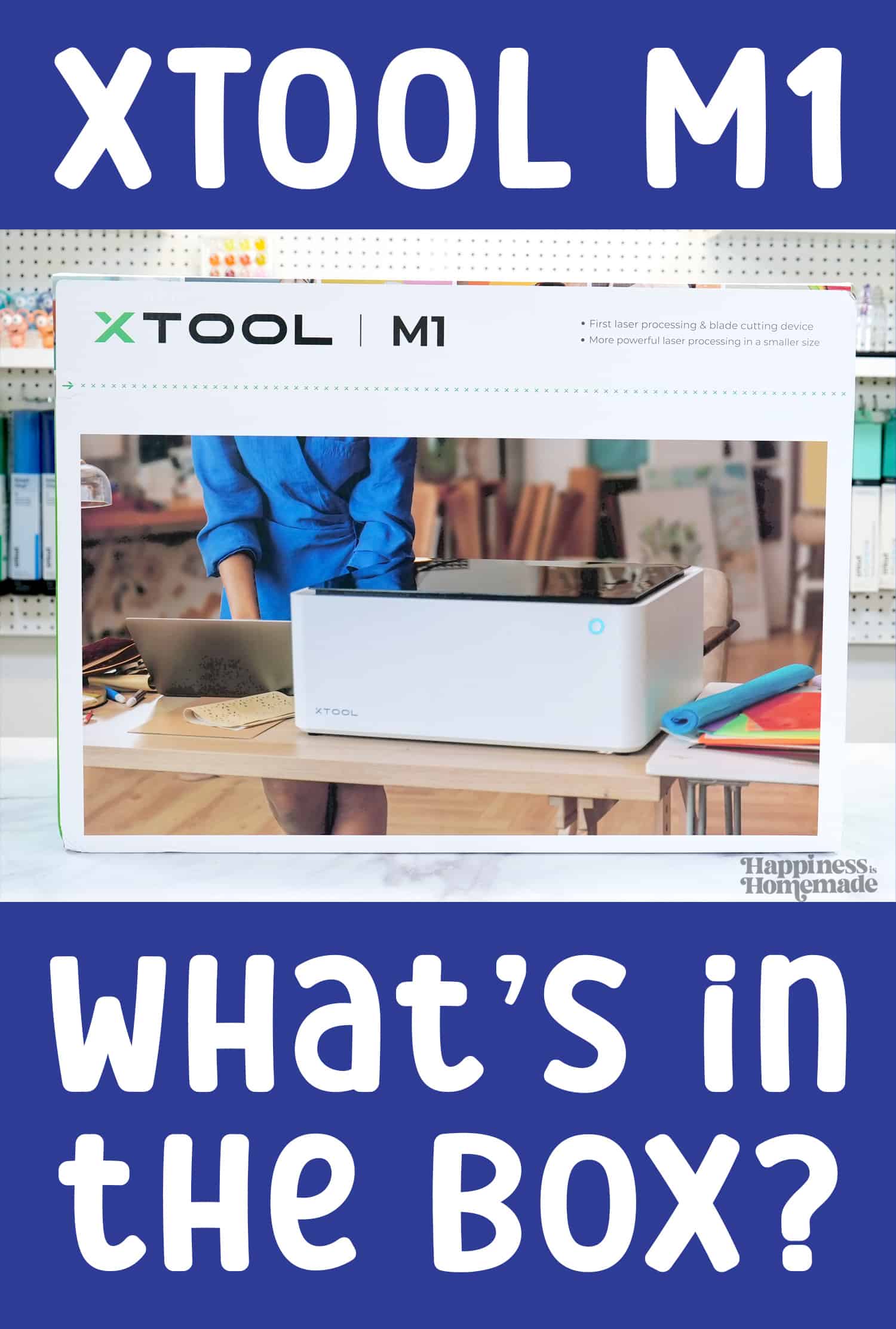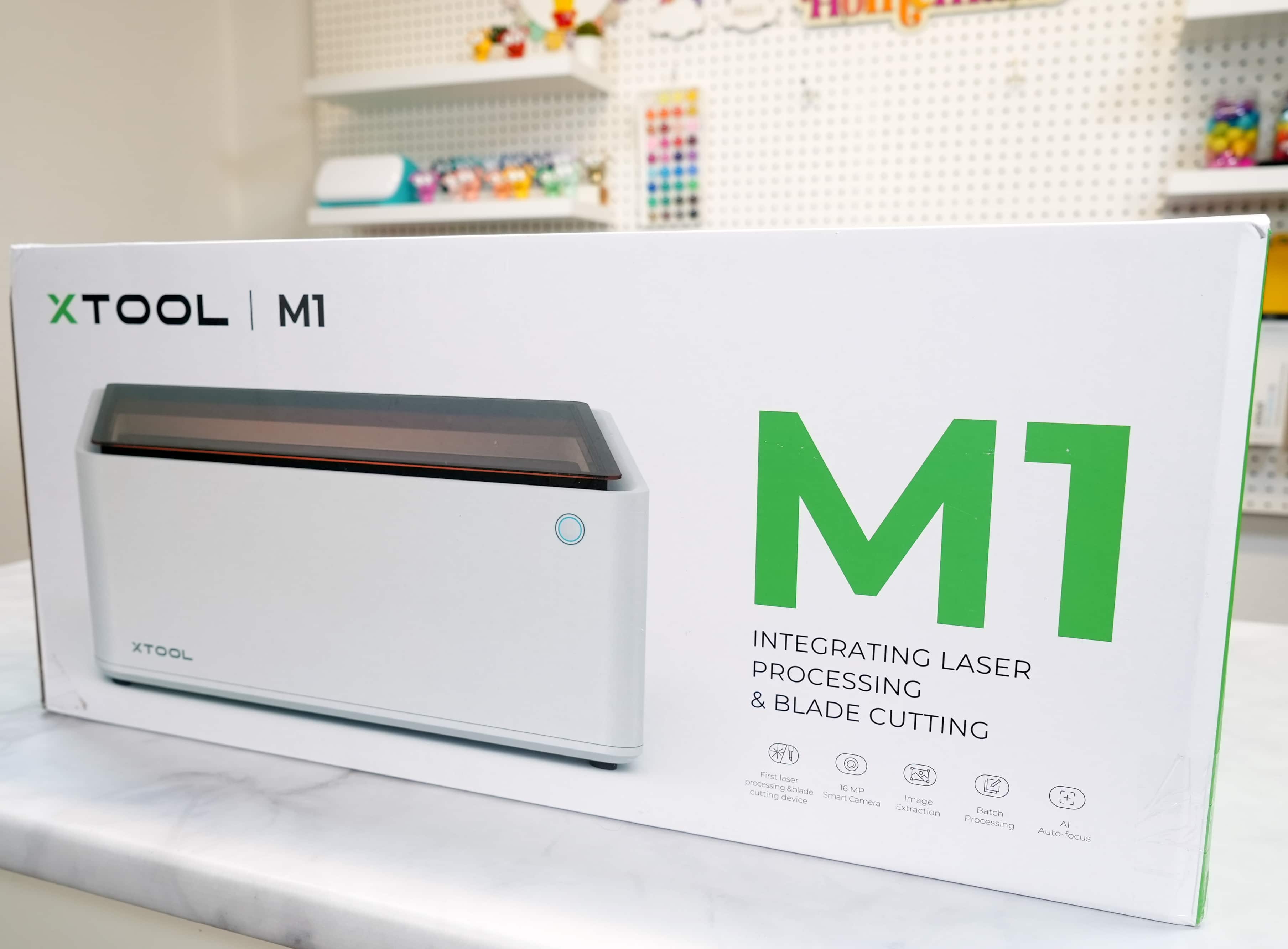 The xTool M1 10w Deluxe Set comes in this box here.
Note: There were no markings or verbiage on the box to indicate whether it contained the 5w or the 10w version, nor as to whether it contained the basic or the deluxe set, so I assume that all of the M1 options are likely packaged in this same box.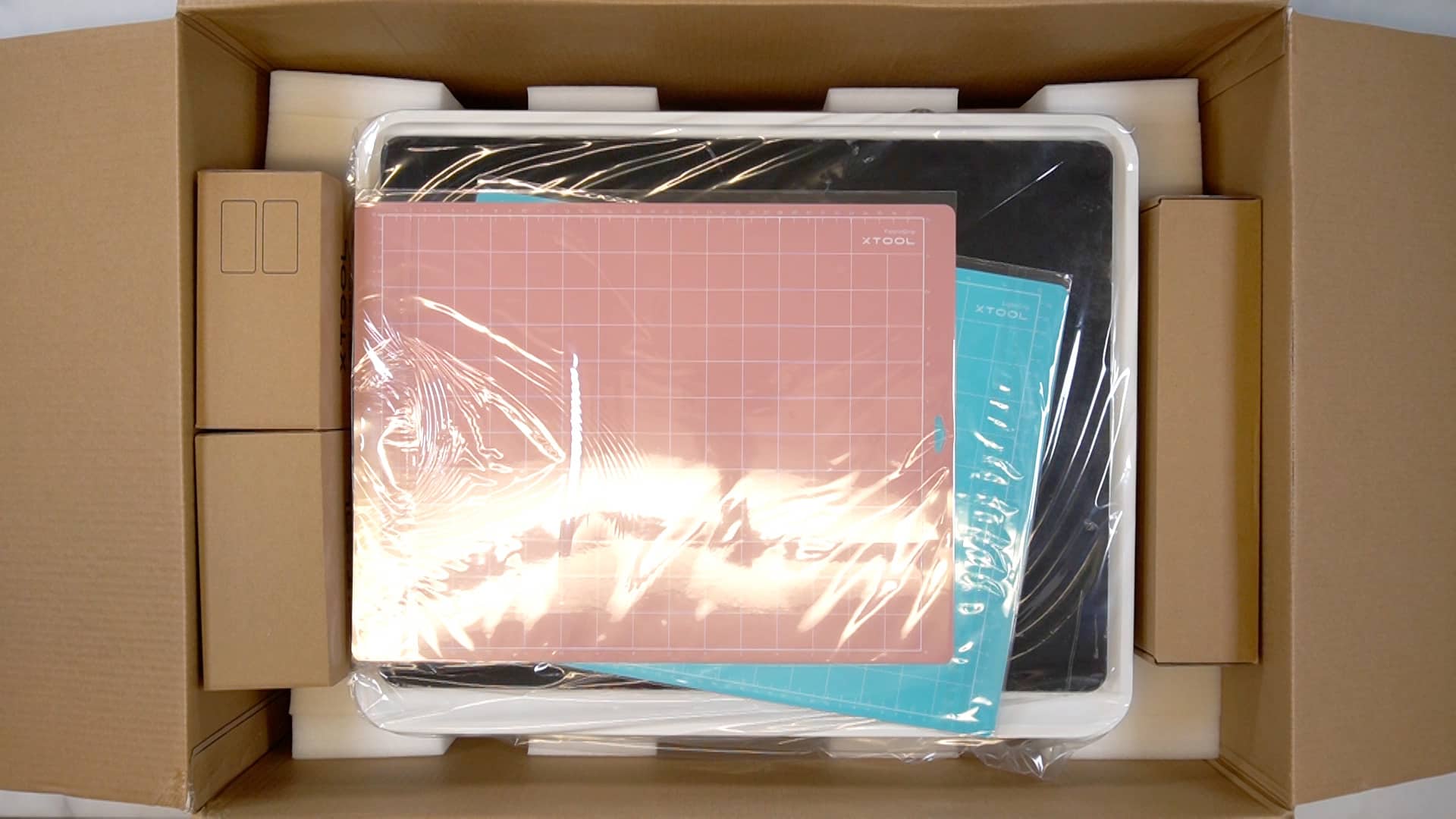 Upon opening the box, you'll first see the xTool M1 laser and blade cutter machine, a few smaller cardboard boxes, and a pair of cutting mats.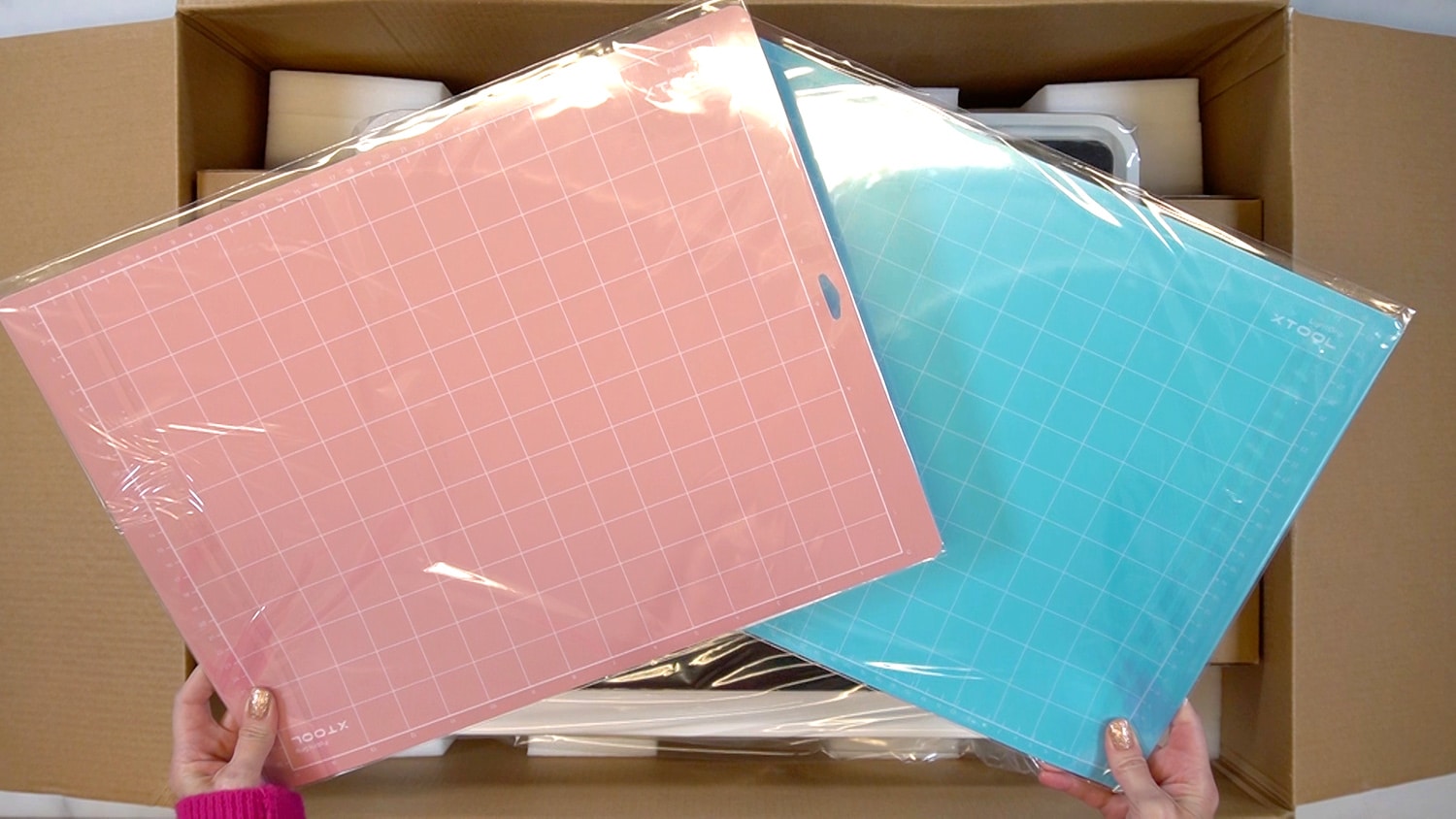 The cutting mats are made especially to be used inside of the xTool M1 when using the machine's blade cutter (much like a Cricut or Silhouette machine).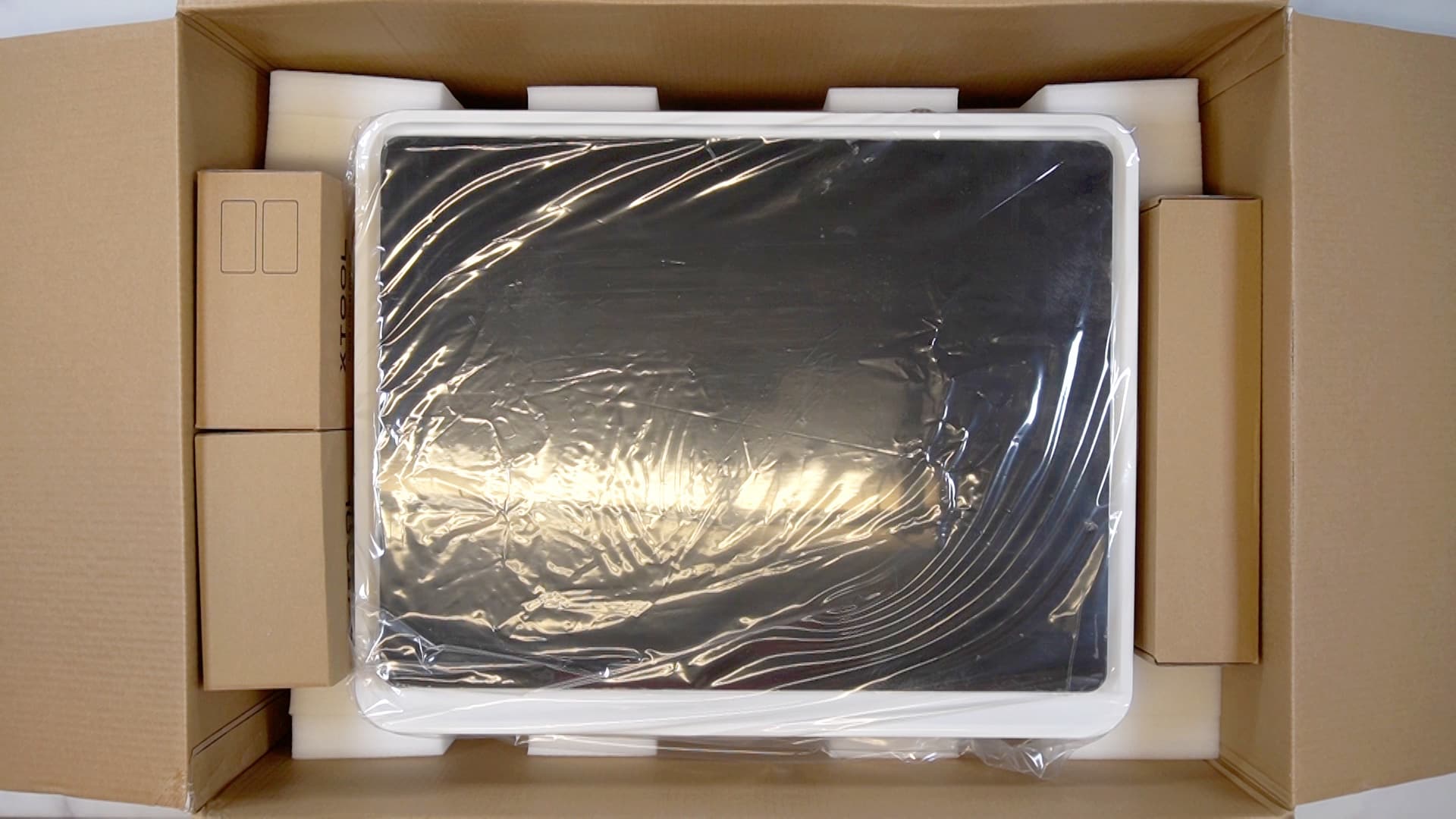 Remove the smaller cardboard boxes (set them aside for a moment), and then you will be able to remove the xTool M1 from the box.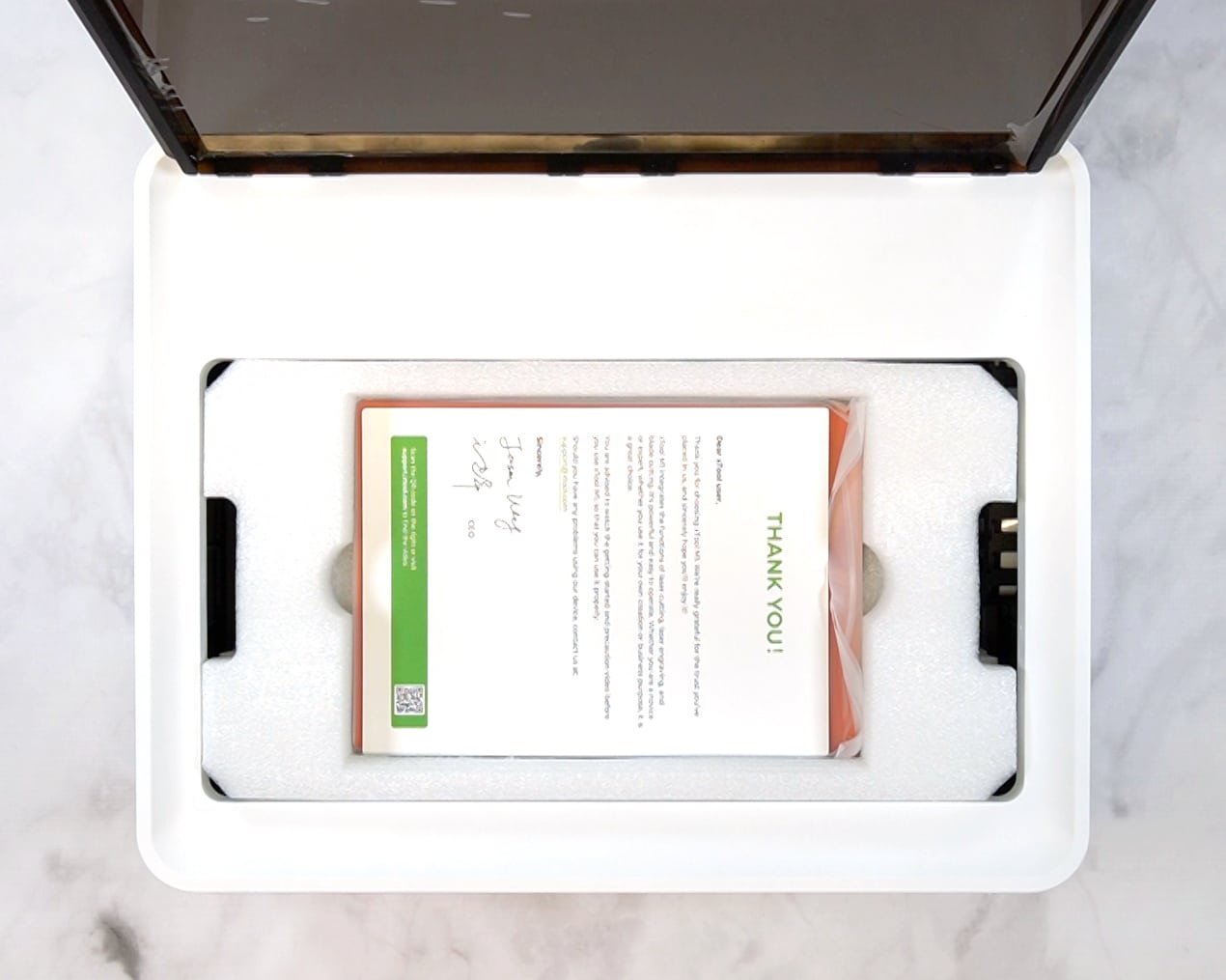 Upon opening the xTool M1, this is what you will see.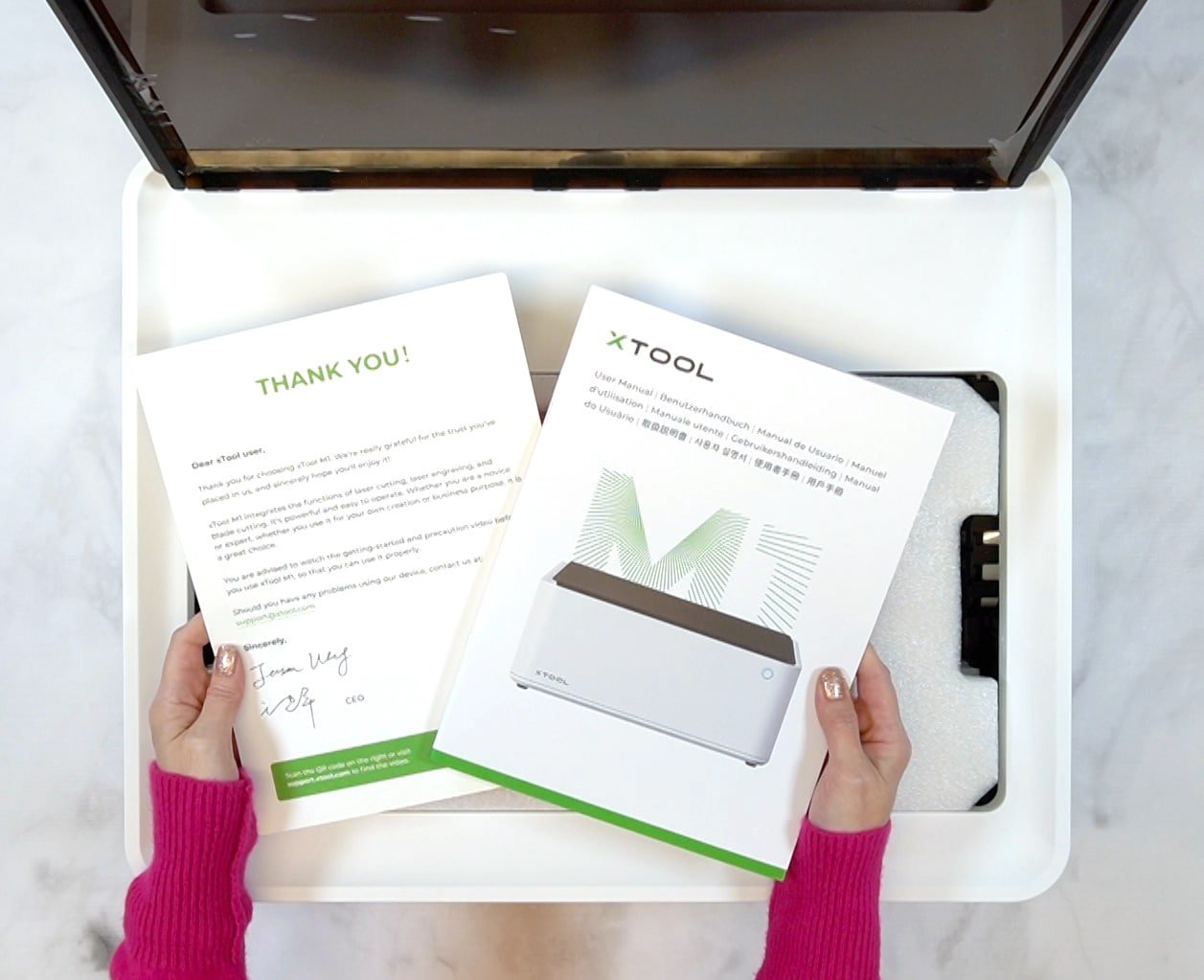 Be sure to save the user manual for future reference (or you can download a copy here if need be!).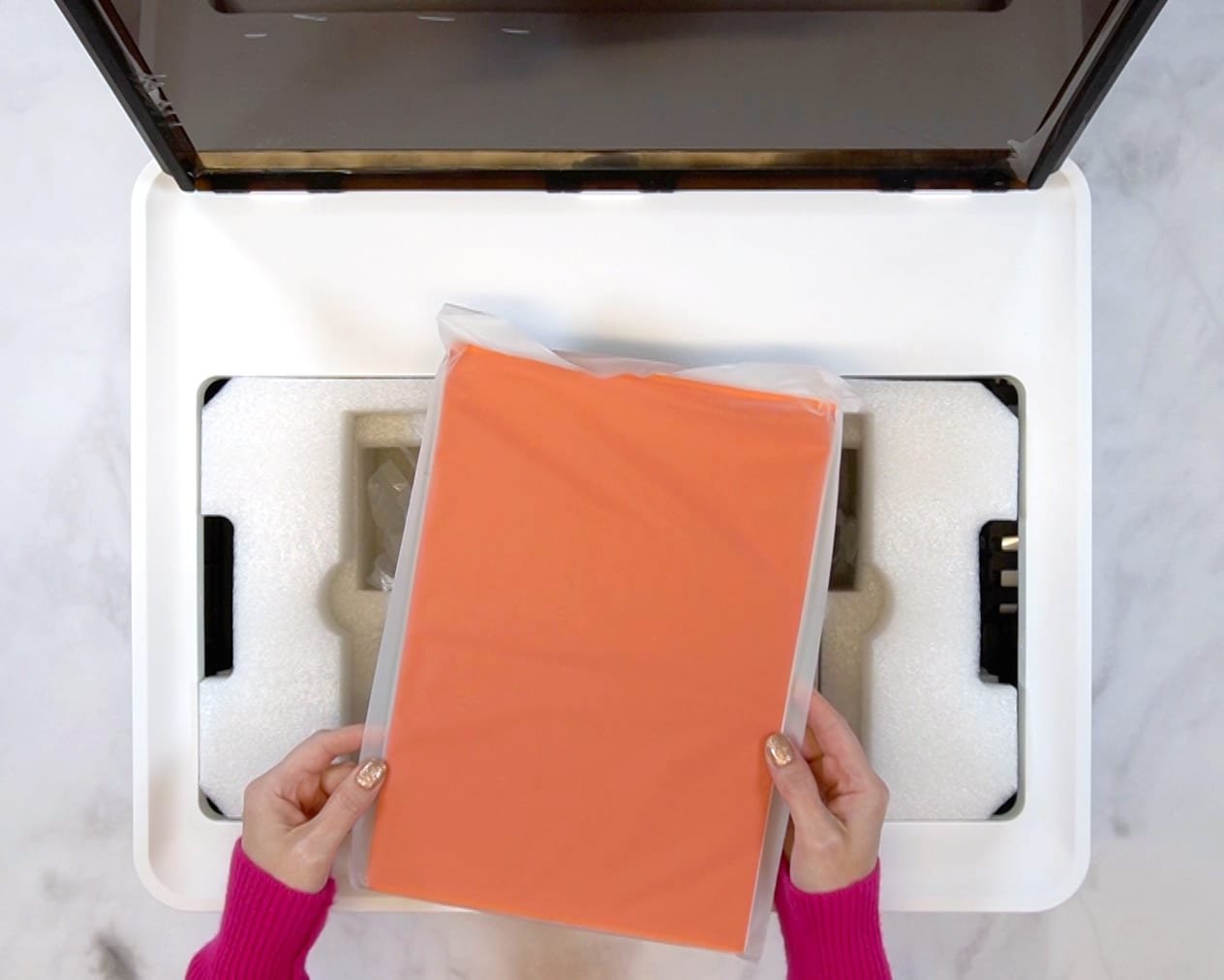 Under the user manual and welcome letter, you'll find a pack of sample materials containing a few sheets of PU faux leather.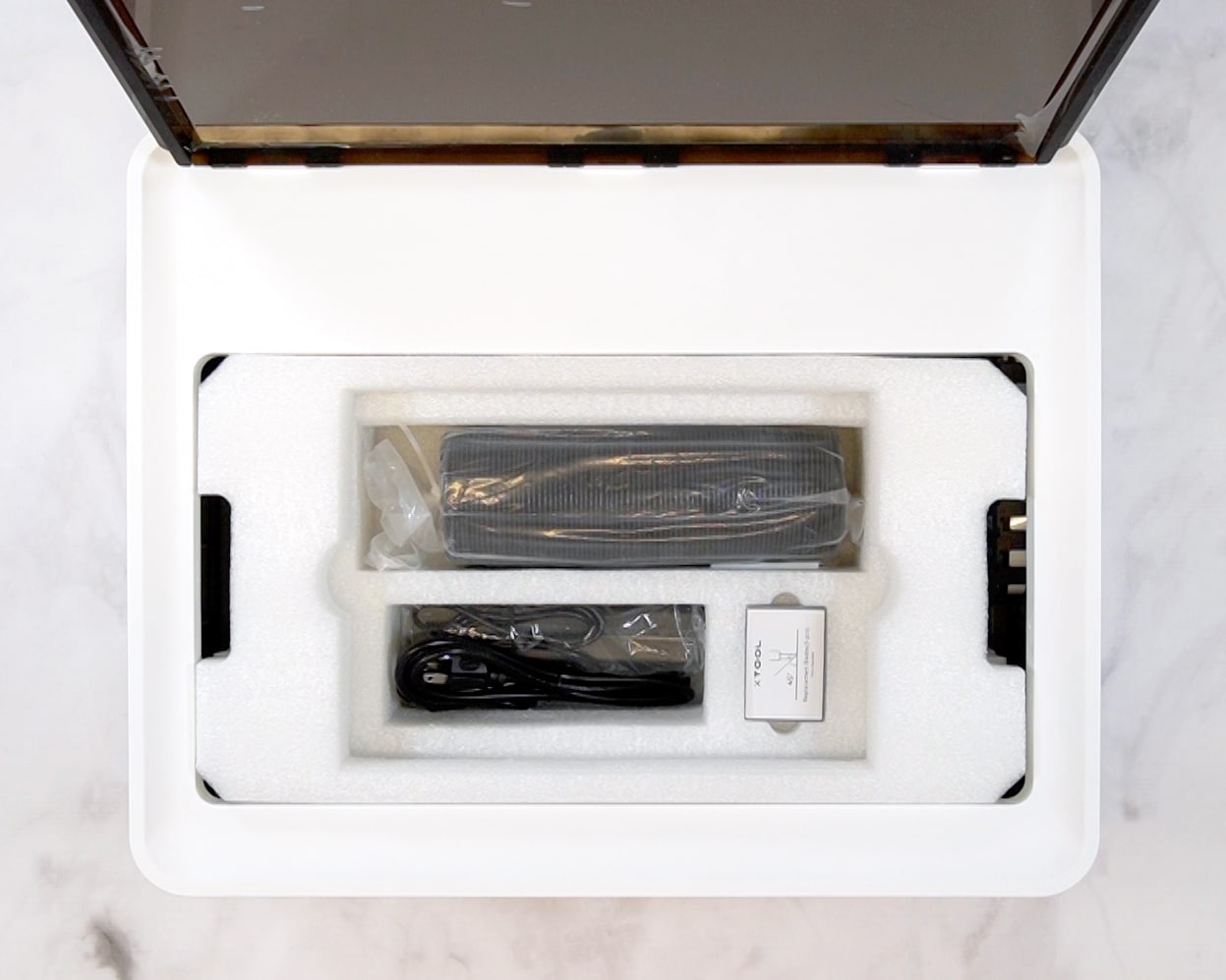 Beneath the sample materials are the machine's power cord and USB cables, replacement blades for the blade cutter, and the exhaust pipe.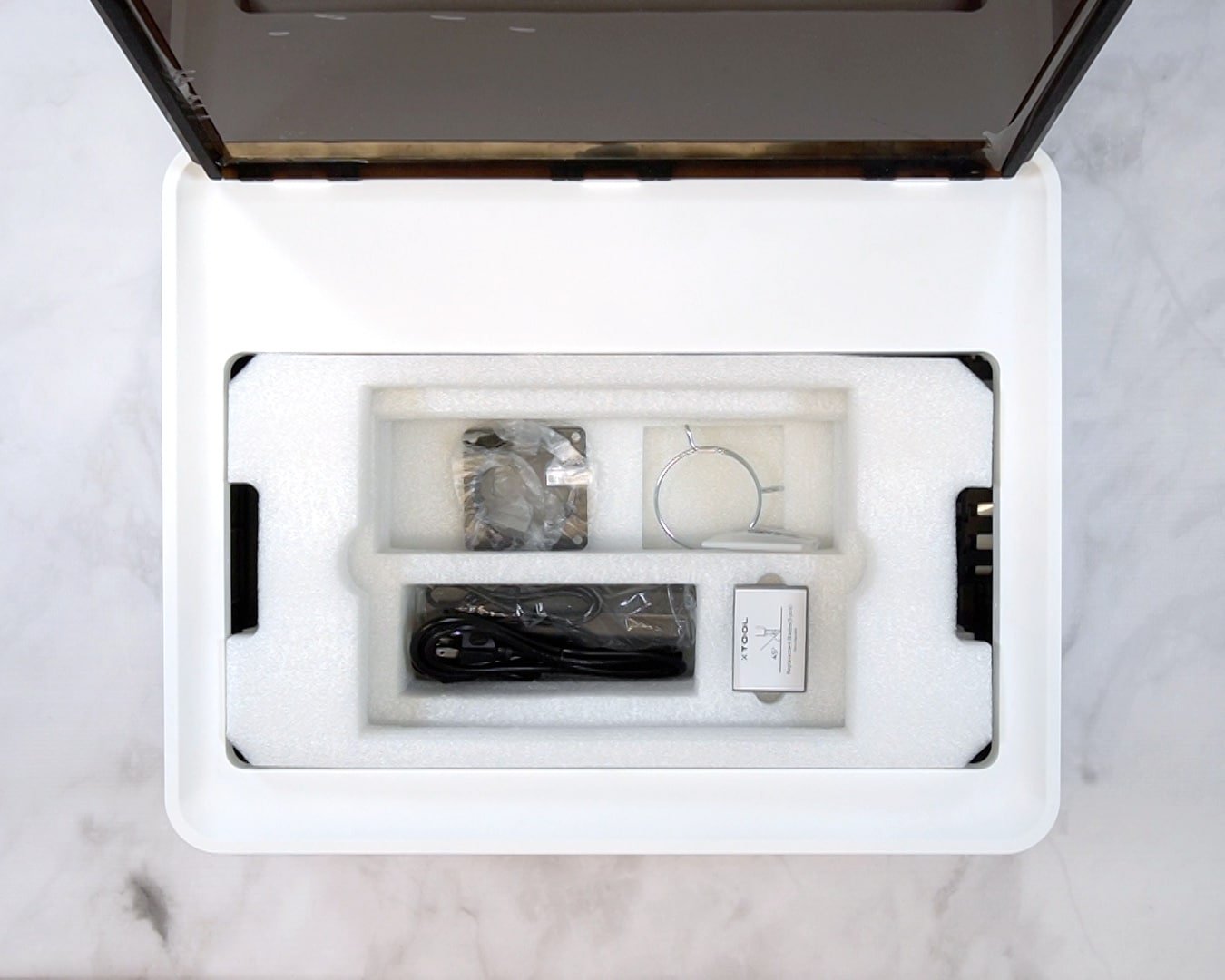 Underneath the exhaust pipe are the remaining pieces of the exhaust system kit – the exhaust pipe adaptor, screws, and a wire clamp.
When removing the remaining foam packaging from inside the xTool M1 machine, be sure to keep an eye out for this small, hidden package. This bundle contains the triangular prisms that you will use to elevate your materials off of the base plate for cutting, so you don't want to lose these!
There are also two additional cutting mats at the very bottom of the machine's interior.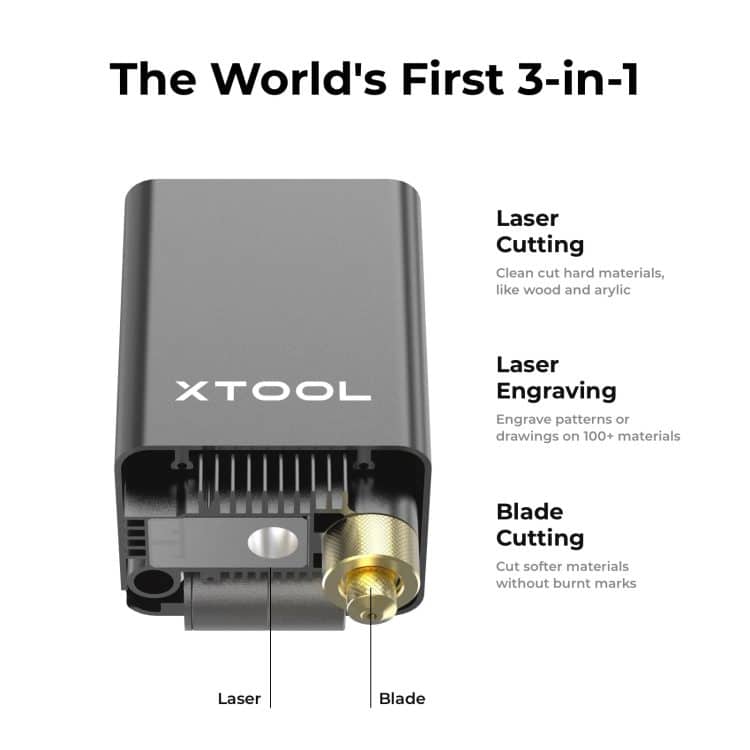 Upon closer inspection of the laser head, you will see that the case houses both the laser (for cutting and engraving) and the blade cutting tool. The laser is used for wood, acrylic, and other hard materials, and the blade tool is perfect for vinyl (adhesive and heat-transfer), paper, leather, and other soft, thin materials.
Okay, let's get to those smaller cardboard boxes now!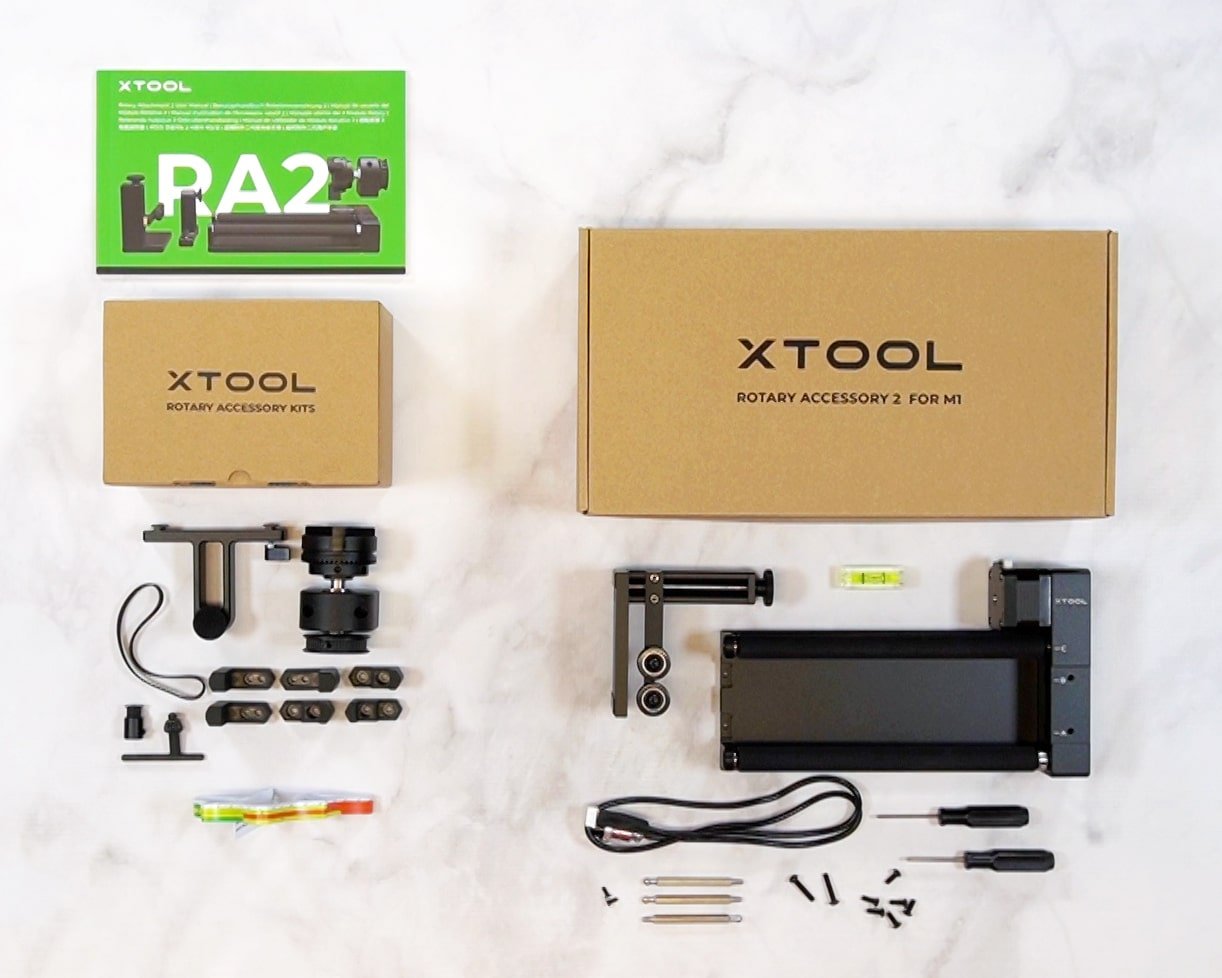 These two boxes contain all of the parts and pieces for the RA2 Pro rotary attachment. These will get assembled later and be used to engrave tumblers and other rounded items inside the M1 laser.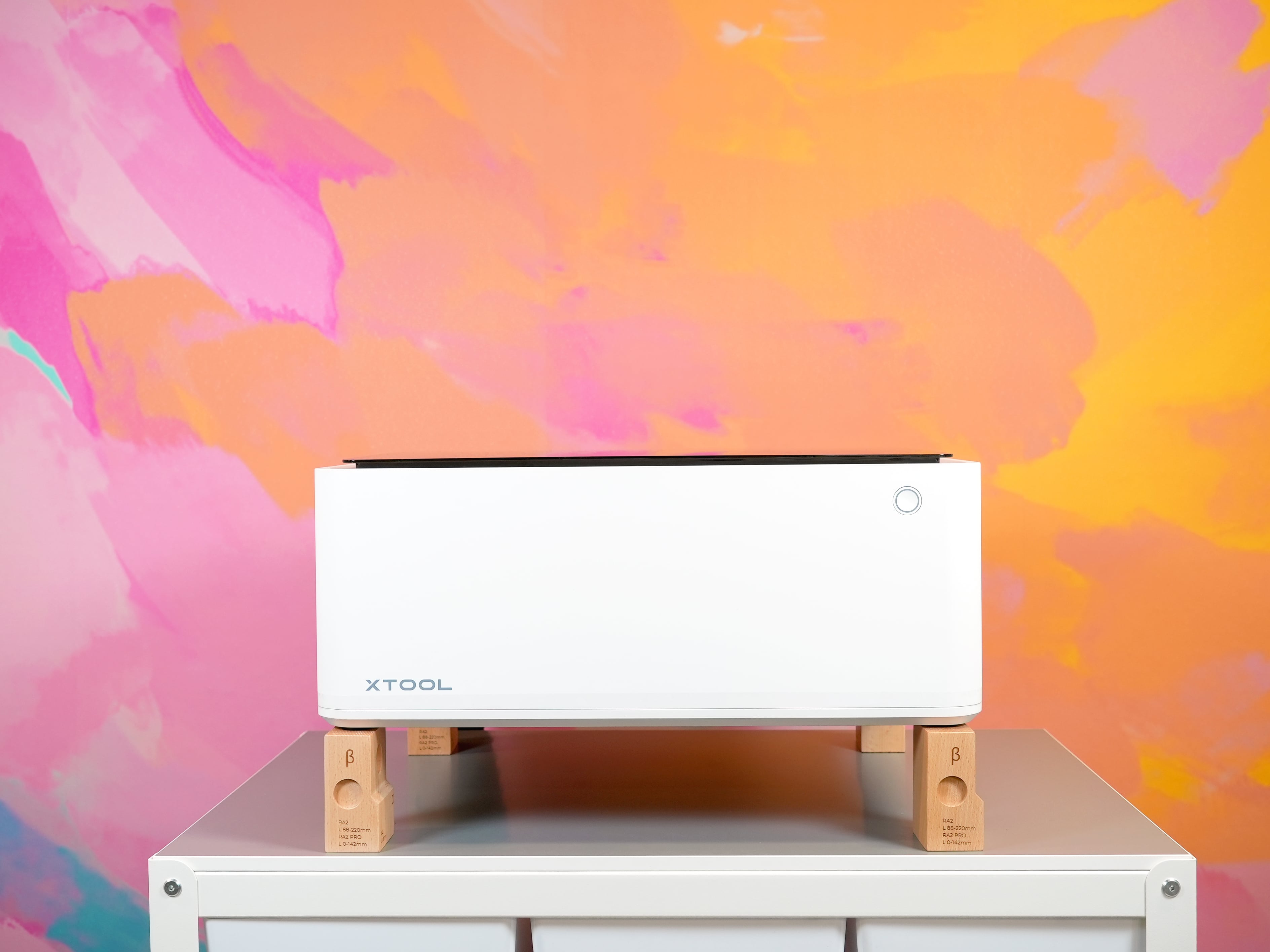 Inside another of the small cardboard boxes are these wood Raisers. These are used with the RA2 Pro to raise the M1 to the appropriate height when used in conjunction with the rotary attachment.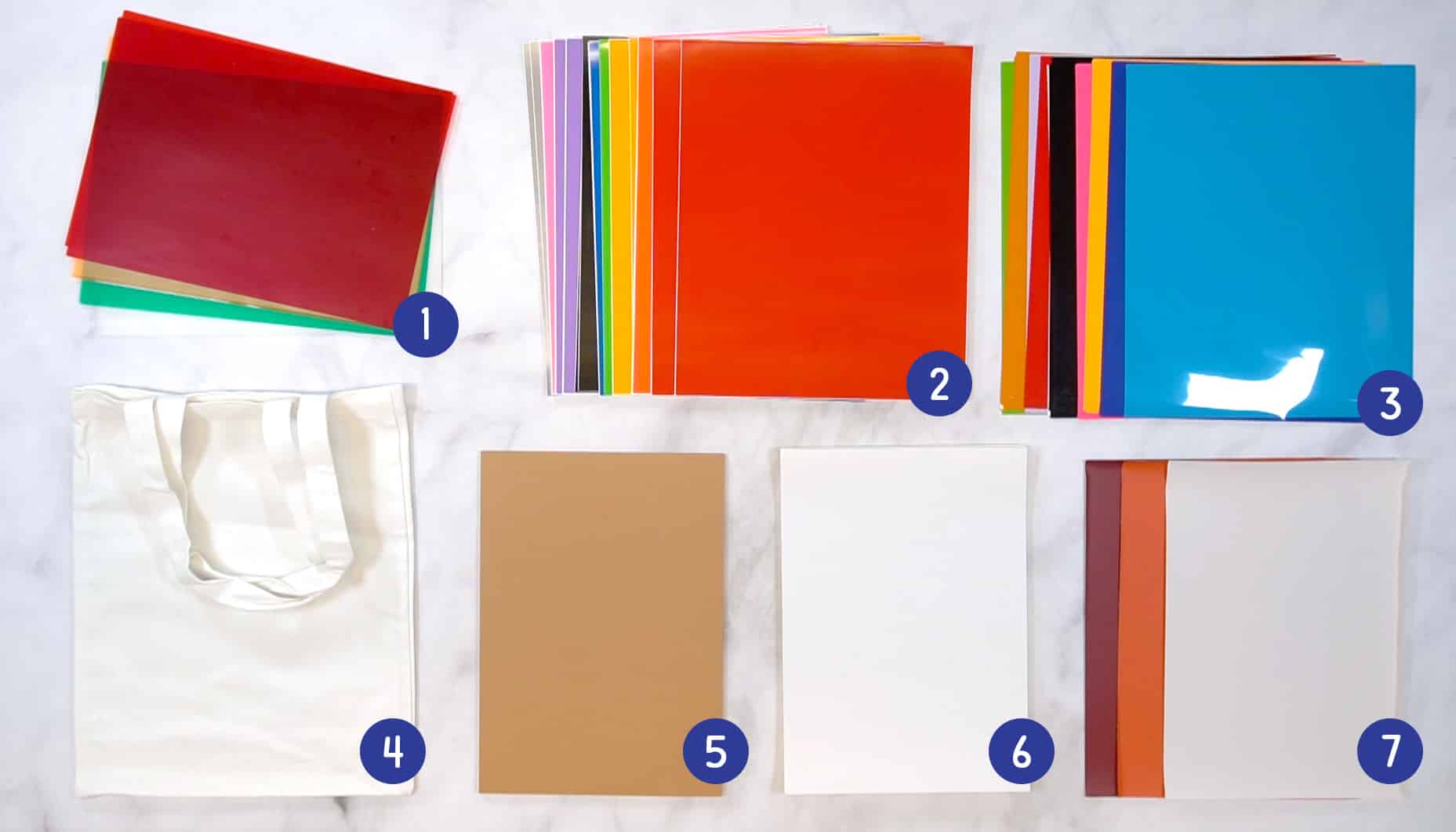 The final cardboard box is packed FULL of a wide assortment of sample materials! It includes:
(9) Glossy Colored PVC Sheets and (5) Frosted Transparent PVC Sheets
(20) Sheets of Adhesive Vinyl
(20) Sheets of Heat Transfer Vinyl (Iron-On)
Canvas Tote Bag
(20) Sheets of Kraft Paper
(30) Sheets of White Sticker Paper
(3) Sheets of PU Leather (as shown previously, not in sample cardboard box)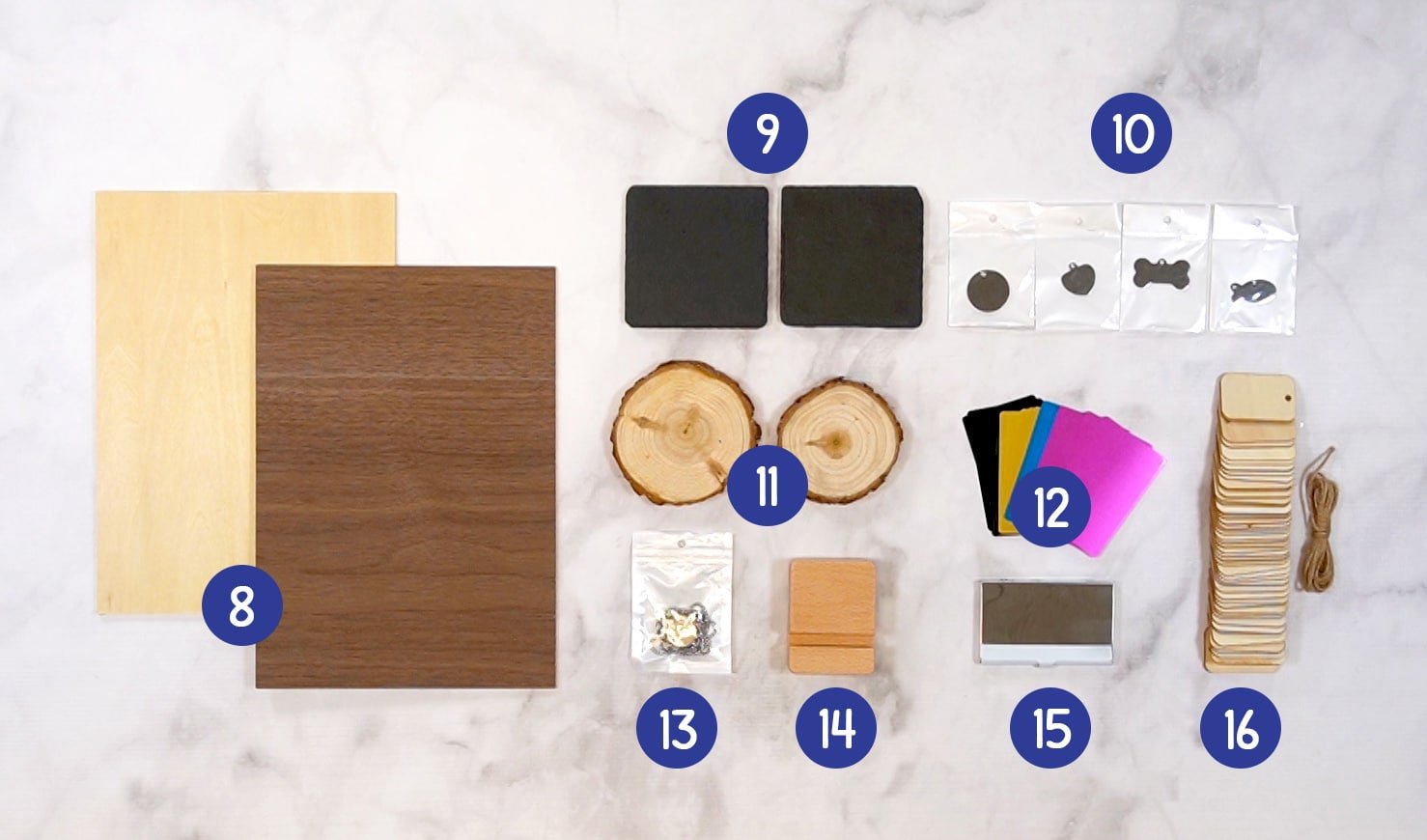 8. (2) Sheets of Black Walnut Plywood and Basswood Plywood
9. (2) Slate Coasters
10. (4) Stainless Steel Pet Tags
11. (2) Wood Slice Coasters
12. (20) Metal Cards
13. Jewelry Set with Ring and Necklace
14. Wooden Phone Stand
15. Card Holder Box
16. (100) Wood Tags and String
17. (4) Sheets of Laser Marking Paper (not pictured)
That's a total of 245 pieces of sample materials to get you started on all kinds of projects! 🎉🎉🎉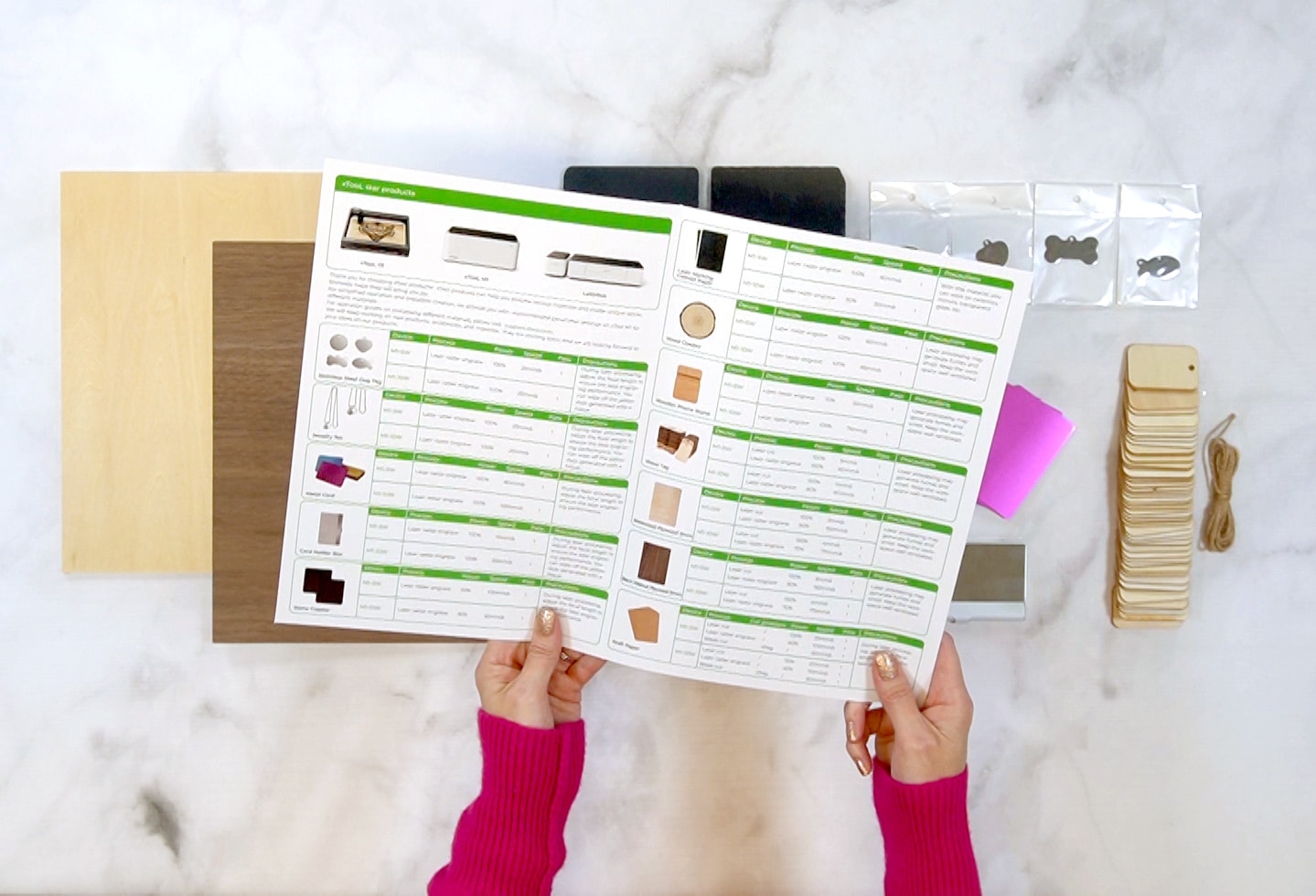 Also included is this handy guide that will help you determine your cutting and engraving settings for each of the different materials.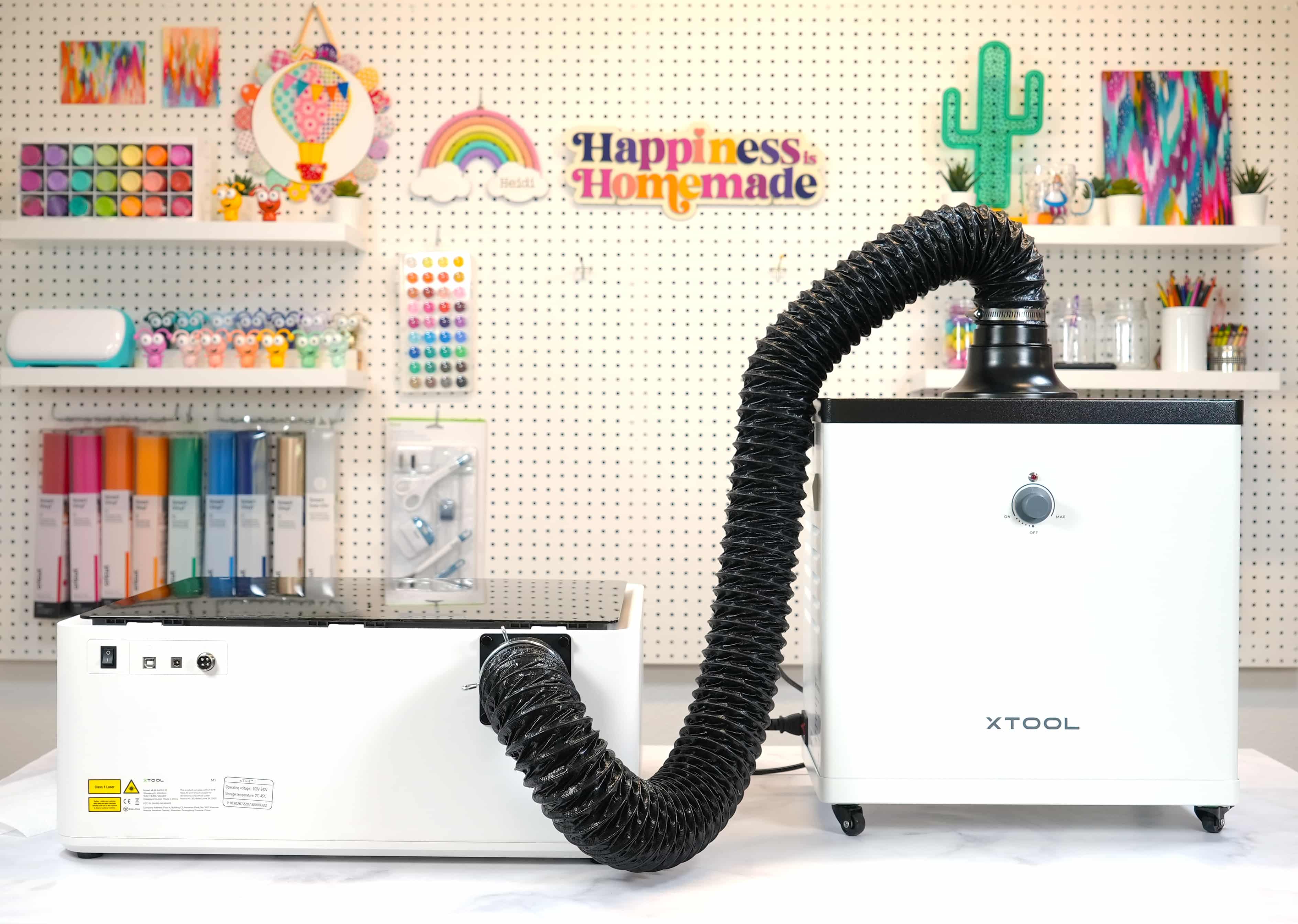 If you purchased the xTool M1 Deluxe Set that includes the Smoke Purifier, note that the filter will ship separately in its own box and may arrive a day or two later than the M1 machine.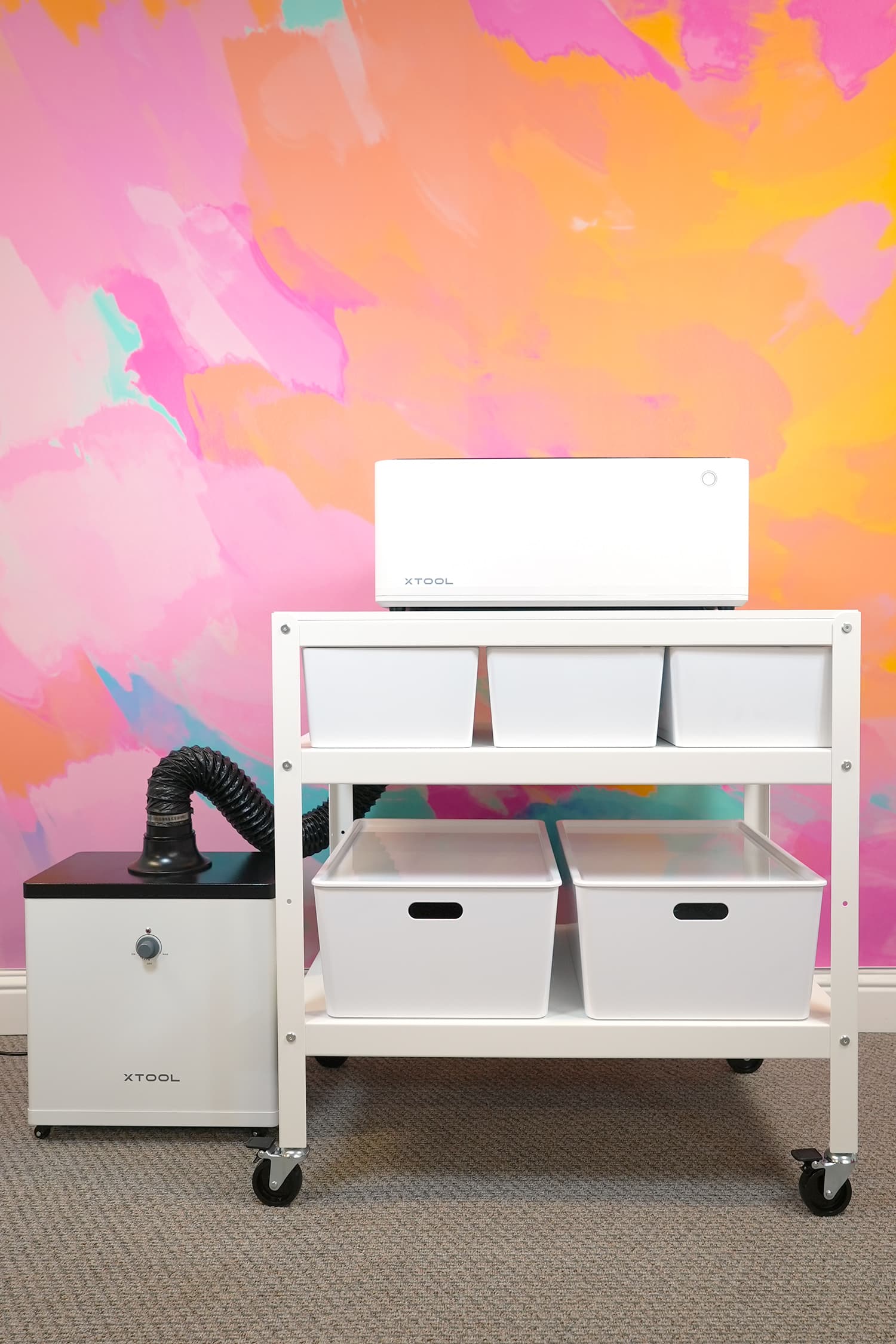 The xTool M1 fits perfectly on this Ikea Bror Cart! The Kuggis Storage Bins (also from Ikea) fit perfectly on the shelves and are a great size for holding your cutting and engraving materials.
Now that you know what comes in the xTool M1 box, be sure to check out our in-depth Ultimate xTool M1 Guide for Beginners!
Happy crafting!

---
Check Out These Other Laser Ideas!
---
Don't Forget to Pin This xTool M1 Unboxing for Later!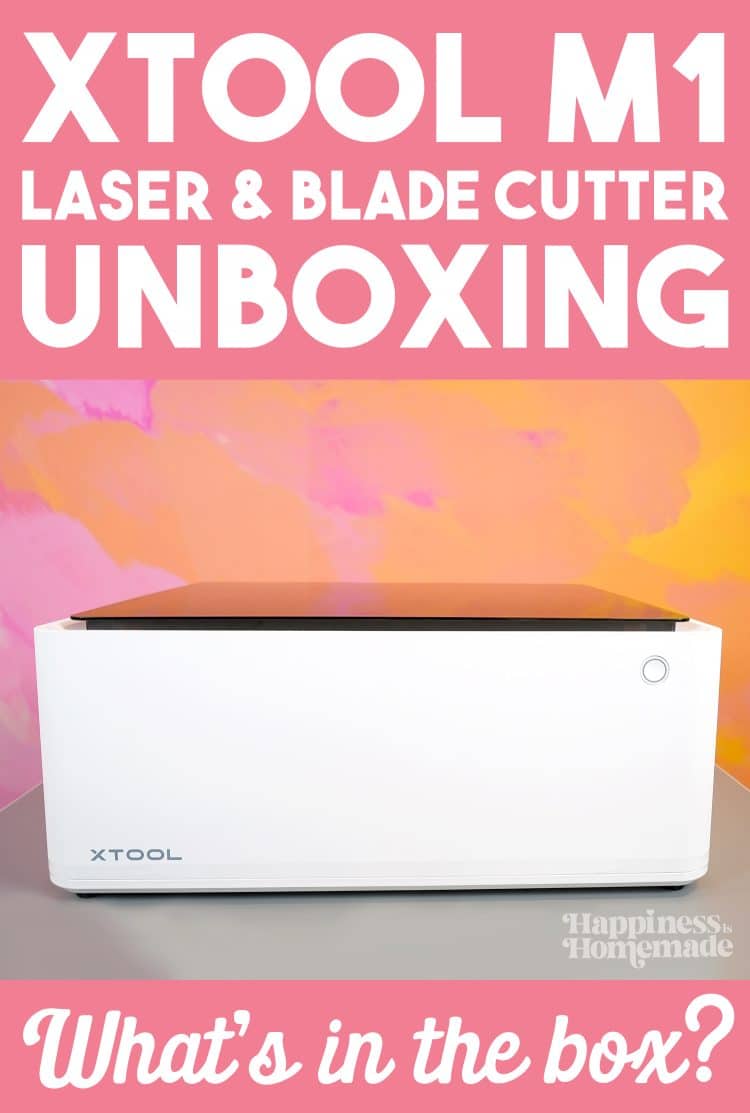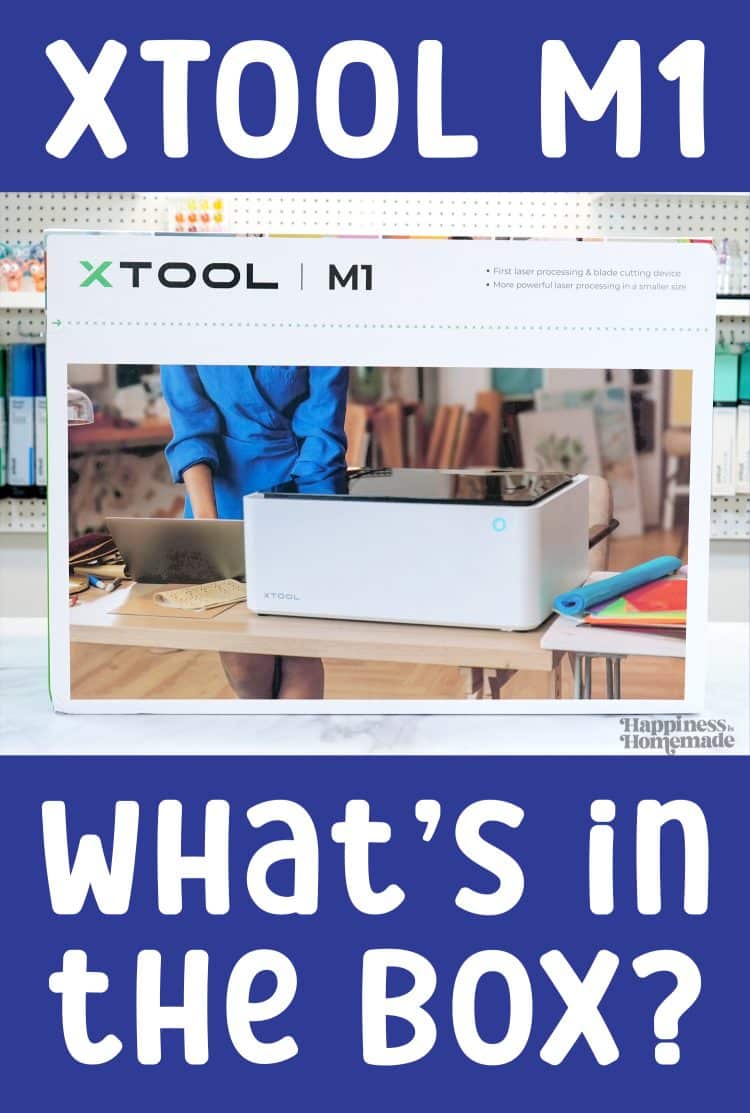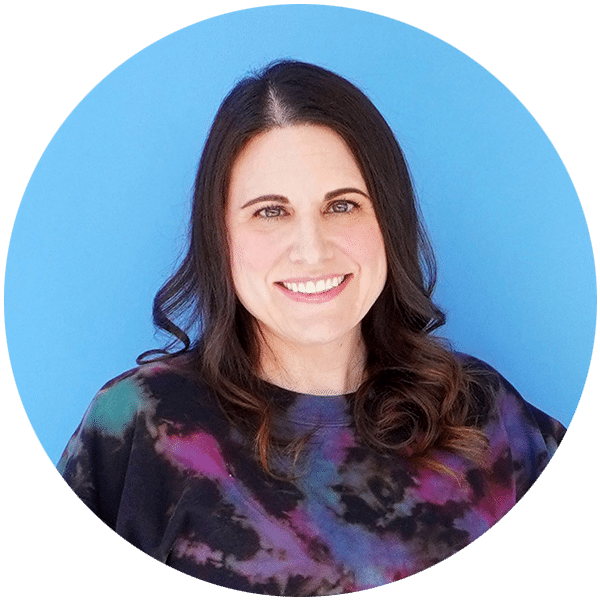 Heidi Kundin has captivated the hearts of millions with her colorful and inspiring approach to crafting, celebrations, and family fun. With over 15 years of experience, Heidi's website has become a must-visit destination for those seeking quick and easy creative ideas and last-minute solutions. Her warm personality shines through her posts, inviting readers to join her on a creative journey that's fun, rewarding, and achievable.