Lavender Lemonade Prosecco Cocktails + DIY Ombre Glitter Champagne Glasses are the perfect pair for a Sunday Brunch with your favorite girlfriends! Get the Prosecco cocktail recipe and the full how-to glitter glasses tutorial details below!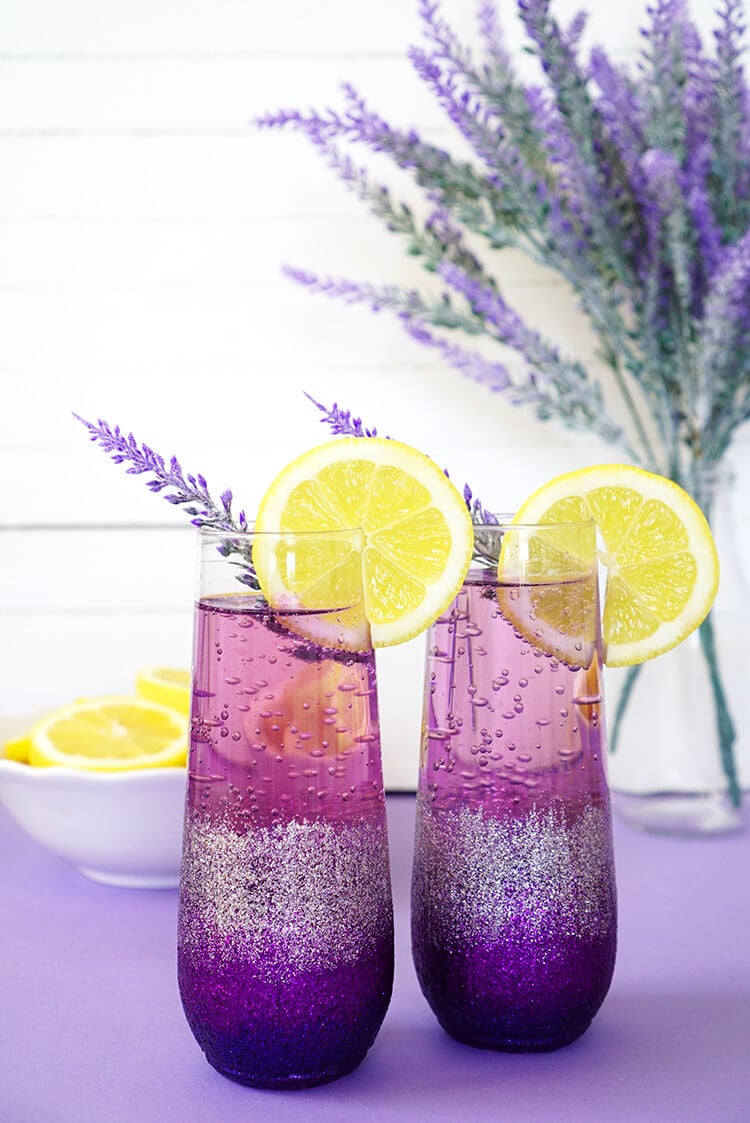 This is a sponsored post written by me on behalf of Santa Margherita. All opinions are 100% mine.
Sunday Brunch is one of the greatest joys in my life (helloooo, quiches, muffins, and mimosas!), and Sunday Brunch with my favorite girlfriends is one of the best things EVER! As busy moms and business owners, we don't get the opportunity to spend as much time together as we would like, so we thoroughly enjoy and cherish every moment of each Sunday Brunch that we get to spend together. It's a simple but memorable affair, and it always leaves each of us with a renewed spirit and grateful heart.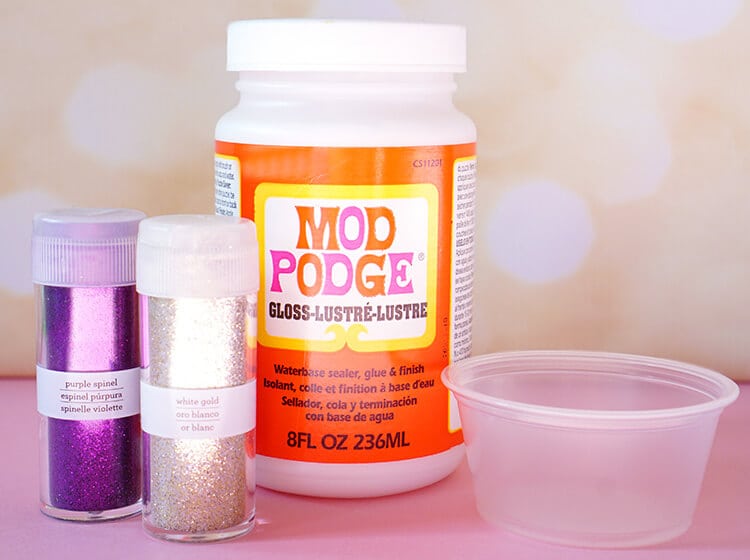 This time, I wanted to create something extra special and sparkly for our girls' brunch, so I decided to give our champagne glasses a gradient ombre glitter makeover. It may look fancy schmancy, but it's actually a super quick and easy project that's sure to impress your guests!
What You'll Need: 
Disposable plastic champagne or wine glasses
Mod Podge
Glitter in 3-4 colors
Paintbrush
Craft/popsicle stick or something similar for mixing
Paint tray or small bowl
In a paint tray or small bowl, combine equal amounts of Mod Podge and glitter – start with the darkest color at the bottom. Use the paintbrush to paint the mixture onto the bottom of each glass using short upward strokes.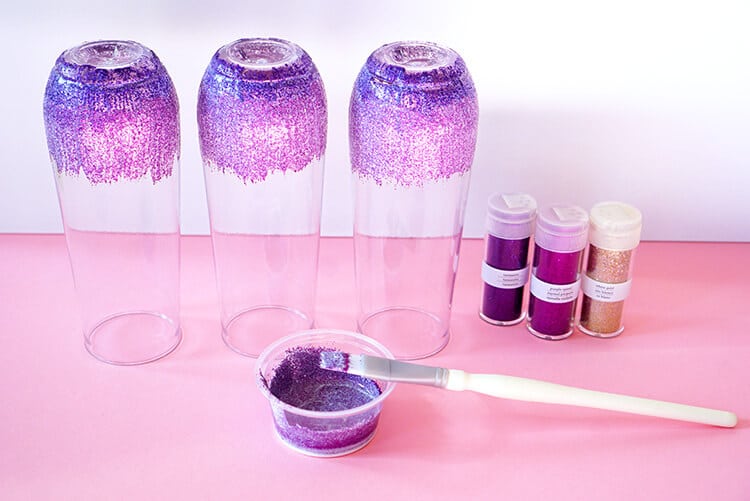 Repeat the process for each of the colors, moving towards the top of the glass with each new color. Overlap the glitter paint with the previous color to create the ombre effect. Allow the glasses to dry completely.
(Note: additional coats of glitter paint can be applied if needed. You do NOT need to wait for the paint to dry completely before applying and additional coat. Allow to thoroughly dry after final coat. I used two coats for each of the purple colors and one coat of the white gold.)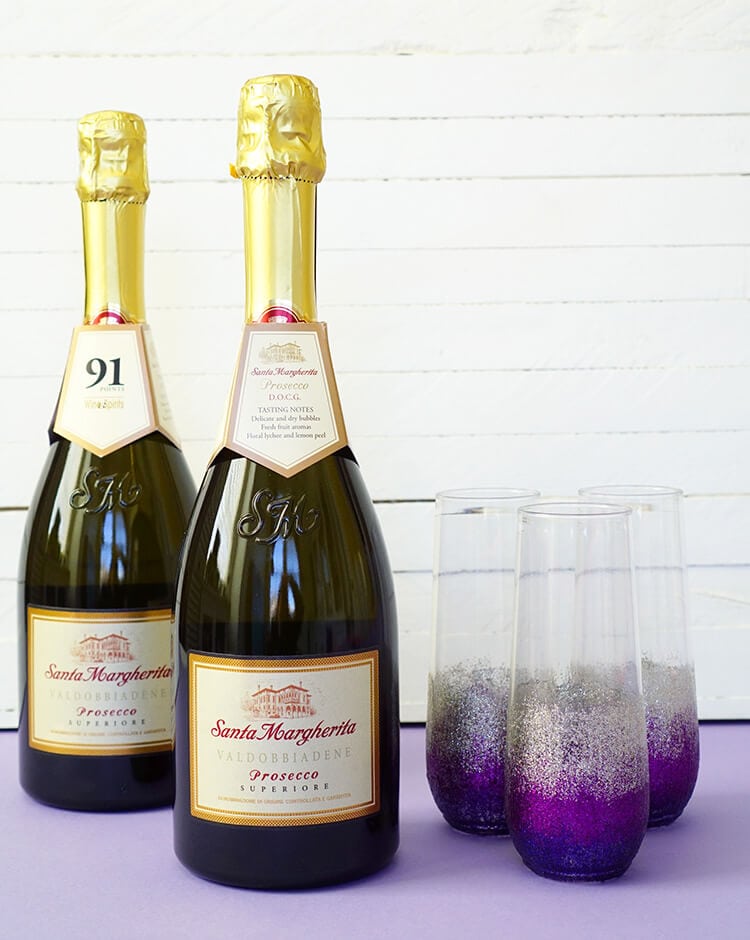 So, what type of brunch cocktail is worthy of being served in these gorgeous new glasses? A lavender lemonade Prosecco cocktail, of course! I picked up two bottles of Santa Margherita Prosecco Superiore DOCG from our local wine store because it's a high-quality favorite of my friends and mine, and the flavors are the perfect complement to lavender and lemon.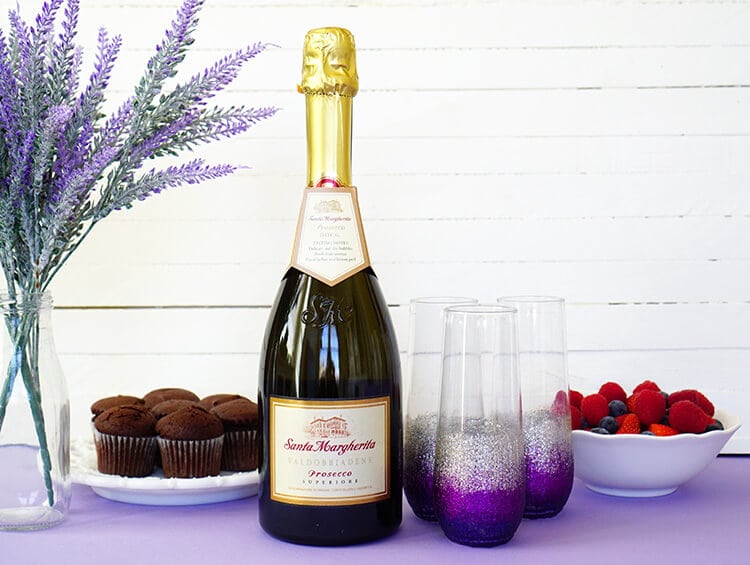 Glittery drink glasses – check! Santa Margherita Prosecco DOCG – check! Muffins, fruit, and flowers – check! This girls' brunch is almost ready! I popped a quiche into the oven and headed to the stove top to whip up a batch of lavender lemon syrup for our cocktails.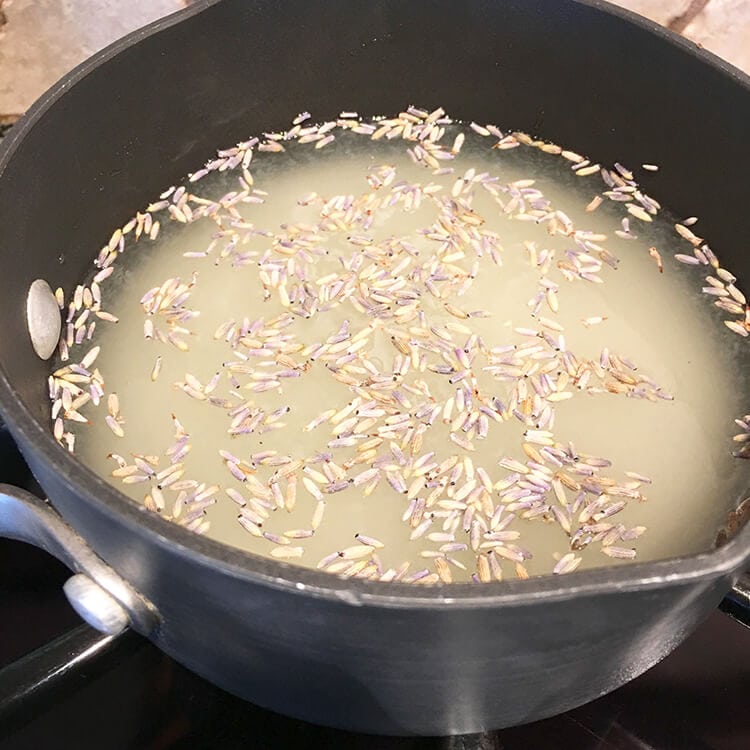 To make the lavender lemon syrup, combine 1 cup of sugar, 1/4 cup of lemon juice, 3/4 cup water, 1 tablespoon of dried lavender (can also substitute fresh lavender or 3 drops of food-grade lavender essential oil), and 2-3 drops of neon purple food coloring (if desired). Simmer over low-medium heat for 15 minutes, allow to cool for 15 minutes, and pour through a fine mesh strainer to remove the lavender buds from the syrup.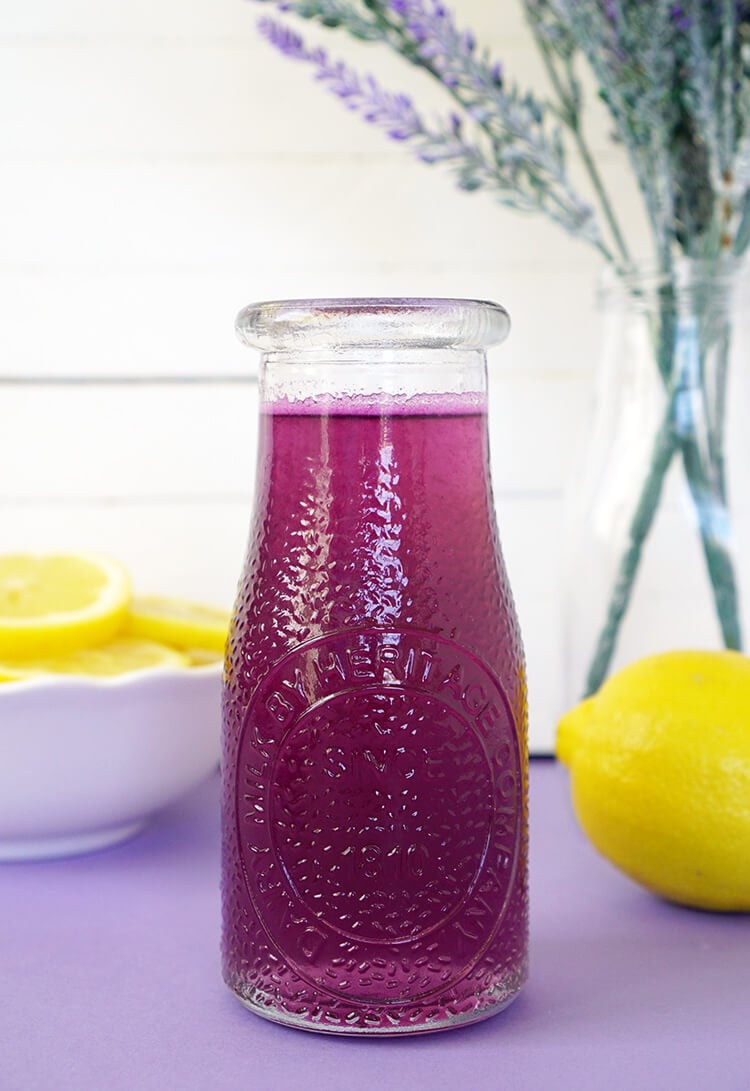 Isn't that color gorgeous?! It smells pretty darn incredible too!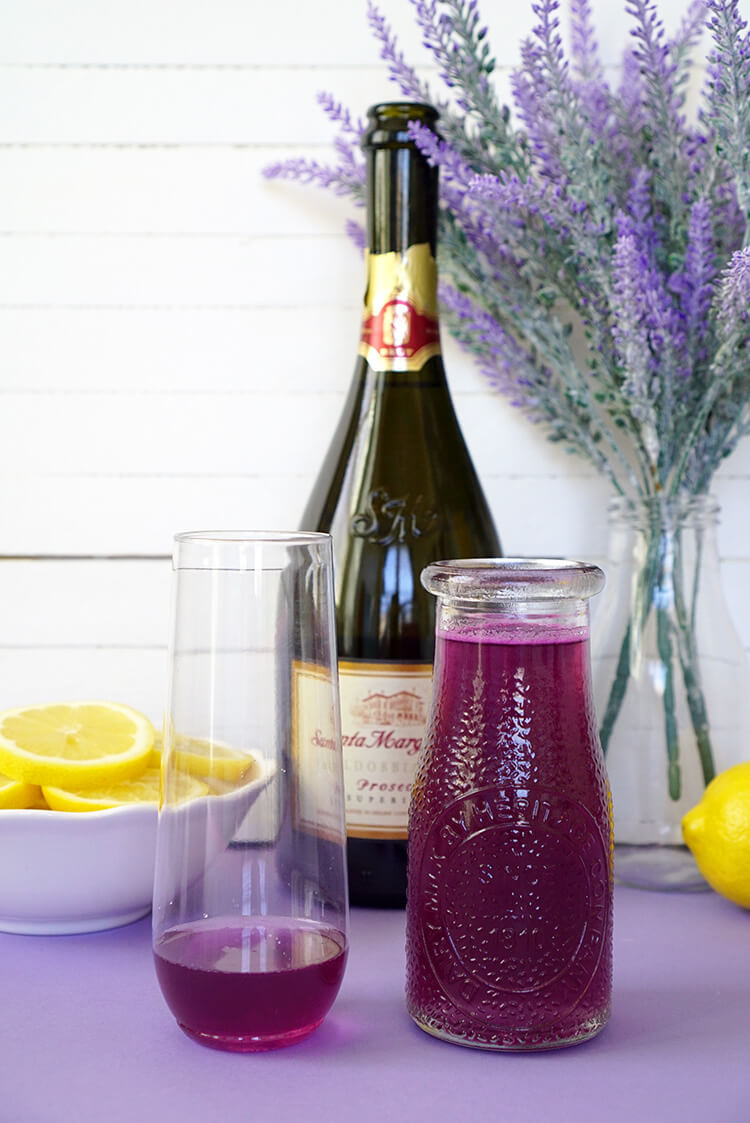 To mix the lavender lemonade Prosecco cocktail, fill the bottom of each glass with 2 oz. of lavender lemon syrup, and top it off with 6 oz. of Santa Margherita Prosecco DOCG.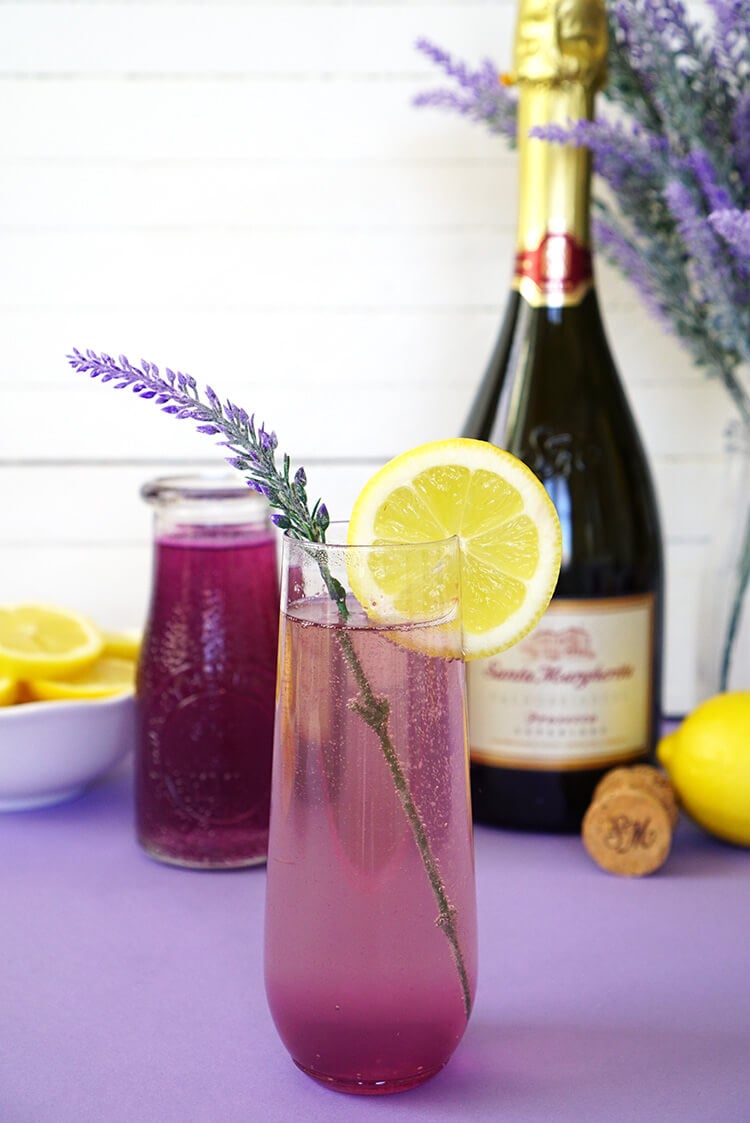 Garnish each cocktail with a lemon wheel and a sprig of lavender – SO pretty!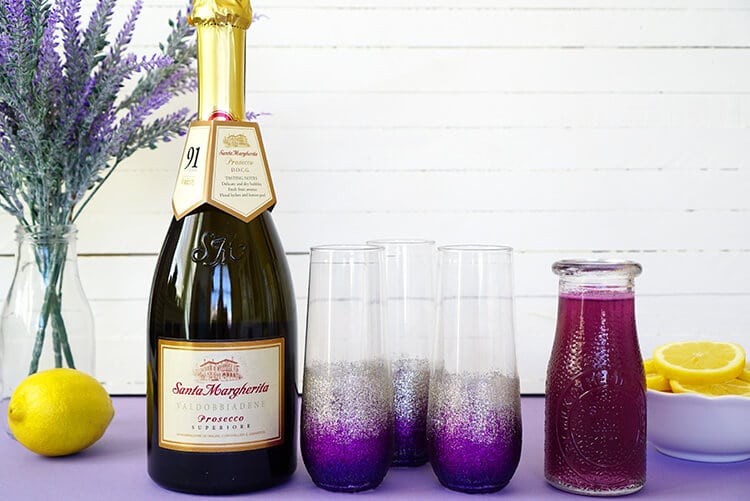 (Okay, okay…did you notice that I totally cheated right there and didn't even show you the Prosecco cocktails in the sparkly glitter glasses yet? I couldn't help showing off that beautiful color in a simple clear glass, but it's even MORE stunning in the ombre glitter glasses!)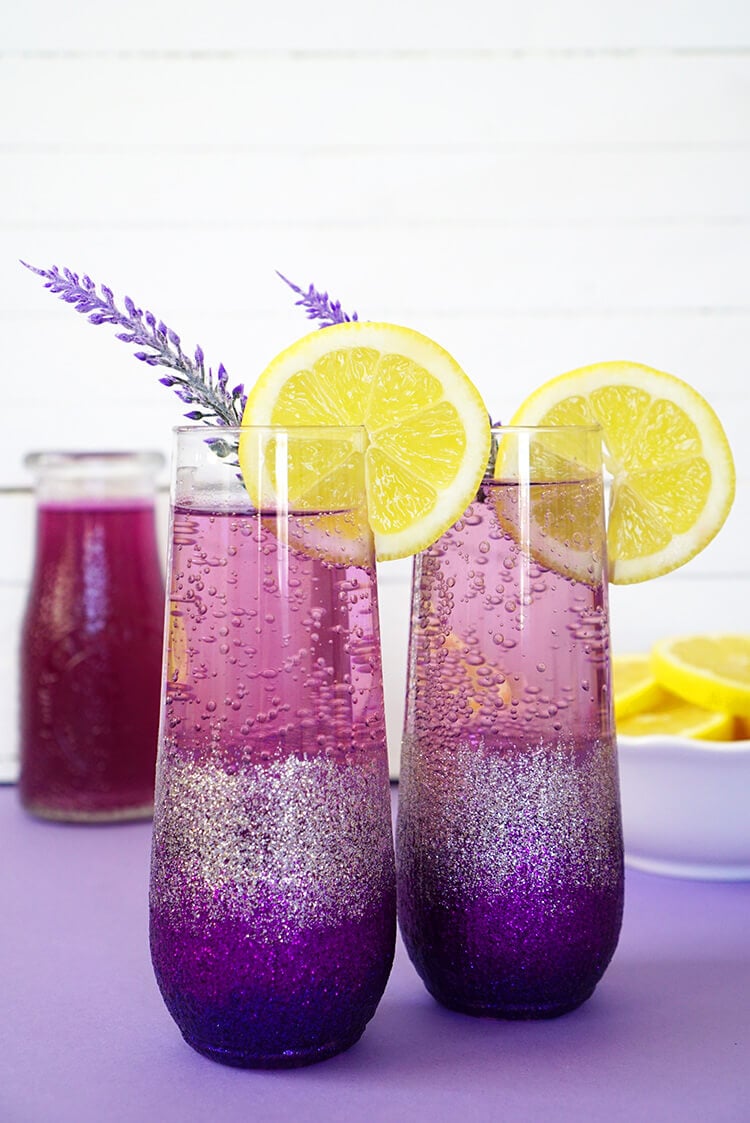 See what I mean? Totally gorgeous and perfect for a girls' day!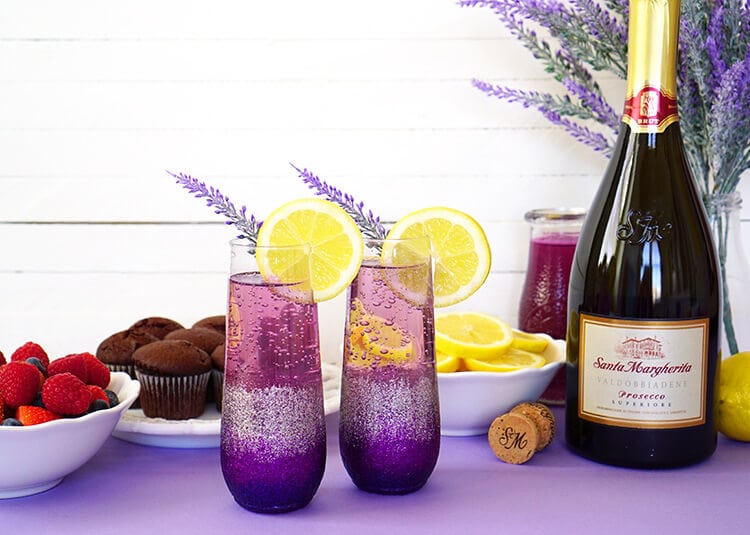 Glitter + Santa Margherita Prosecco DOCG + Sunday Brunch + my favorite girlfriends = the very best way to celebrate life!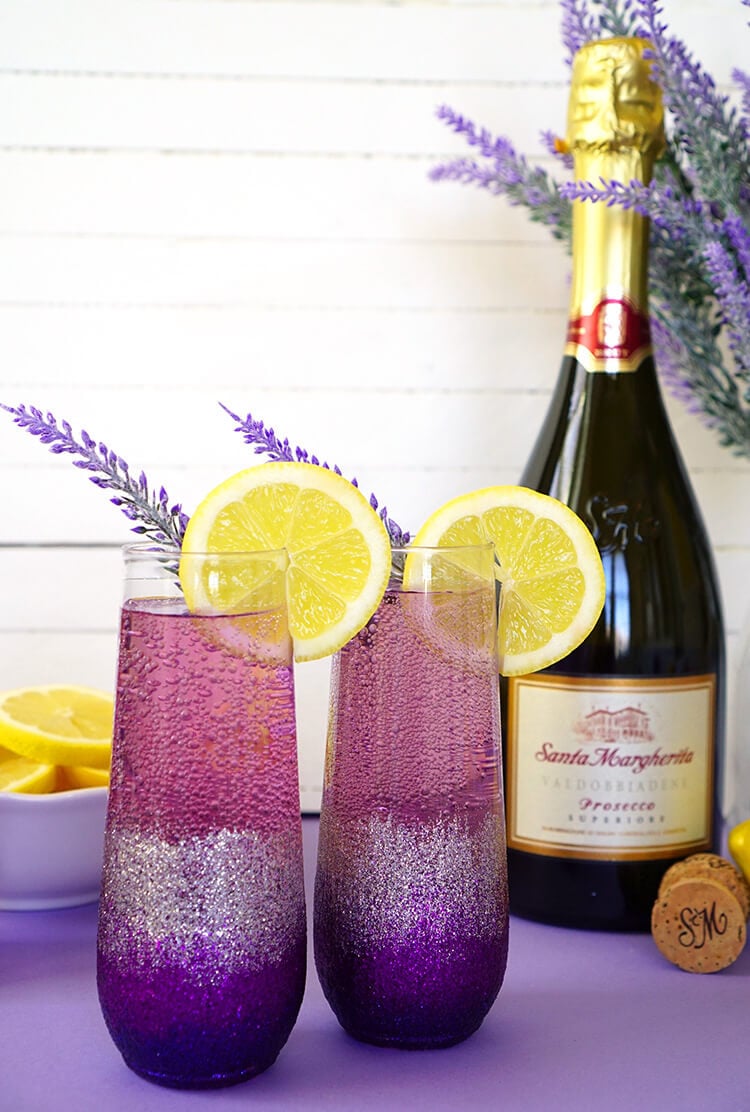 This lavender lemonade Prosecco cocktail is one of my favorite ways to celebrate the everyday moments, whether I'm sipping with the ladies while swapping stories and life lessons, or if I'm relaxing with my family on the weekend. It's an all-occasion superstar (thanks to a little help from Santa Margherita!)!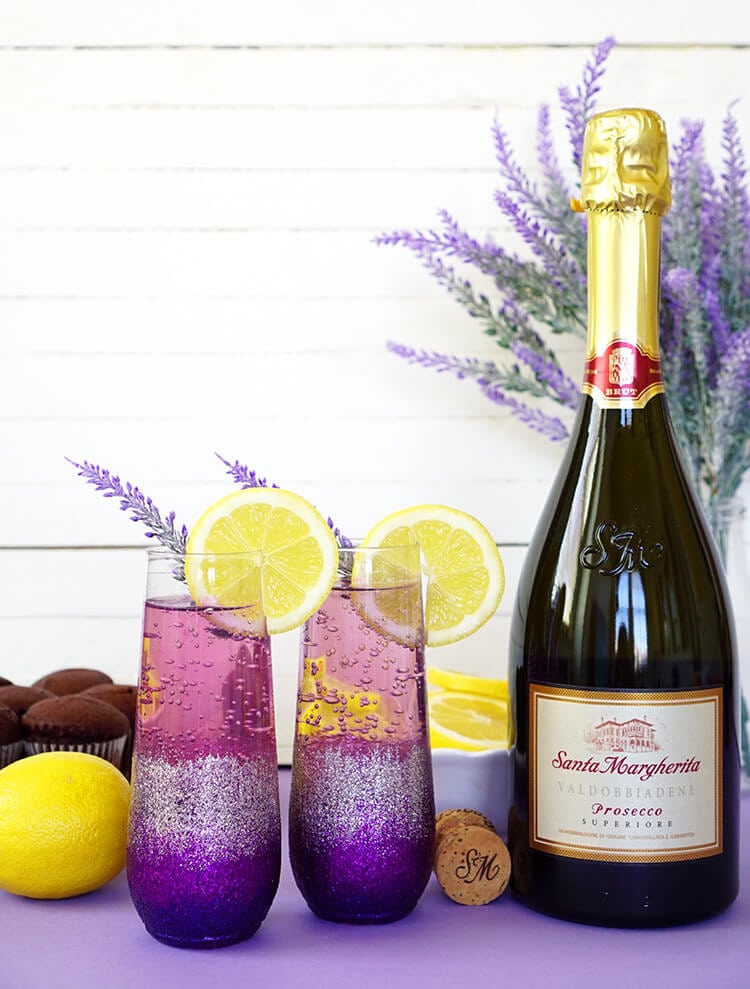 For more delicious recipes and ideas, be sure to visit the Santa Margherita website, and follow the Santa Margherita Instagram and Santa Margherita Facebook pages!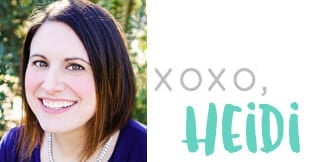 If you like this idea, don't forget to pin it!