Cricut Joy: What's New and What Can It Do?
This post and its photos may contain affiliate links. As an Amazon associate I earn from qualifying purchases. If you make a purchase through these links, I may receive a small commission at no extra cost to you!
Meet the brand new Cricut Joy, your new DIY best friend! Make projects in minutes with Cricut Joy, a uniquely compact and portable cutting machine that makes crafting simple!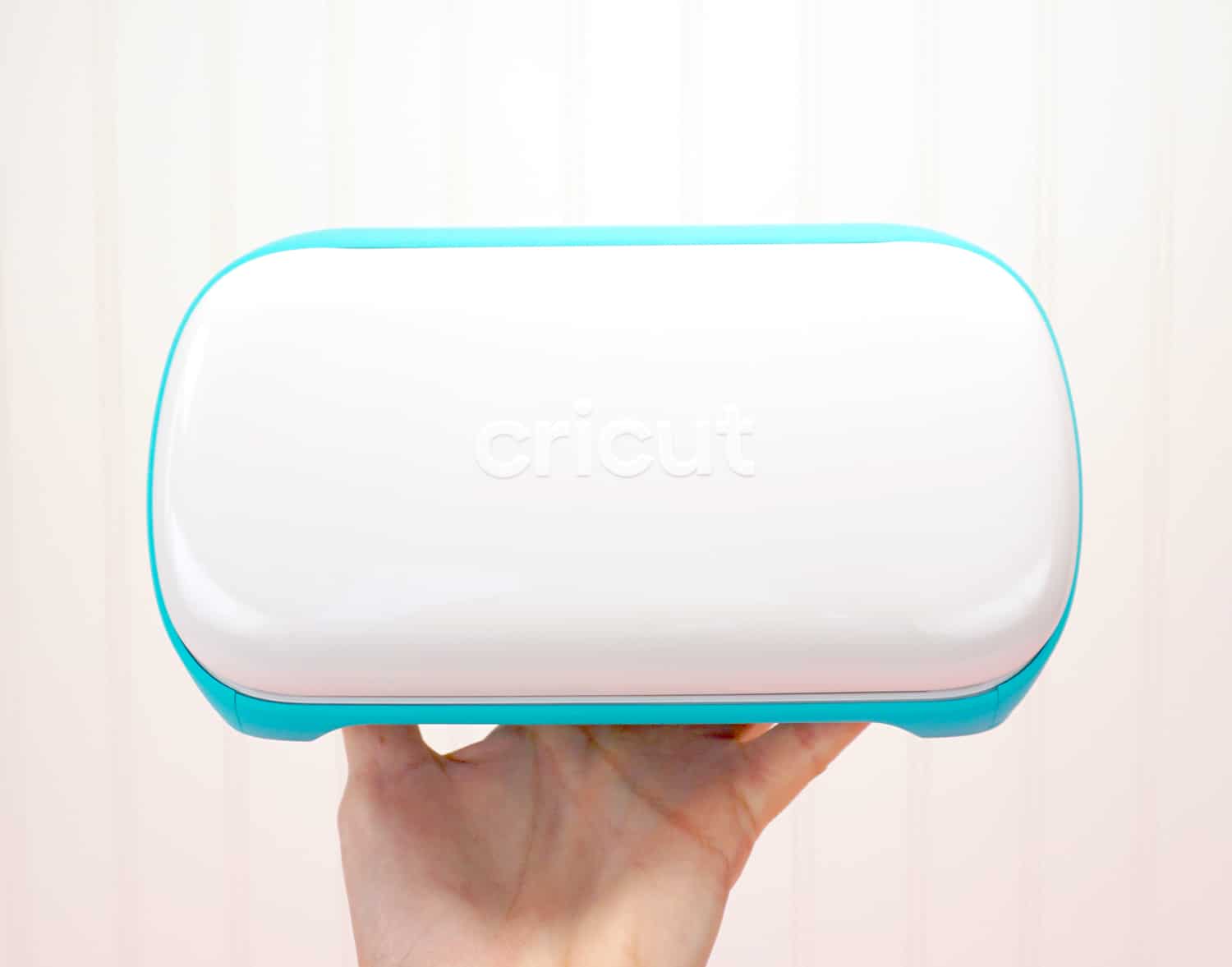 This post may contain affiliate links. I will receive a small commission from these sales at no additional cost to you! This post is sponsored by Cricut. All ideas and opinions are my own.
What is Cricut Joy?
Have you heard the news yet? Cricut just announced a brand new machine, Cricut Joy!
Cricut Joy will be available in stores and online beginning March 1st, but we had the opportunity to take a sneak peek test drive, and we're sharing all of the details today! Come learn all about this amazing little machine and all of the incredible things that it can do!
If you have ever been worried about your lack of crafting time or space, or concerned about the level of commitment required to own a Cricut machine, set all of those fears aside today! Cricut Joy is the perfect machine for everyone, whether you're a casual crafter who's just looking to get into the world of craft cutting or someone who already owns a Cricut machine!
If you already own a Cricut cutting machine, Cricut Joy is going to be your new favorite sidekick – it's the perfect companion to your larger machine! Save your full-sized machine for larger designs and denser materials, and fall in love with this new mini machine that will quickly become your go-to for super-fast cards, labels, decals, and more!
Cricut Joy is a uniquely compact and portable machine that has a TON of creative and practical uses! It's powerful creativity that fits in the palm of your hand!
The All-New Cricut Joy Machine
How Big is Cricut Joy?
First up, let's get to know the basics! Weighing in at under 4 pounds and measuring a petite 5″ x 8″ (when closed), Cricut Joy packs a TON of incredible power inside of this tiny machine!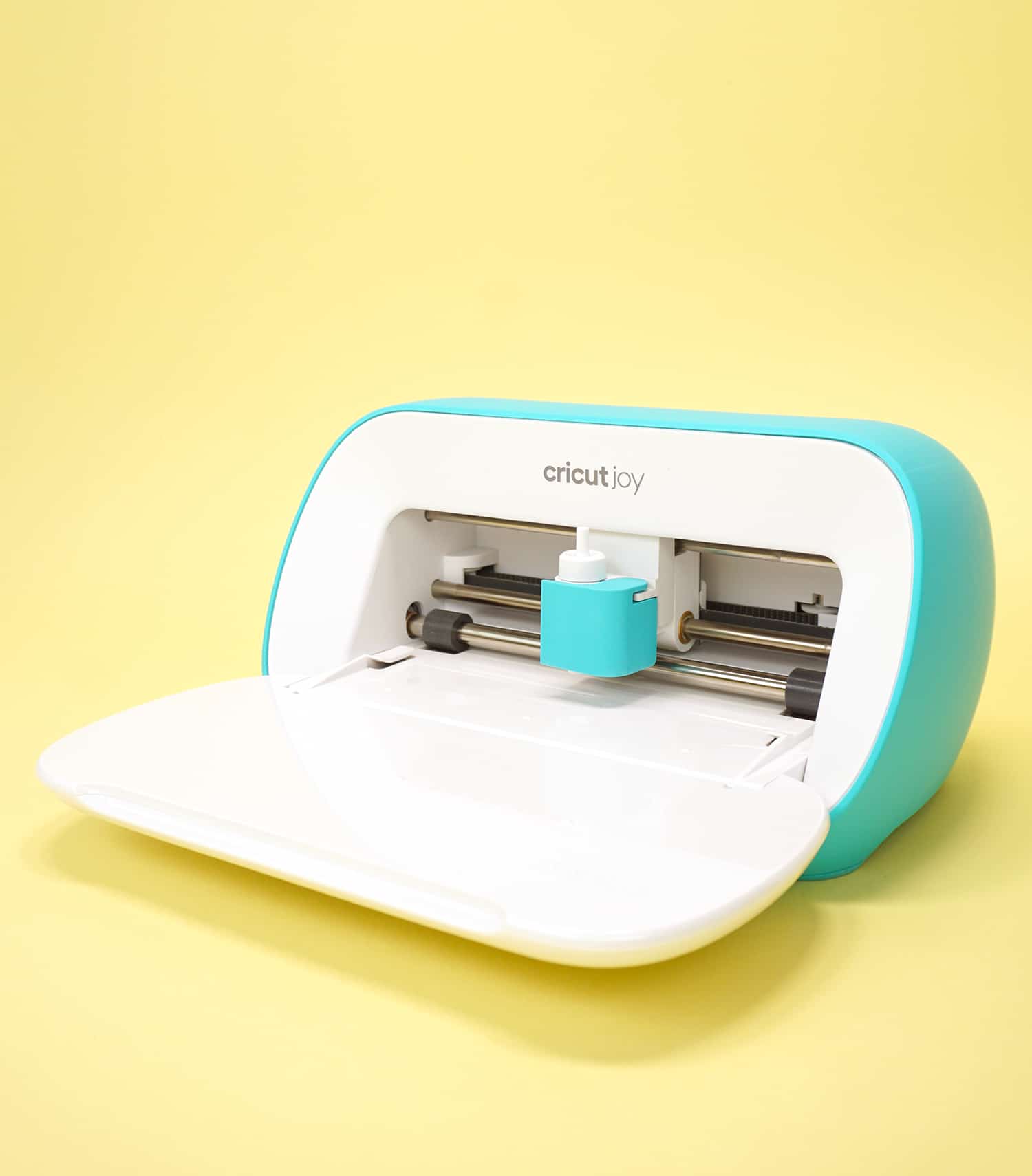 One of the first things that you might notice about Cricut Joy is the lack of buttons and dials on the machine. It has a super sleek and compact profile, and all of the functions are controlled through the Cricut Design Space software. Simply plug in the machine, and you're ready to go!
What Can You Cut with Cricut Joy?
The introduction of Cricut Joy also comes along with the debut of some innovative new cutting materials as well. The full line-up of Smart Materials, including Smart Vinyl, Smart Iron-On, and Smart Label, are designed to be cut without a mat (I repeat, WITHOUT A MAT!!!🎉) for even faster and more efficient cutting! Cricut is also offering Infusible Ink Transfer Sheets, Transfer Tape, and Adhesive-Backed Paper all perfectly sized to fit Cricut Joy along with Joy-sized mats for materials like paper that require one.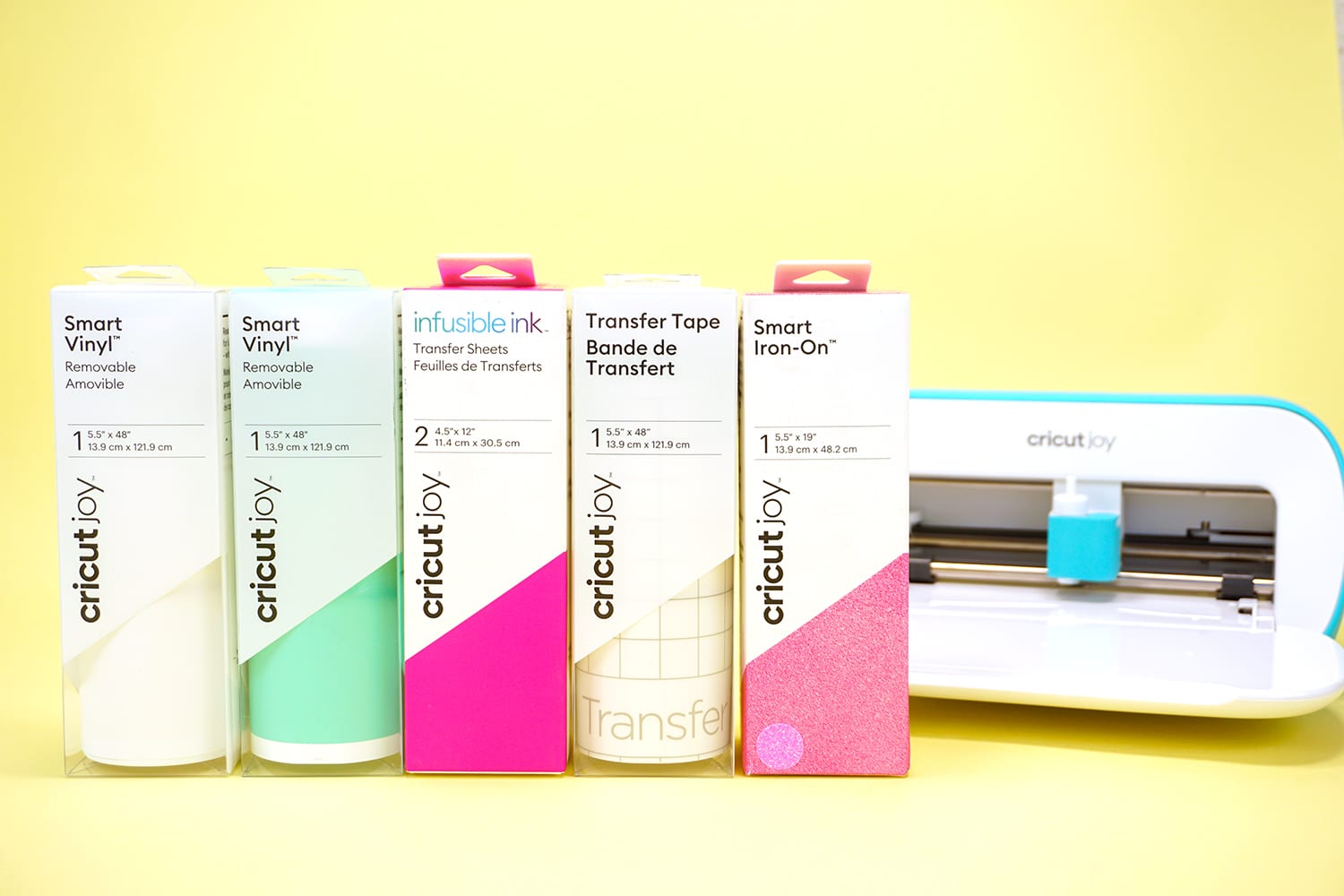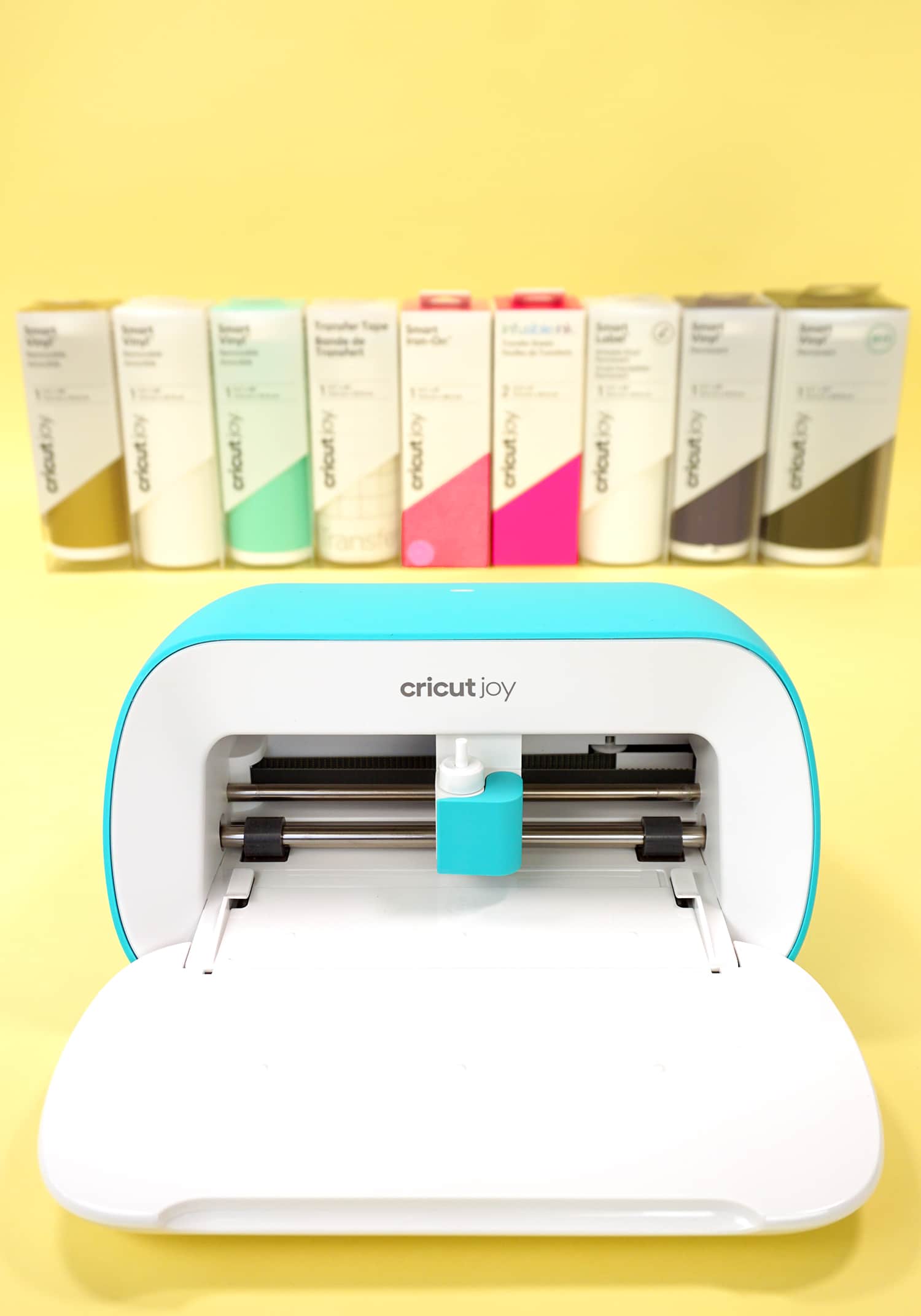 What's New About Cricut Joy?
Mat-free cutting isn't the only new technology that comes with the release of Cricut Joy , though! You can now also create long cuts, up to 20 feet long!
Cricut Joy can cut continuous images up to 4.5″ wide by 4 feet long, and it can cut repeated shapes up to 20 feet long! That means that you can cut an entire room's worth of vinyl wall decals in one single cut! That's pretty impressive and a huge time-saver!
Does Cricut Joy Draw and Write?
Like other popular Cricut machines, Cricut Joy offers more than just the ability to cut things! A specialized line of assorted pens (in a wide variety of colors and tips) and Infusible Ink markers enable the machine with precision writing and drawing capabilities.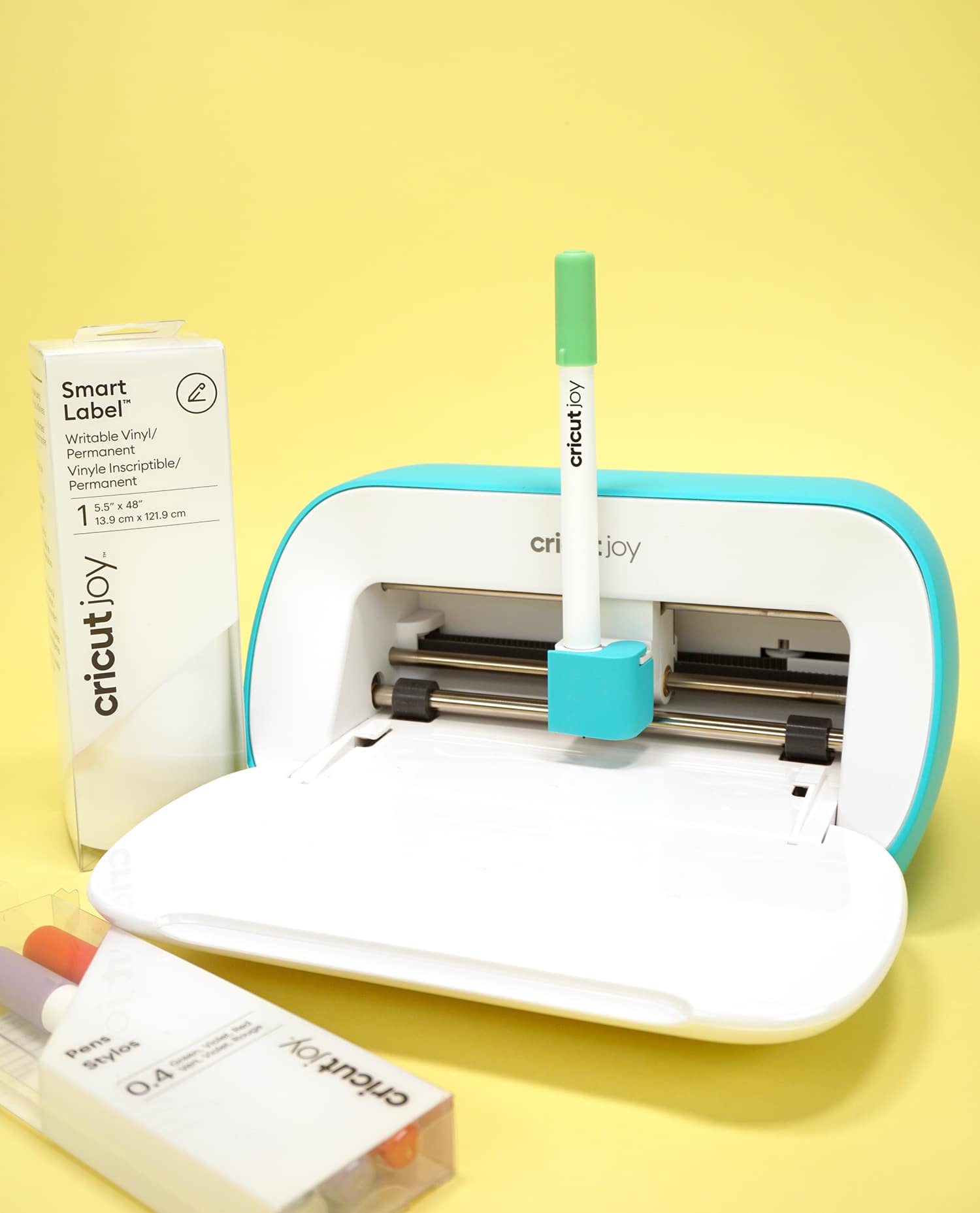 Simply insert the marker into the holder, and you're ready to make professional quality cards and labels with ease! Use the Cricut Joy pens with the all-new Smart Label material to create decorative labels to organize your entire life!
What are the Cricut Joy Card Mat & Insert Cards?
One of my favorite new things about the Cricut Joy is its superior (quick and easy!) card-making ability. The all-new Cricut Joy Card Mat and Insert Cards sets allow you to easily create gorgeous cards in minutes – perfect for all of those out-the-door last-minute birthday party scenarios!
(Keep reading, and I'll show you a quick demonstration of the Cricut Joy Card Mat in action in a minute!)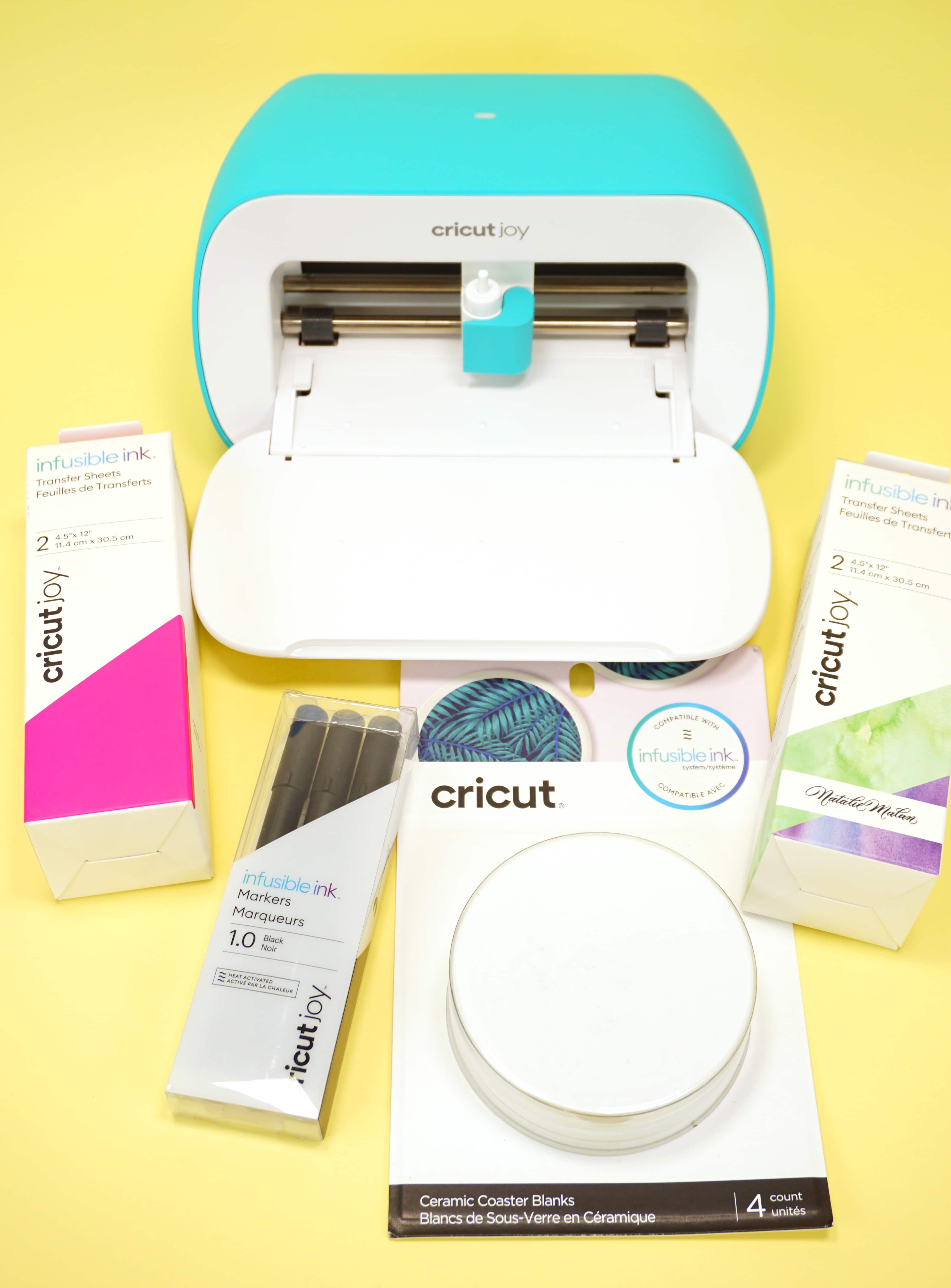 Can You Use Infusible Ink with Cricut Joy?
If you've ever wanted to try out Infusible Ink, here's the perfect opportunity! Cricut Joy Infusible Ink Transfer Sheets are pre-sized for Cricut Joy, and they're the perfect size for making Infusible Ink coasters and other small Infusible Ink projects!
With such a wide variety of materials available, there's SO much that you can do with Cricut Joy!
---
How to Use Cricut Joy
Now that we've covered the basics of the machine, let's walk through a quick and easy craft project to show you Cricut Joy in action!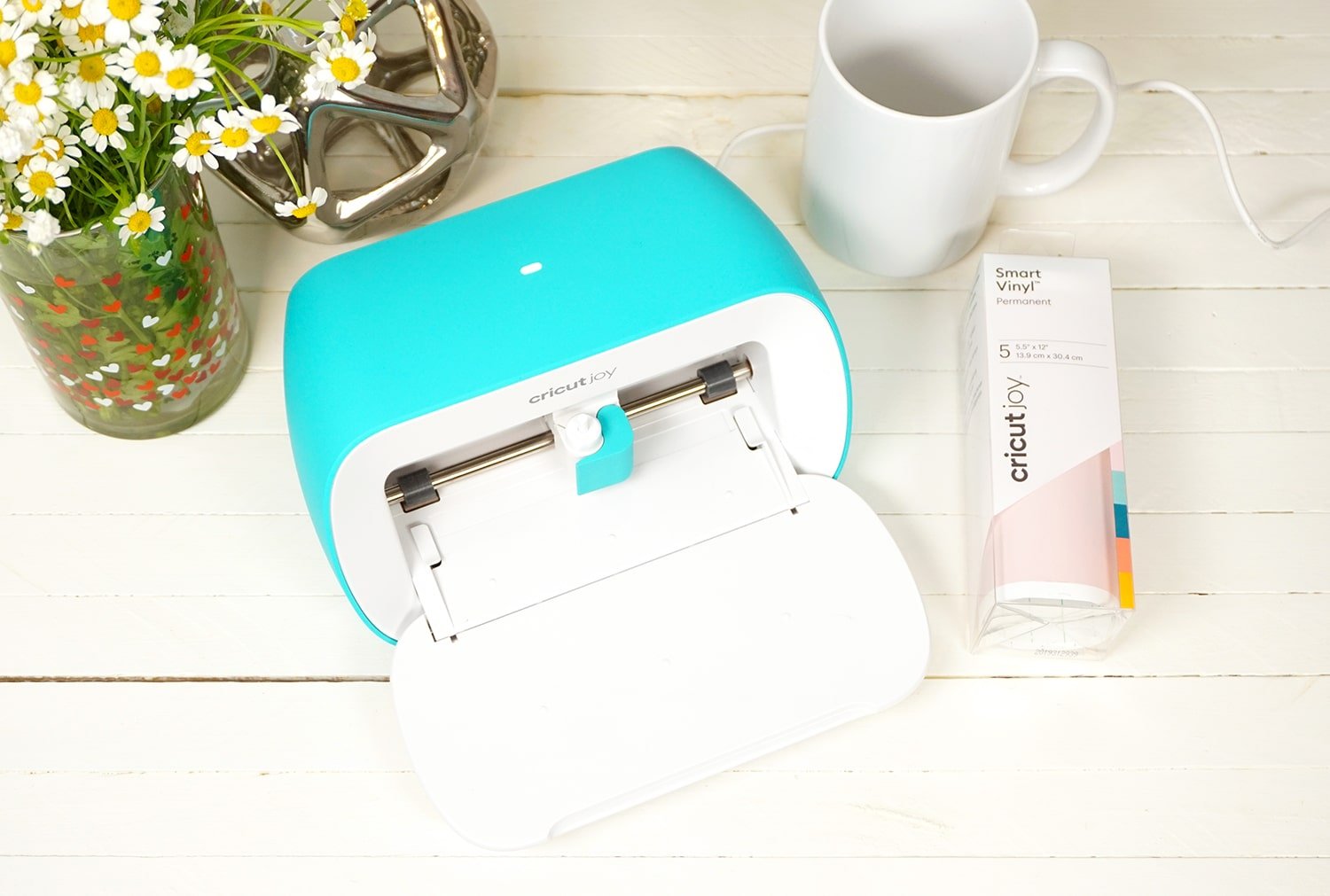 One of the most frequent comments that I hear from my readers about Cricut machines is that they would love to have one…IF they had the space available. Well, space is no longer is a concern with Cricut Joy!
The very best thing about it is that you can craft ANYWHERE with it! I whipped up this cute coffee mug at my living room coffee table while I was waiting for my coffee to brew in the kitchen!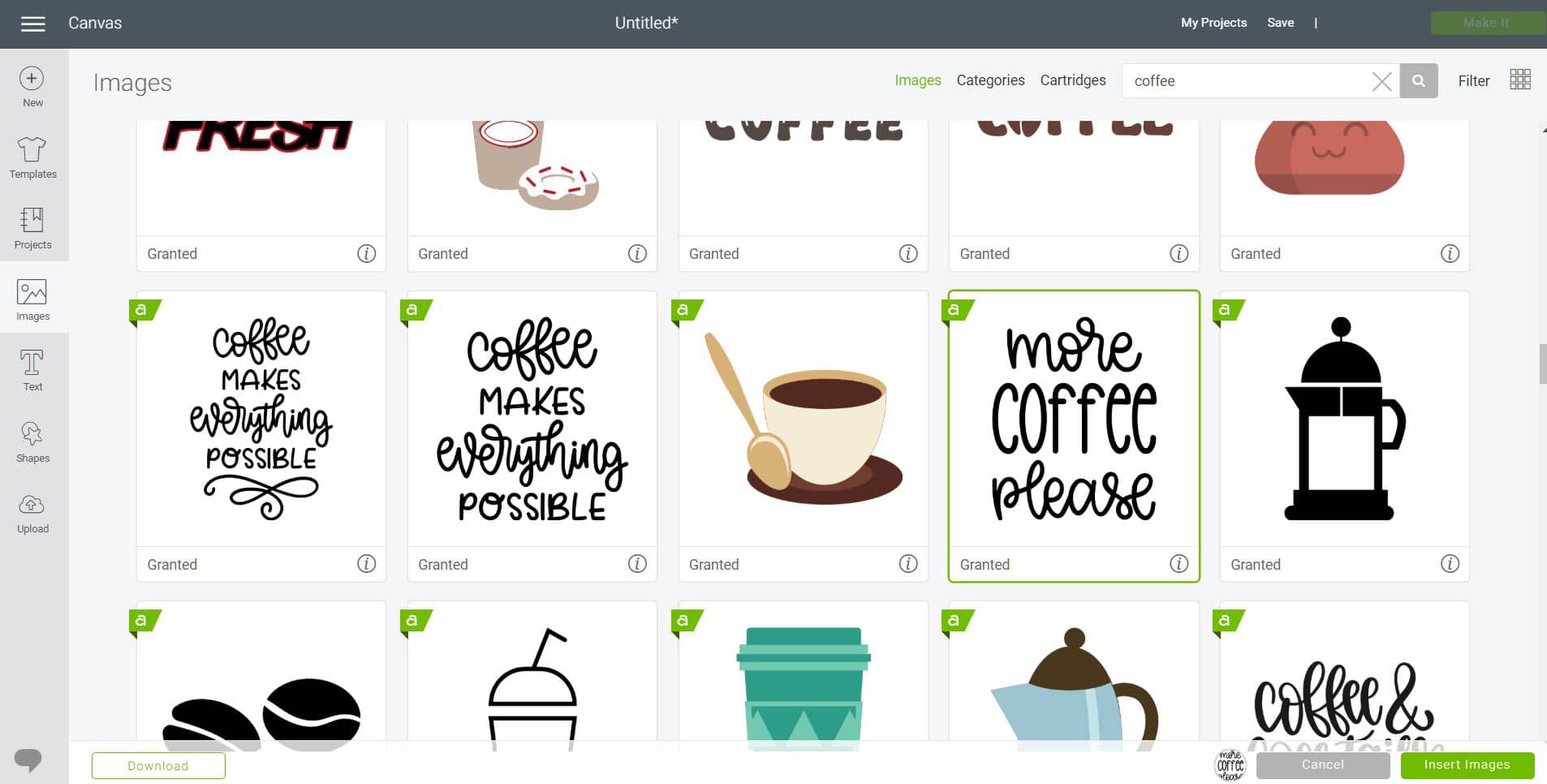 Making projects with Cricut Joy is as easy as 1-2-3! First, choose a project or an image in Cricut Design Space. I thought this "More Coffee Please" design would be perfect for my mug!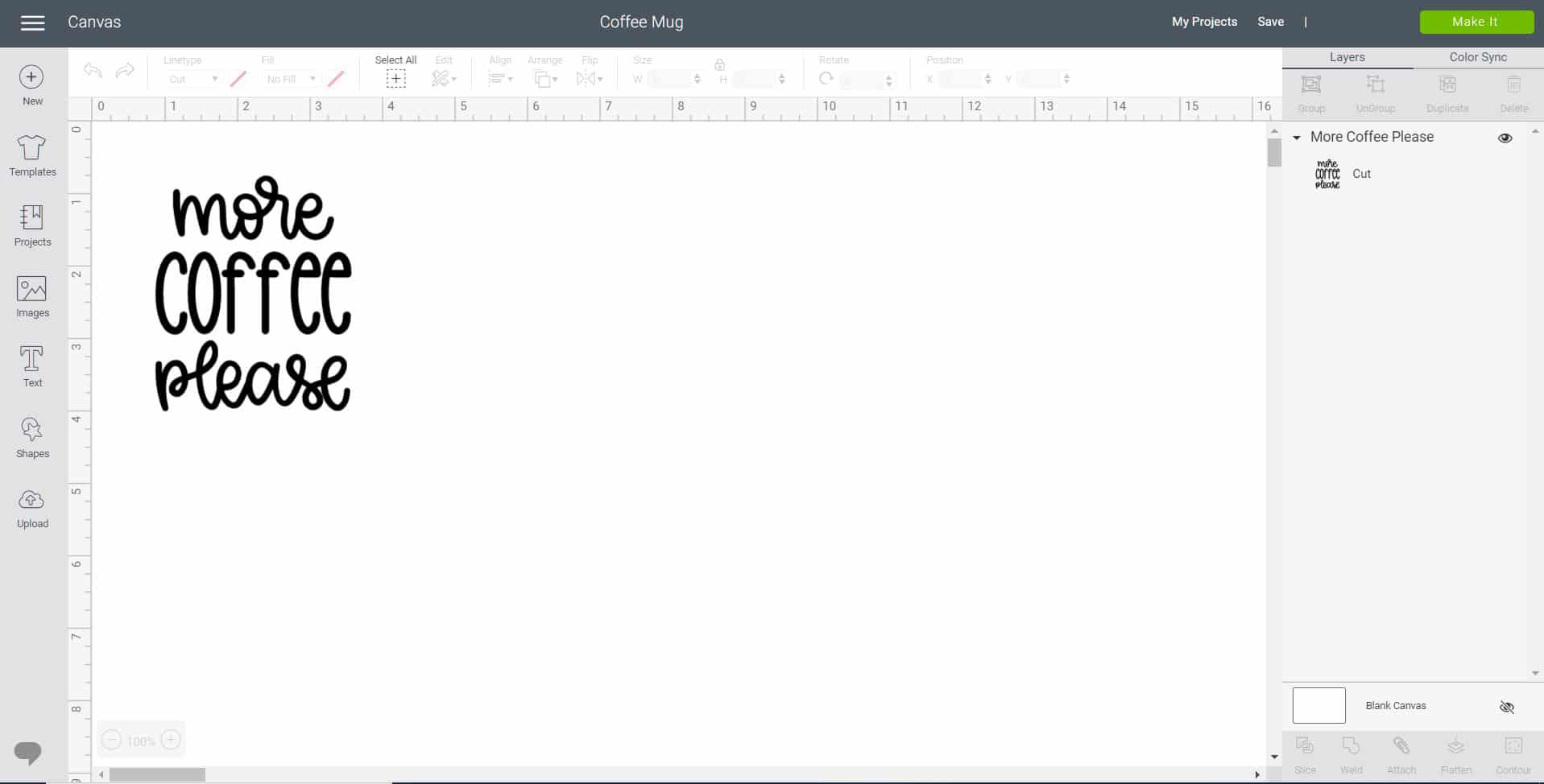 Select the image and insert it into your Design Space canvas. Size the image to fit your project (for a 15 oz. mug, my design was 2.7″ x 3.25″), and click the green "Make It" button in the upper right corner of the screen.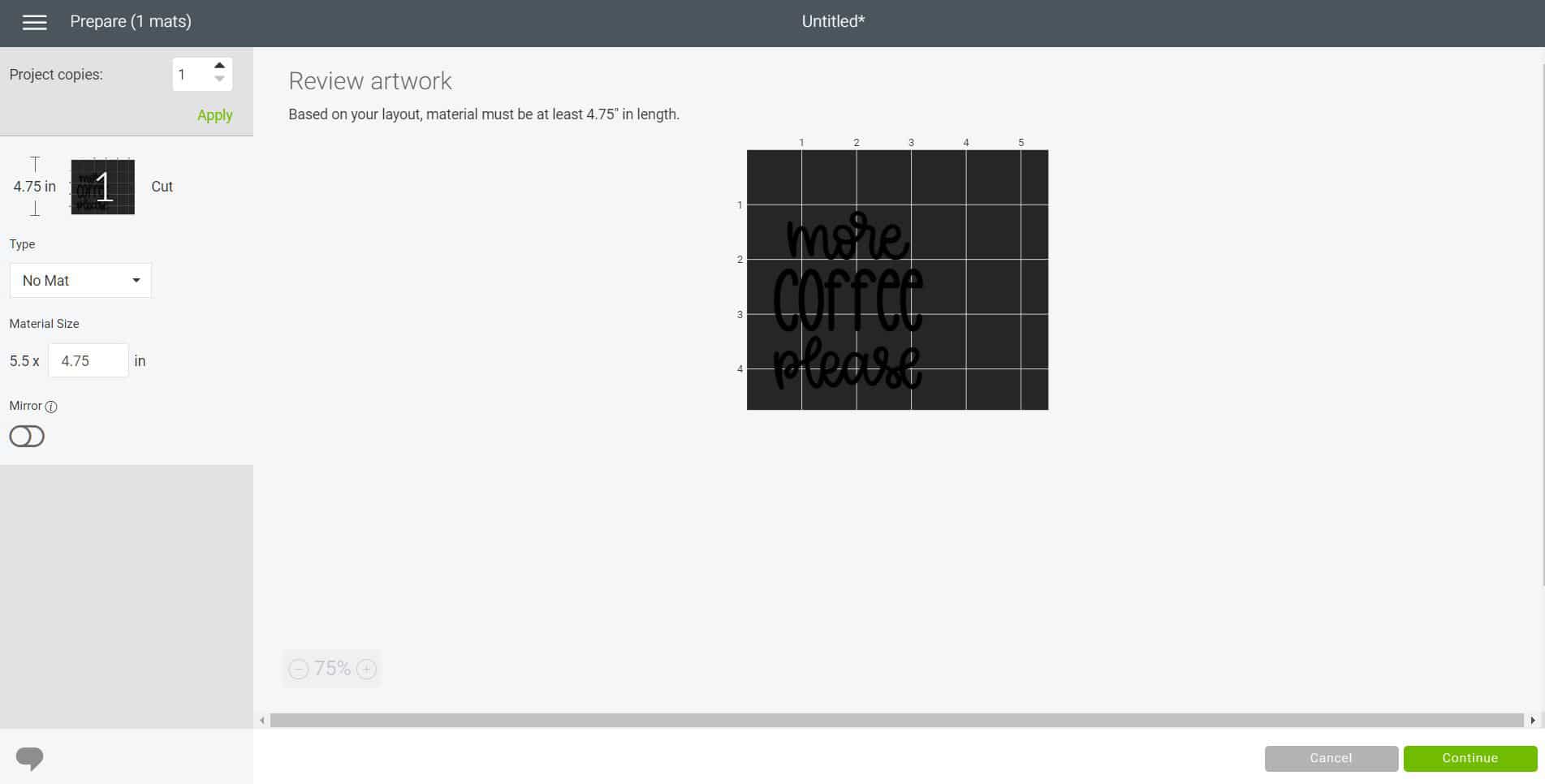 On this screen, select whether you will be cutting one of the new Smart Materials without a mat or if you will be using a Cricut Joy mat. I used Permanent Smart Vinyl for my mug, so I selected "no mat" from the drop-down menu.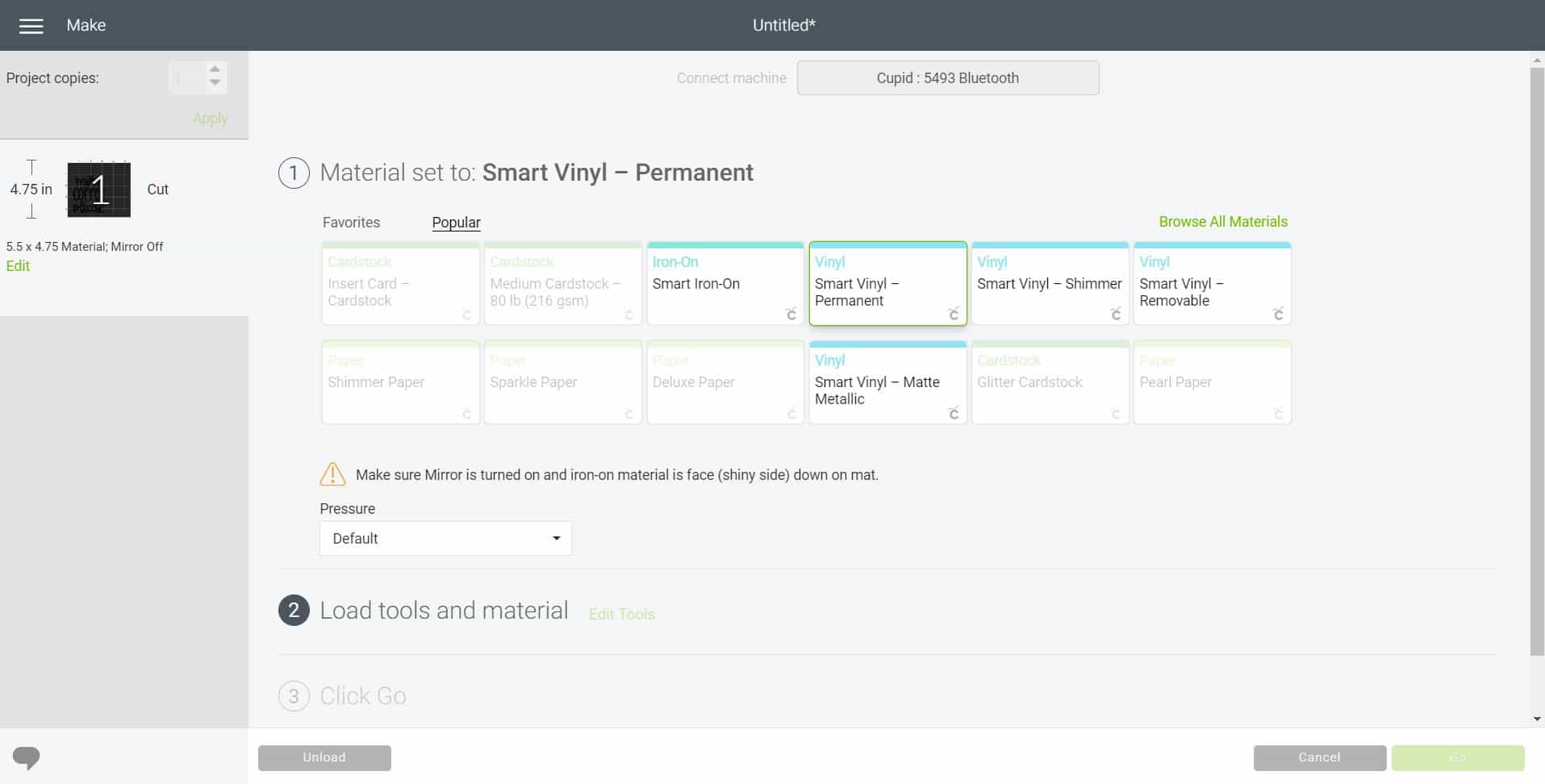 Select the material from the list (note: if you don't see your material listed, click on "Browse All Materials" in the top right of the screen), and then choose the desired amount of pressure (I prefer to use "more" pressure on most materials).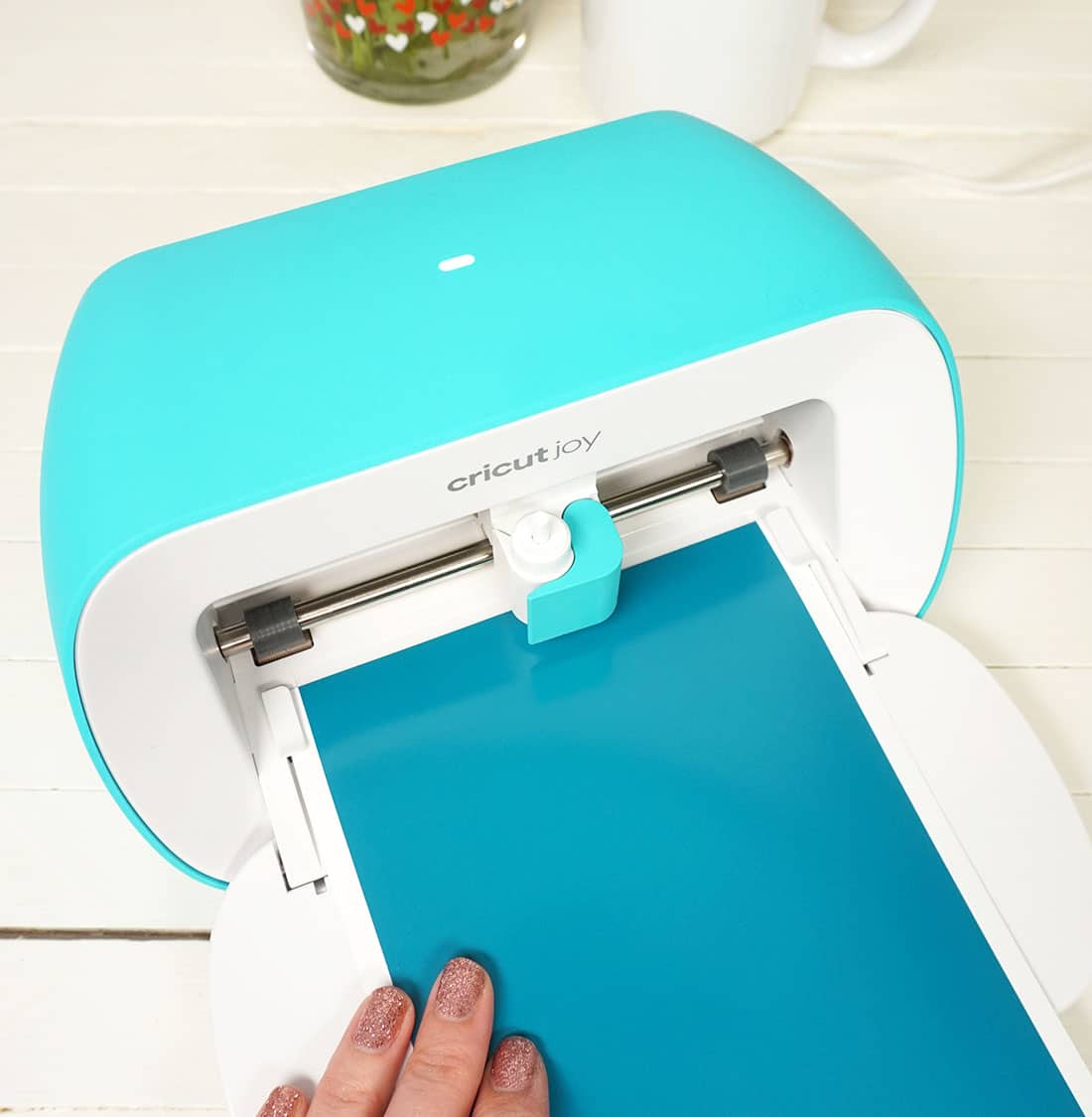 Next, Design Space will prompt you to load the materials into Cricut Joy. Simply feed the Smart Vinyl (or other material) between the rollers, and the machine will automatically pull it in and straighten the material for you.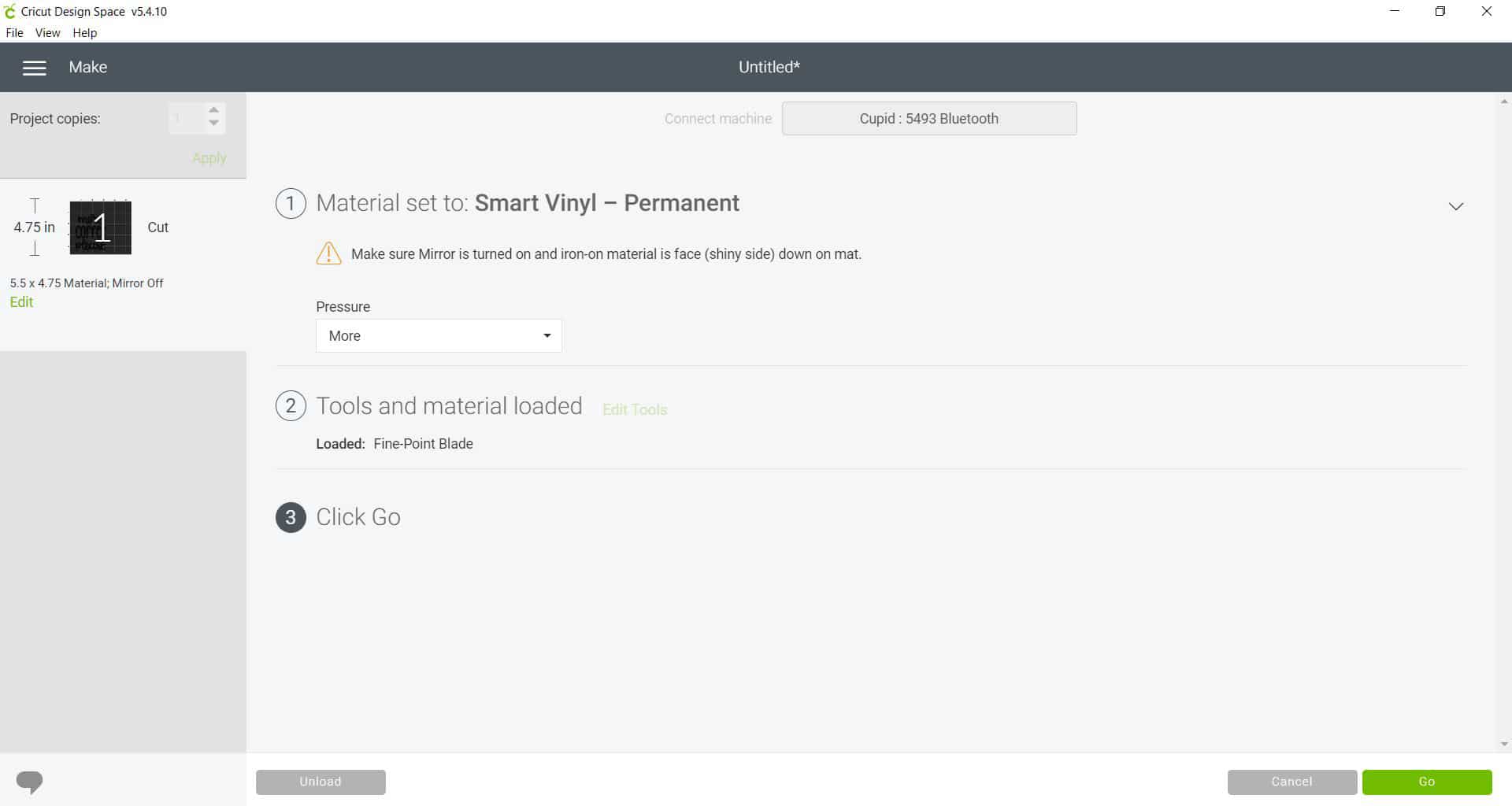 Click "Go" in Design Space to begin cutting.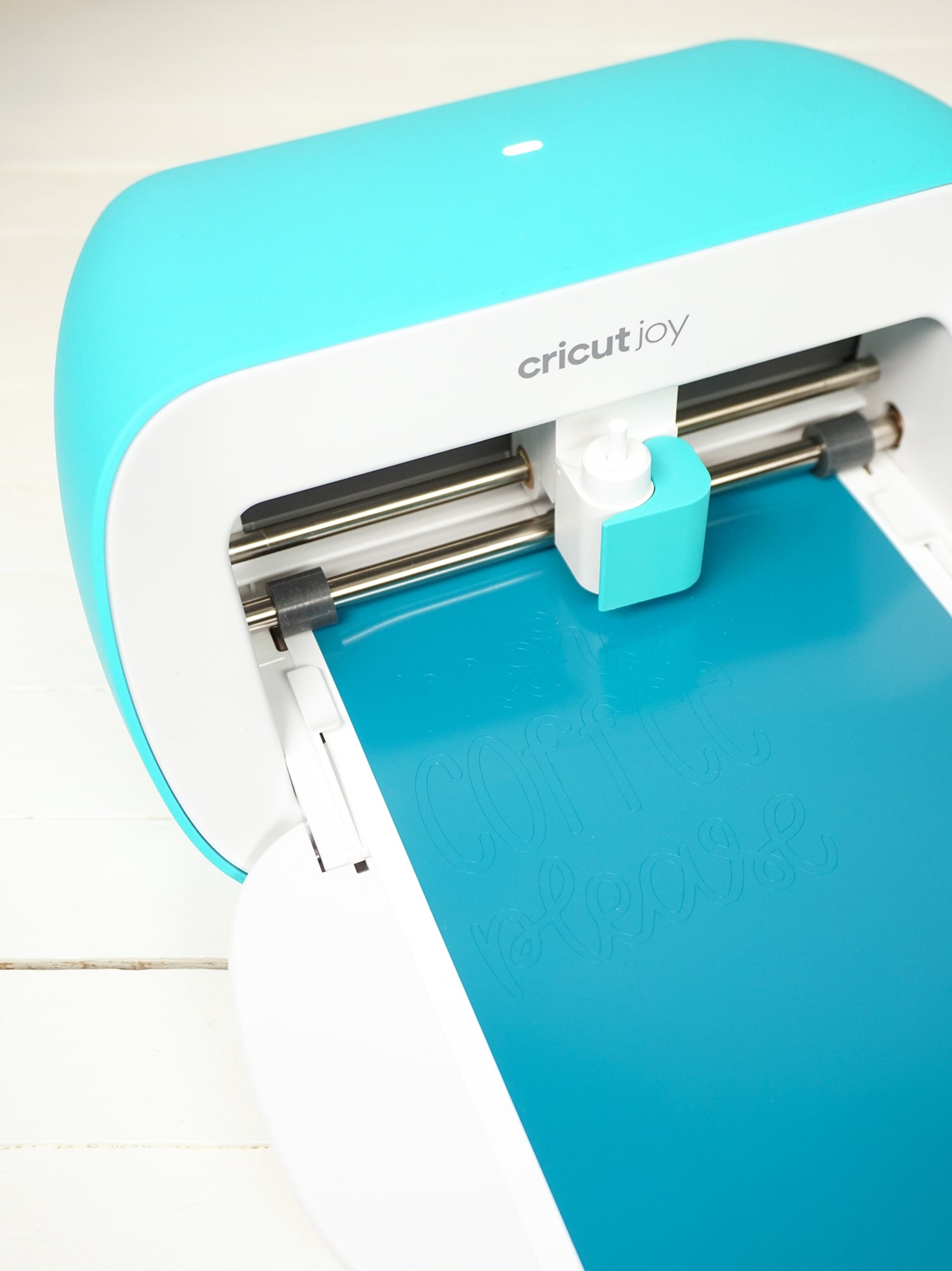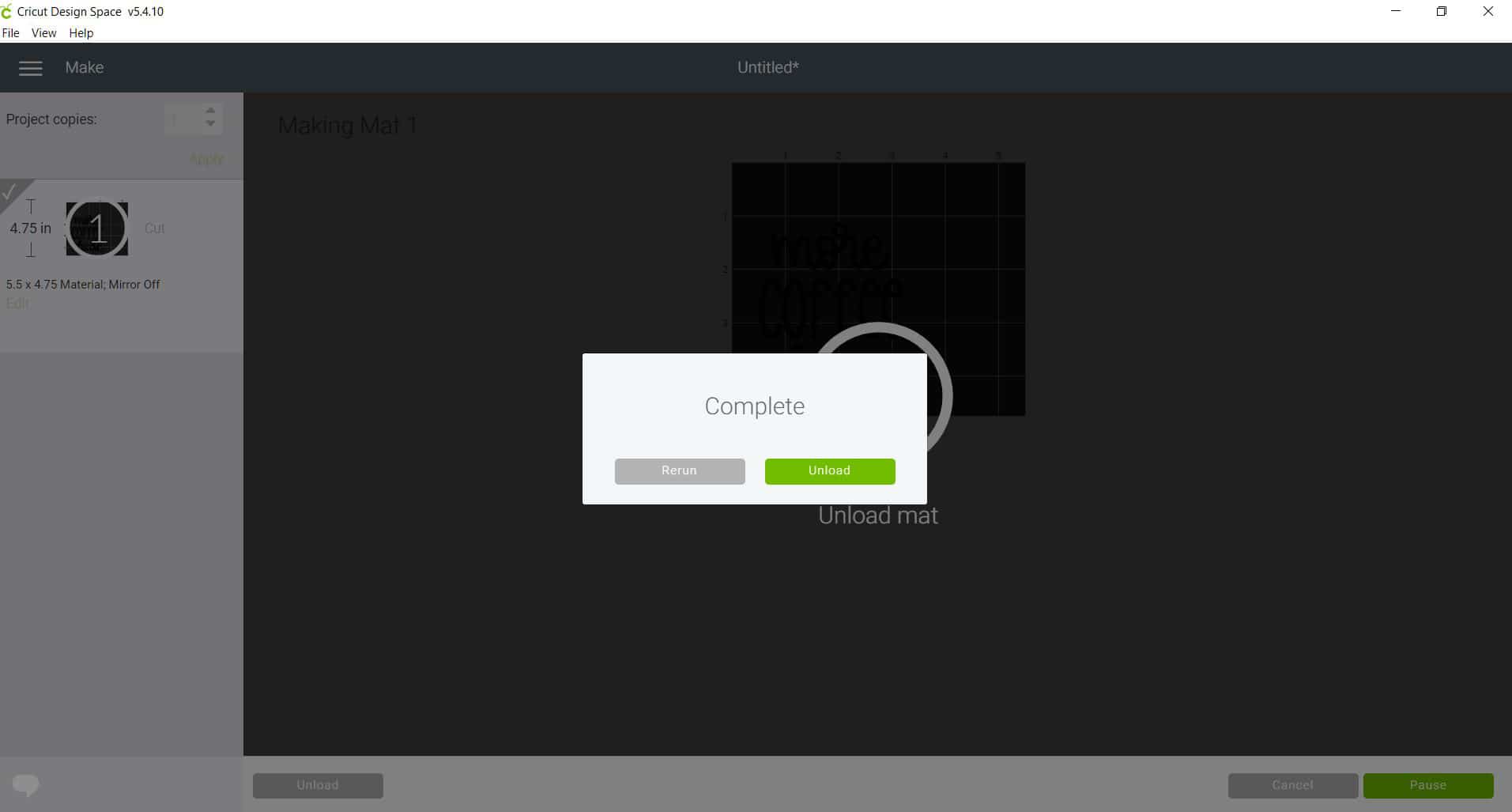 Once the machine has finished cutting, it will prompt you to unload the material in Design Space.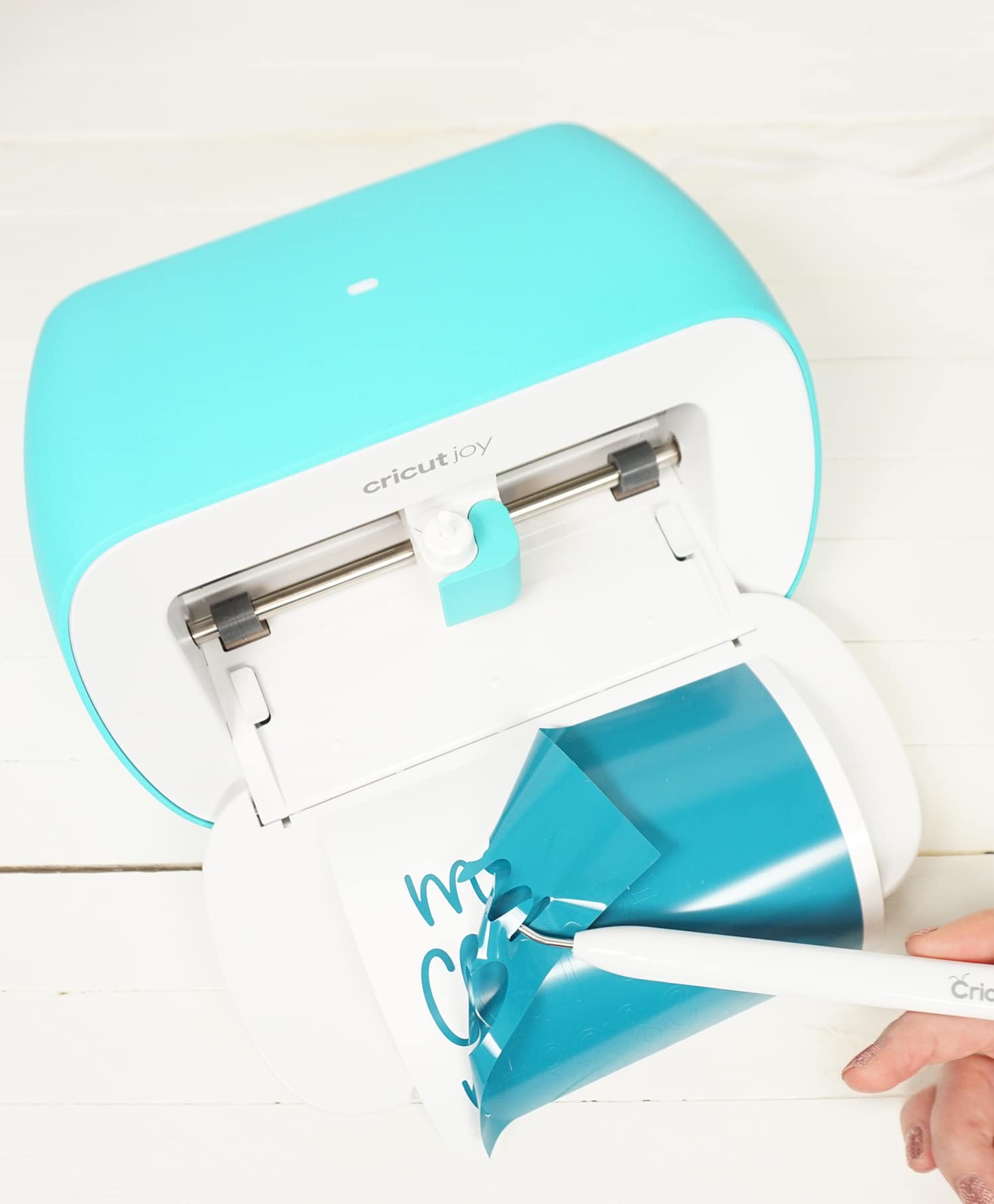 Use a weeding hook to remove the excess vinyl. (I love, love, LOVE the hooked weeding tool!)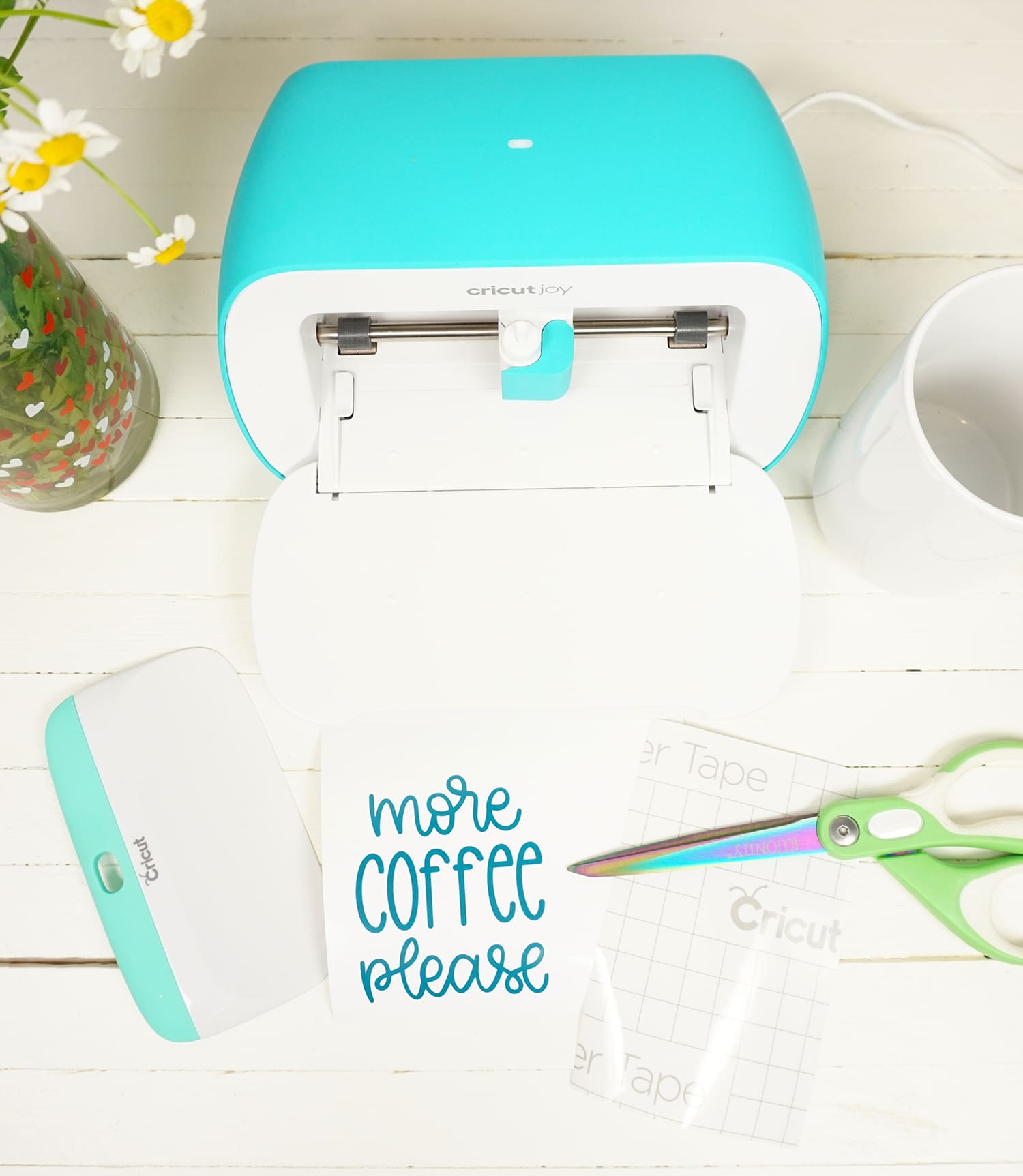 Cut a piece of Cricut Transfer Tape that is just slightly larger than your design.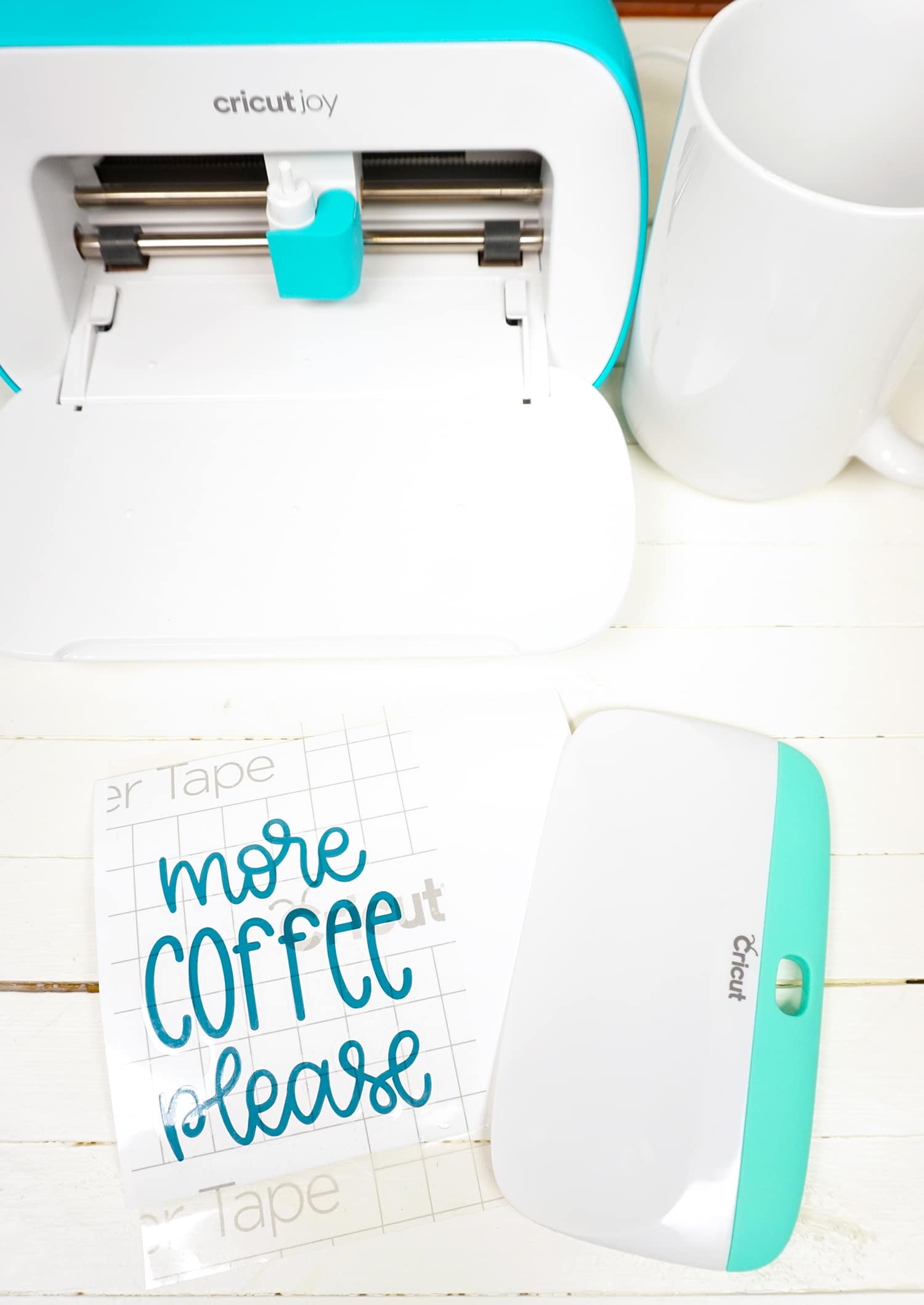 Place the transfer tape over the design, and use a scraper to gently burnish the surface.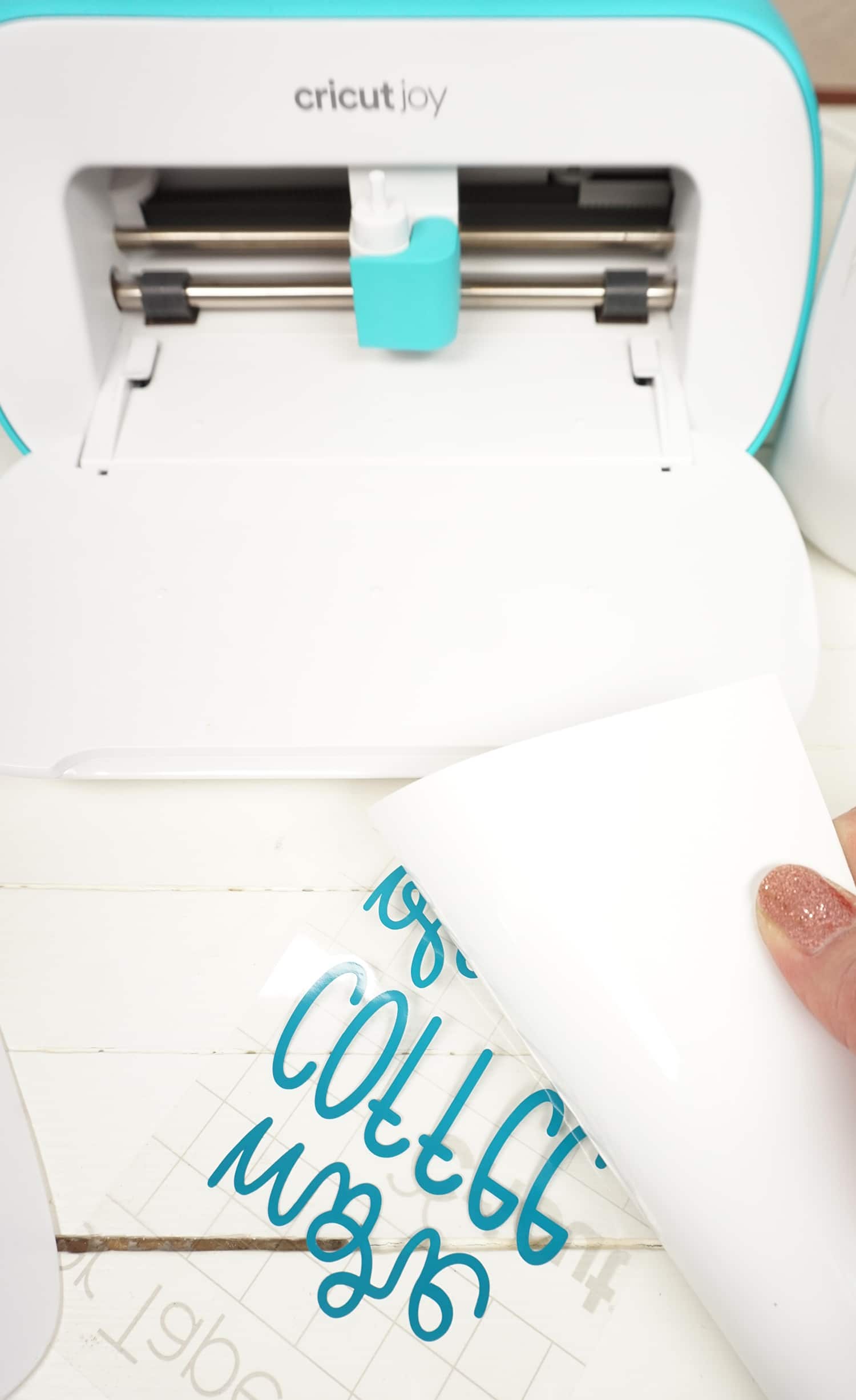 Carefully peel the backing off of the transfer tape.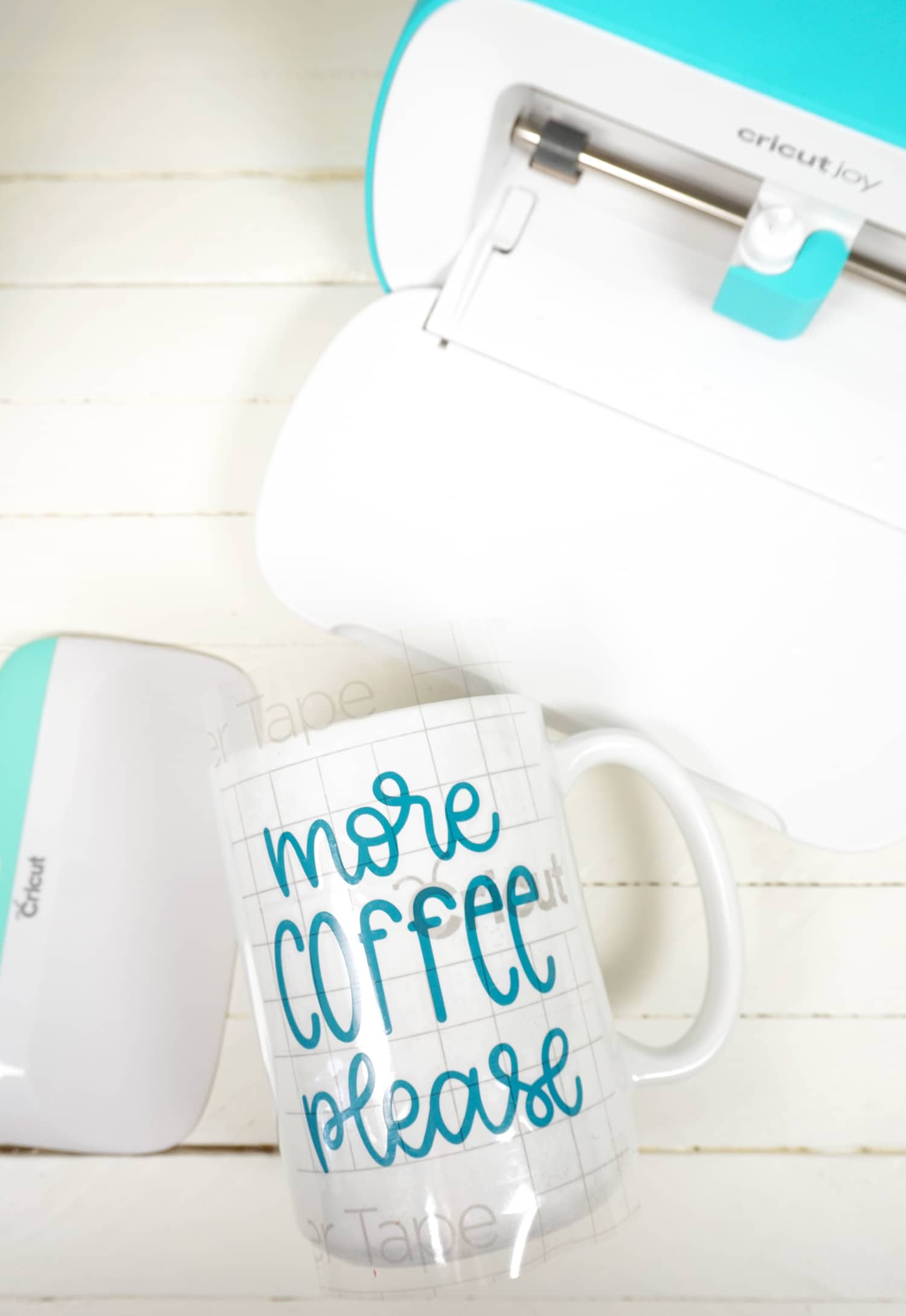 Apply the design to the mug, and use the scraper to burnish before carefully peeling off the transfer tape.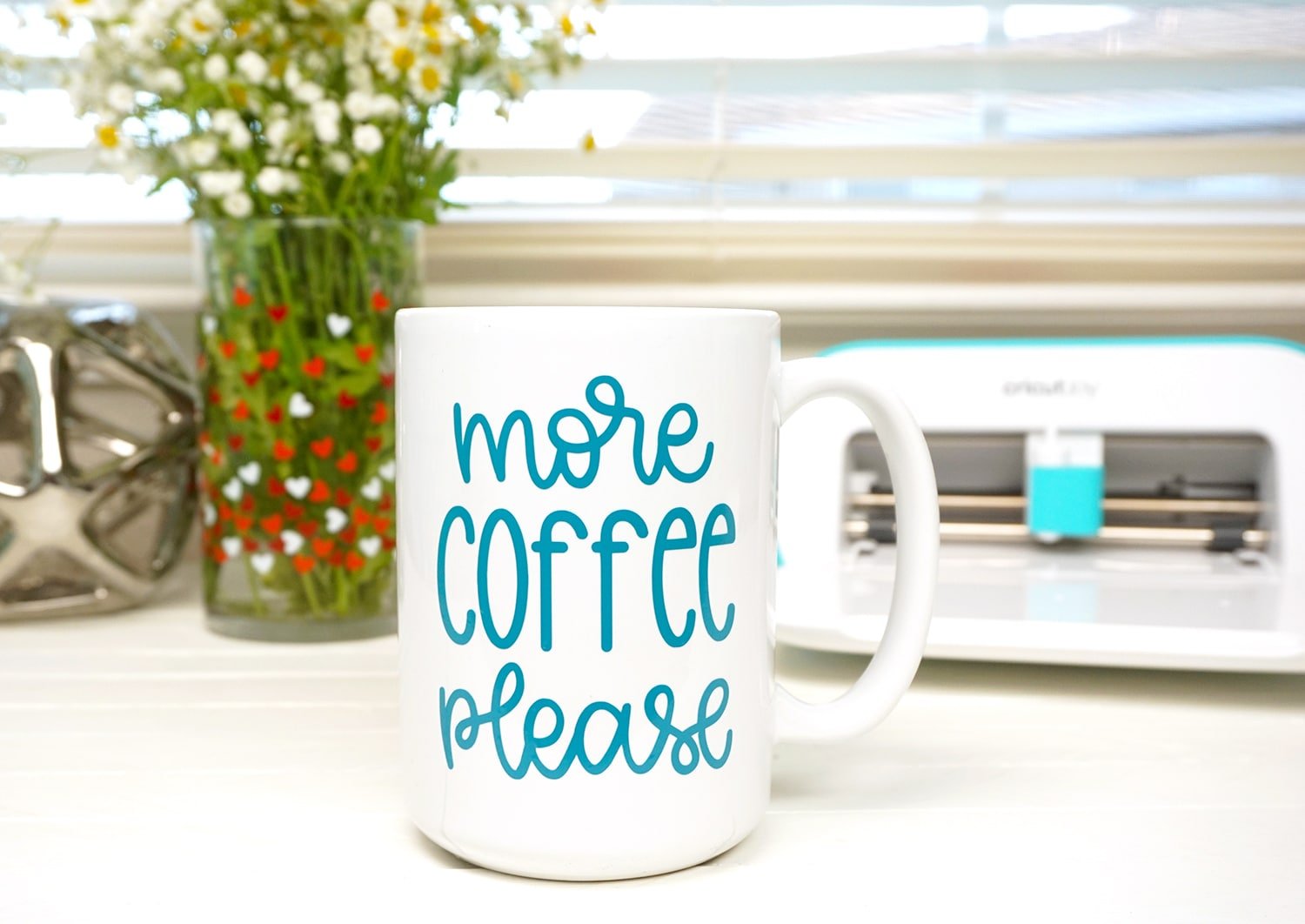 Super cute and SUPER easy! And all created at my coffee table – no craft room necessary!
Now, I can't stop making ALL the fun mug ideas, so I'm actually thinking that my Cricut Joy might need to live on my kitchen counter right underneath the mug cabinet! It fits in nicely with all of those other aqua appliances, don't you think?
---
How to Use Cricut Joy Card Mat & Insert Cards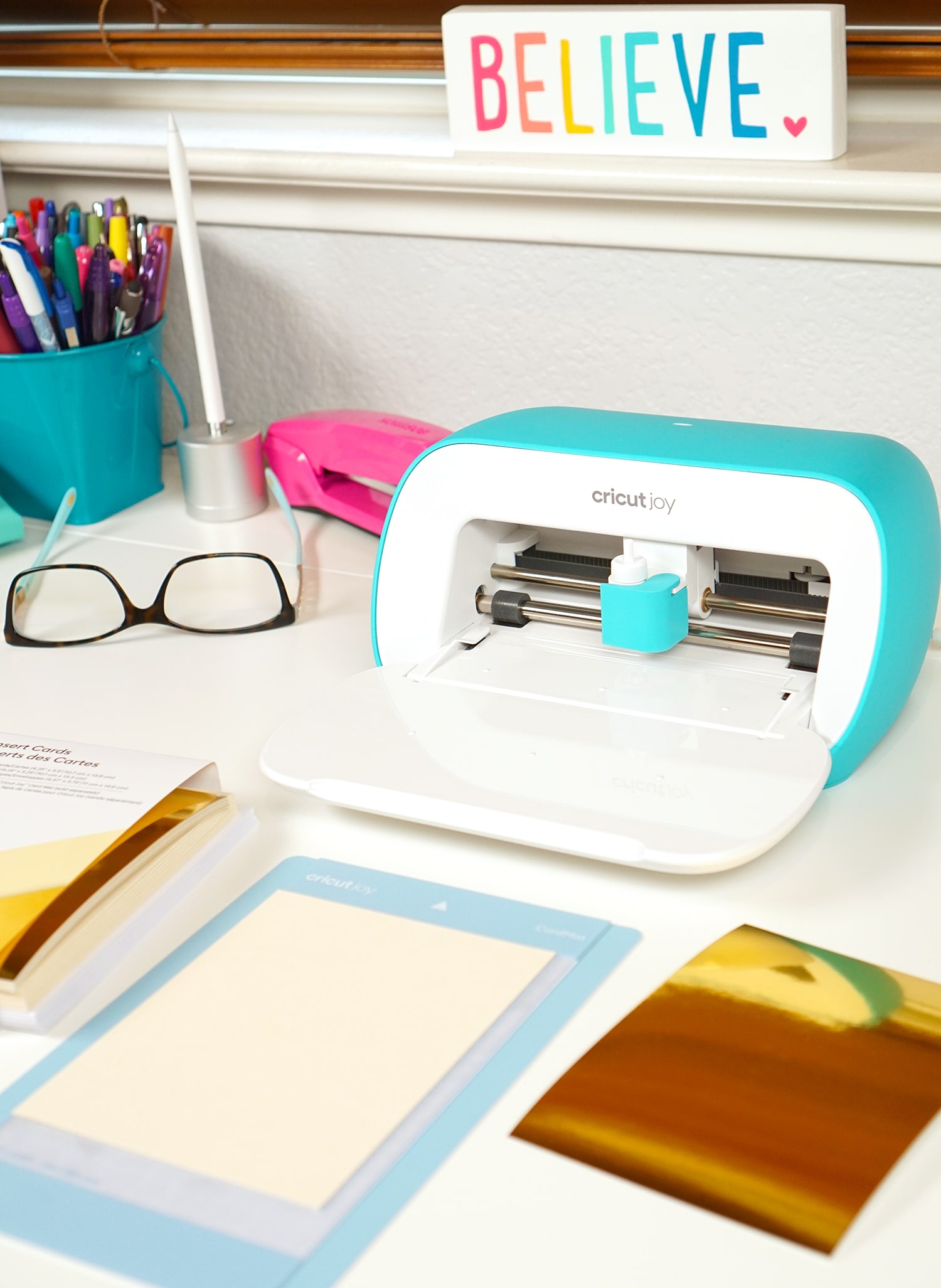 The Cricut Joy Card Mat and the Insert Cards set are some of my favorite new materials that go along with Cricut Joy , and I know I'm going to use them often. I've already made two last-minute cards just this week!
(I'll be sharing a full in-depth tutorial and walk-thru on how to use the Cricut Joy Card Mat later this week, so this is just a quick demo to show you how awesome it is!)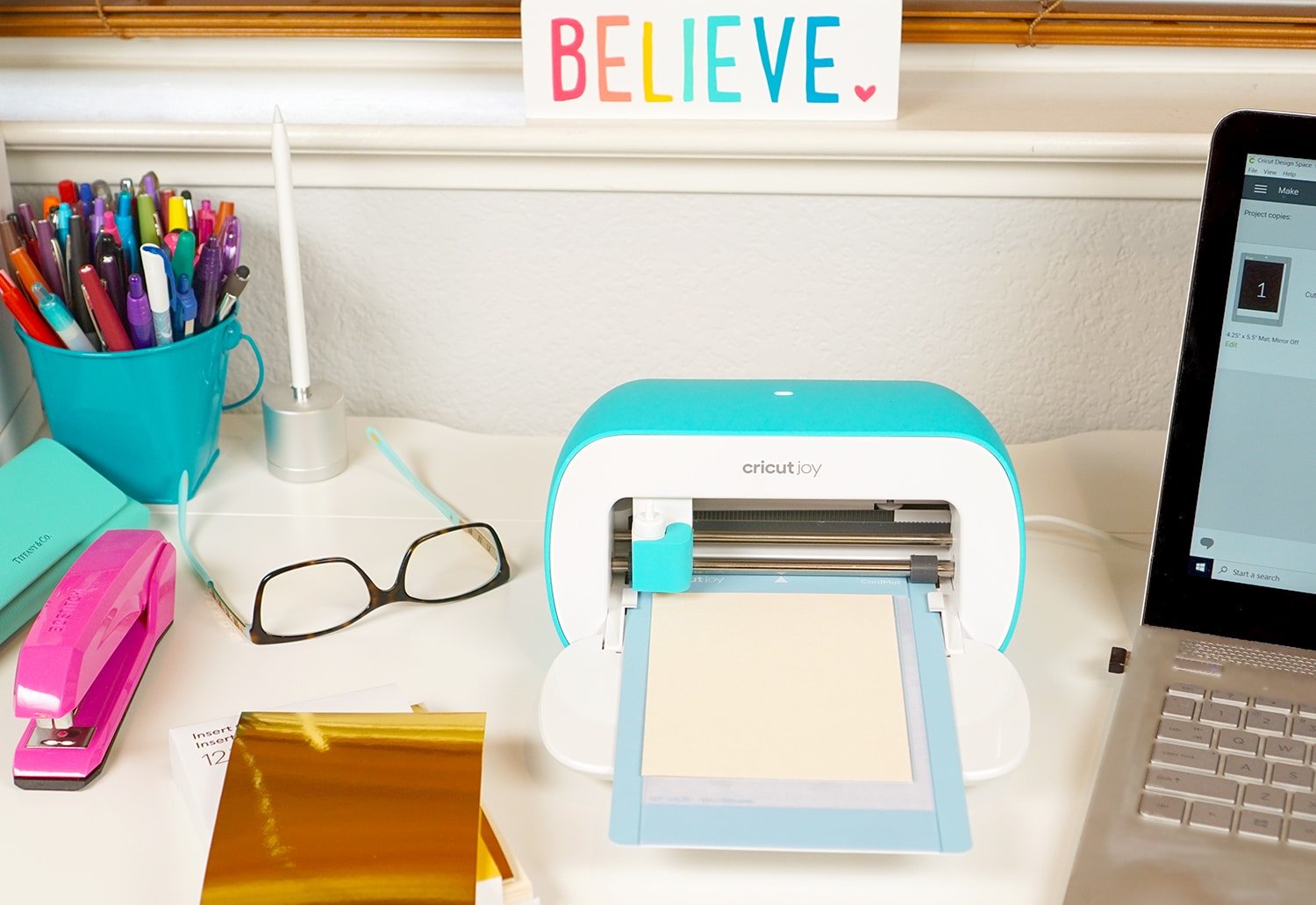 Slide the bottom of your card under the protective panel in the Cricut Joy Card Mat and place the top layer of the card on to the sticky surface of the mat.
Set the design to cut to the appropriate size in Cricut Design Space, load the Cricut Joy Card Mat into the machine, and press "Go."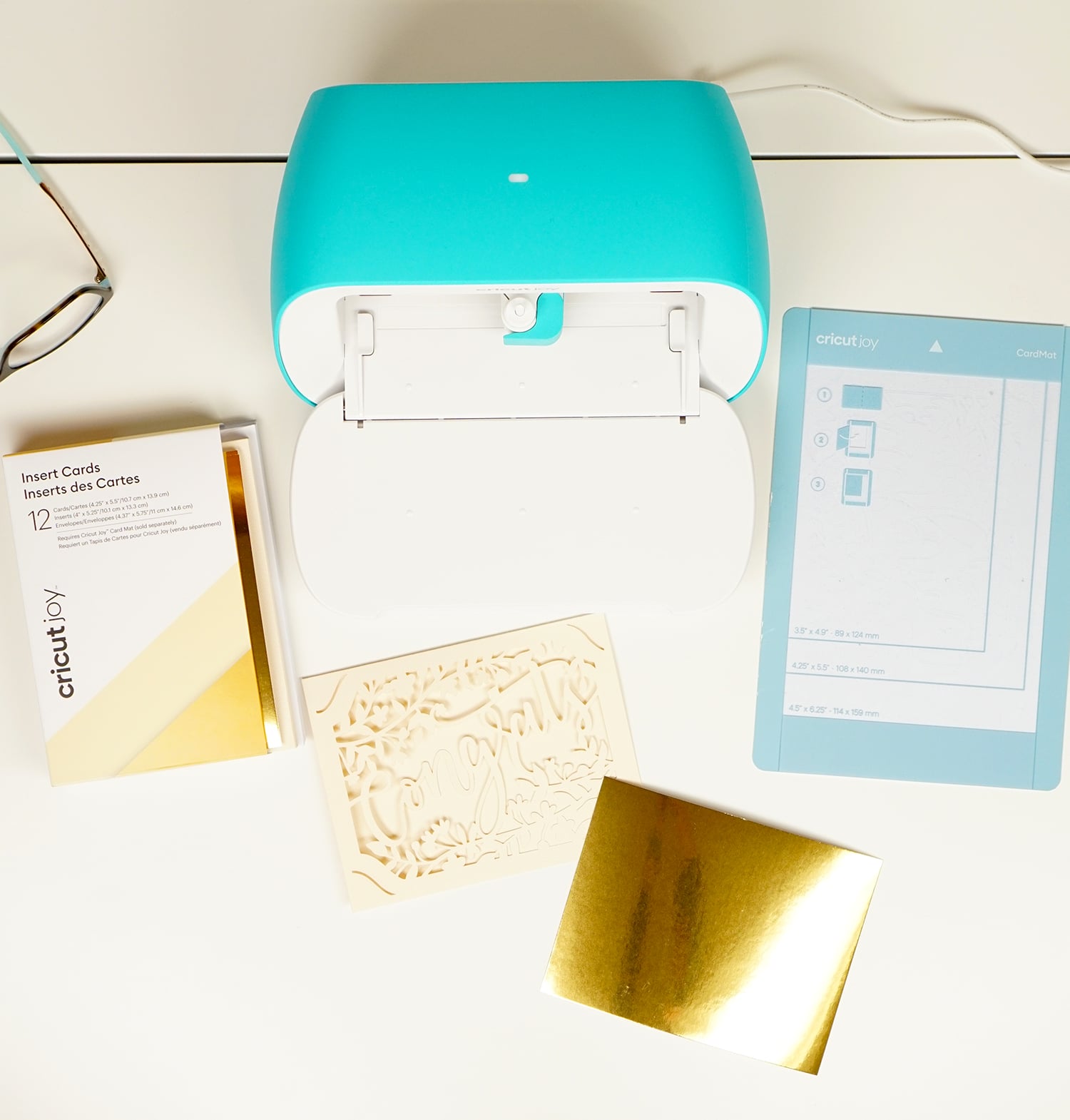 Carefully remove the card from the mat.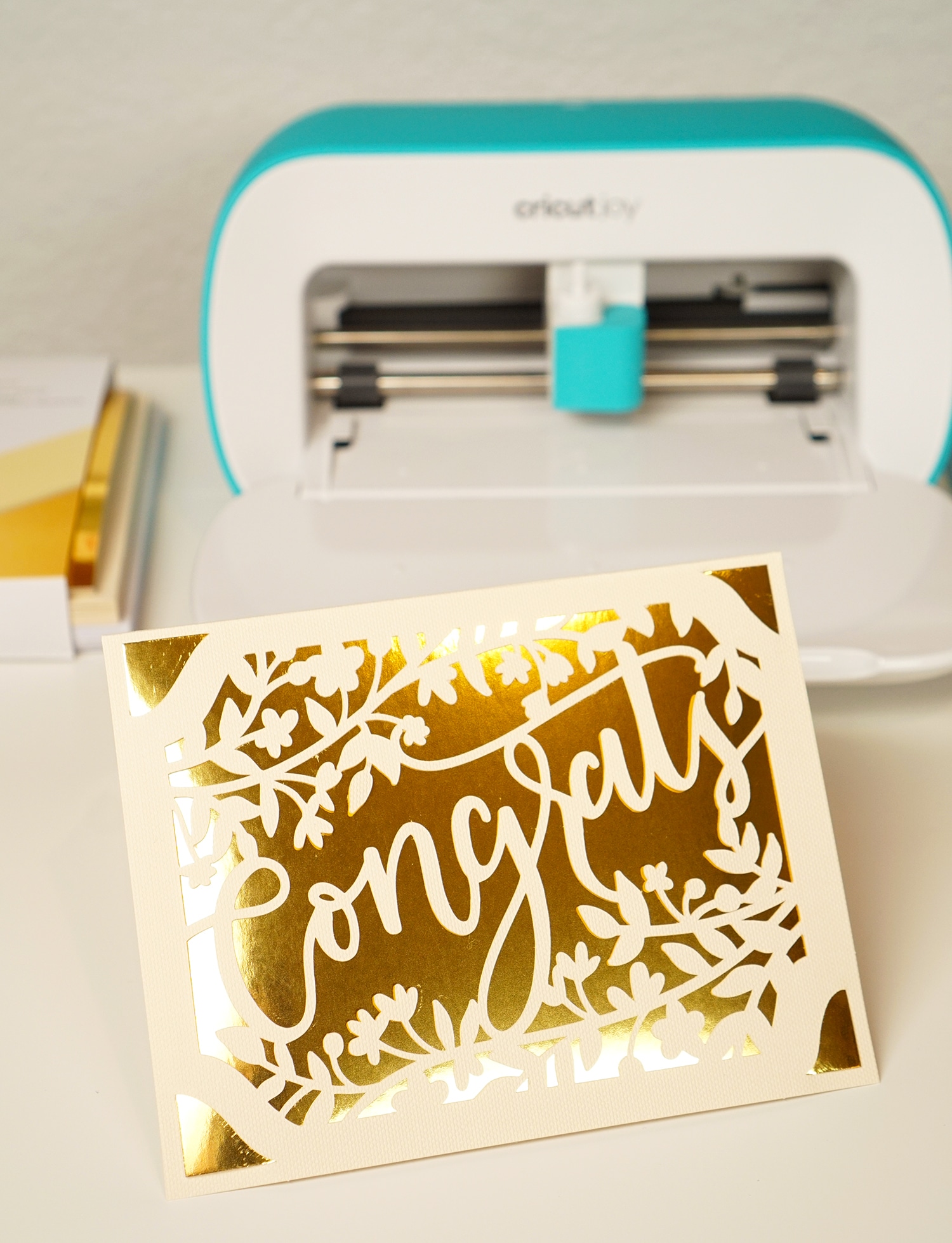 Add the card insert behind the cut panel for a chic and professional-looking finish! Having the ability to quickly and easily create impressive custom cards at my fingertips is SO awesome!
---
Other Places to Spread the Joy
One of the things that makes Cricut Joy so unique is its portability. You can take it virtually anywhere, so you can craft on-the-go, wherever you are, and whenever the mood strikes you! Whenever you have a moment to be creative, Cricut Joy will be ready to provide you with lots of fun and fantastic project ideas, all in a neat and tidy compact space!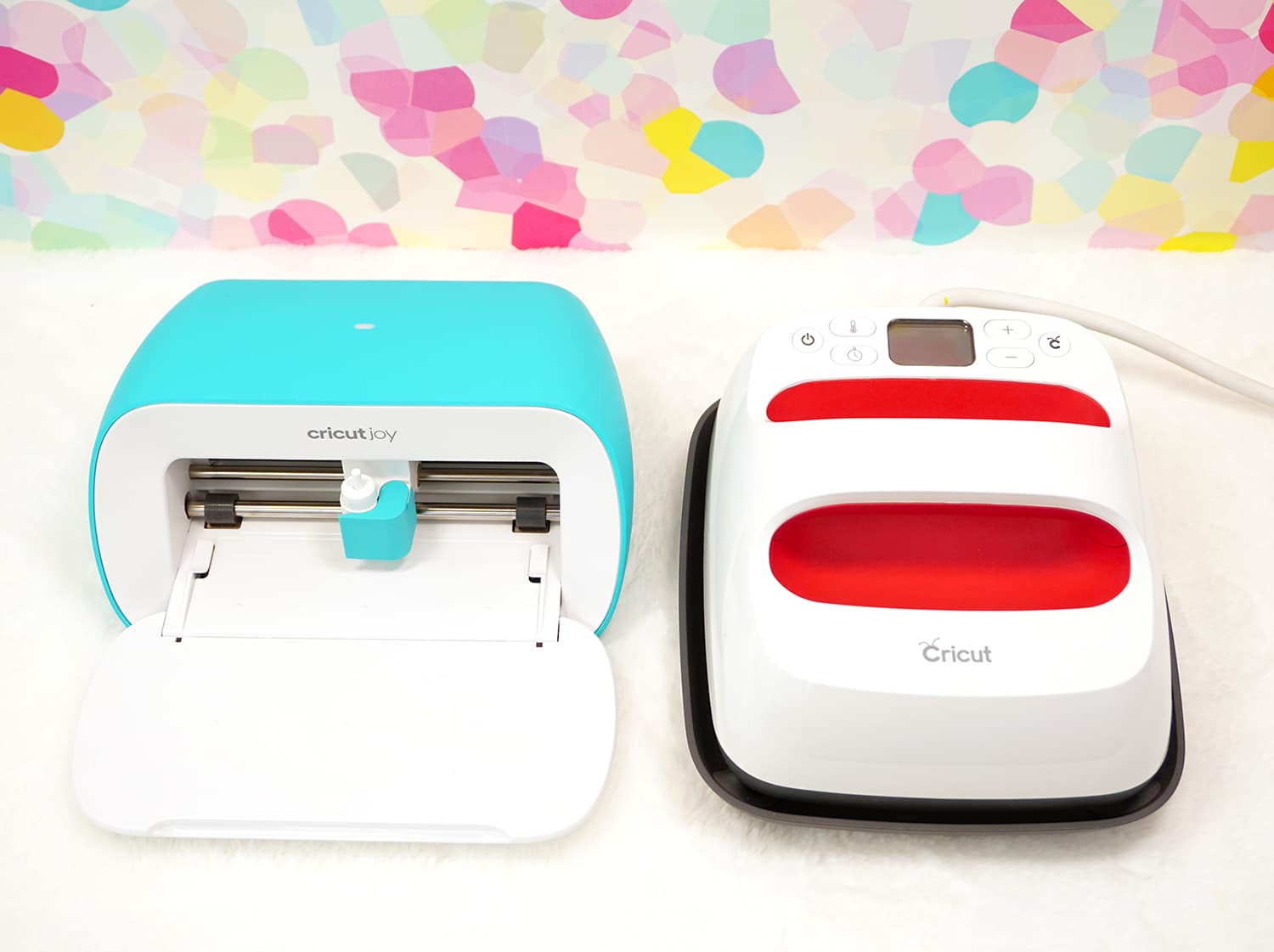 So, just how much space does the machine take up? Open, it measures approximately 8″ x 8.5″ and closed, it is a neat and compact 5″ x 8″. For comparison, the 6″ x 7″ EasyPress 2 has a footprint of 7.5″ x 8.5″ including the base. These two little powerhouses pack quite a lot of punch in their tiny packages, and together they make quite a dream team!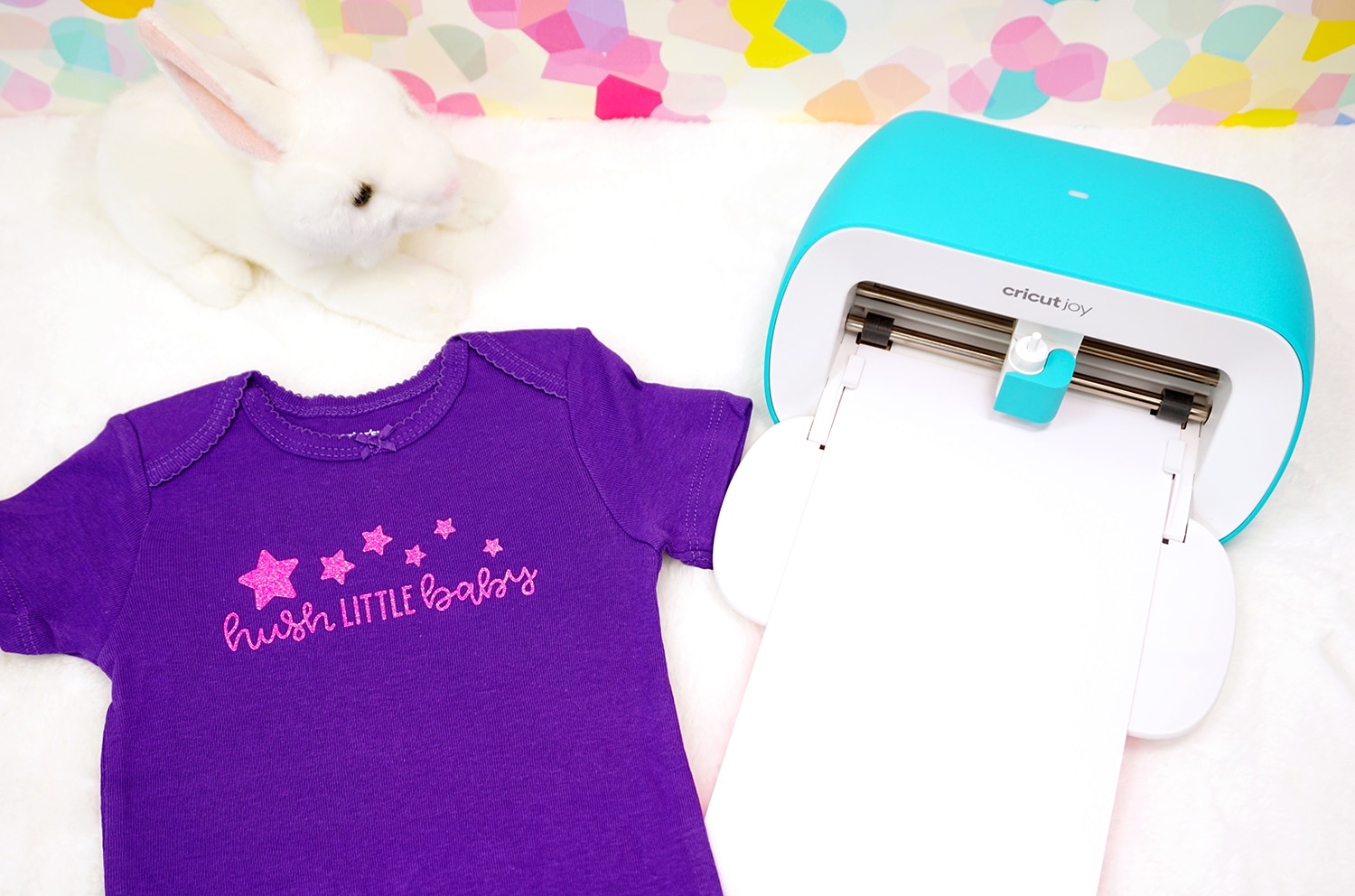 Seriously, anywhere can be your crafting space with Cricut Joy ! Even your baby's changing table in the nursery! Just move aside the changing pad and get creative!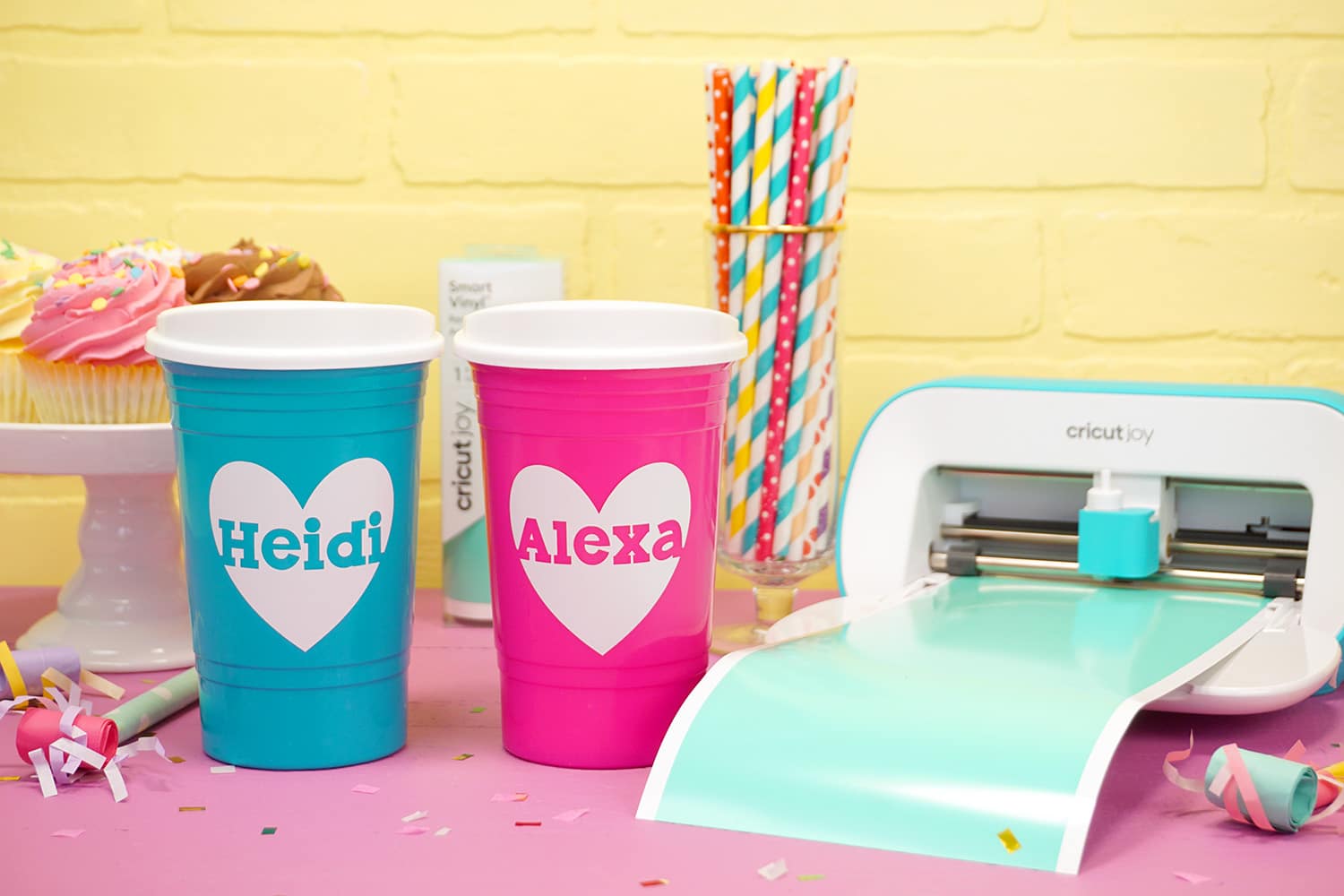 The next time you host a party, invite your guests to customize their own reusable party cups using Permanent Smart Vinyl!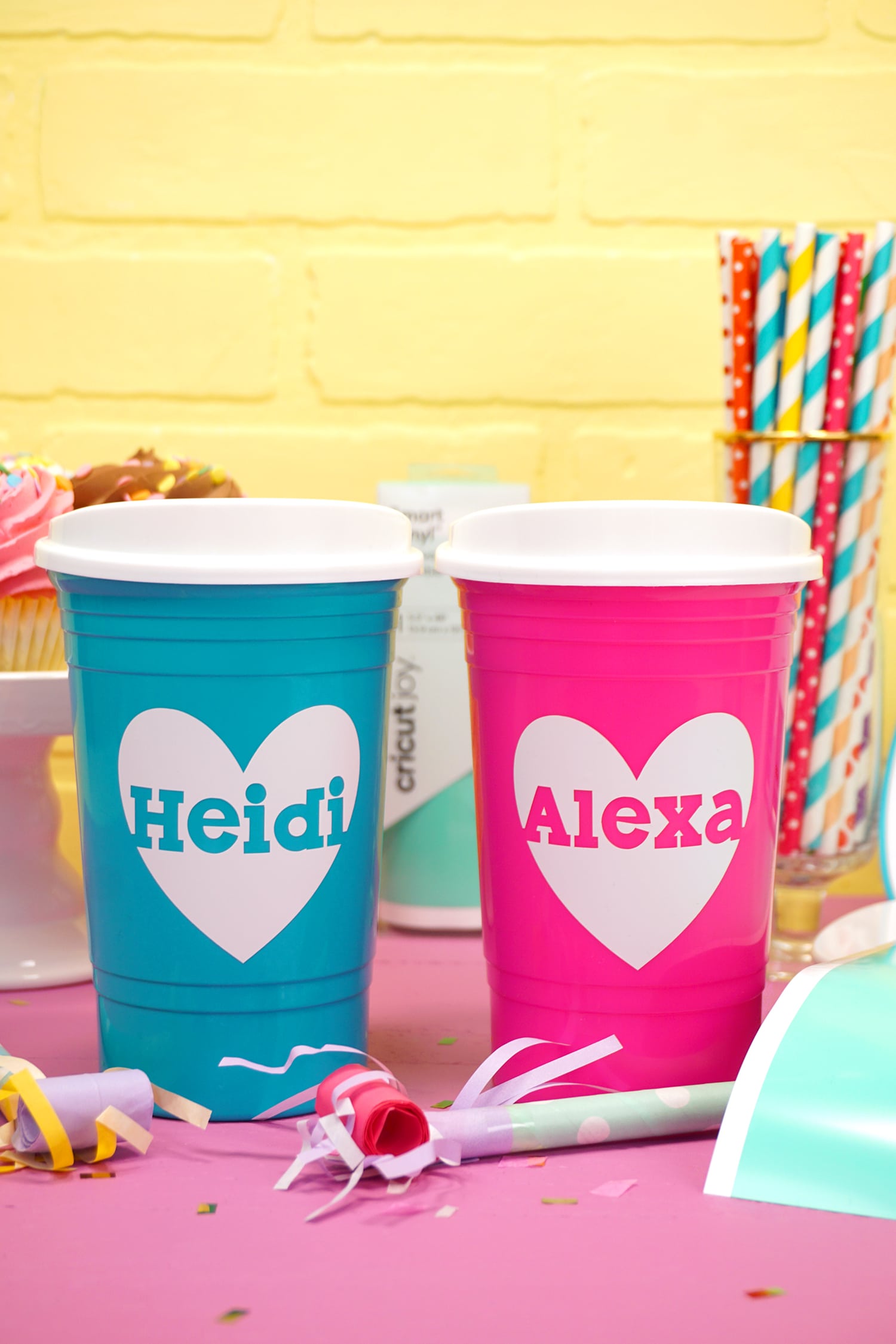 It's an easy way to cut down on wasted party goods, and your guests get to go home with a cute personalized party favor! Win-win!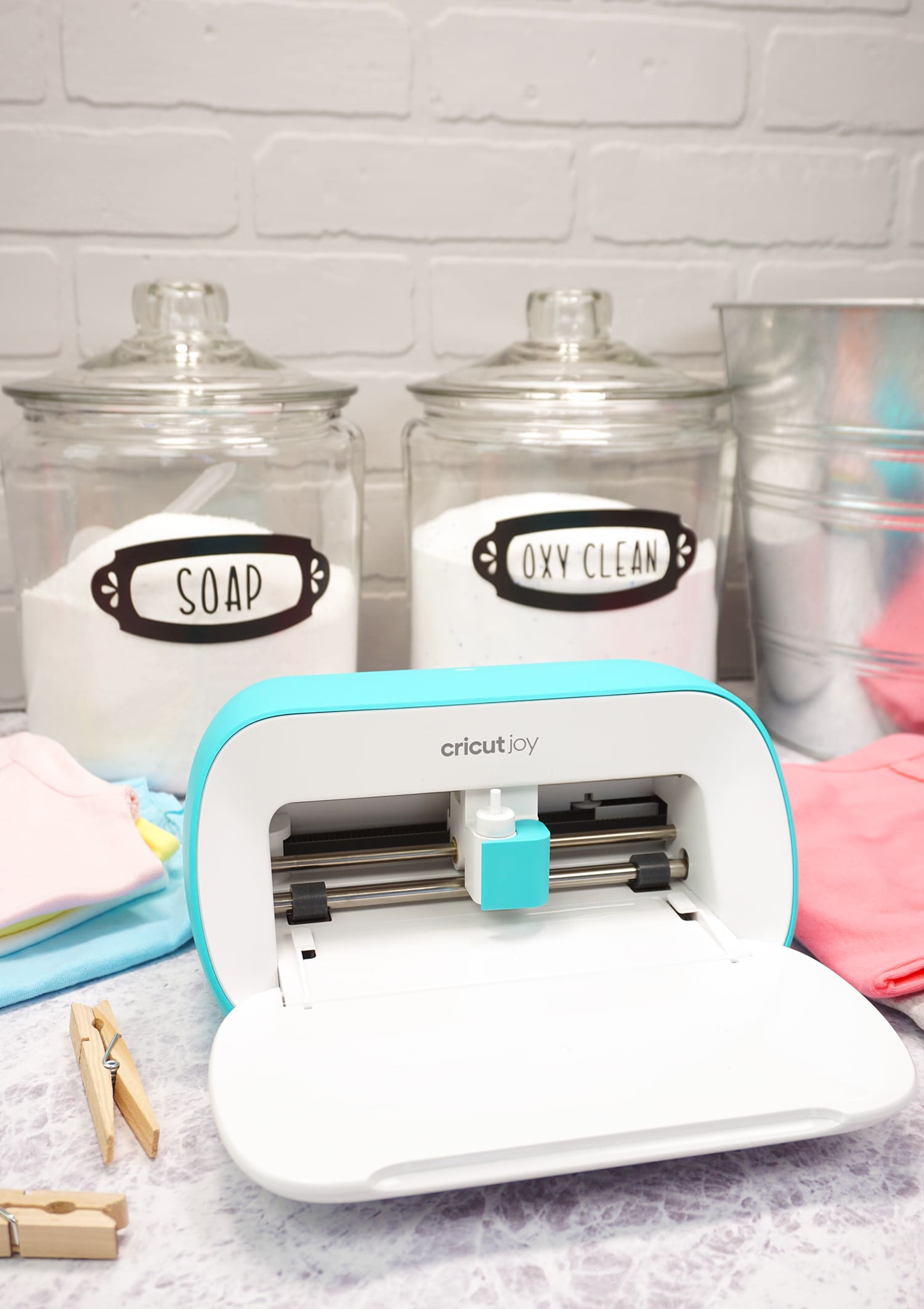 The laundry room is another great place to get crafty!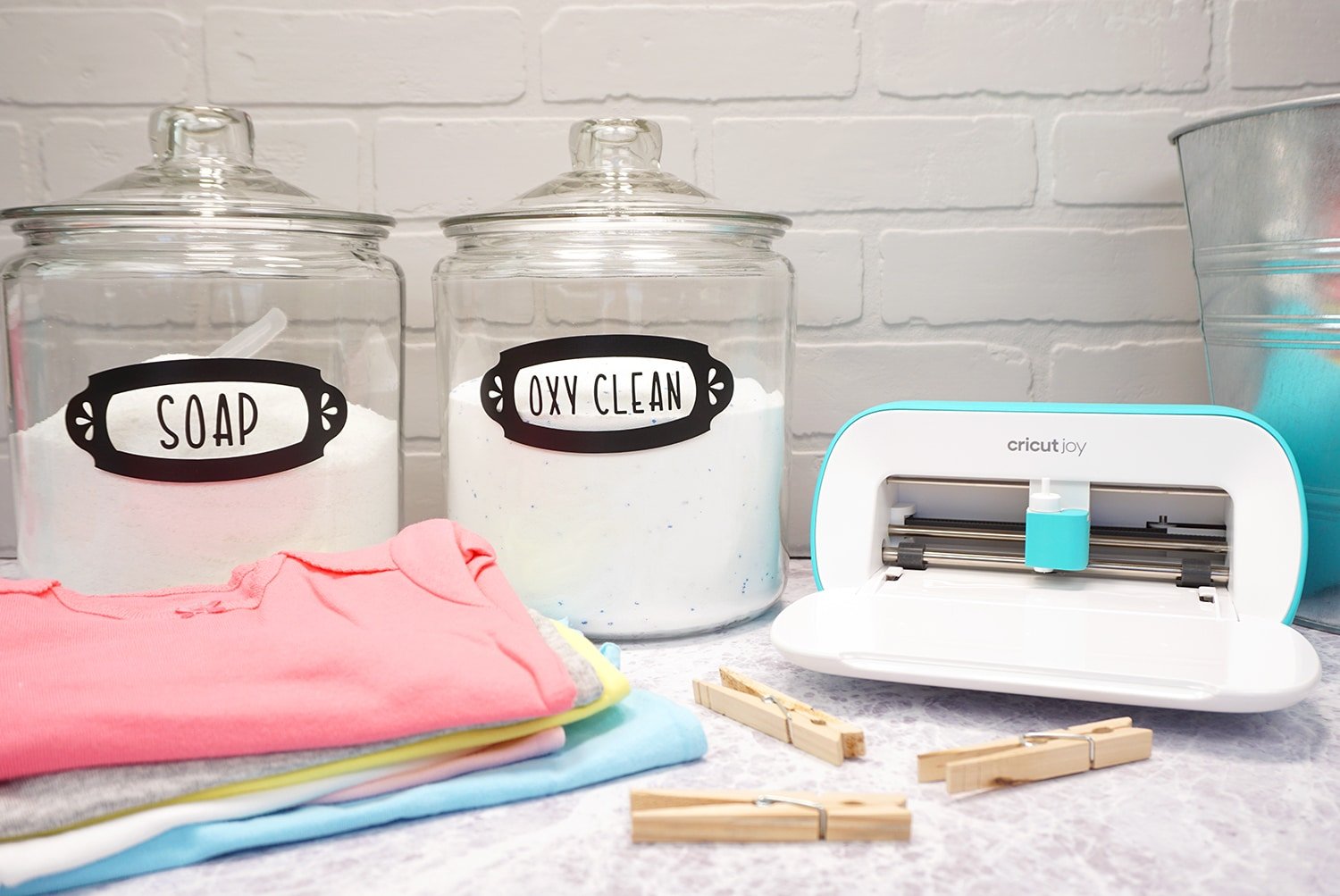 Use your Cricut Joy to make labels, washing instructions, laundry room decor, and more! Before you know it, you'll want to label ALL the things!😂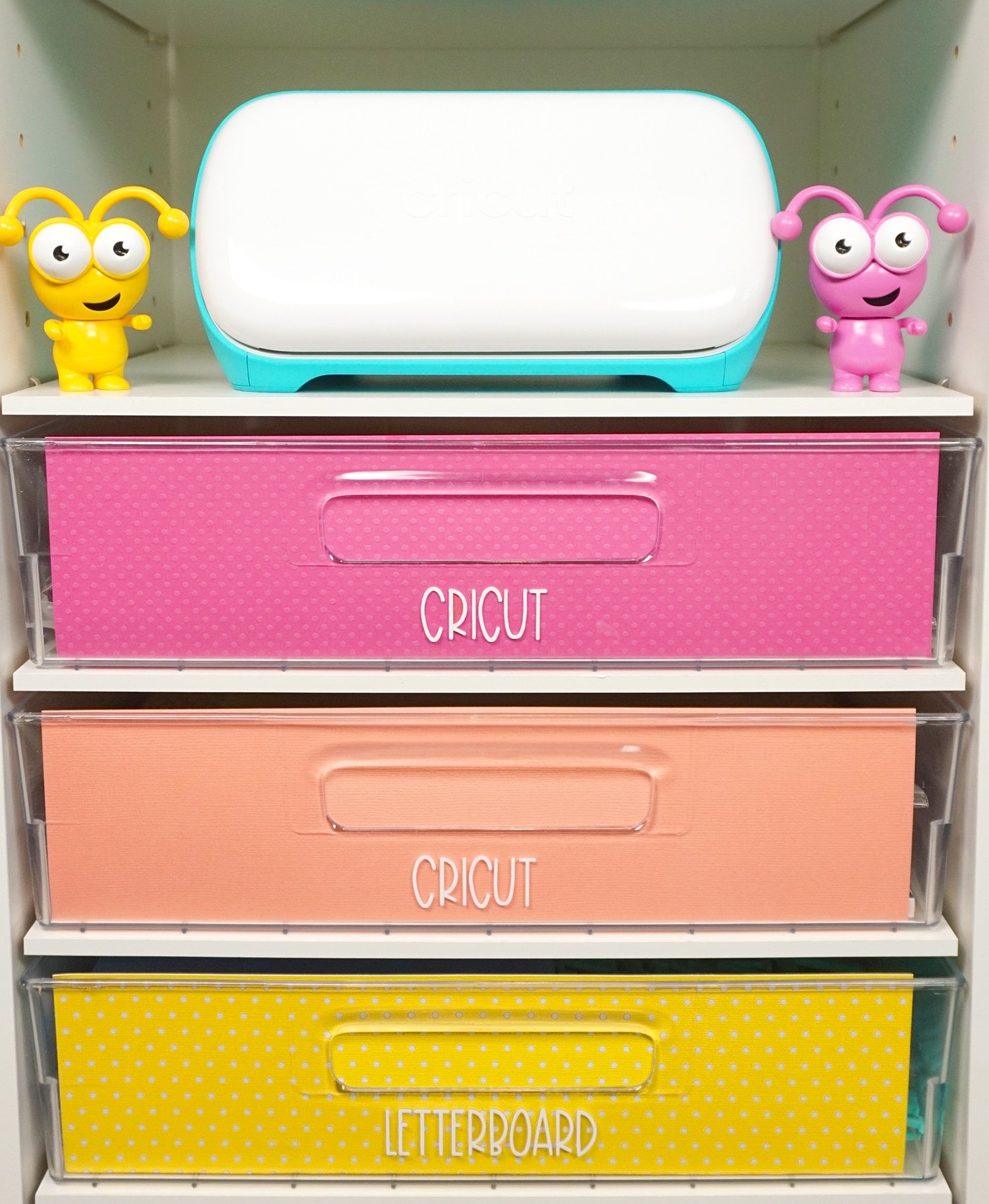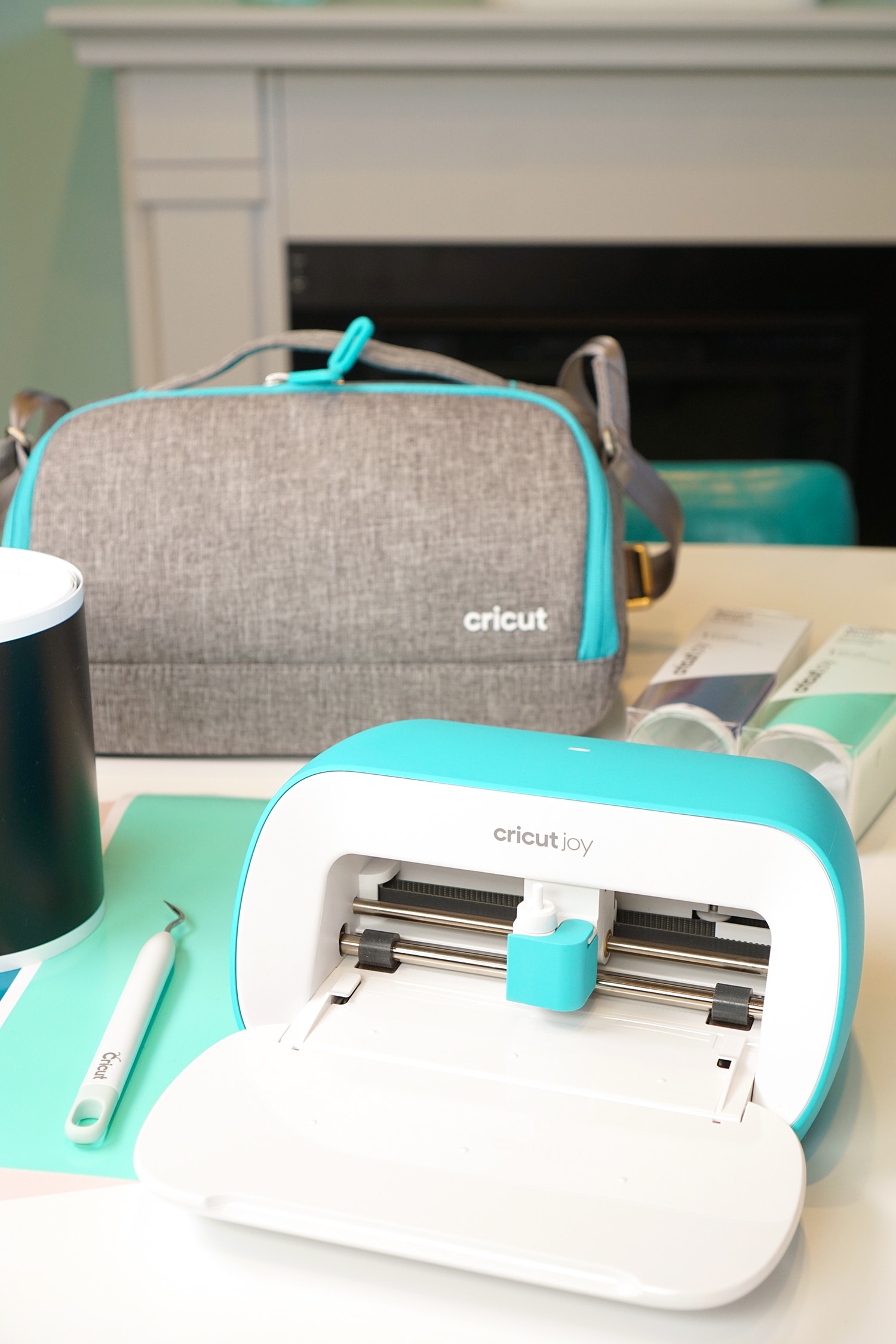 If the petite size of Cricut Joy wasn't enough to convince you of its portability, Cricut is also introducing a Cricut Joy Tote that makes taking your Cricut Joy on-the-go even easier! Now you really CAN craft anywhere that your heart desires!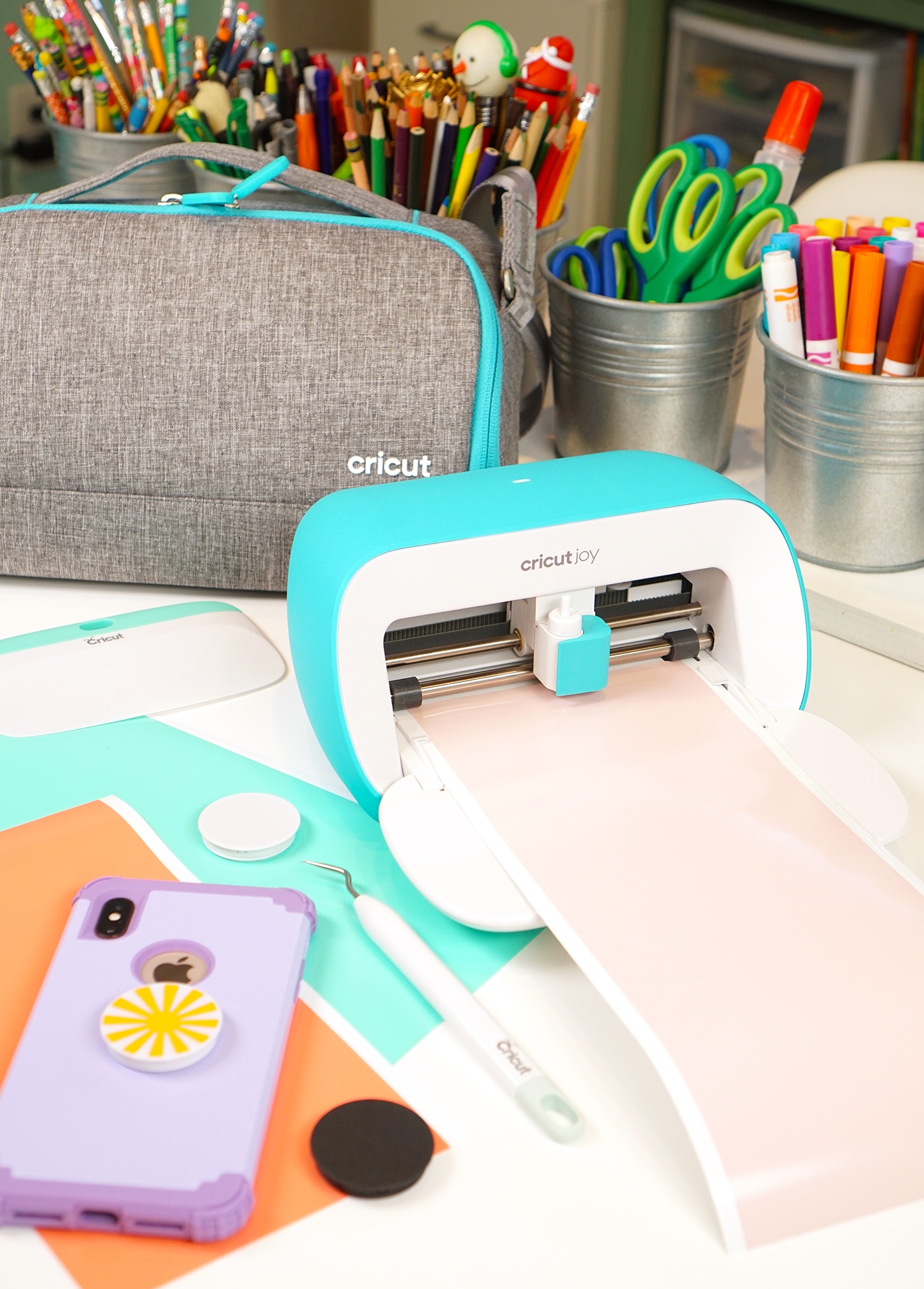 In our house, Cricut Joy is seeing a LOT of action in my kids' homeschool room. It's a great homework helper for all of those projects and presentations that the kids have to create!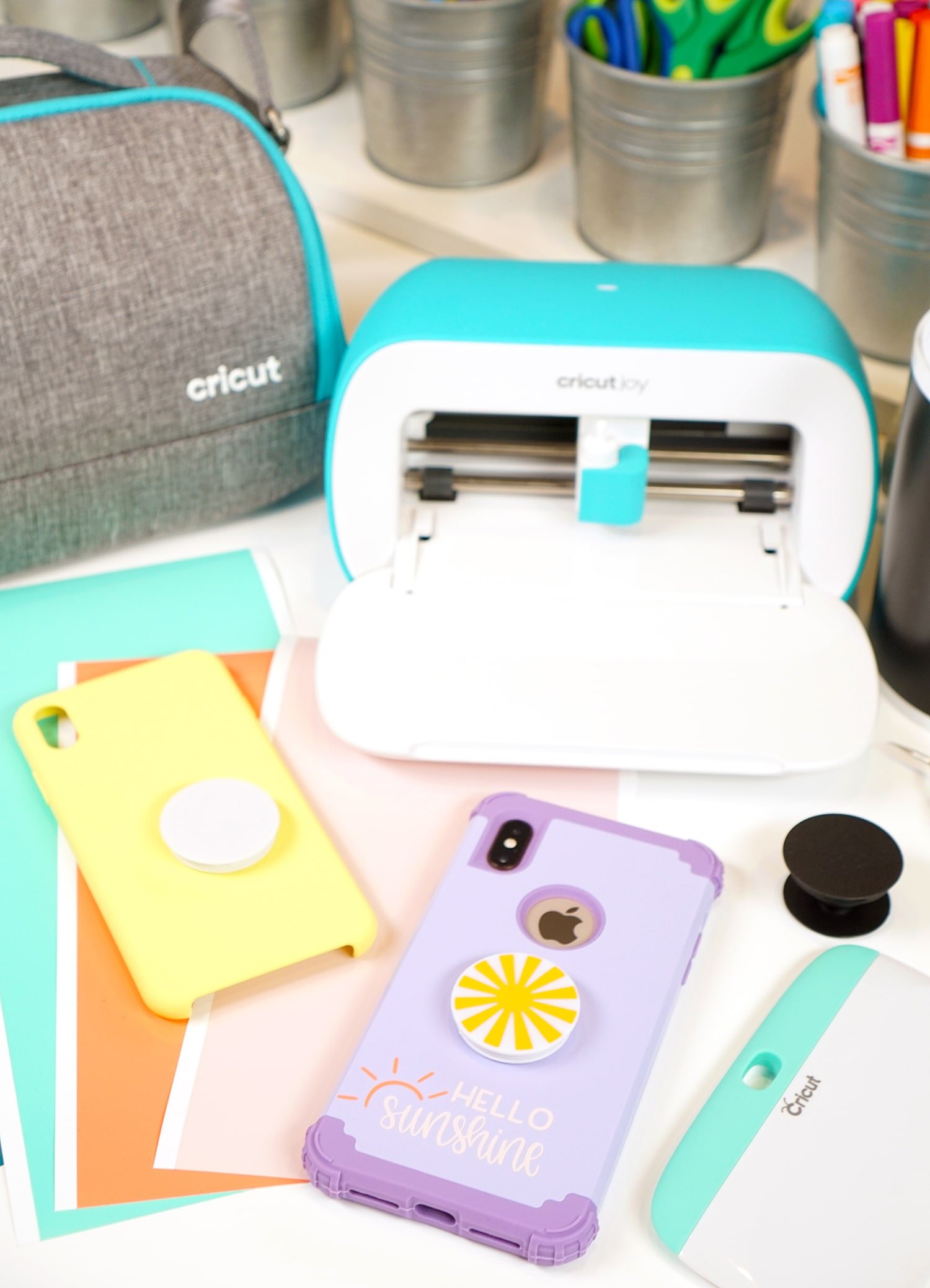 Plus, it's awesome for decorating phones, water bottles, pop sockets, and backpacks, too! It's the ideal size for adding a little bit of color and personality to everyday objects! My tween and teens love that they can use Cricut Joy entirely on their own using the Design Space app on their phones – it's really that easy!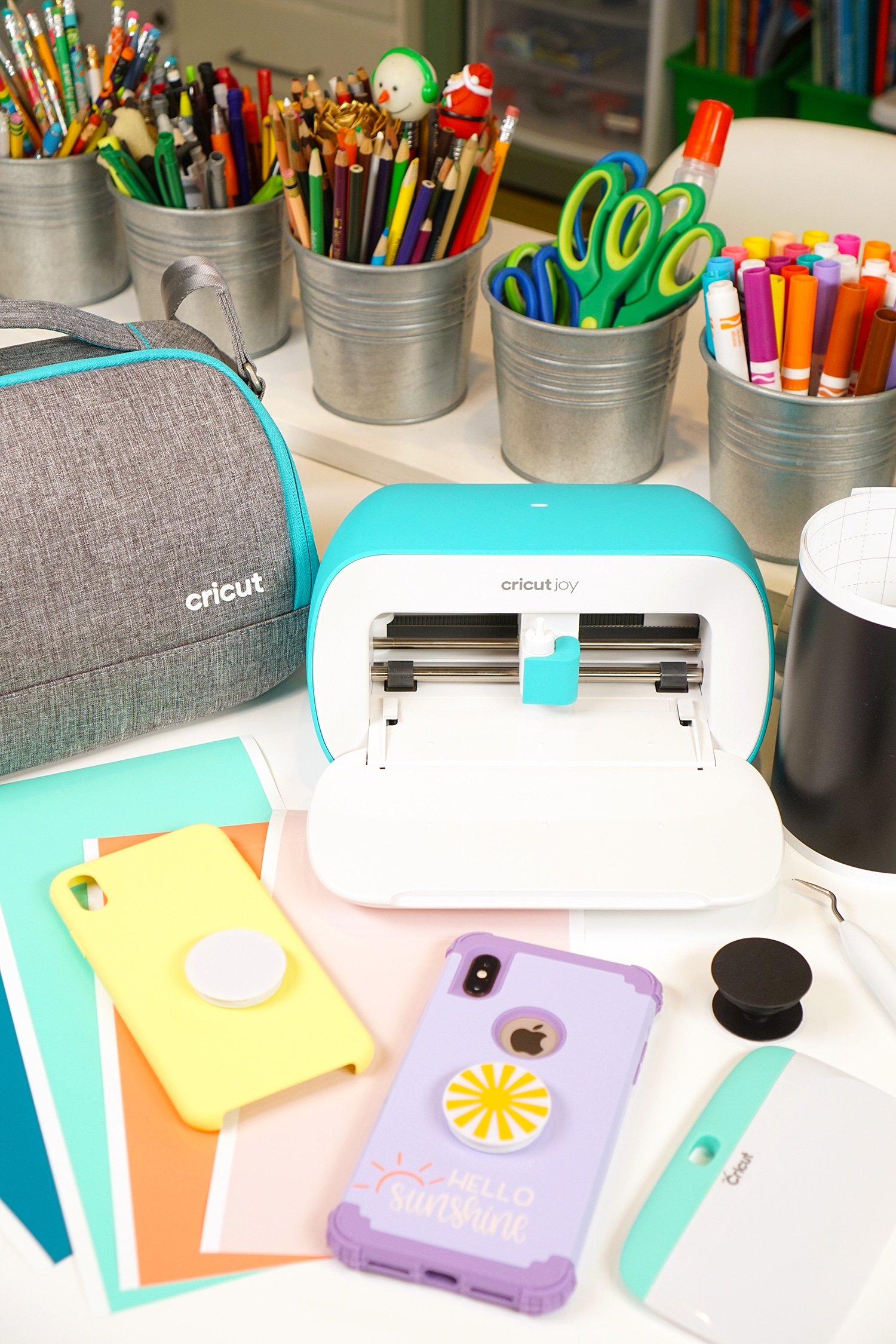 Cricut Joy makes crafting quick, easy, portable, and convenient. It's as simple as selecting a project, cutting (or drawing!) the design, and putting it all together – easy peasy!
Whether this is your first foray into the craft cutting world or if you're a long-time Cricut machine owner, Cricut Joy is for everyone (and everywhere!)! What will you make first with your Cricut Joy?
LEARN ALL ABOUT CRICUT JOY:

Check Out These Other Cricut Ideas!
You May Also Like: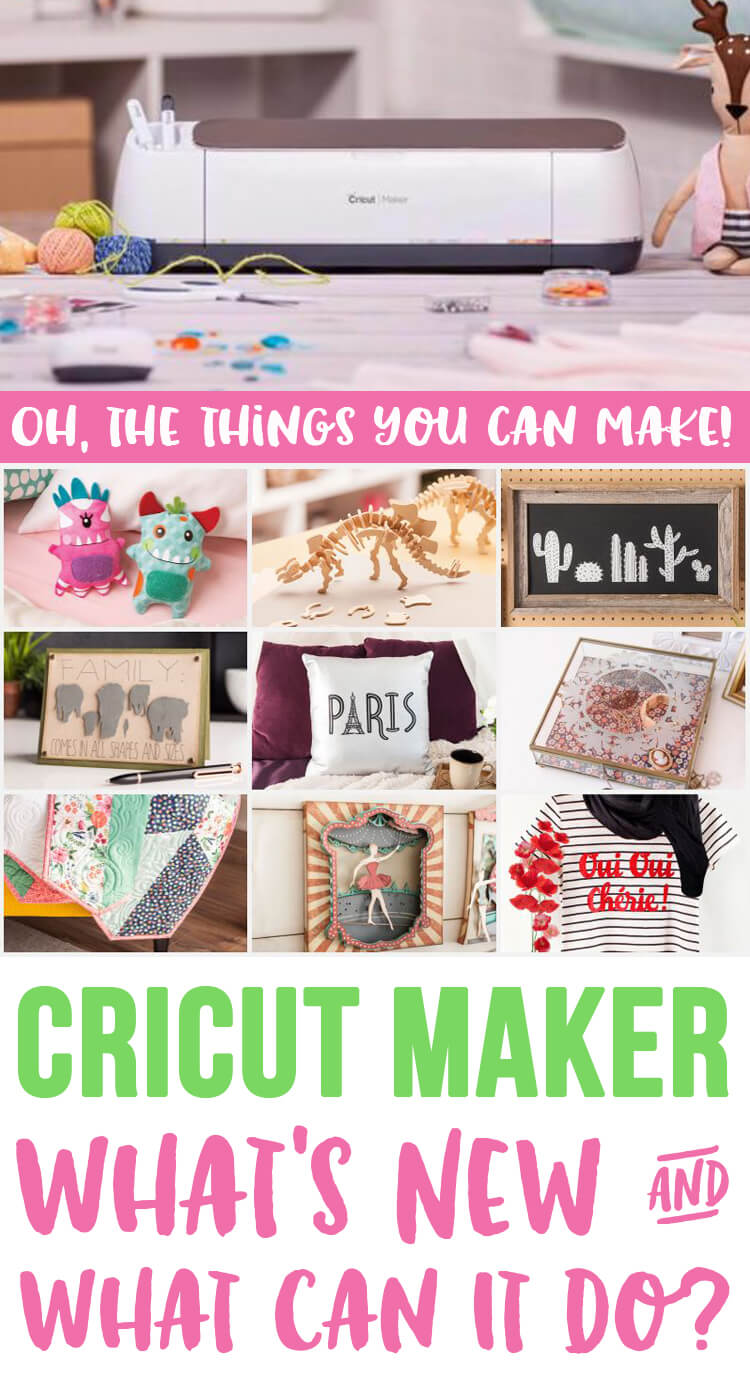 All About the Cricut Maker Machine
A Beginner's Guide to Cricut Infusible Ink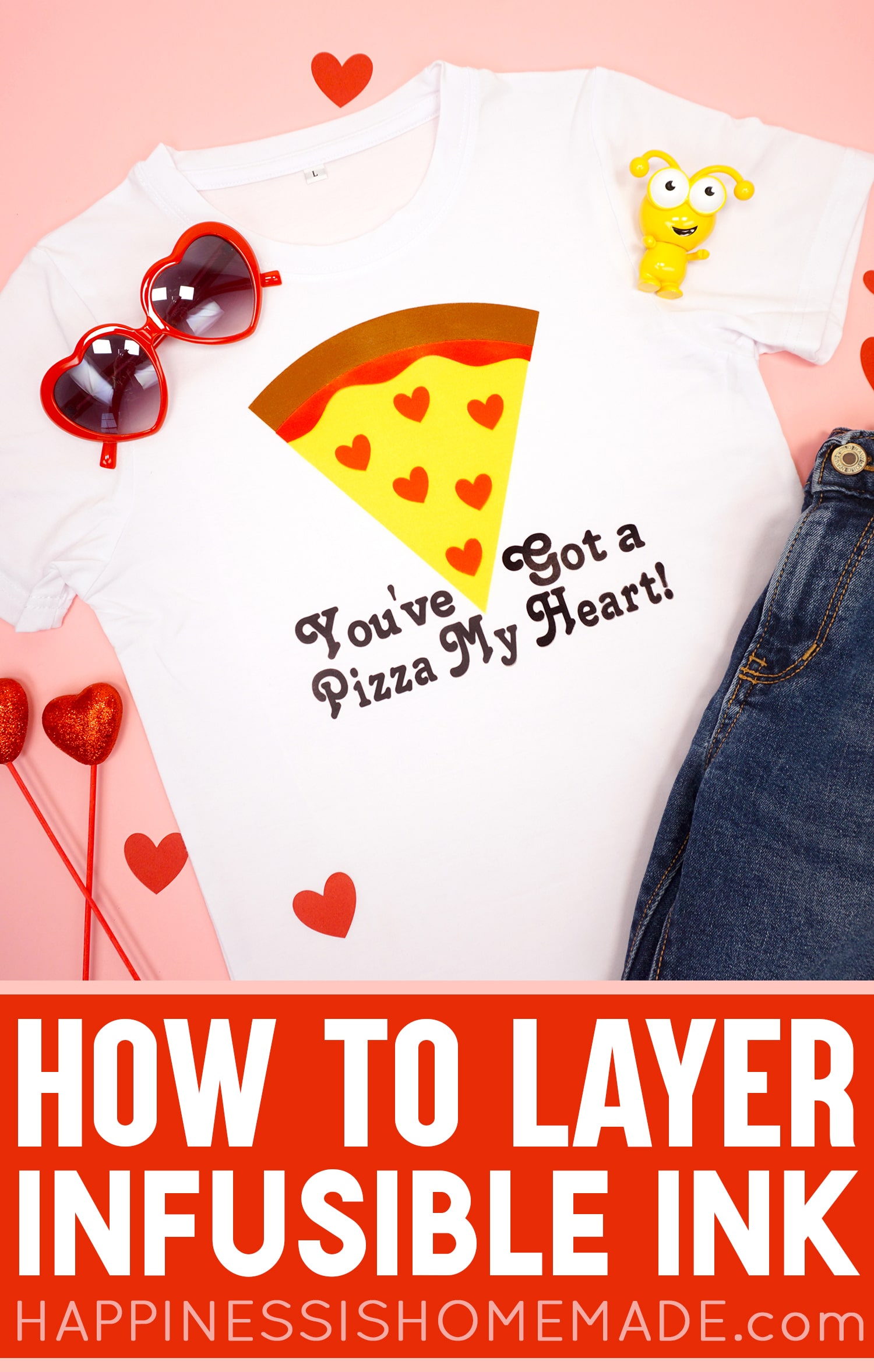 How to Layer Cricut Infusible Ink
Don't Forget to Pin This for Later!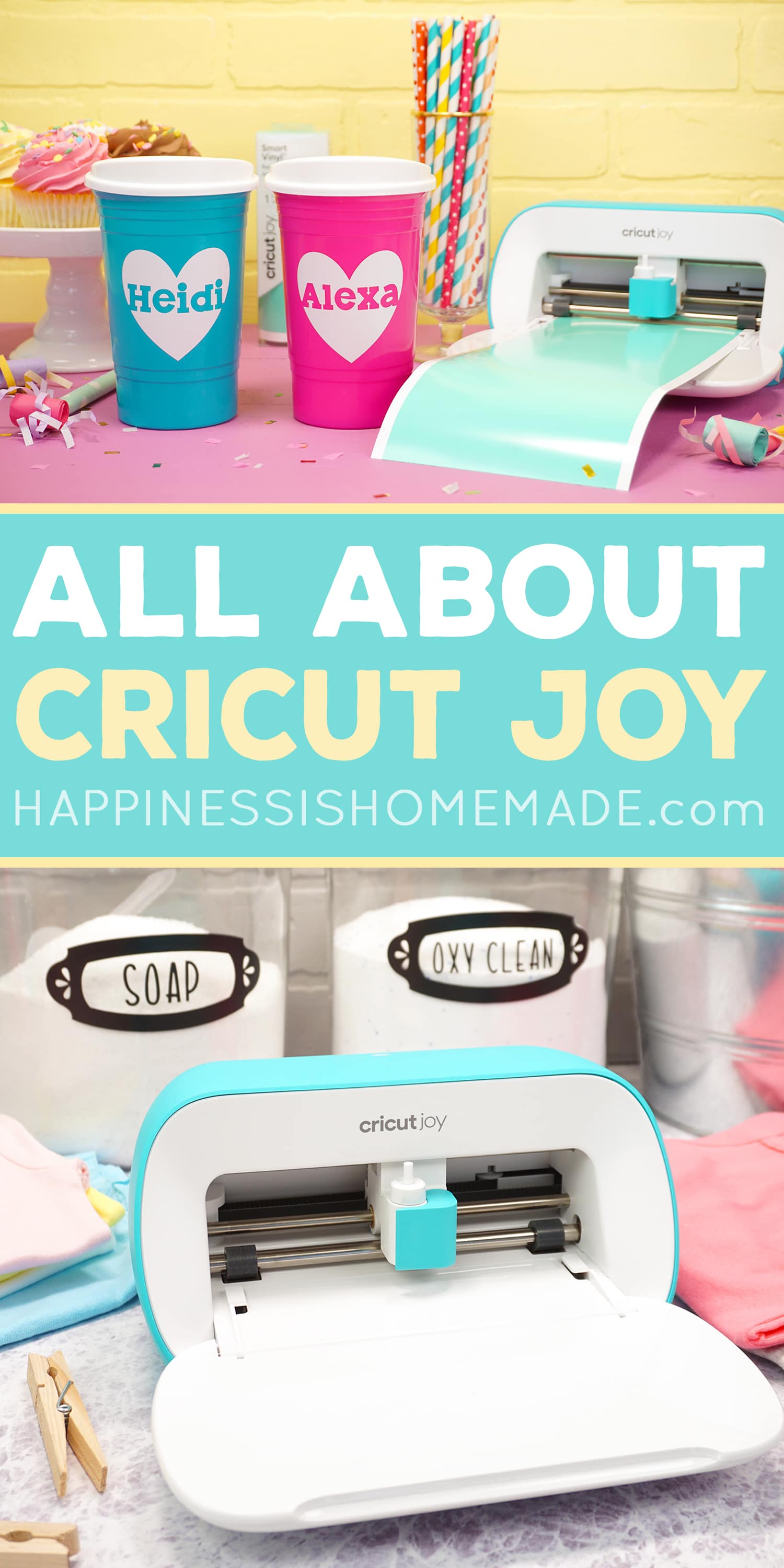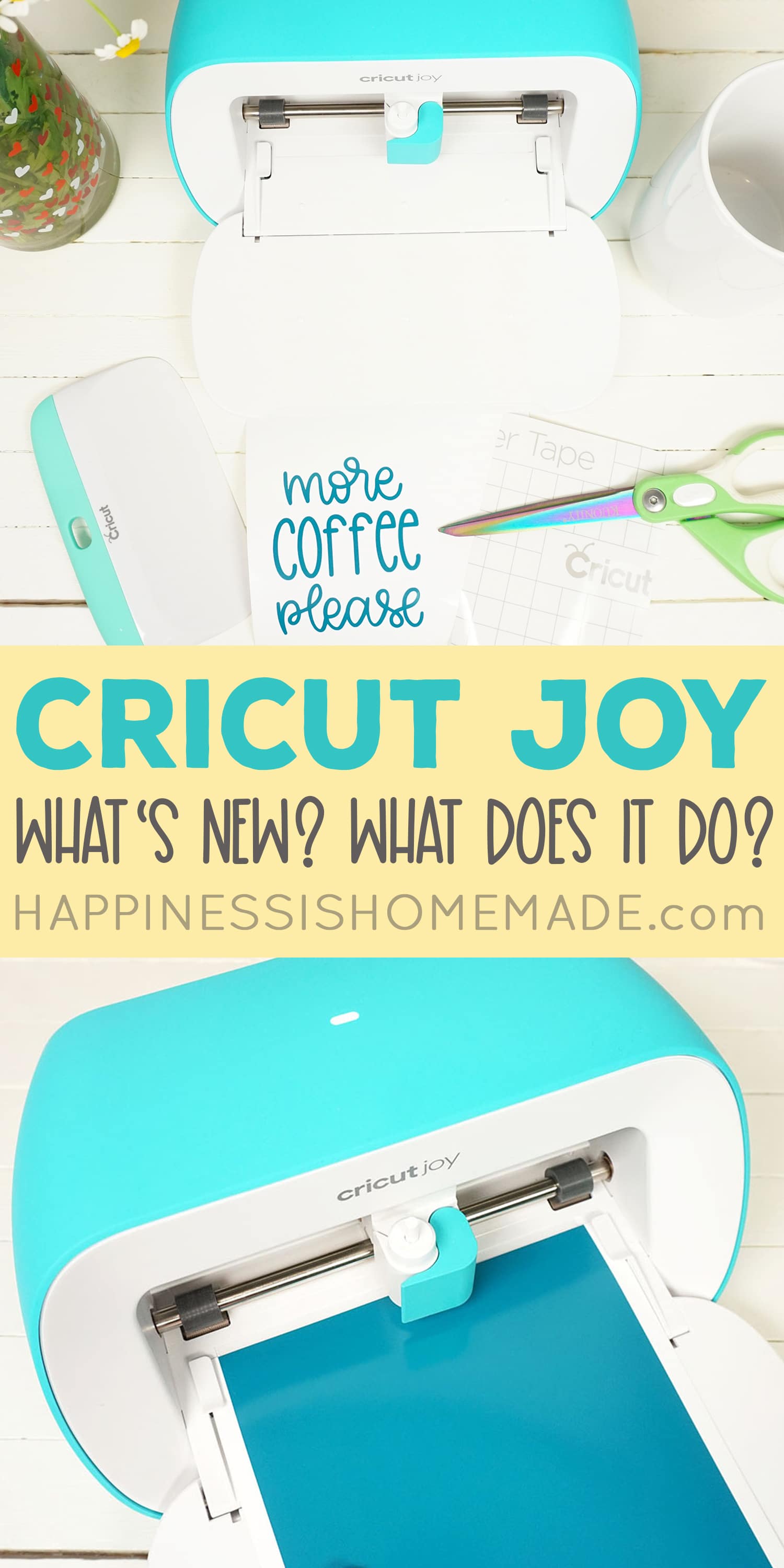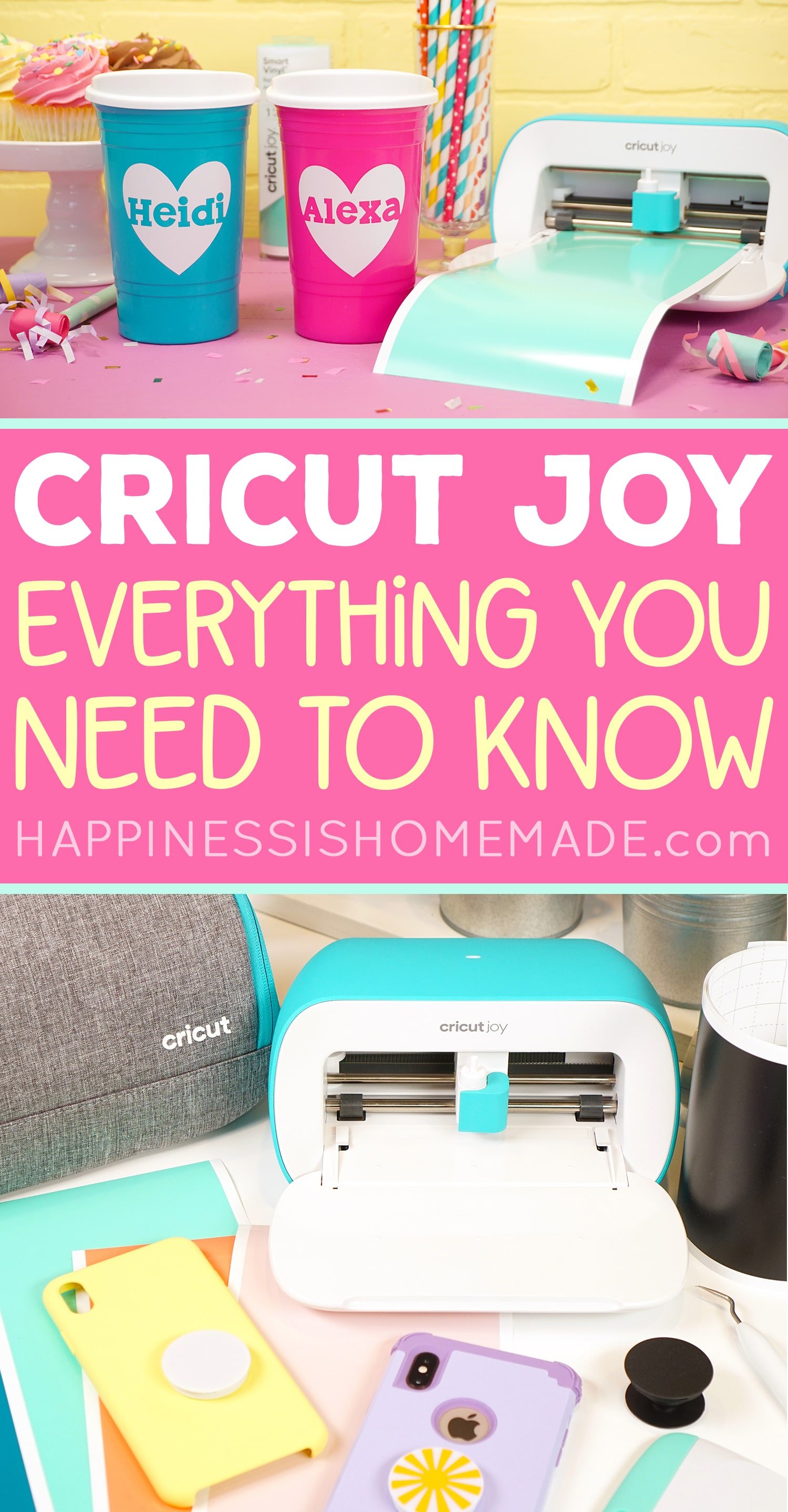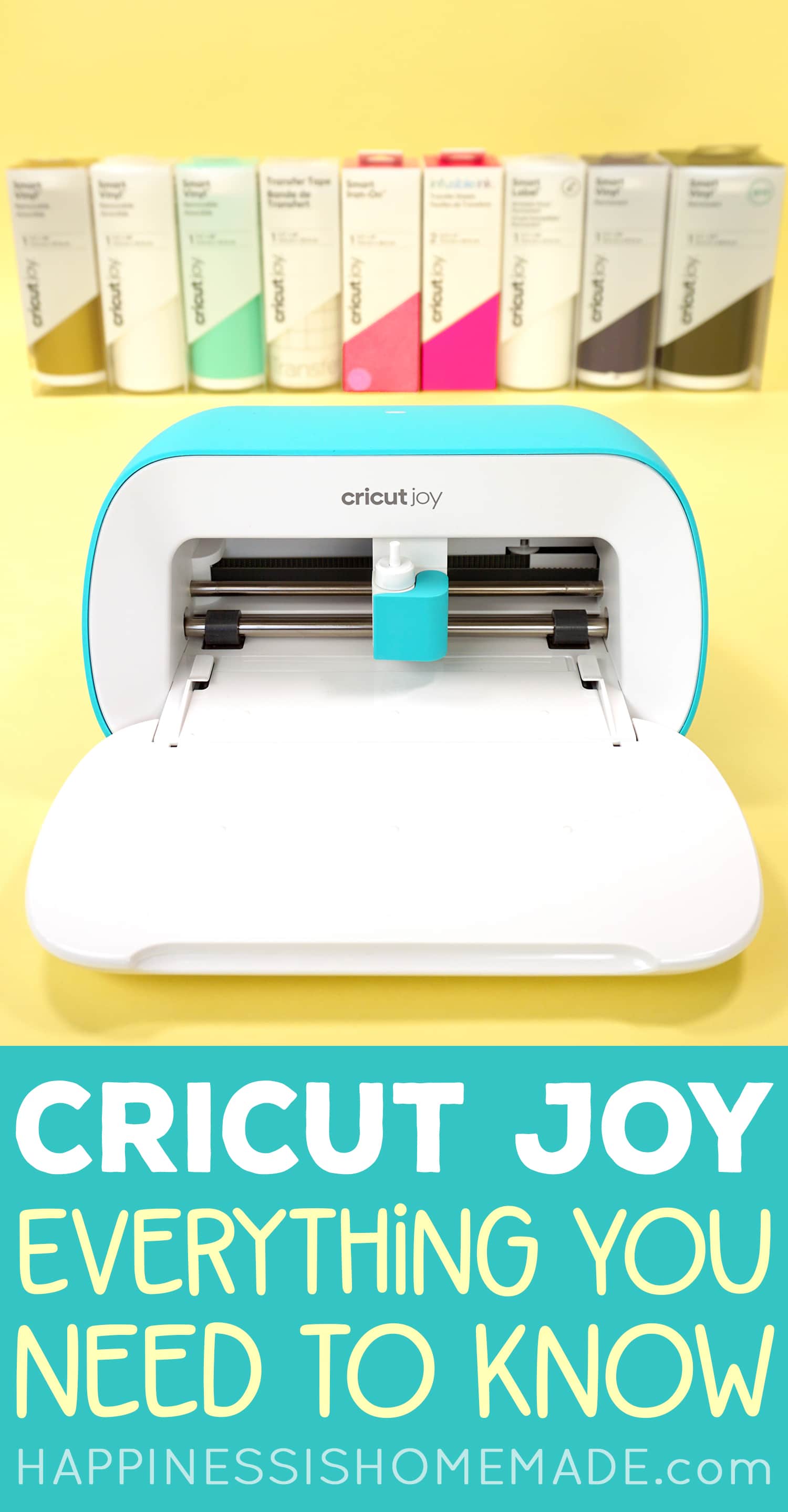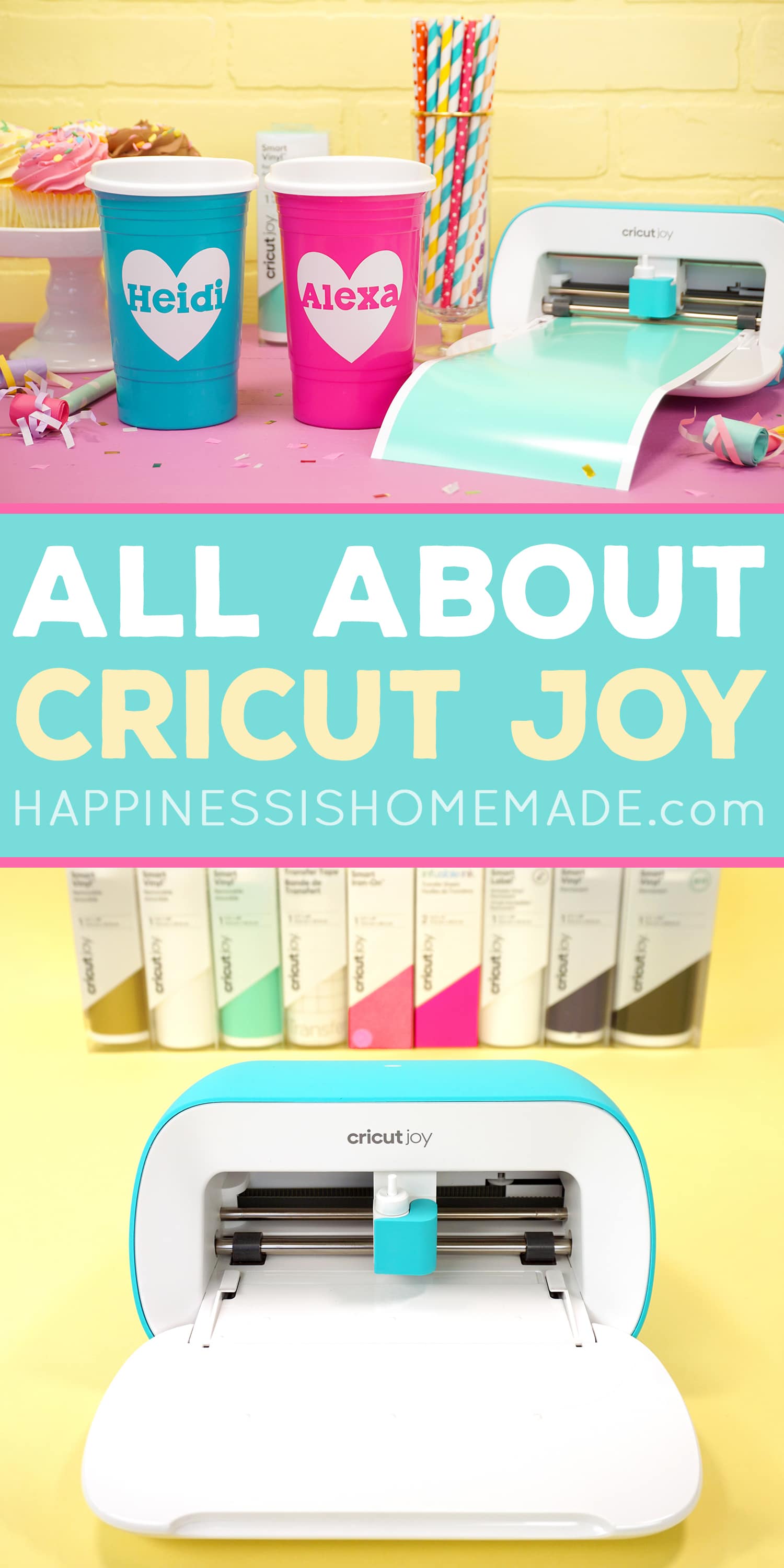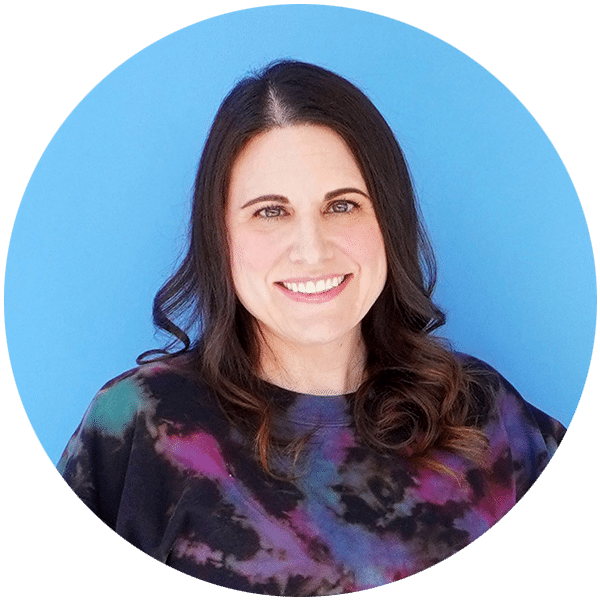 Heidi Kundin has captivated the hearts of millions with her colorful and inspiring approach to crafting, celebrations, and family fun. With over 15 years of experience, Heidi's website has become a must-visit destination for those seeking quick and easy creative ideas and last-minute solutions. Her warm personality shines through her posts, inviting readers to join her on a creative journey that's fun, rewarding, and achievable.