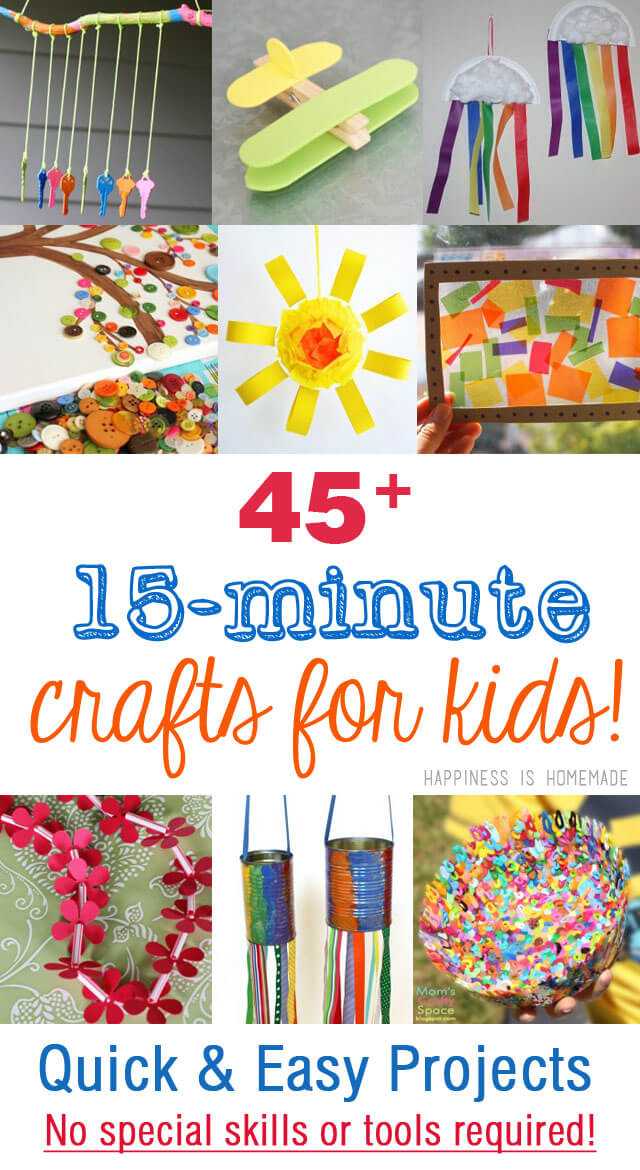 One of the #1 things that people often say to me is, "I would love to make creative projects with my kids, but I'm just not crafty. I don't even know where to start!" My reply is always, "Trust me…you do NOT need to consider yourself 'crafty' to start getting creative with your children!"  There are hundreds upon hundreds of craft projects that you can make with your children that require NO special skills or tools and that take less than half an hour of your time. In fact, most of these 45 quick and easy kids craft project ideas that I've rounded up here take less than FIFTEEN minutes to make!
A recent study by Dr. Richard Rende revealed that creative interaction between parents and young children engaging in activities like arts and crafts not only provides immediate and lasting cognitive benefits, but also creates a unique bonding experience, which creates lifelong memories. Taking time to be creative with your children is a topic that I am incredibly passionate about. I know firsthand the benefits that children reap when they are exposed to arts and crafts activities, and in an age where arts are in a decline in the school systems, it is even more important than ever for parents to take the initiative to introduce art activities to their children.
Other key findings of Dr. Rende's study showed that:
•

Arts and crafts engage multiple brain areas simultaneously and
improve bilateral coordination between the left and right sides of
the brain, leading to immediate and future cognitive development.
• Activities like arts and crafts accelerate the development of muscles
in the hands and fingers, improving fine motor skills that are
essential for school success in the earliest formal years.
• Face-to-face interaction in the early years is critical for optimal
• Arts and crafts promote rich social interactions that help develop
language skills and social cognitive abilities like understanding
• Creative activities are a great way to bond with children and create
Nearly 90% of the parents surveyed for the study said that they would like to spend more time creating arts and crafts with their children, but they didn't know where to start or how to carve out the time needed. With this list of quick and simple crafts, I'm hoping that I can show you that there is always time to bond and spend creative time together. It's SO simple!
You May Also Like These Other Quick & Easy Kids Crafts: